Payhip is a retail platform that pays authors a high royalty percentage, so we're thrilled to showcase the LimFic titles that are available through this service. You can also include "payhip" in your site searches above.
Writers: To add your book here, choose retailer = "payhip" and tag = "format – payhip."
Filter by:
Genres
Fantasy
Fantasy - Alternate History
Fantasy - Comedy
Fantasy - Contemporary
Fantasy - Dark Fantasy
Fantasy - Erotica
Fantasy - Faery & Fae
Fantasy - Fairy Tale / Folklore
Fantasy - Fantasy of Manners
Fantasy - Gothpunk
Fantasy - Heroic
Fantasy - High & Other World
Fantasy - Historical
Fantasy - Hopepunk
Fantasy - Knights & Castles
Fantasy - Latinpunk
Fantasy - LGBTQ+
Fantasy - LitRPG
Fantasy - Low Fantasy
Fantasy - Magical Realism
Fantasy - Mythic
Fantasy - Mythpunk
Fantasy - New Adult
Fantasy - Paranormal
Fantasy - People of Color
Fantasy - Piratepunk
Fantasy - Quiet
Fantasy - Romance
Fantasy - RPG
Fantasy - Slipstream
Fantasy - Steampunk
Fantasy - Sword & Sorcery
Fantasy - Urban & Magical Beings
Fantasy - Weird Fantasy
Fantasy - Young Adult
Fantasy – Gods and Heroes
Horror
Horror - Angels & Devils
Horror - Comedy
Horror - Fairy Tale/Folklore
Horror - Ghosts & Haunted Houses
Horror - Gothic
Horror - LGBTQ+
Horror - LitRPG
Horror - Lovecraftian/Cthulhu
Horror - Man-Made Horrors
Horror - Monsters
Horror - Mythic
Horror - New Adult
Horror - Noir
Horror - Occult
Horror - People of Color
Horror - Post-Apocalyptic
Horror - Psychic Talents
Horror - Psychological
Horror - Shifters
Horror - Splatterpunk
Horror - Vampires
Horror - Weird Horror
Horror - Werewolves
Horror - Witches
Horror - Young Adult
Horror - Zombies
Nonfiction
Nonfiction - Writing Guides
Paranormal
Paranormal - Angels & Devils
Paranormal - Comedy
Paranormal - Dark
Paranormal - Ghosts & Haunted Houses
Paranormal - LGBTQ+
Paranormal - LitRPG
Paranormal - Magical Beings
Paranormal - Monsters
Paranormal - New Adult
Paranormal - People of Color
Paranormal - Psychic Talents
Paranormal - Reincarnation
Paranormal - Romance
Paranormal - Shifters
Paranormal - Vampires
Paranormal - Young Adult
Paranormal - Zombies
Poetry
Sci Fi
Sci Fi - Alien Invasion
Sci Fi - Alien Races
Sci Fi - Aliens
Sci Fi - Alternate / Parallel Reality
Sci Fi - Alternative History
Sci Fi - Apocalyptic Fiction
Sci Fi - Artificial Intelligence
Sci Fi - Biopunk
Sci Fi - Christian
Sci Fi - Climate Fiction (Cli-Fi)
Sci Fi - Clockpunk
Sci Fi - Clones
Sci Fi - Colonization
Sci Fi - Comedy
Sci Fi - Cyberpunk
Sci Fi - Cyberspace
Sci Fi - Decopunk
Sci Fi - Detective
Sci Fi - Dieselpunk
Sci Fi - Distant Planet
Sci Fi - Dying Earth
Sci Fi - Dystopian & Post-Apocalyptic
Sci Fi - First Contact
Sci Fi - Frontier
Sci Fi - Furry
Sci Fi - Galactic Empire
Sci Fi - Generation Ship
Sci Fi - Genetic Manipulation
Sci Fi - Gothpunk
Sci Fi - Greenpunk
Sci Fi - Hard Sci Fi
Sci Fi - Hollow Earth
Sci Fi - Hopepunk
Sci Fi - Human Evolution
Sci Fi - Immortality
Sci Fi - LGBTQ+
Sci Fi - LitRPG
Sci Fi - Lost Worlds
Sci Fi - Military
Sci Fi - Mind Uploads
Sci Fi - Multiverse
Sci Fi - Mutants
Sci Fi - Nanopunk
Sci Fi - Near Future
Sci Fi - New Adult
Sci Fi - Nowpunk
Sci Fi - People of Color
Sci Fi - Piratepunk
Sci Fi - Pulp
Sci Fi - Realistic
Sci Fi - Robots/Androids
Sci Fi - Romance
Sci Fi - RPG
Sci Fi - Science Fantasy
Sci Fi - Singularity
Sci Fi - Slipstream
Sci Fi - Social
Sci Fi - Soft
Sci Fi - Solarpunk
Sci Fi - Space Exploration
Sci Fi - Space Opera
Sci Fi - Space Western
Sci Fi - Spacepunk
Sci Fi - SpyFi
Sci Fi - Steampunk
Sci Fi - Superheroes & Villains
Sci Fi - Terraforming
Sci Fi - Teslapunk
Sci Fi - Theological
Sci Fi - Time Travel
Sci Fi - Transhuman
Sci Fi - Uplift
Sci Fi - Utopian
Sci Fi - Virtual Reality
Sci Fi - Weird Sci Fi
Sci Fi - Young Adult
Tropes
Abandoned Place
AI Uprising
Alien Artifacts
Alien Eggs
Alien Invasion
Alien Ruins
Aliens Among Us
Aliens as God
Aliens in History
Ancient Astronauts
Ancient Weapon
Antihero
Arthurian Legends
Asteroid Miner
Astral Projection
Bad Robot
Band of Brothers/Sisters
Band of Misfits
Bar Tales
Becoming a Monster
Benevolent Aliens
Beyond the Grave Communication
Big Sword
Black and White Morality
Body Modifications
Bodysnatchers
Book of Spells
Born Hero
Burial Ground/Cemetary
Changing Painting
Chosen One
Clones
Conspiracy
Crazy Clairvoyants
Cross-Species Friendships
Cryosleep
Dark Enemy
Dark Lord
Death by Sex
Demonic Possession
Dragonriders
Dying World
Dystopian Governments
Enemy to Ally
Evil Megacorporation
Evolving Powers
Fallen Hero
Farmer to Hero
Farmer to Royalty
Fated Mates
Fellowship
Fetus of Doom
First Contact
Fish Out of Water
Found Family
FTL
Galactic Civilization
Generation Ships
Good Robots
Haunted House
Here Comes the Cavalry
Humanity is Dangerous
Humanity is Good
Humans Evolved From Aliens
Hunted
I Am Your Father
I See Dead People
Immortality
Inaccessible Magic
Interspecies Adoption
Interspecies Romance
Interstellar Travel
Killer Aliens
Library of Secrets
Lost Civilization
Lucky Novice
Mad Scientist
Magic Furniture
Magic Talisman
Magical Disaster
Marooned
Mirror Shows True Self
Modern Human in Fantasy World
Museum/Store of the Unusual
No Cell Coverage
Old Person in the Woods
Oxygen Leak
Parallel Worlds
Past People/Future Tech
Person in Distress
Portals
Possession
Post-Apocalyptic
Powerful Artifact
Prophesy
Pseudo European Society
Psionic Powers
Quest
Redemption Arc
Reluctant Hero
Reluctant Vampires
Robin Hood Legends
Roguish Thief
Secret Heir
Secret Royalty
Secret Society
Sentient AI
Sentient Spaceships
Sex Magic
Singularity
Space Battles
Space Dentistry
Space Detectives
Space is Empty
Space is Full
Space Medicine
Space Pilot
Space Pirates
Space Psychology
Space Smugglers
Superpowers
Sword of Destiny
Time Loop
Time Travel
Training
Ultimate Evil
Undiscovered Planet
Uploaded Consciousness
Vengeful Spirit
Villain to Hero
Waiting/Sleeping Evil
Wise Mentor
Tags
author - american
author - arabian
author - australian
author - belgian
author - british
author - canadian
author - dutch
author - european
author - french
author - italian
author - new zealander
author - saudi arabian
format - anthology
format - audiobook
format - book
format - box set
format - collection
format - free
format - hardcover
format - illustrated novel
format - kindle
format - kindle unlimited
format - large print
format - netgalley
format - novel
format - novel >100K
format - novel <100K
format - novel 40-100K
format - novella 15k-40K
format - novellette <15k
format - omnibus edition
format - paperback
format - payhip
format - planner
format - prequel
format - self published
format - sequel
format - series
format - shared universe
format - short stories
format - short story <15K
identity - aromantic
identity - asexual
identity - bisexual
identity - demisexual
identity - gay
identity - gender fluid
identity - intersex
identity - lesbian
identity - non-binary
identity - pansexual
identity - polyamorous
identity - transgender
potential trigger
potential trigger - abduction-captivity
potential trigger - addiction
potential trigger - avalanche
potential trigger - blood
potential trigger - death
potential trigger - gore
potential trigger - graphic torture
potential trigger - murder
potential trigger - rape
potential trigger - sexual abuse
potential trigger - stalking
potential trigger - suicidal ideation
potential trigger - suicide
potential trigger - torture
potential trigger - traumatic past
potential trigger - violence
what - concept - amnesia
what - concept - curse
what - condition - blindness
what - condition - disability
what - condition - mental illness
what - condition - ptsd
what - element - ferocious poodle
what - holiday - general
what - topic - cartel
what - topic - chinese medicine
what - topic - chinese mythology
what - topic - climate change
what - topic - compassion
what - topic - crime
what - topic - desert survival
what - topic - disaster
what - topic - flying
what - topic - genetic engineering
what - topic - harem
what - topic - haunting
what - topic - japanese mythology
what - topic - learning disabilities
what - topic - legend
what - topic - magic
what - topic - multicultural
what - topic - music
what - topic - natural disaster
what - topic - non-violence
what - topic - politics
what - topic - ransom
what - topic - reincarnation
what - topic - religion
what - topic - revenge
what - topic - science experiment
what - topic - secret
what - topic - secret organization
what - topic - superstition
what - topic - taboo
what - topic - technology
what - topic - terrorism
when - period - 16th century
when - period - 17th century
when - period - 18th century
when - period - 1920s
when - period - 1930s
when - period - 1950s
when - period - 1960s
when - period - 1970s
when - period - 1980s
when - period - 1990s
when - period - 19th century
when - period - 20th century
when - period - ancient greece
when - period - ancient rome
when - period - edwardian
when - period - georgian
when - period - great war
when - period - middle ages
when - period - near future
when - period - prehistoric
when - period - prohibition
when - period - victorian
where - fictional - moon colony
where - general - alternate universe
where - general - carnival
where - general - castle
where - general - cave
where - general - cruise ship
where - general - forest
where - general - military
where - general - mountains
where - general - private school
where - general - rural
where - general - small town
where - general - swamp
where - general - uncharted island
where - general - underground
where - general - underwater
where - Mars
where - non-Earth planet
where - space - international space station
where - space - space station
where - space station
where - spaceship
who - description - alpha male
who - description - alphas and omegas
who - description - tattoos
who - magical humans
who - occupation - apothecary
who - occupation - archaeologist
who - occupation - artist
who - occupation - assassin
who - occupation - astronaut
who - occupation - astronomer
who - occupation - author
who - occupation - baker
who - occupation - barista
who - occupation - bodyguard
who - occupation - botanist
who - occupation - bounty hunter
who - occupation - castle laird
who - occupation - computer programmer
who - occupation - contractor
who - occupation - coroner
who - occupation - cowboys
who - occupation - detective
who - occupation - doctor
who - occupation - engineer
who - occupation - ex-convict
who - occupation - federal agent
who - occupation - guard
who - occupation - hacker
who - occupation - healer
who - occupation - herbalist
who - occupation - historian
who - occupation - horsemaster
who - occupation - innkeeper
who - occupation - inventor
who - occupation - journalist
who - occupation - king
who - occupation - knight
who - occupation - law enforcement
who - occupation - librarian
who - occupation - lord
who - occupation - mage
who - occupation - marine
who - occupation - mechanic
who - occupation - medical
who - occupation - mercenary
who - occupation - military
who - occupation - missionary
who - occupation - motorcycle rider
who - occupation - musician
who - occupation - nurse
who - occupation - pilot
who - occupation - pirate
who - occupation - police
who - occupation - politician
who - occupation - priest
who - occupation - prince
who - occupation - prisoner
who - occupation - professor
who - occupation - psychic
who - occupation - royalty
who - occupation - sailor
who - occupation - scientist
who - occupation - security
who - occupation - serial killer
who - occupation - servant
who - occupation - sex worker
who - occupation - sheriff
who - occupation - soldier
who - occupation - space marines
who - occupation - spaceship captain
who - occupation - spy
who - occupation - starship captain
who - occupation - student
who - occupation - superhero
who - occupation - tattoo artist
who - occupation - teacher
who - occupation - thief
who - occupation - tracker
who - occupation - undercover agent
who - occupation - warrior
who - occupation - writer
who - religion - catholic
who - religion - jewish
who - religion - muslim / islamic
who - religion - pagan
who - religion - shinto
who - sea dragon shifter
who - shifter
who - type - alien
who - type - altered human
who - type - angels
who - type - badass heroine
who - type - bear shifters
who - type - bigfoot
who - type - centaur
who - type - cyborg
who - type - demons
who - type - dragon shifters
who - type - dragons
who - type - elves
who - type - fae
who - type - fox
who - type - ghosts
who - type - god
who - type - griffins
who - type - incubus
who - type - kitsune
who - type - merman
who - type - nekomata
who - type - nephilim
who - type - panther shifters
who - type - reindeer shifters
who - type - robot / cyborg
who - type - sea god
who - type - selkie
who - type - spiders
who - type - spirit
who - type - succubus
who - type - unicorns
who - type - vampires
who - type - vegan
who - type - werecats
who - type - werewolves
who - type - witch
who - type - wizard
who - type - wolf
who - type - yokai
who - type - zombies
who - world defender
Word Count:
62,900
Summary: A werewolf and seven vampires are all that stand between the world and complete annihilation. When Kai Richter and Ori Bier met, sparks flew. Then a train blew up. Tracking an organism deadly to not only humans, but vampires and werewolves alike, brings Kai and Ori into the Vampire Guard. Decades later, they, along with Operative Team Jack Rabbit, come face to face with the horrors that same virus produces. Dead bodies are coming back to life, and rational people are becoming violent and brutal killers. A massacre is taking place nearly a mile under the Atlantic Ocean. Two teams of The Vampire Guard are in the thick of it, fighting to survive.
Endosymbiont
May 4, 2022
Word Count:
115000
Summary: A group of strangers meets at Ragazzi, an Italian restaurant, for a cooking lesson that will change them all. They quickly become intertwined in each other's lives, and a bit of magic touches each of them. Meet Dave, the consultant who lost his partner; Matteo and Diego, the couple who run the restaurant; recently-widowed Carmelina; Marcos, a web designer getting too old for hook-ups; Ben, a trans author writing the Great American Novel; teenager Marissa, kicked out for being bi; and Sam and Brad, a May-September couple who would never have gotten together without a little magic of their own. Everyone in the River City has a secret, and sooner or later secrets always come out. Narrated by Michael Lysan.
The River City Chronicles
November 10, 2021
Word Count:
52000
Summary: Rakurai hunts demons. He doesn't consort with gods. Until he meets Tenzen. Tenzen cares for souls. He despises the callous, self-absorbed Yuvine. Until he meets Rakurai. A rescue and a sacrifice make a death god and a hunter fall in love, but a life of bliss is a long way off. Someone is disturbing the balance of magic and threatening two worlds. And while desire draws Rakurai and Tenzen together, duty, assassins, and clan politics keep them apart. Who will Tenzen and Rakurai save in the end? Two worlds or each other? *** Caught starts a new mm paranormal romance series, A Balance of Magic, featuring mortals and immortals from both sides of the veil, old promises, new revelations, and a bloody fight between love and duty. It is the first book of a trilogy and ends with a HFN. The characters will get their HEA in the final book. *** Tags: Tenzen doesn't look where he's going, how do you rescue a death god, Rakurai is honourable and Tenzen has no social skills, spending all your life alone does that to a god, yes - sharing a hot tub is a great idea; who is so stupid to send human assassins after a Yuvine hunter, Tenzen loses the plot - and his immortality, Rakurai is a mother hen, especially when Tenzen looks like that, this library is out of this world, Tenzen refuses to fall off the bridge, Rakurai can't decide which world he'd rather live in, that's what having a son does to you, a cinnamon roll death god in a rage, that happy ending is a long time coming.
Caught
September 24, 2021
Word Count:
51000
Summary: Escaping intergalactic kidnappers has never been quite so ridiculous. When Lem and her faithful dog, Spock, retreat from the city for a few days of hiking in Algonquin Park, the last thing they expect is to be kidnapped by aliens. No, scratch that. The last thing they expect is to be kidnapped by a bunch of strangely adorable intergalactic bounty hunters aboard a ship called the Teapot. After Lem falls in with an unlikely group of allies – including a talking horse, a sarcastic robot, an overly anxious giant parrot, and a cloud of sentient glitter gas – the gang must devise a cunning plan to escape their captors and make it back home safely. But things won't be as easy as they first seem. Lost in deep space and running out of fuel, this chaotic crew are faced with the daunting task of navigating an alien planet, breaking into a space station, and discovering the real reason they're all there… Packed with preposterous scenarios, quirky characters, and oodles of humour, The Left Hand of Dog tackles complex subjects such as gender, the need to belong, and the importance of honest communication. Perfect for fans of Charlie Jane Anders' Victories Greater than Death – especially ones who enjoy endless references to Red Dwarf, Star Trek, and Doctor Who. This book will show you that the universe is a very strange place indeed. Scroll up and grab your copy now!
The Left Hand of Dog
August 17, 2021
Word Count:
36000
Summary: INK (NOUN) Five definitions to inspire writers around the world and an unlimited number of possible stories to tell: 1) A colored fluid used for writing 2) The action of signing a deal 3) A black liquid ejected by squid 4) Publicity in the written media 5) A slang word for tattoos Ink features 300-word speculative flash fiction stories from across the rainbow spectrum, from the minds of the writers of Queer Sci Fi.
Ink
August 10, 2021
Word Count:
23000
Summary: Alex always thought love was enough to keep him and Gio together. Why did they need wedding rings or legal certificates? But now, with Gio lost in a coma after a fire has destroyed their home, his partner's mother banishes Alex from his side. Locked in a gray limbo inside his head, memories are all Gio has left, and the urge to let go is getting stronger. Nothing can keep Alex from Gio's side, even if he has to break the rules. In their stolen moments alone together, Alex fights to reach Gio, one memory at a time. What if Alex's voice is the only thing that can bring Gio back?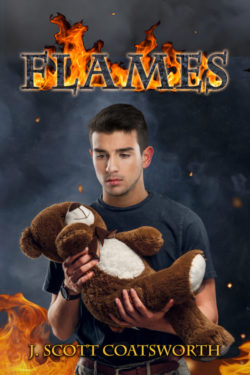 Flames
June 10, 2021
Word Count:
130000
Summary: Life after the Crash. Over a century after the end of the Earth, life goes on in Redemption, the sole remaining Lunar colony, and possibly the last outpost of humankind in the Solar System. But with an existential threat burrowing its way into the Moon's core, humanity must recolonize the homeworld. Twenty brave dropnauts set off on a mission to explore the empty planet. Four of them—Rai, Hera, Ghost and Tien—have trained for two-and-a-half years for the Return. They're bound for Martinez Base, just outside the Old Earth city of San Francisco. But what awaits them there will turn their assumptions upside down—and in the process, either save or destroy what's left of humanity.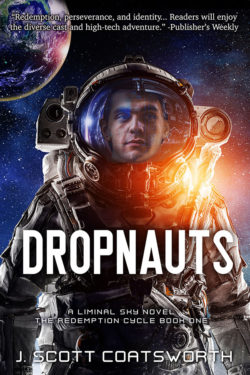 Dropnauts
May 10, 2021
Word Count:
22000
Summary: RELEASING IN AUDIOBOOK FORMAT APRIL 26TH, 2021 Colton is a trans man living in a climate-changed world. He plies the canals that used to be city streets, earning a living taking tourists on illicit journeys through San Francisco's flooded edges beneath the imposing bulk of the Wall. Tris is an elf who comes through the veil to the City by the Bay - the Caille - on a coming of age pilgrimage called the Cailleadhama. He is searching for his brother Laris, who went missing after crossing through the Caille years before. The two men find they have common cause, and together they set off to find Laris in a world transformed by the twin forces of greed and climate change. And in the end, they find out more than they ever expected, both about the warming world and their own selves. Note: This story was originally published in the "Myths Untold: Faery" anthology from Wilde City Press. It is presented here in its original form.
Cailleadhama: Through the Veil
April 26, 2021
Word Count:
7000
Summary: They've been friends since childhood. But can their friendship survive adult reality? Confirmed geeks and childhood friends, Lem and Devon are looking forward to reuniting at a convention. Despite their diverging lives and their fair share of secrets, their shared love of cosplay and science fiction brings them together in ways that nothing else could. But not all friendships are perfect. When their old schoolfriend Nerys joins them for the day, rifts soon begin to show as the three realise how far they've grown apart. Struggling with Nerys's insensitivity and her misguided approach to non-binary gender expression, the group are determined to make the most of their time together and embrace their nerdy selves. But with tensions rising, can their friendship withstand the dramatic ways their lives have changed? A short, thought-provoking backdrop to the author's White Hart series and her forthcoming Starship Teapot series, Stardust Wake provides an insightful glimpse at complex issues while brimming with passion for all things geek.
Stardust Wake
April 11, 2021
Word Count:
85000
Summary: ALSO AVAILABLE FROM INGRAM FOR BOOKSTORES We're a world beset by crises. Climate change, income inequality, racism, pandemics, an almost unmanageable tangle of issues. Sometimes it's hard to look ahead and see a hopeful future. We asked sci-fi writers to send us stories about ways to fix what's wrong with the world. From the sixty-five stories we received, we chose twelve most amazing (and hopefully prescient) tales. Dive in and find out how we might mitigate climate change, make war obsolete, switch to alternative forms of energy, and restructure the very foundations of our society, The future's not going to fix itself.
Fix the World Anthology
April 10, 2021
Word Count:
19000
Summary: What if you could hear the words behind the words? Brad Weston's life seems perfect. He's GQ handsome, the chief of staff for a Republican California state senator, and enjoys the power and the promise of a bright future. And he's in a comfortable relationship with his boyfriend of six years, Alex. Sam Fuller is Brad's young blond blue-eyed intern, fresh out of college, running from a bad breakup, and questioning his choices and his new life in politics. To make things worse, Sam also has a thing for the boss, but Brad is already taken. While looking for a gift for his boyfriend, Brad wanders into a curiosity shop and becomes fascinated by an old wooden medallion. Brad's not a superstitious man, but when he takes out the medallion in his office, he sees the world in a whole new light. And nothing will ever be the same.
Between the Lines
January 10, 2021
Word Count:
97000
Summary: Time is running out. After saving the world twice, Xander, Jameson and friends plunge headlong into a new crisis. The ithani―the aliens who broke the world―have reawakened from their hundred millennia-long slumber. When Xander and Jameson disappear in a flash, an already fractured world is thrown into chaos. The ithani plans, laid a hundred thousand years before, are finally coming to pass, and they threaten all life on Erro. Venin and Alix go on a desperate search for their missing and find more than they bargained for. And Quince, Robin and Jessa discover a secret as old as the skythane themselves. Will alien technology, unexpected help from the distant past, destiny and some good old-fashioned firepower be enough to defeat an enemy with the ability to split a world? The final battle of the epic science fiction adventure that began in Skythane will decide the fate of lander and skythane alike. And in the north, the ithani rise….
Ithani
December 10, 2020
Word Count:
90700
Summary: Sometimes the world needs saving twice. Xander and Jameson thought they'd fulfilled their destiny when they brought the worlds of Oberon and Titania back together, but their short-lived moment of triumph is over. Reunification has thrown the world into chaos. A great storm ravaged Xander's kingdom of Gaelan, leaving the winged skythane people struggling to survive. Their old enemy, Obercorp, is biding its time, waiting to strike. And to the north, a dangerous new adversary gathers strength, while an unexpected ally awaits them. In the midst of it all, Xander's ex Alix returns, and Xander and Jameson discover that their love for each other may have been drug-induced. Are they truly destined for each other, or is what they feel artificial? And can they face an even greater challenge when their world needs them most?
Lander
November 10, 2020
Word Count:
85000
Summary: Jameson Havercamp, a psych from a conservative religious colony, has come to Oberon—unique among the Common Worlds—in search of a rare substance called pith. He's guided through the wilds on his quest by Xander Kinnison, a handsome, cocky wing man with a troubled past. Neither knows that Oberon is facing imminent destruction. Even as the world starts to fall apart around them, they have no idea what's coming—or the bond that will develop between them as they race to avert a cataclysm. Together, they will journey to uncover the secrets of this strange and singular world, even as it takes them beyond the bounds of reality itself to discover what truly  binds them together.
Skythane
October 10, 2020
Word Count:
75000
Summary: A storm is coming ... One year has passed since the unpopular second Diamond Purge began. When the trains in Bridges mysteriously stop running, tensions among the populace rise to the point that the other three Families decide something must be done. Private investigator Jacqueline Spadros gets an unusual request: mediate with Cesare Diamond so that Inventors from all Four Families may meet to find a solution to the crisis. But Jacqui has more pressing problems. Her best friend is dying, she has a missing-persons case that she can't seem to solve, and her teenage sister-in-law is out of control. When her lawyer blackmails her for the enormous amount she owes him, Jacqui does something no one would ever have expected.
The Five of Diamonds: Part 6 of the Red Dog Conspiracy
October 1, 2020
Word Count:
131000
Summary: As the epic trilogy hurtles toward its conclusion, the fight for the future isn't over yet. It could lead to a new beginning, or it might spell the end for the last vestiges of humankind. The generation ship Forever has left Earth behind, but a piece of the old civilization lives on in the Inthworld—a virtual realm that retains memories of Earth's technological wonders and vices. A being named Lilith leads the uprising, and if she succeeds in setting its inhabitants free, they could destroy Forever. But during the generation ship's decades-long voyage, humanity has evolved. Liminals with the ability to connect with the world mind and the Inthworld provide a glimmer of hope. They'll have to face not only Lilith's minions, but also the mistrust of their own kind and persecution from a new government as homotypicals continue to fear what they can't understand. The invasion must be stopped, the Inthworld must be healed, and the people of Forever must let go of their past and embrace what they're meant to become.
The Shoreless Sea
September 10, 2020
Word Count:
115000
Summary: The Earth is dead. Five years after the Collapse, the remnants of humanity travel through the stars inside Forever: a living, ever-evolving, self-contained generation ship. When Eddy Tremaine and Andrissa "Andy" Hammond find a hidden world-within-a-world under the mountains, the discovery triggers a chain of events that could fundamentally alter or extinguish life as they know it, culminate in the takeover of the world mind, and end free will for humankind. Eddy, Andy, and a handful of other unlikely heroes must find the courage and ingenuity to stand against the rising tide. Otherwise they might be living through the end days of human history. "Quality, innovative worldbuilding grounds this volume in the "Liminal Sky" series. Fans of The Expanse will find plenty to enjoy here as different groups with widely varying goals and beliefs come together in a struggle to survive the vastness of space and one another." -Library Journal
The Rising Tide
August 10, 2020
Word Count:
36000
Summary: IN-NO-VA-TION (Noun) 1) A new idea, method, or device. 2) The introduction of something new. 3) The application of better solutions to meet unarticulated needs. Three definitions to inspire writers around the world and an unlimited number of possible stories to tell. Here are 120 of our favorites. Innovation features 300-word speculative flash fiction stories from across the rainbow spectrum, from the minds of the writers of Queer Sci Fi.
Innovation
August 8, 2020
Word Count:
87200
Summary: Some stories are epic. The Earth is in a state of collapse, with wars breaking out over resources and an environment pushed to the edge by human greed. Three living generation ships have been built with a combination of genetic mastery, artificial intelligence, technology, and raw materials harvested from the asteroid belt. This is the story of one of them—43 Ariadne, or Forever, as her inhabitants call her—a living world that carries the remaining hopes of humanity, and the three generations of scientists, engineers, and explorers working to colonize her. From her humble beginnings as a seedling saved from disaster to the start of her journey across the void of space toward a new home for the human race, The Stark Divide tells the tales of the world, the people who made her, and the few who will become something altogether beyond human. This book is not a romance per se, but does have queer relationships.
The Stark Divide
SALE
July 10, 2020
Word Count:
11000
Summary:
A trapped recruit. A genius sorcerer. When war turns the world upside down, will they dare to fight for love?
Ben knew the price for surviving the exalted University of Magic: keep his head down and his mouth shut, no matter what. He never expected to attract the interest of the genius magician Maurice. He certainly never dreamed that Maurice would love him back. Whether experimenting in his laboratory or protesting the current regime, Maurice has never found a problem he can't argue his way out of. That is, until he starts dating his shy fellow classmate, and Ben simply refuses to argue back. When Ben is called up to fight an unjust war, Maurice brews the argument of the century. Anything to keep Ben safe. But when a spell goes wrong, Maurice's life is on the line. Will Ben destroy his remaining hope and dare to speak out?
Buy Requiem Inverted today to find out.
Requiem Inverted
January 17, 2020