Romance stories written about young adults from 18-25 years of age, often featuring sex. Return to general Fantasy
Note: these books are currently sorted by release date, with newest first.
Word Count:

34000
Summary: Dr. Eavan Delaney is frustrated. It is her destiny to reunite her people and work hard to protect the rivers and waters of the world, but she has no help whatsoever. So she has lived among humans for decades, undiscovered and in peace, but she knows this is wrong: she should be taking action. Then comes the fateful day she calls for support one last, desperate time -- and is heard. With the support of 'The Council of Twelve', Eavan continues to work for the safety of Nature. But no one has foreseen that the 'Other Side' has been sabotaging her efforts. The challenge before her is suddenly much greater, and the consequences of failure even more dire than she ever imagined. Will Eavan be strong enough to save the waters from the fire?
River Guardian
Word Count:

78000
Summary: A voracious predator. A frantic plea for aid. Can she stop a dangerous menace from devouring the dragons' offspring? Rhea Monroe has missed her childhood friend. She's excited when the young dragon she grew up with returns to Earth after years away. Hearing that the dragons are in desperate need, the recent college grad immediately vows to help. But the instant they arrive in the dragon world, they're tasked with helping to defeat a frightening, formless creature known simply as The Terror. Teaming up with her boyfriend and other allies both human and winged, the resourceful companions struggle to cultivate a plan to defeat the ravenous attacker. But after a huge misstep awakens the monstrous horror, they're aghast as two of their own are consumed…. Can Rhea and her friends stop The Terror and prevent a devastating apocalypse? Summoned by Dragons is an absorbing fantasy novel. If you like compassionate heroine journeys, nuanced characters, and grand new worlds, then you'll love Joan Marie Verba's sky-high adventure. Read Summoned by Dragons to save the hatchlings today!
Summoned by Dragons
Word Count:

89000
Summary: THE POWER TO DESTROY A KINGDOM. THE POWER TO HEAL A HEART. Ari's new powers have awakened, threatening to tear apart a kingdom already on the edge. Sent back to Valon to face her father's—and the people's—judgement, Ari must decide how far she'll go to reclaim her former life, if that's even possible anymore. In the heart of the turmoil, Iata, the reigning ruler, is losing control of his increasingly unstable magics. As his secrets threaten to spill out, his brother's wife, Haneri, draws ever closer—and he's not sure he wants her to stop. At the border to Kidaa Space, Rhys grapples with the ominous and impossible patterns in the Kidaa attacks, and comes face to face with the Kidaa themselves in a harrowing meeting that could change the future of the kingdom. And Dressa, who secretly married an enemy prince, must now face the consequences of that marriage. Because Lesander was activated by her family. And Lesander has a choice: obey her family, or betray her wife. With enemies without and enemies within, can the Truthspoken save their kingdom, or is this kingdom doomed to fall? Court of Magickers collects episodes 94-150 of The Stars and Green Magics, previously published in serial form. Note: This book has main characters who use gender-neutral pronouns (they/them/their, fae/faer/faerself).
Court of Magickers
Word Count:

93700
Summary: Raven's a thief who just swallowed a dragon. A small one, sure, but now his arms are growing scales, the local wildlife is acting up, and his snarky AI familiar is no help whatsoever. Raven's best friend Aik is a guardsman carrying a torch for the thief. A pickpocket and a guard? Never going to happen. And Aik's ex-fiancé Silya, an initiate priestess in a magical crisis, hates Raven with the heat of a thousand suns. This unlikely team must work together to face strange beasts, alien artifacts, and a world-altering threat. If they don't figure out what to do soon, it might just be the end of everything. Things are about to get messy.
The Dragon Eater
SALE
Word Count:

34000
Summary: Zepheira is the best Demon Tracker working for the Good side. With her unusual looks, her phenomenal sense of smell, and her bravery, she quickly draws 'The Big 7's attention to her talent. They hire her to find one of them. Leaving her familiar surroundings and regular work environment unsettles Zepheira at first. But the challenge to prove herself and to increase the reputation of her infallibility tempts her. She is convinced she will be a great asset to 'The Big 7'. Little does she know she will be a much greater asset in Heaven's fight against Evil. Zepheira suddenly becomes more than a hired tracker. She finds herself an important pawn in the game of love, heat, and fire. Will her courage and sacrifice be sufficient to dance with the flames? [video width="1920" height="1080" mp4="https://www.limfic.com/wp-content/uploads/2023/02/Demon-Tracker-Book-Trailer-v2.mp4"][/video]
Demon Tracker
Word Count:

87000
Summary: In the interstellar kingdom of Valoris, the balance of power has changed. Dressa Rhialden has all she ever wanted—except she only wanted Lesander, gorgeous prince of an enemy high house, not the kingdom meant for her sister. Unfortunately, her betrothal came with both, and now she has a lot of catching up to do. But she's falling hard for Lesander in the meantime, and with her kingdom on the line and Lesander maybe her enemy, is falling in love really a good idea? When alien attacks that shouldn't be possible plague her kingdom's distant worlds, Dressa's new position is put to the test. Why are the pacifist Kidaa attacking now, and were the attacks made by the Kidaa at all? There's more going on than an internal power shift, and she has far more secrets to uncover to keep her kingdom safe. Ari Rhialden had her whole life planned out: excel at being the Truthspoken Heir, controlling her kingdom with her shapeshifting powers, and then one day excel at ruling the kingdom. But when she contracts an incurable illness and loses her ability to shapeshift, those plans are derailed. Ari's sent undercover to a resort world for treatment, but all is not right in paradise. A young gardener with a mysterious past is taking too much interest in Ari's new persona, and a possessive duke is bent on capturing her attention for himself. Are these just the ordinary machinations of noble guests or something far more sinister? In a kingdom where subterfuge is the norm, coincidence is never just that, and now events are rapidly spinning out of control. Can Dressa and Ari find their way to truth before the kingdom comes crumbling down around them? The Shadow Rule is the second season of The Stars and Green Magics, an epic space fantasy serial set in a diverse, queernorm universe with shapeshifting royals, plotting nobles, and space magic! The Shadow Rule collects episodes 37-93, the complete second season. This book has main characters who are queer, nonbinary, trans, agender, genderfluid, ace and/or aro, lesbian, fat, POC, disabled, ND, and generally awesome. (Not all rep is stated, some is implied.) Barring the occasional burst of strong language, this book is PG-13.
The Shadow Rule
Word Count:

34000
Summary: Koyu thought she had done her duty, but deep inside she knows it will never be over. She is bound to her master forever and will have to execute his every command. But when he demands she'll invade his sworn enemy's dreams, she chooses to rebel. Koyu risks her existence to help the 'other side' by purposely disobeying her master's orders. Koyu knows she'll pay with her life for her impertinence. Is there, indeed, no hope for her? [embed]https://youtu.be/ASa3ptKCwjo[/embed]
Dream Walker
Word Count:

99000
Summary: Gavin Booker, a school librarian at Cooper Road Elementary, Raleigh, Northern Carolina, leads an orderly, normal life. Work, jogging, friends from work, his son every other weekend. Gavin is also a secret. He is a hybrid, or part-fairy, and in the Columbian Empire, hybrids are under an automatic death sentence. Magic is illegal. So is loving another man, another capital crime. Fairies are locked away in ghettoes, magical beasts, such as gryphons, unicorns, and pegasi are kept in zoos. The others, the tree and water spirits, the talking beasts, fauns, and the rest, are in hiding. This is the world in which Gavin grew up. He survived, thanks to his mother. He can never forget he is different: ministers preach against people like him constantly; hating the other is a part of every school's curriculum. But now, things are changing fast, and apparently, for the worst. Earthquakes, volcanoes, killer storms are all frequent occurrences. The medicine Gavin takes to suppress his body's glowing, isn't working. The spells cast by his doctor, a witch, are losing their power. If anyone finds out what Gavin is, he is dead. Under threat, the Empire always goes after its marginalized people. Can Gavin survive the coming catastrophe? Will he ever recover from losing the boys he loved? Can he find the fairy man who has haunted his dreams all his life before it is too late? Can his scarred heart ever heal?
In Light's Shadow
Word Count:

67000
Summary: In the interstellar kingdom of Valoris, everyone knows the royal family is watching. They can be anyone and anywhere with their shapeshifting abilities—they are Truthspoken and to be feared. Of course, that doesn't stop the high houses from trying to take them down by any means they can. Arianna is the perfect Truthspoken Heir: beautiful, intelligent, and a master of her shapeshifting craft, determined to one day rule with the same control as her father. Her dreams come crashing down, though, when she's attacked by a rogue Green Magicker at her betrothal to a rival high house prince, when it's known that magickers can't do violence. Was it treachery, was it personal, or was it something else? Arianna has been slowly getting ill for weeks, and Truthspoken don't get sick. Dressa is the second Truthspoken heir and would like to stay that way, thank you very much. She's the glittering socialite of her father's court, more loved than feared. But when her older sister falls ill and is secretly sent away from court, there's still the matter of a much needed marriage alliance with a rival high house—and an absolutely gorgeous prince, who her sister wasn't keen on marrying anyway. When her father orders her to take her sister's place until she returns—her name, her appearance, everything—can Dressa carry on the act without falling for her sister's intended bride? Paranoia around Green Magickers is growing, noble plots are closing in, and in deep space, the only aliens humans have met are showing signs of not being pacifists after all. Can the Truthspoken hold their kingdom against the coming storm when it's already crumbling from within? The Truthspoken Heir collects the first season of The Stars and Green Magics, an epic space fantasy serial set in a diverse, queernorm universe with shapeshifting royals, glittering court intrigue, and space magic! This book has main characters who are queer, nonbinary, trans, agender, genderfluid, ace and/or aro, lesbian, fat, POC, disabled, ND, and generally awesome. (Not all rep is stated, some is implied.) Barring the occasional burst of strong language, this book is PG-13.
The Truthspoken Heir
Word Count:

105000
Summary: A girl detective. A boy genius. A warrior princess. A young magician. Four young people with extraordinary gifts. For years, they solved mysteries, caught crooks, and slayed monsters. They were secret heroes, keeping an idyllic small town in the middle of America safe from the things that lurked in the dark. Then, the year of their high school graduation, the darkness came for them. During what the media called "New Year's Evil," a demonic force rose to turn their hometown into a literal Hell on Earth. They gathered to stop it. They fought. And they won. The rest of the world never discovered the truth behind the disaster. For 20 years, the four tried living like normal people. Now their past is coming back to haunt them. The darkness is gathering once more. They're summoned back to their hometown to face it, along with everything else they left behind. Last time, they saved the world. This time, they'll have to do something much harder. They'll have to save each other. For fans of Stephen King, Neil Gaiman, and Victoria Schwab, REUNION is the story of what happens when the good guys grow up.
Reunion
Word Count:

90.000
Summary: One week to save the child, bargain with Death and get the girl…  Child Protective Services Attorney Maeve Malveaux is sure that Chrysandra Arneson needs to be rescued from her rich, powerful and abusive family. But how? Her boss won't listen to her and neither will the judge. But after she gets taken off the case and sent on involuntary leave to get her out of the way, she's determined to find out what's going on. She's not counting on joining forces with Jill, the gorgeous law librarian from work, and a mismatched collection of fairy folk. Or getting the ghostly assistance of the long-defunct Minneapolis streetcar system. And, perhaps, even a hand from Death himself. Mae and Jill are about to be caught up in a supernatural power struggle that will take them on an adventure from the Uptown neighborhood in Minneapolis into faery realms and beyond. All they need is a dime for the streetcar fare and a little help from their new allies to be on their way. But will it be enough to save a little girl and get them where they need to go? They've only got a week to find out.
Last Car to Annwn Station
Word Count:

94000
Summary: With Ruben missing and no sign of their enemy, Donovan races to uncover the mysteries of blood magic and train a new generation in New Seeking. Away from the familiar halls of the Order, he trains with Annette to develop the skills to lie and secret his true self amongst the nobility and whatever spies may skulk in their midst. Donovan encounters changed relationships, rediscovered and more complex than he ever wished, and he longs for Whitman's good humor, which is in short supply. Whitman himself struggles to unearth and connect his own threads of insight through heartbreak and daunting challenges as he digs through layers and centuries of deception and historical indoctrination. Throughout all, Ruben drowns in fear and danger, managing breaths of revelation and enlightenment that threaten to unravel everything he once understood to be true. He is determined to be of use to his friends when they come for him before his resolve trickles away, taught and taunted by the Smiling Man whose knowledge appears to stretch for generations.
Hunter
Word Count: Information not available
Summary: They told him he was chosen, but everything they told him was a lie. Sookahr believes he's destined to change the world. With his rodent companion and a motley crew of fellow serpents, he journeys to the farthest outpost of Serpentia, determined to prove himself. The quest leads him to the very edge of the jungle, where Sookahr encounters, not only sabotage, but a dark secret that could shake the foundation of his civilization. Betrayed and abandoned, Sookarh must discover his own power, harness the magic inside his dreams, and decide who he really wants to be. Because if he can't rise to the challenge, expose his enemy, and uncover the truth, he won\'t just lose his way. He'll lose his friends, his place in society… and his life. In a world ruled by reptiles, one snake must fulfil his destiny to overthrow corruption, expose a dark secret, and save his people… from themselves. 2020 Leo Literary Award Winner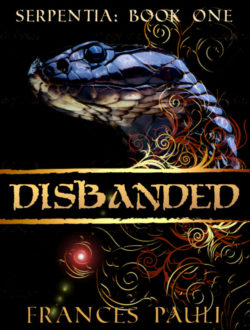 Disbanded
Word Count:

22000
Summary: All Jet wants is a fun night out at the club he's finally old enough to get into. Okay, not all -- he also wants mystery, adventure, love, college tuition, and a new best friend who isn't too busy to spend time with him. But he wasn't expecting any of those to find him at Club Nox. And he definitely wasn't expecting a gorgeous stranger to offer him his heart's desire in exchange for ... his actual heart? What kind of crazy deal is this? And what does the alluring Darken mean when he says it's too late for Jet to change his mind? Why can't Jet take off the heart-shaped pendant? Darken feels a little guilty about tricking the cute goth boy at the club into taking on his curse. But what choice did he have? Any one person can only wear the heart pendant for so long before it drains them, and he's served his three years. As curses go, this one honestly isn't so bad. And maybe Jet will let Darken sweeten the deal with a few kisses. He isn't sticking around now that he's free, though. And he definitely isn't falling in love again. That's what got him into this mess in the first place. Soon Jet realizes Darken told him the truth: Jet has made a bargain he can't escape. Does he even want to, if Darken is part of the package? If only human hearts were as easy to win as magical ones...
Dark Arts For Bright Hearts
Word Count:

100000
Summary: Donovan would prefer to die in his bed but circumstances might force him to do otherwise. When he is tasked with Retrieving a young child thought to be a magus, the most powerful magic user in any generation, he is thrown headfirst into a world of intrigue and deception where any move he makes could be the one that shifts his people into a position of bloodshed and failure. There is a war brewing, a war centuries old, between the Hunters, blood mages and child-snatchers, and the born mages, people of the Order, the school of magic and scholarly pursuit. Donovan must learn who to trust and how to endure suffering as he finds more and more about the nature of this endless war and what it means to be a fighter.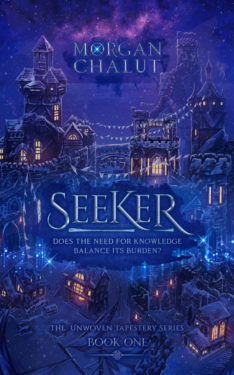 Seeker
Word Count:

115,756
Summary: In a post-apocalyptic world where tyranny and medieval torture reign supreme and witch burnings are an everyday occurrence, a top Witchfinder must confront the very Church he serves when he learns of its dark past and twisted plans for the future. The Church of the Deiparous rules with an iron fist and its rising star, Witchfinder Imperator Malachi Thorne, is committed to leading its cause. Thorne is a man on the fast track to greater things so when a convicted traitor and heretic escapes his grip, he won't tolerate it marring his perfect record. As he pursues his quarry, he must confront demons, sorcery, and a cult of witches out for his blood. But when Thorne comes face to face with the Church's dark past and its twisted present, his faith is tested to its limits. Now Thorne must decide who and what he believes in—and what he will do about it.
The Witchfinder
Word Count:

65000
Summary: Witches, ghouls, and mind readers—oh my! Murder and mystery abound in this supernatural novel. Vega Bloodmire has no problem with the label "villainous witch," though she draws the line at being called a self-centered hag. Life isn't easy being twenty-two, drop-dead gorgeous, and the most fashionable witch in all the land—especially while working as an intern teacher at a magical boarding school. Just when Vega thinks she has student teaching figured out, she is framed for murder. Worse yet, she fears she might have revealed her darkest secret—one so awful she will be shunned by Witchkin society even if she can prove her innocence. Vega needs to find the true culprit behind this crime in order to save her reputation—and her life. Enjoy this spin-off series from the world of Womby's School for Wayward Witches. This book starts with Vega Bloodmire's life before working at Womby's when she was a new and inexperienced teacher at Encantado Charter Academy. It is the first book in the series of stand-alone novels. These mysteries are meant to be read in any order. Clean, cozy, no sex or swearing, PG 13—perfectly fine for teens or grandmas who like paranormal mysteries at magical boarding academies.
Too Ghoul for School
Word Count:

100000
Summary: Qwyrk is having a bad day; several, in fact. One of the Shadow folk tasked with keeping an eye on humanity, she's ready for a well-earned break in Yorkshire, but now she's (literally) run into a girl, Jilly, who just saw something quite supernatural and truly awful happen in her town. As Qwyrk tries to unravel the mystery, layers of villainy are exposed, and she's stuck with an assortment of unlikely folk that she'd rather not have "helping" her. Together, they confront ancient magic, medieval conspiracies, and the possible end of the world (that again?). It's not the holiday Qwyrk was hoping for! Qwyrk is the first in a series of four novels about the adventures of a group of misfits at the edge of reality in modern northern England, a world of shadows, Nighttime Nasties, sorcery, intergalactic councils, tacky nightclub attire, an abundance of sarcasm, and even elves… though they are a bit silly.
Qwyrk
Word Count:

111,000
Summary:
New York: two years after the Third World War. Humanity is rebuilding its cities brick by brick; the damage done to the people, however, is a lot harder to repair.
Dan Hardacre is one of those people. An aspiring stage actor and experienced draft-dodger, Dan struggles to find his place within the Utopic rebuild of New York City. When he's not caught up with the duties of work, Dan lives a quiet life in mourning for his mother, Dyani, who went missing when he was a teenager.
One night, Dan experiences a vivid, terrifying nightmare that puts him right on the front lines of the war for which he dodged the draft; it ends with him facing Death itself in the form of a metallic, faceless humanoid creature that calls itself the Valkyrie. To investigate the reason behind his haunting experience, Dan seeks out a meeting with his estranged father, who reveals the startling truth about Dan's dream: it wasn't a dream.
With this newfound knowledge and the powers it brings, Dan makes it his mission to return to the scene of his nightmare. However, he soon comes to know that confronting the Valkyrie not only endangers him but the war-withstanding world he leaves behind.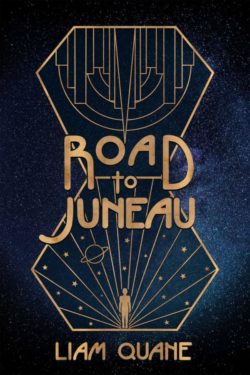 ROAD TO JUNEAU
Word Count: Information not available
Summary: When Centriel roams the Earth in a dark mood and atypical despair, in a mountain clearing, far from humankind, he unexpectedly discovers a runner, followed by a petite hunter. The way the woman treats the giant fugitive amuses the Archangel, but he quickly learns that neither of them are what they seem to be. Simin Arnatt is an extraordinary woman. Her occupation as a Bounty Hunter takes her all over the world, as she follows her prey to the most unusual places. She would have never expected to meet the famous Centriel while on a hunt. When he offers to help her, she feels the enormous attraction, but she knows, with the secret she holds, she could never dare to hope for love. Neither of them could guess that with her next assignment, Hell is breaking loose… [embed]https://youtu.be/dK4mKAhhvow[/embed]
Bounty Hunter