Sci fi stories mixes tropes and elements from both science fiction and fantasy, usually within a logical framework. Return to general Sci Fi
Note: these books are currently sorted by release date, with newest first.
Filter by:
Genres
Fantasy
Fantasy - Alternate History
Fantasy - Comedy
Fantasy - Contemporary
Fantasy - Dark Fantasy
Fantasy - Erotica
Fantasy - Faery & Fae
Fantasy - Fairy Tale / Folklore
Fantasy - Fantasy of Manners
Fantasy - Gothpunk
Fantasy - Heroic
Fantasy - High & Other World
Fantasy - Historical
Fantasy - Hopepunk
Fantasy - Knights & Castles
Fantasy - Latinpunk
Fantasy - LGBTQ+
Fantasy - LitRPG
Fantasy - Low Fantasy
Fantasy - Magical Realism
Fantasy - Mythic
Fantasy - Mythpunk
Fantasy - New Adult
Fantasy - Paranormal
Fantasy - People of Color
Fantasy - Piratepunk
Fantasy - Quiet
Fantasy - Romance
Fantasy - RPG
Fantasy - Slipstream
Fantasy - Steampunk
Fantasy - Sword & Sorcery
Fantasy - Urban & Magical Beings
Fantasy - Weird Fantasy
Fantasy - Young Adult
Fantasy – Gods and Heroes
Horror
Horror - Angels & Devils
Horror - Comedy
Horror - Fairy Tale/Folklore
Horror - Ghosts & Haunted Houses
Horror - Gothic
Horror - LGBTQ+
Horror - LitRPG
Horror - Lovecraftian/Cthulhu
Horror - Man-Made Horrors
Horror - Monsters
Horror - Mythic
Horror - New Adult
Horror - Noir
Horror - Occult
Horror - People of Color
Horror - Post-Apocalyptic
Horror - Psychic Talents
Horror - Psychological
Horror - Shifters
Horror - Splatterpunk
Horror - Vampires
Horror - Weird Horror
Horror - Werewolves
Horror - Witches
Horror - Young Adult
Horror - Zombies
Nonfiction
Nonfiction - Writing Guides
Paranormal
Paranormal - Angels & Devils
Paranormal - Comedy
Paranormal - Dark
Paranormal - Ghosts & Haunted Houses
Paranormal - LGBTQ+
Paranormal - LitRPG
Paranormal - Magical Beings
Paranormal - Monsters
Paranormal - New Adult
Paranormal - People of Color
Paranormal - Psychic Talents
Paranormal - Reincarnation
Paranormal - Romance
Paranormal - Shifters
Paranormal - Vampires
Paranormal - Young Adult
Paranormal - Zombies
Poetry
Sci Fi
Sci Fi - Alien Invasion
Sci Fi - Alien Races
Sci Fi - Aliens
Sci Fi - Alternate / Parallel Reality
Sci Fi - Alternative History
Sci Fi - Apocalyptic Fiction
Sci Fi - Artificial Intelligence
Sci Fi - Biopunk
Sci Fi - Christian
Sci Fi - Climate Fiction (Cli-Fi)
Sci Fi - Clockpunk
Sci Fi - Clones
Sci Fi - Colonization
Sci Fi - Comedy
Sci Fi - Cyberpunk
Sci Fi - Cyberspace
Sci Fi - Decopunk
Sci Fi - Detective
Sci Fi - Dieselpunk
Sci Fi - Distant Planet
Sci Fi - Dying Earth
Sci Fi - Dystopian & Post-Apocalyptic
Sci Fi - First Contact
Sci Fi - Frontier
Sci Fi - Furry
Sci Fi - Galactic Empire
Sci Fi - Generation Ship
Sci Fi - Genetic Manipulation
Sci Fi - Gothpunk
Sci Fi - Greenpunk
Sci Fi - Hard Sci Fi
Sci Fi - Hollow Earth
Sci Fi - Hopepunk
Sci Fi - Human Evolution
Sci Fi - Immortality
Sci Fi - LGBTQ+
Sci Fi - LitRPG
Sci Fi - Lost Worlds
Sci Fi - Military
Sci Fi - Mind Uploads
Sci Fi - Multiverse
Sci Fi - Mutants
Sci Fi - Nanopunk
Sci Fi - Near Future
Sci Fi - New Adult
Sci Fi - Nowpunk
Sci Fi - People of Color
Sci Fi - Piratepunk
Sci Fi - Pulp
Sci Fi - Realistic
Sci Fi - Robots/Androids
Sci Fi - Romance
Sci Fi - RPG
Sci Fi - Science Fantasy
Sci Fi - Singularity
Sci Fi - Slipstream
Sci Fi - Social
Sci Fi - Soft
Sci Fi - Solarpunk
Sci Fi - Space Exploration
Sci Fi - Space Opera
Sci Fi - Space Western
Sci Fi - Spacepunk
Sci Fi - SpyFi
Sci Fi - Steampunk
Sci Fi - Superheroes & Villains
Sci Fi - Terraforming
Sci Fi - Teslapunk
Sci Fi - Theological
Sci Fi - Time Travel
Sci Fi - Transhuman
Sci Fi - Uplift
Sci Fi - Utopian
Sci Fi - Virtual Reality
Sci Fi - Weird Sci Fi
Sci Fi - Young Adult
Tropes
Abandoned Place
AI Uprising
Alien Artifacts
Alien Eggs
Alien Invasion
Alien Ruins
Aliens Among Us
Aliens as God
Aliens in History
Ancient Astronauts
Ancient Weapon
Antihero
Arthurian Legends
Asteroid Miner
Astral Projection
Bad Robot
Band of Brothers/Sisters
Band of Misfits
Bar Tales
Becoming a Monster
Benevolent Aliens
Beyond the Grave Communication
Big Sword
Black and White Morality
Body Modifications
Bodysnatchers
Book of Spells
Born Hero
Burial Ground/Cemetary
Changing Painting
Chosen One
Clones
Conspiracy
Crazy Clairvoyants
Cross-Species Friendships
Cryosleep
Dark Enemy
Dark Lord
Death by Sex
Demonic Possession
Dragonriders
Dying World
Dystopian Governments
Enemy to Ally
Evil Megacorporation
Evolving Powers
Fallen Hero
Farmer to Hero
Farmer to Royalty
Fated Mates
Fellowship
Fetus of Doom
First Contact
Fish Out of Water
Found Family
FTL
Galactic Civilization
Generation Ships
Good Robots
Haunted House
Here Comes the Cavalry
Humanity is Dangerous
Humanity is Good
Humans Evolved From Aliens
Hunted
I Am Your Father
I See Dead People
Immortality
Inaccessible Magic
Interspecies Adoption
Interspecies Romance
Interstellar Travel
Killer Aliens
Library of Secrets
Lost Civilization
Lucky Novice
Mad Scientist
Magic Furniture
Magic Talisman
Magical Disaster
Marooned
Mirror Shows True Self
Modern Human in Fantasy World
Museum/Store of the Unusual
No Cell Coverage
Old Person in the Woods
Oxygen Leak
Parallel Worlds
Past People/Future Tech
Person in Distress
Portals
Possession
Post-Apocalyptic
Powerful Artifact
Prophesy
Pseudo European Society
Psionic Powers
Quest
Redemption Arc
Reluctant Hero
Reluctant Vampires
Robin Hood Legends
Roguish Thief
Secret Heir
Secret Royalty
Secret Society
Sentient AI
Sentient Spaceships
Sex Magic
Singularity
Space Battles
Space Dentistry
Space Detectives
Space is Empty
Space is Full
Space Medicine
Space Pilot
Space Pirates
Space Psychology
Space Smugglers
Superpowers
Sword of Destiny
Time Loop
Time Travel
Training
Ultimate Evil
Undiscovered Planet
Uploaded Consciousness
Vengeful Spirit
Villain to Hero
Waiting/Sleeping Evil
Wise Mentor
Tags
author - american
author - arabian
author - australian
author - belgian
author - british
author - canadian
author - dutch
author - european
author - french
author - italian
author - new zealander
author - saudi arabian
format - anthology
format - audiobook
format - book
format - box set
format - collection
format - free
format - hardcover
format - illustrated novel
format - kindle
format - kindle unlimited
format - large print
format - netgalley
format - novel
format - novel >100K
format - novel <100K
format - novel 40-100K
format - novella 15k-40K
format - novellette <15k
format - omnibus edition
format - paperback
format - payhip
format - planner
format - prequel
format - self published
format - sequel
format - series
format - shared universe
format - short stories
format - short story <15K
identity - aromantic
identity - asexual
identity - bisexual
identity - demisexual
identity - gay
identity - gender fluid
identity - intersex
identity - lesbian
identity - non-binary
identity - pansexual
identity - polyamorous
identity - transgender
potential trigger
potential trigger - abduction-captivity
potential trigger - addiction
potential trigger - avalanche
potential trigger - blood
potential trigger - death
potential trigger - gore
potential trigger - graphic torture
potential trigger - murder
potential trigger - rape
potential trigger - sexual abuse
potential trigger - stalking
potential trigger - suicidal ideation
potential trigger - suicide
potential trigger - torture
potential trigger - traumatic past
potential trigger - violence
what - concept - amnesia
what - concept - curse
what - condition - blindness
what - condition - disability
what - condition - mental illness
what - condition - ptsd
what - element - ferocious poodle
what - holiday - general
what - topic - cartel
what - topic - chinese medicine
what - topic - chinese mythology
what - topic - climate change
what - topic - compassion
what - topic - crime
what - topic - desert survival
what - topic - disaster
what - topic - flying
what - topic - genetic engineering
what - topic - harem
what - topic - haunting
what - topic - japanese mythology
what - topic - learning disabilities
what - topic - legend
what - topic - magic
what - topic - multicultural
what - topic - music
what - topic - natural disaster
what - topic - non-violence
what - topic - politics
what - topic - ransom
what - topic - reincarnation
what - topic - religion
what - topic - revenge
what - topic - science experiment
what - topic - secret
what - topic - secret organization
what - topic - superstition
what - topic - taboo
what - topic - technology
what - topic - terrorism
when - period - 16th century
when - period - 17th century
when - period - 18th century
when - period - 1920s
when - period - 1930s
when - period - 1950s
when - period - 1960s
when - period - 1970s
when - period - 1980s
when - period - 1990s
when - period - 19th century
when - period - 20th century
when - period - ancient greece
when - period - ancient rome
when - period - edwardian
when - period - georgian
when - period - great war
when - period - middle ages
when - period - near future
when - period - prehistoric
when - period - prohibition
when - period - victorian
where - fictional - moon colony
where - general - alternate universe
where - general - carnival
where - general - castle
where - general - cave
where - general - cruise ship
where - general - forest
where - general - military
where - general - mountains
where - general - private school
where - general - rural
where - general - small town
where - general - swamp
where - general - uncharted island
where - general - underground
where - general - underwater
where - Mars
where - non-Earth planet
where - space - international space station
where - space - space station
where - space station
where - spaceship
who - description - alpha male
who - description - alphas and omegas
who - description - tattoos
who - magical humans
who - occupation - apothecary
who - occupation - archaeologist
who - occupation - artist
who - occupation - assassin
who - occupation - astronaut
who - occupation - astronomer
who - occupation - author
who - occupation - baker
who - occupation - barista
who - occupation - bodyguard
who - occupation - botanist
who - occupation - bounty hunter
who - occupation - castle laird
who - occupation - computer programmer
who - occupation - contractor
who - occupation - coroner
who - occupation - cowboys
who - occupation - detective
who - occupation - doctor
who - occupation - engineer
who - occupation - ex-convict
who - occupation - federal agent
who - occupation - guard
who - occupation - hacker
who - occupation - healer
who - occupation - herbalist
who - occupation - historian
who - occupation - horsemaster
who - occupation - innkeeper
who - occupation - inventor
who - occupation - journalist
who - occupation - king
who - occupation - knight
who - occupation - law enforcement
who - occupation - librarian
who - occupation - lord
who - occupation - mage
who - occupation - marine
who - occupation - mechanic
who - occupation - medical
who - occupation - mercenary
who - occupation - military
who - occupation - missionary
who - occupation - motorcycle rider
who - occupation - musician
who - occupation - nurse
who - occupation - pilot
who - occupation - pirate
who - occupation - police
who - occupation - politician
who - occupation - priest
who - occupation - prince
who - occupation - prisoner
who - occupation - professor
who - occupation - psychic
who - occupation - royalty
who - occupation - sailor
who - occupation - scientist
who - occupation - security
who - occupation - serial killer
who - occupation - servant
who - occupation - sex worker
who - occupation - sheriff
who - occupation - soldier
who - occupation - space marines
who - occupation - spaceship captain
who - occupation - spy
who - occupation - starship captain
who - occupation - student
who - occupation - superhero
who - occupation - tattoo artist
who - occupation - teacher
who - occupation - thief
who - occupation - tracker
who - occupation - undercover agent
who - occupation - warrior
who - occupation - writer
who - religion - catholic
who - religion - jewish
who - religion - muslim / islamic
who - religion - pagan
who - religion - shinto
who - sea dragon shifter
who - shifter
who - type - alien
who - type - altered human
who - type - angels
who - type - badass heroine
who - type - bear shifters
who - type - bigfoot
who - type - centaur
who - type - cyborg
who - type - demons
who - type - dragon shifters
who - type - dragons
who - type - elves
who - type - fae
who - type - fox
who - type - ghosts
who - type - god
who - type - griffins
who - type - incubus
who - type - kitsune
who - type - merman
who - type - nekomata
who - type - nephilim
who - type - panther shifters
who - type - reindeer shifters
who - type - robot / cyborg
who - type - sea god
who - type - selkie
who - type - spiders
who - type - spirit
who - type - succubus
who - type - unicorns
who - type - vampires
who - type - vegan
who - type - werecats
who - type - werewolves
who - type - witch
who - type - wizard
who - type - wolf
who - type - yokai
who - type - zombies
who - world defender
Word Count: Information not available
Summary: Hawk's people need the truth to survive. The Protected only care about saving themselves. Having traveled the world to find a cure for a city-wide malady, Hawk is anxious about his return home. Although facing a death sentence, he believes the medicine he's brought can save his city from extinction. But when he and the captain start behaving oddly, the crew suspects a hybrid is pulling the strings in Rocan, altering people's perceptions, and even occluding the cause of the malady itself. Hawk's resistance to the altered reality raises red flags among the Protected, a group of humans living in a neighboring realm that relies on Rocan to exist. The Protected also want the cure, and they plan to steal it. Exposing the Protected could collapse the walls of the city, killing everyone in Rocan. Can Hawk fight the control of the Protected to save himself, his family, and his city? Occlusion is the final installment of the New Dawn space opera series. If you enjoy found family stories, psychic powers blended with technology, you'll love this riveting, multi-realm space opera.
Occlusion
June 1, 2022
Word Count:
120000
Summary: A circus takes down a crimeboss on the galaxy's infamous pleasure moon. Hunted by those who want to study his gravity powers, Jes makes his way to the best place for a mixed-species fugitive to blend in: the pleasure moon. Here, everyone just wants to be lost in the party. It doesn't take long for him to catch the attention of the crime boss who owns the resort-casino where he lands a circus job. When the boss gets wind of the bounty on Jes' head, he makes an offer: do anything and everything asked of him, or face vivisection. With no other options, Jes fulfills the requests: espionage, torture, demolition. But when the boss sets the circus up to take the fall for his about-to-get-busted narcotics operation, Jes and his friends decide to bring the mobster down together. And if Jes can also avoid going back to being the prize subject of a scientist who can't wait to dissect him? Even better.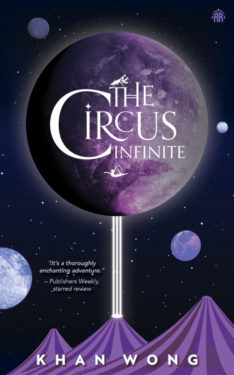 The Circus Infinite
March 8, 2022
Word Count: Information not available
Summary: Raka Varoule, Maven Blackheart, and Marco return for one final adventure in Black Swan Empire! When Maven nearly starts WWIII as a result of an international nuclear incident, she and Raka are forced to flee from Earth and return to the Galactic Empire, but they aren't exactly welcomed with open arms. They are quickly drawn into a plot that just happens to involve the assassination of Emperor Caligula himself. With the help of some old friends and a few frenemies, they face their biggest challenge yet when the entire Empire is on the line.
Black Swan Empire
February 15, 2022
Word Count:
120000
Summary: A woman with the strength to rebel. A shapeshifter who wears the souls of the dead. Together, they face a lethal enemy. Em helped create it. Now she must craft its defeat. In a city owned by industrialists, Em sells her magic to make ends meet. The extraction procedure is brutal and potentially deadly. Desperate for change, she joins an underground resistance movement to weaponize her magic and stop the abuse of workers. Meanwhile, a mysterious voice wakes Ruk from a decades long slumber and compels him to become human. He wants to break free but is torn between his shapeshifter instincts and the needs of the soul that sustains him. On streets haunted by outcasts and predatory automatons, a new danger emerges – an ever-growing corruption of magic and science. Em and Ruk must put aside their differences and pursue it – each for their own reasons. What they discover will forever change their lives… Or end them. The Eternal Machine is set in a 19th Century alternative reality Australian city, where magic and science are equally valid disciplines.
The Eternal Machine
February 14, 2022
Word Count:
120600
Summary: Captain Talis just wants to keep her airship crew from starving, and maybe scrape up enough cash for some badly needed repairs. When an anonymous client offers a small fortune to root through a pile of atmospheric wreckage, it seems like an easy payday. The job yields an ancient ring, a forbidden secret, and a host of deadly enemies. Now on the run from cultists with powerful allies, Talis needs to unload the ring as quickly as possible. Her desperate search for a buyer and the fallout from her discovery leads to a planetary battle between a secret society, alien forces, and even the gods themselves. Talis and her crew have just one desperate chance to make things right before their potential big score destroys them all.
Flotsam
February 1, 2022
Word Count:
132,220
Summary: Bobby Gene is a man who stands out even among his people. Guided by the knowledge of his heritage as a backwoods shaman and more perceptive than many, he's grown to be a valuable asset to those he knows. While he isn't surprised to be the first to know when the woods around him begin to show clues that something isn't right, he doesn't expect just how much these omens and signs will prove to foretell something far more sinister to come. Soon strange dreams and inexplicable encounters have him questioning everything he knows- and then the people who live in his woodland Appalachian community begin to disappear. It's his job to protect and guide the others, what will he do when he's the only thing between them and the end of life as they know it?
Night is Falling
January 22, 2022
Word Count:
45000
Summary: Tangents & Tachyons is Scott's second anthology - six sci fi and sci-fantasy shorts that run the gamut from time travel to hopepunk and retro spec fic: Eventide: Tanner Black awakes to find himself in his own study, staring out the window at the end of the Universe. But who brought him there, and why? Chinatown: Deryn lives in an old San Francisco department store with his girlfriend Gracie, and scrapes by with his talent as a dreamcaster for the Chinese overlords. But what if a dream could change the world? Across the Transom: What if someone or something took over your body on an urgent mission to save your world? Pareidolia: Simon's not like other college kids. His mind can rearrange random patterns to reveal the images lurking inside. But where did his strange gift come from? And what if there are others like him out there too? Lamplighter: Fen has a crush on his friend Lewin, who's in a competing guild. But when the world goes dark, only a little illumination can save it. And only Fen, Lewin and their friend Alissa can light the spark. A Liminal Sky short. Prolepsis: Sean is the closeted twenty-five-year-old editor of an 80's sci-fi 'zine called Prolepsis. When an unabashedly queer story arrives from a mysterious writer, it blows open Sean's closet door, and offers him the chance to change the world - and the future. Plus two flash fiction stories – The System and The Frog Prince, never before published. This is the first time all of these stories have all been collected in one place.
Tangents & Tachyons
December 10, 2021
Word Count:
50000
Summary: The first in a series. A story about an engineer who gets accidentally transported to a medieval type world where magic is real. But all is not as it seems!
December 6, 2021
Word Count:
71000
Summary: I've got a secret. Two, actually. I'm not that powerful. My best friend Gerald, though, he's got enough superpowers to fill the role of two heroes. His abilities are so strong, he can even make everyone believe I'm destined to be more than a sidekick. My other secret? I love him. My crush is getting harder to hide now that we're headed off to superhero university together. With Gerald as my roommate, it's only a matter of time before he figures out how I feel. And from there, our other secrets will inevitably unravel, too. Including what truly happened the night we stumbled on a League of Villains meeting. I never counted on the League ruining my plans to enjoy the university experience with my bestie. Or the nemesis who haunts my nightmares turning his telepathy on the city I grew up expecting to protect with my powers. One thing's for sure, superhero school isn't for the faint of heart. Super U: Rising Storm is an M/X superhero slow-burn best friends to lovers romance. It is part of a multi-author shared universe following the university adventures of superheroes in training. Gerald is a trans man who commands the wind and electricity. Ignatius is his non-binary and autistic best friend, who controls electric sparks. Read now to watch them turn their spark into a storm.
Super U: Rising Storm
October 12, 2021
Word Count:
174000
Summary: In a race against time to save David from near-certain death as he confronts his mystical fate, his partners Bryan and Brennan are plunged into a new world of mystery and intrigue among London's supernatural factions. Faced with new threats to their relationship greater than any they've known, the three men must confront what it means to love someone unconditionally. Aided by a rogue anti-corporatist werewolf and Bryan's own strong-willed daughter, Leap takes readers on an unparalleled journey across two continents to uncover technology giants' sinister plots to harness the supernatural to transform the world for their own gain. Ancient prophecies, mythical beings, ethical quandaries, and the seedy underbelly of a technological corporatocracy all converge in the third book in Lilith Frost's breakout Hard Way Home series. Can love overcome any obstacle when they come from another world? Leap continues to blend the best of science fiction and fantasy while introducing unique themes that make it a must-read for fans across genres of LGBTQ romance, urban fantasy, and dystopian drama.
Leap
October 6, 2021
Word Count:
93765
Summary: Home, a place where we belong and are safe and loved. Home, the house in which we grew up, a neighborhood, a culture, even a country. Home is a state of mind, it is a place of the heart, and in the heart. Finding home, coming home, and bringing home the one we love is a journey, a journey that can be a dangerous adventure. For the lovers in these stories, adventures can include quests and fighting dragons and demons, past and present, physical as well as mental and emotional. Rocket launchers need to be dodged, the Wild Hunt needs to be outrun. For some of the lovers here, home has been lost, or they have been forced to leave, as is too common for LGBT+ youth. In this collection queer positive speculative fiction stories, explore the idea of what and where home is in the lives of these lovers. Will they survive their quests, defeat their monsters? Will they find a place to call home?  
To Bring Him Home and Other Tales
September 11, 2021
Word Count:
14700
Summary: A handwritten note. A handfull of lavender roses. And memories cracked like shattered glass. Kerry has had a bad day, and he's sick of his life in Arco Four. Nothing ever changes, even for a firedrake. Days and nights pass with a quiet air of desperation, as everyone  tries to convince themselves their lives in the superscraper have meaning. A strange scribbled note offers him a distraction—and maybe a chance to finally unlock his broken memories. But to find out, he'll to go Outside. No one ever goes Outside. Still, what does he have to lose?
Firedrake
September 10, 2021
Word Count:
10400
Summary: "5 Stars - This action-packed adventure will fully immerse the reader... any fan of science fiction or action-adventure would enjoy this book." - Reader's Favorite "...a gifted story that is exceptionally compelling." - D. Donovan, Senior Reviewer, Midwest Book Review "5 Stars - ... something both sci-fi and fantasy fans will enjoy." - Jim's Sci-Fi Blog Even gods have secrets... On planet Vastire, worth is set by the sins of one's ancestors. Good families rise to the elite and the wicked fall into poverty. Unfortunately for sixteen-year-old Darynn Mark, his father incited a revolution. Now, Darynn scrounges his way through life in the slums. When Vastire is surrounded by an embargo, it gets even harder to survive. That all changes when an alien ship slips through the embargo, seeking Darynn with an offer: finish the revolution and the embargo ends. He might have a chance thanks to mysterious magic powers, and his two companions: clairvoyant crush Fyra and soldierly alien Kaylaa. Cutthroat killers, mystical beasts, Vampires, power-hungry priests and lords, and self-serving spies stand in their way. If the three of them can crack his father's secret, maybe they can end the embargo and save the poor. If not, another poor orphan will be added to the growing piles of dead.
Embargo on Hope
August 20, 2021
Word Count:
100000
Summary: After surviving the brutal war against the Proximians, survivors of the Save The Species mission are faced with a terrible new threat. The Othauls are a ruthless alien species determined to terrorize every intelligent race of beings until they are given what they want. Led by the vicious Chalnaii, the Othauls will stop at nothing to bring humanity into their Dynasty. Liam Donovan, along with Ann Caldwell and the rest of the survivors, must escape the Othauls' grip while also embarking on a perilous task to find other alien races to form an alliance which could be their only hope against the malevolent Othauls. Meanwhile, back on Earth, mysteries must be revealed, and uncomfortable truths come to light if humanity can ever hope to be able to defend itself from the Othauls' invading force.
Proxima: The Othaul Dynasty
August 16, 2021
Word Count:
7500
Summary: In sunny San Cicaro, a new app is dominating the city's streets – and its people. Max loves her city, and believes everyone deserves to enjoy its hidden treasures. So when she launches the SC Hub, a new social app to connect people and places, she couldn't be happier with its blazing overnight success. But her reclusive girlfriend, Ellie, can't help but worry about the magnetic pull the app is having on its creator, and the strange occurrences in town that seem linked to it. Are people driving the app… or the other way round?
The Hub
July 28, 2021
Word Count:
83000
Summary: Desperate for a cure, Amanda will trade anything. Even her supernatural echo power. Plagued by schizophrenia, Amanda often has trouble distinguishing her delusions from the insights of her supernatural echo power. When her case catches the interest of a Cordovan geneticist, she soon discovers there's a fine line between a patient and a test subject. Even worse, the treatment for her disease might also erase her power. With Amanda left vulnerable by her treatment, the crew is in a race to save both her and the other test subjects. But their lone ship is no match for the Cordovan's advanced technology.  Can Amanda use her power to save them before her consciousness is erased? Echo is the thrilling continuation of the New Dawn science fiction series. If you like complex characters, clashing cultures, and supernatural powers, you'll love this multi-realm space opera.
Echo
July 15, 2021
Word Count:
111,000
Summary:
New York: two years after the Third World War. Humanity is rebuilding its cities brick by brick; the damage done to the people, however, is a lot harder to repair.
Dan Hardacre is one of those people. An aspiring stage actor and experienced draft-dodger, Dan struggles to find his place within the Utopic rebuild of New York City. When he's not caught up with the duties of work, Dan lives a quiet life in mourning for his mother, Dyani, who went missing when he was a teenager.
One night, Dan experiences a vivid, terrifying nightmare that puts him right on the front lines of the war for which he dodged the draft; it ends with him facing Death itself in the form of a metallic, faceless humanoid creature that calls itself the Valkyrie. To investigate the reason behind his haunting experience, Dan seeks out a meeting with his estranged father, who reveals the startling truth about Dan's dream: it wasn't a dream.
With this newfound knowledge and the powers it brings, Dan makes it his mission to return to the scene of his nightmare. However, he soon comes to know that confronting the Valkyrie not only endangers him but the war-withstanding world he leaves behind.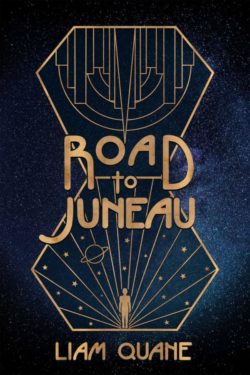 ROAD TO JUNEAU
May 18, 2021
Word Count:
45000
Summary: Manifesto the Great comes from a dynasty of leaders who treat women like breeding machines. When his father dies, he must take over as leader, but will he be able to keep control of the women? Planet Hy Man is a planet as pure as a baby's belly button until a spaceship arrives; a spaceship full of men and women who have spent a lifetime of celibacy. Sex, like roast chicken and football being off the menu until a planet was found.  They hurl themselves into a frenzy of real meat, real air, and sex until a leader emerges to create order, civilization and a sewage system. Manifesto the Great watches as his forefathers pollute the planet, treat women as walking wombs, and make dodgie robots until it is his turn.  Will he rise over the tidal wave of discontented women, or will he drown under a sea of underwire and oestrogen? The Rise Of Manifesto The Great is the first of three prequels to the Planet Hy Man science-fiction comedy series. If you like high-mileage heroines, fast-paced satire, and meticulously crafted universes, then you'll love Kerrie Noor's otherworldly farce. 
The Rise Of Manifesto The Great
March 31, 2021
Word Count:
270000
Summary: Oberon is unique among the Common Worlds - a half-world with a strange past and an uncertain future. Jameson Havercamp and Xander Kinnson are thrust into the middle of a world-ending event and have to scramble to save the world - and themselves. Along the way, they peel back the layers of the onion to discover secrets wrapped in secrets that will eventually take them to where it all started - and may provide the key to saving Oberon and everyone on it. SKYTHANE Jameson Havercamp, a psych from a conservative religious colony, has come to Oberon—unique among the Common Worlds—in search of a rare substance called pith. He's guided through the wilds on his quest by Xander Kinnson, a handsome, cocky skythane with a troubled past. Neither knows that Oberon is facing imminent destruction. Even as the world starts to fall apart around them, they have no idea what's coming—or the bond that will develop between them as they race to avert a cataclysm. Together, they will journey to uncover the secrets of this strange and singular world, even as it takes them beyond the bounds of reality itself to discover what truly binds them. LANDER The world needs saving, again. Xander and Jameson thought they'd fulfilled their destiny when they brought the worlds of Oberon and Titania back together, but their short-lived moment of triumph is over. Reunification has thrown the world into chaos. A great storm ravaged Xander's kingdom of Gaelan, leaving the winged skythane people struggling to survive. Their old enemy, Obercorp, is biding its time, waiting to strike. And to the north, a dangerous new adversary gathers strength, while an unexpected ally awaits them. In the midst of it all, Xander's ex Alix returns, and Xander and Jameson discover that their love for each other may have been drug-induced. Are they truly destined for each other, or is what they feel artificial? And can they face an even greater challenge when their world needs them most? ITHANI Time is running out. After saving the world twice, Xander, Jameson and friends plunge headlong into a new crisis. The ithani―the aliens who broke the world―have reawakened from their hundred millennia-long slumber. When Xander and Jameson disappear in a flash, an already fractured world is thrown into chaos. The ithani plans, laid a hundred thousand years before, are finally coming to pass, and they threaten all life on Erro. Venin and Alix go on a desperate search for their missing and find more than they bargained for. And Quince, Robin and Jessa discover a secret as old as the skythane themselves. Will alien technology, unexpected help from the distant past, destiny and some good old-fashioned firepower be enough to defeat an enemy with the ability to split a world? The final battle of the epic science fiction adventure that began in Skythane will decide the fate of lander and skythane alike. And in the north, the ithani rise….
Liminal Fiction: Oberon Cycle Complete Box Set
SALE
March 24, 2021
Word Count:
270000
Summary: Liminal Sky chronicles humankind's first journey to the stars. The first three books - the Ariadne Cycle - cover the creation and launch of Ariadne (aka Forever) as she was grown from seed on an asteroid and then launched across the interstellar void. The books are told in epic fashion, with each broken into three parts that span generations. THE STARK DIVIDE Some stories are epic. The Earth is in a state of collapse, with wars breaking out over resources and an environment pushed to the edge by human greed. Three living generation ships have been built with a combination of genetic mastery, artificial intelligence, technology, and raw materials harvested from the asteroid belt. This is the story of one of them—43 Ariadne, or Forever, as her inhabitants call her—a living world that carries the remaining hopes of humanity, and the three generations of scientists, engineers, and explorers working to colonize her. From her humble beginnings as a seedling saved from disaster to the start of her journey across the void of space toward a new home for the human race, The Stark Divide tells the tales of the world, the people who made her, and the few who will become something altogether beyond human. Humankind has just taken its first step toward the stars. THE RISING TIDE The Earth is dead. Five years after the Collapse, the remnants of humanity travel through the stars inside Forever: a living, ever-evolving, self-contained generation ship. When Eddy Tremaine and Andrissa "Andy" Hammond find a hidden world-within-a-world under the mountains, the discovery triggers a chain of events that could fundamentally alter or extinguish life as they know it, culminate in the takeover of the world mind, and end free will for humankind. Eddy, Andy, and a handful of other unlikely heroes must find the courage and ingenuity to stand against the rising tide. Otherwise they might be living through the end days of human history. THE SHORELESS SEA Rise of the Inthworld. The fight for the future isn't over yet. It could lead to a new beginning, or it might spell the end for the last vestiges of humankind. The generation ship Forever has left Earth behind, but a piece of the old civilization lives on in the Inthworld—a virtual realm that retains memories of Earth's technological wonders and vices. Lilith leads the uprising, and if she sets its inhabitants free, they could destroy Forever. But during the ship's long voyage, humanity has evolved. Liminals with the ability to connect with the world mind and the Inthworld provide a glimmer of hope as they face not only Lilith's minions, but the mistrust of their own kind as homotypicals fear what they can't understand. The invasion must be stopped, the Inthworld healed, sothe people of Forever can let go of their past and embrace their future.
Liminal Sky: Ariadne Cycle Complete Box Set
SALE
March 17, 2021