Sci fi stories that involve galaxy-spanning civilizations, often with an amalgam of different races. Return to general Sci Fi
Note: these books are currently sorted by release date, with newest first.
Word Count:

70000
Summary: Ray M. Holler is an interstellar shipping freelancer, expert smuggler, and an occasional thief with a troubled past which means that his life is far from the boring, mundane exploits of your average denizen of the Orion-Sagittarius Union, a political alliance of intelligent species inhabiting the Milky Way galaxy. In fact, more often than not, he finds himself up to his neck in situations that require wit, courage, and a decent amount of luck to maneuver out of in one piece. Throughout his adventures in a universe where a safe, peaceful life is possible but not guaranteed, Ray gets to meet a variety of interesting individuals, make new friends, reunite with old acquaintances, and maybe—just maybe—face his own demons. All Quiet In the Milky Way: Ray M. Holler's Adventures vol. 1 brings forth five stories, accompanied by an equal amount of side vignettes. This collection will take you on an exciting journey to remote worlds that, in some aspects, may not be all that dissimilar from the one we live in today.
All Quiet in the Milky Way
Word Count:

38000
Summary: RISE (noun / verb) Eight definitions to inspire writers around the world, and an unlimited number of possible stories to tell: 1) An upward slope or movement 2) A beginning or origin 3) An increase in amount or number 4) An angry reaction 5) To take up arms 6) To return from death 7) To become heartened or elated 8) To exert oneself to meet a challenge Rise features 300-word speculative flash fiction stories from across the rainbow spectrum, from the minds of the writers of Queer Sci Fi.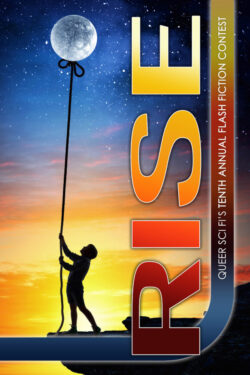 Rise
Word Count: Information not available
Summary: These interconnected sci-fi dystopian stories will transport you to a world teetering on the precipice of collapse. Join heroes who dare to challenge the shackles of oppression, embarking on dangerous journeys to seek freedom. As the shadow of destruction looms, some choose to fight, while others opt for escape. Yet, in the depths of tormented souls, hope emerges as a fragile yet resilient guiding light. Amidst the tapestry of deceit and cunning, clandestine agendas unfurl, weaving intricate webs of intrigue. The galaxy is engulfed in a war that threatens the fabric of existence. However, amidst the chaos, unexpected friendships and relationships are forged, transcending boundaries and divisions. Will righteousness prevail in the face of adversity? Can the seeds of change take root in the soil of uncertainty? Be enthralled by this omnibus edition, a gateway to the captivating Sehnsucht Series by Keyla Damaer.
Tales from the Sehnsucht Series Omnibus Edition
Word Count:

96,000
Summary: A guard and a thief. What could go wrong? Aik has fallen hopelessly in love with his best friend. But Raven's a thief, which makes things … complicated. Oh, and Raven has just been kidnapped by a dragon. Now Aik is off on a quest of his own, to hunt down the foul beast and make them give back his … friend? Lover? Soulmate? The whole not-knowing thing just makes everything harder. Meanwhile, the world of Tharassas is falling apart, besieged by earthquakes, floods, and strange creatures no one has ever seen before. Aik's ex, Silya has gone back to Gullton to try to save her people as the Hencha Queen, and Aik's stuck in a caravan with her mother and a damnable magical gauntlet that won't let him be. He has to find Raven, before it's too late. Things were messy before … but now they're much, much worse.
The Gauntlet Runner
Word Count:

55000
Summary: A damaged ship, a dying shipmate–can she save both? Under attack! The flight back to Hyvilma should have been the easy part for the crew of the Majera–until a deadly ambush by pirates sends them reeling through hyperspace. Now getting to the planet in time is the only way Captain Kitra Yilmaz can save her dying friend. But landing at Hyvilma may be impossible: war has broken out on the Frontier. With illustrations by Hugo Finalist Lorelei Esther.
Hyvilma
Word Count:

110000
Summary: Darynn, Fyra, and Kaylaa have solved the mysteries of the gods. But how can they unveil the secrets to save the starving Olan-Har without unleashing chaos upon Vastire? Even if they knew what to do, war with long-time adversary Erodia forces them to wait. Unfortunately, the Erodians are winning: they've taken Vastire's capital and bombard the west coast nightly. With few options left, Commander Aseus turns to Darynn to attempt a daring mission to infiltrate Erodia, just like his grandfather did 80 years ago. With Fyra, Kaylaa, and a small team at his side, Darynn agrees to the treacherous mission across the dangerous, wild continent filled with powerful enemies. But he's conflicted. Not only does magical power rampage within, but he starts to wonder who he's fighting for: royalty and the clergy, or the people? That question will drive him to make impossible choices. If he chooses correctly, he can end the war and save the Olan-Har, but at a great cost. If he doesn't, the Erodians will rule Vastire and the secrets of the gods will be lost.
Betrayal of Hope
Word Count:

117000
Summary: You can choose your friends, but you can't choose your family… Quirk and Moth have avoided killing each other long enough to solve another case. They decide on a local job next, and take up the search for a missing scientist. How could Quirk know this new mystery put them on a headlong collision course with his troubled past, a plethora of personal issues, and a hoard of genetic hybrid creatures with an appetite for anything that moves? When their client dies in mysterious circumstances, law enforcement pursues the dysfunctional duo all the way to a research lab in frozen Yellowknife. Can Quirk and Moth find the scientist before they are banged up for murder, or has she already been eaten? Is it coincidence Quirk's father-in-law bought the company? Can they expose the shadow from Quirk's past and clear their names? Quirk and Moth need time, but it's fast running out, and the bodies are piling up. Find out what happens in The Carborundum Conundrum!
The Carborundum Conundrum
Word Count:

89000
Summary: THE POWER TO DESTROY A KINGDOM. THE POWER TO HEAL A HEART. Ari's new powers have awakened, threatening to tear apart a kingdom already on the edge. Sent back to Valon to face her father's—and the people's—judgement, Ari must decide how far she'll go to reclaim her former life, if that's even possible anymore. In the heart of the turmoil, Iata, the reigning ruler, is losing control of his increasingly unstable magics. As his secrets threaten to spill out, his brother's wife, Haneri, draws ever closer—and he's not sure he wants her to stop. At the border to Kidaa Space, Rhys grapples with the ominous and impossible patterns in the Kidaa attacks, and comes face to face with the Kidaa themselves in a harrowing meeting that could change the future of the kingdom. And Dressa, who secretly married an enemy prince, must now face the consequences of that marriage. Because Lesander was activated by her family. And Lesander has a choice: obey her family, or betray her wife. With enemies without and enemies within, can the Truthspoken save their kingdom, or is this kingdom doomed to fall? Court of Magickers collects episodes 94-150 of The Stars and Green Magics, previously published in serial form. Note: This book has main characters who use gender-neutral pronouns (they/them/their, fae/faer/faerself).
Court of Magickers
Word Count:

35000
Summary: Will the Manderians choose security over freedom? Keyla Damaer presents the second collection of short stories featuring characters from the Sehnsucht Series. The Manderian Directorate is born from the ashes of a past dripping blood. Existential dilemmas, double agents undercover, epic battles, old and new enemies promise a thrilling read. Thrust into it now!
Tale From The Sehnsucht Series Part Two - The Manderian Directorate
Word Count:

85000
Summary: Jameson Havercamp, a psych from a conservative religious colony, has come to Oberon—unique among the Common Worlds—in search of a rare substance called pith. He's guided through the wilds on his quest by Xander Kinnison, a handsome, cocky wing man with a troubled past. Neither knows that Oberon is facing imminent destruction. Even as the world starts to fall apart around them, they have no idea what's coming—or the bond that will develop between them as they race to avert a cataclysm. Together, they will journey to uncover the secrets of this strange and singular world, even as it takes them beyond the bounds of reality itself to discover what truly  binds them together.
Skythane
Word Count:

87000
Summary: In the interstellar kingdom of Valoris, the balance of power has changed. Dressa Rhialden has all she ever wanted—except she only wanted Lesander, gorgeous prince of an enemy high house, not the kingdom meant for her sister. Unfortunately, her betrothal came with both, and now she has a lot of catching up to do. But she's falling hard for Lesander in the meantime, and with her kingdom on the line and Lesander maybe her enemy, is falling in love really a good idea? When alien attacks that shouldn't be possible plague her kingdom's distant worlds, Dressa's new position is put to the test. Why are the pacifist Kidaa attacking now, and were the attacks made by the Kidaa at all? There's more going on than an internal power shift, and she has far more secrets to uncover to keep her kingdom safe. Ari Rhialden had her whole life planned out: excel at being the Truthspoken Heir, controlling her kingdom with her shapeshifting powers, and then one day excel at ruling the kingdom. But when she contracts an incurable illness and loses her ability to shapeshift, those plans are derailed. Ari's sent undercover to a resort world for treatment, but all is not right in paradise. A young gardener with a mysterious past is taking too much interest in Ari's new persona, and a possessive duke is bent on capturing her attention for himself. Are these just the ordinary machinations of noble guests or something far more sinister? In a kingdom where subterfuge is the norm, coincidence is never just that, and now events are rapidly spinning out of control. Can Dressa and Ari find their way to truth before the kingdom comes crumbling down around them? The Shadow Rule is the second season of The Stars and Green Magics, an epic space fantasy serial set in a diverse, queernorm universe with shapeshifting royals, plotting nobles, and space magic! The Shadow Rule collects episodes 37-93, the complete second season. This book has main characters who are queer, nonbinary, trans, agender, genderfluid, ace and/or aro, lesbian, fat, POC, disabled, ND, and generally awesome. (Not all rep is stated, some is implied.) Barring the occasional burst of strong language, this book is PG-13.
The Shadow Rule
Word Count:

52,000
Summary: A secret unicorn, a desperate family, and a cop dead set on hunting them down. Lem and the rag-tag gang of galactic adventurers on the starship Teapot are set to become roadies for the galaxy's hottest band – but an urgent call from Bexley's family means the rock stars will have to wait. Bexley's soon-to-be-born sibling has a big secret: wings. On planet Hwin, skeledivergence is outlawed, so the Teapot crew swoop in to help the family escape. But their planet won't let them go that easily. Hunted across the galaxy by a fanatical and eerily familiar cop, the Teapotters must find a way to outwit their pursuer and secure a future for skeledivergent people everywhere. Dive into the next adventure in this satirical space opera series. Artfully intertwining deep themes with tongue-in-cheek humour and intergalactic ridiculousness, Consider Pegasus is a must-read for fans of Ryka Aoki's Light from Uncommon Stars or TJ Berry's Space Unicorn Blues.  Scroll up and grab your copy now!
Consider Pegasus
Word Count:

27500
Summary: War, deceit, and love intertwine in the first six Tales From The Sehnsucht Series. Within this anthology, you'll find six tales of love and hate, loyalty and treason, failure and triumph from alien soldiers, desperate teachers, strange bedfellows, and more. And in the background a war of all against all. Who will survive? Open this collection and take your first steps into the history of the Manderian people. Meet Ameela's improbable lover. Escape from tyranny with Rotima. Find the man who tampered with Ryma's DNA.
Tales From The Sehnsucht Series Part One - The Manderian Halden
Word Count:

97000
Summary: The seas spell freedom. Pirates and kraken, boats and submarines, deadly sirens, mermaids, and the women who face them all. These are our heroes. High seas adventure, fantasy, and magic weave together in this sapphic anthology focusing on the joy of the unbounded oceans. If you like diverse stories with lesbian and sapphic heroines exploring oceans, battling sea monsters, and seducing pirates, buy Farther Reefs today! With stories by: Sarah Day and Tim Pratt, Kim Pritekel, Kyoko M. Sara Codair, William C. Tracy, N.L. Bates, Robin C.M. Duncan, Vanessa Ricci-Thode, Margaret Adelle, and J.S. Fields Genres: Science Fiction / Fantasy / Adventure / Lesbian / LGBT and Non Binary Market: Adult
Farther Reefs
Word Count:

50000
Summary: Can Scott and his new friends survive a trip to the "Dead Zone". Is it REALLY dead? if not who or WHAT lives there?
Enimnori Discovery
SALE
Word Count:

5200
Summary: There's something in the dark … but is Lem's imagination worse than reality? Out in the vast emptiness of the galaxy, anything can happen. It's a fact that Lem and her trusty companion Spock know all too well. Sometimes, the things lurking in the darkness are all in your head. Then again, maybe there really is something out there. With her talking dog and an infuriatingly literal AI by her side, Lem must rely on nothing but her strength and wits to help her.  As a humorous homage to Arthur C Clarke's classic A Walk in the Dark, this short adventure is a not-actually-scary sci-fi horror story that's perfect for fans of Martha Wells and John Scalzi. 
Jurassic Dark
Word Count: Information not available
Summary: They were young and at the start of a new Empire. Could they manage to achieve what was ask of them? On their ship, The Odyssey, they would head into space to help their ruler cement his hold on what would eventually be their  Empire rebuilt.
Micar
Word Count:

100000
Summary: They say, "Never work with androids or children." Quirk had one job to do, deliver papers to a Milan mafia boss, before leaving Earth for his home in the asteroids. But that was before being tailed, poisoned—oh, yes—and hijacked into raising foulmouthed fourteen-year-old convent girl Angelika Moratti, aka Moth, who'd rather see him asphyxiate in space. Fleeing assassins, Quirk, Moth and her syRen® android S-0778 ride the space elevator to the Moon, where Quirk hires on to hunt an ex-terra-former who somehow used an android to murder his doctor. But which android of the two hundred under Lunaville's dome? The trail of bodies grows, time is running out; the only way they can save the dome and the two thousand souls beneath it is to solve The Mandroid Murders. Genres: Science Fiction / Thriller / Mystery / Adventure / LGBT and Non Binary Market: Adult
The Mandroid Murders
Word Count:

67000
Summary: In the interstellar kingdom of Valoris, everyone knows the royal family is watching. They can be anyone and anywhere with their shapeshifting abilities—they are Truthspoken and to be feared. Of course, that doesn't stop the high houses from trying to take them down by any means they can. Arianna is the perfect Truthspoken Heir: beautiful, intelligent, and a master of her shapeshifting craft, determined to one day rule with the same control as her father. Her dreams come crashing down, though, when she's attacked by a rogue Green Magicker at her betrothal to a rival high house prince, when it's known that magickers can't do violence. Was it treachery, was it personal, or was it something else? Arianna has been slowly getting ill for weeks, and Truthspoken don't get sick. Dressa is the second Truthspoken heir and would like to stay that way, thank you very much. She's the glittering socialite of her father's court, more loved than feared. But when her older sister falls ill and is secretly sent away from court, there's still the matter of a much needed marriage alliance with a rival high house—and an absolutely gorgeous prince, who her sister wasn't keen on marrying anyway. When her father orders her to take her sister's place until she returns—her name, her appearance, everything—can Dressa carry on the act without falling for her sister's intended bride? Paranoia around Green Magickers is growing, noble plots are closing in, and in deep space, the only aliens humans have met are showing signs of not being pacifists after all. Can the Truthspoken hold their kingdom against the coming storm when it's already crumbling from within? The Truthspoken Heir collects the first season of The Stars and Green Magics, an epic space fantasy serial set in a diverse, queernorm universe with shapeshifting royals, glittering court intrigue, and space magic! This book has main characters who are queer, nonbinary, trans, agender, genderfluid, ace and/or aro, lesbian, fat, POC, disabled, ND, and generally awesome. (Not all rep is stated, some is implied.) Barring the occasional burst of strong language, this book is PG-13.
The Truthspoken Heir
Word Count:

78,500
Summary: In the 23rd century, spaceships just don't go missing. FBI agent Ray Volk is assigned to a task force to investigate a tragic accident: the disappearance of interplanetary passenger liner ValuTrip Cardinal, carrying 500 souls between Mars and Earth on a routine run. What looks like a cut-and-dried case of pressure loss is complicated by the arrival of a Martian Captain. A very cute Martian Captain who keeps sticking his nose in Ray's investigation. Martian exchange student Kelly Rack knows the disappearance is no accident. She survived the ships' hijacking, but learns the former cruise entertainer leading the pirates has plans for the passengers, and they don't include sightseeing. Kelly has avoided the murderous pirates, except now an off-duty Earth Commander insists on organizing resistance for the passengers. She forces Kelly to climb through service tunnels on sabotage runs, risking capture and death. Can Ray shake down the right accomplices to capture the good ship ValuTrip Cardinal before its new captain spaces everyone on board? Will Kelly discover the pirates' hidden plans for their prisoners? The race is on, because One of Our Spaceships is Missing! Genres: Space Opera / Military Sci-Fi / Science Fiction / LGBT and Non Binary Market: Adult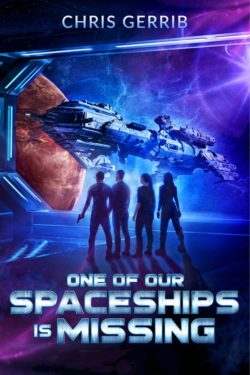 One of Our Spaceships is Missing