Here's a selection of all the box sets on the LimFic site:
Word Count:

138,300
Summary: Four silver foxes from Earth discover that true love and second chances are not just for the young. Fly with Me - Let the good times roll! That's Ava Martin's retirement plan at least, until gray aliens abduct her from the middle of the Nevada desert. In her hair rollers no less! Talk about a rude awakening for this UFO skeptic. Above the Storm - It all started with a dare. Robyn Martin Donahue's bestie says the Silverstar Agency can hook her up with an off worlder who will love and respect her, not try to rule her. As if. Wing and a Prayer - Happily ever after didn't work out. If Meryl Faulkner learned anything from her divorce, it's that she's not defined by any man. Especially not that annoying, self-serving…sexy winged alien who's divebombed into her orderly life. Trial by Fire - True love only happens once in a lifetime, right? Silverstar agent Nixy Vogel should be furious at the (smoking hot) alien trying to put the agency out of business. Instead, her shuttered heart burns for him. Welcome to the Silverstar Mates series, featuring intergalactic love matches for those over fifty.  Please note: This is a boxed set of books 1-4 of the Silverstar Mates series. Before you purchase this boxed set, please check your ereader to make sure you don't already own these titles individually.
Silverstar Mates Boxed Set
Word Count:

73440
Summary: Once upon a time, two handsome young princes fell in love, faced down adversity, and lived happily-ever-after…until one romantic evening, they unwittingly ate a confection laced with a mind-wiping toxin. In this light fantasy world, four realms have settled into an uneasy peace. A surprise twist to a prearranged marriage agreement spawns this story of unexpected love, newfound courage, and heroic adventure. Join Princes Efren and Marcelo on their heart-warming journey as they sort through misleading twists and turns to defeat devious foes. Twice! Contains the stories: The Contingency Plan: An untimely death throws a marriage arrangement, the final phase of a treaty, into disarray. Now the Crown Prince of Zioneven can make his own choice from among the princess's younger siblings. As a royal son in the matriarchal sovereignty of Sheburat, Prince Marcelo grew up knowing Royal sons never married. Never. Period. Except Prince Efren isn't from Sheburat, and he has other plans. The Best-Laid Plans: A death that wasn't what it seemed … A kidnapping that isn't what it seems … Time is running out. Enmeshed in political intrigue, death, and a kidnapping, will Prince Efren untangle the web of clues in time to save his naïve young husband, or will Prince Marcelo dig deep to discover a previously untapped inner strength and determination to facilitate his own survival? Change of Plans: Once upon a time, two handsome young princes fell in love, faced down adversity, and lived happily-ever-after… until one romantic evening, they unwittingly ate a confection laced with a mind-wiping toxin. Are their chances at rekindling their love doomed? Or will their ignominious new beginning propel them toward a more teasingly fun rapport? Also contains three bonus scenes not included with the individual stories.
The Plans Trilogy Box Set
Word Count: Information not available
Summary: Samantha Rain thought she was a normal woman approaching forty. Until she gets bitten by a hellhound puppy and finds herself thrown into a hidden supernatural world where saying the wrong thing could have dire consequences. With her new hellhound puppy by her side, and the captivating Lilith teaching her the ropes, Sam soon puts her detective training to use and starts uncovering the secrets of the Nox. - The Samantha Rain Mysteries Complete series includes The Case Of The Night Mark, The Case Of The Pixie Deal, The Case Of The Ruby Curse, and The Case Of The Puppy Academy. It is an urban fantasy mystery series with a slow burn f/f romantic subplot and a hellhound puppy.
Samantha Rain Mysteries
Word Count:

270000
Summary: Oberon is unique among the Common Worlds - a half-world with a strange past and an uncertain future. Jameson Havercamp and Xander Kinnson are thrust into the middle of a world-ending event and have to scramble to save the world - and themselves. Along the way, they peel back the layers of the onion to discover secrets wrapped in secrets that will eventually take them to where it all started - and may provide the key to saving Oberon and everyone on it. SKYTHANE Jameson Havercamp, a psych from a conservative religious colony, has come to Oberon—unique among the Common Worlds—in search of a rare substance called pith. He's guided through the wilds on his quest by Xander Kinnson, a handsome, cocky skythane with a troubled past. Neither knows that Oberon is facing imminent destruction. Even as the world starts to fall apart around them, they have no idea what's coming—or the bond that will develop between them as they race to avert a cataclysm. Together, they will journey to uncover the secrets of this strange and singular world, even as it takes them beyond the bounds of reality itself to discover what truly binds them. LANDER The world needs saving, again. Xander and Jameson thought they'd fulfilled their destiny when they brought the worlds of Oberon and Titania back together, but their short-lived moment of triumph is over. Reunification has thrown the world into chaos. A great storm ravaged Xander's kingdom of Gaelan, leaving the winged skythane people struggling to survive. Their old enemy, Obercorp, is biding its time, waiting to strike. And to the north, a dangerous new adversary gathers strength, while an unexpected ally awaits them. In the midst of it all, Xander's ex Alix returns, and Xander and Jameson discover that their love for each other may have been drug-induced. Are they truly destined for each other, or is what they feel artificial? And can they face an even greater challenge when their world needs them most? ITHANI Time is running out. After saving the world twice, Xander, Jameson and friends plunge headlong into a new crisis. The ithani―the aliens who broke the world―have reawakened from their hundred millennia-long slumber. When Xander and Jameson disappear in a flash, an already fractured world is thrown into chaos. The ithani plans, laid a hundred thousand years before, are finally coming to pass, and they threaten all life on Erro. Venin and Alix go on a desperate search for their missing and find more than they bargained for. And Quince, Robin and Jessa discover a secret as old as the skythane themselves. Will alien technology, unexpected help from the distant past, destiny and some good old-fashioned firepower be enough to defeat an enemy with the ability to split a world? The final battle of the epic science fiction adventure that began in Skythane will decide the fate of lander and skythane alike. And in the north, the ithani rise….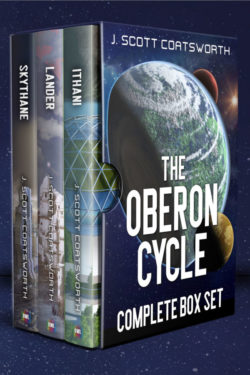 Liminal Sky: Oberon Cycle Complete Box Set
Word Count:

270000
Summary: Liminal Sky chronicles humankind's first journey to the stars. The first three books - the Ariadne Cycle - cover the creation and launch of Ariadne (aka Forever) as she was grown from seed on an asteroid and then launched across the interstellar void. The books are told in epic fashion, with each broken into three parts that span generations. THE STARK DIVIDE Some stories are epic. The Earth is in a state of collapse, with wars breaking out over resources and an environment pushed to the edge by human greed. Three living generation ships have been built with a combination of genetic mastery, artificial intelligence, technology, and raw materials harvested from the asteroid belt. This is the story of one of them—43 Ariadne, or Forever, as her inhabitants call her—a living world that carries the remaining hopes of humanity, and the three generations of scientists, engineers, and explorers working to colonize her. From her humble beginnings as a seedling saved from disaster to the start of her journey across the void of space toward a new home for the human race, The Stark Divide tells the tales of the world, the people who made her, and the few who will become something altogether beyond human. Humankind has just taken its first step toward the stars. THE RISING TIDE The Earth is dead. Five years after the Collapse, the remnants of humanity travel through the stars inside Forever: a living, ever-evolving, self-contained generation ship. When Eddy Tremaine and Andrissa "Andy" Hammond find a hidden world-within-a-world under the mountains, the discovery triggers a chain of events that could fundamentally alter or extinguish life as they know it, culminate in the takeover of the world mind, and end free will for humankind. Eddy, Andy, and a handful of other unlikely heroes must find the courage and ingenuity to stand against the rising tide. Otherwise they might be living through the end days of human history. THE SHORELESS SEA Rise of the Inthworld. The fight for the future isn't over yet. It could lead to a new beginning, or it might spell the end for the last vestiges of humankind. The generation ship Forever has left Earth behind, but a piece of the old civilization lives on in the Inthworld—a virtual realm that retains memories of Earth's technological wonders and vices. Lilith leads the uprising, and if she sets its inhabitants free, they could destroy Forever. But during the ship's long voyage, humanity has evolved. Liminals with the ability to connect with the world mind and the Inthworld provide a glimmer of hope as they face not only Lilith's minions, but the mistrust of their own kind as homotypicals fear what they can't understand. The invasion must be stopped, the Inthworld healed, sothe people of Forever can let go of their past and embrace their future.
Liminal Sky: Ariadne Cycle Complete Box Set
Word Count:

100,000
Summary: When Fancy sent Richard from Barbados, she did not tell him her plans. Richard arrives unexpectedly after she and Kirk go to Ireland. Richard discovers she has adopted Kirk's daughter, and he concludes she will never abandon Kirk. Brokenhearted, Richard returns to the future before Fancy can tell him her marriage to Kirk is void. Richard's departure allows Kirk to woo Fancy again in earnest and they remarry. The couple sail to Bermuda, where Kirk leaves Fancy and the children at Spring Haven to sail to Barbados. A hurricane destroys the Spring Haven house. Fancy takes the children to the mainland and on to the safety of McCarron's Corner. En route, she learns Kirk's ship was destroyed in the hurricane and Kirk is believed to be dead. At McCarron's Corner, Fancy manages to go forward in time, where Richard finds her. She gives Richard another chance. They fall in love again, marry, and she writes a best-selling memoir, which attracts unwanted attention. Will they survive when a stalker's dangerous obsession threatens to destroy their future?
Diary of the Reluctant Duchess
Word Count:

489,500
Summary: In this Rainbow Award-winning space opera/military sci-fi series, Earth is a dead planet, dark for thousands of years; lost for so long no one even knows where the solar system is. Her last known colony, Albion, has grown to be regional galactic power in its own right. But its drive to expand and found colonies of its own has threatened an alien race, the Maess, against whom Albion is now fighting a last-ditch battle for survival in a war that's dragged on for generations. Taking Shield charts the missions and adventures of Shield Captain Bennet, scion of a prominent military family. Bennet, also an analyst with the Military Strategy Unit, uncovers crucial data about the Maess to help with the war effort. Against the demands of his family's 'triple goddess' of Duty, Honour and Service, is set Bennet's relationships with lovers and family—his difficult relationship with his long term partner, Joss;  his estrangement from his father, Caeden, the commander of Fleet's First Flotilla; and Fleet Lieutenant Flynn, who, over the course of the series, develops into Bennet's main love interest. Over the Taking Shield arc, Bennet will see the extremes to which humanity's enemies, and his own people, will go to win the war. Some days he isn't able to tell friend from foe. Some days he doubts everything, including himself, as he strives to ensure Albion's victory. And some days he isn't sure, any longer, what victory looks like.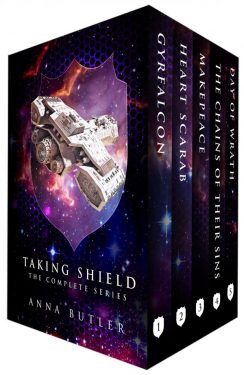 Taking Shield : The Complete Series
Word Count: Information not available
Summary: Discover ten planets, joined through music-based magic and an immense sentient crystal. This anthology contains nine stories from the popular Dissolutionverse universe! Join Origon as he investigates the Pixie homeworld and tries to avert a war! Learn how to change the Symphony with Rilan, as she searches for Origon's lost brother. Travel with merchants in an old war train with some suspicious cargo. Fly with the first majus in space! Discover the food and culture of the ten species. Learn what lurks in the basement of the House of Potential. Music, magic, and murder is afoot with Mandamon, as someone plots to bring down the secret Society of Two Houses! An ancient being confronts other-dimensional entities. And a climbing crew searches for the top of a miles-high wall, riding a giant steampunk beetle! If you like space opera, fast-paced adventure, music-based magic, and complex, diverse characters, then you'll love this collection of stories from William C. Tracy's Dissolutionverse. Pick up Tales of the Dissolutionverse to discover the music today! There's more adventure in The Dissolution Cycle (Epic Space Opera, LGBT): Book 1: The Seeds of Dissolution Book 2: Facets of the Nether Book 3: Fall of the Imperium Book 4: Tales of the Dissolutionverse
Tales of the Dissolutionverse
Word Count:

80,000
Summary: "If it weren't for bad luck, she'd have no luck at all," lament the family of Fancy Selk, who has been the victim of horrific abuse. Fancy decides it is high time she learns to make lemonade from lemons instead of always making lemons from lemonade. As she learns to survive her past abuse, young Dr. Richard "Rick" Winslow manages to go back in time to find the beautiful young woman. Rick learns Fancy is married to another man. When her husband is killed at Yorktown, she finally admits her attraction for the handsome physician, as they fall in love, only to be ripped apart not once, but twice.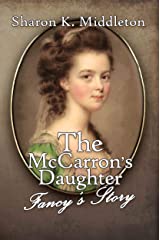 The McCarron's Daughter
Word Count:

40000
Summary: Spells & Stardust is Scott's first anthology - eight sci fi and fantasy shorts that run the gamut from regeneration to redemption. The Bear at the Bar: A gay fish out of water tale with a pinch of magic. Tight: What happens when your lover disappears in midair? Morgan: The year when everything changed. Re-Life: What if you were reborn in a strange new future? A New Year: They met every eleven years. And each time, Hank's life changed. Repetition: What if you wanted to go back in the closet? Gargoyle: Sometimes you get what you deserve. Sometimes it happens on All Hallows Eve. Avalon: A few bright moments in the sun, stolen from outside time. Most of these stories have been previously published in various anthologies and journals. This is the first time they have all been collected in one place.
Spells & Stardust
Word Count: Information not available
Summary: Together in one collection – the Alterations Trilogy A complete set of thought-provoking thrillers! On a quest to change their lives, three women agree to be implanted with a mind-controlling chip by Dr. Kite. But this seemingly easy fix has its fair share of consequences… Alterations, Game Changer, Primal Will Desperate to change their lives, Gigi, Ellen, and Lilly prepare to risk everything for love, health, and happiness. A secretive Dr. Kite with a novel chip implant offers a mind-controlling solution to these three women. But when unforeseen issues arise that wreak havoc on the city and destroy his warehouse, along with the discovery of two defective chips he's implanted, Kite's plans go horribly wrong. In the aftermath of the disaster, one woman seeks revenge for the doctor's failings. Or is it more than that? Has she seen an opportunity to save herself? Will the women find the happily ever after they seek?
ALTERATIONS TRILOGY
Word Count:

80000
Summary: Lily Van Der Houghton, a newly licensed physician, is lost and unsettled on which way her life is leading her when she goes hiking to the Jacks River Falls. Lily stumbles through a hole in time and finds herself in 1763. She is not on the trail to the falls anymore but is in Indian Territory in the aftermath of the French and Indian War. To her surprise, Lily learns she has a key role in an ancient Cherokee prophecy. The tribal elders prayed for the right woman to come from Beyond to be Red Moon Woman and the right woman for Marcus McCarron. Lily Van Der Houghton, fresh from the new millennium, is the right woman for the job.
Home to McCarron's Corner
Word Count:

80435
Summary: A modern-day knight in shining armor is a man with a secret. He's an immortal direwolf shifter. A man who can trace at will into a lethally dangerous canine who holds the ability to step into the stillness and achieve any goal. When he finds himself without a career after retiring disabled from his last mission in the military, he has to rethink the direction of his life. He needs to reinvent himself before anyone realizes that he stopped aging at the age of thirty-five. He's learned just enough to make his existence a bit dangerous. The sexy high school teacher neighbor he's been near stalking has her own secret. She feels like everything and claiming her is all he can focus on. He's determined to win her as his own until a shadowy evil attacks her and reveals a situation that forces him to be the man of action that he's always been. To keep the woman he loves safe, he'll become the alpha pack leader he was born to be. A Pack Forms is the first volume in the steamy paranormal romance saga of Draoithe.
Draoithe: A Pack Forms
Word Count:

416800
Summary: Colonists struggle to build their lives, but first they have to survive. Read the complete series through generations.
Glory on Mars - Emma joins the first settlers amid death and betrayal. She must learn the truth before Mars kills them all.
Born on Mars - Jake didn't ask to be born into a failing habitat, but new arrivals bring hope and peril. Can he save his friends and family?
Hermit on Mars - Sig will rescue the ungrateful Martian prospectors, even if it kills him.
Water on Mars - Scoundrels on Mars and Earth drag Bliss into their lethal schemes.
Storm on Mars - An AI may be a psychopath's only friend. Zeker's always close by when something weird happens.
Colony on Mars - All 5 Books
Word Count: Information not available
Summary: 1899 years after the Catastrophe, Bridges is run by the Mob. As its steam-driven infrastructure fails, a new faction rises. Can she stop them? The Red Dog Conspiracy follows the story of 22-year-old small-time private eye Jacqueline Spadros beginning from her first major case: the missing little brother of her best friend, whose murder ten years before in front of her still haunts her nightmares. The only clue? A Red Dog stamp across the alley from where the boy was last seen. Dodging the man - seemingly mad - who has publicly threatened her life, placating her brutal, sadistic father-in-law, and dealing with her feelings about her ex-lover, while being married to one of the city's biggest drug lords: Jacqui is a busy woman. Her life is about to get much busier. From the very first page, Jacqui is dragged into a web of lies, secrets, and betrayals which both endangers her life and the lives of those she loves. Dark, gritty, violent steampunk crime fiction which keeps you guessing to the very end. If you like crime fiction, noir, Victorian/historical, gritty steampunk, psychological thrillers, hardboiled mystery, hard sf, dystopian, or mafia romance you will love this set. This digital box set comprises Act 1 of a 13 part serial novel. Included in this set: The Jacq of Spades: Part 1 of the Red Dog Conspiracy The Queen of Diamonds: Part 2 of the Red Dog Conspiracy The Ace of Clubs: Part 3 of the Red Dog Conspiracy If made into movies, this set would be rated R for bad language, graphic violence, smoking and alcohol use, child kidnapping, teenagers murdered (a serial killer is on the loose), and sexual content (Jacqui is married, after all). Welcome to the Family.
Red Dog Conspiracy Act 1
Word Count: Information not available
Summary: Josh Caplan is your average late-night convenience store clerk, but the Quik-Mart where he works is nothing like normal with that hell vortex in the parking lot. Waiting on zombies, demons, and other things that go bump in the night might scare some, but they're actually more polite than the stoners, and Josh welcomes the break in the monotony—especially when he acquires himself a sexy new boyfriend with a deadly secret. Will Josh survive this retail nightmare? It's a Big Gulp of a chance, but between the hazard pay and the hottie with a sweet tooth for Josh's candy, it's a chance he's willing to take. This box set includes: - Pretty Monsters (Josh of the Damned, #1) - Peek-a-Boo (Josh of the Damned, #2) - Josh of the Damned Triple Feature #1 - Josh of the Damned Triple Feature #2: The Final Checkout
Josh of The Damned Complete Collection
Word Count: Information not available
Summary: Boxed set of 3 ebooks. Includes the prequel:- "A pinch of Salt" "A Hint of Hope" "Towers of the Earth Book One: A Touch of Truth."
Towers of the Earth Boxed Set 1