Horror stories that emphasizes the unknown (or unknowable) over gore or other shock. Return to general Horror
Note: these books are currently sorted by release date, with newest first.
Word Count:

39200
Summary: Years ago, all she wanted was to leave. Now, a web of secrets might ensnare her forever. When Iris Grey returns to her hometown of Ilmoure years after a bitter parting, she hopes for reconciliation in the face of a tragedy. Instead, she arrives to a town changed for the worse, a cold welcome from people she once loved, and a family that seems to be keeping secrets from her at every turn. When those secrets become too heavy to ignore, Iris starts to dig deeper. What she finds leads her to question her very perception of reality. Faced with old wounds and new revelations, Iris finds herself mired in a plot that threatens to swallow herself, the town, and the people she once loved.
Dark Heart of Ilmoure
Word Count:

45000
Summary: The year is 2005. Blood from the Second Battle of Fallujah still dries on the farmlands of the Zaidon. But for Stygian 2-3, a young team of Recon Marines, the war is anything but over. Plaguing their battlespace is an ancient evil. Those who volunteered to ensure "Iraqi Freedom" must fight not only anti-coalition forces, but powers older than the United States, democracy... the world itself.
Lovecraft's Iraq
Word Count: Information not available
Summary: On a mission to recover an ancient artifact, an amnesiac girl unlocks the terrible secret of humanity's past and future. The implementation of a radical new technology sends an unlucky test pilot into a dimension of enlightenment and horror. A mystic obsessed with higher-order camouflage uncovers the true face of the world. Lovers on a wilderness trek encounter the unspeakable in a place where time and space turn on themselves. A harmless question posed to a Ouija board unleashes an unusual plague. And a crack team of mutants and monstrosities storms the stronghold of a mad god in a last-ditch effort to rescue Reality itself from delirium and decay. In Shout Kill Revel Repeat, the debut collection of short fiction from Scott R. Jones, you'll be introduced to nihilistic shapeshifters, deranged billionaire magicians, surf champions, survivalists, sadists, and soldiers, all of whom learn that to live is to enter into a never-ending cycle of fury and fear, dark revelation and deepest regret. Shout. Kill. Revel. Repeat.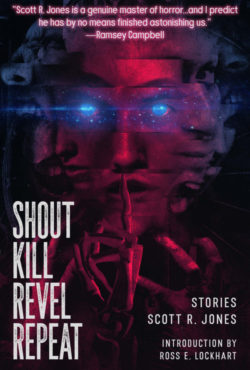 Shout Kill Revel Repeat
Word Count: Information not available
Summary: A short story collection of dark and ghoulish delight. Are you ready to ready Some Scary Stories? Take a ride in someone's head as they try to survive the rigors of a demonic exorcism. Step back in time as a young Puritan lad is tempted by the children of the forest. Find out what it's like to be haunted by a spirit that both loves, and loathes you. Go on an innocent date that ends up opening the gates of Hell, here on Earth. And More.  Dim the lights and settle in. It's time for Some Scary Stories.
Some Scary Stories
Word Count:

47,845
Summary: In the dark heart of our imagination, and the haunted corners our past there are places we fear to tread. As much as we might try to outrun them, as much as we might try to deny their truths, we are owned by their shape, molded by their claws. The story of our being, they form a Sacrum Umbra, a sacred shadow of improbable origin- our own dark heart.
Sacrum Umbra
Word Count:

50000
Summary: World Fantasy Award Finalist Winner of the 2nd Annual North Street Book Prize
Dwarves and golems, Fates and minotaurs, metamorphoses, murder, and Jean-Jacques Rousseau. L.S. Johnson delivers a provocative and original short story collection that ingeniously blends myth and nightmare. Whether it concerns an infertile witch constructing a golem-baby, a daughter struggling to understand her mother's supernatural infidelities, or a cafeteria worker forming an uneasy alliance with a group of possibly imaginary but nonetheless dangerous little men, each story in this remarkable collection demonstrates the limitless capacity of intelligent speculative fiction to enthrall, inspire, and amaze.
Vacui Magia: Stories