A specific branch of fantasy often connected to mythology and mythological gods. Return to general Fantasy
Note: these books are currently sorted by release date, with newest first.
Word Count:

34000
Summary: Dwyn is a young man in the small, isolated northern town of Manicouga, son of the Minstor, and betrothed to marry the beautiful Kessa in a few weeks. Mael is shepherding the remains of his own people from Land's End, a village farther north, chased out by a terrible storm that destroyed the town. Both are trying to find their way in a post-apocalyptic world. When they meet, their love may change the course of history.
The Great North
Word Count:

111,172
Summary: Two sisters born in the Red Desert, young Daughters of an ancient Queen. One seizes the delights of the present. The other sees and despairs for their future. Innathi and Ishuna, the heirs of the Dark Elf Queen of V'Gedra, travel the sand dunes with their entourage. In need of water, the sisters enter the sacred canyons of Koorul, where they interrupt a mystic rite of passage for the Human son of a Sorcerer-King. Negotiations fare well between the two desert peoples until powerful magic blends with the discoveries of youth which get quickly out of control. Incomprehensible joy crashes into a dark dread which cannot be named, and a schism begins between the sisters. Diplomacy is critical to avoid unnecessary conflict, yet the Queen's daughters do not agree on the goal. Each has her version of the events at Koorul, and each is certain of the outcome should Innathi pursue the wild magic of the Zauyrian son. A close alliance with a Sorcerer-King could bring pleasure, prosperity, and new life thriving in the Desert, or it might corrupt a delicate balance to bring down the realms and all they had ever known. This second volume of Tales of Miurag is a standalone novel which can be read on its own. Dramatic events and mature themes weave into broad history and lore headed toward a cataclysm which will change the entire world. The Desert is also Etaski's ultimate villains' origin, featuring several antagonists introduced in the Sister Seekers series. This story takes place approximately 3500 years before No Demons But Us, where hints of these events past echo forward and impact future generations.
The Desert: Tales of Miurag 2
Word Count:

81,000
Summary: Explore the birth of a new world! Journey through time and space to the intricate biosphere of Juno, where three species have been birthed by the gods. First the Kuhifadi, inheritors of sun magic, able to do great deeds with magic stored in their bodies. Second the fearsome Uchafumlaji, technological savants who live in the depths of the ground. Third the weird Ngisikaa, a species uplifted from animals through communal memories. Small decisions and single individuals will affect the tide of history. Learn of the first Ngisikaa to meet death, whether a Kuhifadi will make the sacrifice to become a mage, and if an Uchafumlaji can build a bridge to the past. These stories and more will create The World of Juno! With content by: Nick Bright and Brent Lambert, C.J. Hosack, Nate Battalion, Daniel Eavenson, Malcolm F. Cross, Katie Cordy, William C. Tracy, N.L. Bates, Reese Hogan, Cedan Bourne, Robin C.M. Duncan, and X.M. Moon Genres: Science Fiction / Fantasy / Adventure / LGBT and Non Binary Market: Adult
The World of Juno
Word Count:

33000
Summary: Clarity (noun) Four definitions to inspire writers around the world and an unlimited number of possible stories to tell: 1) Coherent and intelligible 2) Transparent or pure 3) Attaining certainty about something 4) Easy to see or hear Clarity features 300-word speculative flash fiction stories from across the rainbow spectrum, from the minds of the writers of Queer Sci Fi.
Clarity
Word Count:

80000
Summary: If the Gods were real, could you believe? Hitra, high priestess of Revestre, already has enough on her hands: political upheaval, a distractingly attractive male servant, and an upcoming harvest festival. But when a column of flame from the heavens sends a city into tumult, it upends more than just her schedule. Now, Hitra must deal with a religious schism, ethnic strife…and a God growing out of control.
The Gods Awoke
Word Count:

174300
Summary: My sister is in grave danger, captive in the city of Witch Hunters. As Manalar prepares for war, her only chance lies with infiltrators from Augran. I shall join them. The prosperous port of Augran thrives in diverse trade with the Dwarven Clans. The Bishops of Manalar have withdrawn defiantly into the Temple of the Sun, scorning their past allies. The Ma'ab Empire has sent their dark army out of the Far North, seeking not riches but a small, well-protected spring high upon a mountain. The sacred pool of Manalar is said to bless all mages who control it. On the fringe, there's Gavin and me. Each dedicated to our purpose, we garner allies from Augran and the Clans of Taiding willing to see them through. My Dragonblood bodyguard, Mourn, reinforces our strengths as we expect others like us to jump out of hiding and into the fray. I failed one sister. I will not fail another. Sirana's desperate search upon the Surface reaches its culmination in Battle for Manalar, where foes and allies unite and clash in this transformative event driven by opportunity, righteousness, and reprisal. Sister Seekers is dark epic fantasy for adults with an ever-broadening scope. The saga genre-hops a bit so things never get stale. Found Family is a core theme throughout. Perfect for fans of entwined plots, challenging themes, immersive worldbuilding, and elements of erotic horror. Sexuality and inner conflict play into character growth with nuanced intrigue, intense action, and fantastical magic.
Battle for Manalar: Sister Seekers 8
Word Count:

195000
Summary: Belonging can sometimes be Hell Jin is 17, pansexual, blue-haired, half-Korean and a lifelong outsider. His modus operandi, after years of neglect and chaos, is never belong, never attach, because both just bring pain. What he doesn't know, and mustn't, is if he does ever belong, his lust demon father will take him to Hell forever the day he turns 18. But when he moves to the remote Scottish town of Hammer Falls, where he shouldn't fit in at all, he finds being supernatural and queer aren't quite the barriers to belonging he'd hoped. As his lust demon blood begins to show and he grows ever closer to gorgeous part-angel demonstalker Nate, how long can Jin continue to convince himself he doesn't belong and isn't getting attached? Lust & Other Demons is the first in a trilogy containing a snarky, prickly half lust demon, hot demon hunters, werebears, angst, messy love and explicit MM sex. Books 2 & 3 also contain steamy MMM+ polyamory scenes as part of a key relationship. NOTE - These books are NOT suitable for younger readers or people likely to be offended by speculative views about religion.
Lust & Other Demons
Word Count:

36,000
Summary: King Oeneus has just been given the secret of wine by the god Dionysus. Unable to hold his liquor, the drunken monarch forgets to honor Artemis at the harvest festival. In revenge, the angry goddess sends a crazed wild boar to ravage the kingdom with burning breath and razor-sharp tusks. Nothing can stop it. The befuddled king, desperate to save his land, calls upon the greatest heroes of Greece to hunt the beast. Meleager, the king's son, reluctantly finds himself leading a group of men he doesn't respect or trust. Soon the party of mighty mythical heroes is on the trail of the fearsome monster - but one of them is a heroine! Atalanta is a huntress to match Artemis herself, and quickly wins the heart of Meleager, despite the objections of the others. Will one of the men make the kill, or will they be humiliated when the prize goes to a woman? Will Prince Meleager woo and win Atalanta, or will the gods intervene? Who will die and who will survive in this tale of loves and even greater lusts in ancient Greece? A rip-roaring tale of jealousy and foul play, a family at war with itself and a battle of the sexes - told in Weichsel's unique, no-holds-barred style. A pulse-pounding adventure that will appeal to fans of fantasy and horror, a wild ride through the weirder corners of Greek mythology. Strap on your sandals, grab your spear, and get ready to hunt the wildest boar of them all.
The Calydonian Boar Hunt
Word Count:

89000
Summary: The magnetic poles have shifted. Powers ignite in their veins. But are their emerging Unhidden talents strong enough to defend them from annihilation? Anna Taylor is barely holding her anxiety at bay. With scales growing on her body and shocking magic now at her command, the teacher flees after being outed by a student and attacked by an angry mob. And after arriving at a safehouse on a farm in Ireland for training and protection, she feels unprepared for her first mission to neutralize an explosive threat. Vietnam vet Maximilian Hurley subdues his demons with drink. So when an Unhidden agent comes to Australia to recruit him, and a fire mysteriously destroys his plane, the troubled pilot doesn't have much to lose. Teaming up with Anna, the tough-talking Aussie battles through his PTSD as they save Cork from a devastating bombing. As the group of talents grows to a core crew of six, Anna and Max discover there's little peace as a coalition of xenophobic extremists rises against those with Unhidden Blood. And now their combined powers might be the only thing standing in the way of their total extermination… Can Anna, Max, and the squad stem a tsunami of chaos and death? Taming of the Few is the first book in the Guardians of PHAE Irish urban fantasy series. If you like snarky banter, spectacular world-building, and nail-biting tension, then you'll love Rowan Dillon's urban fantasy adventure. Buy Taming of the Few to defend a powerful destiny today!
Taming of the Few
Word Count:

26000
Summary: Jealous angels with no genitals discover the passion and ecstasy that humans experience through sex. In revenge, the frustrated but impotent celestial beings banish the men to the wilderness. Will the women save the human race, or will they become the mothers of great evil?
Not Far from Eden
Word Count:

36000
Summary: INK (NOUN) Five definitions to inspire writers around the world and an unlimited number of possible stories to tell: 1) A colored fluid used for writing 2) The action of signing a deal 3) A black liquid ejected by squid 4) Publicity in the written media 5) A slang word for tattoos Ink features 300-word speculative flash fiction stories from across the rainbow spectrum, from the minds of the writers of Queer Sci Fi.
Ink
Word Count:

111,000
Summary:
New York: two years after the Third World War. Humanity is rebuilding its cities brick by brick; the damage done to the people, however, is a lot harder to repair.
Dan Hardacre is one of those people. An aspiring stage actor and experienced draft-dodger, Dan struggles to find his place within the Utopic rebuild of New York City. When he's not caught up with the duties of work, Dan lives a quiet life in mourning for his mother, Dyani, who went missing when he was a teenager.
One night, Dan experiences a vivid, terrifying nightmare that puts him right on the front lines of the war for which he dodged the draft; it ends with him facing Death itself in the form of a metallic, faceless humanoid creature that calls itself the Valkyrie. To investigate the reason behind his haunting experience, Dan seeks out a meeting with his estranged father, who reveals the startling truth about Dan's dream: it wasn't a dream.
With this newfound knowledge and the powers it brings, Dan makes it his mission to return to the scene of his nightmare. However, he soon comes to know that confronting the Valkyrie not only endangers him but the war-withstanding world he leaves behind.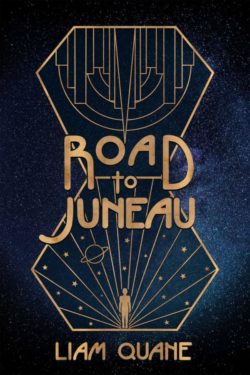 ROAD TO JUNEAU
Word Count:

120552
Summary: Like a spout pushing its way through soil extending deep mighty roots as it grows firm and tall, Michael like those around him has become renewed in the sun. The Wheel of Creation continues to turn through tragedy and triumph with secrets and mysteries revealed, truth discarding deceit to rot away into dust. Terror still lurks in shadow, hinting at battles yet to come and while the union of souls may reign down catastrophe upon all involved, there is a newly shared optimism that this town, rebirthed and revived again after decades can meet the oncoming storm together. Bonded in battle, humbled in heart new friendships have replaced old animosities as all the residents are finding their place in creation.Despite the odds, the couple continues their path toward blending, but if the sun sets on their hopes or the union is not supported by the Mother, disaster could befall not just Michael and Kurra but the entire Grove.Book four of The Place Of Things is Blood. The blood spilled and shared through trial and combat, forged in a family or spilled through injury, death, or pain and joy. Will the Great Mother approve of a blending of souls, or will the remains and splatter of not just Michael, but all those he holds dear be splashed in chunks upon the wedding alter.As this story concludes in the middle it continues on like the cycle of the seasons. Never ceasing always evolving. Until next time, Love from the Sacred Grove.
The Place Of Things Book Four: Blood
Word Count:

52200
Summary: Staging a musical in Purgatory can be absolute hell. Lonnie Coleridge last saw the sun in 1968. Since then, he's been consigned to Limbo, still wearing the same tie-dyed T-shirt and bell-bottomed jeans he had on when he left his life behind. He and others like him have one chance each year at redemption: produce a show for the Greek pantheon. Whoever pleases this very specific—and temperamental—fan group could earn the right to move on. But after a literal act of god (*cough* Hermes *cough*) destroys their sets, lights, and costumes, the company needs emergency help to rebuild. Without it, all of them could poof out of existence forever. Out-of-work theater technician TD Baylor has precisely three things on his cosmic wish list: a job, a place to stay, and a boyfriend who isn't a total tool. He thinks he's got the first two nailed when he gets a line on a two-week gig that includes room and board. So what if the job tip came from a guy who was leaning way too hard into the LOTR cosplay at a sketchy Halloween pop-up? At this point, TD doesn't have anything more to lose, so he figures…what the hell. He didn't realize hell was the operative word. When Lonnie greets him at the theater door, though...whoa. TD fantasizes that item number three could be within his reach. But then Lonnie gives him the bad news: This is Purgatory Playhouse, aka Theater of the Darned. In two weeks—if they're lucky and can successfully mount a musical version of A Midsummer Night's Dream—the company will return to Limbo after the curtain falls. If they're not lucky? Remember that part about hell? Purgatory Playhouse is part of the multi-author Magic Emporium Series. Each book stands alone, but each one features an appearance by Marden's Magic Emporium, a shop that can appear anywhere, but only once and only when someone's in dire need. This book contains a theater techie who's one couch surf away from homeless, a production assistant who's sort of, um, not alive, Greek gods behaving very badly indeed, and a guaranteed HEA.
Purgatory Playhouse
Word Count:

216321
Summary: Root by Daniel Fisher, the third book in the Place of Things series is the continuing story of Michael and his new, rather unique fiancée. From the Winter's Solstice to the Vernal Equinox we find our lovers and their friends explore new and creative ways to adapt to life-altering events. Having relocated and now a resident in the sanctuary town of Sacred Grove, Michael is finding his place among the mythical, mystical, and mostly immortal residents who've hidden away from the outside world. Not only is he coming out of his own isolation, but they are also finding he is dragging them out of self-imposed exile as well. Sometimes against their instincts. As his and Kurra's love deepens, new mysteries are added to the mysteries and his and their worlds will never be the same.As the union between two souls from two drastically different worlds draws closer, new mysteries, challenges, and threats crop up for Michael, the mortal, and all the immortals that get caught in his wake. Enchantments and wards may not be enough to hold back the onslaught of supernatural forces if the wedding gets bumpy. Many may yet perish if things go awry. May the Goddess help them all.Book four, the conclusion to this tale coming soon.
The Place Of Things Book Three: Root
Word Count: Information not available
Summary: High schooler Crispin Haugen already has so many identities to sort through—Asian, Scandinavian, not to mention gay. Then a messenger from another world arrives to tell him he also carries the blood of dragonsin his veins. Transported to the Realm of Fire, where dragons and humans live in harmony, Crispin falls for Davix, a brooding, nerdy scholar. But dark mysteries threaten the peace of Crispin's new world. Without warning, dragons from the Realm of Air unleash a bloody war. With everything he cares about on the line, Crispin must find the courage to fight...for justice and for love. The writing of this book was supported by the Toronto Arts Council with funding from the City of Toronto.
The Dubious Gift of Dragon Blood
Word Count:

88743
Summary: Stone Is the second book in the place of things series. It picks up where the first book left off. Michael Anderson is now in a strange new world of mystery and Myth, as well with a strange new bed mate is beginning to find his way. Bone follows his journey as he finds a life outside of the mundane world, and embraces a world he could never have though possible.
The Place Of Things, Book Two: Stone
Word Count:

125889
Summary: Alex Philothea, the newly appointed director of the Keepers of the Holy and Noble Maat, is fighting to save the agency her ancestors have led for over two millennia. Operating in deep cover, KHNM shields the mortal realm against the lethal chaos of the Immortals. As Alex battles the Gods over the agency's existence, she is in a race against time to contain dangerous magical artifacts. If the Gods succeed in shuttering the agency and these ancient objects fall into unworthy hands, humanity will pay a deadly price. Deep in the Netherworld, adventurer Jorge Trinculo unearths a primordial book of magic. It exposes one of KHNM's darkest secrets. For years, the agency has been erasing the memories of his encounters with the Immortals. As his old life floods back, he realizes all that he has lost. In Jorge's pursuit of revenge, his future becomes entwined with that of a power-hungry magician. A magician who has waited patiently, for centuries, to possess the forbidden book and wield its lethal magic against the mortal realm.
Gift of the Sphinx
Word Count:

103061
Summary: SISTER. ASSASSIN. VESSEL. Echo Rodrigal isn't just a survivor; she's a success. But in a land where the law is there are no laws, the terms of success rest on a knife's edge, and Echo's luck is about to change. The Vindicata are one of the top vengeance crews in the Ten Realms of Interra. Their oaths to only commit crimes of justice have earned them the respect of their peers. But the Vindicata are more than a crew, they're a family. And ever since they adopted Echo, she's cared about one thing: making her family proud. For years, that's meant becoming the continent's most feared assassin. But each kill wreaks havoc on her soul, no matter how justified. Echo's unraveling fast, complicated by the mysterious rift growing between her and her beloved sister. Miyala's keeping dangerous secrets, and Echo cannot find the key to unlock her sister's trust. When the Warlord orders the Vindicata to transport foreign dissidents to a new prison, they must put their personal issues aside to face an impossible choice: die for defying orders, or die for breaking their oaths to uphold justice. Between meddling gods returning to the continent, mercenaries around every corner, and an ancient prophecy that foretells the end of all worlds, the pressure on Echo is mounting fast. Can she make enough right moves to save her family? The fate of many worlds rests in Echo's next choice.
Vessel of Starfire
Word Count:

157790
Summary: Michael Brian Anderson is a cynic, a mess and an agnostic, who in spirit is truly a wayward soul lost in suffering until this person finds their life turned upside down in an epic journey through Myth, Folklore and a world of the strange, the wyrd, and the gifts from creation.Transforming like a chrysalis from a broken body into a full realized and rather imposing figure.This tale I spin is an epic invocation that transcends billions of years through space/time and evolution to cast what one can blossom into when unconstrained by limitations of the mind, and a full realization of the spirit, that a broken body and heart can heal and effect the very outcome of the Great Web of Creation herself.
The Place Of Things, Book One: Bone