Sci fi stories in a cyber realm, often featuring hackers in a dystopian society. Return to general Sci Fi
Note: these books are currently sorted by release date, with newest first.
Word Count:

38000
Summary: RISE (noun / verb) Eight definitions to inspire writers around the world, and an unlimited number of possible stories to tell: 1) An upward slope or movement 2) A beginning or origin 3) An increase in amount or number 4) An angry reaction 5) To take up arms 6) To return from death 7) To become heartened or elated 8) To exert oneself to meet a challenge Rise features 300-word speculative flash fiction stories from across the rainbow spectrum, from the minds of the writers of Queer Sci Fi.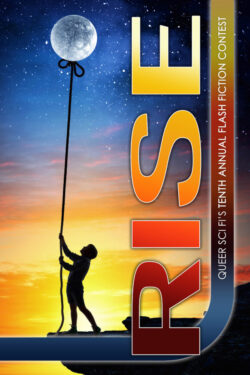 Rise
Word Count:

32000
Summary: After a job gone wrong, Special Agent Olgo is trapped within the bowels of Mars with no means of escape. The device that imprisons the trauma within them is about to fail, and the past terrors kept hidden by it must be contained for Olgo's sanity and everyone's safety. From the darkness comes a tiny voice, and a tinier hope: "Hello?" *** The first book in the 'Cold Rush' Verse follows Agent Olgo as their corporate masters give them what could be their big break: a mission to Mars. But trying to change the working conditions in the planet's underground cities proves more challenging than the agent could have imagined. When a wearable device Olgo uses to block emotions begins to fail, an unlikely friendship changes everything as Olgo struggles to prevent spilling more blood on the Red Planet.
Cold Rising
Word Count:

119000
Summary: A single father fights to retain control as he shares his body and mind with an evolving AI. It's been nine years since the government banned all technology. So, when Joel Lodowick, a young transgender father struggling to support his five-year-old daughter, has an old bionic upload itself into his head, he is faced with a decision: Go to the cops and risk prosecution? Or use the robot's skills to turn his life around? Scared of losing his daughter, Joel chooses the latter. Heightened intelligence and physical enhancements quickly land him a better job and a brighter future. But things take a sinister turn when Joel realizes his uninvited companion has an agenda of its own, which may or may not include leaving him in control. Unable to approach the government who covered up the truth about AI sentience, Joel finds himself on the run. With his daughter's life on the line and his own body turning against him, he must find a way to convince the bionic in his head to value his human life before he loses the chance forever. Find out what happens in My Heart is Human by Reese Hogan!
My Heart Is Human
Word Count:

117000
Summary: You can choose your friends, but you can't choose your family… Quirk and Moth have avoided killing each other long enough to solve another case. They decide on a local job next, and take up the search for a missing scientist. How could Quirk know this new mystery put them on a headlong collision course with his troubled past, a plethora of personal issues, and a hoard of genetic hybrid creatures with an appetite for anything that moves? When their client dies in mysterious circumstances, law enforcement pursues the dysfunctional duo all the way to a research lab in frozen Yellowknife. Can Quirk and Moth find the scientist before they are banged up for murder, or has she already been eaten? Is it coincidence Quirk's father-in-law bought the company? Can they expose the shadow from Quirk's past and clear their names? Quirk and Moth need time, but it's fast running out, and the bodies are piling up. Find out what happens in The Carborundum Conundrum!
The Carborundum Conundrum
Word Count: Information not available
Summary: Welcome to Hub! Just a few simple rules apply: 1. Never Steal from Dragons 2. See Rule #1 3. Never Work for Dragons In Hub, a city of treachery and deceit, Gelsey, a pixie, is one of the best thieves around. When a smash and grab assignment turns into a job interview with a powerful dragon, Gelsey finds herself a part of a crew including five more of the best criminals Hub has to offer. Her crew includes Silai, a con artist with a deadly secret. Kelthar, a mage who's bent on self-destruction. Aikila, a smuggler set on avenging her father's murder. Nyx, a hacker coming off a busted run, and Lorcan, a mercenary whose child is being held hostage. The dragon pulls all their strings, forcing them to accept an impossible job: break into a fortress nobody in all of Hub's long history has ever cracked. And if they fail, they'll end up dead one way or another. A wild mix of fairy tale and Cyberpunk that hits all the marks of classic crime capers. Reads like Elmore Leonard and Neil Stephenson playing D&D in a pixie-infested bar and having the time of their lives way past last call. Kat Richardson, Bestselling author of the Greywalker novels Dugan weaves an excellent heist story by blending the fantasy, cyberpunk, and even noir genres. The world building is top notch, including the lore which uses familiar creatures, but in new ways. This is the book for you if you enjoy cyberpunk, urban fantasy, heist stories, or any combination thereof! Bishop O'Connell Author of American Faerie Tale series and Two-Gun Witch
Never Steal from Dragons
Word Count: Information not available
Summary: In this stunning work of speculative urban fiction, Redfern Jon Barrett breaks down the binary between utopia and dystopia—presenting an ambitopian vision of the world's first gay state. A glittering gay metropolis of 24 million people, Berlin is a bustling world of pride parades, polyamorous trysts, and even an official gay language. Its distant radio broadcasts are a lifeline for teenagers William and Gareth, who flee toward sanctuary. But is there a place for them in the deeply divided city? Meanwhile, young mother Cissie loves Berlin's towering high rises and chaotic multiculturalism, yet she's never left her heterosexual district—not until she and her family are trapped in a queer riot. With her husband Howard plunging into religious paranoia, she discovers a walled-off slum of perpetual twilight, home to the city's forbidden trans residents. Challenging assumptions of sex and gender, Proud Pink Sky questions how much of ourselves we need to sacrifice in order to find identity and community.
Proud Pink Sky
Word Count:

100000
Summary: They say, "Never work with androids or children." Quirk had one job to do, deliver papers to a Milan mafia boss, before leaving Earth for his home in the asteroids. But that was before being tailed, poisoned—oh, yes—and hijacked into raising foulmouthed fourteen-year-old convent girl Angelika Moratti, aka Moth, who'd rather see him asphyxiate in space. Fleeing assassins, Quirk, Moth and her syRen® android S-0778 ride the space elevator to the Moon, where Quirk hires on to hunt an ex-terra-former who somehow used an android to murder his doctor. But which android of the two hundred under Lunaville's dome? The trail of bodies grows, time is running out; the only way they can save the dome and the two thousand souls beneath it is to solve The Mandroid Murders. Genres: Science Fiction / Thriller / Mystery / Adventure / LGBT and Non Binary Market: Adult
The Mandroid Murders
Word Count:

45000
Summary: Tangents & Tachyons is Scott's second anthology - six sci fi and sci-fantasy shorts that run the gamut from time travel to hopepunk and retro spec fic: Eventide: Tanner Black awakes to find himself in his own study, staring out the window at the end of the Universe. But who brought him there, and why? Chinatown: Deryn lives in an old San Francisco department store with his girlfriend Gracie, and scrapes by with his talent as a dreamcaster for the Chinese overlords. But what if a dream could change the world? Across the Transom: What if someone or something took over your body on an urgent mission to save your world? Pareidolia: Simon's not like other college kids. His mind can rearrange random patterns to reveal the images lurking inside. But where did his strange gift come from? And what if there are others like him out there too? Lamplighter: Fen has a crush on his friend Lewin, who's in a competing guild. But when the world goes dark, only a little illumination can save it. And only Fen, Lewin and their friend Alissa can light the spark. A Liminal Sky short. Prolepsis: Sean is the closeted twenty-five-year-old editor of an 80's sci-fi 'zine called Prolepsis. When an unabashedly queer story arrives from a mysterious writer, it blows open Sean's closet door, and offers him the chance to change the world - and the future. Plus two flash fiction stories – The System and The Frog Prince, never before published. This is the first time all of these stories have all been collected in one place.
Tangents & Tachyons
Word Count:

100212
Summary: The America of our near-future is divided across socio-economic and technological-philosophical lines. The Traditionalists eschew any and all post-human technologies in favor of tangible materials. They uphold strict hierarchical structures based on religion, family, and leadership. They long for the return of the global markets wiped out by a world-shaking disaster called The Great Tide. The Interconnected stand in stark opposition to their ways, living without property, family, or religion, and modifying their bodies with the help of new and invasive technologies. They speak to each other wordlessly, employing a technological telepathy they call 'thexting' to communicate mind to mind, and embrace the gifting economy of Merit to maintain their post-scarcity lifestyles. Marto, the traveling Interconnected historian, has exiled himself to protect the ones he loves from his dark secret. In his absence, Helen, a runaway Traditionalist aristocrat, struggles to find her place among the Interconnected, unwilling to return to her cruel family. Reyleena, the former head of security in the Interconnected town of Reverside, has returned to a life of quiet solitude, broken occasionally by the impositions of The Other, an omnipresent AI, who will not leave her alone. Meanwhile, Barnabas, the Traditionalist leader of New Atlantic, fights to return to his township in the wake of an attack. Nora, his sister, remains in Reverside and must come to terms with her new life in captivity.
The Wakeful Wanderer's Guide
Word Count:

85000
Summary: ALSO AVAILABLE FROM INGRAM FOR BOOKSTORES We're a world beset by crises. Climate change, income inequality, racism, pandemics, an almost unmanageable tangle of issues. Sometimes it's hard to look ahead and see a hopeful future. We asked sci-fi writers to send us stories about ways to fix what's wrong with the world. From the sixty-five stories we received, we chose twelve most amazing (and hopefully prescient) tales. Dive in and find out how we might mitigate climate change, make war obsolete, switch to alternative forms of energy, and restructure the very foundations of our society, The future's not going to fix itself.
Fix the World Anthology
Word Count:

99000
Summary: It's kill or be killed for the crew of the Ungovernable. With the mafia after their heads, ex-smuggler pilot Jez and the crew have two choices—run, or fight back. Problem is, there's nowhere in the System to run. So instead, they're going to take the entire crime syndicate down. But pulling a sting on the mafia—and living to tell the tale—is going to take a hell of a lot more than just good intentions. And when you can't even trust the people you're working with—well, let's just say they'll have to master the art of subterfuge, or die trying. Trojan Horse is the sixth book in R.M. Olson's science fiction space opera series The Ungovernable. With a crazy, close-knit crew, plenty of humour, and loads of action, Firefly meets Ocean's Eleven in this fast-paced, kick-ass, wickedly fun series.
Trojan Horse
Word Count:

120,000
Summary: In Zero-Day Rising, the third book of the BetterWorld trilogy, Kiyoko resolves to free her sister and bring down President Rand and MediaCorp. However, MediaCorp unleashes its ultimate plan: direct mind control with cerebral implants. Can Kiyoko and Waylee's team stop them? Can they penetrate MediaCorp's networks and end the company's grip over humanity? All while eluding the biggest manhunt in history, in a country where everyone and everything is under surveillance?
Zero-Day Rising
Word Count:

84000
Summary: Someone's hunting the Ungovernable. And they're not going to stop until every one of the crew is dead. When an enemy from ex-smuggler pilot Jez's past reappears, determined to extract revenge, the crew of the Ungovernable have two options: fight, or run. But when a hyperjump gone wrong leaves the Ungovernable crippled, her weapons down and her cloaking disabled, their options become scarce indeed. As they scramble to repair the ship with rapidly-dwindling supplies and even more rapidly-dwindling oxygen, their pursuers are inexorably closing in. And if they're going to survive, each of the crew will have to confront dangerous secrets from their past, before those secrets come back to destroy them. Time Bomb is the third book in R.M. Olson's science fiction space opera series The Ungovernable. With a crazy, close-knit crew, plenty of humour, and loads of action, Firefly meets Ocean's Eleven in this fast-paced, kick-ass, wickedly fun series.
Time Bomb
Word Count:

325
Summary: It's 200 years after WWIII and he earth is poisoned with Carbon-14 and plutonium. Following the decade long night of nuclear winter and the Great Famines, what's left of the human race is fragmented and much of the old world is nuclear wastelands inhabited by different factions, from the cannibalistic Ferals, who have reverted to savagery, to the Scavengers who pick among the ruins of the old world cities for useful items to barter with the Dusteaters, nomadic warlike factions who are at war with the despotic Utopians, the most technologically advanced and powerful of the human enclaves, who have forged a new civilization that is controlled by an elite of fertile scientists and intelligentsia who live underground in Sub City, which sprawls beneath Silo City and Surfer Town, where the infertile topsiders called the Mudsurfers live and work for their troglodyte masters. Thundersky often wonders why he doesn't get sick? All the topsiders get sick from the radiation and the cancers. So sick, that living to 35 is considered a grand old age. Only the Scholars live for longer. But the Scholars manufacture the medicinals that everybody needs to survive. Thundersky is different, not only is he immune from the radiation and cancers that have plagued the earth for 500 years, he's also a genius and just 19, he has designed an antimatter impulse drive capable of achieving 50% the speed of light. It's been months since Thundersky submitted his data and applied to the prestigious Tech Training Academy but has heard nothing since. Not all the Scholars are tyrants; some believe the exploitation of topsiders is cruel and wrong. The human experimentations conducted in the Utopian prisons on Dusteater terrorists is barbaric and inhuman. Among them, Grand High Scholar Blackstone Washington and High Scholar Blossom Flora, who for the past twenty years, following the purge of the geneticists and bioengineers have been protecting the "Genesis Child" from the Grand High Council who would kill him. But now people are getting suspicious and asking questions about the topsider who never gets sick, they must act quickly before his true identity is discovered and contrive to bring Thundersky into Sub City and alter his records with a little help from the ARTI-QS-Six-Zero-Two Quantum AI. Zim Steven, head of the SSS is soon suspicious of the new young genius and discovers that he is the Genesis Child, but before he can act, an ancient quantum system is activated at a secret location beneath the flooded ruins of Manhattan, and a countdown begins to unleash another thermonuclear holocaust upon our dying world and a race against time begins. Thundersky is selected to go to New York with an elite team of military tacticals to locate the NORAD system and deactivate it. Meanwhile, Zim Steven lays his plans to make certain that Thundersky and his companions never return to Silo City alive. After their transport drone is shot down by Dusteaters, Corporal Venus Jane and Fox, Thundersky and his best friend Tiger White are the only survivors, with just an armored vehicle. They are pursued by Dusteaters and the infamous Godders of Pennsylvania and a desperate battle for survival begins. While in the wilderness, the foursome make unlikely allies, and Thundersky falls in love with a handsome young Dusteater fighter, Reaper Bloodbuck. Utopia's arch enemy, the queen of the Dusteaters, the Prophetess will reveal things to Thundersky's that will unravel his life and everything he believes in, and soon, it's realized that the humble Mudsurfer is far more powerful than even the Scholars could have imagined…
NORAD's Ghost
Word Count:

127000
Summary: For fans of Blade Runner, Ghost in the Shell and Altered Carbon! Welcome to the year 2095. Killer cyborgs hunt down anyone who disagrees with the perfection that is society. Nephilim is the best operator in these elite death squads. Genetically and cybernetically enhanced, she and her team strike terror wherever they go. Knowing nothing besides this lifestyle, Nephilim believes that she's part of a righteous cause. Then a system glitch changes everything. Separated from the grid, for the first time, Nephilim begins doubting the world she lives in. Things get even more complicated when she meets Jake, a 100% bio-human, who opens her neon-blue eyes to the lies she had been exposed to all her life. Nephilim decides to take a stand against her creators. But in this brave new world, can one person beat an all-powerful system of oppression? Soon, Nephilim finds herself hunted by her own people... Corporate megacities, dystopian themes, cyborg assassins, badass heroines, charismatic villains - an adrenaline ride that never stops. If you love action-driven cyberpunk full of unexpected plot-twists, you don't want to miss this! "Sexy, violent and absolutely intriguing!" -Review
Behind Blue Eyes
Word Count:

78000
Summary: She's lost her ship, lost her job, lost her reputation, and is on the run from the law. Jez is a damn good pilot, and she's always worked alone. Until she got picked up for smuggling, that is. Now she's an ex-con and ex-employed, and there are plenty of people with old scores to settle. So when a mysterious stranger in a battered pilot's coat comes to her with an offer that sounds too good to be true, she reluctantly agrees to listen. All she has to do is fly one little job. Four ex-convicts. One charismatic mastermind. And the most dangerous heist the System has ever seen. Firefly meets Ocean's Eleven in R.M. Olson's fast-paced, kick-ass, wickedly fun space opera series, The Ungovernable. Grab a copy and join the crew.
Zero Day Threat
Word Count:

97000
Summary: Los Angeles is an apocalyptic wasteland. Without orientation, Colton stumbles through the vast, deserted city. He doesn't remember who he is and where he came from. Scavengers save his life from mutants and bring him to the only remaining inhabited area and safe Zone in former Hollywood. There he learns that after a devastating catastrophe called The Glitch, reality shifted, allowing nightmarish creatures from another dimension to enter our world. These co-called Dark Ones feed on suffering and violence, wanting nothing less than the complete annihilation of humanity. Colton discovers that he has extraordinary abilities and joins a league of unusual defenders: ex-cop Eric, female cyborg Bombshell and Vincent, a mighty entity from another world, disguised as a human soldier. But the Dark Ones are evil beyond imagination and with their ice-cold enforcer, the traitor Eurydice, they are a threat nearly impossible to overcome. Cunning and ruthless, Eurydice sets a ploy in action, which leads to the destruction of the Zone's defenses weakening the tiny community from within. It's up to Colton and his friends to take a desperate stand against the superior enemy and save what is left of humanity from extinction. Fast-paced, action-driven, and cinematic – an eternal fight of good vs. evil told in a way as never before.
Shadow City
Word Count:

124000
Summary: Althea struggles to adapt to an unexpected twist in her life—not being kidnapped in six whole months. The strange police from the faraway city claim the abilities she thought of as magic are really 'psionics,' and say she is far stronger than anyone they have ever seen. Despite their curiosity, they let her remain in the Badlands to protect her from an evil they call corporations. Of course, Althea knows all too well how powerful her healing gift is. For most of her life, she'd been a prize taken in raids. Tribes have killed to own her, and she let them. But the Prophet is done being passive. Having a family changes everything. No longer afraid to use her powers to protect herself, Althea refuses to be taken again… even when corporate mercenaries find her.
Prophet's Journey
Word Count: Information not available
Summary: Welcome to Zeta City, where the whole world goes to die. Here, the Node System uploads the minds of the dying so they can spend eternity in a digital Promised Land. But, this cyber heaven is causing hell on earth for the living because the System forces them to earn Points to buy data in the afterlife. Camille is a salty mercenary out to hoard as many Points as possible by exploiting the dying with illegal technology. She's on the hunt for Toy, a rebel leader who uploaded lethal technology to her own brain in an attempt to wipe out everyone's Node Points. Camille goes to increasingly dangerous lengths in pursuit of Toy. She soon finds that the Node is full of warm reunions with loved ones and otherworldly creations. It's also full of lies.
Forever People
Word Count:

52,500
Summary: The cerebral interface has revolutionised society. Need a ride? With a thought, the cab is on its way. Want an adventure? Enter a VR 5 computer game nearly indistinguishable from reality. Amanda arranges for her Big Sisters Program little sister, Rachel, to spend a day gaming as a fourteenth birthday present. Amanda never suspects that her insane ex-boyfriend, Jim, will use a computer virus to trap her and her companions in the game. A pleasant diversion becomes a life and death struggle as her party seek a way to come back to the real world without triggering a program that will cause nanobots to rip their brains to shreds. To complicate matters, in the game scenario the adventurers have been transformed into cats. Will the party survive? Will Amanda admit that Rachel's older brother, Tyrell, might just be her future? Will the computer virus Jim used to trap them become a cyber plague that could kill thousands?
Cats