Sci fi stories with aliens of any kind (tw heads, three fingered hands, silicon based – we'll take them all. Return to general Sci Fi
Note: these books are currently sorted by release date, with newest first.
Filter by:
Genres
Fantasy
Fantasy - Alternate History
Fantasy - Comedy
Fantasy - Contemporary
Fantasy - Dark Fantasy
Fantasy - Erotica
Fantasy - Faery & Fae
Fantasy - Fairy Tale / Folklore
Fantasy - Fantasy of Manners
Fantasy - Gothpunk
Fantasy - Heroic
Fantasy - High & Other World
Fantasy - Historical
Fantasy - Hopepunk
Fantasy - Knights & Castles
Fantasy - Latinpunk
Fantasy - LGBTQ+
Fantasy - LitRPG
Fantasy - Low Fantasy
Fantasy - Magical Realism
Fantasy - Mythic
Fantasy - Mythpunk
Fantasy - New Adult
Fantasy - Paranormal
Fantasy - People of Color
Fantasy - Piratepunk
Fantasy - Quiet
Fantasy - Romance
Fantasy - RPG
Fantasy - Slipstream
Fantasy - Steampunk
Fantasy - Sword & Sorcery
Fantasy - Urban & Magical Beings
Fantasy - Weird Fantasy
Fantasy - Young Adult
Fantasy – Gods and Heroes
Horror
Horror - Angels & Devils
Horror - Comedy
Horror - Fairy Tale/Folklore
Horror - Ghosts & Haunted Houses
Horror - Gothic
Horror - LGBTQ+
Horror - LitRPG
Horror - Lovecraftian/Cthulhu
Horror - Man-Made Horrors
Horror - Monsters
Horror - Mythic
Horror - New Adult
Horror - Noir
Horror - Occult
Horror - People of Color
Horror - Post-Apocalyptic
Horror - Psychic Talents
Horror - Psychological
Horror - Shifters
Horror - Splatterpunk
Horror - Vampires
Horror - Weird Horror
Horror - Werewolves
Horror - Witches
Horror - Young Adult
Horror - Zombies
Nonfiction
Nonfiction - Writing Guides
Paranormal
Paranormal - Angels & Devils
Paranormal - Comedy
Paranormal - Dark
Paranormal - Ghosts & Haunted Houses
Paranormal - LGBTQ+
Paranormal - LitRPG
Paranormal - Magical Beings
Paranormal - Monsters
Paranormal - New Adult
Paranormal - People of Color
Paranormal - Psychic Talents
Paranormal - Reincarnation
Paranormal - Romance
Paranormal - Shifters
Paranormal - Vampires
Paranormal - Young Adult
Paranormal - Zombies
Poetry
Sci Fi
Sci Fi - Alien Invasion
Sci Fi - Alien Races
Sci Fi - Aliens
Sci Fi - Alternate / Parallel Reality
Sci Fi - Alternative History
Sci Fi - Apocalyptic Fiction
Sci Fi - Artificial Intelligence
Sci Fi - Biopunk
Sci Fi - Christian
Sci Fi - Climate Fiction (Cli-Fi)
Sci Fi - Clockpunk
Sci Fi - Clones
Sci Fi - Colonization
Sci Fi - Comedy
Sci Fi - Cyberpunk
Sci Fi - Cyberspace
Sci Fi - Decopunk
Sci Fi - Detective
Sci Fi - Dieselpunk
Sci Fi - Distant Planet
Sci Fi - Dying Earth
Sci Fi - Dystopian & Post-Apocalyptic
Sci Fi - First Contact
Sci Fi - Frontier
Sci Fi - Furry
Sci Fi - Galactic Empire
Sci Fi - Generation Ship
Sci Fi - Genetic Manipulation
Sci Fi - Gothpunk
Sci Fi - Greenpunk
Sci Fi - Hard Sci Fi
Sci Fi - Hollow Earth
Sci Fi - Hopepunk
Sci Fi - Human Evolution
Sci Fi - Immortality
Sci Fi - LGBTQ+
Sci Fi - LitRPG
Sci Fi - Lost Worlds
Sci Fi - Military
Sci Fi - Mind Uploads
Sci Fi - Multiverse
Sci Fi - Mutants
Sci Fi - Nanopunk
Sci Fi - Near Future
Sci Fi - New Adult
Sci Fi - Nowpunk
Sci Fi - People of Color
Sci Fi - Piratepunk
Sci Fi - Pulp
Sci Fi - Realistic
Sci Fi - Robots/Androids
Sci Fi - Romance
Sci Fi - RPG
Sci Fi - Science Fantasy
Sci Fi - Singularity
Sci Fi - Slipstream
Sci Fi - Social
Sci Fi - Soft
Sci Fi - Solarpunk
Sci Fi - Space Exploration
Sci Fi - Space Opera
Sci Fi - Space Western
Sci Fi - Spacepunk
Sci Fi - SpyFi
Sci Fi - Steampunk
Sci Fi - Superheroes & Villains
Sci Fi - Terraforming
Sci Fi - Teslapunk
Sci Fi - Theological
Sci Fi - Time Travel
Sci Fi - Transhuman
Sci Fi - Uplift
Sci Fi - Utopian
Sci Fi - Virtual Reality
Sci Fi - Weird Sci Fi
Sci Fi - Young Adult
Tropes
Abandoned Place
AI Uprising
Alien Artifacts
Alien Eggs
Alien Invasion
Alien Ruins
Aliens Among Us
Aliens as God
Aliens in History
Ancient Astronauts
Ancient Weapon
Antihero
Arthurian Legends
Asteroid Miner
Astral Projection
Bad Robot
Band of Brothers/Sisters
Band of Misfits
Bar Tales
Becoming a Monster
Benevolent Aliens
Beyond the Grave Communication
Big Sword
Black and White Morality
Body Modifications
Bodysnatchers
Book of Spells
Born Hero
Burial Ground/Cemetary
Changing Painting
Chosen One
Clones
Conspiracy
Crazy Clairvoyants
Cross-Species Friendships
Cryosleep
Dark Enemy
Dark Lord
Death by Sex
Demonic Possession
Dragonriders
Dying World
Dystopian Governments
Enemy to Ally
Evil Megacorporation
Evolving Powers
Fallen Hero
Farmer to Hero
Farmer to Royalty
Fated Mates
Fellowship
Fetus of Doom
First Contact
Fish Out of Water
Found Family
FTL
Galactic Civilization
Generation Ships
Good Robots
Haunted House
Here Comes the Cavalry
Humanity is Dangerous
Humanity is Good
Humans Evolved From Aliens
Hunted
I Am Your Father
I See Dead People
Immortality
Inaccessible Magic
Interspecies Adoption
Interspecies Romance
Interstellar Travel
Killer Aliens
Library of Secrets
Lost Civilization
Lucky Novice
Mad Scientist
Magic Furniture
Magic Talisman
Magical Disaster
Marooned
Mirror Shows True Self
Modern Human in Fantasy World
Museum/Store of the Unusual
No Cell Coverage
Old Person in the Woods
Oxygen Leak
Parallel Worlds
Past People/Future Tech
Person in Distress
Portals
Possession
Post-Apocalyptic
Powerful Artifact
Prophesy
Pseudo European Society
Psionic Powers
Quest
Redemption Arc
Reluctant Hero
Reluctant Vampires
Robin Hood Legends
Roguish Thief
Secret Heir
Secret Royalty
Secret Society
Sentient AI
Sentient Spaceships
Sex Magic
Singularity
Space Battles
Space Dentistry
Space Detectives
Space is Empty
Space is Full
Space Medicine
Space Pilot
Space Pirates
Space Psychology
Space Smugglers
Superpowers
Sword of Destiny
Time Loop
Time Travel
Training
Ultimate Evil
Undiscovered Planet
Uploaded Consciousness
Vengeful Spirit
Villain to Hero
Waiting/Sleeping Evil
Wise Mentor
Tags
author - american
author - arabian
author - australian
author - belgian
author - british
author - canadian
author - dutch
author - european
author - french
author - italian
author - new zealander
author - saudi arabian
format - anthology
format - audiobook
format - book
format - box set
format - collection
format - free
format - hardcover
format - illustrated novel
format - kindle
format - kindle unlimited
format - large print
format - netgalley
format - novel
format - novel >100K
format - novel <100K
format - novel 40-100K
format - novella 15k-40K
format - novellette <15k
format - omnibus edition
format - paperback
format - payhip
format - planner
format - prequel
format - self published
format - sequel
format - series
format - shared universe
format - short stories
format - short story <15K
identity - aromantic
identity - asexual
identity - bisexual
identity - demisexual
identity - gay
identity - gender fluid
identity - intersex
identity - lesbian
identity - non-binary
identity - pansexual
identity - polyamorous
identity - transgender
potential trigger
potential trigger - abduction-captivity
potential trigger - addiction
potential trigger - avalanche
potential trigger - blood
potential trigger - death
potential trigger - gore
potential trigger - graphic torture
potential trigger - murder
potential trigger - rape
potential trigger - sexual abuse
potential trigger - stalking
potential trigger - suicidal ideation
potential trigger - suicide
potential trigger - torture
potential trigger - traumatic past
potential trigger - violence
what - concept - amnesia
what - concept - curse
what - condition - blindness
what - condition - disability
what - condition - mental illness
what - condition - ptsd
what - element - ferocious poodle
what - holiday - general
what - topic - cartel
what - topic - chinese medicine
what - topic - chinese mythology
what - topic - climate change
what - topic - compassion
what - topic - crime
what - topic - desert survival
what - topic - disaster
what - topic - flying
what - topic - genetic engineering
what - topic - harem
what - topic - haunting
what - topic - japanese mythology
what - topic - learning disabilities
what - topic - legend
what - topic - magic
what - topic - multicultural
what - topic - music
what - topic - natural disaster
what - topic - non-violence
what - topic - politics
what - topic - ransom
what - topic - reincarnation
what - topic - religion
what - topic - revenge
what - topic - science experiment
what - topic - secret
what - topic - secret organization
what - topic - superstition
what - topic - taboo
what - topic - technology
what - topic - terrorism
when - period - 16th century
when - period - 17th century
when - period - 18th century
when - period - 1920s
when - period - 1930s
when - period - 1950s
when - period - 1960s
when - period - 1970s
when - period - 1980s
when - period - 1990s
when - period - 19th century
when - period - 20th century
when - period - ancient greece
when - period - ancient rome
when - period - edwardian
when - period - georgian
when - period - great war
when - period - middle ages
when - period - near future
when - period - prehistoric
when - period - prohibition
when - period - victorian
where - fictional - moon colony
where - general - alternate universe
where - general - carnival
where - general - castle
where - general - cave
where - general - cruise ship
where - general - forest
where - general - military
where - general - mountains
where - general - private school
where - general - rural
where - general - small town
where - general - swamp
where - general - uncharted island
where - general - underground
where - general - underwater
where - Mars
where - non-Earth planet
where - space - international space station
where - space - space station
where - space station
where - spaceship
who - description - alpha male
who - description - alphas and omegas
who - description - tattoos
who - magical humans
who - occupation - apothecary
who - occupation - archaeologist
who - occupation - artist
who - occupation - assassin
who - occupation - astronaut
who - occupation - astronomer
who - occupation - author
who - occupation - baker
who - occupation - barista
who - occupation - bodyguard
who - occupation - botanist
who - occupation - bounty hunter
who - occupation - castle laird
who - occupation - computer programmer
who - occupation - contractor
who - occupation - coroner
who - occupation - cowboys
who - occupation - detective
who - occupation - doctor
who - occupation - engineer
who - occupation - ex-convict
who - occupation - federal agent
who - occupation - guard
who - occupation - hacker
who - occupation - healer
who - occupation - herbalist
who - occupation - historian
who - occupation - horsemaster
who - occupation - innkeeper
who - occupation - inventor
who - occupation - journalist
who - occupation - king
who - occupation - knight
who - occupation - law enforcement
who - occupation - librarian
who - occupation - lord
who - occupation - mage
who - occupation - marine
who - occupation - mechanic
who - occupation - medical
who - occupation - mercenary
who - occupation - military
who - occupation - missionary
who - occupation - motorcycle rider
who - occupation - musician
who - occupation - nurse
who - occupation - pilot
who - occupation - pirate
who - occupation - police
who - occupation - politician
who - occupation - priest
who - occupation - prince
who - occupation - prisoner
who - occupation - professor
who - occupation - psychic
who - occupation - royalty
who - occupation - sailor
who - occupation - scientist
who - occupation - security
who - occupation - serial killer
who - occupation - servant
who - occupation - sex worker
who - occupation - sheriff
who - occupation - soldier
who - occupation - space marines
who - occupation - spaceship captain
who - occupation - spy
who - occupation - starship captain
who - occupation - student
who - occupation - superhero
who - occupation - tattoo artist
who - occupation - teacher
who - occupation - thief
who - occupation - tracker
who - occupation - undercover agent
who - occupation - warrior
who - occupation - writer
who - religion - catholic
who - religion - jewish
who - religion - muslim / islamic
who - religion - pagan
who - religion - shinto
who - sea dragon shifter
who - shifter
who - type - alien
who - type - altered human
who - type - angels
who - type - badass heroine
who - type - bear shifters
who - type - bigfoot
who - type - centaur
who - type - cyborg
who - type - demons
who - type - dragon shifters
who - type - dragons
who - type - elves
who - type - fae
who - type - fox
who - type - ghosts
who - type - god
who - type - griffins
who - type - incubus
who - type - kitsune
who - type - merman
who - type - nekomata
who - type - nephilim
who - type - panther shifters
who - type - reindeer shifters
who - type - robot / cyborg
who - type - sea god
who - type - selkie
who - type - spiders
who - type - spirit
who - type - succubus
who - type - unicorns
who - type - vampires
who - type - vegan
who - type - werecats
who - type - werewolves
who - type - witch
who - type - wizard
who - type - wolf
who - type - yokai
who - type - zombies
who - world defender
Word Count:
110000
Summary: Finding work is easy. Staying alive is a little bit harder. When Russ Wesley finds an unusual artifact in his grandfather's collection of rare antiquities, the last thing he expects is for it to draw the attention of a ferocious alien from a distant planet. Equally surprising is the adventurous team of intergalactic exterminators dispatched to deal with the alien threat. They're a little wild, and a little reckless. Worse yet, they're so impressed with Russ's marksmanship that they insist he join their squad . . . whether he wants to or not. Blurb "This book is so much fun it ought to be illegal in all known galaxies. Ash Bishop has written a wildly imagined, deeply felt, swashbuckling page turner. I loved it." —Jesse Kellerman, New York Times bestselling author of The Burning
Intergalactic Exterminators, Inc.
September 6, 2022
Word Count: Information not available
Summary: The resurrection of one world will mean the destruction of another. The homeworld of the alien Noigel has been annihilated. Their existence as a species is on a razor's edge. But they have found a replacement: Earth. But it must be changed to suit their needs. If they succeed, all of humanity will perish. When an alien secret agent is killed, his technology and mission are given to Hina Takamachi. The Japanese schoolgirl discovers the alien's battle suit gives her incredible powers, just like the anime heroines she admired as a kid. The battle suit's artificial intelligence, whom Hina names Voice, informs her that only she can save the world from the Noigel.With Voice training and guiding her, Hina must overcome her own self-doubts and find the courage to stop the Noigel's plan. For one world to win, the other must lose.
Zero Sum Game
September 2, 2022
Word Count:
107000
Summary: An ancient evil in Anne's head aims to ruin her tranquil life and end humanity. It must be Tuesday. A house of her own with a white picket fence, complete with a loving partner, Anne Perrin finally has the life of her dreams — including the job she always wanted and a caring family to share it all with. But every Eden has its Pandora's Box. Anne's personal heaven is marred by a malevolent presence in her head who, if given a choice, would use her to usher in a dark age, ending humanity as she knows it. The only thing holding it at bay is an unpredictable computer implant in her chest that seems to have its own agenda. Two unexpected visitors turn Anne's delicate world upside down in completely different ways — one better than she could have ever hoped, one catastrophically terrible — pitting Anne in a nightmare battle against the very people she holds dearest: her family.
Angels Found
April 19, 2022
Word Count:
120000
Summary: A circus takes down a crimeboss on the galaxy's infamous pleasure moon. Hunted by those who want to study his gravity powers, Jes makes his way to the best place for a mixed-species fugitive to blend in: the pleasure moon. Here, everyone just wants to be lost in the party. It doesn't take long for him to catch the attention of the crime boss who owns the resort-casino where he lands a circus job. When the boss gets wind of the bounty on Jes' head, he makes an offer: do anything and everything asked of him, or face vivisection. With no other options, Jes fulfills the requests: espionage, torture, demolition. But when the boss sets the circus up to take the fall for his about-to-get-busted narcotics operation, Jes and his friends decide to bring the mobster down together. And if Jes can also avoid going back to being the prize subject of a scientist who can't wait to dissect him? Even better.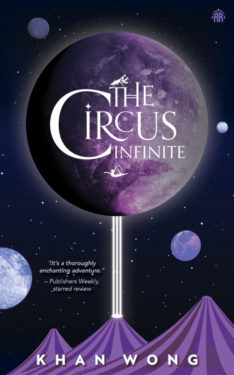 The Circus Infinite
March 8, 2022
Word Count:
75400
Summary: JT Austin. Hero of Amargosa's liberation. One of the Children of Amargosa. Now a Navy pilot. Serving with his comrade, Mitsuko Yamato, aboard the Queen Maria Sophia, he is handed what should be a milk run: Retrieve Lt. Cmdr. Edward Windsor from his garrison on a remote – and smelly – planet as he has just become king of Bonaparte, the Compact's only planetwide monarchy. However, an unknown attacker disables the Sophie, boards the ship with killer mechs, and sends JT with the new king and his entourage fleeing their ship. He will have to talk fast to make a deal with the enemy Gelt, summon his mentor Suicide for help, and get the king to safety. He will also discover he has at least one traitor in his midst. He will also discover his surrogate mother has a secret that will shatter his world.
Checkmate
February 8, 2022
Word Count:
120600
Summary: Captain Talis just wants to keep her airship crew from starving, and maybe scrape up enough cash for some badly needed repairs. When an anonymous client offers a small fortune to root through a pile of atmospheric wreckage, it seems like an easy payday. The job yields an ancient ring, a forbidden secret, and a host of deadly enemies. Now on the run from cultists with powerful allies, Talis needs to unload the ring as quickly as possible. Her desperate search for a buyer and the fallout from her discovery leads to a planetary battle between a secret society, alien forces, and even the gods themselves. Talis and her crew have just one desperate chance to make things right before their potential big score destroys them all.
Flotsam
February 1, 2022
Word Count:
56000
Summary: This time, the universe puts the cat in catastrophe. Plucked from her home on Earth and ending up aboard a strange spaceship in an even stranger universe, Lem and the misfit crew of the Teapot have more than enough trouble on their hands… and then they receive an urgent last-minute call to save a race of cat-people from certain destruction. Stuck with a disaster-platypus of a project manager and an entire race of people seemingly determined to thwart their own rescue, the Teapot's crew face the impossible job of herding cats and helping evacuate the planet before it's blown to smithereens. Can Lem and the gang avert disaster and save this race of infuriating cat-people? Perfect for fans of wacky and imaginative sci-fi stories, this satirical space opera is a ridiculous adventure that will delight readers of John Scalzi's take on Fuzzy Nation or TJ Berry's Space Unicorn Blues.
Judgement Dave
January 25, 2022
Word Count:
132,220
Summary: Bobby Gene is a man who stands out even among his people. Guided by the knowledge of his heritage as a backwoods shaman and more perceptive than many, he's grown to be a valuable asset to those he knows. While he isn't surprised to be the first to know when the woods around him begin to show clues that something isn't right, he doesn't expect just how much these omens and signs will prove to foretell something far more sinister to come. Soon strange dreams and inexplicable encounters have him questioning everything he knows- and then the people who live in his woodland Appalachian community begin to disappear. It's his job to protect and guide the others, what will he do when he's the only thing between them and the end of life as they know it?
Night is Falling
January 22, 2022
Word Count:
88000
Summary: Claustrophilia is a genre-bending sci-fi Gothic that dives deep into the psyche's need for love and control while exploring the darker side of human (and non-human) relationships. After the tragic death of his entire family, Thomas lives under a conservatorship overseen by his lover, Ethan. But Ethan's job keeps him away. Isolated in the family's decaying Connecticut mansion, Thomas lives a monotonous life under the watchful eye of a live-in security firm until one day, he discovers an alien hiding on the grounds of his estate. Confronted with the challenge of helping to save an alien species from extinction, Thomas must overcome the forces that control him in his own home. In a world where reality is not always what it seems, and trust is a double-edged sword, one wrong move could turn his whole world upside down… again.
Claustrophilia
December 17, 2021
Word Count:
45000
Summary: Tangents & Tachyons is Scott's second anthology - six sci fi and sci-fantasy shorts that run the gamut from time travel to hopepunk and retro spec fic: Eventide: Tanner Black awakes to find himself in his own study, staring out the window at the end of the Universe. But who brought him there, and why? Chinatown: Deryn lives in an old San Francisco department store with his girlfriend Gracie, and scrapes by with his talent as a dreamcaster for the Chinese overlords. But what if a dream could change the world? Across the Transom: What if someone or something took over your body on an urgent mission to save your world? Pareidolia: Simon's not like other college kids. His mind can rearrange random patterns to reveal the images lurking inside. But where did his strange gift come from? And what if there are others like him out there too? Lamplighter: Fen has a crush on his friend Lewin, who's in a competing guild. But when the world goes dark, only a little illumination can save it. And only Fen, Lewin and their friend Alissa can light the spark. A Liminal Sky short. Prolepsis: Sean is the closeted twenty-five-year-old editor of an 80's sci-fi 'zine called Prolepsis. When an unabashedly queer story arrives from a mysterious writer, it blows open Sean's closet door, and offers him the chance to change the world - and the future. Plus two flash fiction stories – The System and The Frog Prince, never before published. This is the first time all of these stories have all been collected in one place.
Tangents & Tachyons
December 10, 2021
Word Count: Information not available
Summary: It's the find of a lifetime – an ancient alien spaceship hanging in a forgotten corner of space. For Song this could change everything. She's got as many problems with her finances as she does in her marriage, but maybe at last her passion for wreck-diving will pay off. One piece of unknown tech could set her whole crew up for life. The ship conforms to nothing in their records and dwarfs the largest human vessels. Battle-scarred and old before humanity ever reached the stars, it's a mausoleum of an unknown, long-dead species. And it's just winked at her.
Falling Dark
December 3, 2021
Word Count: Information not available
Summary: Far enough to feel like a vacation, close enough to be home by Monday. Unable to get away for more than a couple of days, Primm is a short forty minute drive from Las Vegas, and the perfect escape for Jesse and Micah. After working countless nights and having endless responsibilities, what could be better than a weekend of drinks, concerts, and fun in the sun by a luxury hotel pool? As the pair gets ready to hit the casino for a little adventure on the slots, their plans are quickly detoured when a crazed woman drenched in blood, singles out Jesse and her Bff, warning them to flee for their lives as security drags her away. A little unusual? Absolutely. But no biggie for Sin City. A few deep breaths later and Operation Weekend Escape resumes as planned. That is, until a mysterious casino worker piques their interest with his over attentiveness to their stay and initiates a journey that changes their lives forever and leaves them fighting not only for their existence, but for the human race.
Room 629
November 21, 2021
Word Count:
28000
Summary: Derek Herman is living a nightmare. Long before he was born, the planet was taken over by a mind-controlling alien race, and everyone is affected except for him. Derek does his best not to draw attention to himself, but it's not going well. Ocren Starburst is obsessed with his human neighbor. Every time he sees Derek, he wants nothing more than to grab him, hold him, and keep him forever. And four years of chasing him up the stairs in their apartment building has resulted in Derek refusing to even acknowledge his existence. That is, until Derek accuses Ocren of breaking into his apartment. Derek found a button on his living room floor, the same kind of button Ocren wears on his police uniform. And while Ocren hasn't broken in, he knows the button means someone has. Ocren's race has kept their shape-shifting abilities secret for years, but now his other form wants out to slaughter everyone that dares to get too close to Derek. And staying in control proves hard when threats toward Derek increase. Will they be able to keep Derek safe without Ocren losing control of his dragon self?
How to Soothe a Dragon
November 13, 2021
Word Count:
109000
Summary: It appears out of nowhere—one moment the sky is empty, the next, there's a rent in the fabric of space itself. And nothing in the system will ever be the same.  In the far reaches of the Rim Mountains, itinerant field-scientist Aran Romeu is searching desperately for the cure to an incurable disease—one that's slowly killing his best friend. He's sworn to do whatever it takes to find it. But when the portal opens, and something comes through, he realizes that 'whatever it takes' will involve travelling into the uncharted space beyond the portal. And he's not the only one after the cure, and willing to do whatever it takes to get to it first … In the weighty halls of government, Chief Justice Alba Espina is preparing a political gamble that could change the shape of the system itself. The appearance of the portal shatters her carefully-laid plans and hands her political rival a weapon he could use destroy her—unless she can delay him with the promise of a diplomatic mission through the portal. But the stakes of the mission are higher than just her personal ambition. If her diplomatic mission doesn't succeed, it might just spell the end of humanity itself. In a remote spaceport, Savina Moya, the system's most talented assassin-for-hire, is on the run again after her latest murder. But when a deadly government agent is sent after her, with instructions to bring her back dead or alive, the diplomatic mission heading into the portal may hold the key to Savina's survival—if she's brave enough, or desperate enough, to take it. No one knows what's beyond the portal. And as the three of them are drawn inexorably together in uncharted space, with no idea who is an ally and who is an enemy—it's an open question if any of them will live long enough to find out. 
Redshift
October 27, 2021
Word Count:
85000
Summary: When Tabitha first whispered to the ship, she never expected it to answer. A pilot yearning for adventure, Tabitha proudly flies missions scavenging supplies for her space-borne city. But when the Navicorp sends her to scavenge a derelict ship, it triggers a psychic link to the ship and the alien enemy that drove her people from their home planet. The unexpected connection puts Tabitha and her people in the crosshairs of the telepathic invaders who are determined to exterminate the human race. Her rapidly evolving ability to communicate with the alien ship unlocks a chain of secrets about her past that shakes her identity. The Captain's eagerness to push her into danger challenges her loyalty. Can she use her new ability to save them? Will they turn on her and leave her at the mercy of the aliens? If you love technopaths, psychics, AI friends, and thrilling heroics, you'll love this military sci-fi adventure. Pick up this page-turner today.
Ship Whisperer
October 14, 2021
Word Count:
51000
Summary: Escaping intergalactic kidnappers has never been quite so ridiculous. When Lem and her faithful dog, Spock, retreat from the city for a few days of hiking in Algonquin Park, the last thing they expect is to be kidnapped by aliens. No, scratch that. The last thing they expect is to be kidnapped by a bunch of strangely adorable intergalactic bounty hunters aboard a ship called the Teapot. After Lem falls in with an unlikely group of allies – including a talking horse, a sarcastic robot, an overly anxious giant parrot, and a cloud of sentient glitter gas – the gang must devise a cunning plan to escape their captors and make it back home safely. But things won't be as easy as they first seem. Lost in deep space and running out of fuel, this chaotic crew are faced with the daunting task of navigating an alien planet, breaking into a space station, and discovering the real reason they're all there… Packed with preposterous scenarios, quirky characters, and oodles of humour, The Left Hand of Dog tackles complex subjects such as gender, the need to belong, and the importance of honest communication. Perfect for fans of Charlie Jane Anders' Victories Greater than Death – especially ones who enjoy endless references to Red Dwarf, Star Trek, and Doctor Who. This book will show you that the universe is a very strange place indeed. Scroll up and grab your copy now!
The Left Hand of Dog
August 17, 2021
Word Count:
100000
Summary: After surviving the brutal war against the Proximians, survivors of the Save The Species mission are faced with a terrible new threat. The Othauls are a ruthless alien species determined to terrorize every intelligent race of beings until they are given what they want. Led by the vicious Chalnaii, the Othauls will stop at nothing to bring humanity into their Dynasty. Liam Donovan, along with Ann Caldwell and the rest of the survivors, must escape the Othauls' grip while also embarking on a perilous task to find other alien races to form an alliance which could be their only hope against the malevolent Othauls. Meanwhile, back on Earth, mysteries must be revealed, and uncomfortable truths come to light if humanity can ever hope to be able to defend itself from the Othauls' invading force.
Proxima: The Othaul Dynasty
August 16, 2021
Word Count:
83,000
Summary: Life on Amargosa was supposed to be quiet for Cui Yun, better known by her call sign Suicide. But when a baby is dropped on her doorstep, the mother's disappearance leads her across the galaxy to a world of Neanderthals, a colony devoted to Marilyn Monroe as a goddess, and a planet still in a post-apocalypse and rife with monster plants. She and her protege will find themselves above the galactic plain facing down an enemy that wants control of human evolution itself. Suicide Run marks the return of one of TS Hottle's most popular characters. Find out where she came from, how she became a pilot, and why her call sign is 'Suicide".
Suicide Run
August 13, 2021
Word Count:
36000
Summary: INK (NOUN) Five definitions to inspire writers around the world and an unlimited number of possible stories to tell: 1) A colored fluid used for writing 2) The action of signing a deal 3) A black liquid ejected by squid 4) Publicity in the written media 5) A slang word for tattoos Ink features 300-word speculative flash fiction stories from across the rainbow spectrum, from the minds of the writers of Queer Sci Fi.
Ink
August 10, 2021
Word Count:
45500
Summary: Brave paladin. Royal princess. Fierce dragon. Simple. Being all three at once? Way too complicated. Paladin Snillek's mother was human and ruled a planet. That's about the extent of her knowledge since they didn't see each other much. When her mom dies in a freak accident, her father tells Snillek she's inherited the title, and she has to learn how to pass as the mostly human Princess Siel for a planet she never thought about much. The dresses alone are horrifying and the courtiers aggravating. ​ In a moment of frustrated rage, Snillek's princess persona slips and frightened palace staff misinterpret what they see. Now Paladin Snillek has been called upon to rescue Princess Siel…from herself. Gruyere wants desperately to journey into the wilds of Tarribotia, but it's too dangerous to go alone and so far, everyone's laughed at her for suggesting it. When she spots a Dzedek paladin sulking in a tavern, she offers her services, hoping to pass herself off as a rogue guide. Two women with secrets and possibly opposing goals head out into the hinterlands of a planet neither one of them knows well. They might both make it back by Winterfest if nothing eats them first. This book contains one out-of-her-element paladin, the perils of academia, deadly cake, and unconventional dragons.
The Anti-Quest
April 13, 2021