Sci fi stories with aliens of any kind (tw heads, three fingered hands, silicon based – we'll take them all. Return to general Sci Fi
Note: these books are currently sorted by release date, with newest first.
Word Count:

70000
Summary: Ray M. Holler is an interstellar shipping freelancer, expert smuggler, and an occasional thief with a troubled past which means that his life is far from the boring, mundane exploits of your average denizen of the Orion-Sagittarius Union, a political alliance of intelligent species inhabiting the Milky Way galaxy. In fact, more often than not, he finds himself up to his neck in situations that require wit, courage, and a decent amount of luck to maneuver out of in one piece. Throughout his adventures in a universe where a safe, peaceful life is possible but not guaranteed, Ray gets to meet a variety of interesting individuals, make new friends, reunite with old acquaintances, and maybe—just maybe—face his own demons. All Quiet In the Milky Way: Ray M. Holler's Adventures vol. 1 brings forth five stories, accompanied by an equal amount of side vignettes. This collection will take you on an exciting journey to remote worlds that, in some aspects, may not be all that dissimilar from the one we live in today.
All Quiet in the Milky Way
Word Count: Information not available
Summary: Something is definitely rotten in the experimental settlement on Ceres. Jax wonders how it will affect her and her colleagues when along comes Nan and shows her a side to the complex she did not expect. Together, the two young women work to break the control the aliens have over the human settlers and begin to form the foundation of a fairer community.
The Ceres Illusion
Word Count:

38000
Summary: RISE (noun / verb) Eight definitions to inspire writers around the world, and an unlimited number of possible stories to tell: 1) An upward slope or movement 2) A beginning or origin 3) An increase in amount or number 4) An angry reaction 5) To take up arms 6) To return from death 7) To become heartened or elated 8) To exert oneself to meet a challenge Rise features 300-word speculative flash fiction stories from across the rainbow spectrum, from the minds of the writers of Queer Sci Fi.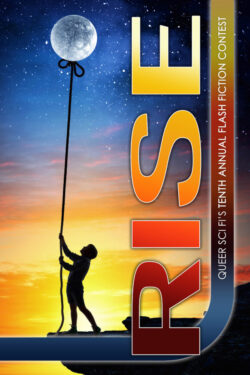 Rise
Word Count: Information not available
Summary: A genre-bending science fiction tale that takes place on several planets and through two lifetimes, rife with psychic magic as well as insights from psychology and physics. Yearning to reunite in the afterlife, a couple's search runs afoul of both the materialistic Technists on Earth and the intransigent laws of Commensuration on their adoptive planet Xarbo, where rewards and retributions fly fast. Their quest for destiny leads to far-flung planets — one occupied by the disembodied brains of human astronauts, another by soulless clones — as the reincarnated pair find themselves on separate planets and following divergent paths. Hints of Star Trek and of Ram Das combine oddly with eroticism and mysticism in this epic tale of personal evolution.
Rebirth on Xarbo
Word Count: Information not available
Summary: These interconnected sci-fi dystopian stories will transport you to a world teetering on the precipice of collapse. Join heroes who dare to challenge the shackles of oppression, embarking on dangerous journeys to seek freedom. As the shadow of destruction looms, some choose to fight, while others opt for escape. Yet, in the depths of tormented souls, hope emerges as a fragile yet resilient guiding light. Amidst the tapestry of deceit and cunning, clandestine agendas unfurl, weaving intricate webs of intrigue. The galaxy is engulfed in a war that threatens the fabric of existence. However, amidst the chaos, unexpected friendships and relationships are forged, transcending boundaries and divisions. Will righteousness prevail in the face of adversity? Can the seeds of change take root in the soil of uncertainty? Be enthralled by this omnibus edition, a gateway to the captivating Sehnsucht Series by Keyla Damaer.
Tales from the Sehnsucht Series Omnibus Edition
Word Count:

96,000
Summary: A guard and a thief. What could go wrong? Aik has fallen hopelessly in love with his best friend. But Raven's a thief, which makes things … complicated. Oh, and Raven has just been kidnapped by a dragon. Now Aik is off on a quest of his own, to hunt down the foul beast and make them give back his … friend? Lover? Soulmate? The whole not-knowing thing just makes everything harder. Meanwhile, the world of Tharassas is falling apart, besieged by earthquakes, floods, and strange creatures no one has ever seen before. Aik's ex, Silya has gone back to Gullton to try to save her people as the Hencha Queen, and Aik's stuck in a caravan with her mother and a damnable magical gauntlet that won't let him be. He has to find Raven, before it's too late. Things were messy before … but now they're much, much worse.
The Gauntlet Runner
Word Count:

52000
Summary: Can Scott learn to use his newly discovered magical ability, while managing his concerns about the family he left behind? Especially now, when Landbelow's extraterrestrial origins are starting to cause problems?
Enimnori:Challenge
Word Count: Information not available
Summary: Forty years after landing on Lida, the colony still isn't finished. Agetha has survived many more battles than she anticipated when she first landed on her new home planet. She's older and wiser, has gained family and lost loved ones. And yet her reward for four decades of service is to be pushed to the colony's outer edges with the other aging Generationals. But that was only the beginning of her adventure. The biomass has spent years studying the intruders who landed on its surface, carving a new home from its very essence. Never satisfied in its attempt to communicate with this new and invasive species, finally it has found a way to express its intentions. The colonists may never be the same. Discover the fate of the colony in the second book of The Biomass Conflux trilogy!
To a Fungus Unknown
Word Count:

137000
Summary: Have you ever made a ship's AI proud? Really, truly proud? Captain Alastri has. She's a child of Doro, a frontier world governed by a temperamental AI that represents the thoughts and feelings of all its citizens. Never heard of it? Well, it did get destroyed, which is where her ship's AI steps in, to regale us with how Alastri's past led directly to this catastrophe. When Alastri was 17, she witnessed a failed mediation between the ever-wronged citizen Ceres and Doro's governing AI. That day didn't just reveal a range of competing philosophies. It also led to treason, the loss of her ship, and the destruction of her home 25 years on. Connecting the dots from that day is the only way Alastri can hope to prevent further disaster for her system. And yes, this she does, most splendidly—at least, if you can believe a ship's ridiculously proud AI. Inspired by The Brothers Karamazov, a.k.a. "Dostoevsky in Space"!
Children of Doro
Word Count:

138,300
Summary: Four silver foxes from Earth discover that true love and second chances are not just for the young. Fly with Me - Let the good times roll! That's Ava Martin's retirement plan at least, until gray aliens abduct her from the middle of the Nevada desert. In her hair rollers no less! Talk about a rude awakening for this UFO skeptic. Above the Storm - It all started with a dare. Robyn Martin Donahue's bestie says the Silverstar Agency can hook her up with an off worlder who will love and respect her, not try to rule her. As if. Wing and a Prayer - Happily ever after didn't work out. If Meryl Faulkner learned anything from her divorce, it's that she's not defined by any man. Especially not that annoying, self-serving…sexy winged alien who's divebombed into her orderly life. Trial by Fire - True love only happens once in a lifetime, right? Silverstar agent Nixy Vogel should be furious at the (smoking hot) alien trying to put the agency out of business. Instead, her shuttered heart burns for him. Welcome to the Silverstar Mates series, featuring intergalactic love matches for those over fifty.  Please note: This is a boxed set of books 1-4 of the Silverstar Mates series. Before you purchase this boxed set, please check your ereader to make sure you don't already own these titles individually.
Silverstar Mates Boxed Set
Word Count: Information not available
Summary: Before Ardulum, there was the Mercy's Pledge. One year after saving the Neek homeworld and redefining the people's religion, the crew of the Scarlet Lucidity returns to the Charted Systems for a much-needed break. For Nicholas and Yorden, the Systems will always be home, but for Emn and Atalant, too many memories compound with Emn's strange new illness to provide much relaxation. Tales from Ardulum continues the journey of Atalant, Emn, Yorden, Nicholas, and Salice as they try to define their place in a galaxy that no longer needs them while battling the artifacts of Ardulan colonization. Other stories include Yorden's acquisition of the Mercy's Pledge (and his grudge against the galaxy), Atalant's exile from her homeworld, Ekimet and Savath's romance, and many others.
Tales From Ardulum
Word Count:

50,000
Summary: J. Manfred Weichsel's versatility, unique style, and refusal to be bound by genre conventions have made him a force to be reckoned with in the world of speculative fiction. Now, Weichsel invites you to strip down and expose yourself to his raw and unfiltered imagination with Warrior Soul & Other Stories. Weichsel's stories peel away the veneer of societal norms and delve deep into the human psyche, exposing the rawest and most vulnerable parts of our existence. Through his boundary-shattering tales of science fiction, adventure, horror, and humor, Weichsel fearlessly explores the fringes of what is possible in fiction, revealing the naked truth of our humanity. From the mind-bending science fiction of "Warrior Soul", to the fantastical realm of "The Rainbow-Colored Rock Hopper", from the light comedy of "Queen of the House", to the darkest depths of horror of "Complicit in Their Bondage", these twelve tales will leave you feeling exposed and vulnerable in the best possible way. The bold and daring themes that run throughout Weichsel's work strip away all pretense and artifice to reveal the unvarnished truth of the human experience. So if you're ready to shed your inhibitions and explore the depths of what's possible in fiction, then get your copy of Warrior Soul & Other Stories now. It's time to embrace your innermost desires and take the plunge into the raw, unbridled world of J. Manfred Weichsel.
Warrior Soul & Other Stories
Word Count: Information not available
Summary: The planet wakes. Atalant is torn between two worlds. In uncharted space—head of a sentient planet—the new Eld of Ardulum now leads the religion she once rejected. Emn is by her side but the Mmnnuggl war brewing in the Charted Systems—threatening her homeworld of Neek—cannot be ignored. Atalant must return to the planet that exiled her in order to lead the resistance. She must return home a god, a hypocrite, a liar in gold robes, and decide whether to thrust her unwilling people into the truth of Ardulum, or play the role she has been handed and never see her family, or her world, again.
Ardulum: Third Don
Word Count: Information not available
Summary: A young woman in 1884 doesn't have many options … But Susannah did not expect to be tutoring an alien snail child while aboard a ship sailing in space … Who will get the real education? Orphaned and penniless in Hong Kong in 1884 — what's a young gentlewoman to do? Impulsive, adventurous, and self-confident, Susannah accepts an offer to become the governess to a young foreigner on a ship. She does not expect the ship to be in space, or the foreign child to be an alien who looks like a giant snail. Nevertheless, she throws herself into the job of bringing Victorian decorum to the natives. But when she is accused of spying and put on trial in an alien court, Susannah has to challenge the law of the aliens to save herself — and her young and slimy student.
Snail's Pace
Word Count:

85000
Summary: Jameson Havercamp, a psych from a conservative religious colony, has come to Oberon—unique among the Common Worlds—in search of a rare substance called pith. He's guided through the wilds on his quest by Xander Kinnison, a handsome, cocky wing man with a troubled past. Neither knows that Oberon is facing imminent destruction. Even as the world starts to fall apart around them, they have no idea what's coming—or the bond that will develop between them as they race to avert a cataclysm. Together, they will journey to uncover the secrets of this strange and singular world, even as it takes them beyond the bounds of reality itself to discover what truly  binds them together.
Skythane
Word Count: Information not available
Summary: Ardulum. The planet of myth. The planet of unwanted destiny. The Charted Systems are in pieces. Mercy's Pledge is destroyed, and her captain dead. With no homes to return to, the remaining crew sets off on a journey to find the mythical planet of Ardulum—a planet where Emn might find her people, and Neek the answers she's long sought. Finding the planet, however, brings a host of uncomfortable truths about Ardulum's vision for the galaxy and Neek's role in a religion that refuses to release her. Neek must balance her planet's past and the unchecked power of the Ardulans with a budding relationship and a surprising revelation about her own genealogy. Ardulum: Second Don blends space opera elements and hard science into a story about two women persistently bound to their past and a sentient planet determined to shape their future.
Ardulum: Second Don
Word Count:

150000
Summary: What if first contact happened, and nobody even noticed? Light-years away, years ago, something insignificant happened. Now, the spirits are restless. Loki has returned, seeking help for his people. Entire stations are being consumed, populations lost. No one understands why, and the threat continues to spread. Can Jack, Marsha, and teenager Po carry the weight of saving Loki's civilization? This time, it may break them all.
Consortium
Word Count: Information not available
Summary: Ardulum. The planet that vanishes. The planet that sleeps. Neek makes a living piloting the dilapidated tramp transport, Mercy's Pledge, and smuggling questionable goods across systems blessed with peace and prosperity. She gets by—but only just. In her dreams, she is still haunted by thoughts of Ardulum, the traveling planet that, long ago, visited her homeworld. The Ardulans brought with them agriculture, art, interstellar technology…then disappeared without a trace, leaving Neek's people to worship them as gods. Neek does not believe—and has paid dearly for it with exile from her home for her heretical views. Yet, when the crew stumbles into an armed confrontation between the sheriffs of the Charted Systems and an unknown species, fate deals Neek an unexpected hand in the form of a slave girl—a child whose ability to telepathically manipulate cellulose is reminiscent of that of an Ardulan god. Forced to reconcile her beliefs, Neek chooses to protect her, but is the child the key to her salvation, or will she lead them all to their deaths?
Ardulum: First Don
Word Count:

87000
Summary: In the interstellar kingdom of Valoris, the balance of power has changed. Dressa Rhialden has all she ever wanted—except she only wanted Lesander, gorgeous prince of an enemy high house, not the kingdom meant for her sister. Unfortunately, her betrothal came with both, and now she has a lot of catching up to do. But she's falling hard for Lesander in the meantime, and with her kingdom on the line and Lesander maybe her enemy, is falling in love really a good idea? When alien attacks that shouldn't be possible plague her kingdom's distant worlds, Dressa's new position is put to the test. Why are the pacifist Kidaa attacking now, and were the attacks made by the Kidaa at all? There's more going on than an internal power shift, and she has far more secrets to uncover to keep her kingdom safe. Ari Rhialden had her whole life planned out: excel at being the Truthspoken Heir, controlling her kingdom with her shapeshifting powers, and then one day excel at ruling the kingdom. But when she contracts an incurable illness and loses her ability to shapeshift, those plans are derailed. Ari's sent undercover to a resort world for treatment, but all is not right in paradise. A young gardener with a mysterious past is taking too much interest in Ari's new persona, and a possessive duke is bent on capturing her attention for himself. Are these just the ordinary machinations of noble guests or something far more sinister? In a kingdom where subterfuge is the norm, coincidence is never just that, and now events are rapidly spinning out of control. Can Dressa and Ari find their way to truth before the kingdom comes crumbling down around them? The Shadow Rule is the second season of The Stars and Green Magics, an epic space fantasy serial set in a diverse, queernorm universe with shapeshifting royals, plotting nobles, and space magic! The Shadow Rule collects episodes 37-93, the complete second season. This book has main characters who are queer, nonbinary, trans, agender, genderfluid, ace and/or aro, lesbian, fat, POC, disabled, ND, and generally awesome. (Not all rep is stated, some is implied.) Barring the occasional burst of strong language, this book is PG-13.
The Shadow Rule
Word Count:

3,000
Summary: Lem and her dog, Spock, have a late-night encounter with a stowaway. 'Twas the night before Christmas, when all through the Teapot… Not a creature was stirring, not even a lonely robot; The stockings were hung in the mess hall with care In hopes that St. Nicholas soon would be there.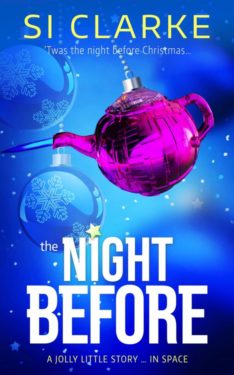 The Night Before