High fantasy is usually epic in scope, and takes place in an entirely different world. Return to general Fantasy
Note: these books are currently sorted by release date, with newest first.
Word Count:

76, 000
Summary: She tried to steal treasure from the dragons' hoard… and stole their hearts instead. To save her sister from a lascivious lord, Venya must steal a piece of treasure from a legendary dragon's hoard. Dragons haven't been seen in several generations, so imagine her surprise when she wakes not one, but two dragons from their hibernation. While the battle-honed Onyx is intent on having her for lunch, the graceful Gold appears more curious than angered by the theft.Abyss and Ray have very different ideas about what to do with the thief when they catch her. Abyss wants to punish her while Ray is intrigued by her audacity. After Ray turns his mate's anger to desire, the dragons set out on a rescue mission, intent on capturing the brazen thief and learning more about her. And to see if her Song matches theirs.Neglected and discarded by her parents, Venya has never bonded with anyone except her sister. Now she has two mighty dragons wanting to woo her and take her as their mate. While she finds delight in their company, she must reassess her own self-worth before she can trust them enough to love them.But the dragons have exposed themselves to the outside world, and many covet not only their hoard but Ray's golden scales. And when Venya's closely held secret is revealed, she becomes a prize worth killing for.
Song of Flames
Word Count: Information not available
Summary: The world is wide and full of wonders Fleeing her country in order to save it, Princess Jade of Sharren discovers a greater threat. SONG OF JADE: RED WOLF is a standalone DRAGON AGE prequel to the WOODSPELL SERIES and one of the TALES OF ARDONNA. Content Advisory: Contains adult themes and situations and spoilers for River's Roar
Song of Jade: Red Wolf
Word Count:

118676
Summary: Once upon a time, before the hunts, dragons were plentiful in the world. Now they exist only in legend…except in the land of Ivria. Without the Dragon Talent, Sascha has long been told his only value is his ability to make the best match possible, whether as concubine or husband. He has always done what his family  expects of him, cultivating grace and beauty, and when his parents make a match for him, Sascha goes without protest. He never anticipates being contractually bound to a cruel man embroiled in a plot to overthrow the king of Ivria. Or being confronted by the king himself, a man with whom Sascha is disturbed to find himself fascinated. With help from the few people he can trust absolutely, King Lysander is working carefully to uncover the members of a conspiracy to overthrow him and expose the existence of dragons to the world. Apprehending one traitor only complicates the situation further, not the least of which because of the man's beautiful, intriguing concubine. Who may be involved in the plot and whom Lysander is immediately attracted to. As danger looms, Sascha and Lysander grow closer, but can Lysander trust Sascha with his life and heart? And can Sascha be strong enough to love the dragon king?
To Love the Dragon King
Word Count:

52000
Summary: Can Scott learn to use his newly discovered magical ability, while managing his concerns about the family he left behind? Especially now, when Landbelow's extraterrestrial origins are starting to cause problems?
Enimnori:Challenge
Word Count:

67000
Summary: Morgorth and Aishe must contend with a deadly threat that could spell disaster for their world. Payshthas were the first of the Mother's intelligent children. It is rare for true friendship to form between them and another species—which makes Morgorth's bond with Enfernlo unique. And it is due to their friendship that Morgorth doesn't hesitate to answer Enfernlo's plea for help. A thief has stolen something vital from Enfernlo's colony—a stone of power. Their hunt for the stone leads them to a war torn kingdom, and Aishe can hardly stomach what he sees. The devastation urges him to assist however he can, no matter the risk. Meanwhile, Morgorth is faced with reminders of the monster he used to be, and contemplates how far he's come, and yet how far he still has to go. And when his estranged mentor joins them on their search, Morgorth is forced to confront his resentment and sense of betrayal, and use Master Ulezander as a tool to save the payshthas. Forced into a deadly quest where trust is in short supply, and faced with challengers for the stone, Morgorth must put his faith in those he loves and in himself... and become a champion not just of the Mother but for Karishian itself.
Jade: First and Last
Word Count:

40,000
Summary: A century ago, one Priestess left for the surface world. She vanished. This is her story. Irrwaer is an acolyte serving the Priestesses yet lacks the consuming urges which drive their ambitions. She would rather stay small, quiet, and avoid the bottomless appetites of her matriarchy but understands passively hoping leads to a short, miserable life. Or worse: a long one. In the Sanctuary of the Spider Queen, the only way to keep any choice for herself is to gain power over others without becoming addicted to them. As the healer works among meek males, rowdy Red Sisters, and the sinister sons of demons, she asks a troubling question. In a place where power passes through daughters, why are the Priestesses only competing for sons? Even asking this question is dangerous. Sooner or later, everyone disturbs the Queen's web. In "Sons to Keep," Etaski introduces the political sphere of Sivaraus through the eyes of the least ambitious. These events occur one hundred years before the birth of the protagonist Sirana in Sister Seekers #1: No Demons But Us. Their effects still ripple out from the center of a vast, interconnected story.
Sons to Keep: Sister Seekers Prequel
Word Count:

111,172
Summary: Two sisters born in the Red Desert, young Daughters of an ancient Queen. One seizes the delights of the present. The other sees and despairs for their future. Innathi and Ishuna, the heirs of the Dark Elf Queen of V'Gedra, travel the sand dunes with their entourage. In need of water, the sisters enter the sacred canyons of Koorul, where they interrupt a mystic rite of passage for the Human son of a Sorcerer-King. Negotiations fare well between the two desert peoples until powerful magic blends with the discoveries of youth which get quickly out of control. Incomprehensible joy crashes into a dark dread which cannot be named, and a schism begins between the sisters. Diplomacy is critical to avoid unnecessary conflict, yet the Queen's daughters do not agree on the goal. Each has her version of the events at Koorul, and each is certain of the outcome should Innathi pursue the wild magic of the Zauyrian son. A close alliance with a Sorcerer-King could bring pleasure, prosperity, and new life thriving in the Desert, or it might corrupt a delicate balance to bring down the realms and all they had ever known. This second volume of Tales of Miurag is a standalone novel which can be read on its own. Dramatic events and mature themes weave into broad history and lore headed toward a cataclysm which will change the entire world. The Desert is also Etaski's ultimate villains' origin, featuring several antagonists introduced in the Sister Seekers series. This story takes place approximately 3500 years before No Demons But Us, where hints of these events past echo forward and impact future generations.
The Desert: Tales of Miurag 2
Word Count:

53,000
Summary: "Orcs are the answer but what is the question?" Elias is a priest at the Temple of the Divine Sibyl. When he becomes lost in the woods after his brother's hunting party abandons him, it's just his luck that he'd stumble upon an angry orc caught in a trap. Unable to stomach the suffering of others, Elias throws self-preservation to the wind and frees the orc. Then Gurrkk—that's a name?—ends up leading him to safety. Gurrkk finds himself rather smitten by the sweet, awkward human. He's always been fascinated with his people's sworn enemy, and now he has a life debt to fulfill to maintain his honor. Hiding an orc among the temple's crypts wouldn't have been Elias's first choice but Gurrkk is stubborn about leaving. As they learn each other's languages and spend more time together, Elias realizes they've become friends… and maybe more. And when the dying sibyl gives her last prophecy, Elias knows it wasn't chance that brought them together, it was the gods. But why? This is a sweet, ace romance, so no sexy times, but plenty of snuggles and cuddles!
A Priest, a Plague, and a Prophecy
Word Count: Information not available
Summary: The realm of Maldhonia was happy and prosperous, until strangers fell from the sky She'd given her life for power and a fresh start, but Calianthema had found a new trap—caught in a love spell with a dangerous nemesis. And this wasn't the worst of her problems. RIVER'S ROAR is a standalone MAGE ERA prequel to the WOODPELL SERIES and one of the TALES OF ARDONNA. Content Advisory: Adult themes and situations
River's Roar
Word Count:

135500
Summary: The Dragon is awake, and he's ready to rejoin the game. When the Valsharess compelled the novice Sister Sirana to leave for the Surface, she also commanded the Lead Sister Jaunda to leave her beloved city for the dark labyrinth of the underground wilderness. Jaunda seeks the lair of a legendary creature who's been asleep since before she was born. After spans of searching, she approaches her goal at last, only to discover he just woke up ... and he wants to play. Meanwhile, Sirana waits for her bodyguard to rise out of an abrupt and powerful sleep. In the aftermath of the Temple City's fall, surrounded by battle-weary refugees and bustling Dwarves, she uncovers wounds among critical allies within the redoubt. The Red Sister must help them heal before they can continue her Queen's unspoken mission. Sister Seekers is dark epic fantasy for adults with an ever-broadening scope. The saga genre-hops a bit so things never get stale. Found Family is a core theme throughout, and fans of Dungeons & Dragons will find familiar grounds. Perfect for fans of entwined plots, challenging themes, immersive worldbuilding, and elements of erotic horror. Sexuality and inner conflict play into character growth with nuanced intrigue, intense action, and fantastical magic.
Awake in the Dark: Sister Seekers 9
Word Count:

386,840
Summary: When sisterhood by blood is pure misery, can sisterhood by trial be any different? My sister deserved to die, but I didn't kill her. If I take the blame, I'm next on the sacrificial altar. The Red Sisters know this. Now they're watching me. I'm about to find out why. ~~~ In their underground city, only the cunning and the bold thrive. Sirana Thalluensareci refuses to be cowed. Banished from everything she knew after surviving an assassination attempt, the abused dark elf finds delight in the sensual thrills of the court's explicit intimacies. But she's taken off-guard when one of the realm's most powerful organizations steps out of the shadows to abduct her to their lair. Relying on her wits and nerve to thread her way through a controlling sisterhood, Sirana navigates passionate encounters, sharp-edged battles, and a series of initiation rituals where failure means a painful death. Even as the independent warrior-in-training discovers a taste for hidden pleasures, old scars threaten her ability to survive on the danger-strewn path when the Red Sisters' competitors, the Daughters of Braqth, turn their eyes toward her. As everyone around her pushes her to the edge, can she keep her balance and avoid falling into the spider's trap? If you crave found family, nuanced characters, bold and steamy scenes with touches of survival horror, then you'll love A.S. Etaski's Machiavellian matriarchy. Begin the intense first trilogy of the Sister Seekers series today!
Sister Seekers Bundle Vol. 1
Word Count:

87000
Summary: In the interstellar kingdom of Valoris, the balance of power has changed. Dressa Rhialden has all she ever wanted—except she only wanted Lesander, gorgeous prince of an enemy high house, not the kingdom meant for her sister. Unfortunately, her betrothal came with both, and now she has a lot of catching up to do. But she's falling hard for Lesander in the meantime, and with her kingdom on the line and Lesander maybe her enemy, is falling in love really a good idea? When alien attacks that shouldn't be possible plague her kingdom's distant worlds, Dressa's new position is put to the test. Why are the pacifist Kidaa attacking now, and were the attacks made by the Kidaa at all? There's more going on than an internal power shift, and she has far more secrets to uncover to keep her kingdom safe. Ari Rhialden had her whole life planned out: excel at being the Truthspoken Heir, controlling her kingdom with her shapeshifting powers, and then one day excel at ruling the kingdom. But when she contracts an incurable illness and loses her ability to shapeshift, those plans are derailed. Ari's sent undercover to a resort world for treatment, but all is not right in paradise. A young gardener with a mysterious past is taking too much interest in Ari's new persona, and a possessive duke is bent on capturing her attention for himself. Are these just the ordinary machinations of noble guests or something far more sinister? In a kingdom where subterfuge is the norm, coincidence is never just that, and now events are rapidly spinning out of control. Can Dressa and Ari find their way to truth before the kingdom comes crumbling down around them? The Shadow Rule is the second season of The Stars and Green Magics, an epic space fantasy serial set in a diverse, queernorm universe with shapeshifting royals, plotting nobles, and space magic! The Shadow Rule collects episodes 37-93, the complete second season. This book has main characters who are queer, nonbinary, trans, agender, genderfluid, ace and/or aro, lesbian, fat, POC, disabled, ND, and generally awesome. (Not all rep is stated, some is implied.) Barring the occasional burst of strong language, this book is PG-13.
The Shadow Rule
Word Count:

18619
Summary: Varon Cambeul has made it to the top: Royal Magician of the Kingdom of Lothia, at the right hand of the King, who is his lover. He has always kept the promise he made to his mother and his apprenticeship master: he has used his magic for good. This promise is tested when the King asks him to make a curse, a curse that will be cured by the King and so everyone will love him. Helping the King is using his magic for good, right? But, is Varon doing this because he has fallen in love with the King? What about those who will suffer from the curse and slowly transformed into ghosts, people like Theo and Russell in the town where the curse is released? Can Varon undo this great wrong? Can he save Theo and Russell and the others as they turn invisible? How can he love someone who is not doing good?
Susurrus
Word Count:

81,000
Summary: Explore the birth of a new world! Journey through time and space to the intricate biosphere of Juno, where three species have been birthed by the gods. First the Kuhifadi, inheritors of sun magic, able to do great deeds with magic stored in their bodies. Second the fearsome Uchafumlaji, technological savants who live in the depths of the ground. Third the weird Ngisikaa, a species uplifted from animals through communal memories. Small decisions and single individuals will affect the tide of history. Learn of the first Ngisikaa to meet death, whether a Kuhifadi will make the sacrifice to become a mage, and if an Uchafumlaji can build a bridge to the past. These stories and more will create The World of Juno! With content by: Nick Bright and Brent Lambert, C.J. Hosack, Nate Battalion, Daniel Eavenson, Malcolm F. Cross, Katie Cordy, William C. Tracy, N.L. Bates, Reese Hogan, Cedan Bourne, Robin C.M. Duncan, and X.M. Moon Genres: Science Fiction / Fantasy / Adventure / LGBT and Non Binary Market: Adult
The World of Juno
Word Count:

78740
Summary: Dare to explore the darkest tales where sunlight never touches. Etaski's dark fantasy epic, Sister Seekers, begins underground with its denizens living and dying in eternal night. A novice Red Sister leads us through much of the series, but her Elven ancestors have their own stories to share. Tales of Miurag: The Deepearth is a same-world anthology exploring critical moments in the history for the Dark Elves of Sivaraus. This collection contains explicit and sometimes grim content, though we are never lacking all hope. Stories included in this collection: House Aurenthin - a novella on the dramatic origins of the lowest-ranking noble house in Sivaraus. Auranka the Keeper - a chilling horror tale on the monstrous Mistress of the Driders. Rohenvi - the tragic romance in the early reign of the Matron of the Twelfth House. Gaelan - a "dark slice of life," how future Red Sisters sometimes make connections long before their trials Sister Seekers is dark epic fantasy for adults with an ever-broadening scope. The saga genre-hops a bit so things never get stale. Found Family is a core theme throughout. Perfect for fans of entwined plots, challenging themes, immersive worldbuilding, and elements of erotic horror. Sexuality and inner conflict play into character growth with nuanced intrigue, intense action, and fantastical magic.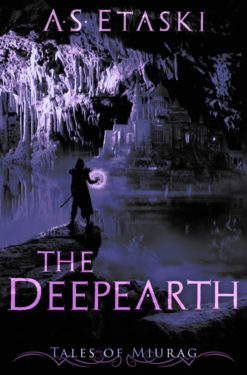 The Deepearth: Tales of Miurag 1
Word Count:

33000
Summary: Clarity (noun) Four definitions to inspire writers around the world and an unlimited number of possible stories to tell: 1) Coherent and intelligible 2) Transparent or pure 3) Attaining certainty about something 4) Easy to see or hear Clarity features 300-word speculative flash fiction stories from across the rainbow spectrum, from the minds of the writers of Queer Sci Fi.
Clarity
Word Count:

50000
Summary: Can Scott and his new friends survive a trip to the "Dead Zone". Is it REALLY dead? if not who or WHAT lives there?
Enimnori Discovery
Word Count: Information not available
Summary: Jody Burns borrows her brother Peter's silvery bracelet because it looks good with her outfit. She doesn't remember it's the key to another world—until a green-haired girl steps out of nowhere in the mall and asks Jody's help rescuing her grandmother from a great evil. Jody ignores Peter's warning about the land on the other side of the Watcher—until the haunted tree pulls her inside. Suddenly, she's trapped in a place where no one listens to her. And then her jacket starts sprouting leaves. Return to the world where horses can be wizards, and trees talk, and an ancient evil is planning to destroy every last living thing.
Talking to Trees
Word Count:

80000
Summary: If the Gods were real, could you believe? Hitra, high priestess of Revestre, already has enough on her hands: political upheaval, a distractingly attractive male servant, and an upcoming harvest festival. But when a column of flame from the heavens sends a city into tumult, it upends more than just her schedule. Now, Hitra must deal with a religious schism, ethnic strife…and a God growing out of control.
The Gods Awoke
Word Count:

174300
Summary: My sister is in grave danger, captive in the city of Witch Hunters. As Manalar prepares for war, her only chance lies with infiltrators from Augran. I shall join them. The prosperous port of Augran thrives in diverse trade with the Dwarven Clans. The Bishops of Manalar have withdrawn defiantly into the Temple of the Sun, scorning their past allies. The Ma'ab Empire has sent their dark army out of the Far North, seeking not riches but a small, well-protected spring high upon a mountain. The sacred pool of Manalar is said to bless all mages who control it. On the fringe, there's Gavin and me. Each dedicated to our purpose, we garner allies from Augran and the Clans of Taiding willing to see them through. My Dragonblood bodyguard, Mourn, reinforces our strengths as we expect others like us to jump out of hiding and into the fray. I failed one sister. I will not fail another. Sirana's desperate search upon the Surface reaches its culmination in Battle for Manalar, where foes and allies unite and clash in this transformative event driven by opportunity, righteousness, and reprisal. Sister Seekers is dark epic fantasy for adults with an ever-broadening scope. The saga genre-hops a bit so things never get stale. Found Family is a core theme throughout. Perfect for fans of entwined plots, challenging themes, immersive worldbuilding, and elements of erotic horror. Sexuality and inner conflict play into character growth with nuanced intrigue, intense action, and fantastical magic.
Battle for Manalar: Sister Seekers 8