Romance stories written about young adults from 18-25 years of age, often featuring sex. Return to general Horror
Note: these books are currently sorted by release date, with newest first.
Word Count:

91000
Summary: She barely survived the last round. As the Red Dog Gang closes in on her Family, can she survive the next? After the devastating events of our last chapter, all private eye and mafia wife Jacqueline Spadros wants is to get her life back. Then a missing person she thought she'd never track down falls into her lap. Jacqui is thrown into a series of events which not only puts her and everyone around her into danger, but changes her life forever. Warning: on-screen murder, major consent issues, smoking, language, infidelity, betrayal, description of injury, gore, on-screen suicide, child injury This is chapter 9 of a 13-part serial novel. Please read these books in order: * The Jacq of Spades * The Queen of Diamonds * The Ace of Clubs * The King of Hearts * The Ten of Spades * The Five of Diamonds * The Two of Hearts * The Three of Spades * The Knave of Hearts <-- you are here Book 10 coming October 2023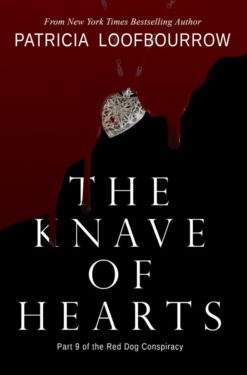 The Knave of Hearts
Word Count:

105000
Summary: A girl detective. A boy genius. A warrior princess. A young magician. Four young people with extraordinary gifts. For years, they solved mysteries, caught crooks, and slayed monsters. They were secret heroes, keeping an idyllic small town in the middle of America safe from the things that lurked in the dark. Then, the year of their high school graduation, the darkness came for them. During what the media called "New Year's Evil," a demonic force rose to turn their hometown into a literal Hell on Earth. They gathered to stop it. They fought. And they won. The rest of the world never discovered the truth behind the disaster. For 20 years, the four tried living like normal people. Now their past is coming back to haunt them. The darkness is gathering once more. They're summoned back to their hometown to face it, along with everything else they left behind. Last time, they saved the world. This time, they'll have to do something much harder. They'll have to save each other. For fans of Stephen King, Neil Gaiman, and Victoria Schwab, REUNION is the story of what happens when the good guys grow up.
Reunion
Word Count:

65000
Summary: A young man sold into servitude has his loyalties tested in ways he never imagined. Raised in an orphanage in Dickens, Daniel doesn't know who his parents were, where he comes from, or even his last name. Like all orphans, on his 16th birthday, he's sold to the highest bidder. Not knowing where he's going, who's bought him, or what they even want with him, Daniel embarks on an adventure he never thought he'd take. He finds love, a family, and a secure future - yet in a split second, makes a decision he ends up regretting the rest of his life. Brothers begins fifteen years before the Red Dog Conspiracy series. Warning: Language, smoking, use of alcohol and drugs, attempted suicide by hanging, M/M underage sexuality with consent issues, forced servitude, blood, gun violence, a man being beaten by a horsewhip, murder, discussion of child prostitution, underage M/F sexuality with age gap (female older).
Brothers
Word Count:

20000
Summary: Living in a quiet house on the outskirts of town, Ginger isn't like the other girls. When she wakes up and discovers the unthinkable about her adoptive parents, she runs away and goes on a rampage straight to the only friend she has. Can she control what they both become? With a violent, growing hunger and more questions than answers, Ginger has nowhere to turn.
As Fast as She Can
Word Count:

22000
Summary: All Jet wants is a fun night out at the club he's finally old enough to get into. Okay, not all -- he also wants mystery, adventure, love, college tuition, and a new best friend who isn't too busy to spend time with him. But he wasn't expecting any of those to find him at Club Nox. And he definitely wasn't expecting a gorgeous stranger to offer him his heart's desire in exchange for ... his actual heart? What kind of crazy deal is this? And what does the alluring Darken mean when he says it's too late for Jet to change his mind? Why can't Jet take off the heart-shaped pendant? Darken feels a little guilty about tricking the cute goth boy at the club into taking on his curse. But what choice did he have? Any one person can only wear the heart pendant for so long before it drains them, and he's served his three years. As curses go, this one honestly isn't so bad. And maybe Jet will let Darken sweeten the deal with a few kisses. He isn't sticking around now that he's free, though. And he definitely isn't falling in love again. That's what got him into this mess in the first place. Soon Jet realizes Darken told him the truth: Jet has made a bargain he can't escape. Does he even want to, if Darken is part of the package? If only human hearts were as easy to win as magical ones...
Dark Arts For Bright Hearts
Word Count:

81000
Summary: As a private eye closes in on her city's secrets, there are those who will go to any lengths to stop her. After the horrific events of our last chapter, Jacqui's in a medical predicament. If she wants to stay free from the Spadros crime syndicate, she has to find the cure for her condition - and time's running out. But just when Jacqui thinks she's found what she's after, she finds herself instead in a much bigger - and deadlier - situation. She's getting closer to discovering what mechanisms really lie beneath the city. And the Red Dog Gang isn't the only one who wants her stopped. Warning: on-screen death, captivity, child murder, terror, blood, bad language, smoking.
The Three of Spades
Word Count:

60000
Summary: A teen without a home. A dangerous residence. Can she survive one terrifying night to secure her future? Charlene Griffin never thought she'd be without a home. But when she's kicked out on her eighteenth birthday, she has no choice but to sleep inside an ominous Victorian mansion. And with the owner offering the estate to anyone who can spend a full night in the haunted property, Charlene decides to risk life and limb to get off the streets. Refusing to heed the warnings of those sent running in fear for their lives, Charlene is confident she can last from sunset to sunrise. But she'll need all her wits about her to withstand the hours of terror, because these ghosts are determined to get rid of her. Will Charlene outsmart her supernatural foes and make it to dawn? Defying the Ghosts is an eerie YA haunted house story. If you like heart-racing action, fearless heroes, and survival adventures, then you'll love Joan Marie Verba's thrilling tale. Buy Defying the Ghosts to explore forbidden shadowy corners today!
Defying the Ghosts
Word Count:

17651
Summary: Damien is a 14 year old orphan that has grown up  in foster homes all his life. He finds out that he is a "Vampeal" , a child born from a vampire and human. If that wasn't bad enough Damien is a teenager that is dealing with his feelings for other boys. Damien is put into a home that the foster parents are very religious and he ends up on the street. Patrick is Damien's caseworker and if fresh out of college is assigned to look after him but finds out that Damien is no longer at the foster home. So Patrick sets out to look for him, which turns out to be a very dangerous road for both of them.
Child under the stairs
Word Count:

108000
Summary: Being a nobody isn't Duncan Alexander's life goal, but it's worked for him. He has a nondescript job, a few good friends, and overall he's content. That's until one fateful trip to San Jose, California, where he is "Called" to meet the mysterious Juliet de Exter. Juliet is a beautiful, wealthy, powerful Immortal who is undertaking The Calling—a search for a human to join her world of Immortals. Inexplicably, Duncan's calling is more dangerous than any of the Immortals, even Juliet, ever thought it would be. There is more to this nobody, this only child of long-deceased parents, than anyone thought. When Duncan experiences uncontrollable dreams of people he doesn't know and places he hasn't been, Juliet and the other Immortals worry. Soon, his visions point to a coven of long-dead witches. The dreams also lead Duncan to his one true love. How will Duncan navigate a forbidden romance with an outcast Immortal? How will he and the others keep the balance between the Light and Dark, survive vicious attacks, and keep the humans from learning who they truly are? More importantly, who is this implacable foe Duncan keeps seeing in his dreams?
The Calling
Word Count: Information not available
Summary: 1899 years after the Catastrophe, Bridges is run by the Mob. As its steam-driven infrastructure fails, a new faction rises. Can she stop them? The Red Dog Conspiracy follows the story of 22-year-old small-time private eye Jacqueline Spadros beginning from her first major case: the missing little brother of her best friend, whose murder ten years before in front of her still haunts her nightmares. The only clue? A Red Dog stamp across the alley from where the boy was last seen. Dodging the man - seemingly mad - who has publicly threatened her life, placating her brutal, sadistic father-in-law, and dealing with her feelings about her ex-lover, while being married to one of the city's biggest drug lords: Jacqui is a busy woman. Her life is about to get much busier. From the very first page, Jacqui is dragged into a web of lies, secrets, and betrayals which both endangers her life and the lives of those she loves. Dark, gritty, violent steampunk crime fiction which keeps you guessing to the very end. If you like crime fiction, noir, Victorian/historical, gritty steampunk, psychological thrillers, hardboiled mystery, hard sf, dystopian, or mafia romance you will love this set. This digital box set comprises Act 1 of a 13 part serial novel. Included in this set: The Jacq of Spades: Part 1 of the Red Dog Conspiracy The Queen of Diamonds: Part 2 of the Red Dog Conspiracy The Ace of Clubs: Part 3 of the Red Dog Conspiracy If made into movies, this set would be rated R for bad language, graphic violence, smoking and alcohol use, child kidnapping, teenagers murdered (a serial killer is on the loose), and sexual content (Jacqui is married, after all). Welcome to the Family.
Red Dog Conspiracy Act 1
Word Count:

85,000
Summary: A school in turmoil over its senior play, a sly career as a teenage gigolo, an unpredictable girlfriend with damage of her own, and a dangerous housebreaker tied up downstairs. Any of these would make a great plot for budding filmmaker Eric's first movie. Unfortunately, they're his real life. When Julien, a handsome wannabe actor, transfers to Eric's class, he's a distraction, a rival, and one complication too many. Yet Eric can't stop thinking about him. Helped by Eric's girlfriend, Mary, they embark on a project that dangerously crosses the line between filmmaking and reality. As the boys become close, Eric soon wants to cross other lines entirely. Does Julien feel the same way, or is Eric being used on the gleefully twisted path to fame?
Puppet Boy