Horror stories that include the undead. Return to general Horror
Note: these books are currently sorted by release date, with newest first.
Word Count:

38000
Summary: RISE (noun / verb) Eight definitions to inspire writers around the world, and an unlimited number of possible stories to tell: 1) An upward slope or movement 2) A beginning or origin 3) An increase in amount or number 4) An angry reaction 5) To take up arms 6) To return from death 7) To become heartened or elated 8) To exert oneself to meet a challenge Rise features 300-word speculative flash fiction stories from across the rainbow spectrum, from the minds of the writers of Queer Sci Fi.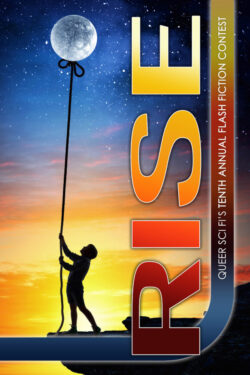 Rise
Word Count:

93000
Summary: To resuscitate his fading celebrity, tech CEO Stephen Lucas would sell his soul for one more hit. When the subspace network for his holographic gaming empire crashes, his hardware guru makes a discovery proving that Einstein was right once again—information can be sent into the past. They accidently created a simple time machine. In a culture built on instant gratification, Lucas is sure he's stumbled upon the next big thing,  the game-changer that will make Wall Street give him the accolades he craves—a device that makes instant delivery possible. Want a pizza now? Send your order back in time 30 minutes. Forgot to make reservations at that chichi french restaurant two weeks ago? No worries now you can make purchases of anything in the past and have it appear when you want it—now. So, buy last weeks PowerBall ticket. Invest in that stock you wish you bought last year. Share a FaceTime call with a loved one that passed away last month. Finally time really is on your side. A time machine for the rest of us. But when he rushes into beta testing, he learns that the stuff dreams are made of can quickly become the stuff of nightmares. It turns out Move Fast and Break Things is terrible policy when developing a time machine.
The Dent in the Universe
Word Count:

299
Summary: This action filled, edge of your seat dystopian adventure is set in the near future, when a space probe is returning to Earth from the Cares 1 Asteroid with geological and biological samples frozen in ice for billions of years. It's big news, the discovery of ancient organisms from an extra-terrestrial body. After the samples arrive at Interplan Astro-Research facility in the quiet city of Worcester Massachusetts, with the world's media gathered, eager to hear official announcement that the samples are indeed biological, thus discovering evidence of complex life beyond our planet. Not everyone's excited or happy about having alien lifeforms coming to Earth, and one group of terrorists have planted a thermobaric bomb in an elevator shaft of the facility. The bomb detonates and the facility explodes, killing hundreds of people, workers, protestors, scientists and TV crews, but far from destroying the samples, the explosion has released them from their level one quarantine and unleashes a deadly parasite that quickly infects the citizens of Worcester with infestations of strand red worms that infest the living. Despite efforts to contain the "Cares Pestis" AKA the "MR. Ripple" it spreads fast and becomes through the USA and beyond, causing a complete breakdown of society. But then comes something else, something far more menacing that threatens the very existence of human life on earth, and for Colonel Troy Glass and his fiancé Yvette, a deadly struggle for survival begins as they head west, to a secret government facility known as Haven. On their way, they pick up an eclectic group of fellow survivors, who together, battle against all the odds, both human and alien…
Mr. Ripple
Word Count:

63000
Summary: "You can't keep running from your past, especially when it has four legs and fangs." In the exciting second installment of Tales of a Gay Witch, we return to Jason and his friends six months later as they are coming to terms with the events of last year. Jason thought he could move on with his life after Damien left in search of information about his mother, after finding out she might be alive after all, but is struggling to adjust to life without him. He is persuaded to go out and meet up with his friends at his favorite night club 1470 West, where he meets a handsome young man named Mickey. That same night, Jason is informed by Detective Miller, now a good friend of his, to be on the lookout for Jo's ex-husband Rex, who might be coming their way. There have been a number of sexual assaults and murders targeting young lesbian women up in northern Ohio, and Rex is suspected of being involved. Jo's ex-husband was always a nasty, abusive piece of work, but to make things worse Rex is a werewolf and an alpha to boot. It's up to Jason to rally his friends again, as he is tasked with protecting the people he cares about, before it's too late…
In the light of the moon
Word Count:

128600
Summary: I escape into a twisted wilderness with a stolen relic protecting me from madness. Behind me is the mysterious stalker from across the plains. He's caught up to us. My sisters are out there somewhere out, and my unborn is here with me. Struggling to tell guardians from beguilers on a warped battlefield, I worry for all our fates. Somehow, I must bear the terrifying risk of bargaining with Surfacers in ways which ensure enslavement back home. No Red Sister can give up her mission when compelled by her Queen to see it through. Surrounded by allies and enemies alike seeking to influence the only free Davrin Elf on the Surface, I must relearn my limits when confronted by those who have none. The true scope of Etaski's saga arises in The Mark of Gold. Tangible peril meets cryptic visions, forcing a driven few to redefine what it takes to break the shackles of compulsion and forge them as bonds of loyalty. Sister Seekers is dark epic fantasy for adults with an ever-broadening scope. The saga genre-hops a bit so things never get stale. Found Family is a core theme throughout. Perfect for fans of entwined plots, challenging themes, immersive worldbuilding, and elements of erotic horror. Sexuality and inner conflict play into character growth with nuanced intrigue, intense action, and fantastical magic.
The Mark of Gold: Sister Seekers 6
Word Count:

135000
Summary: I am the dark foreigner among pale-skinned mercenaries, crossing exposed grasslands. My only ally is a sinister scholar hiding scars from past rituals. He alone knows I carry a child. Each day assaults my senses and leads me farther away from home. Inevitably, my mission will lead out of isolation to the first Human settlement in my path. With few watching my back and more tempted to exploit it, I wade into an unforgiving test of my training and vigilance, determined not to be pulled down. Twisted portents and pious zealotry expose danger in every direction, while new, threatening dreams of distant sands muddle my Queen's past with my present. As all close in around me, I must find a way to serve the Valsharess and slip free of man-made chains which would enslave me. In Black Witch, Death Mage, far-reaching threads and mystical visions constrict to bind those within it, pulling the tales of present and past closer than they've been in thousands of years. Sister Seekers is dark epic fantasy for adults with an ever-broadening scope. The saga genre-hops a bit so things never get stale. Found Family is a core theme throughout. Perfect for fans of entwined plots, challenging themes, immersive worldbuilding, and elements of erotic horror. Sexuality and inner conflict play into character growth with nuanced intrigue, intense action, and fantastical magic.
Black Witch, Death Mage: Sister Seekers 5
Word Count:

58161
Summary: So what's a young gay boy living in the eighty's from suburbs of Dayton, Ohio to do, when he comes out to his family, only to finds out his family has been keeping their own secrets. Jason Wynwood just turned 18 finding out he is in a long bloodline of witches. As Jason searches for love, he falls for a mysterious black haired gentleman named Damien. Jason is thrown into a dangerous world of magic with witches, vampires and werewolves, and a glittery nightlife sexual pleasures. He also discovers Young gay men have been turning up dead at rest stops all over surrounding areas. Police suspect that it's the work of a serial killer. But when a friend ends up dead it becomes personal. Can Jason find the killer before anyone else turns up dead?
Skeletons in the Closet
Word Count:

130,000
Summary: Under the dirty streets of Ismae's greatest port city, an old nightmare waits for Sylandair and Aliara, one that is stealing Dockhaven's children, one only they can end. When the pair escaped their owner and abuser years ago, they left him behind in a ball of blue flame, but as more children disappear near the city's desalinization plant, their suspicions turn to the predator they believed dead. Accompanied by their less-than-reliable puka scout Schmalch, they delve into the forgotten depths of the patchwork city. Their search will lead to a twisting world of corruption and experimentation, uncover horrors greater than any they imagined, and summon memories they never wanted to exhume. A dark science fantasy action-adventure horror, Things They Buried is the first full-length novel of Ismae, a world where science sometimes appears as magic and history as myth, where monsters make themselves and heroes are wholly unintentional. This novel contains adult themes and violence.
Named to Kirkus Reviews' Best Books of 2019
Imadjinn Awards Best Fantasy Novel, Imaginarium Con 2020
Independent Book Publishers Awards (IPPY) Gold Medalist (Fantasy)
Things They Buried
Word Count: Information not available
Summary: Every patient zero has a doctor. Edward Taylor just killed a man. It wasn't the first time but it could be the last. For the last twenty years, he's been careful, hiding his true self behind a mask of humanity. But now someone out there knows what Edward is, and he has no idea what they're planning to do with that knowledge. When he's approached by a journalist working to bring down controversial research lab, Hunter Neurologics, Edward's personal and work life collide. Cornered, and with his paranoia growing, he's forced to take action and triggers a sequence of events that might just unleash a plague of the dead on the world. Dexter meets The Walking Dead in this gripping prequel to the brand new horror series, Serial Killer Z.
Serial Killer Z: Infection
Word Count:

50655
Summary: 'Old actors never die' shouldn't be literally true. Carrington Loveless III, skim-blood vampire and senior officer of Philly's paranormal police department, has long suspected that someone's targeting his squad. The increasingly bizarre and dangerous entities invading their city can't be a coincidence. So when a walking corpse spouting Oscar Wilde attacks one of his officers, Carrington's determined to uncover the evil mind behind it all. As a rare books librarian, Erasmus Graham thought he understood some of the stranger things in life. Sharing a life with Carrington has shown him he didn't know the half of it. They've survived attack books and deadly dust bunnies together and got through mostly unscathed. Now his world and his vampire's appear ready to collide again. Books are missing from the Rare Book collection—old tomes of magic containing dangerous summonings and necromancy. He's certain whoever has been stalking the Seventy-Seventh is composing their end game. It's going to take a consolidated effort from paranormal police, librarians and some not-quite-authorized civilians to head off the impending catastrophe.
All The World's An Undead Stage
Word Count: Information not available
Summary: Secrets are never forgotten. Marcus Black is a killer. He hides behind a mask of humanity, preying on the living and the dead to feed the shadow that lives within him. When the outbreak began he fled to the mountains, but someone out there knows his true identity, and they've summoned him back to the city. Now the shadow is missing, and without it, he's lost. Returning home, Marcus finds the city has changed. The military run brutal work camps while the rich throw parties. Contact with the rest of the world has been lost, and there are rumors of swarms of the dead laying waste to nearby cities. When Marcus meets Cali Hart, a colleague from his former life, she eagerly draws him deeper into this bizarre new world and offers him a way to reawaken the shadow. Desperate to get back to his old life, Marcus is drawn to the idea, but should he trust Cali? Or is her own shadow more dangerous than his? Dexter meets The Walking Dead in this gripping horror series. Get Serial Killer Z: Shadows today and face the dead.
Serial Killer Z: Shadows
Word Count: Information not available
Summary: The dead are not the only threat. After being forced to leave the safety of Camp Redfern, serial killer, Marcus Black, has found himself a new home. Hidden in a cave deep in the mountains, he's free to unleash his true self and hunt the dead that infest the world. When a chance encounter with a group of scavengers turns violent, Marcus flees to a nearby town. Sanctuary is a safe haven for those lucky enough to survive the swarms of zombies that roam the landscape, but the cracks are beginning to show. As life in Sanctuary unravels, Marcus is caught between two factions vying for control in a cold war that threatens to spill over into violence at any moment. Forced to take sides, and with tensions rising, Marcus must decide which is more important - revenge or freedom. Dexter meets The Walking Dead in this gripping new horror series. Get Serial Killer Z: Sanctuary today and face the dead.
Serial Killer Z: Sanctuary
Word Count: Information not available
Summary: For some, the zombies are a good thing. The man who calls himself Marcus Black spent years hiding his true identity from the world, killing to feed the shadow that lives inside him. Now the dead walk the earth and he's just trying to survive. With the dead a constant threat, Marcus is forced to suppress his true self and fight against the shadow that lives inside him. Losing that fight will leave him exposed and could cost him his life. When he discovers an abandoned camp deep in the forest Marcus believes he's finally found a home. A place where he can once again unleash the shadow. Isolated. Quiet. Safe. It's perfect. Until the outside world intrudes and Marcus finds himself caught between the living and the dead. Hiding behind a veneer of humanity, Marcus struggles to find a way to get rid of the new arrivals. But as his mask begins to slip, he discovers that he may not be the only one with a deadly secret. Dexter meets The Walking Dead in this gripping new horror series. Get Serial Killer Z today and face the dead.
Serial Killer Z
Word Count:

120000
Summary: U.S. Marshal James Creed has known loss, starting from the untimely death of his wife and daughter in a sudden fire. His work, chasing down and arresting outlaws across the Wild West, is all he has left to live for. Then one day, in 1876, the infamous killer Corwin Blake catches Creed by surprise and guns him down. Creed awakes after a mysterious young woman resurrects him in a basement laboratory beneath a brothel. Half alive, Creed feels torn between his need for justice and his desire to fall back into the peace of death. Creed's instincts drive him to protect the city of Santa Cruz, California, from the outlaws it harbors while searching for Blake. He uncovers a secret criminal organization, likely protecting Blake, determined to use resurrection technology for its own ends. The former marshal, now faster, stronger, and a more deadly shot than ever before, must work with a brothel madam, a bounty hunter, and the remaining marshals to uncover the criminal syndicate before they can misuse the machines of rebirth and create more mindless zombies. Meanwhile, he must also stop Blake, before the outlaw kills the only people he cares about. His own death can wait.
Bodacious Creed
Word Count: Information not available
Summary: "Stephen Colbert meets Stephen King" - Book Nerd's Brain Candy Winner of the 2012 Laine Cunningham Award! Withrow Surrett is more than just his neighborhood's resident curmudgeon: he's also the self-declared vampire lord of North Carolina. Across the state, Jennifer McCordy is a genius stuck in a dead-end job. When the dead rise, which will Withrow's neighbors find worse: the monsters outside or the vampire who might be their only hope? When Jennifer takes matters in hand, will the people around her trust her competence or surrender to their own prejudices? And when they meet, will anything survive? Perishables is a novel in three parts, telling the story of reclusive vampires, reluctant heroes, questionable potlucks, late-night electronics sales, retail hell, unexpected friendships, and post-apocalyptic recipes. It's sometimes funny, sometimes deadly serious, and utterly original! Fans of The Black Knight Chronicles, The Tome of Bill, and Fred, the Vampire Accountant will love this series.
Perishables
Word Count:

80,350
Summary: The sun and moon have been devoured by the cosmic wolves Skoll and Hati. Fimbulwinter has enveloped the world in the cold and darkness. Men prey on each other in order to survive. Amid the chaos, in the struggle for the throne, comes a war between brothers. Hakon, the illegitimate heir to the throne of Norveig, has obtained a horn that can summon a terror from the depths of the ocean. This monstrosity has been sinking the vessels of his half-brother, Jarl Erik Bloodaxe. Erik sends a company of untried heroes to infiltrate Hakon's stronghold and steal the horn. As with all things political, there are other agendas. Fjorn, the leader of the team, is Erik's half-brother who could challenge Erik for the throne. Erik's wife Gunnhild is a powerful sorceress with her own ambitions- could her goals derail the heroes? In life, sometimes a Jarl wins, and other times a Jarl wins.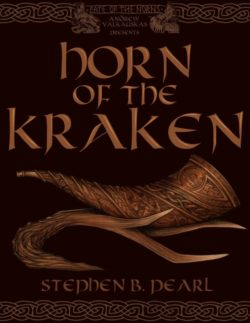 Horn of the Kraken
Word Count:

86000
Summary: Regan has her ups and downs. -Dumping her girlfriend: Down. -Moving in with her loving brother: Up. -Waking up to a plague of undead: REALLY down. After the undead began roaming the neighborhood, Regan lost track of her brother. She's spent the last two years searching for him. In the meantime, she's fallen in love, only to be told, "Sorry, I'm straight. And you're a lunatic." There's a psycho out there somewhere who caused the outbreak, using nanotechnology, just for the fun of it, and Regan intends to hunt him down. Oh, and the crush she still has on the straight gal? Dangerously distracting, when there's a zombie around every corner.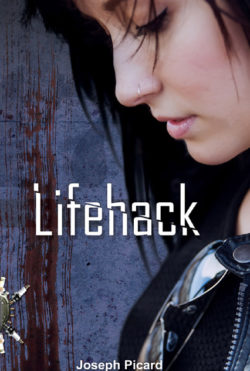 Lifehack
Word Count:

120412
Summary: Sarah's got daddy issues. He lives in her head, built her out of fish, and killed millions of people. But he's really sorry. Honest. A father that lives in your head wouldn't be so bad if he wasn't the killer of millions. At least it's comforting to know that he didn't murder the fishes used to create your body. Or the seagull. Sarah hides her illegal nanite origins in an effort to build an ordinary life, but the legacy of dad's horrors makes it difficult. Especially when new but familiar zombie-like abominations begin to appear in the city.
Echoes of Erebus