Sci fi is a type of speculative fiction that looks ahead and asks "what's next?" You can also check out these subcategories (h-r):
hard sci fi | hollow earth | hopepunk | human evolution | immortality | latinpunk | litrpg | lost worlds | military | mind uploads | multiverse | mutants | mythpunk | nanopunk | near future | nowpunk | piratepunk | pulp | robots/androids |romance
Note: these books are currently sorted by release date, with newest first.
Word Count:

70000
Summary: Ray M. Holler is an interstellar shipping freelancer, expert smuggler, and an occasional thief with a troubled past which means that his life is far from the boring, mundane exploits of your average denizen of the Orion-Sagittarius Union, a political alliance of intelligent species inhabiting the Milky Way galaxy. In fact, more often than not, he finds himself up to his neck in situations that require wit, courage, and a decent amount of luck to maneuver out of in one piece. Throughout his adventures in a universe where a safe, peaceful life is possible but not guaranteed, Ray gets to meet a variety of interesting individuals, make new friends, reunite with old acquaintances, and maybe—just maybe—face his own demons. All Quiet In the Milky Way: Ray M. Holler's Adventures vol. 1 brings forth five stories, accompanied by an equal amount of side vignettes. This collection will take you on an exciting journey to remote worlds that, in some aspects, may not be all that dissimilar from the one we live in today.
All Quiet in the Milky Way
Word Count: Information not available
Summary: Legend of the Crimson Blaze is an action-packed origin story that will leave readers breathless and eager for more. When First Lieutenant Catalina Hernandez awakens in the morgue with superpowers, she's determined to discover the truth behind the CIA's faulty experiments and the mysterious organization known as The Order. But when the Ranalli mafia kills her lover, Catalina's past comes back to haunt her. With a heart full of vengeance, Catalina heads to Baltimore, MD, with a plan to infiltrate and take down The Order's secret presence in the United States. Will she succeed, or will the truth of her past catch up to her first? Legend of the Crimson Blaze is an action-packed novel that takes readers back to 1965 when the world's first superhero is born. If you enjoyed Marvel's Black Widow, you're sure to be enthralled by the origin story of Catamount, otherwise known as the Crimson Blaze. Buy now before the price changes!
Legend of the Crimson Blaze
Word Count: Information not available
Summary: For years, the whispers and legends of a lost city hiding in the Pacific Ocean were just that; legend. On the day Kaimi discovers his parents, the Queen and King of Mu, murdered, Mu's most powerful weapon fired, sending a pulse rushing towards the North American west coast. After the 2025 Great Pacific Pulse Event, or Pulse, vomited up much of humankind's trash in the Pacific Ocean along the North American west coast. The mysterious occurrence causing the largest environmental disaster in human history, people are no longer certain there is nothing concealed in the depths of the ocean. Scientist Karen Linn and billionaire investor Michael Donovan want to find out what actually happened that day five years ago. Will Michael's life in the adult entertainment industry and Karen's moniker in pseudoscience keep them as social pariahs, or are they on the cusp of finding a civilization that has been kept out of our grasp, deep in the world's largest ocean? How does the event from five years ago tie into the murder of the Queen and King of Mu? What lies under the sea may be bigger than anyone can imagine, and neither civilization may be ready for the truth.
Mu; Legend of a Lost City
Word Count:

75000
Summary: Enjoy the next chapter in this dark, psychological, steam-powered future mystery series from New York Times bestselling author Patricia Loofbourrow. Recovering from the tremendous losses she's suffered in our last chapter, private eye and mafia wife Jacqueline Spadros gets a new case from an unlikely source: her mobster husband. But when a mutual friend goes missing, Jacqui and her husband must join forces on a case which quickly turns deadly.
The Four of Clubs
Word Count: Information not available
Summary: Something is definitely rotten in the experimental settlement on Ceres. Jax wonders how it will affect her and her colleagues when along comes Nan and shows her a side to the complex she did not expect. Together, the two young women work to break the control the aliens have over the human settlers and begin to form the foundation of a fairer community.
The Ceres Illusion
Word Count:

38000
Summary: RISE (noun / verb) Eight definitions to inspire writers around the world, and an unlimited number of possible stories to tell: 1) An upward slope or movement 2) A beginning or origin 3) An increase in amount or number 4) An angry reaction 5) To take up arms 6) To return from death 7) To become heartened or elated 8) To exert oneself to meet a challenge Rise features 300-word speculative flash fiction stories from across the rainbow spectrum, from the minds of the writers of Queer Sci Fi.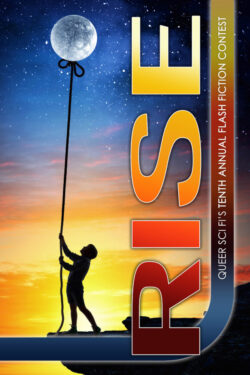 Rise
Word Count: Information not available
Summary: Shiver during the long nights with these dark tales Featuring stories by Brett Thomas Abrahamsen, Mike Adamson, Christopher Bond, John M. Campbell, Arasibo Campeche, Brandon Case, Elizabeth Cobbe, Ryan Cole, Sarina Dorie, Monica Joyce Evans, P.G. Galalis, Kara L. Hartz, Brian Hugenbruch, Andrew Rucker Jones, Andrew Kozma, Steven P. Mathes, Jen Mierisch, Iseult Murphy, Ira Nayman, Tarver Nova, Frank J. Oreto, Anthony Regolino, and Lauren Reynolds
Dragon Gems (Fall 2023)
Word Count:

99000
Summary: Look to the skies! Brave adventurers face new relationships and adversity in all sizes, from steampunk dirigibles to harpies, giant bees to garden gnomes, and winged dinosaurs to sky pirates. Isolated mountain peaks, clifftop cities, and battles in the sky abound in this sapphic anthology focused on overcoming challenges awaiting in the clouds. If you like diverse stories with lesbian and sapphic-centric heroines enjoying the thrill of adventure high in the air, buy Lofty Mountains today! With stories by: Seanan McGuire, Rosiee Thor, Rebecca Kim Wells, Maya Gittelman, Carmen Loup, Sara Codair, William C. Tracy, N.L. Bates, L.R. Gould, Robin C.M. Duncan, and J.S. Fields
Lofty Mountains
Word Count: Information not available
Summary: A genre-bending science fiction tale that takes place on several planets and through two lifetimes, rife with psychic magic as well as insights from psychology and physics. Yearning to reunite in the afterlife, a couple's search runs afoul of both the materialistic Technists on Earth and the intransigent laws of Commensuration on their adoptive planet Xarbo, where rewards and retributions fly fast. Their quest for destiny leads to far-flung planets — one occupied by the disembodied brains of human astronauts, another by soulless clones — as the reincarnated pair find themselves on separate planets and following divergent paths. Hints of Star Trek and of Ram Das combine oddly with eroticism and mysticism in this epic tale of personal evolution.
Rebirth on Xarbo
Word Count: Information not available
Summary: These interconnected sci-fi dystopian stories will transport you to a world teetering on the precipice of collapse. Join heroes who dare to challenge the shackles of oppression, embarking on dangerous journeys to seek freedom. As the shadow of destruction looms, some choose to fight, while others opt for escape. Yet, in the depths of tormented souls, hope emerges as a fragile yet resilient guiding light. Amidst the tapestry of deceit and cunning, clandestine agendas unfurl, weaving intricate webs of intrigue. The galaxy is engulfed in a war that threatens the fabric of existence. However, amidst the chaos, unexpected friendships and relationships are forged, transcending boundaries and divisions. Will righteousness prevail in the face of adversity? Can the seeds of change take root in the soil of uncertainty? Be enthralled by this omnibus edition, a gateway to the captivating Sehnsucht Series by Keyla Damaer.
Tales from the Sehnsucht Series Omnibus Edition
Word Count:

96,000
Summary: A guard and a thief. What could go wrong? Aik has fallen hopelessly in love with his best friend. But Raven's a thief, which makes things … complicated. Oh, and Raven has just been kidnapped by a dragon. Now Aik is off on a quest of his own, to hunt down the foul beast and make them give back his … friend? Lover? Soulmate? The whole not-knowing thing just makes everything harder. Meanwhile, the world of Tharassas is falling apart, besieged by earthquakes, floods, and strange creatures no one has ever seen before. Aik's ex, Silya has gone back to Gullton to try to save her people as the Hencha Queen, and Aik's stuck in a caravan with her mother and a damnable magical gauntlet that won't let him be. He has to find Raven, before it's too late. Things were messy before … but now they're much, much worse.
The Gauntlet Runner
Word Count: Information not available
Summary: The near future is progressively free from discrimination based on race, class, and sexual orientation. But in a world populated by the gifted, fifteen-year-old Alejandro Aragon (Alé) is part of the only remaining minority—he's a Deficient. Powerless. The one that accelerated genetics left behind. Alé knows that he'll need a miracle to graduate and pursue his dream of a legal career in the capital. His only ally is his best friend Yalamba, an outspoken and exceptionally gifted artist renowned for her unique ability to draw things into existence. But when she's kidnapped in a hate crime against her ability, it appears that Alé has every motive and no believable alibi. To prove his innocence and track down the real culprit, Alé teams up with the other outcasts in school, who each have their own reasons for getting involved. But the deeper they dig, the more they fear Yalamba's kidnapping is linked to a string of unsolved murders against the exceptionally gifted. With time running out, Alé must discover who he really is if he and his new friends plan to track down the culprit, clear his name, and rescue Yalamba—all before she herself is drawn out of existence.
Deficient
Word Count:

96000
Summary: "Today I swam through MOMA. Leon says it was a waste, encasing the art, then flooding the museum—frivolous and elitist. I say it was a gesture of optimism, a triumph of technology and political will." Want to thrill to the possibilities of a hopeful future? We asked a bunch of sci-fi writers to spin tales of a better future, imagining ways in which the world might become a better place. From a swim through an underwater museum to a joyous dance at a futuristic concert, from the eco-friendly aftermath of an alien invasion and retreat to the refurbishing of an old climate-ravaged home in New Vancouver, these fourteen short sci-fi stories will to restore your faith in the future. A world transformed is a world we can all hope for. Book three in the Writers Save the World short story anthologies. If you enjoy this book, check out Fix the World and Save the World.
Transform the World
Word Count:

32000
Summary: After a job gone wrong, Special Agent Olgo is trapped within the bowels of Mars with no means of escape. The device that imprisons the trauma within them is about to fail, and the past terrors kept hidden by it must be contained for Olgo's sanity and everyone's safety. From the darkness comes a tiny voice, and a tinier hope: "Hello?" *** The first book in the 'Cold Rush' Verse follows Agent Olgo as their corporate masters give them what could be their big break: a mission to Mars. But trying to change the working conditions in the planet's underground cities proves more challenging than the agent could have imagined. When a wearable device Olgo uses to block emotions begins to fail, an unlikely friendship changes everything as Olgo struggles to prevent spilling more blood on the Red Planet.
Cold Rising
Word Count:

29600
Summary: When Peace-in-the-Sky awakens as a captive with a young girl by her side, she only understands one thing: she must escape the tribe who captured her. A brutal head injury makes the past a swirling fog, so she is reliant on the girl—her precocious daughter Anissa—to guide them. She must return Anissa to the Tribes-under-the-Dome to keep her safe from warring and vicious tribes inhabiting the wasted landscape. Every group they shelter with along the way sees something different when they look at Peace-in-the-Sky—a god, a savior, a valuable commodity, a volatile danger. She doesn't know herself, but soon realizes she can protect Anissa with the scorching power of the pillars-of-flame. Only her tender love for Anissa and her mission to return the girl home to the Tribes-under-the-Dome matter. As her body grows weaker, not even the inexorable unraveling mystery of who, or what, Peace-in-the-Sky really is can deflect her from the task. Find out what happens in Peace In The Sky by Caye Marsh!
Peace in the Sky
Word Count:

52000
Summary: Can Scott learn to use his newly discovered magical ability, while managing his concerns about the family he left behind? Especially now, when Landbelow's extraterrestrial origins are starting to cause problems?
Enimnori:Challenge
Word Count: Information not available
Summary: The commander writes strategy in ink, the captain in orders, the trooper in blood. – Teachings of the Jeskan Guard The nation of Jeska stands at a crossroads. As the newly-appointed king, Corren must contend with civilian distrust, an imminent invasion, and his fractured family. His wife and son are missing—trapped behind enemy lines. He's brought evidence the rising insurrection is funded by the shamans, but instead of disbanding that guild, the Council of Elders believes the enemy's lies that Corren's corrupt. In days, an army of invaders—including hundreds of child conscripts brainwashed by the shamans and their allies—will march into Jeska. To save his country, Corren will need all his strategic genius, the determination of his guardsmen … and dangerous new technology wrested from a device that doesn't belong in this world.
Flames of Attrition
Word Count:

55000
Summary: A damaged ship, a dying shipmate–can she save both? Under attack! The flight back to Hyvilma should have been the easy part for the crew of the Majera–until a deadly ambush by pirates sends them reeling through hyperspace. Now getting to the planet in time is the only way Captain Kitra Yilmaz can save her dying friend. But landing at Hyvilma may be impossible: war has broken out on the Frontier. With illustrations by Hugo Finalist Lorelei Esther.
Hyvilma
Word Count: Information not available
Summary: Pass the long days with these short tales Featuring stories by Raluca Balasa, Gustavo Bondoni, Sasha Brown, Mario Caric, Jordan Chase-Young, Chris Cornetto, Marc A. Criley, Megan M. Davies-Ostrom, Malina Douglas, Jen Downes, R.E. Dukalsky, Allan Dyen-Shapiro, Lu Evans, LL Garland, Kai Holmwood, Steve Loiaconi, George Nikolopoulos, Antony Paschos, Christopher Rowe, Lauren Stoker, Adam Strassberg, Edgar Strid, DJ Tyrer, and John Walters
Dragon Gems - Summer 2023
Word Count:

110000
Summary: Darynn, Fyra, and Kaylaa have solved the mysteries of the gods. But how can they unveil the secrets to save the starving Olan-Har without unleashing chaos upon Vastire? Even if they knew what to do, war with long-time adversary Erodia forces them to wait. Unfortunately, the Erodians are winning: they've taken Vastire's capital and bombard the west coast nightly. With few options left, Commander Aseus turns to Darynn to attempt a daring mission to infiltrate Erodia, just like his grandfather did 80 years ago. With Fyra, Kaylaa, and a small team at his side, Darynn agrees to the treacherous mission across the dangerous, wild continent filled with powerful enemies. But he's conflicted. Not only does magical power rampage within, but he starts to wonder who he's fighting for: royalty and the clergy, or the people? That question will drive him to make impossible choices. If he chooses correctly, he can end the war and save the Olan-Har, but at a great cost. If he doesn't, the Erodians will rule Vastire and the secrets of the gods will be lost.
Betrayal of Hope