Fantasy stories that involve demons/devils, and angels and heaven and hell. Return to general Horror
Note: these books are currently sorted by release date, with newest first.
Word Count:

33000
Summary: Clarity (noun) Four definitions to inspire writers around the world and an unlimited number of possible stories to tell: 1) Coherent and intelligible 2) Transparent or pure 3) Attaining certainty about something 4) Easy to see or hear Clarity features 300-word speculative flash fiction stories from across the rainbow spectrum, from the minds of the writers of Queer Sci Fi.
Clarity
Word Count:

26000
Summary: Jealous angels with no genitals discover the passion and ecstasy that humans experience through sex. In revenge, the frustrated but impotent celestial beings banish the men to the wilderness. Will the women save the human race, or will they become the mothers of great evil?
Not Far from Eden
Word Count:

36000
Summary: INK (NOUN) Five definitions to inspire writers around the world and an unlimited number of possible stories to tell: 1) A colored fluid used for writing 2) The action of signing a deal 3) A black liquid ejected by squid 4) Publicity in the written media 5) A slang word for tattoos Ink features 300-word speculative flash fiction stories from across the rainbow spectrum, from the minds of the writers of Queer Sci Fi.
Ink
Word Count: Information not available
Summary: Dan Ackerman received the 2018-2019 Rainbow Award for Gay Contemporary General Fiction. Two titles shared the honor: The Things that Come and That Doesn't Belong Here. Dan is a dominant, innovative, unique voice in LGBTQ fiction. Angels shouldn't pal around with demons, especially not ones they've been sent to assassinate. They shouldn't work with them or cook them dinner, or strike a deal with the Devil for them either. Sunshine probably isn't a very good angel. The demon in question is Felix Specter. He's forgiven Sunshine for stabbing him all those years ago. He's got a lot on his plate: a curse, his mental health, and a questionable love life. Finding out Sunshine owes the Devil a few favors doesn't help. Neither did that kiss, not that Felix will talk about it anyway. On top of everything else, Sunshine and Specter have a case to solve. They handle issues that human detectives can't, like monsters in the sewer, mages doing illegal charms, and runaway witches. But they've always dealt with anything the city has to offer. Would could be different this time?
A Lady Who Looks Good When She's Crying
Word Count:

65535
Summary: After the first war in Heaven, Lucifer's defeat and banishment was all but definitive. While peace reigned for a millennium, the Father of Lies dwelled in the void of the Pits of Hell. Fueled by vengeance and blinded by his destiny during his imprisonment, Lucifer plotted against those who would stand in his way. Upon his release, Lucifer sets off a series of events that draws the attention of a handful of angels as Heaven remains skeptical of any danger. In an unsanctioned mission to thwart Lucifer's plans, a small group of angels set off on their own. Do they have the fortitude to endure Hell's forces and convince Heaven or will Lucifer threaten all of creation?
Gates of Divinity: The First Light
Word Count:

49549
Summary: He is known as "The Living Curse" and the progenitor of the species know as "vampire". He is the Darkness that even the shadows hide from and the plague that no man can cure. He is the prophecy of all that is to come and the sworn enemy of Huntress and angel alike. He is the beginning and has the will power and strength to survive to the very end... His name is Cain.
Cain
Word Count:

17651
Summary: Damien is a 14 year old orphan that has grown up  in foster homes all his life. He finds out that he is a "Vampeal" , a child born from a vampire and human. If that wasn't bad enough Damien is a teenager that is dealing with his feelings for other boys. Damien is put into a home that the foster parents are very religious and he ends up on the street. Patrick is Damien's caseworker and if fresh out of college is assigned to look after him but finds out that Damien is no longer at the foster home. So Patrick sets out to look for him, which turns out to be a very dangerous road for both of them.
Child under the stairs
Word Count:

126000
Summary: YOUR NEXT READ IS NOW BOARDING She can speak all languages. He can smell evil intent. They're enemies. They crave each other. With international settings, a conspiracy plot, star-crossed lovers, and sharp writing, The Demon in Business Class is a stunning debut novel spanning continents and genres. Zarabeth travels the world for a shady executive, laying the groundwork for global war. Gabriel offers a second chance to the criminals that a visionary leader sees in dreams. One rainy night in Scotland, they meet... Now, it's complicated. There's also the investigator, the witch, the playboy, the gangster, the cultist, the pre-school teacher, the two angels… And, the demon. Fans of Jeff VanderMeer, Michel Faber, and David Mitchell will love this stylish hybrid-genre novel. The Demon in Business Class is an international story of fantasy, intrigue, and love, on the uneasy ground where the human meets the divine. "If William Gibson wrote paranormal .... weaves the dark worlds of the occult and big business into an intoxicating tale." – D. J. Butler, author of Witchy Eye "Creative spark? Anthony Dobranski ignites a creative bonfire ...A masterwork of invention." – Mary Kay Zuravleff, author of Man Alive! "... a swank cocktail of international intrigue, steeped in the supernatural, mixed with literary flair .... so sleek it flies off the page...." - Zach Powers, author of First Cosmic Velocity
The Demon in Business Class
Word Count:

102,000
Summary: Can you hear it? Whispering in the dark. Secrets only the dark knows. Joseph Moore, choir director for the First Baptist Church of Lenora, Nebraska, has secrets of his own. Terrible, lonely secrets. One that involves natural human desire. One that calls forth powers he cannot begin to understand. Both with the potential to destroy him and those he loves. Now the world is changing. The darkness, the shadows, the ghosts, are closing in—and Joseph and his lover, Kevin, are being stalked by a merciless demon, hell-bent on possession. Can you hear it now? There in the dark. It's whispering your name.
Hallelujah
Word Count:

90000
Summary: If Romeo had wings and Juliet a barbed tail, could they find happiness in the City of Angels? After their escape from the ashes of Lost Angels, the succubus Lorelei and the angel Azaziel want nothing more than to enjoy each other's company. Unfortunately, Asmodeus, the Demon Prince of LA, has threatened to devour Lorelei's new-grown soul if she doesn't bring about Azaziel's downfall. Meanwhile, Aza is keeping secrets of his own that threaten the tenuous peace between Heaven and Hell. Three archangels come to town to try to set things right, but friendships are fracturing. The demon in charge of fallen angels is sniffing around. And Los Angeles is about to catch fire between a devil and the deep blue sea.
Angelus Rose
Word Count: Information not available
Summary: A short story collection of dark and ghoulish delight. Are you ready to ready Some Scary Stories? Take a ride in someone's head as they try to survive the rigors of a demonic exorcism. Step back in time as a young Puritan lad is tempted by the children of the forest. Find out what it's like to be haunted by a spirit that both loves, and loathes you. Go on an innocent date that ends up opening the gates of Hell, here on Earth. And More.  Dim the lights and settle in. It's time for Some Scary Stories.
Some Scary Stories
Word Count: Information not available
Summary: He killed the only family she had. Now he's after her. When Maia Gellman loses her home, job, and family in one night, she does the only thing she can do: run. It's easy to get lost on the road with a new band, new friends, perhaps a new life. But the demon she left behind is gaining ground, and it awakens something sinister within her. Will Maia find a way to stand and face the demon, or will she succumb to the fate he has in store for her?
Demon Veil
Word Count:

54000
Summary: He was the shameful cause of his sister Elena's death and he stole state papers from England, yet Adrian Hart is feted by the best of society in Rome, and boldly dubs himself 'Iago'. Determined to avenge Elena, his unrequited love, Lieutenant Andrew Sullivan asks the advice of poet and Shakespearian John Keats, and his artist friend Severn. Soon Percy and Mary Shelley join them, then Lord Byron and his servant Fletcher. But how can the seven of them work against this man, when they can't even agree what he is? The atheist Shelley insists that Hart is an ordinary man, while Byron becomes convinced he's the Devil incarnate, and Keats flirts with the idea that he's Dionysius… As death and despair follow in Hart's wake, Sullivan knows he must do something to stop Hart before even Sullivan himself succumbs – but what…?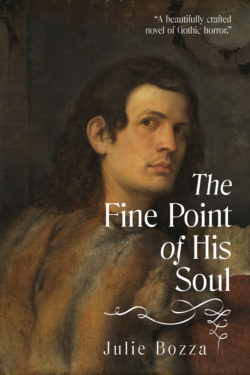 The Fine Point of His Soul
Word Count:

90000
Summary: When the succubus Lorelei sees Azaziel across Lost Angels, she knows he's been kicked out of Heaven, but is not yet Fallen. She resolves to do whatever it takes to bring the angel down. Unfortunately, Lorelei doesn't realize that Azaziel has an agenda of his own. Taking her back to a burned-out church, he forces a mortal girl's soul into the devil girl's flesh. Then the succubus needs to find an exorcist who can cast the ghost out of her. With all the supernatural warriors of Los Angeles looking on, neither the angel nor the succubus can imagine how love will derail their plans…
Lost Angels