Sci fi featuring heroes with amazing powers and the villans who bedevil them. Return to general Sci Fi
Note: these books are currently sorted by release date, with newest first.
Word Count: Information not available
Summary: The near future is progressively free from discrimination based on race, class, and sexual orientation. But in a world populated by the gifted, fifteen-year-old Alejandro Aragon (Alé) is part of the only remaining minority—he's a Deficient. Powerless. The one that accelerated genetics left behind. Alé knows that he'll need a miracle to graduate and pursue his dream of a legal career in the capital. His only ally is his best friend Yalamba, an outspoken and exceptionally gifted artist renowned for her unique ability to draw things into existence. But when she's kidnapped in a hate crime against her ability, it appears that Alé has every motive and no believable alibi. To prove his innocence and track down the real culprit, Alé teams up with the other outcasts in school, who each have their own reasons for getting involved. But the deeper they dig, the more they fear Yalamba's kidnapping is linked to a string of unsolved murders against the exceptionally gifted. With time running out, Alé must discover who he really is if he and his new friends plan to track down the culprit, clear his name, and rescue Yalamba—all before she herself is drawn out of existence.
Deficient
Word Count: Information not available
Summary: The world has changed, and new superheroes—and villains—have emerged! Seventeen-year-old Carlos Domínguez wants to change the world. Believing a lie and following a dark promise to become a superhero, he finds himself cold and alone in dark woods with no memories. Driven by fear, he runs, somehow knowing the powerful forces that hunt him must not find him. Luck is on Carlos' side, and he finds shelter from the winter cold with a kind, elderly couple. Life quickly becomes awkward when Vanessa, a beautiful redhead claiming to be his girlfriend, tries to bring him back to The Order, the organization that gave him superhuman abilities. Things start to unravel when the superhero Blue Spekter finds him, triggering memories of home, high school, his real girlfriend, and life back in New Hampshire. Carlos must decide what kind of superhero he wants to become while slowly regaining his memories and discovering who he is—and why he hates the hero in blue and distrusts the man in black. But when you can't remember who you are or what you believe in, how do you tell truth from lie? DAWN OF THE SUPERHERO AGE is the first book of The Superhero Age series and is part of the Spekter Superhero Universe™. Get it now.
Dawn of the Superhero Age
Word Count:

155000
Summary: Eighteen years after the Chromodec Uprising in Children of the Stars, the world is a very different place. Kaelen Ra-Evon lands on Earth, a planet where aliens exist and refugees are fast-tracked to citizenship in many countries. Her tale encompasses the age-old notions of loss, love, and found family. Kaelen tries to navigate her new life on Earth, as well as a romance with genius CEO, Lea Lockheed-Tuck, all while honoring her family's legacy as the last of her house. She's wary of the Chromodec Office of Restraint and Protection, a US agency tasked with policing people of power regardless of their race or planet of origin. In an attempt to protect the woman she loves, Kaelen becomes a vigilante: Scion. She won't let laws or the CORP stop her from doing what's right.
The Last Scion of Ra
Word Count:

76600
Summary: The Fredamine Project was just the beginning. Shadow dealings and conspiracies regarding variants intertwine until Damien and his cohorts can no longer tell who the bad guys are. Several months have passed since Blaze and the infamous Variant activist Shudder McKenzie helped Damien rescue the captives of the sinister Fredamine Project. Professionally, everything's great. He's back to working with Damien again and they have a new lead on the three kids who are still missing. Personally, not so much. Blaze has made his peace with Shudder, though nothing between them has even been easy, but his relationship with Damien has taken several steps back. Blaze no longer has any idea where he stands. Adding to the tense atmosphere are the anti-Variant members of legislature who have been slowly gaining popular approval, and the cryptic messages Damien receives from an unknown source. Shudder's back to his old haunts and his old tricks, trying to raise public awareness of imperiled Variant rights—such as the draconic Horace Act that strips due process during Variant trials—and to rescue Variant kids in trouble. His almost mythical luck runs out though when he's arrested for murder only three days after the passage of the Horace Act and a whirlwind trial and sentencing lands him in the most notorious maximum security facility for Variants—San Judas Tadeo. ​ With too many conspirators on both sides of the aisle, Damien, Blaze and Shudder no longer know whom to trust. Peeling through the layers of deceit and half-truths puts them on shakier ground with every discovery and in greater danger than ever before. Variant Configurations takes place in a future Earth where humanity is reclaiming its spot in a gradually healing world. This book contains mentions of past abuse, action-adventure style mayhem, and the sparks of a slow burn, series-spanning relationship.
From The Noblest Motives
Word Count: Information not available
Summary: The resurrection of one world will mean the destruction of another. The homeworld of the alien Noigel has been annihilated. Their existence as a species is on a razor's edge. But they have found a replacement: Earth. But it must be changed to suit their needs. If they succeed, all of humanity will perish. When an alien secret agent is killed, his technology and mission are given to Hina Takamachi. The Japanese schoolgirl discovers the alien's battle suit gives her incredible powers, just like the anime heroines she admired as a kid. The battle suit's artificial intelligence, whom Hina names Voice, informs her that only she can save the world from the Noigel.With Voice training and guiding her, Hina must overcome her own self-doubts and find the courage to stop the Noigel's plan. For one world to win, the other must lose.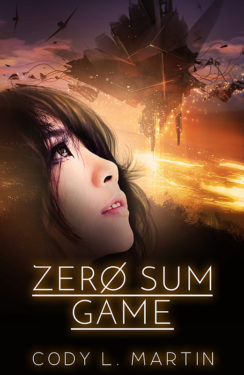 Zero Sum Game
Word Count:

68810
Summary: Variant children are vanishing at an alarming rate. It will take a uniquely mismatched pair of trackers to untangle a web of conspiracy and misdirection to find them. In his isolated cabin, variant Damien Hazelwood avoids human contact as much as possible to prevent attacks of blind berserker panic. But his rare talent as a locator makes him the go-to contractor for tricky missing person's cases and when agents bring him a troubling contract involving missing variant children, he finds it impossible to refuse. Licensed tracker Blaze Emerson can't help being irritated when he's expected to follow the strange, twitchy locator's lead on his latest case. He works alone, he's damn good, and as a variant sparker, he has both the fire and the firepower to take on anything out there. Though he has to admit there's something intriguing about a man who can find people with his brain. ​ With vastly different temperaments and backgrounds, Damien and Blaze need to negotiate quickly how to work together if they're going to crack this case. Add in the sudden appearance of Blaze's outlaw ex, the perils of tracking in the wilds, and a maddening lack of discernible motive or method, and they soon find themselves in as much danger as the kids they're trying to rescue. Variant Configurations takes place in a future Earth where humanity is reclaiming its spot in a gradually healing world. This book contains mentions of past abuse, action-adventure style mayhem, and the beginning sparks of a slow burn, series-spanning relationship.
Rarely Pure And Never Simple
Word Count:

165000
Summary: British superheroes, melodramatic Mages, snarky secret agents, one hell of a found family, and a whole load of weird people. Also, there's a duck. This is the painfully bizarre origin story of Rexley Nova. When Rex was four years old, he became one of the world's first superhumans. When Rex turns twenty, he feels the drive to use his scientifically given abilities to protect the world. He leaves home to become a member of the Secret Superhero Security team, alongside three of his friends and Danger City's own superhero, Polaris. Rex fights murderous Mages, evil organisations, criminal mafias, his agency appointed psychiatrist, his own anxious brain, and the most frightening of all, his attraction to a certain blue-eyed superhero.
Novas Got Nerve
Word Count:

28000
Summary: Monty has a special power that no one else possesses. And he hates it. He just wants to live a quiet cheese sandwich and tap water life. Fate, being the fickle bitch it is, has other plans. His best friends, Lark and Sean, have abilities as well and the trio encounter three mysterious people who show them, they are not alone. It would be nice if any of them had useful abilities, but take what you can get, right? As a result, Monty is forcibly dragged into a world of coffee-addicted villains, half-competent goons, and pompous windbags. Monty must use his wits against the witless to save himself and his friends. To do so he must embrace being the DICK WIGGLER.
Dick Wiggler and Other Useless Superpowers
Word Count:

111,000
Summary:
New York: two years after the Third World War. Humanity is rebuilding its cities brick by brick; the damage done to the people, however, is a lot harder to repair.
Dan Hardacre is one of those people. An aspiring stage actor and experienced draft-dodger, Dan struggles to find his place within the Utopic rebuild of New York City. When he's not caught up with the duties of work, Dan lives a quiet life in mourning for his mother, Dyani, who went missing when he was a teenager.
One night, Dan experiences a vivid, terrifying nightmare that puts him right on the front lines of the war for which he dodged the draft; it ends with him facing Death itself in the form of a metallic, faceless humanoid creature that calls itself the Valkyrie. To investigate the reason behind his haunting experience, Dan seeks out a meeting with his estranged father, who reveals the startling truth about Dan's dream: it wasn't a dream.
With this newfound knowledge and the powers it brings, Dan makes it his mission to return to the scene of his nightmare. However, he soon comes to know that confronting the Valkyrie not only endangers him but the war-withstanding world he leaves behind.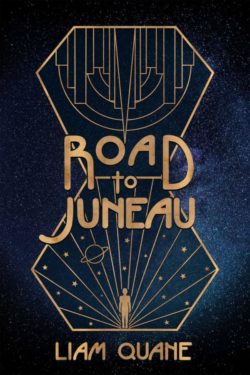 ROAD TO JUNEAU
Word Count:

40289
Summary: For many, the United States is a land of opportunity and new beginnings – unless you happen to be 'different' from everyone else.  Hadi Shahir is one of those people, different in more ways than one. Hadi can manipulate fire; he is 'Evolved'. All he wants is a new life and new adventures in this land of opportunity. His dreams become endless nightmares, however, that begin with an inexplicable hate crime that leaves the young man traumatized and untrusting of the world around him. A chance encounter with a pretty face cracks that shell, showing him that not everyone in Chicago is out to get him until a rash of violent, deadly fires breaks out around the city. Suddenly, all eyes focus on Hadi when too many coincidences bring his abilities to the forefront. In a matter of moments, Hadi jumps to the top of the AEC's most-wanted list. His quiet life as a bartender quickly turns into a tangled mess of chaos, lies, and murder that drag the entire city of Chicago down in flames with the remnants of Hadi's ruined life.
Hellfire
Word Count:

52000
Summary: To escape an arranged marriage, the king needs a fake fiancé. Stat. King Bastien's father locked him into an ironclad betrothal contract with Lady Helena Rey when the two of them were only seven years old. Bas and Helena have never been friends—and not only because she marked their first meeting by dropping a frog down his shirt. He's been unsuccessfully petitioning Parliament to annul the damn contract ever since he took the throne nine years ago. But with the deadline for officially confirming the engagement rapidly approaching, Bas is getting desperate. Enter commoner Nico Pereira, manager of the Royal Crest Vineyards, who nurses a secret crush on the king. He's at the New Palace to unveil a  wine that's the first joint venture between North and South Abarra. No problem, right? Except Nico has a secret: He has a superpower. Not a very strong superpower, but because powers are a privilege reserved for Royals, it still puts him at risk for arrest and prosecution. Nico can usually mask his limited foresight gift under the guise of being an incredibly efficient administrator. But when King Bastien asks him to be his fake fiancé? Well. Nico never saw that coming. Nothing if not loyal, Nico accepts the faux-posal, although close proximity to Bastien makes him more than a little… uncomfortable, and the increased scrutiny of government officials threatens to expose his illegal ability. Good thing this engagement is temporary, because being the king's ex will be a lot less onerous than prison or exile. Or, if the attacks from a shadowy conspiracy continue, with being dead. King's Ex is a 52,000-word M/M superhero rom-com featuring a fake engagement, class differences, improbably pristine clothing, dueling secrets, a guaranteed HEA, and a kitten.
King's Ex
Word Count:

41000
Summary: A yuletide wedding brings tidings of comfort, joy… and peril. Eighteen months ago, Tarik Jaso, Duke of Arles, would have been thrilled if Sander Fiala, Duke of Roses, sank beneath the waves along with his stupid boat. That was then. Now, Tarik can't wait to head out on a private sail with Sander—a sail that will culminate in a highly public, politically significant wedding. Their union will be the first one between North and South Abarran royalty in centuries. If all goes to plan, it will usher in a new era of peace and cooperation between their countries. But as the big day approaches, their meticulous arrangements begin to fall apart. Can Sander and Tarik weather the storm of political opposition, familial objection, and outright betrayal to reach the altar at last? Duke the Hall is a 41,000-word M/M superhero rom-com featuring two dukes determined to tie the knot, relatives both helpful and annoying, spiteful thunderstorms, superhero sabotage, and hints that things are not all they seem. Note: Duke the Hall is not a stand-alone story. It's the sequel to Duking It Out and as such contains spoilers for the earlier book.
Duke the Hall
Word Count:

46000
Summary: Royal dukes from rival countries, shipwrecked on a deserted island. The grudge match of the century—or a love story of super-heroic proportions? Sander Fiala, Duke of Roses, is fourth in line to the South Abarran throne, even though his rogue power earned him the nickname "The Monster of Roses" and got him banished from the Castle. But right before he's about to set off on his annual birthday sailing trip, the Queen asks him to meet with the notoriously volatile North Abarran Duke of Arles. Tarik Jaso, Duke of Arles, expects the worst from people because—let's face it—people are the worst. His superpower bombards him with any and all electronic transmissions, which…yeah, people suck. So when he's attacked and wakes up in the cabin of a stranded boat, he knows he's royally screwed. Because the man looming over him—the man he'd gone toe-to-toe with right before the attack—is the infamous Monster of Roses. Tarik is positive the Monster is behind his kidnapping. Sander is sure the whole thing is Tarik's fault. As they work toward rescue, Tarik realizes that the disturbingly hot Sander is no monster, and Sander discovers that Tarik's temper masks a caring soul wrapped in a cantankerous (though undeniably sexy) body. tt For their burgeoning connection to endure, they'll have to duke it out with political factions, dark conspiracies, and centuries of traditions that keep them on opposite sides of the border. But first? They have to get off this damn island. Duking It Out is a 46,000-word M/M enemies to lovers, opposites attract, superhero rom-com, featuring Only One Bed, a grumpy duke who should know better than to jump to conclusions, a self-doubting duke who's good with his hands (heh), gossipy seagulls, competent assistants, a guaranteed HEA, and (unfortunately) capes.
Duking It Out
Word Count:

325
Summary: It's 200 years after WWIII and he earth is poisoned with Carbon-14 and plutonium. Following the decade long night of nuclear winter and the Great Famines, what's left of the human race is fragmented and much of the old world is nuclear wastelands inhabited by different factions, from the cannibalistic Ferals, who have reverted to savagery, to the Scavengers who pick among the ruins of the old world cities for useful items to barter with the Dusteaters, nomadic warlike factions who are at war with the despotic Utopians, the most technologically advanced and powerful of the human enclaves, who have forged a new civilization that is controlled by an elite of fertile scientists and intelligentsia who live underground in Sub City, which sprawls beneath Silo City and Surfer Town, where the infertile topsiders called the Mudsurfers live and work for their troglodyte masters. Thundersky often wonders why he doesn't get sick? All the topsiders get sick from the radiation and the cancers. So sick, that living to 35 is considered a grand old age. Only the Scholars live for longer. But the Scholars manufacture the medicinals that everybody needs to survive. Thundersky is different, not only is he immune from the radiation and cancers that have plagued the earth for 500 years, he's also a genius and just 19, he has designed an antimatter impulse drive capable of achieving 50% the speed of light. It's been months since Thundersky submitted his data and applied to the prestigious Tech Training Academy but has heard nothing since. Not all the Scholars are tyrants; some believe the exploitation of topsiders is cruel and wrong. The human experimentations conducted in the Utopian prisons on Dusteater terrorists is barbaric and inhuman. Among them, Grand High Scholar Blackstone Washington and High Scholar Blossom Flora, who for the past twenty years, following the purge of the geneticists and bioengineers have been protecting the "Genesis Child" from the Grand High Council who would kill him. But now people are getting suspicious and asking questions about the topsider who never gets sick, they must act quickly before his true identity is discovered and contrive to bring Thundersky into Sub City and alter his records with a little help from the ARTI-QS-Six-Zero-Two Quantum AI. Zim Steven, head of the SSS is soon suspicious of the new young genius and discovers that he is the Genesis Child, but before he can act, an ancient quantum system is activated at a secret location beneath the flooded ruins of Manhattan, and a countdown begins to unleash another thermonuclear holocaust upon our dying world and a race against time begins. Thundersky is selected to go to New York with an elite team of military tacticals to locate the NORAD system and deactivate it. Meanwhile, Zim Steven lays his plans to make certain that Thundersky and his companions never return to Silo City alive. After their transport drone is shot down by Dusteaters, Corporal Venus Jane and Fox, Thundersky and his best friend Tiger White are the only survivors, with just an armored vehicle. They are pursued by Dusteaters and the infamous Godders of Pennsylvania and a desperate battle for survival begins. While in the wilderness, the foursome make unlikely allies, and Thundersky falls in love with a handsome young Dusteater fighter, Reaper Bloodbuck. Utopia's arch enemy, the queen of the Dusteaters, the Prophetess will reveal things to Thundersky's that will unravel his life and everything he believes in, and soon, it's realized that the humble Mudsurfer is far more powerful than even the Scholars could have imagined…
NORAD's Ghost
Word Count: Information not available
Summary: Being too close to the truth got Jon Xiong's mother killed. While searching for answers, a murderous cult shows up at his door. A secretive organization called the Tuners comes to his aide and teaches him about his rare ability to travel between worlds called tuning. He grapples with his new superpower and is stuck between those who would maintain order in the multiverse and those who would destroy it. Jon must avoid the same gruesome fate as his mom and figure out what happened to his family.
Tuners
Word Count:

130000
Summary: The world was forever changed when a government genetic experiment created the Chromodecs from a dead alien in 1952. Decades later, when it became apparent that society needed a way to deal with a hybrid humans with unheard of powers, the CORP was created. The Chromodec Office of Restraint and Protection was a special government police agency formed to keep track of the Chromodecs. This particular tale involves two refugees, young babies who were sent down to Earth to escape being used as pawns in an interplanetary war, despite the fact that Earth itself wasn't so safe. Destined to be Q'sirrahna, or soul mates as the humans called it, Amari Losira Del Rey and Zendara Inyri Baen-Tor would grow to be more powerful than any other beings on the planet, if they could find each other first. After being forced to hide from the CORP when it's realized their powers could level entire cities, Amari and Zen will have to answer one question. Who will save the world when it all falls apart?
Children of the Stars
Word Count:

15473
Summary: Three superheroes in love! Or one superhero, one former sidekick, and one redeemed supervillain, at least... Ryan, John, and Holiday have been partners -- in every sense of the word -- for two years. They've saved the world, fallen in love, and remodeled the secret base to include bookshelves and a bigger bed. But Ryan and John have always been the public face of the team. The world still believes Holiday's a villain. And he's been using that reputation to stay undercover and share information. Tonight, though, Holiday comes home injured, and his partners aren't sure the mission's worth his life. Contains lasagna, superhero theatrics, home renovation, a thunderstorm, and very enjoyable use of superpowers in bed.
Sundown, Holiday, Beacon
Word Count: Information not available
Summary: FIVE Amazing Superhero Books in by Damien Benoit-Ledoux to enjoy! 1300+ pages! Grab all FIVE books in the LGBT Guardians series, bundled together for the first time! CONTENTS 1. Accidental Awakening 2. Unidentified Phenomenon 3. The Rise of Dark Flame 4. Ultimate Sacrifice 5. Balance of Power ------------------------------------ Book 1: Accidental Awakening ------------------------------------ When high school juniors Quinn McAlester and Blake Hargreaves wake up in a hospital room after a freak accident in a dangerous cave, they have no idea how much their lives will change—until a number of unexplained phenomena leads the boys to believe they are developing super powers. Be prepared to be riveted to the story till the last word! ------------------------------------ Book 2: Unidentified Phenomenon ------------------------------------ As the excitement of Quinn and Blake's newfound super powers grows, so does the harsh reality of responsibility and conspiracy around them. After saving lives, Quinn discovers the rejection of city authorities who lash out against vigilantism while Blake secretly exercises swift justice and becomes further entangled with Victor Kraze and the mysterious organization he works for. This is an engrossing story that has not only kept my interest, but is so hard to put down, it has kept me up late at night. ------------------------------------ Book 3. The Rise of Dark Flame ------------------------------------ As the dust from Quinn and Blake's destroyed friendship settles in their lives, their disparate ambitions bring them back together in unplanned and unwanted ways. Quinn fights to win the trust of the local authorities and the world while juggling his personal life, love life, and superhero life. On the other side of town, Blake embraces superhero life with Victor Kraze and impatiently waits to be set loose until he decides to take matters into his own hands, further dragging them all into a convoluted mess. OMG! This third story in this series will get your heart racing and keep it there. ------------------------------------ Book 4. Ultimate Sacrifice ------------------------------------ As winter settles over New England, the headstrong Victor Kraze pushes his team to recreate the accident that imbued Quinn and Blake with superhuman abilities. Working in the shadows, Blake spirals out of control and embarks on a destructive rampage that infuriates what's left of The Order. Working with his team of unique individuals, Quinn devises a plan to infiltrate The Order and rescue his best friend from the clutches of the organization's evil mastermind. Full of both action and adventure, you don't want to miss this book! ------------------------------------ Book 5. Balance of Power ------------------------------------ Mayhem explodes in Portsmouth when Victor Kraze reveals his true intentions, threatening everyone Quinn holds dear. Faced with insurmountable odds and overwhelming destruction, Quinn and his small team of mismatched heroes must risk everything to stop the maniacal Victor from creating an army of sinister superhumans bent on creating chaos before it's too late. Tech talk, super-heroic philosophy, loving friendship, and teenage romance in a tale of responsibility and redemption. A splendid wrap-up to a fascinating series.
The Guardians Origin Story Omnibus
Word Count: Information not available
Summary: They aren't above killing… …and now his family and boyfriend are missing. Everyone thinks The Order's dangerous new super villain Nightmare wants to destroy the world, but Quinn knows better. This is different. This time, it's personal. The stakes have never been higher, and Quinn—as the superhero Blue Spekter—has a crazy plan that just might work. Can he defeat Nightmare and The Order before it's too late? If he fails and Nightmare slaughters him, who will stop the maniacal super villain from destroying everything and everyone they love? BALANCE OF POWER is the fifth book of The Guardian Series and is part of the Spekter Superhero Universe. Remember all those cool things that happened before? Well, this book wraps all that stuff up. Read it now! You know you want to!
Balance of Power
Word Count: Information not available
Summary: He must make the hard choice… …flee or fight. Becoming the superhero Blue Spekter was supposed to be fun for Quinn, the realization of a childhood dream. But the insidious Order hijacked his dream-come-true by twisting his best friend Blake into the feared supervillain Dark Flame. Now, The Order wants Dark Flame to kill Quinn and erase Blue Spekter from history. For Quinn, junior year is no longer about surviving high school; it's about survival and protecting the ones he loves. But can he? Does Quinn have the courage to stop Blake and take down The Order, no matter the cost? ULTIMATE SACRIFICE is the fourth book of The Guardian Series and is part of the Spekter Superhero Universe. Get it now.
Ultimate Sacrifice