Sci fi featuring heroes with amazing powers and the villans who bedevil them. Return to general Sci Fi
Note: these books are currently sorted by release date, with newest first.
Filter by:
Genres
Fantasy
Fantasy - Alternate History
Fantasy - Comedy
Fantasy - Contemporary
Fantasy - Dark Fantasy
Fantasy - Erotica
Fantasy - Faery & Fae
Fantasy - Fairy Tale / Folklore
Fantasy - Fantasy of Manners
Fantasy - Gothpunk
Fantasy - Heroic
Fantasy - High & Other World
Fantasy - Historical
Fantasy - Hopepunk
Fantasy - Knights & Castles
Fantasy - Latinpunk
Fantasy - LGBTQ+
Fantasy - LitRPG
Fantasy - Low Fantasy
Fantasy - Magical Realism
Fantasy - Mythic
Fantasy - Mythpunk
Fantasy - New Adult
Fantasy - Paranormal
Fantasy - People of Color
Fantasy - Piratepunk
Fantasy - Quiet
Fantasy - Romance
Fantasy - RPG
Fantasy - Slipstream
Fantasy - Steampunk
Fantasy - Sword & Sorcery
Fantasy - Urban & Magical Beings
Fantasy - Weird Fantasy
Fantasy - Young Adult
Fantasy – Gods and Heroes
Horror
Horror - Angels & Devils
Horror - Comedy
Horror - Fairy Tale/Folklore
Horror - Ghosts & Haunted Houses
Horror - Gothic
Horror - LGBTQ+
Horror - LitRPG
Horror - Lovecraftian/Cthulhu
Horror - Man-Made Horrors
Horror - Monsters
Horror - Mythic
Horror - New Adult
Horror - Noir
Horror - Occult
Horror - People of Color
Horror - Post-Apocalyptic
Horror - Psychic Talents
Horror - Psychological
Horror - Shifters
Horror - Splatterpunk
Horror - Vampires
Horror - Weird Horror
Horror - Werewolves
Horror - Witches
Horror - Young Adult
Horror - Zombies
Nonfiction
Nonfiction - Writing Guides
Paranormal
Paranormal - Angels & Devils
Paranormal - Comedy
Paranormal - Dark
Paranormal - Ghosts & Haunted Houses
Paranormal - LGBTQ+
Paranormal - LitRPG
Paranormal - Magical Beings
Paranormal - Monsters
Paranormal - New Adult
Paranormal - People of Color
Paranormal - Psychic Talents
Paranormal - Reincarnation
Paranormal - Romance
Paranormal - Shifters
Paranormal - Vampires
Paranormal - Young Adult
Paranormal - Zombies
Poetry
Sci Fi
Sci Fi - Alien Invasion
Sci Fi - Alien Races
Sci Fi - Aliens
Sci Fi - Alternate / Parallel Reality
Sci Fi - Alternative History
Sci Fi - Apocalyptic Fiction
Sci Fi - Artificial Intelligence
Sci Fi - Biopunk
Sci Fi - Christian
Sci Fi - Climate Fiction (Cli-Fi)
Sci Fi - Clockpunk
Sci Fi - Clones
Sci Fi - Colonization
Sci Fi - Comedy
Sci Fi - Cyberpunk
Sci Fi - Cyberspace
Sci Fi - Decopunk
Sci Fi - Detective
Sci Fi - Dieselpunk
Sci Fi - Distant Planet
Sci Fi - Dying Earth
Sci Fi - Dystopian & Post-Apocalyptic
Sci Fi - First Contact
Sci Fi - Frontier
Sci Fi - Furry
Sci Fi - Galactic Empire
Sci Fi - Generation Ship
Sci Fi - Genetic Manipulation
Sci Fi - Gothpunk
Sci Fi - Greenpunk
Sci Fi - Hard Sci Fi
Sci Fi - Hollow Earth
Sci Fi - Hopepunk
Sci Fi - Human Evolution
Sci Fi - Immortality
Sci Fi - LGBTQ+
Sci Fi - LitRPG
Sci Fi - Lost Worlds
Sci Fi - Military
Sci Fi - Mind Uploads
Sci Fi - Multiverse
Sci Fi - Mutants
Sci Fi - Nanopunk
Sci Fi - Near Future
Sci Fi - New Adult
Sci Fi - Nowpunk
Sci Fi - People of Color
Sci Fi - Piratepunk
Sci Fi - Pulp
Sci Fi - Realistic
Sci Fi - Robots/Androids
Sci Fi - Romance
Sci Fi - RPG
Sci Fi - Science Fantasy
Sci Fi - Singularity
Sci Fi - Slipstream
Sci Fi - Social
Sci Fi - Soft
Sci Fi - Solarpunk
Sci Fi - Space Exploration
Sci Fi - Space Opera
Sci Fi - Space Western
Sci Fi - Spacepunk
Sci Fi - SpyFi
Sci Fi - Steampunk
Sci Fi - Superheroes & Villains
Sci Fi - Terraforming
Sci Fi - Teslapunk
Sci Fi - Theological
Sci Fi - Time Travel
Sci Fi - Transhuman
Sci Fi - Uplift
Sci Fi - Utopian
Sci Fi - Virtual Reality
Sci Fi - Weird Sci Fi
Sci Fi - Young Adult
Tropes
Abandoned Place
AI Uprising
Alien Artifacts
Alien Eggs
Alien Invasion
Alien Ruins
Aliens Among Us
Aliens as God
Aliens in History
Ancient Astronauts
Ancient Weapon
Antihero
Arthurian Legends
Asteroid Miner
Astral Projection
Bad Robot
Band of Brothers/Sisters
Band of Misfits
Bar Tales
Becoming a Monster
Benevolent Aliens
Beyond the Grave Communication
Big Sword
Black and White Morality
Body Modifications
Bodysnatchers
Book of Spells
Born Hero
Burial Ground/Cemetary
Changing Painting
Chosen One
Clones
Conspiracy
Crazy Clairvoyants
Cross-Species Friendships
Cryosleep
Dark Enemy
Dark Lord
Death by Sex
Demonic Possession
Dragonriders
Dying World
Dystopian Governments
Enemy to Ally
Evil Megacorporation
Evolving Powers
Fallen Hero
Farmer to Hero
Farmer to Royalty
Fated Mates
Fellowship
Fetus of Doom
First Contact
Fish Out of Water
Found Family
FTL
Galactic Civilization
Generation Ships
Good Robots
Haunted House
Here Comes the Cavalry
Humanity is Dangerous
Humanity is Good
Humans Evolved From Aliens
Hunted
I Am Your Father
I See Dead People
Immortality
Inaccessible Magic
Interspecies Adoption
Interspecies Romance
Interstellar Travel
Killer Aliens
Library of Secrets
Lost Civilization
Lucky Novice
Mad Scientist
Magic Furniture
Magic Talisman
Magical Disaster
Marooned
Mirror Shows True Self
Modern Human in Fantasy World
Museum/Store of the Unusual
No Cell Coverage
Old Person in the Woods
Oxygen Leak
Parallel Worlds
Past People/Future Tech
Person in Distress
Portals
Possession
Post-Apocalyptic
Powerful Artifact
Prophesy
Pseudo European Society
Psionic Powers
Quest
Redemption Arc
Reluctant Hero
Reluctant Vampires
Robin Hood Legends
Roguish Thief
Secret Heir
Secret Royalty
Secret Society
Sentient AI
Sentient Spaceships
Sex Magic
Singularity
Space Battles
Space Dentistry
Space Detectives
Space is Empty
Space is Full
Space Medicine
Space Pilot
Space Pirates
Space Psychology
Space Smugglers
Superpowers
Sword of Destiny
Time Loop
Time Travel
Training
Ultimate Evil
Undiscovered Planet
Uploaded Consciousness
Vengeful Spirit
Villain to Hero
Waiting/Sleeping Evil
Wise Mentor
Tags
author - american
author - arabian
author - australian
author - belgian
author - british
author - canadian
author - dutch
author - european
author - french
author - italian
author - new zealander
author - saudi arabian
format - anthology
format - audiobook
format - book
format - box set
format - collection
format - free
format - hardcover
format - illustrated novel
format - kindle
format - kindle unlimited
format - large print
format - netgalley
format - novel
format - novel >100K
format - novel <100K
format - novel 40-100K
format - novella 15k-40K
format - novellette <15k
format - omnibus edition
format - paperback
format - payhip
format - planner
format - prequel
format - self published
format - sequel
format - series
format - shared universe
format - short stories
format - short story <15K
identity - aromantic
identity - asexual
identity - bisexual
identity - demisexual
identity - gay
identity - gender fluid
identity - intersex
identity - lesbian
identity - non-binary
identity - pansexual
identity - polyamorous
identity - transgender
potential trigger
potential trigger - abduction-captivity
potential trigger - addiction
potential trigger - avalanche
potential trigger - blood
potential trigger - death
potential trigger - gore
potential trigger - graphic torture
potential trigger - murder
potential trigger - rape
potential trigger - sexual abuse
potential trigger - stalking
potential trigger - suicidal ideation
potential trigger - suicide
potential trigger - torture
potential trigger - traumatic past
potential trigger - violence
what - concept - amnesia
what - concept - curse
what - condition - blindness
what - condition - disability
what - condition - mental illness
what - condition - ptsd
what - element - ferocious poodle
what - holiday - general
what - topic - cartel
what - topic - chinese medicine
what - topic - chinese mythology
what - topic - climate change
what - topic - compassion
what - topic - crime
what - topic - desert survival
what - topic - disaster
what - topic - flying
what - topic - genetic engineering
what - topic - harem
what - topic - haunting
what - topic - japanese mythology
what - topic - learning disabilities
what - topic - legend
what - topic - magic
what - topic - multicultural
what - topic - music
what - topic - natural disaster
what - topic - non-violence
what - topic - politics
what - topic - ransom
what - topic - reincarnation
what - topic - religion
what - topic - revenge
what - topic - science experiment
what - topic - secret
what - topic - secret organization
what - topic - superstition
what - topic - taboo
what - topic - technology
what - topic - terrorism
when - period - 16th century
when - period - 17th century
when - period - 18th century
when - period - 1920s
when - period - 1930s
when - period - 1950s
when - period - 1960s
when - period - 1970s
when - period - 1980s
when - period - 1990s
when - period - 19th century
when - period - 20th century
when - period - ancient greece
when - period - ancient rome
when - period - edwardian
when - period - georgian
when - period - great war
when - period - middle ages
when - period - near future
when - period - prehistoric
when - period - prohibition
when - period - victorian
where - fictional - moon colony
where - general - alternate universe
where - general - carnival
where - general - castle
where - general - cave
where - general - cruise ship
where - general - forest
where - general - military
where - general - mountains
where - general - private school
where - general - rural
where - general - small town
where - general - swamp
where - general - uncharted island
where - general - underground
where - general - underwater
where - Mars
where - non-Earth planet
where - space - international space station
where - space - space station
where - space station
where - spaceship
who - description - alpha male
who - description - alphas and omegas
who - description - tattoos
who - magical humans
who - occupation - apothecary
who - occupation - archaeologist
who - occupation - artist
who - occupation - assassin
who - occupation - astronaut
who - occupation - astronomer
who - occupation - author
who - occupation - baker
who - occupation - barista
who - occupation - bodyguard
who - occupation - botanist
who - occupation - bounty hunter
who - occupation - castle laird
who - occupation - computer programmer
who - occupation - contractor
who - occupation - coroner
who - occupation - cowboys
who - occupation - detective
who - occupation - doctor
who - occupation - engineer
who - occupation - ex-convict
who - occupation - federal agent
who - occupation - guard
who - occupation - hacker
who - occupation - healer
who - occupation - herbalist
who - occupation - historian
who - occupation - horsemaster
who - occupation - innkeeper
who - occupation - inventor
who - occupation - journalist
who - occupation - king
who - occupation - knight
who - occupation - law enforcement
who - occupation - librarian
who - occupation - lord
who - occupation - mage
who - occupation - marine
who - occupation - mechanic
who - occupation - medical
who - occupation - mercenary
who - occupation - military
who - occupation - missionary
who - occupation - motorcycle rider
who - occupation - musician
who - occupation - nurse
who - occupation - pilot
who - occupation - pirate
who - occupation - police
who - occupation - politician
who - occupation - priest
who - occupation - prince
who - occupation - prisoner
who - occupation - professor
who - occupation - psychic
who - occupation - royalty
who - occupation - sailor
who - occupation - scientist
who - occupation - security
who - occupation - serial killer
who - occupation - servant
who - occupation - sex worker
who - occupation - sheriff
who - occupation - soldier
who - occupation - space marines
who - occupation - spaceship captain
who - occupation - spy
who - occupation - starship captain
who - occupation - student
who - occupation - superhero
who - occupation - tattoo artist
who - occupation - teacher
who - occupation - thief
who - occupation - tracker
who - occupation - undercover agent
who - occupation - warrior
who - occupation - writer
who - religion - catholic
who - religion - jewish
who - religion - muslim / islamic
who - religion - pagan
who - religion - shinto
who - sea dragon shifter
who - shifter
who - type - alien
who - type - altered human
who - type - angels
who - type - badass heroine
who - type - bear shifters
who - type - bigfoot
who - type - centaur
who - type - cyborg
who - type - demons
who - type - dragon shifters
who - type - dragons
who - type - elves
who - type - fae
who - type - fox
who - type - ghosts
who - type - god
who - type - griffins
who - type - incubus
who - type - kitsune
who - type - merman
who - type - nekomata
who - type - nephilim
who - type - panther shifters
who - type - reindeer shifters
who - type - robot / cyborg
who - type - sea god
who - type - selkie
who - type - spiders
who - type - spirit
who - type - succubus
who - type - unicorns
who - type - vampires
who - type - vegan
who - type - werecats
who - type - werewolves
who - type - witch
who - type - wizard
who - type - wolf
who - type - yokai
who - type - zombies
who - world defender
Word Count: Information not available
Summary: The resurrection of one world will mean the destruction of another. The homeworld of the alien Noigel has been annihilated. Their existence as a species is on a razor's edge. But they have found a replacement: Earth. But it must be changed to suit their needs. If they succeed, all of humanity will perish. When an alien secret agent is killed, his technology and mission are given to Hina Takamachi. The Japanese schoolgirl discovers the alien's battle suit gives her incredible powers, just like the anime heroines she admired as a kid. The battle suit's artificial intelligence, whom Hina names Voice, informs her that only she can save the world from the Noigel.With Voice training and guiding her, Hina must overcome her own self-doubts and find the courage to stop the Noigel's plan. For one world to win, the other must lose.
Zero Sum Game
September 2, 2022
Word Count:
68810
Summary: Variant children are vanishing at an alarming rate. It will take a uniquely mismatched pair of trackers to untangle a web of conspiracy and misdirection to find them. In his isolated cabin, variant Damien Hazelwood avoids human contact as much as possible to prevent attacks of blind berserker panic. But his rare talent as a locator makes him the go-to contractor for tricky missing person's cases and when agents bring him a troubling contract involving missing variant children, he finds it impossible to refuse. Licensed tracker Blaze Emerson can't help being irritated when he's expected to follow the strange, twitchy locator's lead on his latest case. He works alone, he's damn good, and as a variant sparker, he has both the fire and the firepower to take on anything out there. Though he has to admit there's something intriguing about a man who can find people with his brain. ​ With vastly different temperaments and backgrounds, Damien and Blaze need to negotiate quickly how to work together if they're going to crack this case. Add in the sudden appearance of Blaze's outlaw ex, the perils of tracking in the wilds, and a maddening lack of discernible motive or method, and they soon find themselves in as much danger as the kids they're trying to rescue. Variant Configurations takes place in a future Earth where humanity is reclaiming its spot in a gradually healing world. This book contains mentions of past abuse, action-adventure style mayhem, and the beginning sparks of a slow burn, series-spanning relationship.
Rarely Pure And Never Simple
June 28, 2022
Word Count:
28000
Summary: Monty has a special power that no one else possesses. And he hates it. He just wants to live a quiet cheese sandwich and tap water life. Fate, being the fickle bitch it is, has other plans. His best friends, Lark and Sean, have abilities as well and the trio encounter three mysterious people who show them, they are not alone. It would be nice if any of them had useful abilities, but take what you can get, right? As a result, Monty is forcibly dragged into a world of coffee-addicted villains, half-competent goons, and pompous windbags. Monty must use his wits against the witless to save himself and his friends. To do so he must embrace being the DICK WIGGLER.
Dick Wiggler and Other Useless Superpowers
April 25, 2022
Word Count:
71000
Summary: I've got a secret. Two, actually. I'm not that powerful. My best friend Gerald, though, he's got enough superpowers to fill the role of two heroes. His abilities are so strong, he can even make everyone believe I'm destined to be more than a sidekick. My other secret? I love him. My crush is getting harder to hide now that we're headed off to superhero university together. With Gerald as my roommate, it's only a matter of time before he figures out how I feel. And from there, our other secrets will inevitably unravel, too. Including what truly happened the night we stumbled on a League of Villains meeting. I never counted on the League ruining my plans to enjoy the university experience with my bestie. Or the nemesis who haunts my nightmares turning his telepathy on the city I grew up expecting to protect with my powers. One thing's for sure, superhero school isn't for the faint of heart. Super U: Rising Storm is an M/X superhero slow-burn best friends to lovers romance. It is part of a multi-author shared universe following the university adventures of superheroes in training. Gerald is a trans man who commands the wind and electricity. Ignatius is his non-binary and autistic best friend, who controls electric sparks. Read now to watch them turn their spark into a storm.
Super U: Rising Storm
October 12, 2021
Word Count:
111,000
Summary:
New York: two years after the Third World War. Humanity is rebuilding its cities brick by brick; the damage done to the people, however, is a lot harder to repair.
Dan Hardacre is one of those people. An aspiring stage actor and experienced draft-dodger, Dan struggles to find his place within the Utopic rebuild of New York City. When he's not caught up with the duties of work, Dan lives a quiet life in mourning for his mother, Dyani, who went missing when he was a teenager.
One night, Dan experiences a vivid, terrifying nightmare that puts him right on the front lines of the war for which he dodged the draft; it ends with him facing Death itself in the form of a metallic, faceless humanoid creature that calls itself the Valkyrie. To investigate the reason behind his haunting experience, Dan seeks out a meeting with his estranged father, who reveals the startling truth about Dan's dream: it wasn't a dream.
With this newfound knowledge and the powers it brings, Dan makes it his mission to return to the scene of his nightmare. However, he soon comes to know that confronting the Valkyrie not only endangers him but the war-withstanding world he leaves behind.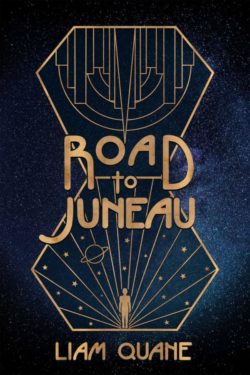 ROAD TO JUNEAU
May 18, 2021
Word Count:
52000
Summary: To escape an arranged marriage, the king needs a fake fiancé. Stat. King Bastien's father locked him into an ironclad betrothal contract with Lady Helena Rey when the two of them were only seven years old. Bas and Helena have never been friends—and not only because she marked their first meeting by dropping a frog down his shirt. He's been unsuccessfully petitioning Parliament to annul the damn contract ever since he took the throne nine years ago. But with the deadline for officially confirming the engagement rapidly approaching, Bas is getting desperate. Enter commoner Nico Pereira, manager of the Royal Crest Vineyards, who nurses a secret crush on the king. He's at the New Palace to unveil a  wine that's the first joint venture between North and South Abarra. No problem, right? Except Nico has a secret: He has a superpower. Not a very strong superpower, but because powers are a privilege reserved for Royals, it still puts him at risk for arrest and prosecution. Nico can usually mask his limited foresight gift under the guise of being an incredibly efficient administrator. But when King Bastien asks him to be his fake fiancé? Well. Nico never saw that coming. Nothing if not loyal, Nico accepts the faux-posal, although close proximity to Bastien makes him more than a little… uncomfortable, and the increased scrutiny of government officials threatens to expose his illegal ability. Good thing this engagement is temporary, because being the king's ex will be a lot less onerous than prison or exile. Or, if the attacks from a shadowy conspiracy continue, with being dead. King's Ex is a 52,000-word M/M superhero rom-com featuring a fake engagement, class differences, improbably pristine clothing, dueling secrets, a guaranteed HEA, and a kitten.
King's Ex
February 26, 2021
Word Count:
41000
Summary: A yuletide wedding brings tidings of comfort, joy… and peril. Eighteen months ago, Tarik Jaso, Duke of Arles, would have been thrilled if Sander Fiala, Duke of Roses, sank beneath the waves along with his stupid boat. That was then. Now, Tarik can't wait to head out on a private sail with Sander—a sail that will culminate in a highly public, politically significant wedding. Their union will be the first one between North and South Abarran royalty in centuries. If all goes to plan, it will usher in a new era of peace and cooperation between their countries. But as the big day approaches, their meticulous arrangements begin to fall apart. Can Sander and Tarik weather the storm of political opposition, familial objection, and outright betrayal to reach the altar at last? Duke the Hall is a 41,000-word M/M superhero rom-com featuring two dukes determined to tie the knot, relatives both helpful and annoying, spiteful thunderstorms, superhero sabotage, and hints that things are not all they seem. Note: Duke the Hall is not a stand-alone story. It's the sequel to Duking It Out and as such contains spoilers for the earlier book.
Duke the Hall
November 17, 2020
Word Count:
36000
Summary: IN-NO-VA-TION (Noun) 1) A new idea, method, or device. 2) The introduction of something new. 3) The application of better solutions to meet unarticulated needs. Three definitions to inspire writers around the world and an unlimited number of possible stories to tell. Here are 120 of our favorites. Innovation features 300-word speculative flash fiction stories from across the rainbow spectrum, from the minds of the writers of Queer Sci Fi.
Innovation
SALE
August 8, 2020
Word Count:
46000
Summary: Royal dukes from rival countries, shipwrecked on a deserted island. The grudge match of the century—or a love story of super-heroic proportions? Sander Fiala, Duke of Roses, is fourth in line to the South Abarran throne, even though his rogue power earned him the nickname "The Monster of Roses" and got him banished from the Castle. But right before he's about to set off on his annual birthday sailing trip, the Queen asks him to meet with the notoriously volatile North Abarran Duke of Arles. Tarik Jaso, Duke of Arles, expects the worst from people because—let's face it—people are the worst. His superpower bombards him with any and all electronic transmissions, which…yeah, people suck. So when he's attacked and wakes up in the cabin of a stranded boat, he knows he's royally screwed. Because the man looming over him—the man he'd gone toe-to-toe with right before the attack—is the infamous Monster of Roses. Tarik is positive the Monster is behind his kidnapping. Sander is sure the whole thing is Tarik's fault. As they work toward rescue, Tarik realizes that the disturbingly hot Sander is no monster, and Sander discovers that Tarik's temper masks a caring soul wrapped in a cantankerous (though undeniably sexy) body. tt For their burgeoning connection to endure, they'll have to duke it out with political factions, dark conspiracies, and centuries of traditions that keep them on opposite sides of the border. But first? They have to get off this damn island. Duking It Out is a 46,000-word M/M enemies to lovers, opposites attract, superhero rom-com, featuring Only One Bed, a grumpy duke who should know better than to jump to conclusions, a self-doubting duke who's good with his hands (heh), gossipy seagulls, competent assistants, a guaranteed HEA, and (unfortunately) capes.
Duking It Out
July 6, 2020
Word Count: Information not available
Summary: Being too close to the truth got Jon Xiong's mother killed. While searching for answers, a murderous cult shows up at his door. A secretive organization called the Tuners comes to his aide and teaches him about his rare ability to travel between worlds called tuning. He grapples with his new superpower and is stuck between those who would maintain order in the multiverse and those who would destroy it. Jon must avoid the same gruesome fate as his mom and figure out what happened to his family.
Tuners
March 25, 2020
Word Count:
130000
Summary: The world was forever changed when a government genetic experiment created the Chromodecs from a dead alien in 1952. Decades later, when it became apparent that society needed a way to deal with a hybrid humans with unheard of powers, the CORP was created. The Chromodec Office of Restraint and Protection was a special government police agency formed to keep track of the Chromodecs. This particular tale involves two refugees, young babies who were sent down to Earth to escape being used as pawns in an interplanetary war, despite the fact that Earth itself wasn't so safe. Destined to be Q'sirrahna, or soul mates as the humans called it, Amari Losira Del Rey and Zendara Inyri Baen-Tor would grow to be more powerful than any other beings on the planet, if they could find each other first. After being forced to hide from the CORP when it's realized their powers could level entire cities, Amari and Zen will have to answer one question. Who will save the world when it all falls apart?
Children of the Stars
January 31, 2020
Word Count:
15473
Summary: Three superheroes in love! Or one superhero, one former sidekick, and one redeemed supervillain, at least... Ryan, John, and Holiday have been partners -- in every sense of the word -- for two years. They've saved the world, fallen in love, and remodeled the secret base to include bookshelves and a bigger bed. But Ryan and John have always been the public face of the team. The world still believes Holiday's a villain. And he's been using that reputation to stay undercover and share information. Tonight, though, Holiday comes home injured, and his partners aren't sure the mission's worth his life. Contains lasagna, superhero theatrics, home renovation, a thunderstorm, and very enjoyable use of superpowers in bed.
Sundown, Holiday, Beacon
September 11, 2019
Word Count: Information not available
Summary: FIVE Amazing Superhero Books in by Damien Benoit-Ledoux to enjoy! 1300+ pages! Grab all FIVE books in the LGBT Guardians series, bundled together for the first time! CONTENTS 1. Accidental Awakening 2. Unidentified Phenomenon 3. The Rise of Dark Flame 4. Ultimate Sacrifice 5. Balance of Power ------------------------------------ Book 1: Accidental Awakening ------------------------------------ When high school juniors Quinn McAlester and Blake Hargreaves wake up in a hospital room after a freak accident in a dangerous cave, they have no idea how much their lives will change—until a number of unexplained phenomena leads the boys to believe they are developing super powers. Be prepared to be riveted to the story till the last word! ------------------------------------ Book 2: Unidentified Phenomenon ------------------------------------ As the excitement of Quinn and Blake's newfound super powers grows, so does the harsh reality of responsibility and conspiracy around them. After saving lives, Quinn discovers the rejection of city authorities who lash out against vigilantism while Blake secretly exercises swift justice and becomes further entangled with Victor Kraze and the mysterious organization he works for. This is an engrossing story that has not only kept my interest, but is so hard to put down, it has kept me up late at night. ------------------------------------ Book 3. The Rise of Dark Flame ------------------------------------ As the dust from Quinn and Blake's destroyed friendship settles in their lives, their disparate ambitions bring them back together in unplanned and unwanted ways. Quinn fights to win the trust of the local authorities and the world while juggling his personal life, love life, and superhero life. On the other side of town, Blake embraces superhero life with Victor Kraze and impatiently waits to be set loose until he decides to take matters into his own hands, further dragging them all into a convoluted mess. OMG! This third story in this series will get your heart racing and keep it there. ------------------------------------ Book 4. Ultimate Sacrifice ------------------------------------ As winter settles over New England, the headstrong Victor Kraze pushes his team to recreate the accident that imbued Quinn and Blake with superhuman abilities. Working in the shadows, Blake spirals out of control and embarks on a destructive rampage that infuriates what's left of The Order. Working with his team of unique individuals, Quinn devises a plan to infiltrate The Order and rescue his best friend from the clutches of the organization's evil mastermind. Full of both action and adventure, you don't want to miss this book! ------------------------------------ Book 5. Balance of Power ------------------------------------ Mayhem explodes in Portsmouth when Victor Kraze reveals his true intentions, threatening everyone Quinn holds dear. Faced with insurmountable odds and overwhelming destruction, Quinn and his small team of mismatched heroes must risk everything to stop the maniacal Victor from creating an army of sinister superhumans bent on creating chaos before it's too late. Tech talk, super-heroic philosophy, loving friendship, and teenage romance in a tale of responsibility and redemption. A splendid wrap-up to a fascinating series.
The Guardians Origin Story Omnibus
April 28, 2019
Word Count:
65000
Summary: Will Logan and Luke Warren are still running, with no refuge in sight. After stopping in Tennessee to meet up with teammates Ron Perry and Jake Wilson, they head for Atlanta, to rendezvous with the remaining member of their team, Todd Jackson. Kowalski told Logan he murdered Jackson, but Logan knows all too well how hard it is to kill any of them now. He's hopeful that Jackson survived and is waiting to meet them. Once they arrive in the city, they find Jackson easily enough. They soon discover, however, that he's involved in a strange and savage situation, a member of a vicious fight club in the basement of an Atlanta club. When he tells Logan he's in trouble and can't extricate himself, Logan finds an oppressive atmosphere of evil in the club, seeming to center around the club's owner, a charismatic man named Austell. Logan is disgusted by the illegal fighting, but Luke and the others are all inexplicably drawn to it. Something or someone is influencing the men, infusing them with violence and cruelty. A chain of events begins to unfold that will test Logan and Luke's bond to the breaking point. Logan's life is turned upside down as he has to fight for the lives of his friends and the man he can't live without. When they're kidnapped, and everything Logan holds dear is in deadly danger, will he be strong enough to save them all? In this book, the second in a three part series, new clues and revelations emerge as to what happened to Logan and his friends in book 1, Origins, Gods of War, to change their lives. They face a new and savage threat to their safety, and receive intervention from Heaven itself? Or could it be Hell?
Dread
January 10, 2019
Word Count: Information not available
Summary: They aren't above killing… …and now his family and boyfriend are missing. Everyone thinks The Order's dangerous new super villain Nightmare wants to destroy the world, but Quinn knows better. This is different. This time, it's personal. The stakes have never been higher, and Quinn—as the superhero Blue Spekter—has a crazy plan that just might work. Can he defeat Nightmare and The Order before it's too late? If he fails and Nightmare slaughters him, who will stop the maniacal super villain from destroying everything and everyone they love? BALANCE OF POWER is the fifth book of The Guardian Series and is part of the Spekter Superhero Universe. Remember all those cool things that happened before? Well, this book wraps all that stuff up. Read it now! You know you want to!
Balance of Power
December 1, 2018
Word Count: Information not available
Summary: He must make the hard choice… …flee or fight. Becoming the superhero Blue Spekter was supposed to be fun for Quinn, the realization of a childhood dream. But the insidious Order hijacked his dream-come-true by twisting his best friend Blake into the feared supervillain Dark Flame. Now, The Order wants Dark Flame to kill Quinn and erase Blue Spekter from history. For Quinn, junior year is no longer about surviving high school; it's about survival and protecting the ones he loves. But can he? Does Quinn have the courage to stop Blake and take down The Order, no matter the cost? ULTIMATE SACRIFICE is the fourth book of The Guardian Series and is part of the Spekter Superhero Universe. Get it now.
Ultimate Sacrifice
November 3, 2018
Word Count:
47,000
Summary: A collection of tales filled with monsters, be they human or beast, ranging in setting from dystopia to pitch black noir and even general silliness. From the ludicrous to the frighteningly plausible; from deep space to after the end of the world. There are clumsy werewolves and bloody revenge, monster sleep overs and a dieting fad sure to kill your appetite. Whether looking into the past or the future, you're sure to find that stuff gets really weird.
Shotgun Bastards and Other Stories
July 18, 2018
Word Count: Information not available
Summary: They think he's their pawn… …but playing the game is part of Blake's plan. At just sixteen years old, Blake is lost without The Order's guidance—and The Order hopes he'll become their secret weapon in the fight against injustice. The Order always gets what it wants, but Quinn—now known as the superhero Blue Spekter—refuses to step aside and thwarts their nefarious plans. Can The Order—through Blake—persuade Quinn to drop the superhero act and join him in the real fight against crime? More importantly, how long does Blake have until The Order discovers what he's really after? THE RISE OF DARK FLAME is the third book of The Guardian Series and is part of the Spekter Superhero Universe. Get it now.
The Rise of Dark Flame
July 7, 2018
Word Count:
19298
Summary: Emily Monroe may be a lot of things, but one thing is for sure, she is NOT the Chosen One. Emily is a normal girl working at Big Burger who has the unfortunate luck to look exactly like Big City's superhero darling, the Chosen One. It has been the bane of her existence as it disrupts her life and those around her when super villains come knocking, wanting to prove their mettle by fighting the Chosen One. Nobody listens when she insists she isn't who they think she is. With common sense and years of rage built up inside, she usually serves their butts to them on a platter, asking "Did you want fries with that?" No cape required.
Emily Monroe is NOT the Chosen One
May 8, 2018
Word Count: Information not available
Summary: The manhunt is on… …but no one knows who—or what—to look for. Impossibly heroic superhuman saves, wanted criminals vanishing into thin air, and thugs washing up with unexplainable third-degree burns can mean only one thing: someone has taken the law into their own hands. But who? And why? With the Department of Homeland Security breathing down the necks of city officials, Quinn and Blake must hide their superpowers from everyone, even their families. Time is running out. How long can they outrun the growing pile of damning evidence against them? UNIDENTIFIED PHENOMENON is the second book of The Guardian Series and is part of the Spekter Superhero Universe. Get it now.
Unidentified Phenomenon
May 5, 2018