Fantasy stories that take place in the present day. See also urban fantasy and magical realism. Return to general Fantasy
Note: these books are currently sorted by release date, with newest first.
Word Count:

34000
Summary: Dr. Eavan Delaney is frustrated. It is her destiny to reunite her people and work hard to protect the rivers and waters of the world, but she has no help whatsoever. So she has lived among humans for decades, undiscovered and in peace, but she knows this is wrong: she should be taking action. Then comes the fateful day she calls for support one last, desperate time -- and is heard. With the support of 'The Council of Twelve', Eavan continues to work for the safety of Nature. But no one has foreseen that the 'Other Side' has been sabotaging her efforts. The challenge before her is suddenly much greater, and the consequences of failure even more dire than she ever imagined. Will Eavan be strong enough to save the waters from the fire?
River Guardian
Word Count:

52000
Summary: Can Scott learn to use his newly discovered magical ability, while managing his concerns about the family he left behind? Especially now, when Landbelow's extraterrestrial origins are starting to cause problems?
Enimnori:Challenge
Word Count: Information not available
Summary: You can't fly away from destiny. Crow Rapp assumes he'll spend his life growing corn in rural Illinois, like the grandparents who raised him. But during a visit to a traveling carnival, he encounters a handsome stranger named Simeon Bell—and receives a prophecy of a horrifying future. When that future materializes soon afterward, Crow flees… only to find that no matter how far he goes, fate pursues him. Simeon reenters his life a decade later and causes Crow to consider whether actively fighting his fate might be better than constant attempts at escape. In a world tinged by magic, where myths are as real as the sky above them, the men try to determine Crow's true identity. Along the way, they test the powers of friendship and love and explore the boundaries of free will—ultimately discovering whether the force of destiny can be overcome. Crow's Fate is part of the multi-author Carnival of Mysteries Series. Each book stands alone, but each one includes at least one visit to Errante Ame's Carnival of Mysteries, a magical, multiverse traveling show full of unusual acts, games, and rides. The Carnival changes to suit the world it's on, so each visit is unique and special. This book contains an Illinois farmboy, a roustabout from London, and realizations about the power of love.
Crow's Fate
Word Count: Information not available
Summary: Fourth of the Vyrdigaan Prophecies, telling the back-story of Andreas Cesario. As the illegitimate child of a Carpathian Lord and his favourite housemaid, Andreas has to contend with his violent and hateful half-siblings and various power-plays within the household. He is a product of two different worlds — the privileged upbringing of a Carpathian son and the freedom of the streets where his mother was born. As he grows up, he discovers that he is far more important than he ever imagined, being part of a two-stage prophecy which dates back to the origins of the Founding Families of the Inner Circle. Set up for a fall by his scheming half-siblings, he has to rely on his natural intelligence in order to stay ahead in the game. This novel follows the story of his life from birth to his mid thirties.
Chimera Obscura
Word Count: Information not available
Summary: Third of the Vyrdigaan Prophecies, telling the back-story of Edeeshah Modjian. Born into Varagan society where females are prohibited from learning and practising sorcery, Edeeshah faces two tough choices — keep her nascent powers a secret or go to mainland Varathusia and find someone to teach her. Neither of these appeals to her and she chafes against the restrictions imposed upon her. When a third option is presented to her, she embarks on a path which will bring about a dramatic transformation. Follow her journey as she learns important lessons and deals with many challenging situations. Read less
The Forbidden Sorceress
Word Count:

80000
Summary: Trapped outside the world, unlikely hero Thaddeus Wright must partner with sexy Secret Agent Peter Pan to save a new generation of Lost Boys. THADDEUS WRIGHT would love to forget his childhood. A bi-racial bastard orphaned at four, he was the very definition of sin, according to the strict and disapproving grandparents who raised him. Twenty years later, Thad works with at-risk youth as both coach and counselor. Even after his grandparent's spare-the-rod, spoil-the-child parenting, Thad just wants to help people. But when three young boys he coaches go missing, he's the prime suspect. Especially when he goes missing himself! That's when paranormal policing agency Borderless Observers Org. (B.O.O.) sends in recent recruit Peter Batique on his first solo mission. Peter had another name once, but he's all grown up now and looking to prove himself an adult and a capable agent. However, after a hundred years as an unruly boy in Neverland, growing up holds some pretty unique challenges for Peter. Despite their differences, Thad and Peter must learn to work together to rescue a whole new generation of Lost Boys and take down the black market shadow dealer responsible. Can Thad learn he's worthy of love? Can Peter finally grow up? Can the Lost Boys be found?
Lost Boys 2.0 (BOO #2)
Word Count:

50000
Summary: A magical bookshop holds the keys. When Mason Chynoweth inherits an old house in small-town New Zealand, he hopes to discover what happened to his great-great uncle Lewis after he returned from the war in 1945. Mason's first encounter with the property is thankfully reassuring—his sensitive psychic powers aren't triggered and he has a calm sense of coming home. Elijah Whitaker arrives in Kedgetown for an extended visit with his aunts. He's quickly drawn to Mason and offers to help him try to find some answers in the dusty old house. It soon becomes clear that Mason is keeping secrets, but Elijah has a few secrets of his own. Like his closely guarded knowledge of the hidden supernatural world, and the fact that many of the townspeople are psi and supernaturals. What is the connection between the house and Postscript, the town's enigmatic bookshop? Mason's glimpses of the past give some clues, but not enough to make sense of the puzzle. When a hidden journal comes to light, the true story of Lewis's journey is revealed, and his path and Mason and Elijah's begin to intertwine.
Postscript
SALE
Word Count: Information not available
Summary: Tales to warm your imagination during the cold winter months Featuring stories by Christina Ardizzone, Matt Bliss, Gustavo Bondoni, Micah Castle, Nestor Delfino, C. M. Fields, Andrew Giffin, Emma Kathryn, Michelle Ann King, Jason Lairamore, Eve Morton, Lena Ng, S. Park, Arlo Sharp, Mar Vincent, and Richard Zwicker
Dragon Gems (Winter 2023)
Word Count: Information not available
Summary: It's not easy being the child of legends When her brother goes missing, the first hint of a larger plot against her famous family, Beau must find her inner hero--if she & her friends can avoid getting killed first. CHASING SUNSET is a stand-alone sequel to the WOODSPELL SERIES and one of the TALES OF ARDONNA.
Chasing Sunset
Word Count:

80000
Summary: The pandemic came and the world changed. Lives have changed; work has changed. The boundaries between reality and fantasy have become as blurred as those between life and work. Corporate Catharsis: The Work From Home Edition explores the impact of the COVID pandemic on everyone's personal and professional lives through speculative fiction. Featuring stories by Alicia Adams, Antaeus, Pauline Barmby, Steven D. Brewer, Dominick Cancilla, Adrienne Canino, Graham J. Darling, Derek Des Anges, Manny Frishberg, Alex Grehy, Jon Hansen, Alexa Kellow, Jack Nash, Helen Obermeier, Frank Sawielijew, William Shaw, Steve Soult, N.L. Sweeney, Kimberley Wall, and Richard Zaric.
Corporate Catharsis
Word Count:

11500
Summary: A dark fairy tale in a modern Greek setting. Hiding in the mountains, a harpy and her adopted daughter struggle to survive. Iphis has always known that survival comes hand in hand with loneliness, but when she catches feelings for a girl in the nearby town, her heart yearns for a different kind of future. When she's suddenly attacked by a group of enraged harpies, things only become more complicated... and dangerous.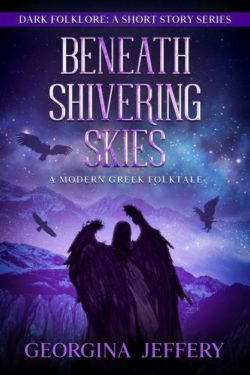 Beneath Shivering Skies
Word Count: Information not available
Summary: "Now is the time to release the burdens you have been carrying." The holiday season is traditionally one of reunions, homecomings, and family gatherings, but for the LGBTQIA+ community, it can be a time of anxiety and dread—a time we must hide our true selves in order to feel welcome. Too often, the holidays bring about loneliness and pain—a longing to be unequivocally accepted, seen, and loved for who we are. This season, we invite you to be Queer for the New Year! Enter nine fantastical worlds and witness rebirth and release as individuals let go of the past and welcome the new year with open arms and fearless hearts. In the final minutes to midnight, journey with us as we discover that acceptance can be found in the most unlikely of places, pain is not forever, and if nothing feels okay, then it is not the end. Move from the heartaches of old, make a fresh start with hope and renewal in your heart, and join us in being— queer for the new year.
Queer for the New Year
Word Count:

8000
Summary: Halloween is supposed to be a night for safe scares and harmless tricks, not terror ... or romance. College student Colin agrees to take his little cousin trick-or-treating, anticipating nothing worse than having to shepherd a bunch of sugar-crazed third-graders and a poorly-trained puppy. When the kids run ahead to peek into the local supposedly-haunted house, it seems like a harmless bit of mischief until the puppy crawls through a basement window and is lost. Colin promises to get her back. The place may be dark and creepy, but it can't really be haunted. When the house turns out to be occupied by an attractive man who is willing to let him in, it seems like a lucky break ... at first. Secrets. Sometimes Cat feels like he has nothing but secrets. No family, no freedom, not even a real name. Colin seems nice, but Cat doesn't owe him anything, not when the risk of punishment for helping a stranger is so high. But he's looking for a puppy, and Cat has a soft spot for dogs. And possibly also a soft spot for kind boys with soft lips. But the apparently simple task of finding a missing pet won't be as easy as it sounds, because the house isn't what it seems ... and neither is Cat. Could Colin possibly still want Cat if he learns the truth? They won't find out unless they manage to escape the darkness of the house.
Tricks with Cats and Dogs
Word Count:

33000
Summary: Clarity (noun) Four definitions to inspire writers around the world and an unlimited number of possible stories to tell: 1) Coherent and intelligible 2) Transparent or pure 3) Attaining certainty about something 4) Easy to see or hear Clarity features 300-word speculative flash fiction stories from across the rainbow spectrum, from the minds of the writers of Queer Sci Fi.
Clarity
Word Count:

29722
Summary: Adam Drowen… Azreal, the Onyx Knight… His journey has been long and arduous. He gained power in death, lost his mentor, found truth in a dream, got lost in a fantasy, embraced his rage, challenged The Fates, offered compassion, crossed the line, hunted a monster, and realized that Darkness was enveloping his soul. A Warrior's life is not for everyone. Adventure, excitement, glory; these are not what a true Warrior desires. A Knighthood does not grant privilege, offer fame, or promise riches. It can be a hard life, full of painful choices. It is a life of service, not reward. It is a never-ending journey in search of knowledge and beauty. The Way of the Warrior is the perpetual pursuit of perfection that none will ever attain. Why would anyone choose such a life? Not everybody can; but if you wish to learn what drives someone on this ceaseless quest, then pay attention; for I am the One Arm Bandit and I have stories to tell... Now, for the first time, ShyMuse Publishing presents the tales of Azreal, the Onyx Knight; collected in a single anthology. All ten short stories chronicling Azreal's journey from a young Sapphire Knight to a cold-blooded killer and finally to a contemplative, stoic guardian, are now gathered together in one volume. In addition to the Best Selling Way of the Warrior short story series, this book contains never before seen artwork and concept designs. Visit us at www.ShyMusePub.com
Way of the Warrior: The Azreal Chronicles
Word Count:

195000
Summary: Belonging can sometimes be Hell Jin is 17, pansexual, blue-haired, half-Korean and a lifelong outsider. His modus operandi, after years of neglect and chaos, is never belong, never attach, because both just bring pain. What he doesn't know, and mustn't, is if he does ever belong, his lust demon father will take him to Hell forever the day he turns 18. But when he moves to the remote Scottish town of Hammer Falls, where he shouldn't fit in at all, he finds being supernatural and queer aren't quite the barriers to belonging he'd hoped. As his lust demon blood begins to show and he grows ever closer to gorgeous part-angel demonstalker Nate, how long can Jin continue to convince himself he doesn't belong and isn't getting attached? Lust & Other Demons is the first in a trilogy containing a snarky, prickly half lust demon, hot demon hunters, werebears, angst, messy love and explicit MM sex. Books 2 & 3 also contain steamy MMM+ polyamory scenes as part of a key relationship. NOTE - These books are NOT suitable for younger readers or people likely to be offended by speculative views about religion.
Lust & Other Demons
Word Count:

128000
Summary: In the wake of a worsening climate crisis, magic runs rampant and demons roam across the Canadian prairies. A long-dead god stirs in the Pacific Ocean, while the wilderness is choked by invasive, screaming grass. The Cascade has shattered political stability, leaving a scandal-plagued government clinging to power in Ottawa. As catastrophe looms ahead, a precognitive rainman, Ian Mallory, stands between run-of-the-mill corruption and a nightmarish, dystopian future. It is up to a diverse and unlikely band of activists, scientists, journalists, and one underpaid, emoji-spell wielding intern to save their beleaguered country from its own worst impulses
Cascade
Word Count:

105000
Summary: A girl detective. A boy genius. A warrior princess. A young magician. Four young people with extraordinary gifts. For years, they solved mysteries, caught crooks, and slayed monsters. They were secret heroes, keeping an idyllic small town in the middle of America safe from the things that lurked in the dark. Then, the year of their high school graduation, the darkness came for them. During what the media called "New Year's Evil," a demonic force rose to turn their hometown into a literal Hell on Earth. They gathered to stop it. They fought. And they won. The rest of the world never discovered the truth behind the disaster. For 20 years, the four tried living like normal people. Now their past is coming back to haunt them. The darkness is gathering once more. They're summoned back to their hometown to face it, along with everything else they left behind. Last time, they saved the world. This time, they'll have to do something much harder. They'll have to save each other. For fans of Stephen King, Neil Gaiman, and Victoria Schwab, REUNION is the story of what happens when the good guys grow up.
Reunion
Word Count:

64,178
Summary: It is said that long ago Herne, the god of the Hunt, could use his Horn to make wolves obey his commands. A legend that Amy Oakley, Alpha of the Howlers pack, learned as a child and stopped believing in long before her first change beneath the full moon. After spending three years fighting for her lovers and packmates' right to live among the werewolves of Londinium, all she wants is a chance to breathe, go back to running her pub, and never see the manipulative Marcel Charron again. As an ancient prophecy begins to unfold, can Amy and the Howlers find the Horn of Herne and keep it out of Marcel's hands, or will his web of schemes and plots spell doom for their pack and the rest of London's werewolves?
Herald's Call
Word Count:

62,900
Summary: A werewolf and seven vampires are all that stand between the world and complete annihilation. When Kai Richter and Ori Bier met, sparks flew. Then a train blew up. Tracking an organism deadly to not only humans, but vampires and werewolves alike, brings Kai and Ori into the Vampire Guard. Decades later, they, along with Operative Team Jack Rabbit, come face to face with the horrors that same virus produces. Dead bodies are coming back to life, and rational people are becoming violent and brutal killers. A massacre is taking place nearly a mile under the Atlantic Ocean. Two teams of The Vampire Guard are in the thick of it, fighting to survive.
Endosymbiont