Sci fi stories that involve uploading consciousness to a computer / the cloud / the universe etc. Return to general Sci Fi
Note: these books are currently sorted by release date, with newest first.
Word Count:

38000
Summary: RISE (noun / verb) Eight definitions to inspire writers around the world, and an unlimited number of possible stories to tell: 1) An upward slope or movement 2) A beginning or origin 3) An increase in amount or number 4) An angry reaction 5) To take up arms 6) To return from death 7) To become heartened or elated 8) To exert oneself to meet a challenge Rise features 300-word speculative flash fiction stories from across the rainbow spectrum, from the minds of the writers of Queer Sci Fi.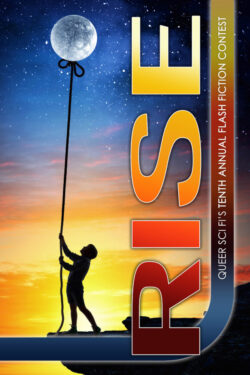 Rise
Word Count:

29600
Summary: When Peace-in-the-Sky awakens as a captive with a young girl by her side, she only understands one thing: she must escape the tribe who captured her. A brutal head injury makes the past a swirling fog, so she is reliant on the girl—her precocious daughter Anissa—to guide them. She must return Anissa to the Tribes-under-the-Dome to keep her safe from warring and vicious tribes inhabiting the wasted landscape. Every group they shelter with along the way sees something different when they look at Peace-in-the-Sky—a god, a savior, a valuable commodity, a volatile danger. She doesn't know herself, but soon realizes she can protect Anissa with the scorching power of the pillars-of-flame. Only her tender love for Anissa and her mission to return the girl home to the Tribes-under-the-Dome matter. As her body grows weaker, not even the inexorable unraveling mystery of who, or what, Peace-in-the-Sky really is can deflect her from the task. Find out what happens in Peace In The Sky by Caye Marsh!
Peace in the Sky
Word Count:

119000
Summary: A single father fights to retain control as he shares his body and mind with an evolving AI. It's been nine years since the government banned all technology. So, when Joel Lodowick, a young transgender father struggling to support his five-year-old daughter, has an old bionic upload itself into his head, he is faced with a decision: Go to the cops and risk prosecution? Or use the robot's skills to turn his life around? Scared of losing his daughter, Joel chooses the latter. Heightened intelligence and physical enhancements quickly land him a better job and a brighter future. But things take a sinister turn when Joel realizes his uninvited companion has an agenda of its own, which may or may not include leaving him in control. Unable to approach the government who covered up the truth about AI sentience, Joel finds himself on the run. With his daughter's life on the line and his own body turning against him, he must find a way to convince the bionic in his head to value his human life before he loses the chance forever. Find out what happens in My Heart is Human by Reese Hogan!
My Heart Is Human
Word Count:

33000
Summary: Clarity (noun) Four definitions to inspire writers around the world and an unlimited number of possible stories to tell: 1) Coherent and intelligible 2) Transparent or pure 3) Attaining certainty about something 4) Easy to see or hear Clarity features 300-word speculative flash fiction stories from across the rainbow spectrum, from the minds of the writers of Queer Sci Fi.
Clarity
Word Count:

107000
Summary: As the Oort Federation becomes a major force in the Solar System, Braxton Thorpe passes the Federation chairmanship to former US President John Butler. Thorpe's group offers humanity virtual immortality, but Isidor Orlov and his Udachny Enterprises oppose their every move. While terraforming Mars for more living space, the Mars Reds prove formidable as resisters. If the Asterian starship fighter pilots are released, will they align with Phoenix or Udachny, and who will develop the right FTL technology? In this tense space adventure, Thorpe, his team, and Max the tabby cat travel to Proxima Centauri and beyond to the Aster system, 84 lightyears distant. Will Thorpe bring together humans and Asterians in their quest for intergalactic travel? Will long life prove more than mere humans can handle?
The Oort Federation: To the Stars
Word Count: Information not available
Summary: Their connection was immediate. Was it destined or pre-programmed? Kenner Ford is trying not to panic. After his beautiful girlfriend suddenly disappeared from Beijing, he hops on a ballistic rocket to New York to begin a global search. And after a whirlwind romance filled with passionate sex and unsurpassed creativity, he's distraught to think she's gone forever. When warnings about Chinese intrusions get a cyberwarfare guru killed, Kenner and his missing lover become embroiled in a worldwide conflict. And after he learns they've both been surveilled for years by ambitious AIs, the troubled man flees from a deadly assassin while terrified for his woman's life… Can he reunite with his dream girl before they're permanently deleted? Control Theory is a thrilling science fiction romance. If you like compelling visions of the future, the evolution of advanced technology, and a sexy love story, then you'll adore Timothy Bult's futuristic roller coaster.
Control Theory
Word Count:

270000
Summary: Liminal Sky chronicles humankind's first journey to the stars. The first three books - the Ariadne Cycle - cover the creation and launch of Ariadne (aka Forever) as she was grown from seed on an asteroid and then launched across the interstellar void. The books are told in epic fashion, with each broken into three parts that span generations. THE STARK DIVIDE Some stories are epic. The Earth is in a state of collapse, with wars breaking out over resources and an environment pushed to the edge by human greed. Three living generation ships have been built with a combination of genetic mastery, artificial intelligence, technology, and raw materials harvested from the asteroid belt. This is the story of one of them—43 Ariadne, or Forever, as her inhabitants call her—a living world that carries the remaining hopes of humanity, and the three generations of scientists, engineers, and explorers working to colonize her. From her humble beginnings as a seedling saved from disaster to the start of her journey across the void of space toward a new home for the human race, The Stark Divide tells the tales of the world, the people who made her, and the few who will become something altogether beyond human. Humankind has just taken its first step toward the stars. THE RISING TIDE The Earth is dead. Five years after the Collapse, the remnants of humanity travel through the stars inside Forever: a living, ever-evolving, self-contained generation ship. When Eddy Tremaine and Andrissa "Andy" Hammond find a hidden world-within-a-world under the mountains, the discovery triggers a chain of events that could fundamentally alter or extinguish life as they know it, culminate in the takeover of the world mind, and end free will for humankind. Eddy, Andy, and a handful of other unlikely heroes must find the courage and ingenuity to stand against the rising tide. Otherwise they might be living through the end days of human history. THE SHORELESS SEA Rise of the Inthworld. The fight for the future isn't over yet. It could lead to a new beginning, or it might spell the end for the last vestiges of humankind. The generation ship Forever has left Earth behind, but a piece of the old civilization lives on in the Inthworld—a virtual realm that retains memories of Earth's technological wonders and vices. Lilith leads the uprising, and if she sets its inhabitants free, they could destroy Forever. But during the ship's long voyage, humanity has evolved. Liminals with the ability to connect with the world mind and the Inthworld provide a glimmer of hope as they face not only Lilith's minions, but the mistrust of their own kind as homotypicals fear what they can't understand. The invasion must be stopped, the Inthworld healed, sothe people of Forever can let go of their past and embrace their future.
Liminal Sky: Ariadne Cycle Complete Box Set
SALE
Word Count:

325
Summary: It's 200 years after WWIII and he earth is poisoned with Carbon-14 and plutonium. Following the decade long night of nuclear winter and the Great Famines, what's left of the human race is fragmented and much of the old world is nuclear wastelands inhabited by different factions, from the cannibalistic Ferals, who have reverted to savagery, to the Scavengers who pick among the ruins of the old world cities for useful items to barter with the Dusteaters, nomadic warlike factions who are at war with the despotic Utopians, the most technologically advanced and powerful of the human enclaves, who have forged a new civilization that is controlled by an elite of fertile scientists and intelligentsia who live underground in Sub City, which sprawls beneath Silo City and Surfer Town, where the infertile topsiders called the Mudsurfers live and work for their troglodyte masters. Thundersky often wonders why he doesn't get sick? All the topsiders get sick from the radiation and the cancers. So sick, that living to 35 is considered a grand old age. Only the Scholars live for longer. But the Scholars manufacture the medicinals that everybody needs to survive. Thundersky is different, not only is he immune from the radiation and cancers that have plagued the earth for 500 years, he's also a genius and just 19, he has designed an antimatter impulse drive capable of achieving 50% the speed of light. It's been months since Thundersky submitted his data and applied to the prestigious Tech Training Academy but has heard nothing since. Not all the Scholars are tyrants; some believe the exploitation of topsiders is cruel and wrong. The human experimentations conducted in the Utopian prisons on Dusteater terrorists is barbaric and inhuman. Among them, Grand High Scholar Blackstone Washington and High Scholar Blossom Flora, who for the past twenty years, following the purge of the geneticists and bioengineers have been protecting the "Genesis Child" from the Grand High Council who would kill him. But now people are getting suspicious and asking questions about the topsider who never gets sick, they must act quickly before his true identity is discovered and contrive to bring Thundersky into Sub City and alter his records with a little help from the ARTI-QS-Six-Zero-Two Quantum AI. Zim Steven, head of the SSS is soon suspicious of the new young genius and discovers that he is the Genesis Child, but before he can act, an ancient quantum system is activated at a secret location beneath the flooded ruins of Manhattan, and a countdown begins to unleash another thermonuclear holocaust upon our dying world and a race against time begins. Thundersky is selected to go to New York with an elite team of military tacticals to locate the NORAD system and deactivate it. Meanwhile, Zim Steven lays his plans to make certain that Thundersky and his companions never return to Silo City alive. After their transport drone is shot down by Dusteaters, Corporal Venus Jane and Fox, Thundersky and his best friend Tiger White are the only survivors, with just an armored vehicle. They are pursued by Dusteaters and the infamous Godders of Pennsylvania and a desperate battle for survival begins. While in the wilderness, the foursome make unlikely allies, and Thundersky falls in love with a handsome young Dusteater fighter, Reaper Bloodbuck. Utopia's arch enemy, the queen of the Dusteaters, the Prophetess will reveal things to Thundersky's that will unravel his life and everything he believes in, and soon, it's realized that the humble Mudsurfer is far more powerful than even the Scholars could have imagined…
NORAD's Ghost
Word Count:

94000
Summary: Braxton Thorpe has discovered a threat to the entire Solar System, but he has a problem: he's dead. Frozen at death, he awakens to find himself uploaded into an electronic matrix. Exploring beyond the matrix and the larger GlobalNet, he discovers the Oort, a distributed electronic entity older than humanity, with an unnerving secret: aliens wiped out nearly all life on Earth once, and are coming back to do it again. The mathematical entity that is Thorpe has to find a way to convince humans of the threat, and in time to do something about it. But how, and what? If you've read Niven's A World Out of Time or Taylor's We Are Legion, the opening of Icicle will only seem familiar. Buckle up for a wild ride; you ain't seen nothing.
Icicle: A Tensor Matrix
Word Count:

27900
Summary: A mind-blowing collection of short fiction. This anthology of Davyne DeSye's short stories includes twelve speculative fiction stories, ranging from science fiction to fantasy, and from humorous to horrific. This collection – which includes one new tale published here for the first time – contains: -A Ray Bradbury-esque story about a boy whose wishes come true; -A dark testimony of alien invasion and the redemptive power of a single selfless act; -The true story of Little Red Riding Hood; -An inside look into robot-assisted psychotherapy of a killer; and -A guided tour of a shop for recycled dreams. These twisted tales and others may be discovered in this anthology, which includes: "The Slide," "Moron," "There I Was…," "Death, By Any Other Name," "Mine Eyes," "Mirror, Mirror," "Carapace," "…I Win," "It's Not What You Think," "Shattered," "The Cloak," and "The Thief Speaks."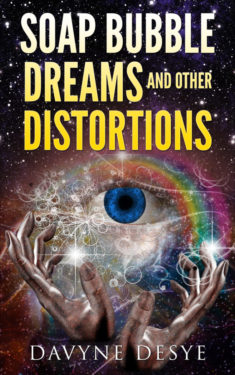 Soap Bubble Dreams and Other Distortions
Word Count:

73000
Summary: ::The Seignso have our own plans for the remains of Genghis Khan.:: Alien warmongers have cloned an ancient emperor to lead an unstoppable army. Gifted with superhuman powers and advanced technology, he sets his sights on his home planet, Earth, and then... the stars! However, countermeasures have already been set in place. A young Iowa farm boy, oblivious to his powers or destiny, is thrust into a battle that will decide the fate of humanity against the new and improved Genghis Khan! A thrilling, interstellar adventure from the author of The Weller and War of the Worlds: Goliath!
Birthright
Word Count: Information not available
Summary: Spaceship captain Tom lost his copilot and lover to a slipstream accident, but he refuses to accept Briak is dead. As he loses himself to his obsession, his ship begins to exhibit technical glitches and personality traits not normal for a shipboard computer. It gets worse as Tom finds a new pilot and decides to manipulate the slipstream to go back in time and stop the accident from happening. But if Tom can't figure out the problem, the space-time jumps may tear the ship—and his dreams of reunion with Briak—apart.
Renegade
Word Count:

109700
Summary: Cassidy needed a fresh start, and the offer of a guard posting for a historic temple in the middle of the desert sounded like a good way to clear her head. She didn't expect to find a new girlfriend- maybe even a soul mate. She didn't expect to be in the crossfire of a terrorist, a cowardly scientist, and a fleet of microscopic invaders. She didn't expect to lose. In the years after Lifehack and the Erebus incident, the world settles into relative quiet under strict nanite bans, but underground activity keeps dangerous nano-tech alive and well. (Although Watching Yute is a complete tale within the Lifehack series, it chronologically takes place between Lifehack and Echoes of Erebus.)
Watching Yute