This is a selection of our books available in large print editions (note – some of these large print editions may only be available through bookstore orders):
Word Count:

85000
Summary: Jameson Havercamp, a psych from a conservative religious colony, has come to Oberon—unique among the Common Worlds—in search of a rare substance called pith. He's guided through the wilds on his quest by Xander Kinnison, a handsome, cocky wing man with a troubled past. Neither knows that Oberon is facing imminent destruction. Even as the world starts to fall apart around them, they have no idea what's coming—or the bond that will develop between them as they race to avert a cataclysm. Together, they will journey to uncover the secrets of this strange and singular world, even as it takes them beyond the bounds of reality itself to discover what truly  binds them together.
Skythane
Word Count:

117,600
Summary: The Action Packed Conclusion to the Peridot Shift Trilogy Peridot is on the edge of annihilation. Once life-giving, the world's Trade Winds are transforming people into soulless monsters. The surviving Alchemist gods neglect their followers or take advantage of them. Even worse, a delicate peace has been wasted, and everything and everyone is at stake, especially Meran, the mistreated embodiment of the planet. Captain Talis and the crew of Fortune's Storm must try to do some good with what's left of Peridot in the hope that, together, they'll reclaim the hidden pieces of Meran's soul before the chaos seals her disastrous fate.
Cast Off
Word Count:

33000
Summary: Clarity (noun) Four definitions to inspire writers around the world and an unlimited number of possible stories to tell: 1) Coherent and intelligible 2) Transparent or pure 3) Attaining certainty about something 4) Easy to see or hear Clarity features 300-word speculative flash fiction stories from across the rainbow spectrum, from the minds of the writers of Queer Sci Fi.
Clarity
Word Count:

130000
Summary: Life after the Crash. Over a century after the end of the Earth, life goes on in Redemption, the sole remaining Lunar colony, and possibly the last outpost of humankind in the Solar System. But with an existential threat burrowing its way into the Moon's core, humanity must recolonize the homeworld. Twenty brave dropnauts set off on a mission to explore the empty planet. Four of them—Rai, Hera, Ghost and Tien—have trained for two-and-a-half years for the Return. They're bound for Martinez Base, just outside the Old Earth city of San Francisco. But what awaits them there will turn their assumptions upside down—and in the process, either save or destroy what's left of humanity.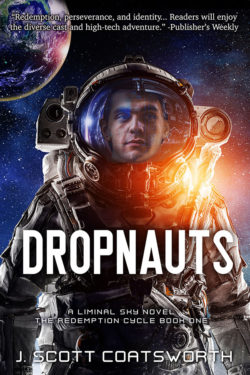 Dropnauts
Word Count:

149,000
Summary: Peridot is headed for its second cataclysm. War has broken ancient alliances, sealed borders, and locked down the skies. The Five, Peridot's alchemist gods, have seen one of their number die and another fall in their efforts to protect their world from invaders beyond the stars. Defeated and diminished, they have ceased to answer the prayers of their people and have left the rapidly unraveling world to fend for itself. Talis and the orphaned crew of the lost airship Wind Sabre have a plan to set things to rights, but they're stranded on a rock far from the heart of the conflict. When an old enemy comes and offers them a ship and a path forward, it comes with strings that will pull them further from the home they are so desperate to save. Can Talis and her crew chart a course through hostile skies, shifting allegiances, and subverted governments before the true enemies of Peridot claim a power that can destroy the world once and for all?
Salvage
Word Count:

120600
Summary: Captain Talis just wants to keep her airship crew from starving, and maybe scrape up enough cash for some badly needed repairs. When an anonymous client offers a small fortune to root through a pile of atmospheric wreckage, it seems like an easy payday. The job yields an ancient ring, a forbidden secret, and a host of deadly enemies. Now on the run from cultists with powerful allies, Talis needs to unload the ring as quickly as possible. Her desperate search for a buyer and the fallout from her discovery leads to a planetary battle between a secret society, alien forces, and even the gods themselves. Talis and her crew have just one desperate chance to make things right before their potential big score destroys them all.
Flotsam
Word Count:

36000
Summary: INK (NOUN) Five definitions to inspire writers around the world and an unlimited number of possible stories to tell: 1) A colored fluid used for writing 2) The action of signing a deal 3) A black liquid ejected by squid 4) Publicity in the written media 5) A slang word for tattoos Ink features 300-word speculative flash fiction stories from across the rainbow spectrum, from the minds of the writers of Queer Sci Fi.
Ink
Word Count: Information not available
Summary: Elderly, unarmed, and extremely dangerous. Ajay Andersen was the best hacker the NSA had ever hired. He sank corporations, toppled governments, and broke cryptography. All of it. Retirement hasn't slowed him down one bit, thank you very much. When his estranged daughter shows up on his doorstep with his two granddaughters, Ajay will do anything to keep them safe. He'll hack biotech corporations and criminal enterprises alike. He'll brave the woods of Minnesota. Nobody after his girls will be safe, but the more he digs, the more he dredges up the shadows of his own dangerous past. He only needs to know one thing: What makes his granddaughters so darn dangerous?
Grandfather Anonymous
Word Count:

97000
Summary: Time is running out. After saving the world twice, Xander, Jameson and friends plunge headlong into a new crisis. The ithani―the aliens who broke the world―have reawakened from their hundred millennia-long slumber. When Xander and Jameson disappear in a flash, an already fractured world is thrown into chaos. The ithani plans, laid a hundred thousand years before, are finally coming to pass, and they threaten all life on Erro. Venin and Alix go on a desperate search for their missing and find more than they bargained for. And Quince, Robin and Jessa discover a secret as old as the skythane themselves. Will alien technology, unexpected help from the distant past, destiny and some good old-fashioned firepower be enough to defeat an enemy with the ability to split a world? The final battle of the epic science fiction adventure that began in Skythane will decide the fate of lander and skythane alike. And in the north, the ithani rise….
Ithani
Word Count:

90700
Summary: Sometimes the world needs saving twice. Xander and Jameson thought they'd fulfilled their destiny when they brought the worlds of Oberon and Titania back together, but their short-lived moment of triumph is over. Reunification has thrown the world into chaos. A great storm ravaged Xander's kingdom of Gaelan, leaving the winged skythane people struggling to survive. Their old enemy, Obercorp, is biding its time, waiting to strike. And to the north, a dangerous new adversary gathers strength, while an unexpected ally awaits them. In the midst of it all, Xander's ex Alix returns, and Xander and Jameson discover that their love for each other may have been drug-induced. Are they truly destined for each other, or is what they feel artificial? And can they face an even greater challenge when their world needs them most?
Lander
Word Count:

131000
Summary: As the epic trilogy hurtles toward its conclusion, the fight for the future isn't over yet. It could lead to a new beginning, or it might spell the end for the last vestiges of humankind. The generation ship Forever has left Earth behind, but a piece of the old civilization lives on in the Inthworld—a virtual realm that retains memories of Earth's technological wonders and vices. A being named Lilith leads the uprising, and if she succeeds in setting its inhabitants free, they could destroy Forever. But during the generation ship's decades-long voyage, humanity has evolved. Liminals with the ability to connect with the world mind and the Inthworld provide a glimmer of hope. They'll have to face not only Lilith's minions, but also the mistrust of their own kind and persecution from a new government as homotypicals continue to fear what they can't understand. The invasion must be stopped, the Inthworld must be healed, and the people of Forever must let go of their past and embrace what they're meant to become.
The Shoreless Sea
Word Count:

115000
Summary: The Earth is dead. Five years after the Collapse, the remnants of humanity travel through the stars inside Forever: a living, ever-evolving, self-contained generation ship. When Eddy Tremaine and Andrissa "Andy" Hammond find a hidden world-within-a-world under the mountains, the discovery triggers a chain of events that could fundamentally alter or extinguish life as they know it, culminate in the takeover of the world mind, and end free will for humankind. Eddy, Andy, and a handful of other unlikely heroes must find the courage and ingenuity to stand against the rising tide. Otherwise they might be living through the end days of human history. "Quality, innovative worldbuilding grounds this volume in the "Liminal Sky" series. Fans of The Expanse will find plenty to enjoy here as different groups with widely varying goals and beliefs come together in a struggle to survive the vastness of space and one another." -Library Journal
The Rising Tide
Word Count:

87200
Summary: Some stories are epic. The Earth is in a state of collapse, with wars breaking out over resources and an environment pushed to the edge by human greed. Three living generation ships have been built with a combination of genetic mastery, artificial intelligence, technology, and raw materials harvested from the asteroid belt. This is the story of one of them—43 Ariadne, or Forever, as her inhabitants call her—a living world that carries the remaining hopes of humanity, and the three generations of scientists, engineers, and explorers working to colonize her. From her humble beginnings as a seedling saved from disaster to the start of her journey across the void of space toward a new home for the human race, The Stark Divide tells the tales of the world, the people who made her, and the few who will become something altogether beyond human.
The Stark Divide
Word Count:

55,000
Summary: Welcome back to Charybdis Station and the crew of the Blue Solace: (Seventh Book in the series) Finn Sterling is still adjusting to becoming the lieutenant of the blue fleet of Charybdis Station. As an orphan on Cardinal Hold, he never imagined he would have a position of authority as an adult and the trust his friends put in him makes failure impossible. When he is given the monumental task to find a large number of missing Vextonians, he'll take all the help he can get. When Finn's journey brings him to his mate, he discovers that finding the missing is only one part of the quest ahead of him. Aiden Crow has spent the last year consumed with grief and his search for vengeance. When he meets Finn, he knows instantly that the man is his mate, but what could he possibly offer the beautiful, smiling Cardinal? As the search for the missing draw the two men together, Crow realizes that the greatest risk he faces is losing his heart. Crow and Finn must work together to gather information so they can find the innocent before they are lost forever.
The Rebel's Mate
Word Count:

55,000
Summary: Welcome back to Charybdis Station and the crew of the Blue Solace: (Sixth Book in the series) Draif Ando started life as a slave on Vextonar. When he was fifteen, he met his best friend, Leti Ando, and life got a lot better. Now he's a Charybdis Station captain and works closely with the Lord Admiral of the Station. He is a free man, finally has a purpose of his own, and has the the best lieutenant in the galaxy by his side. If he's so content, why does he yearn for more, and why is he suddenly picturing children with his eyes and Lucas' ears and tail? Lucas Meluth knew that Draif was his life mate from the moment they met. He also knew that Draif was demisexual and wasn't attracted to Lucas. Not at first. Now, Lucas notices the way Draif's eyes follow him and the way Draif's innocent touches are suddenly not so innocent. Has the time come for their friendship to turn into more? Draif and Lucas may finally be figuring their relationship out, but their enemies are approaching and it's time to protect Charybdis Station and rid the galaxy of Humans First, once and for all.
The Captain's Mate
Word Count:

86000
Summary: No matter where the watch hands turn, she'd rather remain home. But with every time-traveling trekker's life at stake, can she stop a deadly clock? Wilda Firestone survives off black coffee and white-hot sarcasm. And despite the colorful slew of characters filing through her time tourism costume shop, the retired First Nations Temporal Agent would prefer a quiet, more linear existence. So she's less than impressed when a dying explorer crashes into her store, unleashing a plague that sends countless travelers to an early doom… Knowing her own lengthy history of chronological excursions grants her some immunity, Wilda vows to jump back in the saddle and seek out answers. But as she retraces the dead man's steps from 14th century Mali and into 12th century Scotland and beyond, she's dumbfounded by whatever force reduced an entire village to blood. Can Wilda stamp out the root of the sickness before she too succumbs? Time Tourist Outfitters, Ltd. is the intriguing first book in the Toronto Time Agents science fiction series. If you like feisty heroines, beautiful landscapes, and astounding adventures, then you'll love C. N. Jackson's explosive tale. Buy Time Tourist Outfitters, Ltd. to race against the bell today!
Time Tourist Outfitters, Ltd.
Word Count:

56,000
Summary: Welcome back to Charybdis Station and the crew of the Blue Solace: (Fifth Book in the series) Beck Brackenstone is a simple Grell. He loves his family and friends and enjoys tinkering in his shop. His greatest dream is to meet his life-mate, settle down, and raise a bunch of babies. When he finally does meet his mate, he realizes how completely unprepared he really is. How do you court an assassin? How do you keep your brain from melting when your mate smiles? Guild Master Beol is not a simple man. He runs one of the most prominent assassins guilds in the galaxy and has a troubled past. He has responsibilities and contracts to worry about and no time for a mate. When he meets Beck, that all changes. His Grell completely bewitches him and sparks something inside him that he thought died a long time ago. The problem is that Beck has secrets that even his most trusted friends don't know, and Beol has some major trust issues. The two men may appear to be a horrible match, but in truth, they are perfect for one another. Unfortunately the Crellic Queen and Humans First are terrorizing the galaxy and Charybdis Station is their next target. They will need to trust in one another and their friends to end the Queen's path of destruction once and for all.
The Engineer's Mate
Word Count:

54,000
Summary: Welcome back to Charybdis Station and the crew of the Blue Solace: (Fourth Book in the series) Sebastian Dolarnio has a past. His parents sold him into indentured servitude when he was seventeen which led him to enforced prostitution. Fortunately, with the help of some very good friends, him and his daughter are safe and have a home - a beautiful, accepting place with more family than he ever dreamed of having. Then there's his mate. A handsome, wonderful man calls Sebastian "mate" and Sebastian knows he doesn't deserve him. He has to find a way to be worthy of his new home and his new mate. A strange Crellic book provides him with the answer to his problems, but it comes with complications of its own. Alois has been dreaming of finding his life-mate since he was a kid. He knows that Sebastian is a dream come true, but how can he convince his mate of that plus fight the baggage he carries from his own past? When Sebastian begins a strange, wonderful journey, Alois knows that he has to be the loving and supportive mate that Sebastian deserves. The two men build a life together and learn to love one another, but the galaxy is in turmoil and Charybdis Station is in the middle of it all.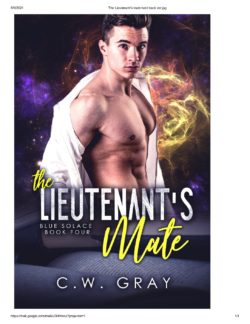 The Lieutenant's Mate (Blue Solace Book 4)
Word Count:

55,000
Summary: Morgan Murray is an easy, fun-loving guy. He excels at being a soldier, but never wanted more out of life. Somehow, he ends up in a position of authority on Dru's new ship, the Blue Sparrow. Now he has to deal with what he dreads most. Responsibilities. Dru and her crew are given the task of finding Wyatt Morrick and telling him about his father's death. Along the way, Morgan soon learns that responsibility can be painful, difficult, and frightening. It can also lead to something very special. Dr. Wyatt Morrick is in trouble. Big trouble. He and his medical crew are stuck on a planet under attack. He may not be a soldier, but he has patients and friends to worry about. With very few supplies left, something has to give for them to survive. The whole planet's future is at stake and he is stuck hiding in a cave. When Morgan saves Wyatt and his friends, the two men are given a gift, each other. Their love can't stop the Concord, though, and someone has to. Morgan has to grow and accept his responsibilities, and Wyatt has to move on from his father's death. That death just happens to be a little more complicated then Wyatt expected.
The Soldier's Mate
Word Count:

60000
Summary: Welcome back to the Blue Solace: (Sequel to "The Mercenary's Mate") Leti Ando and Will Hackett are certain about one thing in all the galaxy. They love one another. Now that they are mated, it's time to meet Hack's parents and settle into their new home. In a normal courtship, the two would spend time getting to know one another and reveling in their love. Normal isn't what they get. Leti struggles to understand the artifact Dr. Morrick left them, but what he's discovering is unbelievable and completely frightening. If his theories are true, then the entire galaxy is at risk. Meanwhile, he tries to adjust to Charybdis Station, deal with his parents, and worse of all, learn to cook. Luckily he has friends, old and new, to help him. Hack comes home to Charybdis Station, expecting a break from the hectic adventures of the past few months. What he gets are changes, more responsibilities, and a war with the Concord. He'll deal with it, though. All he has to do is look around him to understand why it's time to fight back. Together, the new couple must learn to stand together, to accept and support one another. Their happiness isn't the only thing at risk. Author's Note: 60,000+ words. This is a m/m love story with no angst and no cheating, just a HEA. There is lots of action, a little sex, mpreg, and a few potty mouths involved in the story. 18+ readers only, please. It is also the second book in a series that is best read in order. Read "The Mercenary's Mate" first!
The General's Mate