Horror stories that delves into the mind. Return to general Horror
Note: these books are currently sorted by release date, with newest first.
Word Count:

33000
Summary: Clarity (noun) Four definitions to inspire writers around the world and an unlimited number of possible stories to tell: 1) Coherent and intelligible 2) Transparent or pure 3) Attaining certainty about something 4) Easy to see or hear Clarity features 300-word speculative flash fiction stories from across the rainbow spectrum, from the minds of the writers of Queer Sci Fi.
Clarity
Word Count:

91000
Summary: She barely survived the last round. As the Red Dog Gang closes in on her Family, can she survive the next? After the devastating events of our last chapter, all private eye and mafia wife Jacqueline Spadros wants is to get her life back. Then a missing person she thought she'd never track down falls into her lap. Jacqui is thrown into a series of events which not only puts her and everyone around her into danger, but changes her life forever. Warning: on-screen murder, major consent issues, smoking, language, infidelity, betrayal, description of injury, gore, on-screen suicide, child injury This is chapter 9 of a 13-part serial novel. Please read these books in order: * The Jacq of Spades * The Queen of Diamonds * The Ace of Clubs * The King of Hearts * The Ten of Spades * The Five of Diamonds * The Two of Hearts * The Three of Spades * The Knave of Hearts <-- you are here Book 10 coming October 2023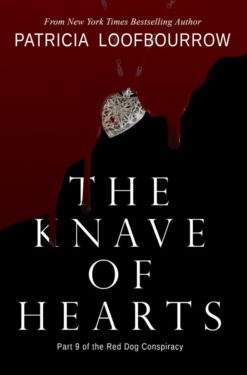 The Knave of Hearts
Word Count: Information not available
Summary: "Pain is pain. It all hurts the same." Inflicted with dark desire, one man chooses between idyllic pretense and disturbing reality. Haunted by the silence of deep space, an engineer chases an eerie melody. Torn between penance and pride, a dishonored prince challenges the course of history. Suffering cracks our hearts and splinters our minds. It scars and alters us in irreversible ways. Yet while pain breaks us apart, it also binds us together. Our broken pieces can never rejoin as they once were, but they fit together to create new and distinctive wholes. Like the Japanese art of kintsugi, we can fill the velvety darkness of our scars with gold. Inflicted with life, an intelligent machine questions the illogic of family. Tempted by the desire to die, a shop clerk confronts the promise of his life. Offered the chance to transform his disfigurement, a ruined being looks to the smallest of lives for acceptance. An amalgamation of science fiction and fantasy subgenres, Inflicted invites you to peer into your own pain, examine your scars, and remember you are not alone. Pain binds us all, and how we face our brokenness redefines us. Immerse yourself in the brokenness of others and come away with a new understanding of self.
Inflicted
Word Count:

110000
Summary: Mistakes were made. The future is uncertain. And Time doesn't care. As the story ends, we'll finally learn how it started. The world is breaking apart. Only the combined willpower of Hades and Hel can save it. But Love has other plans. Meanwhile, the gods need to deal with the outcomes of their choices; everyone else needs to survive them. And Psyche must finally face her greatest foe. Can free will cheat fate, or is fate the consequence of free will?
Anamnesis
Word Count:

65000
Summary: A young man sold into servitude has his loyalties tested in ways he never imagined. Raised in an orphanage in Dickens, Daniel doesn't know who his parents were, where he comes from, or even his last name. Like all orphans, on his 16th birthday, he's sold to the highest bidder. Not knowing where he's going, who's bought him, or what they even want with him, Daniel embarks on an adventure he never thought he'd take. He finds love, a family, and a secure future - yet in a split second, makes a decision he ends up regretting the rest of his life. Brothers begins fifteen years before the Red Dog Conspiracy series. Warning: Language, smoking, use of alcohol and drugs, attempted suicide by hanging, M/M underage sexuality with consent issues, forced servitude, blood, gun violence, a man being beaten by a horsewhip, murder, discussion of child prostitution, underage M/F sexuality with age gap (female older).
Brothers
Word Count:

132,220
Summary: Bobby Gene is a man who stands out even among his people. Guided by the knowledge of his heritage as a backwoods shaman and more perceptive than many, he's grown to be a valuable asset to those he knows. While he isn't surprised to be the first to know when the woods around him begin to show clues that something isn't right, he doesn't expect just how much these omens and signs will prove to foretell something far more sinister to come. Soon strange dreams and inexplicable encounters have him questioning everything he knows- and then the people who live in his woodland Appalachian community begin to disappear. It's his job to protect and guide the others, what will he do when he's the only thing between them and the end of life as they know it?
Night is Falling
Word Count:

20000
Summary: Arianh had one wish. Yewlow made it real. And Time turned it into a regret. Anachrony takes you on a journey to the bleak future of Aegea and the darkest places of the mind. Can fate be avoided, or is the future just someone else's past?
Anachrony
Word Count: Information not available
Summary: Nurse Stitch has her mouth sewn shut and her memory erased. John Doe has undergone 'nightmare surgery', his memory also erased, replaced by crippling trauma and delusions. Mahmoud Farouz is a captured insurgent from Iraq who is going to be used by a special Black Op organization to make America feel fear again. When these three prisoners of a secret underground torture facility band together to escape, they cannot realize that not only has their torture been orchestrated, but so too will be their path to freedom.
Fear
Word Count:

81000
Summary: As a private eye closes in on her city's secrets, there are those who will go to any lengths to stop her. After the horrific events of our last chapter, Jacqui's in a medical predicament. If she wants to stay free from the Spadros crime syndicate, she has to find the cure for her condition - and time's running out. But just when Jacqui thinks she's found what she's after, she finds herself instead in a much bigger - and deadlier - situation. She's getting closer to discovering what mechanisms really lie beneath the city. And the Red Dog Gang isn't the only one who wants her stopped. Warning: on-screen death, captivity, child murder, terror, blood, bad language, smoking.
The Three of Spades
Word Count:

36000
Summary: INK (NOUN) Five definitions to inspire writers around the world and an unlimited number of possible stories to tell: 1) A colored fluid used for writing 2) The action of signing a deal 3) A black liquid ejected by squid 4) Publicity in the written media 5) A slang word for tattoos Ink features 300-word speculative flash fiction stories from across the rainbow spectrum, from the minds of the writers of Queer Sci Fi.
Ink
Word Count:

100000
Summary: The Nephilim loom over Niflheim. Gods, Dharkan and mortals fight amongst themselves in their shadow. And Time is on no one's side. The gods are outmatched, their talents useless against the Nephilim's technology. Desperate, they turn on each other. New alliances form and fall apart, for there can be no peace when survival is at stake. Psyche, torn between a goddess's duty and a mortal's hate, sets off on her own to learn the truth behind her fate, unaware of the danger following her. Meanwhile, Chronos' own agenda involves a power so dangerous and unpredictable it's been long forsaken by both the gods and the Nephilim. Will it be worth the risk?
Nephilim's Hex
Word Count:

70000
Summary: Jacqui faces her biggest mystery yet - and her greatest fear. A drive-by shooting leaves Jacqueline Spadros with little remaining support for the life she's built apart from her estranged husband Tony. As evidence grows that the Hart Family is behind the attacks, which up to now have been laid on the doorstep of the notorious Red Dog Gang, Tony brings formal charges against the Harts before the Commission. Jacqui wants to stop the Red Dog Gang and learn the truth about Charles Hart's obsession with her. But the truth is stranger than she ever imagined. And what she learns changes everything. This is chapter 7 of a 13-part future steampunk noir series. Please begin with The Jacq of Spades and read the books in order.
The Two of Hearts
Word Count: Information not available
Summary: Dear Diary,I am a star. I've finally found the yellow brick road to fame. I could teach anyone. As long as they are willing to die for it. A bomb goes off in Buffalo, N.Y. That same day FBI agent, Daryll Peltier, receives the first of many correspondences from a serial killer calling themselves, Sam-I-Am. The gruesome torture and murders of the killer's victims are filmed and broadcast on live television. Creating a puzzling masterpiece of blood and torture which the FBI can't unravel. Daryll and her partner, Frank Zepano, began a hunt for the killer across the continental United States and into the Caribbean. The hunt involves cryptic messages, a strange and powerful cult, an unstoppable nano virus, the International Space Station, a trailer park psychic, a tabloid newspaper journalist, a computer hacker, the Oscars…and a body count of one victim per state.
Cut
Word Count: Information not available
Summary: Who doesn't crave a little escape? Dreaming of small town life and rural charm, Alex and Rainey find a deal on an old rustic home they can't resist. But soon after Rainey moves, her preoccupation with weird local history and the complications of living alone in the woods take a toll. Alex worries that the long nights and growing isolation are driving her stir crazy. When the Sugar House is damaged and Rainey goes missing, Alex doesn't know where to turn. Was it a storm, vandals, or something worse? What happened at the Sugar House? The only thing worse than wondering is finding out.
Liar: Memoir of a Haunting
Word Count:

100000
Summary: Short Synopsis Agata Rosso, a once-mighty yet now prematurely aged European witch, believes that the special gifts in a young girl named Lía Munro can restore youth and vitality both to herself and her bedridden husband. She sets a deadly plan in motion to capture and use Lía—but will the girl have enough power to protect herself, plus the father she loves so much? Outline 1940 in a small farming region, and children have disappeared from the land. Local families—old-time Australians and newer European arrivals—know what to do about packs of wild, scavenging dogs in the forests, but they seem to have no way of finding children whose very bones have vanished from the earth. They also don't know how to deal with the strange couple Mr and Mrs Rosso, who might just hold the key to everything—including the miraculous breaking of a ten-year drought. Now it's 1977 and the wider city is growing, encroaching into these outlying communities and turning pristine farmlands into new housing estates. Paul Munro and his daughter, Lía, have arrived to inspect an available property; it's the secluded hillside old home of the Rossos. Paul and his wife—who has recently died—grew up around the area. Paul wants to show Lía the countryside of his early years, but when Lía experiences Rosso House for the first time its undeniable spell and the spirits it hides makes her understand that this is the place she really wants to be. Just turning sixteen, grieving the loss of her mother, experiencing a spiritual awakening she doesn't understand, Lía loves the quiet isolation and rural beauty that Rosso House and its land has to offer. At first her new life with her father seems idyllic, yet she's soon drawn into committing a terrible act of mercy. At the same time Paul meets the beautiful and enigmatic Candela, only to become ensnared in the evils that hold her and her baby captive. The connection between Lía's suffering and Candela's troubles might just be the wizened old witch, Agata Rosso. Constantly searching for a way to restore her youth and her husband's powers, Agata soon discovers just how useful Lía could be. She sends the most ruthless of men to capture her; in parallel, the terrifying man-wolf-father of Candela's baby will do anything to get his son back. Lía desperately needs her father's help; Candela is trying to escape a world of violence; both women are soon confronted by the very definition of evil. Will they find help from others, or is there some deeper answer within themselves? The shadow-worlds of ancient evil and modern corruption collide in this supernatural thriller, blending past and present, history and fiction, into a mesmerising adventure.
The Crying Forest
Word Count:

12000
Summary: Luella Carey isn't crazy, not really, not that anyone believes her. Sent to Barrow Haven Asylum for a melancholic nature, she's locked away at the behest of her father and his new wife. Grieving for her mother's death, Luella finds comfortable solitude in the asylum until several anonymous letters appear. Mr. Winifred Carey's new wife intends murder. She plans to claim the Carey fortune as her own. Mere days to escape the asylum and warn her father, Luella turns to a new friend, Mr. Isaac McEwen. The clock ticking down the hour, Luella fears her final decision. A grave mistake, perhaps? But who can she trust?
Clandestine
Word Count: Information not available
Summary: The enemy is defeated. The gods strike a truce. And the Dharkan strike against the gods. Victory has cost both gods and mortals dearly. The veil between life and death in Niflheim is thinner than ever. Try as they might, the gods are powerless against the influence of Time, and their past mistakes threaten not only their future but their very existence. Now the fate of eternity rests in the unlikely alliance between the goddess of the soul and a soulless Dharkan, as they must work together to achieve peace between the living and the dead in Aegea. And although their goals may seem similar, the motivations behind them couldn't be more at odds with each other. Meanwhile, a greater enemy approaches. Or maybe it's already here...
The Dharkan
Word Count:

95,000
Summary: Ian Trahan is a science prodigy with a genius streak like no other. Growing up in New Orleans under the strict guidance of a Deacon with a dark side, it leaves no question as to why he chose the life of crime. His understanding and use of DNA, computer hacking and looking like the guy next door, compiles a terrifying character that you will never forget!  Magda Volkov, a native Russian, works for the BAU division of the FBI.  Her clairvoyant ability is something that her director has learned to trust and use to their advantage, especially with a seeming "Ghost Killer" at hand. The deeper she gets into his psyche, the more they are both surprised when their strange vivid dreams begin to intertwine. Childhood experiences shape both the killer and the FBI agent who urgently wants to stop the grisly murders. Delve into the surprise twists and turns of this page turning thrill ride. The occasional comedic relief provides you with a brief release of the terrorizing heart palpitations!  This series is not for the faint of heart. Personas is the first in a new thrilling psychological crime series to come. Log into www.lauralollie.com to subscribe for the updates on the releases of the books to follow.
Personas Series
Word Count:

78,000
Summary: A new year has begun, and the annual Sower's Festival gala is brimming with Dockhaven's elite and their entourages. Some attend for the spectacle, some for the exotic indulgences, some to augment or gamble away fortunes. Others come to play opening moves in more subtle competitions, ones that will not realize their endgames for months to come. After a winter of convalescence, Aliara Rift wonders whether she is ready to return to the Thung Toh and if her remade body will betray her. Her mate, Duke Sylandair Imythedralin, has many concerns, the foremost being the looming destruction of the only home in which the two of them have truly felt safe. Together they will thwart land barons, politicians, and assassins as they navigate their way through a single day in Ismae's greatest port city. They Eat Their Own is the second Thung Toh Jig, a science fantasy action adventure following members of Ismae's preeminent covert organization as they execute contracts for Dockhaven's most powerful and ruthless citizens.
They Eat Their Own
Word Count:

75000
Summary: Be careful what you wish for … After eleven years trapped in the Spadros crime syndicate, 23-year-old private eye Jacqueline Spadros is an independent woman, free to run her investigation business. But her problems are only beginning. Deeply in debt, Jacqui is in danger from both the rogue Spadros men calling themselves "The Ten of Spades" and the ruthless Red Dog Gang — who may be one and the same. Jacqui is determined to find Black Maria, the key to the identity of the Red Dog Gang's secretive leader. To survive long enough to do that, Jacqui needs a paying case. The one she's offered may put her in the most danger of all …
The Ten of Spades: Part 5 of the Red Dog Conspiracy