Fantasy stories that draw on  myth, legend, folklore, and fairy tales. Return to general Fantasy
Note: these books are currently sorted by release date, with newest first.
Word Count:

11500
Summary: A dark fairy tale in a modern Greek setting. Hiding in the mountains, a harpy and her adopted daughter struggle to survive. Iphis has always known that survival comes hand in hand with loneliness, but when she catches feelings for a girl in the nearby town, her heart yearns for a different kind of future. When she's suddenly attacked by a group of enraged harpies, things only become more complicated... and dangerous.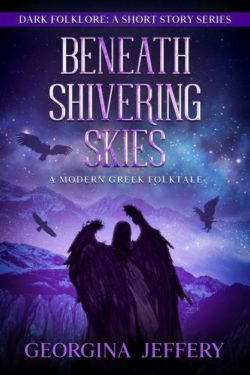 Beneath Shivering Skies
Word Count:

33000
Summary: Clarity (noun) Four definitions to inspire writers around the world and an unlimited number of possible stories to tell: 1) Coherent and intelligible 2) Transparent or pure 3) Attaining certainty about something 4) Easy to see or hear Clarity features 300-word speculative flash fiction stories from across the rainbow spectrum, from the minds of the writers of Queer Sci Fi.
Clarity
Word Count:

115000
Summary: Battles and adventure crisscross the Viking Age! From monumental sea clashes to beleaguered mountain strongholds to war with the tribes of Eire, circumstance drives the scattered Agneson clan across the known world. And beyond the lands of Midgard, mythic hidden folk challenge our forerunner hero. The award-winning Forerunner Series epic continues…. Fleeing an arranged marriage, Kara escapes across the narrow sea to follow her warrior dreams. Escaping slavery, Cub joins Rollo's horde in Britany, while his outlawed brother Sorven fights for survival in the Welsh mountains. Uncle Karl and his warriors rally to Harald Tanglehair in his ambition to unify the wild kingdoms of the North Way, and young Thorfinn is left behind, safe and secure in a tiny fishing village... or is he? Kara gains her place in king of Dublinn's ranks to prove her mettle, but being a warrior is not what she expected, and what of these new feelings she finds for her closest companion? Will Karl and his crew perish in the great battle of Hafrsfjord? And how will an unprepared Thorfinn survive kidnapping by an 8-armed giant, leaving behind worried friends and a very angry dragon? Don't miss this 5-star epic fantasy critics are calling "whimsical and gritty," with "fabulous, engaging characters." If you enjoy the history of The Last Kingdom and Nordic myths and legends, the Forerunner Series is a grand tale not to be missed!
Kara Shieldmaiden of Eire
Word Count:

36,000
Summary: It is Ancient Greece, when heroes were forever 'accidentally' killing their own fathers and marrying their own mothers. So what's a young prince supposed to do when he falls in love with the wrong woman? Dare he trust his heart or will the Fates interfere? King Oeneus of Calydon has just been given the secret of wine by the god Dionysus. Unable to hold his liquor, vomit-bespattered Oeneus drunkenly forgets to honor the goddess Artemis at the harvest festival. Oh dear, bad mistake. These gods are larger than life, and bigger in emotions too. In revenge for this insult, the angry, man-hating Artemis sends a gigantic and crazed wild boar to ravage the land. With its burning breath and tusks longer than a brave man's spear, nothing can stop this monstrous beast. What can the befuddled King Oeneus do to save his kingdom? Send out a message to the greatest heroes of the age, that's what. Soon, a party of mighty mythical heroes, led by Oeneus's son, Prince Meleager, is on the trail of the fearsome monster - but one of these heroes is a heroine! Atalanta the Indomitable is a huntress to match Artemis herself, and quickly wins the heart of Meleager. Will one of the men make the kill, or will they be humiliated when the prize goes to a woman? Will Prince Meleager woo and win Atalanta, or will the cruel gods intervene as usual? Who will die and who will survive in this tale of great loves and even greater lusts in the ancient world? A rip-roaring tale of jealousy, foul play, a family at war with itself, and a battle of the sexes - all in Weichsel's unique, no-holds-barred, ribald style.
The Calydonian Boar Hunt
Word Count:

26000
Summary: Jealous angels with no genitals discover the passion and ecstasy that humans experience through sex. In revenge, the frustrated but impotent celestial beings banish the men to the wilderness. Will the women save the human race, or will they become the mothers of great evil?
Not Far from Eden
Word Count: Information not available
Summary: When Joan's husband dies, she is forced to move with her young son, Joey, from home to home. But at each home, an evil follows, forcing Joan and Joey to move again and again, hunted. They never know why they're being hunted. All they can do is run away from the constant threat until, hopefully, it gives up the chase … or they find a savior who can either end it, or help them to fight it forever.
Widow
Word Count:

100000
Summary: The Nephilim loom over Niflheim. Gods, Dharkan and mortals fight amongst themselves in their shadow. And Time is on no one's side. The gods are outmatched, their talents useless against the Nephilim's technology. Desperate, they turn on each other. New alliances form and fall apart, for there can be no peace when survival is at stake. Psyche, torn between a goddess's duty and a mortal's hate, sets off on her own to learn the truth behind her fate, unaware of the danger following her. Meanwhile, Chronos' own agenda involves a power so dangerous and unpredictable it's been long forsaken by both the gods and the Nephilim. Will it be worth the risk?
Nephilim's Hex
Word Count:

120552
Summary: Like a spout pushing its way through soil extending deep mighty roots as it grows firm and tall, Michael like those around him has become renewed in the sun. The Wheel of Creation continues to turn through tragedy and triumph with secrets and mysteries revealed, truth discarding deceit to rot away into dust. Terror still lurks in shadow, hinting at battles yet to come and while the union of souls may reign down catastrophe upon all involved, there is a newly shared optimism that this town, rebirthed and revived again after decades can meet the oncoming storm together. Bonded in battle, humbled in heart new friendships have replaced old animosities as all the residents are finding their place in creation.Despite the odds, the couple continues their path toward blending, but if the sun sets on their hopes or the union is not supported by the Mother, disaster could befall not just Michael and Kurra but the entire Grove.Book four of The Place Of Things is Blood. The blood spilled and shared through trial and combat, forged in a family or spilled through injury, death, or pain and joy. Will the Great Mother approve of a blending of souls, or will the remains and splatter of not just Michael, but all those he holds dear be splashed in chunks upon the wedding alter.As this story concludes in the middle it continues on like the cycle of the seasons. Never ceasing always evolving. Until next time, Love from the Sacred Grove.
The Place Of Things Book Four: Blood
Word Count:

115000
Summary: From Cornish pit mines to Jorvik back alleys, from the Mercian Court to beyond the North Sea, the Agneson clan continues their adventures across Midgard and the 9 realms: Scheming aldermen, duplicitous monks, slave drivers, dark elves, trolls, ghosts, shapeshifting witches, the legendary Norse Wild Hunt, and… a dragon! With the fall of the Danish army at the battle of Ethandun, historical events scatter the Agneson family: Cub is enslaved in the Devonshire tin mines while Sorven stalks retribution in Jorvik; Kara is unwillingly propelled toward a convenient Saxon marriage while Karl and his crew are castaway on a mythic floating island. Separated and marooned, each is forced to tackle their challenges alone while the forerunner Thorfinn faces supernatural revenge, a battle to lift a Jarl's curse and the release of his Jotunhiem wyrm in Midgard! Can Cub escape his overseers in the tin pits of Devon? Can Kara evade her Saxon uncle's plans for her marriage? Will Sorven succeed in his bloody revenge? Can Finn save a Jarl's daughter and break a mysterious curse? Can the forerunner find and help his scattered family overcome their trials? And what can Finn do with… a pet dragon?!? Based on actual historical events and authentic legends, this epic fantasy follows the paths of the sons and daughters of Agne, Son of Ironfist in the Viking Era circa the year 880. Don't miss this grand panoramic tale!
On Viking Seas
Word Count:

52200
Summary: Staging a musical in Purgatory can be absolute hell. Lonnie Coleridge last saw the sun in 1968. Since then, he's been consigned to Limbo, still wearing the same tie-dyed T-shirt and bell-bottomed jeans he had on when he left his life behind. He and others like him have one chance each year at redemption: produce a show for the Greek pantheon. Whoever pleases this very specific—and temperamental—fan group could earn the right to move on. But after a literal act of god (*cough* Hermes *cough*) destroys their sets, lights, and costumes, the company needs emergency help to rebuild. Without it, all of them could poof out of existence forever. Out-of-work theater technician TD Baylor has precisely three things on his cosmic wish list: a job, a place to stay, and a boyfriend who isn't a total tool. He thinks he's got the first two nailed when he gets a line on a two-week gig that includes room and board. So what if the job tip came from a guy who was leaning way too hard into the LOTR cosplay at a sketchy Halloween pop-up? At this point, TD doesn't have anything more to lose, so he figures…what the hell. He didn't realize hell was the operative word. When Lonnie greets him at the theater door, though...whoa. TD fantasizes that item number three could be within his reach. But then Lonnie gives him the bad news: This is Purgatory Playhouse, aka Theater of the Darned. In two weeks—if they're lucky and can successfully mount a musical version of A Midsummer Night's Dream—the company will return to Limbo after the curtain falls. If they're not lucky? Remember that part about hell? Purgatory Playhouse is part of the multi-author Magic Emporium Series. Each book stands alone, but each one features an appearance by Marden's Magic Emporium, a shop that can appear anywhere, but only once and only when someone's in dire need. This book contains a theater techie who's one couch surf away from homeless, a production assistant who's sort of, um, not alive, Greek gods behaving very badly indeed, and a guaranteed HEA.
Purgatory Playhouse
Word Count:

53000
Summary: England, 1910 Monty, along with his best friend Bishop, investigates an odd seal-like creature swimming in Manchester Lake. The pair soon realize they've found a selkie when the magnificent animal transforms into the most gorgeous man either of them has ever seen. Determined to discover the origins of the mystical man, they bundle him into Bishop's brand-new electric automobile and whisk him off to London. There they find a host of distractions: a tastefully debauched house party hosted by silver-tongued aristocrats, and a queerly European-inspired novelty called the night club. Both are filled with a cast of characters sometimes amusing and sometimes frightening. And as the night unfolds, Monty comes face-to-face with ghoulish agents of the occult as well as revelations from the past. Most surprisingly of all, Monty finds himself falling for the beautiful creature from the lake, who seems equally interested in him. Can he really find himself in love with a man he has only just met? Or do they have a deeper connection which goes much further back? And what does it all have to do with the memories of his trip to Paris three years prior? The mystery of the selkie from Manchester Lake is only the beginning, and before their adventure is finished Monty will see the culmination of long suppressed secrets explode in a firestorm of magic and passion!
Manchester Lake
Word Count:

48338
Summary: Every story has a beginning…. Dragons. Angels fear them and demons follow them. Formidable beasts of incredible power, they fight each other to the death for dominance. But dwindling dragon numbers cause alarm among the angelic ranks. Surely when the dragons have finished killing each other, the victors will search elsewhere for conquest… maybe even the Upper Realm. Roland, an angelic artist of significant talent, doesn't know what to believe. Part of him longs to see a dragon in person, and his peaceful life of contentment is wearing thin. He wants passion, desire, adventure, and love. He gets more than he bargained for when he and his sister are ambushed and captured by demons, and they bring him to a creature who surpasses Roland's wildest imaginings. But the mighty dragon Asagoroth is not all that he seems. Something sparks between him and Roland. Something neither anticipated. Something that will shake the cosmos to its core. Note to readers: this is the second edition, fully revised and updated.
On Wings of Passion
Word Count:

216321
Summary: Root by Daniel Fisher, the third book in the Place of Things series is the continuing story of Michael and his new, rather unique fiancée. From the Winter's Solstice to the Vernal Equinox we find our lovers and their friends explore new and creative ways to adapt to life-altering events. Having relocated and now a resident in the sanctuary town of Sacred Grove, Michael is finding his place among the mythical, mystical, and mostly immortal residents who've hidden away from the outside world. Not only is he coming out of his own isolation, but they are also finding he is dragging them out of self-imposed exile as well. Sometimes against their instincts. As his and Kurra's love deepens, new mysteries are added to the mysteries and his and their worlds will never be the same.As the union between two souls from two drastically different worlds draws closer, new mysteries, challenges, and threats crop up for Michael, the mortal, and all the immortals that get caught in his wake. Enchantments and wards may not be enough to hold back the onslaught of supernatural forces if the wedding gets bumpy. Many may yet perish if things go awry. May the Goddess help them all.Book four, the conclusion to this tale coming soon.
The Place Of Things Book Three: Root
Word Count:

73000
Summary: When supernatural secrets collide, it'll take more than coffee to brew the perfect love. When Ky Hernández bonded with his familiar, Zuri, his life changed forever. Their connection turned him into a practicing witch and led him to his calling as a medimagical professional. However, it totally tanked his love life—what guy would settle for eternal second place behind a parrot? So Ky keeps his witchy nature under wraps and sticks to hookups with humans, which can never go anywhere. But the mouthwatering barista at the coffee shop next door makes him thirst for more than a caffeine fix. The charms Ewan Jones uses to appear human are inconvenient, disorienting, and . . . necessary. Ewan and his siblings are achubyddion, metaphysical healers whose powers are coveted by unscrupulous supernatural beings. And let's face it: all supes are unscrupulous, given the right incentive. He's grateful for the protections that hide his little family, and for the barista job that keeps them housed and fed. He's just so lonely. And his regular, Ky, the super-hot, commitment-averse EMT, seems like the perfect candidate for a one-night shot at intimacy. After all, humans are no threat. It takes a clumsy coffee shop intern, a mysterious werewolf epidemic, and one snarky parrot to unravel their pasts—and give them a chance at a future.
Witch Under Wraps
Word Count:

107884
Summary: Julian Gypsun used to be a young man on his way to becoming a contractor. Everything changed when he died and was resurrected as a wizard's familiar. He was immortal and far better off physically than he had been as a human. Still, he was trapped with his life chained to a giant of a wizard who had no problem abusing him in every way imaginable. Julian was powerless to stop it without ending his own existence. That is until he was yanked bodily through his own portal, transported to Draoithe, and assigned to babysit the visiting dignitary, Amazon Warrior Princess Zephyra, and try to convince her that her people should ally themselves with Luke and Draoithe. That sounded easy, but it wasn't. He liked her. He had no clue how to act on that. Best to avoid that altogether. Keeping her safe just might equal his death. (Please see her warrior princess title.) She was old and so far out of his league. Worse, she liked him and was determined to have him. He can't even consider that. She has no idea how broken he really is.
Draoithe: Midnight Magic
Word Count:

88743
Summary: Stone Is the second book in the place of things series. It picks up where the first book left off. Michael Anderson is now in a strange new world of mystery and Myth, as well with a strange new bed mate is beginning to find his way. Bone follows his journey as he finds a life outside of the mundane world, and embraces a world he could never have though possible.
The Place Of Things, Book Two: Stone
Word Count:

125889
Summary: Alex Philothea, the newly appointed director of the Keepers of the Holy and Noble Maat, is fighting to save the agency her ancestors have led for over two millennia. Operating in deep cover, KHNM shields the mortal realm against the lethal chaos of the Immortals. As Alex battles the Gods over the agency's existence, she is in a race against time to contain dangerous magical artifacts. If the Gods succeed in shuttering the agency and these ancient objects fall into unworthy hands, humanity will pay a deadly price. Deep in the Netherworld, adventurer Jorge Trinculo unearths a primordial book of magic. It exposes one of KHNM's darkest secrets. For years, the agency has been erasing the memories of his encounters with the Immortals. As his old life floods back, he realizes all that he has lost. In Jorge's pursuit of revenge, his future becomes entwined with that of a power-hungry magician. A magician who has waited patiently, for centuries, to possess the forbidden book and wield its lethal magic against the mortal realm.
Gift of the Sphinx
Word Count:

103061
Summary: SISTER. ASSASSIN. VESSEL. Echo Rodrigal isn't just a survivor; she's a success. But in a land where the law is there are no laws, the terms of success rest on a knife's edge, and Echo's luck is about to change. The Vindicata are one of the top vengeance crews in the Ten Realms of Interra. Their oaths to only commit crimes of justice have earned them the respect of their peers. But the Vindicata are more than a crew, they're a family. And ever since they adopted Echo, she's cared about one thing: making her family proud. For years, that's meant becoming the continent's most feared assassin. But each kill wreaks havoc on her soul, no matter how justified. Echo's unraveling fast, complicated by the mysterious rift growing between her and her beloved sister. Miyala's keeping dangerous secrets, and Echo cannot find the key to unlock her sister's trust. When the Warlord orders the Vindicata to transport foreign dissidents to a new prison, they must put their personal issues aside to face an impossible choice: die for defying orders, or die for breaking their oaths to uphold justice. Between meddling gods returning to the continent, mercenaries around every corner, and an ancient prophecy that foretells the end of all worlds, the pressure on Echo is mounting fast. Can she make enough right moves to save her family? The fate of many worlds rests in Echo's next choice.
Vessel of Starfire
Word Count:

36000
Summary: IN-NO-VA-TION (Noun) 1) A new idea, method, or device. 2) The introduction of something new. 3) The application of better solutions to meet unarticulated needs. Three definitions to inspire writers around the world and an unlimited number of possible stories to tell. Here are 120 of our favorites. Innovation features 300-word speculative flash fiction stories from across the rainbow spectrum, from the minds of the writers of Queer Sci Fi.
Innovation
Word Count:

157790
Summary: Michael Brian Anderson is a cynic, a mess and an agnostic, who in spirit is truly a wayward soul lost in suffering until this person finds their life turned upside down in an epic journey through Myth, Folklore and a world of the strange, the wyrd, and the gifts from creation.Transforming like a chrysalis from a broken body into a full realized and rather imposing figure.This tale I spin is an epic invocation that transcends billions of years through space/time and evolution to cast what one can blossom into when unconstrained by limitations of the mind, and a full realization of the spirit, that a broken body and heart can heal and effect the very outcome of the Great Web of Creation herself.
The Place Of Things, Book One: Bone