Sci fi stories that cross genre boundaries between science fiction, fantasy, and literary fiction. Also known as literary fiction with a little sci fi or fantasy. Return to general Sci Fi
Note: these books are currently sorted by release date, with newest first.
Word Count:

67000
Summary: Androids & Aliens is Scott's third short story collection - eight sci fi and sci-fantasy shorts that run the gamut from cyborgs to (comedic) alien invasions: Rise: The rise in sea levels caused by climate change swallowed Venice beneath the lagoon half a century ago. But what if we could bring it back? Ping: I was a real estate agent by day, and a museum curator in the evening at a sci-fi museum. What I saw one night changed everything. What the Rain Brings: Miriam struggles to make a living in post-climate-change Vancouver. But her friend Catalina has it even worse in the Arizona desert. So Miri hatches a plan. High Seven: Zan dreams of making full reals - immersive live virtual reality skins - but his low score may doom him to a life of cheap coding. Full Real: Dek's given up his life of spying for the city. But one more case awaits him. Will he regret it more if he takes it, or turns it down? Shit City: The Bay Area is being walloped by a hurricane, and seventeen-year-old Jason Vasquez has been relocated to a refugee city in the Nevada Desert. Will it be temporary shelter, or change his life? Firedrake: Kerry has always wondered about his deadly powers. But a mysterious bunch of violet roses starts him on the path to discovery - even if he's not sure he's going to like what he finds. The Last Human Heart: I'm one of the Remainers, the few cyborg humans still living on this busted planet. But if my still-human heart finally gives out, I may not live to find out the truth about who I am. This is the first time all of these stories have all been collected in one place, and the first publication of the Pacific Climate Tryptich - What the Rain Brings, High Seven, and Full Real - in any form.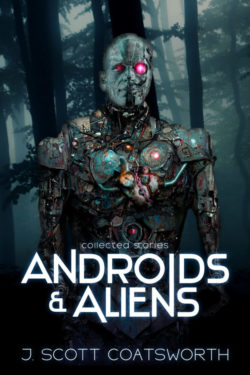 Androids & Aliens
Word Count:

110000
Summary: Mistakes were made. The future is uncertain. And Time doesn't care. As the story ends, we'll finally learn how it started. The world is breaking apart. Only the combined willpower of Hades and Hel can save it. But Love has other plans. Meanwhile, the gods need to deal with the outcomes of their choices; everyone else needs to survive them. And Psyche must finally face her greatest foe. Can free will cheat fate, or is fate the consequence of free will?
Anamnesis
Word Count:

20000
Summary: Arianh had one wish. Yewlow made it real. And Time turned it into a regret. Anachrony takes you on a journey to the bleak future of Aegea and the darkest places of the mind. Can fate be avoided, or is the future just someone else's past?
Anachrony
Word Count:

36000
Summary: INK (NOUN) Five definitions to inspire writers around the world and an unlimited number of possible stories to tell: 1) A colored fluid used for writing 2) The action of signing a deal 3) A black liquid ejected by squid 4) Publicity in the written media 5) A slang word for tattoos Ink features 300-word speculative flash fiction stories from across the rainbow spectrum, from the minds of the writers of Queer Sci Fi.
Ink
Word Count:

100000
Summary: The Nephilim loom over Niflheim. Gods, Dharkan and mortals fight amongst themselves in their shadow. And Time is on no one's side. The gods are outmatched, their talents useless against the Nephilim's technology. Desperate, they turn on each other. New alliances form and fall apart, for there can be no peace when survival is at stake. Psyche, torn between a goddess's duty and a mortal's hate, sets off on her own to learn the truth behind her fate, unaware of the danger following her. Meanwhile, Chronos' own agenda involves a power so dangerous and unpredictable it's been long forsaken by both the gods and the Nephilim. Will it be worth the risk?
Nephilim's Hex
Word Count:

85000
Summary: ALSO AVAILABLE FROM INGRAM FOR BOOKSTORES We're a world beset by crises. Climate change, income inequality, racism, pandemics, an almost unmanageable tangle of issues. Sometimes it's hard to look ahead and see a hopeful future. We asked sci-fi writers to send us stories about ways to fix what's wrong with the world. From the sixty-five stories we received, we chose twelve most amazing (and hopefully prescient) tales. Dive in and find out how we might mitigate climate change, make war obsolete, switch to alternative forms of energy, and restructure the very foundations of our society, The future's not going to fix itself.
Fix the World Anthology
Word Count:

36000
Summary: IN-NO-VA-TION (Noun) 1) A new idea, method, or device. 2) The introduction of something new. 3) The application of better solutions to meet unarticulated needs. Three definitions to inspire writers around the world and an unlimited number of possible stories to tell. Here are 120 of our favorites. Innovation features 300-word speculative flash fiction stories from across the rainbow spectrum, from the minds of the writers of Queer Sci Fi.
Innovation
Word Count: Information not available
Summary: The enemy is defeated. The gods strike a truce. And the Dharkan strike against the gods. Victory has cost both gods and mortals dearly. The veil between life and death in Niflheim is thinner than ever. Try as they might, the gods are powerless against the influence of Time, and their past mistakes threaten not only their future but their very existence. Now the fate of eternity rests in the unlikely alliance between the goddess of the soul and a soulless Dharkan, as they must work together to achieve peace between the living and the dead in Aegea. And although their goals may seem similar, the motivations behind them couldn't be more at odds with each other. Meanwhile, a greater enemy approaches. Or maybe it's already here...
The Dharkan
Word Count:

95000
Summary: The God of Time wants to destroy Eternity. A mysterious immortal seeks vengeance. And a reclusive deity does what no god should ever do: she answers a prayer. As punishment, she is stripped of her powers and trapped in a mortal's body. Now a Wyrd – a fated god – she is haunted by the memories and thoughts of her host and must hide her true identity in order to survive in Niflheim, the rival Norse Underworld. There she discovers the afterlife is not quite what it used to be. Niflheim's new ruler threatens the precarious balance of a world overrun with outcast deities and mortals alike. To save her own sanity and find her way back to the stars, she must help the other Wyrd overcome their grievances to defeat this enemy, but those who would be her allies appear to have motives as hidden as her fragmented consciousness. And yet it seems the greatest threat to her freedom comes from within, and the prize it seeks is her immortal soul...
Wyrd Gods
Word Count:

130000
Summary: A Journey to the Crossroads of Science and Myth The New Leprosy plague and a geomagnetic reversal threaten earth's precarious balance. An unlikely trio may hold the key to reset the compass of the world:
"Saint Ariadne" Demodakis—a Greek bioelectricity researcher who realizes she's curing plague victims by laying on hands.
Peter Mitchell—a jaded American veteran of the latest Gulf War, now a smuggler in the Mediterranean.
Leeza Conreid—a paparazza equipped with the latest neurally-connected media implants, who wants revenge and a big story.
Peter, blackmailed into bringing Leeza along, hires on with reclusive Ariadne to secretly  transport her to sacred sites in the Greek islands. She seeks to confirm a connection between the pandemic, geologic upheavals, and ancient lore that promises healing for humans and the planet. Peter doesn't realize they'll be pursued by violent Sons of the Prophet, mercenaries, and a cult of warrior women, out to claim Ariadne's rumored powers—or kill her. He will need all his wits and weapons to protect Ariadne as she labors to control her connection to the dangerous forces that may deliver a global cure. Or destroy them all.
The Ariadne Connection
Word Count: Information not available
Summary: Spaceship captain Tom lost his copilot and lover to a slipstream accident, but he refuses to accept Briak is dead. As he loses himself to his obsession, his ship begins to exhibit technical glitches and personality traits not normal for a shipboard computer. It gets worse as Tom finds a new pilot and decides to manipulate the slipstream to go back in time and stop the accident from happening. But if Tom can't figure out the problem, the space-time jumps may tear the ship—and his dreams of reunion with Briak—apart.
Renegade
Word Count: Information not available
Summary: Eclectic, imaginative, and unexpected, Community of Magic Pens features forty genre-spanning flash and short stories--including fantasy, humor, science fiction, romance, historical fiction, satire, and mystery--bringing together a rich group of diverse voices from a wide range of backgrounds and intersections. Fountain pens, markers and ink, charcoals, spy pens, a braille writer, a printing press, virtual reality, and a supernatural pizza: whether revealing unspoken truths, fighting injustice, or finding friendship and love, our pens have power. Join us as a recent graduate of superhero school struggles to understand her gift, a disabled android interviews for a job, a queen's conscripted artist must pull reality from illustrations on parchment, and a grandmother's secret room is…better kept a secret. Tales of struggle and triumph, compassion and hope: Community of Magic Pens is a celebration of our shared story.
Community of Magic Pens