Sci fi stories that depict future societies that have reached some level of idealism and perfection. Return to general Sci Fi
Note: these books are currently sorted by release date, with newest first.
BOOKGRID
Word Count: Information not available
Summary: In this stunning work of speculative urban fiction, Redfern Jon Barrett breaks down the binary between utopia and dystopia—presenting an ambitopian vision of the world's first gay state. A glittering gay metropolis of 24 million people, Berlin is a bustling world of pride parades, polyamorous trysts, and even an official gay language. Its distant radio broadcasts are a lifeline for teenagers William and Gareth, who flee toward sanctuary. But is there a place for them in the deeply divided city? Meanwhile, young mother Cissie loves Berlin's towering high rises and chaotic multiculturalism, yet she's never left her heterosexual district—not until she and her family are trapped in a queer riot. With her husband Howard plunging into religious paranoia, she discovers a walled-off slum of perpetual twilight, home to the city's forbidden trans residents. Challenging assumptions of sex and gender, Proud Pink Sky questions how much of ourselves we need to sacrifice in order to find identity and community.
Proud Pink Sky
Word Count:

36000
Summary: INK (NOUN) Five definitions to inspire writers around the world and an unlimited number of possible stories to tell: 1) A colored fluid used for writing 2) The action of signing a deal 3) A black liquid ejected by squid 4) Publicity in the written media 5) A slang word for tattoos Ink features 300-word speculative flash fiction stories from across the rainbow spectrum, from the minds of the writers of Queer Sci Fi.
Ink
Word Count:

111,000
Summary:
New York: two years after the Third World War. Humanity is rebuilding its cities brick by brick; the damage done to the people, however, is a lot harder to repair.
Dan Hardacre is one of those people. An aspiring stage actor and experienced draft-dodger, Dan struggles to find his place within the Utopic rebuild of New York City. When he's not caught up with the duties of work, Dan lives a quiet life in mourning for his mother, Dyani, who went missing when he was a teenager.
One night, Dan experiences a vivid, terrifying nightmare that puts him right on the front lines of the war for which he dodged the draft; it ends with him facing Death itself in the form of a metallic, faceless humanoid creature that calls itself the Valkyrie. To investigate the reason behind his haunting experience, Dan seeks out a meeting with his estranged father, who reveals the startling truth about Dan's dream: it wasn't a dream.
With this newfound knowledge and the powers it brings, Dan makes it his mission to return to the scene of his nightmare. However, he soon comes to know that confronting the Valkyrie not only endangers him but the war-withstanding world he leaves behind.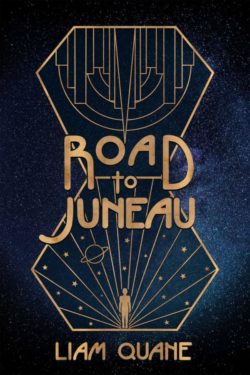 ROAD TO JUNEAU
Word Count: Information not available
Summary: She wanted to meet aliens… … she wasn't expecting to die for them. Life on Unity space station is tough but so is Kayla. When Kayla learns that her half-human friend Salfera is being treated as a slave, Kayla jumps to her defense. But, Kayla doesn't understand the consequences of her activism. A genetically-engineered hybrid, Salfera has spent her life as a science experiment. She knows Kayla needs to end her crusade before she gets hurt . . . or worse. When Kayla starts hearing voices, it's too late. She is part of the experiment now. Join Kayla's fight to save her friend and avoid dissection. -- Advanced Review Copies are available here. Pre-orders are available here.
Nebula's Edge
Word Count:

85000
Summary: ALSO AVAILABLE FROM INGRAM FOR BOOKSTORES We're a world beset by crises. Climate change, income inequality, racism, pandemics, an almost unmanageable tangle of issues. Sometimes it's hard to look ahead and see a hopeful future. We asked sci-fi writers to send us stories about ways to fix what's wrong with the world. From the sixty-five stories we received, we chose twelve most amazing (and hopefully prescient) tales. Dive in and find out how we might mitigate climate change, make war obsolete, switch to alternative forms of energy, and restructure the very foundations of our society, The future's not going to fix itself.
Fix the World Anthology
Word Count:

13000
Summary: Poems written by Cyborgs in the future, melding sci-fi and poetry, human and machine. The Cyborg Anthology takes place in a future where there was a thriving world of Robots and Cyborgs living peacefully beside Humans, but a disaster destroyed all Robot and most Cyborg life. The book is organized like a typical anthology of literature, split into sections that include a biography of each poet and a sample of their poetry. It covers early Cyborg poetry, political, celebrity, and pop culture poets, and ends with the next generation of Cyborg poets. The narrative takes place in the time after a cataclysmic event, and the collection wrestles with this loss. Through the lives of the poets, the book chronicles the history of personhood for technological beings, their struggle for liberation, and demonstrates different ways a person can be Cyborg. The poems and biographies together tell the story of a complex and enthralling world-to-come, exploring topics that are important in the future, and also urgent right now. "With mordant wit and a playful satiric touch, these Cyborg poems showcase a dazzling range of poetic forms and ideas: imaginative and charmingly subversive. Move over Norton Anthology of Poetry, there's a new force in town, and they are a delight." —Renée Sarojini Saklikar, author of Listening to the Bees and Children of Air India "The premise of this collection alone is fabulous. The poems are potent and powerful. With echoes of Le Guin, Brunner and Monáe, Lindsay B-e's debut is layered and smart, provocative, and deeply satisfying. I was moved and fascinated. Speculative poetry at its best." —Hiromi Goto, author of Chorus of Mushrooms and Darkest Light
The Cyborg Anthology
Word Count:

36000
Summary: IN-NO-VA-TION (Noun) 1) A new idea, method, or device. 2) The introduction of something new. 3) The application of better solutions to meet unarticulated needs. Three definitions to inspire writers around the world and an unlimited number of possible stories to tell. Here are 120 of our favorites. Innovation features 300-word speculative flash fiction stories from across the rainbow spectrum, from the minds of the writers of Queer Sci Fi.
Innovation
Word Count:

52,500
Summary: The cerebral interface has revolutionised society. Need a ride? With a thought, the cab is on its way. Want an adventure? Enter a VR 5 computer game nearly indistinguishable from reality. Amanda arranges for her Big Sisters Program little sister, Rachel, to spend a day gaming as a fourteenth birthday present. Amanda never suspects that her insane ex-boyfriend, Jim, will use a computer virus to trap her and her companions in the game. A pleasant diversion becomes a life and death struggle as her party seek a way to come back to the real world without triggering a program that will cause nanobots to rip their brains to shreds. To complicate matters, in the game scenario the adventurers have been transformed into cats. Will the party survive? Will Amanda admit that Rachel's older brother, Tyrell, might just be her future? Will the computer virus Jim used to trap them become a cyber plague that could kill thousands?
Cats
Word Count: Information not available
Summary: Memories of another life and lover guide her, but are they even hers? She is a Bearer—keeper of past lifetimes and gifted with strange talents. Ember must find her answers away from safe Longquan Village, snared instead in the sensuality and dangers of The City. Hidden among spider farmers and slaves, prostitutes and weavers, a nest of people like her are waiting. A powerful man outside The City raises his forces, determined to hunt down the 'demons' who could taint his followers. Threatened from without and within, can the Bearers even trust each other? Powers will rise and alliances will be forged in a dark new world. The Memory Bearers are coming. This book includes violent and mature content. Reader discretion is advised.
After the Garden