Fantasy stories where magical events intrude on an otherwise "normal" world. Return to general Fantasy
Note: these books are currently sorted by release date, with newest first.
Word Count: Information not available
Summary: "Now is the time to release the burdens you have been carrying." The holiday season is traditionally one of reunions, homecomings, and family gatherings, but for the LGBTQIA+ community, it can be a time of anxiety and dread—a time we must hide our true selves in order to feel welcome. Too often, the holidays bring about loneliness and pain—a longing to be unequivocally accepted, seen, and loved for who we are. This season, we invite you to be Queer for the New Year! Enter nine fantastical worlds and witness rebirth and release as individuals let go of the past and welcome the new year with open arms and fearless hearts. In the final minutes to midnight, journey with us as we discover that acceptance can be found in the most unlikely of places, pain is not forever, and if nothing feels okay, then it is not the end. Move from the heartaches of old, make a fresh start with hope and renewal in your heart, and join us in being— queer for the new year.
Queer for the New Year
Word Count:

33000
Summary: Clarity (noun) Four definitions to inspire writers around the world and an unlimited number of possible stories to tell: 1) Coherent and intelligible 2) Transparent or pure 3) Attaining certainty about something 4) Easy to see or hear Clarity features 300-word speculative flash fiction stories from across the rainbow spectrum, from the minds of the writers of Queer Sci Fi.
Clarity
Word Count: Information not available
Summary: "Pain is pain. It all hurts the same." Inflicted with dark desire, one man chooses between idyllic pretense and disturbing reality. Haunted by the silence of deep space, an engineer chases an eerie melody. Torn between penance and pride, a dishonored prince challenges the course of history. Suffering cracks our hearts and splinters our minds. It scars and alters us in irreversible ways. Yet while pain breaks us apart, it also binds us together. Our broken pieces can never rejoin as they once were, but they fit together to create new and distinctive wholes. Like the Japanese art of kintsugi, we can fill the velvety darkness of our scars with gold. Inflicted with life, an intelligent machine questions the illogic of family. Tempted by the desire to die, a shop clerk confronts the promise of his life. Offered the chance to transform his disfigurement, a ruined being looks to the smallest of lives for acceptance. An amalgamation of science fiction and fantasy subgenres, Inflicted invites you to peer into your own pain, examine your scars, and remember you are not alone. Pain binds us all, and how we face our brokenness redefines us. Immerse yourself in the brokenness of others and come away with a new understanding of self.
Inflicted
Word Count:

99000
Summary: Gavin Booker, a school librarian at Cooper Road Elementary, Raleigh, Northern Carolina, leads an orderly, normal life. Work, jogging, friends from work, his son every other weekend. Gavin is also a secret. He is a hybrid, or part-fairy, and in the Columbian Empire, hybrids are under an automatic death sentence. Magic is illegal. So is loving another man, another capital crime. Fairies are locked away in ghettoes, magical beasts, such as gryphons, unicorns, and pegasi are kept in zoos. The others, the tree and water spirits, the talking beasts, fauns, and the rest, are in hiding. This is the world in which Gavin grew up. He survived, thanks to his mother. He can never forget he is different: ministers preach against people like him constantly; hating the other is a part of every school's curriculum. But now, things are changing fast, and apparently, for the worst. Earthquakes, volcanoes, killer storms are all frequent occurrences. The medicine Gavin takes to suppress his body's glowing, isn't working. The spells cast by his doctor, a witch, are losing their power. If anyone finds out what Gavin is, he is dead. Under threat, the Empire always goes after its marginalized people. Can Gavin survive the coming catastrophe? Will he ever recover from losing the boys he loved? Can he find the fairy man who has haunted his dreams all his life before it is too late? Can his scarred heart ever heal?
In Light's Shadow
Word Count:

115000
Summary: Battles and adventure crisscross the Viking Age! From monumental sea clashes to beleaguered mountain strongholds to war with the tribes of Eire, circumstance drives the scattered Agneson clan across the known world. And beyond the lands of Midgard, mythic hidden folk challenge our forerunner hero. The award-winning Forerunner Series epic continues…. Fleeing an arranged marriage, Kara escapes across the narrow sea to follow her warrior dreams. Escaping slavery, Cub joins Rollo's horde in Britany, while his outlawed brother Sorven fights for survival in the Welsh mountains. Uncle Karl and his warriors rally to Harald Tanglehair in his ambition to unify the wild kingdoms of the North Way, and young Thorfinn is left behind, safe and secure in a tiny fishing village... or is he? Kara gains her place in king of Dublinn's ranks to prove her mettle, but being a warrior is not what she expected, and what of these new feelings she finds for her closest companion? Will Karl and his crew perish in the great battle of Hafrsfjord? And how will an unprepared Thorfinn survive kidnapping by an 8-armed giant, leaving behind worried friends and a very angry dragon? Don't miss this 5-star epic fantasy critics are calling "whimsical and gritty," with "fabulous, engaging characters." If you enjoy the history of The Last Kingdom and Nordic myths and legends, the Forerunner Series is a grand tale not to be missed!
Kara Shieldmaiden of Eire
Word Count:

36,000
Summary: It is Ancient Greece, when heroes were forever 'accidentally' killing their own fathers and marrying their own mothers. So what's a young prince supposed to do when he falls in love with the wrong woman? Dare he trust his heart or will the Fates interfere? King Oeneus of Calydon has just been given the secret of wine by the god Dionysus. Unable to hold his liquor, vomit-bespattered Oeneus drunkenly forgets to honor the goddess Artemis at the harvest festival. Oh dear, bad mistake. These gods are larger than life, and bigger in emotions too. In revenge for this insult, the angry, man-hating Artemis sends a gigantic and crazed wild boar to ravage the land. With its burning breath and tusks longer than a brave man's spear, nothing can stop this monstrous beast. What can the befuddled King Oeneus do to save his kingdom? Send out a message to the greatest heroes of the age, that's what. Soon, a party of mighty mythical heroes, led by Oeneus's son, Prince Meleager, is on the trail of the fearsome monster - but one of these heroes is a heroine! Atalanta the Indomitable is a huntress to match Artemis herself, and quickly wins the heart of Meleager. Will one of the men make the kill, or will they be humiliated when the prize goes to a woman? Will Prince Meleager woo and win Atalanta, or will the cruel gods intervene as usual? Who will die and who will survive in this tale of great loves and even greater lusts in the ancient world? A rip-roaring tale of jealousy, foul play, a family at war with itself, and a battle of the sexes - all in Weichsel's unique, no-holds-barred, ribald style.
The Calydonian Boar Hunt
Word Count:

7000
Summary: Emma and her Aunt Agathe share a family resemblance - they can both speak to ghosts. But Agathe, rejected by her family and constantly beset by heartache, has spent her whole life fleeing her unusual gift. Emma, however, embraces it. Grave Songs for the Dead is a cycle of three interconnected short stories, gothic with a touch of magic realism, set in the late 19th century.
Grave Songs for the Dead: A Short Story Cycle
Word Count:

70000
Summary: Do you know what your problem is? Celestine, the fifth of seven sisters, is tired of hearing about hers. Father thinks she's frivolous because she likes pretty clothes and caters to the crowds in the taverns who adore her music. Mother thinks that because she's the most social daughter in the family, she can't keep quiet about anything. They're both wrong. Celestine hides a secret she has kept for most of her life. As the family beauty and a talented musician with a lyrical voice, she has the best prospects for marriage to a prince. When such a liaison never happens, people assume Celestine is too choosy. But even in somewhat tolerant Ilari, a daughter hates to disappoint her family. How can she tell them she's in love with a princess instead? Lucky for Celestine, all her sisters are obsessed with an invading army headed to their realm. Celestine would rather ignore the threat and enjoy the freedom their lack of attention gives her. But, her voice can unlock a power that may help save Ilari. And the woman she loves is determined to fight these invaders. And her family, for all their talents, seems clueless about how to motivate the masses. Celestine knows she can inspire the citizens of Ilari to do what needs to be done. Is it time to put her inhibitions aside and use her voice to save those she cares about?
She's the One Who Can't Keep Quiet
Word Count:

93765
Summary: Home, a place where we belong and are safe and loved. Home, the house in which we grew up, a neighborhood, a culture, even a country. Home is a state of mind, it is a place of the heart, and in the heart. Finding home, coming home, and bringing home the one we love is a journey, a journey that can be a dangerous adventure. For the lovers in these stories, adventures can include quests and fighting dragons and demons, past and present, physical as well as mental and emotional. Rocket launchers need to be dodged, the Wild Hunt needs to be outrun. For some of the lovers here, home has been lost, or they have been forced to leave, as is too common for LGBT+ youth. In this collection queer positive speculative fiction stories, explore the idea of what and where home is in the lives of these lovers. Will they survive their quests, defeat their monsters? Will they find a place to call home?  
To Bring Him Home and Other Tales
Word Count:

4576
Summary: Sometimes, we get second chances -- at love, to make things right, to say good-bye the way it should have been said. Darian promised his dying husband Randy he would go through with the plan to teach summer school in Bath, England. Randy insisted; it was always Darian's dream to live in England, go, do it. But once there, in Tintagel, on a street in Coverack, a small Cornish seaside village, Darian sees Randy. Grief can make us see things, right? So Darian tells himself, until the man whom he buried, whose ashes he carried with him to England, sits down beside him on a bench in front of Bath Abbey, with screaming seagulls nearby. It seems the dead can come back. But why and how? Has Randy come to take Darian with him? Or is something else going?
Seagulls
Word Count:

65000
Summary: Witches, ghouls, and mind readers—oh my! Murder and mystery abound in this supernatural novel. Vega Bloodmire has no problem with the label "villainous witch," though she draws the line at being called a self-centered hag. Life isn't easy being twenty-two, drop-dead gorgeous, and the most fashionable witch in all the land—especially while working as an intern teacher at a magical boarding school. Just when Vega thinks she has student teaching figured out, she is framed for murder. Worse yet, she fears she might have revealed her darkest secret—one so awful she will be shunned by Witchkin society even if she can prove her innocence. Vega needs to find the true culprit behind this crime in order to save her reputation—and her life. Enjoy this spin-off series from the world of Womby's School for Wayward Witches. This book starts with Vega Bloodmire's life before working at Womby's when she was a new and inexperienced teacher at Encantado Charter Academy. It is the first book in the series of stand-alone novels. These mysteries are meant to be read in any order. Clean, cozy, no sex or swearing, PG 13—perfectly fine for teens or grandmas who like paranormal mysteries at magical boarding academies.
Too Ghoul for School
Word Count:

70,000
Summary:
Do you know what your problem is? Olivine knows hers. This quiet thirteen century artist has been hiding a secret as she travels to K'ba to meet her friends. Others assume she's fallen in love with another artist, but it's much worse than that. For on the way to K'ba is the dirt poor nichna of Scrud, a place scorned by other Ilarians. And in Scrud is the one man who understands her. However, Bohdan recognizes the dangers posed by an impending Mongol invasion. When he learns of Olivine's unusual visual powers, he convinces her to pick up her bow and start practicing. She does, though she's more concerned with moving to K'ba where she can paint all day and see Bohdan whenever she wants. If only her sister hadn't decided Olivine and her fellow long eyes held one key to defending the realm. Then, as if life wasn't complicated enough, Olivine learns the artist community she yearns to be part of has developed a different take on the invasion. They're certain the only way to survive is to capitulate completely to the Mongols' demands. Artists who feel otherwise are no longer welcome.
Where does her future lie? The invasion is coming soon and Olivine doesn't have much time to decide.
She's the One Who Doesn't Say Much
Word Count:

36000
Summary: INK (NOUN) Five definitions to inspire writers around the world and an unlimited number of possible stories to tell: 1) A colored fluid used for writing 2) The action of signing a deal 3) A black liquid ejected by squid 4) Publicity in the written media 5) A slang word for tattoos Ink features 300-word speculative flash fiction stories from across the rainbow spectrum, from the minds of the writers of Queer Sci Fi.
Ink
Word Count:

111,000
Summary:
New York: two years after the Third World War. Humanity is rebuilding its cities brick by brick; the damage done to the people, however, is a lot harder to repair.
Dan Hardacre is one of those people. An aspiring stage actor and experienced draft-dodger, Dan struggles to find his place within the Utopic rebuild of New York City. When he's not caught up with the duties of work, Dan lives a quiet life in mourning for his mother, Dyani, who went missing when he was a teenager.
One night, Dan experiences a vivid, terrifying nightmare that puts him right on the front lines of the war for which he dodged the draft; it ends with him facing Death itself in the form of a metallic, faceless humanoid creature that calls itself the Valkyrie. To investigate the reason behind his haunting experience, Dan seeks out a meeting with his estranged father, who reveals the startling truth about Dan's dream: it wasn't a dream.
With this newfound knowledge and the powers it brings, Dan makes it his mission to return to the scene of his nightmare. However, he soon comes to know that confronting the Valkyrie not only endangers him but the war-withstanding world he leaves behind.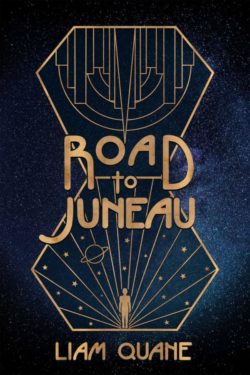 ROAD TO JUNEAU
Word Count:

70,000
Summary: Do you know what your problem is? Sulphur knows hers. This 13th-century woman has trained as a fighter all her life in hopes of joining the army. Then, within days, both of her older sisters announce plans and suddenly Sulphur is expected to find a man to marry instead. Is it her good fortune her homeland is gripped by fear of a pending invasion and the army now goes door to door encouraging recruits? Sulphur thinks it is. But once she's forced to kill in a small skirmish, she's ready to rethink her career decision. Too bad it's too late. The invasion is coming, and Ilari needs every good soldier it has. Once Sulphur learns Ilari's army has made the strategic decision to not defend certain parts of the realm, including the one where her family lives, she has to re-evaluate her loyalty. Is it with the military she's always admired? Or is it with her sisters, who are hatching a plan to defend their homeland with magic? The problem with being a woman who fights for what's right is that now, she has to figure out what is.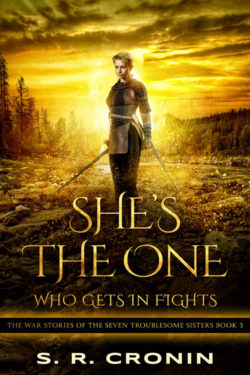 She's the One Who Gets in Fights
Word Count:

72831
Summary: A river turned black. A city under siege. A monster in charge. Is this what Ashira really wanted? The desert kingdom of Khemeret has been waiting for the legendary pharaoh to return. But soon, they'll wish he hadn't. Ashira can remember when Hapi was just a mindless little blob who only devoured people on command. But now it thinks it's the legendary pharaoh Nephtet-Ka and he's laid claim on an entire city. Lucky for the city, the citizens are all supportive of the violent new regime. Every day is a riot against the oppressive foreign empire, and Hapi's vizier Mwarthes is delighted with every new horrifying idea his monster has. Can Ashira put a stop to the madness or will everything and everyone be devoured?
Vicious
Word Count:

53000
Summary: England, 1910 Monty, along with his best friend Bishop, investigates an odd seal-like creature swimming in Manchester Lake. The pair soon realize they've found a selkie when the magnificent animal transforms into the most gorgeous man either of them has ever seen. Determined to discover the origins of the mystical man, they bundle him into Bishop's brand-new electric automobile and whisk him off to London. There they find a host of distractions: a tastefully debauched house party hosted by silver-tongued aristocrats, and a queerly European-inspired novelty called the night club. Both are filled with a cast of characters sometimes amusing and sometimes frightening. And as the night unfolds, Monty comes face-to-face with ghoulish agents of the occult as well as revelations from the past. Most surprisingly of all, Monty finds himself falling for the beautiful creature from the lake, who seems equally interested in him. Can he really find himself in love with a man he has only just met? Or do they have a deeper connection which goes much further back? And what does it all have to do with the memories of his trip to Paris three years prior? The mystery of the selkie from Manchester Lake is only the beginning, and before their adventure is finished Monty will see the culmination of long suppressed secrets explode in a firestorm of magic and passion!
Manchester Lake
Word Count:

70,000
Summary: Do you know what your problem is? Coral knows hers. People have been telling this tenderhearted 13th-century woman for years. So when a heroic army officer proposes, she decides she's stronger than people realize and her dreams have come true. Except, the perfect man turns out to be less than ideal. And she's gotten pregnant. And her homeland is gripped with fear of a pending Mongol invasion and she cries about everything now that she's with child. When a friend suggests the ever-caring Coral possesses a power well beyond what anyone imagines, Coral's sister decides this formidable talent is what the realm needs. Can Coral raise a baby, placate an absent military husband who thinks he's stopping the invasion, and help her sister save her homeland? This is just the sort of problem encountered by a woman who cares too much.
She's the One Who Cares Too Much
Word Count:

40,400
Summary: Sequel to Lost in Time and Shadows on the Border Inadvertently tumbling through the border after Fenn and then thrown into the middle of the internecine political disputes of their people, Sergeant Will Grant of the Metropolitan Police has spent three months in prison in the Underhalls of the Frem. When Fenn comes to free him and return him home through the border, he has very little time to work out what's going on before the sudden appearance of Fenn's missing younger sibling, Keren, throws Fenn for a loop. Instead of returning them to London as planned, the trio step through the border to the Egyptian desert. Once they work out where they are, it's a two week trip back to England with the possibility of pursuit both onboard ship and when they reach home. Will the journey give Fenn and Will time to resolve the feelings they have been dancing around since the day they met? How will they keep Keren from recapture by the faction who tried to persuade Fenn they were dead? And has Will's friend Alec forgiven Fenn for lying about their motives when they first traveled to London four months ago? The Hunted and the Hind is the third and final book in the 1920s 'Lost in Time' trilogy. The books need to be read in order.
The Hunted and the Hind
Word Count: Information not available
Summary: Twenty four short stories, written by E.D.E. Bell between 2014 and 2020. Primarily a fantasy collection – sprinkled with humor, romance, and hope. Stories of wizards, Beatles, and a great many frustrated women.
Awkward Tomatoes