Urban fantasy is a more pronounced form of present-day fantasy, where the fantasy elements are a clear and open part of our world. Return to general Fantasy
Note: these books are currently sorted by release date, with newest first.
Word Count: Information not available
Summary: Teens and their giant robots search for a new home for mankind, but the planet they discover belongs to the dragons. Two hundred years after the Climate Wars left Earth uninhabitable, Johari and his giant robot companion lead a squad of scouts on a quest for a new Goldilocks planet to settle the remnants of the human race. When one of the scouts and his bot go down in a hostile wilderness, Johari's fight to save them reveals complex behavior in the dragon-like dominant species. The scout team fragments as Johari strives to rescue his friends and discover the truth about the aliens. If he's right, mankind will lose its best hope for a home — or sacrifice its own humanity.
A Wreck of Dragons
Word Count: Information not available
Summary: Tales to warm your imagination during the cold winter months Featuring stories by Christina Ardizzone, Matt Bliss, Gustavo Bondoni, Micah Castle, Nestor Delfino, C. M. Fields, Andrew Giffin, Emma Kathryn, Michelle Ann King, Jason Lairamore, Eve Morton, Lena Ng, S. Park, Arlo Sharp, Mar Vincent, and Richard Zwicker
Dragon Gems (Winter 2023)
Word Count:

114000
Summary: A Slow Burn Meet Cute! Baker. Wizard. God of Space and Time. Cupcake enthusiast. How long will it take to fan the flames and enrage this gentle phoenix? Start counting. What's a wounded and lonely little cinnamon roll to do? Stripped of his psychic powers, Calico Winghorse flees his homeworld and travels to 19th century Earth via his inter-dimensional portal. As a mixed-blood phoenix trapped in human form, he opens a bakery in the San Francisco Bay Area and quietly nurses his wounds. But the unique method of his arrival draws the unwanted attention of Infinity Corporation. Representing this angelic-run company is Agustin Chavez de la Cruz, the Demon Lord of California. Even though Agustin is IC's heir, he finds himself demoted from his duties to concentrate on his new assignment: take absolute control of Calico's portal. But Calico refuses to sell at any price. He is also very busy ensuring that the good people of the city are getting their fill of baked goods. Before Agustin can formulate a more gracious avenue of acquiring the gateway, the demanding head of IC interferes, further complicating matters. So as negotiations stumble along, Calico and Agustin come to realize they both want more than a stuffy business arrangement. However, due to Calico's injuries, the portal remains vulnerable to the darker forces that want it at any cost. Agustin will have to push both his angelic heritage, as well as his own psychic powers to the very limits to heal this sweet baker, who is also the portal world's God of Space and Time. The Demon Lord of California is the first book of an LGBTQ+ paranormal-fantasy series. You won't want to miss a first love found, hidden worlds, and a recovering workaholic grasping at his second chance. All centered around the control of an otherworldly portal. So curl up with your favorite beverage, and hang out with Cal and Gus for a while. You'll be happy you did!
The Demon Lord of California
Word Count: Information not available
Summary: No good deed goes unpunished. But maybe making a deal with a demon was a bad idea. After freeing a demon from a century-long captivity, rogue alchemist Tev finds himself yanked through the veil between realms and dumped in what has to be hell. He can handle that. Losing Misha, his one bright spot in the world? Not so much. Who makes deals with demons? Not Fillery hotel manager Misha. Demons and the like are the stuff of nightmares, not dreams. Misha dreams of a life with Tev. Sure, Tev hates him, but Misha can change his mind. All he has to do is get through the veil. No matter the cost. With a war brewing between fairies and demons, Tev and Misha are caught in a devious double cross, but Tev has a secret he's going to use to twist the game his way. And nothing will stop him. Sorcery's Call is book two of an exciting MM paranormal fantasy series called Demon Tales and Fairy Games, where demons, fairies, and trolls live with unsuspecting humans. Sometimes light, sometimes dark, always sweet, magical, and romantic. Happily ever after guaranteed. Especially for those who enjoy unrequited love, emotional scars, dark obsession, and fish out of water tropes. Each book tells a complete story with a different couple, but these books must be read in order. No cheating, no unkindness.
Sorcery's Call
Word Count:

19936
Summary: Wyatt Calder is trapped -- in a rundown neighborhood, in a dead-end job, by the endless string of trouble his brother drags to their door -- and it seems he's destined to slowly fade away within the aging walls of Picket House, longing for his best friend's cousin. That is until his upstairs neighbor Abel Walters dies on the staircase just outside Wyatt's door. Saalik has spent most of his existence asleep and waiting for the next person to discover his bottle and claim their wishes. And the last four years playing prized possession to Abel Walters and spying on the downstairs neighbors. But he has a plan. And, like every plan worth planning, it has taken patience. But if life as a Jinn has taught Saalik nothing else, it's taught him that. When a break-in sends Wyatt out his second-story bedroom window and into his dead upstairs neighbor's apartment, he finds more than a place to hide. He discovers a magical solution to all his troubles. Or does he? Because really, when is life ever that simple?
Smoke
Word Count:

99600
Summary: After her adventures in Time Portals of Norwich, Cassie Fox makes a promise to both her grandfather and her best friend, Georgia, never to time travel again. So, how did she end up in the deep past with her recent memories wiped, and her time travelling abilities gone? Is she being punished? Did she press the big red button? Will she ever see her grandfather and friends again? And what has Robert Kett and his rebellion got to do with it all? Of more immediate concern, though, are the pains in her stomach.
Time's Revenge
Word Count:

97000
Summary: The seas spell freedom. Pirates and kraken, boats and submarines, deadly sirens, mermaids, and the women who face them all. These are our heroes. High seas adventure, fantasy, and magic weave together in this sapphic anthology focusing on the joy of the unbounded oceans. If you like diverse stories with lesbian and sapphic heroines exploring oceans, battling sea monsters, and seducing pirates, buy Farther Reefs today! With stories by: Sarah Day and Tim Pratt, Kim Pritekel, Kyoko M. Sara Codair, William C. Tracy, N.L. Bates, Robin C.M. Duncan, Vanessa Ricci-Thode, Margaret Adelle, and J.S. Fields Genres: Science Fiction / Fantasy / Adventure / Lesbian / LGBT and Non Binary Market: Adult
Farther Reefs
Word Count: Information not available
Summary: Michael likes to pretend. When he rescues a tiny elf in his parents' garden, however, a witch threatens to stop Michael from pretending. Can he believe in himself?
Michael And the Elf
Word Count:

33000
Summary: Clarity (noun) Four definitions to inspire writers around the world and an unlimited number of possible stories to tell: 1) Coherent and intelligible 2) Transparent or pure 3) Attaining certainty about something 4) Easy to see or hear Clarity features 300-word speculative flash fiction stories from across the rainbow spectrum, from the minds of the writers of Queer Sci Fi.
Clarity
Word Count:

10000
Summary: How far would a werewolf go to help a friend? Werewolves and dogs don't usually get along, but Jordan Abbey has formed a bond with her elderly neighbor's Rottweiler. So when Rex goes missing during a dog-walking mishap, she's determined to return him home. With her abilities, finding him should be easy. Except there is one problem. The vampire lord of the city has declared she's not allowed to shape-shift within the city limits of Rancho Robles. Better to ask forgiveness than permission, or so Jordan thinks. But there is another issue she has to face - Animal Control. Rumors are getting around about wolf-like dogs wandering the city, and they respond quickly to panicky stray dog calls. Jordan knows how to be discreet, or so she believes. Will Jordan be able to find her friend without sacrificing her freedom?
Chaos Unleashed
Word Count:

74000
Summary: Sometimes you have to fight fire with fire. Darien's ready for a quiet life— back to studying, sleeping with his ridiculously appealing necromancer, playing magical Fetch with his dog-familar. But breaking the demon portals was only a temporary solution, when there are sorcerers out there rebuilding them. Much as he'd like to shove the rest of the job on someone else, Darien's not willing to see his world burn. Silas is ready to turn the whole hunting-dark-sorcerers mess over to the Guild. Except he doesn't trust his council members as far as he can throw them, the sorcerer Chicago has sent sets his teeth on edge, and if they get it wrong, Darien's life is at risk. So with Grim at his side, and Pip encouraging Darien, they, Jasper, and Magda will take on one more hunt to find and stop the portal-builders.
Consumed by Fire
Word Count:

75000
Summary: The neon lights of Las Vegas mask the horrors hiding in the shadows. Horrors like my ancient vampiric maker, the Goddess Tawaret. Tawaret promises me power in exchange for helping her. She wants to be worshiped again, and has me gathering vampire followers. My boyfriend, Jack, tries to warn me about her, but I don't listen. Too late, I realize my mistake in accepting. Now there is no escape. After the slaughter she left behind in Portland, no one wants to risk her wrath. With Jack suddenly abandoning me, no one will come to my rescue. I'd rather die than be bound to her for eternity. It just might come to that.
Goddess of the Ancients
Word Count:

29722
Summary: Adam Drowen… Azreal, the Onyx Knight… His journey has been long and arduous. He gained power in death, lost his mentor, found truth in a dream, got lost in a fantasy, embraced his rage, challenged The Fates, offered compassion, crossed the line, hunted a monster, and realized that Darkness was enveloping his soul. A Warrior's life is not for everyone. Adventure, excitement, glory; these are not what a true Warrior desires. A Knighthood does not grant privilege, offer fame, or promise riches. It can be a hard life, full of painful choices. It is a life of service, not reward. It is a never-ending journey in search of knowledge and beauty. The Way of the Warrior is the perpetual pursuit of perfection that none will ever attain. Why would anyone choose such a life? Not everybody can; but if you wish to learn what drives someone on this ceaseless quest, then pay attention; for I am the One Arm Bandit and I have stories to tell... Now, for the first time, ShyMuse Publishing presents the tales of Azreal, the Onyx Knight; collected in a single anthology. All ten short stories chronicling Azreal's journey from a young Sapphire Knight to a cold-blooded killer and finally to a contemplative, stoic guardian, are now gathered together in one volume. In addition to the Best Selling Way of the Warrior short story series, this book contains never before seen artwork and concept designs. Visit us at www.ShyMusePub.com
Way of the Warrior: The Azreal Chronicles
Word Count:

195000
Summary: Belonging can sometimes be Hell Jin is 17, pansexual, blue-haired, half-Korean and a lifelong outsider. His modus operandi, after years of neglect and chaos, is never belong, never attach, because both just bring pain. What he doesn't know, and mustn't, is if he does ever belong, his lust demon father will take him to Hell forever the day he turns 18. But when he moves to the remote Scottish town of Hammer Falls, where he shouldn't fit in at all, he finds being supernatural and queer aren't quite the barriers to belonging he'd hoped. As his lust demon blood begins to show and he grows ever closer to gorgeous part-angel demonstalker Nate, how long can Jin continue to convince himself he doesn't belong and isn't getting attached? Lust & Other Demons is the first in a trilogy containing a snarky, prickly half lust demon, hot demon hunters, werebears, angst, messy love and explicit MM sex. Books 2 & 3 also contain steamy MMM+ polyamory scenes as part of a key relationship. NOTE - These books are NOT suitable for younger readers or people likely to be offended by speculative views about religion.
Lust & Other Demons
Word Count: Information not available
Summary: There are creatures lurking in our world. Obscure creatures long relegated to myth and legend. They have been sighted by a lucky-or unlucky-few, some have even been photographed, but their existence remains unproven and unrecognized by the scientific community. These creatures, long thought gone, have somehow survived; creatures from our nightmares haunting the dark places. They swim in our lakes and bays, they soar the night skies, they hunt in the woods. Some are from our past, and some from other worlds, and others that have always been with us-watching us, fearing us, hunting us. These are the cryptids, and Systema Paradoxa tells their tales. *** Life and Death and Family Secrets... Sheridan Cascaden faces more than memories when she receives a call in the darkest hours summoning her home. Sent away five years prior to safeguard her from the evil that claimed her mother, Sheridan hasn't been back since. She returns to find her home in a disturbing state and her father straddling the Veil, with no explanation of what happened. Not only must she deal with her own demons, but she will have to delve into his if she is to unlock the mystery and save Papa's life. But where lies the line between truth and madness among the shifting shadows? And can Sheridan navigate it before it's too late... for both of them?
The Play of Light
Word Count:

75000
Summary: Sleepwalking may be the death of me… again. I thought things would get better now that I no longer had assassins after my head. Although it's fun eating people who misgender me, I'm just so thirsty all the time. And until I improve, I'm barred from seeing Jack, my were-jackal boyfriend. My babysitter, I mean 'vampire mentor,' isn't much help either. As if things weren't bad enough, the amulet that started this mess is whispering to me. Calling me somewhere. I think it might be my mysterious maker. Judging by the trail of bodies they're leaving across the globe, I don't want to know what will happen if I can't keep resisting.
Bloodline of the Ancients
Word Count:

73000
Summary: Vampires and werewolves live long lives. The Sleepless City saga might have ended but the story continues… Someone is hunting supernaturals.  Vampire Simon Hawthorne and his human partner Ben Leyton's plans for a peaceful holiday with family are hijacked by the New Zealand Supernatural Council. Tensions are on the rise in Wellington. Supernatural councillors are disappearing. Werewolves are suspicious of anyone human or vampire. If they don't work together, their enemy has already won. And no one with a connection to the supernatural world is safe.
Double Exposure
SALE
Word Count:

21,400
Summary: When do dreams become reality? Orin sells dandelion latex at a no-name market, barely scraping by. Mette is a princess. Maybe. What Orin does know is that for thirty seconds every night, Mette visits Orin in xir dreams. Orin has long since written the fancy ghost woman off as a recurring nightmare, but when Mette insists upon meeting in real life, Orin's inner world turns out to be more substantive than imaginary. Along with best friend Blathnaid, Orin embarks on a journey to discover the truth behind xir otherworldly connection--determined to free xir mind and finally get a good night's sleep. But it's an ancient, planetary magic that binds Orin to Mette, and Orin's dandelions may be their only chance to survive the separation. If you want a fun, queer romp through a sci-fi planet with magic and dragons (of a sort), download Awry with Dandelions today! Note: this book uses xie/xir pronouns for Orin. Genres: Space Opera / Science Fiction / Romance / LGBT Lesbian Non Binary Market: Adult and New Adult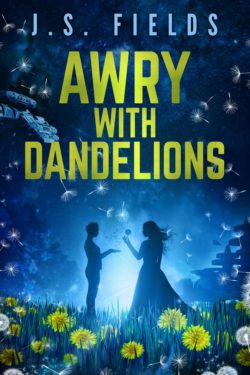 Awry With Dandelions
Word Count:

76600
Summary: Werewolves are apex predators. So why does she feel like prey? Territory, honor, the trust of her peers - Jordan Abbey has earned none of these from the supernatural residents of Rancho Robles. The werewolves shun Jordan as a creature without honor for siding with the vampires. The vampires dismiss Jordan as an unruly pet who needs to be kept on a much shorter leash. Chased out of the wilderness and not allowed to shift within the city, she is without any place for her inner wolf to run free. Someone is killing the servants of vampires. Soon vampires themselves fall victim. Each attack is linked directly to Jordan, fueling rumors that she is working to undermine the vampires' grip on the city. The werewolves dog her steps, harassing her whenever and wherever they can. Then, in the heart of vampire territory, the corpse of a werewolf who bullied Jordan is discovered. The children of the Wolf and the Bat are ready to go to war, and Jordan is caught squarely in the crossfire. Can one woman prevent the annihilation of the only place she calls home?
Chaos Hunt
Word Count: Information not available
Summary: Welcome to the Fillery Hotel, home to the Bells and Balls Convention, and last stop for a runaway fairy prince and the grumpy demon hunter who loves him. Dick Slumber is a growly demon hunter with a three-legged cat he doesn't want and a secret he must keep at all costs. But Dick has a problem—he's not who he says he is, and he's running out of ways to hide it. Gin Lark is a feisty fairy prince whose job is to help his sister keep demons out of the human realm. But Gin has a problem—he doesn't possess an ounce of magic, and somebody wants him dead. When Gin goes into hiding as a hotel housekeeper, and Dick is hired to find him, they discover themselves in the center of a cursed hotel, a resurrected pinball convention with its own secrets, and a tear in the sky called the rift, which is about to let loose a horde of demons. Falling in love should be the last thing on Dick and Gin's to-do list—unless love is the only thing that can save them. Sorcery's Kiss is book one of an exciting new MM paranormal fantasy series called Demon Tales and Fairy Games, where demons, fairies, and trolls live with unsuspecting humans. Sometimes light, sometimes dark, always sweet, magical, and romantic. Happily ever after guaranteed. Each book is linked but tells a complete story. No cheating, no unkindness.
Sorcery's Kiss