Fantasy stories that feature protagonists in their mid-to-late-teens. Return to general Fantasy
Note: these books are currently sorted by release date, with newest first.
Word Count:

38000
Summary: RISE (noun / verb) Eight definitions to inspire writers around the world, and an unlimited number of possible stories to tell: 1) An upward slope or movement 2) A beginning or origin 3) An increase in amount or number 4) An angry reaction 5) To take up arms 6) To return from death 7) To become heartened or elated 8) To exert oneself to meet a challenge Rise features 300-word speculative flash fiction stories from across the rainbow spectrum, from the minds of the writers of Queer Sci Fi.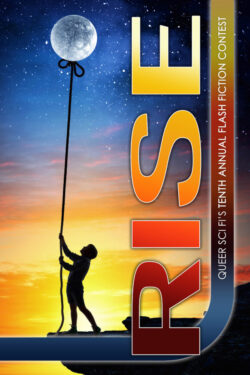 Rise
Word Count:

34000
Summary: Dr. Eavan Delaney is frustrated. It is her destiny to reunite her people and work hard to protect the rivers and waters of the world, but she has no help whatsoever. So she has lived among humans for decades, undiscovered and in peace, but she knows this is wrong: she should be taking action. Then comes the fateful day she calls for support one last, desperate time -- and is heard. With the support of 'The Council of Twelve', Eavan continues to work for the safety of Nature. But no one has foreseen that the 'Other Side' has been sabotaging her efforts. The challenge before her is suddenly much greater, and the consequences of failure even more dire than she ever imagined. Will Eavan be strong enough to save the waters from the fire?
River Guardian
Word Count:

96,000
Summary: A guard and a thief. What could go wrong? Aik has fallen hopelessly in love with his best friend. But Raven's a thief, which makes things … complicated. Oh, and Raven has just been kidnapped by a dragon. Now Aik is off on a quest of his own, to hunt down the foul beast and make them give back his … friend? Lover? Soulmate? The whole not-knowing thing just makes everything harder. Meanwhile, the world of Tharassas is falling apart, besieged by earthquakes, floods, and strange creatures no one has ever seen before. Aik's ex, Silya has gone back to Gullton to try to save her people as the Hencha Queen, and Aik's stuck in a caravan with her mother and a damnable magical gauntlet that won't let him be. He has to find Raven, before it's too late. Things were messy before … but now they're much, much worse.
The Gauntlet Runner
Word Count: Information not available
Summary: A fractured world. An impossible friendship. When a mysterious ring suddenly appears on reclusive teenager Ellen's bookshelf, she is granted the power to travel miles away from everything she's ever known. There she meets Shard, a friendly dragon who offers to help Ellen grow her stunted-since-birth magic. Although it seems too good to be true, Ellen accepts, sure she can conquer her self-hatred by becoming an accomplished magician. Little does she know, her magical voyages have raised the suspicions of those who would destroy her. Young and lonely, Shard is determined to find his first friend in Ellen. But befriending a creature as detested as a human could spell banishment from his tribe — or worse. As the bond between them grows, they will have to face their deepest fears. If they can't, their friendship is doomed … along with any chance they have of saving both their kinds from annihilation.
Smash the World's Shell
Word Count: Information not available
Summary: A boy is in danger when he stumbles upon a crime committed by two prominent men of his town, but finds an unusual ally in the form of a castle ghost. Twelve-year-old Haycorn may know all about ghosts of Ohio, but even he is stunned when he and his friend Budge encounter a ghost in a castle. The boys witness a clandestine meeting there between two men involving a kick-back scheme, putting their lives, and that of Haycorn's mother, in jeopardy. But the ghost may have other plans for all of them.
Haycorn Smith and the Castle Ghost
Word Count:

98993
Summary: Several hundred years after the Great Dying, a whole new way of organizing society has come about. There are no cages. What long ago were considered gender relations no longer are done in the same way. A gender binary doesn't exist. People are free. Then, comes a hunger for power. And freedom is lost. Again. Four major struggles set the scene as we meet Makk, a sixteen-year-old about to transition into adulthood. Now that Alvás is coming to an end, Makk and their fellow sixteen-year-olds embark on a long, dangerous journey to fetch water as a sacred rite of passage meant for self-discovery. But the scorching sun makes it unsafe to do anything during the day. So, for centuries, humans have turned to nocturnal ways of life. And the younguns must rely on each other to navigate the night. All the while, unable to telepathically mindspeak like the rest, Makk is marginalized by their peers and feels utterly alone. Until they meets Takver, a stranger from a shared past. Life seems to be improving for Makk. But, seemingly isolated raids by marauders—Kidnappers and pillagers of entire encampments. Murderers. Rapists.— not only threaten the vulnerable waterfetchers and the entire Átmeneti people but force Makk and Takver into hiding. While contemplating their past and future, together, Makk and Takver unexpectedly unearth a long-dormant technology that allows them to connect with ancestors and descendants across space-time. But soon they realize that the delicate balance of the present-past-future relies heavily on finding the missing journals of loved ones that they never knew existed. Makk will do whatever is necessary to reunite with their people and fight to maintain their way of life, even if it means putting their ancestors in the path of danger.
Now. Then. To Come.
Word Count:

85000
Summary: A charming traditional quest fantasy, full handsome villains, dangerous sorcerers, and a pretty, perky apprentice. Not to mention lots of very cool magic!
Blade Light
Word Count:

45000
Summary: These three tales tell the story of Tharassas before the Tharassas Cycle, including the origin of the hencha queens, the ce'faine, and the colonization of the Highlands, essential companions for the four novels that make up the cycle: The Fallen Angel Charlie Fah, Cha'Fah to most of the world, has never fit in with the other citizens of Gully Town, thanks to his darker skin that sets him apart. But one day, an Angel arrives on a supply run from Earth, and what happens next sets Charlie on a new path that will turn his life upside down. The Last Run Sera is the last runner from Earth, bringing badly needed supplies to the Tharassas Colony across a twenty-five year gulf between the planets. Jas works on a hencha farm to make ends meet, harvesting berries from the semi-sentient plants. Neither one that knows their lives—and worlds—are about to change forever. The Emp Test Jey awakens to find himself in the care of a handsome stranger—a cheff from one of the mountain tribes. Afraid for his life, Jey has no choice but to let the man take care of him and his broken leg. Avain is on his Aud'ling—the coming-of-age test that requires him to spend a couple months away from his own people. The two of them will have to come to an understanding if they're going to help one another. The Last Run and The Emp Test have been published before in previous stand-alone editions, but The Fallen Angel is a new story written exclusively for this collection.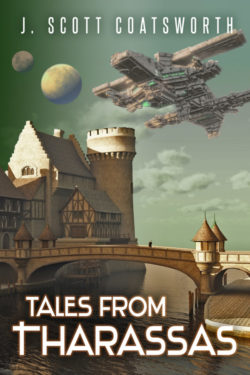 Tales From Tharassas
Word Count:

93700
Summary: Raven's a thief who just swallowed a dragon. A small one, sure, but now his arms are growing scales, the local wildlife is acting up, and his snarky AI familiar is no help whatsoever. Raven's best friend Aik is a guardsman carrying a torch for the thief. A pickpocket and a guard? Never going to happen. And Aik's ex-fiancé Silya, an initiate priestess in a magical crisis, hates Raven with the heat of a thousand suns. This unlikely team must work together to face strange beasts, alien artifacts, and a world-altering threat. If they don't figure out what to do soon, it might just be the end of everything. Things are about to get messy.
The Dragon Eater
Word Count:

45000
Summary: IMAGINE BEING the only un-magical kid at Hogwarts. That's how sixteen-year-old orphan Jaden Raines feels as he enters Azunya High. He struggles to fit in, but he's really a fish out of water. The magical isle of Azunya, where paranormal policing agency B.O.O. is headquartered, is shocking to Jaden after having lived his entire life in the American Midwest. Back there, his classmates were freaks, geeks and gangstas. Here, his classmates are genies, witches, healers… A whole pantheon of beings and monsters. And worse yet, he'll have to read The Old Man and the Sea. Again. Jaden might be the new kid in town, but he's still a teen. It's love at first sight with handsome skater-boy Stiltz. They have three things in common: neither is able to use magic, they're both petrified of water, and, lucky for Jaden, they're both gay. They should bond, but their relationship's stormy from the start. To try to fit in, Jaden hides his powerless state, accidentally creating the myth that he's the most powerful being of them all. But when the entire school demands a demonstration, what's Jaden to do? New lies and cruel deceptions leave Jaden and Stiltz stranded at sea in the middle of a deadly tropical storm. In order to survive, the boys must spill their secrets. It's sink or swim for our heroes. Only the truth can set them free. And keep them alive.
Mysterical (Tales of B.O.O. Book 3)
Word Count:

34000
Summary: Zepheira is the best Demon Tracker working for the Good side. With her unusual looks, her phenomenal sense of smell, and her bravery, she quickly draws 'The Big 7's attention to her talent. They hire her to find one of them. Leaving her familiar surroundings and regular work environment unsettles Zepheira at first. But the challenge to prove herself and to increase the reputation of her infallibility tempts her. She is convinced she will be a great asset to 'The Big 7'. Little does she know she will be a much greater asset in Heaven's fight against Evil. Zepheira suddenly becomes more than a hired tracker. She finds herself an important pawn in the game of love, heat, and fire. Will her courage and sacrifice be sufficient to dance with the flames? [video width="1920" height="1080" mp4="https://www.limfic.com/wp-content/uploads/2023/02/Demon-Tracker-Book-Trailer-v2.mp4"][/video]
Demon Tracker
Word Count:

34000
Summary: Koyu thought she had done her duty, but deep inside she knows it will never be over. She is bound to her master forever and will have to execute his every command. But when he demands she'll invade his sworn enemy's dreams, she chooses to rebel. Koyu risks her existence to help the 'other side' by purposely disobeying her master's orders. Koyu knows she'll pay with her life for her impertinence. Is there, indeed, no hope for her? [embed]https://youtu.be/ASa3ptKCwjo[/embed]
Dream Walker
Word Count: Information not available
Summary: Jody Burns borrows her brother Peter's silvery bracelet because it looks good with her outfit. She doesn't remember it's the key to another world—until a green-haired girl steps out of nowhere in the mall and asks Jody's help rescuing her grandmother from a great evil. Jody ignores Peter's warning about the land on the other side of the Watcher—until the haunted tree pulls her inside. Suddenly, she's trapped in a place where no one listens to her. And then her jacket starts sprouting leaves. Return to the world where horses can be wizards, and trees talk, and an ancient evil is planning to destroy every last living thing.
Talking to Trees
Word Count:

108000
Summary: The destruction of the embargo has made Darynn Mark a lot of enemies: an interstellar bounty hunter, the Grand Cardinal, families of the fallen. On top of that, Darynn struggles with his new responsibility to discover the truth behind Vastire's gods, while battling his growing internal desire to destroy. Darynn and Fyra must travel to the frozen planet Yiptae to find the final pieces of the gods' puzzle. But Yiptae has problems of its own, from a violent revolution to the assassination of a key political figure for immigrant rights. In the middle of it all is Kaylaa, whose mysterious past leads to new opportunities, conflicts, and enemies. Darynn, Fyra, and Kaylaa must work with new allies to solve the secret to the past while navigating the revolution and solving the murder. If they don't, they will be buried in a frozen wasteland, and the truths of two worlds will be obscured forever.
Assassination of Hope
Word Count: Information not available
Summary: They were young and at the start of a new Empire. Could they manage to achieve what was ask of them? On their ship, The Odyssey, they would head into space to help their ruler cement his hold on what would eventually be their  Empire rebuilt.
Micar
Word Count:

99000
Summary: Gavin Booker, a school librarian at Cooper Road Elementary, Raleigh, Northern Carolina, leads an orderly, normal life. Work, jogging, friends from work, his son every other weekend. Gavin is also a secret. He is a hybrid, or part-fairy, and in the Columbian Empire, hybrids are under an automatic death sentence. Magic is illegal. So is loving another man, another capital crime. Fairies are locked away in ghettoes, magical beasts, such as gryphons, unicorns, and pegasi are kept in zoos. The others, the tree and water spirits, the talking beasts, fauns, and the rest, are in hiding. This is the world in which Gavin grew up. He survived, thanks to his mother. He can never forget he is different: ministers preach against people like him constantly; hating the other is a part of every school's curriculum. But now, things are changing fast, and apparently, for the worst. Earthquakes, volcanoes, killer storms are all frequent occurrences. The medicine Gavin takes to suppress his body's glowing, isn't working. The spells cast by his doctor, a witch, are losing their power. If anyone finds out what Gavin is, he is dead. Under threat, the Empire always goes after its marginalized people. Can Gavin survive the coming catastrophe? Will he ever recover from losing the boys he loved? Can he find the fairy man who has haunted his dreams all his life before it is too late? Can his scarred heart ever heal?
In Light's Shadow
Word Count: Information not available
Summary: His love is locked inside an enigma. Can he solve the mystery to make himself a home? A hidden kingdom. The 18th century. Alden grew weary of battle long ago. And now the honorable soldier seeks to put the horrors of war behind him to settle in a land of peace and start a family. And while an attractive shopkeeper catches his eye, he finds himself caught up in the kingdom's greatest riddle: the twelve daughters of the king and queen vanish every night and reappear in the morning with their shoes worn out. Drawn to a shared passion for dancing as he spends more time with the woman of his dreams, Alden can't avoid a growing involvement with the land's enchanted magic. And as he does so, he starts to realize that the alluring woman he's falling for may hold the key to answering the perplexing mystery. Can Alden unravel a magical entanglement and find his way to happily ever after? Twelve is a charming fairy tale retelling. If you like upstanding heroes, picturesque romance, and delightful surprises, then you'll adore Joan Marie Verba's heartwarming story. Read Twelve to expose the realm's enchanting secrets today!
Twelve
Word Count:

80000
Summary: Wounded, betrayed and alone, Cal has escaped to Tarquis, losing everything… again. In Sanquous, dark forces are mustering as it edges closer to all out war. Their leader missing, the Ilfannde face the wrath of the Draguul and their tyrannical High Priest. If ever there was a time for a saviour to arise, it's now. The question is, will she?
The Rod of Xerus
Word Count: Information not available
Summary: They told him he was chosen, but everything they told him was a lie. Sookahr believes he's destined to change the world. With his rodent companion and a motley crew of fellow serpents, he journeys to the farthest outpost of Serpentia, determined to prove himself. The quest leads him to the very edge of the jungle, where Sookahr encounters, not only sabotage, but a dark secret that could shake the foundation of his civilization. Betrayed and abandoned, Sookarh must discover his own power, harness the magic inside his dreams, and decide who he really wants to be. Because if he can't rise to the challenge, expose his enemy, and uncover the truth, he won\'t just lose his way. He'll lose his friends, his place in society… and his life. In a world ruled by reptiles, one snake must fulfil his destiny to overthrow corruption, expose a dark secret, and save his people… from themselves. 2020 Leo Literary Award Winner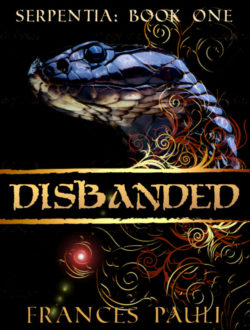 Disbanded
Word Count: Information not available
Summary: In this second instalment of the Damien the Devil series, we see Damien has found a new, more permanent home outside the foster system with Pat, Damien's Renfield and caseworker, and his twin brother Matt. He is also enjoying a budding romantic relationship with Brian, another boy from the foster home. But after the two of them are caught kissing, Damien is kicked out on the streets in the middle of the night-only to find himself in a very dangerous situation with a vampire. Brian, feeling guilty about the whole situation, goes looking for Damien the next evening, only to fall victim to the vampire's trap himself. Damien and Pat save Brian, but he's unable to remember what happened that night-until he starts to be plagued with nightmares. Meanwhile, Damien is too afraid to reveal to Brian that he is a vampeal: a half-vampire and half-human. Will they both be able to handle the truth of what each other is hiding?
Shattered Recollection