Sci fi stories that involve an alien takeover (usually of Earth). Return to general Sci Fi
Note: these books are currently sorted by release date, with newest first.
Word Count:

50,000
Summary: J. Manfred Weichsel's versatility, unique style, and refusal to be bound by genre conventions have made him a force to be reckoned with in the world of speculative fiction. Now, Weichsel invites you to strip down and expose yourself to his raw and unfiltered imagination with Warrior Soul & Other Stories. Weichsel's stories peel away the veneer of societal norms and delve deep into the human psyche, exposing the rawest and most vulnerable parts of our existence. Through his boundary-shattering tales of science fiction, adventure, horror, and humor, Weichsel fearlessly explores the fringes of what is possible in fiction, revealing the naked truth of our humanity. From the mind-bending science fiction of "Warrior Soul", to the fantastical realm of "The Rainbow-Colored Rock Hopper", from the light comedy of "Queen of the House", to the darkest depths of horror of "Complicit in Their Bondage", these twelve tales will leave you feeling exposed and vulnerable in the best possible way. The bold and daring themes that run throughout Weichsel's work strip away all pretense and artifice to reveal the unvarnished truth of the human experience. So if you're ready to shed your inhibitions and explore the depths of what's possible in fiction, then get your copy of Warrior Soul & Other Stories now. It's time to embrace your innermost desires and take the plunge into the raw, unbridled world of J. Manfred Weichsel.
Warrior Soul & Other Stories
Word Count:

109,000
Summary: Time is running out for planet Earth. An insidious Martian plague has been infecting the planet for over twenty years, and has resisted all human efforts to eradicate it. With all life on Earth facing extinction, the only solution left is to directly access a specific piece of Martian technology. But, according to diaries left behind by Ogilvy the astronomer, the Martians have hidden it at the lake on the moon. In 1945, three rockets converted from Martian cylinders take off on the vital lunar mission, and amongst the crew is Ogilvy's nephew, Jack Stent. Will the astronauts locate the Martian shadow-weapon, thought to hold the desperately needed cure for Marseria? Can it really be used to instigate another timeline on Earth so that mankind can survive? The stakes are high and so is the risk of contact and conflict with Martians. Nearly two hundred years later, at a scientific colony on Mars, a shocking discovery is made about Jack Stent, and Ogilvy's Martian diaries are once again pivotal to human survival and the continuation of life on Earth. Gateway To Mars is the third volume of The Martian Diaries series that continues the classic H.G. Wells Mars novel in a compelling, unmissable action adventure. If you're a fan of The War Of The Worlds you won't want to miss this story of survival, despair and hope, that brings the original tale full circle. Get your copy today! What readers have said: "A really well written, excellent continuation of the story and a truly brilliant tribute to HG Wells! I do recommend!" "An excellent third part to this incredible series!" "Boy this was a good book! I love the writing style... it's very true to the original story."
The Martian Diaries: Vol.3 Gateway To Mars
Word Count:

50000
Summary: Can Scott and his new friends survive a trip to the "Dead Zone". Is it REALLY dead? if not who or WHAT lives there?
Enimnori Discovery
Word Count:

110000
Summary: Finding work is easy. Staying alive is a little bit harder. When Russ Wesley finds an unusual artifact in his grandfather's collection of rare antiquities, the last thing he expects is for it to draw the attention of a ferocious alien from a distant planet. Equally surprising is the adventurous team of intergalactic exterminators dispatched to deal with the alien threat. They're a little wild, and a little reckless. Worse yet, they're so impressed with Russ's marksmanship that they insist he join their squad . . . whether he wants to or not. Blurb "This book is so much fun it ought to be illegal in all known galaxies. Ash Bishop has written a wildly imagined, deeply felt, swashbuckling page turner. I loved it." —Jesse Kellerman, New York Times bestselling author of The Burning
Intergalactic Exterminators, Inc.
Word Count:

299
Summary: This action filled, edge of your seat dystopian adventure is set in the near future, when a space probe is returning to Earth from the Cares 1 Asteroid with geological and biological samples frozen in ice for billions of years. It's big news, the discovery of ancient organisms from an extra-terrestrial body. After the samples arrive at Interplan Astro-Research facility in the quiet city of Worcester Massachusetts, with the world's media gathered, eager to hear official announcement that the samples are indeed biological, thus discovering evidence of complex life beyond our planet. Not everyone's excited or happy about having alien lifeforms coming to Earth, and one group of terrorists have planted a thermobaric bomb in an elevator shaft of the facility. The bomb detonates and the facility explodes, killing hundreds of people, workers, protestors, scientists and TV crews, but far from destroying the samples, the explosion has released them from their level one quarantine and unleashes a deadly parasite that quickly infects the citizens of Worcester with infestations of strand red worms that infest the living. Despite efforts to contain the "Cares Pestis" AKA the "MR. Ripple" it spreads fast and becomes through the USA and beyond, causing a complete breakdown of society. But then comes something else, something far more menacing that threatens the very existence of human life on earth, and for Colonel Troy Glass and his fiancé Yvette, a deadly struggle for survival begins as they head west, to a secret government facility known as Haven. On their way, they pick up an eclectic group of fellow survivors, who together, battle against all the odds, both human and alien…
Mr. Ripple
Word Count:

107000
Summary: As the Oort Federation becomes a major force in the Solar System, Braxton Thorpe passes the Federation chairmanship to former US President John Butler. Thorpe's group offers humanity virtual immortality, but Isidor Orlov and his Udachny Enterprises oppose their every move. While terraforming Mars for more living space, the Mars Reds prove formidable as resisters. If the Asterian starship fighter pilots are released, will they align with Phoenix or Udachny, and who will develop the right FTL technology? In this tense space adventure, Thorpe, his team, and Max the tabby cat travel to Proxima Centauri and beyond to the Aster system, 84 lightyears distant. Will Thorpe bring together humans and Asterians in their quest for intergalactic travel? Will long life prove more than mere humans can handle?
The Oort Federation: To the Stars
Word Count:

50000
Summary: An act of desperation by young magician Brandon accidentally snatches Scott Hathaway from our world. Struggling to adapt to his new life, Scott becomes ensnared in dark local politics. He realizes he can use the knowledge he brought from his world to save his new friends, but at what cost? The first in a series. A story about an engineer who gets accidentally transported to a medieval type world where magic is real. But all is not as it seems!
Enimnori
SALE
Word Count:

85000
Summary: When Tabitha first whispered to the ship, she never expected it to answer. A pilot yearning for adventure, Tabitha proudly flies missions scavenging supplies for her space-borne city. But when the Navicorp sends her to scavenge a derelict ship, it triggers a psychic link to the ship and the alien enemy that drove her people from their home planet. The unexpected connection puts Tabitha and her people in the crosshairs of the telepathic invaders who are determined to exterminate the human race. Her rapidly evolving ability to communicate with the alien ship unlocks a chain of secrets about her past that shakes her identity. The Captain's eagerness to push her into danger challenges her loyalty. Can she use her new ability to save them? Will they turn on her and leave her at the mercy of the aliens? If you love technopaths, psychics, AI friends, and thrilling heroics, you'll love this military sci-fi adventure. Pick up this page-turner today.
Ship Whisperer
Word Count:

19582
Summary:
The War Of The Worlds continues.... The terror of the coming of the Martians is all but a distant memory, a bad dream that has faded with time.
All George wants is a quiet suburban life – but at breakfast one morning his newspaper reports the shocking discovery of a Martian cylinder, found intact and unopened, and carefully transported to London. Could it be from the first alien invasion and after more than seven years are there Martians still alive inside?
By teatime George learns that vengeance seeking Martians and their tripod fighting machines are already on their way back. This time they are armed with a doomsday weapon, able to destroy all bacteria and completely annihilate Earth. The countless numbers of their projectiles form a huge green comet and invasion day will be just before Christmas.
The first attack by aliens was enough for any lifetime, but who would expect to be involved with two? Can George and his wife escape this new Martian apocalypse and how will our planet survive a second time? The Day Of The Martians continues the iconic Mars novel by H.G. Wells, in this exciting action adventure – the first volume of The Martian Diaries science fiction series.
If you're a fan of The War Of The Worlds you won't want to miss this award-winning 3 part continuation. Get the ebook today or check out the action-packed audio version featuring original music and sound effects.
Winner of 5 awards in the 2020 Los Angeles Science Fiction Film Awards, Audio Drama category, together with volume 2 Lake On The Moon.
WHAT PEOPLE HAVE SAID ABOUT THE AUDIO VERSION
"...a wonderfully executed tribute to H.G. Wells." Readers Favorite 5 stars
"...sometimes in life, amongst all the boring stuff, something comes along to shake up your life and make you grateful for other people's creations." Breakaway Reviews
"A splendid sequel." C.A. Powell, science fiction author of The Last Days Of Thunder Child
"A little diamond from Mars!" Goodreads reviewer
The Martian Diaries: Vol. 1 The Day Of The Martians
Word Count:

42000
Summary:
What lies hidden inside the Martian Red Weed and what is the secret of the lake on the moon? When the first Martian cylinder crash lands in England, Ogilvy the astronomer barely survives the deadly heat ray from the attack by aliens. He then accidentally stumbles upon the truth about the Red Weed and sends vital evidence to scientists in France on board HMS Thunder Child, but the ship is attacked by a Martian tripod.
Years later in 1919, in the aftermath of World War 1 and Spanish influenza, a sinister plague emerges on Earth from the long forgotten Red Weed, and it threatens all life on our planet with global extinction.
Ogilvy suggests a daring and risky plan to combat the devastating alien menace, involving alternate history timelines. He persuades other original War Of The Worlds characters to participate, but how on earth can they locate the secret weapon hidden by the Martians at the lake on the moon?
Don't miss this compelling continuation of the H.G. Wells Mars novel in the gripping second volume of The Martian Diaries science fiction series. Get this award winning continuation of The War Of The Worlds today! Features a bonus chapter not included in the audiobook version.
Bronze medal winner in the Readers Choice Awards 2020
WHAT PEOPLE HAVE SAID ABOUT THE AUDIO VERSION
"I sat spellbound while listening to this...as I've always been convinced nobody could ever out-rank the original War of the Worlds by H.G. Wells, but he has succeeded in giving us this astonishing follow-up." Breakaway Reviews
"The storyline is mesmerizing, and Mr Wilburson has done a magnificent job of melding his story with the original War of the Worlds." Readers Favorite Reviews
"I am in awe. I finished the audiobook an emotional wreck, especially after the epilogue...and cannot wait for episode three, Gateway to Mars." Goodreads reviewer
"Author Wilburson's trilogy is an enthralling companion to H.G. Wells' War of the Worlds. The Lake On The Moon is an audiobook treat, highly recommended!" Veronica Cline Barton - Mystery & Suspense author
Winner of 5 awards in the 2020 Los Angeles Science Fiction Film Awards, Audio Drama category, together with volume 1 The Day Of The Martians.
The Martian Diaries: Vol. 2 Lake On The Moon
Word Count:

22000
Summary: Flying saucers are spotted all over the world but disappear after one crashes into the San Francisco Bay. Nearby, Mitch rents his spare room and quickly develops a crush. But what he doesn't know is that Claytone will soon turn his world— and heart, upside down. Claytone's final revelation will reach even further; it will change life on planet Earth— forever.
99 Days
Word Count: Information not available
Summary: An intriguing collection of short stories, from Space Opera to harder sf. Life can be hard when your papers suddenly aren't valid anymore and you are forced to leave your home for another planet. How do you cope? Friendly aliens come in all shapes, as do the ones you don't want in your mind. You will find some futuristic social science and a speculative one thrown in for good measure. The characters are younger and some are older, some are strange and some perhaps, are more familiar. This collection of short stories reveals capable humans, intriguing aliens, and new areas of trade.
The Mars Vintage and other stories
Word Count: Information not available
Summary: Trusting an alien is hard ... figuring out which alien is trustworthy might be impossible. Marcus carries the weight of the cosmos on his shoulders. Still, he loves being one of the chosen enrolled in the alien-driven education tract at his university. This extraterrestrial Federation always said he was important, so they're taking the next logical step by inviting him to join their mysterious research Cohort. If he survives selection, Marcus will solidify himself as one of the elites tasked with preparing humanity to face an alien Confederation bent on enslaving Earth. The simulated realities he experiences during this Subsumption research creates critical data the Federation needs to understand human nature, choice, and to integrate worlds. But the alien experimentation proves more physically, mentally, and emotionally taxing than Marcus ever imagined, pushing him to the breaking point. As the doomsday clock continues its countdown to the Confederation's invasion, Marcus is running out of time to get his personal life in order. Can he live up to his family's idea of always moving forward? Or will he sink humanity's chance to reach the stars? Either way, Marcus is learning what the Federation already knows: the ability to choose is the most powerful force in the universe. If the conspiracy theories are right, though, he might be aligning with the wrong aliens. Subsumption is the first novel in the Subsumption Series, a story about humanity's pivotal position between two warring alien empires. If you enjoyed Ender's Game, Ready Player One, and the Amazon Prime series Upload, then the Subsumption Series is for you!
Subsumption: A Sci-Fi Novel to Inspire
Word Count: Information not available
Summary: A galactic war begins at dawn … so tonight they're going to party like it's 2020. Marcus is ready to put a terrible year behind him. The virus and social unrest made his first semester at University a memorable one for all the wrong reasons. It's New Year's Eve and tomorrow, he'll become a legal adult. So tonight, with his loved ones, they'll race against the darkness to summon a brighter future. But Marcus can't shake the feeling that something is off. Maybe it's conditioning, or maybe it's the series of unwelcome guests pushing the party toward chaos. Underestimating his abilities, Marcus takes a step too far, forcing his family and friends to fight over his well-being as an unidentified object appears in the sky. All celebration ends once an artificial intelligence discloses the arrival of friendly extraterrestrials sent to stop another alien force bent on enslaving the planet. Now the galactic clock is ticking, and according to the AI, Marcus is the key to humanity's defenses against the imminent invasion by these hostile outsiders. Can an artificial emissary be trusted? Or are Marcus's friends right to doubt the alien's intentions? The world has changed irrevocably as zero day begins. The party is over, and humanity is fighting for their lives. Disclosure is a short story prequel to the Subsumption Series, a story about humanity's pivotal position between two warring alien empires. If you enjoyed Armada, Signs, and the Joe Rogan Experience, then Disclosure and the Subsumption Series is for you!
Disclosure : A Sci-fi Shorty Story to Inspire
Word Count:

99,800
Summary: The Storm has arrived. For Davra Andraste, redemption comes as she accompanies the resistance commander to confront the human warlord fighting against both sides. And the newest overlord on Amargosa. For an ambitious politician, control of human evolution is almost in his grasp. Only a very old foe threatens to undo his plans. For Laral Farad, it is his family's last hope to tame the "rogue colony" called Cyal, which humans call Amargosa. For JT Austin, it's a now or never moment to prove himself as he trains to liberate his adopted homeworld. For Amargosa, it's a chance to end a year-long nightmare. The Amargosa Trilogy comes to a thrilling conclusion!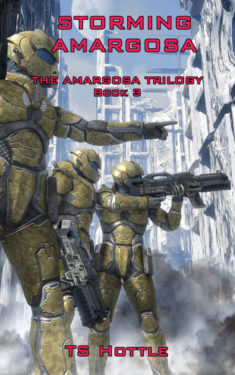 Storming Amargosa (The Amargosa Trilogy Book 3)
Word Count: Information not available
Summary: The Dissolution is here. It is both an end, and a beginning. "Science fantasy with fantastic queer rep" -J.S. Fields, Author of the Ardulum Series The Dissolution has begun. Sam is finally reunited with Enos and Inas, only to see his new home under siege by beings that dissolve reality at a single touch. Even as they battle their personal demons, the three apprentices must also fight to save their home. Enos lashes out at those she loves, plagued by voices she's consumed, and Inas must risk his sanity to access ancient memories of the Nether. Sam must learn how he uniquely affects the Symphony, but there is little time to master what usually takes a lifetime. The Nether is leaderless and the Assembly is in chaos. The three apprentices must counter an invasion by aliens who rip the Symphony, and the very universe, apart. Ancient antagonists will resurface, a battle must be fought, and the secrets of the Nether and the universe will be laid bare in this final book of the Dissolution Cycle. If you like epic fantasy, space opera and music-based magic, you'll love William C. Tracy's Dissolution Cycle. Download Fall of the Imperium today and discover the diverse cultures, genders, and alien species of an epic science fantasy space opera! The Dissolution Cycle (Epic Space Opera, LGBT): Book 1: The Seeds of Dissolution Book 2: Facets of the Nether Book 3: Fall of the Imperium Book 4: Tales of the Dissolutionverse (Novella collection)
Fall of the Imperium
Word Count: Information not available
Summary: Unraveling myths is messy … but the lies have to die for humanity to survive. Twin spirits born a decade apart, Velia and Virgil are bored by their trivial teenage lives, sensing they're meant for so much more.  Velia's mother wants to wrap her in a straightjacket of protective love, while Virgil's father wants him to follow in his violent footsteps.  But the arrival of a mythical video game and the forced exile to a wilderness camp for troubled kids will turn their worlds upside down. Neither teen knows this is a test to see if they're ready to fulfill their destiny and join humanity's secret alien ally in preventing the end of the universe.  For these siblings of synchronicity to succeed, they'll have to capture, contain, or kill a high-value target of an opposing alien force bent on conquering Earth. Desperate for a life on their own terms, Velia and Virgil must complete brutal trials to learn why they're uniquely capable of saving all life in the universe. Will their families hold them back? And what about the sadistic one-eyed man determined to stand in their way? If he doesn't kill them, the truth will. Their lives have been a lie …, but they're about to learn that the truth is even more dangerous. Coverted is an introductory novella to the Subsumption Series, a story about humanity's pivotal position between two warring alien empires. If you enjoyed Ready Player One, Stranger Things, and Jean-Claude Van Damme movies, then Coverted and the Subsumption Series is for you!
Converted: A Sci-fi Novella to Inspire
Word Count:

36000
Summary: IN-NO-VA-TION (Noun) 1) A new idea, method, or device. 2) The introduction of something new. 3) The application of better solutions to meet unarticulated needs. Three definitions to inspire writers around the world and an unlimited number of possible stories to tell. Here are 120 of our favorites. Innovation features 300-word speculative flash fiction stories from across the rainbow spectrum, from the minds of the writers of Queer Sci Fi.
Innovation
Word Count:

94000
Summary: Braxton Thorpe has discovered a threat to the entire Solar System, but he has a problem: he's dead. Frozen at death, he awakens to find himself uploaded into an electronic matrix. Exploring beyond the matrix and the larger GlobalNet, he discovers the Oort, a distributed electronic entity older than humanity, with an unnerving secret: aliens wiped out nearly all life on Earth once, and are coming back to do it again. The mathematical entity that is Thorpe has to find a way to convince humans of the threat, and in time to do something about it. But how, and what? If you've read Niven's A World Out of Time or Taylor's We Are Legion, the opening of Icicle will only seem familiar. Buckle up for a wild ride; you ain't seen nothing.
Icicle: A Tensor Matrix
Word Count:

85,000
Summary: Oh, so you thought your quarantine was bad? John Farno wakes up in a rover on a Mars-like world to discover the rest of the planet has been purged of all human life. With only the contents of his rover, he must figure out how to survive. He has no communications off-world, no ship to use for escape, and no human being within 40 light-years. It is the ultimate in social distancing.
No Marigolds in the Promised Land