Sci fi that features steam-powered machinery rather than advanced technology, usually in an anachronistic setting. Return to general Sci Fi
Note: these books are currently sorted by release date, with newest first.
Word Count:

70000
Summary: What secrets lie beneath the streets of Paris? When a malfunctioning automaton runs full force into their locomotive on the new Paris-Orléans railway, Jacqueline Duval and her bohemian twin sister Angélique Laforge become embroiled in a mystery deeply rooted in their tragic past. A polytech and famed engineering prodigy, Jacqueline is fascinated by the metal man, even more so when she discovers that it is powered not by steam, but by the supernatural. Her investigation puts the sisters on a path both dangerous and mysterious as they must foil a plot to employ the dead to power a mechanical army aimed at international conquest. Aid comes from unexpected sources as the twins rush to avert this engineered war, but will they be in time?
Esprit de Corpse
Word Count: Information not available
Summary: A young woman in 1884 doesn't have many options … But Susannah did not expect to be tutoring an alien snail child while aboard a ship sailing in space … Who will get the real education? Orphaned and penniless in Hong Kong in 1884 — what's a young gentlewoman to do? Impulsive, adventurous, and self-confident, Susannah accepts an offer to become the governess to a young foreigner on a ship. She does not expect the ship to be in space, or the foreign child to be an alien who looks like a giant snail. Nevertheless, she throws herself into the job of bringing Victorian decorum to the natives. But when she is accused of spying and put on trial in an alien court, Susannah has to challenge the law of the aliens to save herself — and her young and slimy student.
Snail's Pace
Word Count:

117,600
Summary: The Action Packed Conclusion to the Peridot Shift Trilogy Peridot is on the edge of annihilation. Once life-giving, the world's Trade Winds are transforming people into soulless monsters. The surviving Alchemist gods neglect their followers or take advantage of them. Even worse, a delicate peace has been wasted, and everything and everyone is at stake, especially Meran, the mistreated embodiment of the planet. Captain Talis and the crew of Fortune's Storm must try to do some good with what's left of Peridot in the hope that, together, they'll reclaim the hidden pieces of Meran's soul before the chaos seals her disastrous fate.
Cast Off
Word Count:

81,000
Summary: Explore the birth of a new world! Journey through time and space to the intricate biosphere of Juno, where three species have been birthed by the gods. First the Kuhifadi, inheritors of sun magic, able to do great deeds with magic stored in their bodies. Second the fearsome Uchafumlaji, technological savants who live in the depths of the ground. Third the weird Ngisikaa, a species uplifted from animals through communal memories. Small decisions and single individuals will affect the tide of history. Learn of the first Ngisikaa to meet death, whether a Kuhifadi will make the sacrifice to become a mage, and if an Uchafumlaji can build a bridge to the past. These stories and more will create The World of Juno! With content by: Nick Bright and Brent Lambert, C.J. Hosack, Nate Battalion, Daniel Eavenson, Malcolm F. Cross, Katie Cordy, William C. Tracy, N.L. Bates, Reese Hogan, Cedan Bourne, Robin C.M. Duncan, and X.M. Moon Genres: Science Fiction / Fantasy / Adventure / LGBT and Non Binary Market: Adult
The World of Juno
Word Count:

97000
Summary: The seas spell freedom. Pirates and kraken, boats and submarines, deadly sirens, mermaids, and the women who face them all. These are our heroes. High seas adventure, fantasy, and magic weave together in this sapphic anthology focusing on the joy of the unbounded oceans. If you like diverse stories with lesbian and sapphic heroines exploring oceans, battling sea monsters, and seducing pirates, buy Farther Reefs today! With stories by: Sarah Day and Tim Pratt, Kim Pritekel, Kyoko M. Sara Codair, William C. Tracy, N.L. Bates, Robin C.M. Duncan, Vanessa Ricci-Thode, Margaret Adelle, and J.S. Fields Genres: Science Fiction / Fantasy / Adventure / Lesbian / LGBT and Non Binary Market: Adult
Farther Reefs
Word Count:

33000
Summary: Clarity (noun) Four definitions to inspire writers around the world and an unlimited number of possible stories to tell: 1) Coherent and intelligible 2) Transparent or pure 3) Attaining certainty about something 4) Easy to see or hear Clarity features 300-word speculative flash fiction stories from across the rainbow spectrum, from the minds of the writers of Queer Sci Fi.
Clarity
Word Count:

91000
Summary: She barely survived the last round. As the Red Dog Gang closes in on her Family, can she survive the next? After the devastating events of our last chapter, all private eye and mafia wife Jacqueline Spadros wants is to get her life back. Then a missing person she thought she'd never track down falls into her lap. Jacqui is thrown into a series of events which not only puts her and everyone around her into danger, but changes her life forever. Warning: on-screen murder, major consent issues, smoking, language, infidelity, betrayal, description of injury, gore, on-screen suicide, child injury This is chapter 9 of a 13-part serial novel. Please read these books in order: * The Jacq of Spades * The Queen of Diamonds * The Ace of Clubs * The King of Hearts * The Ten of Spades * The Five of Diamonds * The Two of Hearts * The Three of Spades * The Knave of Hearts <-- you are here Book 10 coming October 2023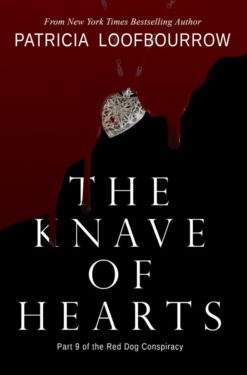 The Knave of Hearts
Word Count:

149,000
Summary: Peridot is headed for its second cataclysm. War has broken ancient alliances, sealed borders, and locked down the skies. The Five, Peridot's alchemist gods, have seen one of their number die and another fall in their efforts to protect their world from invaders beyond the stars. Defeated and diminished, they have ceased to answer the prayers of their people and have left the rapidly unraveling world to fend for itself. Talis and the orphaned crew of the lost airship Wind Sabre have a plan to set things to rights, but they're stranded on a rock far from the heart of the conflict. When an old enemy comes and offers them a ship and a path forward, it comes with strings that will pull them further from the home they are so desperate to save. Can Talis and her crew chart a course through hostile skies, shifting allegiances, and subverted governments before the true enemies of Peridot claim a power that can destroy the world once and for all?
Salvage
Word Count:

65000
Summary: A young man sold into servitude has his loyalties tested in ways he never imagined. Raised in an orphanage in Dickens, Daniel doesn't know who his parents were, where he comes from, or even his last name. Like all orphans, on his 16th birthday, he's sold to the highest bidder. Not knowing where he's going, who's bought him, or what they even want with him, Daniel embarks on an adventure he never thought he'd take. He finds love, a family, and a secure future - yet in a split second, makes a decision he ends up regretting the rest of his life. Brothers begins fifteen years before the Red Dog Conspiracy series. Warning: Language, smoking, use of alcohol and drugs, attempted suicide by hanging, M/M underage sexuality with consent issues, forced servitude, blood, gun violence, a man being beaten by a horsewhip, murder, discussion of child prostitution, underage M/F sexuality with age gap (female older).
Brothers
Word Count:

120600
Summary: Captain Talis just wants to keep her airship crew from starving, and maybe scrape up enough cash for some badly needed repairs. When an anonymous client offers a small fortune to root through a pile of atmospheric wreckage, it seems like an easy payday. The job yields an ancient ring, a forbidden secret, and a host of deadly enemies. Now on the run from cultists with powerful allies, Talis needs to unload the ring as quickly as possible. Her desperate search for a buyer and the fallout from her discovery leads to a planetary battle between a secret society, alien forces, and even the gods themselves. Talis and her crew have just one desperate chance to make things right before their potential big score destroys them all.
Flotsam
Word Count:

81000
Summary: As a private eye closes in on her city's secrets, there are those who will go to any lengths to stop her. After the horrific events of our last chapter, Jacqui's in a medical predicament. If she wants to stay free from the Spadros crime syndicate, she has to find the cure for her condition - and time's running out. But just when Jacqui thinks she's found what she's after, she finds herself instead in a much bigger - and deadlier - situation. She's getting closer to discovering what mechanisms really lie beneath the city. And the Red Dog Gang isn't the only one who wants her stopped. Warning: on-screen death, captivity, child murder, terror, blood, bad language, smoking.
The Three of Spades
Word Count:

61,000
Summary: James "Bodacious" Creed stopped a killer and helped bring peace to Santa Cruz, a coastal California city on the edge of the American frontier. Now, the undead lawman, resurrected with steam-based technology, takes on dangerous criminal cases as a private investigator. One night while riding by the wharf, Creed hears a gunshot. He and his coyote companion, Coconino, rush to the scene. In a forest clearing, he finds two dead men and a dying woman. Mechanical parts ring her neck and wrist, and as she whispers of her travails, the former Chinese slave dies in his arms. Someone in San Francisco is using illegal machinery to alter and control women like her. To hunt down the perpetrator, Creed travels to the City by the Bay. His journey takes him into the depths of Chinatown, reveals a secret society, and puts old and new friends in danger. How can Creed learn the truth before more women are changed, manipulated, or killed?
Bodacious Creed and the Jade Lake
Word Count:

19582
Summary:
The War Of The Worlds continues.... The terror of the coming of the Martians is all but a distant memory, a bad dream that has faded with time.
All George wants is a quiet suburban life – but at breakfast one morning his newspaper reports the shocking discovery of a Martian cylinder, found intact and unopened, and carefully transported to London. Could it be from the first alien invasion and after more than seven years are there Martians still alive inside?
By teatime George learns that vengeance seeking Martians and their tripod fighting machines are already on their way back. This time they are armed with a doomsday weapon, able to destroy all bacteria and completely annihilate Earth. The countless numbers of their projectiles form a huge green comet and invasion day will be just before Christmas.
The first attack by aliens was enough for any lifetime, but who would expect to be involved with two? Can George and his wife escape this new Martian apocalypse and how will our planet survive a second time? The Day Of The Martians continues the iconic Mars novel by H.G. Wells, in this exciting action adventure – the first volume of The Martian Diaries science fiction series.
If you're a fan of The War Of The Worlds you won't want to miss this award-winning 3 part continuation. Get the ebook today or check out the action-packed audio version featuring original music and sound effects.
Winner of 5 awards in the 2020 Los Angeles Science Fiction Film Awards, Audio Drama category, together with volume 2 Lake On The Moon.
WHAT PEOPLE HAVE SAID ABOUT THE AUDIO VERSION
"...a wonderfully executed tribute to H.G. Wells." Readers Favorite 5 stars
"...sometimes in life, amongst all the boring stuff, something comes along to shake up your life and make you grateful for other people's creations." Breakaway Reviews
"A splendid sequel." C.A. Powell, science fiction author of The Last Days Of Thunder Child
"A little diamond from Mars!" Goodreads reviewer
The Martian Diaries: Vol. 1 The Day Of The Martians
Word Count:

70000
Summary: Jacqui faces her biggest mystery yet - and her greatest fear. A drive-by shooting leaves Jacqueline Spadros with little remaining support for the life she's built apart from her estranged husband Tony. As evidence grows that the Hart Family is behind the attacks, which up to now have been laid on the doorstep of the notorious Red Dog Gang, Tony brings formal charges against the Harts before the Commission. Jacqui wants to stop the Red Dog Gang and learn the truth about Charles Hart's obsession with her. But the truth is stranger than she ever imagined. And what she learns changes everything. This is chapter 7 of a 13-part future steampunk noir series. Please begin with The Jacq of Spades and read the books in order.
The Two of Hearts
Word Count:

122000
Summary: As the heir to the throne, Royal Connate Olivienne Dracore cannot escape having a Shield team protecting her wherever she goes. But with the addition of Shield Commander Castellan Tosh, she has a team that doesn't just guard her person but also aids in her job as a historical adventurist. She knows without a doubt that together they can unravel the Divine Mystery of who the Makers were and why they created the great temples. With the conclusion of their last mission, Olivienne acquired the map needed to find the mysterious third great temple of Psiere. And there is no one better to accompany than her beloved Cmdr. Tosh. But before they can leave to brave the dangers of the unknown, first they must brave their own oathing ceremony. They will need each other for the coming mission because as with all things related to the Makers, mystery often begets mystery and danger is always just a wrong step away. Especially when the prize is something that could change Psiere forever.
The Lost Temple of Psiere
Word Count:

75000
Summary: A storm is coming ... One year has passed since the unpopular second Diamond Purge began. When the trains in Bridges mysteriously stop running, tensions among the populace rise to the point that the other three Families decide something must be done. Private investigator Jacqueline Spadros gets an unusual request: mediate with Cesare Diamond so that Inventors from all Four Families may meet to find a solution to the crisis. But Jacqui has more pressing problems. Her best friend is dying, she has a missing-persons case that she can't seem to solve, and her teenage sister-in-law is out of control. When her lawyer blackmails her for the enormous amount she owes him, Jacqui does something no one would ever have expected.
The Five of Diamonds: Part 6 of the Red Dog Conspiracy
Word Count: Information not available
Summary: The Dissolution is here. It is both an end, and a beginning. "Science fantasy with fantastic queer rep" -J.S. Fields, Author of the Ardulum Series The Dissolution has begun. Sam is finally reunited with Enos and Inas, only to see his new home under siege by beings that dissolve reality at a single touch. Even as they battle their personal demons, the three apprentices must also fight to save their home. Enos lashes out at those she loves, plagued by voices she's consumed, and Inas must risk his sanity to access ancient memories of the Nether. Sam must learn how he uniquely affects the Symphony, but there is little time to master what usually takes a lifetime. The Nether is leaderless and the Assembly is in chaos. The three apprentices must counter an invasion by aliens who rip the Symphony, and the very universe, apart. Ancient antagonists will resurface, a battle must be fought, and the secrets of the Nether and the universe will be laid bare in this final book of the Dissolution Cycle. If you like epic fantasy, space opera and music-based magic, you'll love William C. Tracy's Dissolution Cycle. Download Fall of the Imperium today and discover the diverse cultures, genders, and alien species of an epic science fantasy space opera! The Dissolution Cycle (Epic Space Opera, LGBT): Book 1: The Seeds of Dissolution Book 2: Facets of the Nether Book 3: Fall of the Imperium Book 4: Tales of the Dissolutionverse (Novella collection)
Fall of the Imperium
Word Count:

36000
Summary: IN-NO-VA-TION (Noun) 1) A new idea, method, or device. 2) The introduction of something new. 3) The application of better solutions to meet unarticulated needs. Three definitions to inspire writers around the world and an unlimited number of possible stories to tell. Here are 120 of our favorites. Innovation features 300-word speculative flash fiction stories from across the rainbow spectrum, from the minds of the writers of Queer Sci Fi.
Innovation
Word Count: Information not available
Summary: The Dissolution approaches, and all will change. "Science fantasy with fantastic queer rep" -J.S. Fields, Author of the Ardulum Series The Dissolution approaches. Sam has saved the Assembly of Species, but at a terrible cost. Locked in his apartment, his memories gone and his best friend abducted, he is once again crippled with anxiety. Meanwhile, Enos struggles to free her brother from imprisonment, alone for the first time in her life. Her true species has been revealed, and there are hints the deadliest of her kind survived an ancient war. But the Nether contains more secrets. A musical chime disrupts daily life, signaling changes to its very fabric. To solve this mystery, Sam must face his anxiety and confront truths about his memories and unique abilities. Only then can he save his friends from the machinations of the Life Coalition, by understanding the reality behind the Facets of the Nether. If you like epic fantasy, space opera and music-based magic, you'll love William C. Tracy's Dissolution Cycle. Download Facets of the Nether today and discover the diverse cultures, genders, and alien species of an epic science fantasy space opera! The Dissolution Cycle (Epic Space Opera, LGBT): Book 1: The Seeds of Dissolution Book 2: Facets of the Nether Book 3: Fall of the Imperium Book 4: Tales of the Dissolutionverse (Novella collection)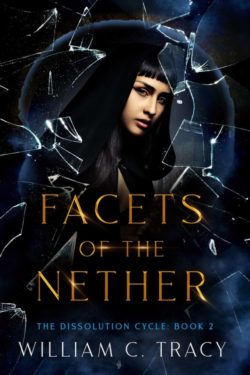 Facets of the Nether
Word Count:

78,000
Summary: A new year has begun, and the annual Sower's Festival gala is brimming with Dockhaven's elite and their entourages. Some attend for the spectacle, some for the exotic indulgences, some to augment or gamble away fortunes. Others come to play opening moves in more subtle competitions, ones that will not realize their endgames for months to come. After a winter of convalescence, Aliara Rift wonders whether she is ready to return to the Thung Toh and if her remade body will betray her. Her mate, Duke Sylandair Imythedralin, has many concerns, the foremost being the looming destruction of the only home in which the two of them have truly felt safe. Together they will thwart land barons, politicians, and assassins as they navigate their way through a single day in Ismae's greatest port city. They Eat Their Own is the second Thung Toh Jig, a science fantasy action adventure following members of Ismae's preeminent covert organization as they execute contracts for Dockhaven's most powerful and ruthless citizens.
They Eat Their Own