Sci fi stories that include queer characters and themes. Return to general Sci Fi
Note: these books are currently sorted by release date, with newest first.
Word Count: Information not available
Summary: Legend of the Crimson Blaze is an action-packed origin story that will leave readers breathless and eager for more. When First Lieutenant Catalina Hernandez awakens in the morgue with superpowers, she's determined to discover the truth behind the CIA's faulty experiments and the mysterious organization known as The Order. But when the Ranalli mafia kills her lover, Catalina's past comes back to haunt her. With a heart full of vengeance, Catalina heads to Baltimore, MD, with a plan to infiltrate and take down The Order's secret presence in the United States. Will she succeed, or will the truth of her past catch up to her first? Legend of the Crimson Blaze is an action-packed novel that takes readers back to 1965 when the world's first superhero is born. If you enjoyed Marvel's Black Widow, you're sure to be enthralled by the origin story of Catamount, otherwise known as the Crimson Blaze. Buy now before the price changes!
Legend of the Crimson Blaze
Word Count: Information not available
Summary: For years, the whispers and legends of a lost city hiding in the Pacific Ocean were just that; legend. On the day Kaimi discovers his parents, the Queen and King of Mu, murdered, Mu's most powerful weapon fired, sending a pulse rushing towards the North American west coast. After the 2025 Great Pacific Pulse Event, or Pulse, vomited up much of humankind's trash in the Pacific Ocean along the North American west coast. The mysterious occurrence causing the largest environmental disaster in human history, people are no longer certain there is nothing concealed in the depths of the ocean. Scientist Karen Linn and billionaire investor Michael Donovan want to find out what actually happened that day five years ago. Will Michael's life in the adult entertainment industry and Karen's moniker in pseudoscience keep them as social pariahs, or are they on the cusp of finding a civilization that has been kept out of our grasp, deep in the world's largest ocean? How does the event from five years ago tie into the murder of the Queen and King of Mu? What lies under the sea may be bigger than anyone can imagine, and neither civilization may be ready for the truth.
Mu; Legend of a Lost City
Word Count:

75000
Summary: Enjoy the next chapter in this dark, psychological, steam-powered future mystery series from New York Times bestselling author Patricia Loofbourrow. Recovering from the tremendous losses she's suffered in our last chapter, private eye and mafia wife Jacqueline Spadros gets a new case from an unlikely source: her mobster husband. But when a mutual friend goes missing, Jacqui and her husband must join forces on a case which quickly turns deadly.
The Four of Clubs
Word Count:

38000
Summary: RISE (noun / verb) Eight definitions to inspire writers around the world, and an unlimited number of possible stories to tell: 1) An upward slope or movement 2) A beginning or origin 3) An increase in amount or number 4) An angry reaction 5) To take up arms 6) To return from death 7) To become heartened or elated 8) To exert oneself to meet a challenge Rise features 300-word speculative flash fiction stories from across the rainbow spectrum, from the minds of the writers of Queer Sci Fi.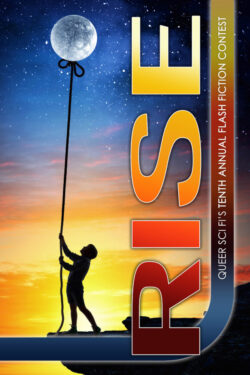 Rise
Word Count:

99000
Summary: Look to the skies! Brave adventurers face new relationships and adversity in all sizes, from steampunk dirigibles to harpies, giant bees to garden gnomes, and winged dinosaurs to sky pirates. Isolated mountain peaks, clifftop cities, and battles in the sky abound in this sapphic anthology focused on overcoming challenges awaiting in the clouds. If you like diverse stories with lesbian and sapphic-centric heroines enjoying the thrill of adventure high in the air, buy Lofty Mountains today! With stories by: Seanan McGuire, Rosiee Thor, Rebecca Kim Wells, Maya Gittelman, Carmen Loup, Sara Codair, William C. Tracy, N.L. Bates, L.R. Gould, Robin C.M. Duncan, and J.S. Fields
Lofty Mountains
Word Count:

96,000
Summary: A guard and a thief. What could go wrong? Aik has fallen hopelessly in love with his best friend. But Raven's a thief, which makes things … complicated. Oh, and Raven has just been kidnapped by a dragon. Now Aik is off on a quest of his own, to hunt down the foul beast and make them give back his … friend? Lover? Soulmate? The whole not-knowing thing just makes everything harder. Meanwhile, the world of Tharassas is falling apart, besieged by earthquakes, floods, and strange creatures no one has ever seen before. Aik's ex, Silya has gone back to Gullton to try to save her people as the Hencha Queen, and Aik's stuck in a caravan with her mother and a damnable magical gauntlet that won't let him be. He has to find Raven, before it's too late. Things were messy before … but now they're much, much worse.
The Gauntlet Runner
Word Count: Information not available
Summary: The near future is progressively free from discrimination based on race, class, and sexual orientation. But in a world populated by the gifted, fifteen-year-old Alejandro Aragon (Alé) is part of the only remaining minority—he's a Deficient. Powerless. The one that accelerated genetics left behind. Alé knows that he'll need a miracle to graduate and pursue his dream of a legal career in the capital. His only ally is his best friend Yalamba, an outspoken and exceptionally gifted artist renowned for her unique ability to draw things into existence. But when she's kidnapped in a hate crime against her ability, it appears that Alé has every motive and no believable alibi. To prove his innocence and track down the real culprit, Alé teams up with the other outcasts in school, who each have their own reasons for getting involved. But the deeper they dig, the more they fear Yalamba's kidnapping is linked to a string of unsolved murders against the exceptionally gifted. With time running out, Alé must discover who he really is if he and his new friends plan to track down the culprit, clear his name, and rescue Yalamba—all before she herself is drawn out of existence.
Deficient
Word Count:

96000
Summary: "Today I swam through MOMA. Leon says it was a waste, encasing the art, then flooding the museum—frivolous and elitist. I say it was a gesture of optimism, a triumph of technology and political will." Want to thrill to the possibilities of a hopeful future? We asked a bunch of sci-fi writers to spin tales of a better future, imagining ways in which the world might become a better place. From a swim through an underwater museum to a joyous dance at a futuristic concert, from the eco-friendly aftermath of an alien invasion and retreat to the refurbishing of an old climate-ravaged home in New Vancouver, these fourteen short sci-fi stories will to restore your faith in the future. A world transformed is a world we can all hope for. Book three in the Writers Save the World short story anthologies. If you enjoy this book, check out Fix the World and Save the World.
Transform the World
Word Count:

32000
Summary: After a job gone wrong, Special Agent Olgo is trapped within the bowels of Mars with no means of escape. The device that imprisons the trauma within them is about to fail, and the past terrors kept hidden by it must be contained for Olgo's sanity and everyone's safety. From the darkness comes a tiny voice, and a tinier hope: "Hello?" *** The first book in the 'Cold Rush' Verse follows Agent Olgo as their corporate masters give them what could be their big break: a mission to Mars. But trying to change the working conditions in the planet's underground cities proves more challenging than the agent could have imagined. When a wearable device Olgo uses to block emotions begins to fail, an unlikely friendship changes everything as Olgo struggles to prevent spilling more blood on the Red Planet.
Cold Rising
Word Count: Information not available
Summary: The commander writes strategy in ink, the captain in orders, the trooper in blood. – Teachings of the Jeskan Guard The nation of Jeska stands at a crossroads. As the newly-appointed king, Corren must contend with civilian distrust, an imminent invasion, and his fractured family. His wife and son are missing—trapped behind enemy lines. He's brought evidence the rising insurrection is funded by the shamans, but instead of disbanding that guild, the Council of Elders believes the enemy's lies that Corren's corrupt. In days, an army of invaders—including hundreds of child conscripts brainwashed by the shamans and their allies—will march into Jeska. To save his country, Corren will need all his strategic genius, the determination of his guardsmen … and dangerous new technology wrested from a device that doesn't belong in this world.
Flames of Attrition
Word Count:

55000
Summary: A damaged ship, a dying shipmate–can she save both? Under attack! The flight back to Hyvilma should have been the easy part for the crew of the Majera–until a deadly ambush by pirates sends them reeling through hyperspace. Now getting to the planet in time is the only way Captain Kitra Yilmaz can save her dying friend. But landing at Hyvilma may be impossible: war has broken out on the Frontier. With illustrations by Hugo Finalist Lorelei Esther.
Hyvilma
Word Count:

119000
Summary: A single father fights to retain control as he shares his body and mind with an evolving AI. It's been nine years since the government banned all technology. So, when Joel Lodowick, a young transgender father struggling to support his five-year-old daughter, has an old bionic upload itself into his head, he is faced with a decision: Go to the cops and risk prosecution? Or use the robot's skills to turn his life around? Scared of losing his daughter, Joel chooses the latter. Heightened intelligence and physical enhancements quickly land him a better job and a brighter future. But things take a sinister turn when Joel realizes his uninvited companion has an agenda of its own, which may or may not include leaving him in control. Unable to approach the government who covered up the truth about AI sentience, Joel finds himself on the run. With his daughter's life on the line and his own body turning against him, he must find a way to convince the bionic in his head to value his human life before he loses the chance forever. Find out what happens in My Heart is Human by Reese Hogan!
My Heart Is Human
Word Count:

117000
Summary: You can choose your friends, but you can't choose your family… Quirk and Moth have avoided killing each other long enough to solve another case. They decide on a local job next, and take up the search for a missing scientist. How could Quirk know this new mystery put them on a headlong collision course with his troubled past, a plethora of personal issues, and a hoard of genetic hybrid creatures with an appetite for anything that moves? When their client dies in mysterious circumstances, law enforcement pursues the dysfunctional duo all the way to a research lab in frozen Yellowknife. Can Quirk and Moth find the scientist before they are banged up for murder, or has she already been eaten? Is it coincidence Quirk's father-in-law bought the company? Can they expose the shadow from Quirk's past and clear their names? Quirk and Moth need time, but it's fast running out, and the bodies are piling up. Find out what happens in The Carborundum Conundrum!
The Carborundum Conundrum
Word Count:

89000
Summary: THE POWER TO DESTROY A KINGDOM. THE POWER TO HEAL A HEART. Ari's new powers have awakened, threatening to tear apart a kingdom already on the edge. Sent back to Valon to face her father's—and the people's—judgement, Ari must decide how far she'll go to reclaim her former life, if that's even possible anymore. In the heart of the turmoil, Iata, the reigning ruler, is losing control of his increasingly unstable magics. As his secrets threaten to spill out, his brother's wife, Haneri, draws ever closer—and he's not sure he wants her to stop. At the border to Kidaa Space, Rhys grapples with the ominous and impossible patterns in the Kidaa attacks, and comes face to face with the Kidaa themselves in a harrowing meeting that could change the future of the kingdom. And Dressa, who secretly married an enemy prince, must now face the consequences of that marriage. Because Lesander was activated by her family. And Lesander has a choice: obey her family, or betray her wife. With enemies without and enemies within, can the Truthspoken save their kingdom, or is this kingdom doomed to fall? Court of Magickers collects episodes 94-150 of The Stars and Green Magics, previously published in serial form. Note: This book has main characters who use gender-neutral pronouns (they/them/their, fae/faer/faerself).
Court of Magickers
Word Count: Information not available
Summary: Forty years after landing on Lida, the colony still isn't finished. Agetha has survived many more battles than she anticipated when she first landed on her new home planet. She's older and wiser, has gained family and lost loved ones. And yet her reward for four decades of service is to be pushed to the colony's outer edges with the other aging Generationals. But that was only the beginning of her adventure. The biomass has spent years studying the intruders who landed on its surface, carving a new home from its very essence. Never satisfied in its attempt to communicate with this new and invasive species, finally it has found a way to express its intentions. The colonists may never be the same. Discover the fate of the colony in the second book of The Biomass Conflux trilogy!
To a Fungus Unknown
Word Count: Information not available
Summary: Before Ardulum, there was the Mercy's Pledge. One year after saving the Neek homeworld and redefining the people's religion, the crew of the Scarlet Lucidity returns to the Charted Systems for a much-needed break. For Nicholas and Yorden, the Systems will always be home, but for Emn and Atalant, too many memories compound with Emn's strange new illness to provide much relaxation. Tales from Ardulum continues the journey of Atalant, Emn, Yorden, Nicholas, and Salice as they try to define their place in a galaxy that no longer needs them while battling the artifacts of Ardulan colonization. Other stories include Yorden's acquisition of the Mercy's Pledge (and his grudge against the galaxy), Atalant's exile from her homeworld, Ekimet and Savath's romance, and many others.
Tales From Ardulum
Word Count:

45000
Summary: These three tales tell the story of Tharassas before the Tharassas Cycle, including the origin of the hencha queens, the ce'faine, and the colonization of the Highlands, essential companions for the four novels that make up the cycle: The Fallen Angel Charlie Fah, Cha'Fah to most of the world, has never fit in with the other citizens of Gully Town, thanks to his darker skin that sets him apart. But one day, an Angel arrives on a supply run from Earth, and what happens next sets Charlie on a new path that will turn his life upside down. The Last Run Sera is the last runner from Earth, bringing badly needed supplies to the Tharassas Colony across a twenty-five year gulf between the planets. Jas works on a hencha farm to make ends meet, harvesting berries from the semi-sentient plants. Neither one that knows their lives—and worlds—are about to change forever. The Emp Test Jey awakens to find himself in the care of a handsome stranger—a cheff from one of the mountain tribes. Afraid for his life, Jey has no choice but to let the man take care of him and his broken leg. Avain is on his Aud'ling—the coming-of-age test that requires him to spend a couple months away from his own people. The two of them will have to come to an understanding if they're going to help one another. The Last Run and The Emp Test have been published before in previous stand-alone editions, but The Fallen Angel is a new story written exclusively for this collection.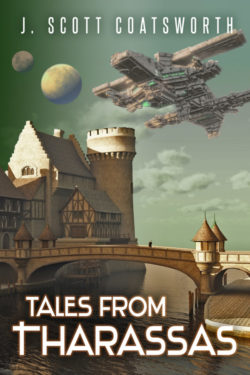 Tales From Tharassas
Word Count:

93700
Summary: Raven's a thief who just swallowed a dragon. A small one, sure, but now his arms are growing scales, the local wildlife is acting up, and his snarky AI familiar is no help whatsoever. Raven's best friend Aik is a guardsman carrying a torch for the thief. A pickpocket and a guard? Never going to happen. And Aik's ex-fiancé Silya, an initiate priestess in a magical crisis, hates Raven with the heat of a thousand suns. This unlikely team must work together to face strange beasts, alien artifacts, and a world-altering threat. If they don't figure out what to do soon, it might just be the end of everything. Things are about to get messy.
The Dragon Eater
Word Count: Information not available
Summary: In this stunning work of speculative urban fiction, Redfern Jon Barrett breaks down the binary between utopia and dystopia—presenting an ambitopian vision of the world's first gay state. A glittering gay metropolis of 24 million people, Berlin is a bustling world of pride parades, polyamorous trysts, and even an official gay language. Its distant radio broadcasts are a lifeline for teenagers William and Gareth, who flee toward sanctuary. But is there a place for them in the deeply divided city? Meanwhile, young mother Cissie loves Berlin's towering high rises and chaotic multiculturalism, yet she's never left her heterosexual district—not until she and her family are trapped in a queer riot. With her husband Howard plunging into religious paranoia, she discovers a walled-off slum of perpetual twilight, home to the city's forbidden trans residents. Challenging assumptions of sex and gender, Proud Pink Sky questions how much of ourselves we need to sacrifice in order to find identity and community.
Proud Pink Sky
Word Count: Information not available
Summary: The planet wakes. Atalant is torn between two worlds. In uncharted space—head of a sentient planet—the new Eld of Ardulum now leads the religion she once rejected. Emn is by her side but the Mmnnuggl war brewing in the Charted Systems—threatening her homeworld of Neek—cannot be ignored. Atalant must return to the planet that exiled her in order to lead the resistance. She must return home a god, a hypocrite, a liar in gold robes, and decide whether to thrust her unwilling people into the truth of Ardulum, or play the role she has been handed and never see her family, or her world, again.
Ardulum: Third Don