Epic sci fi takes that take place across an empire of stars – think Star Wars or Star Trek. Return to general Sci Fi
Note: these books are currently sorted by release date, with newest first.
Word Count:

35000
Summary: Will the Manderians choose security over freedom? Keyla Damaer presents the second collection of short stories featuring characters from the Sehnsucht Series. The Manderian Directorate is born from the ashes of a past dripping blood. Existential dilemmas, double agents undercover, epic battles, old and new enemies promise a thrilling read. Thrust into it now!
Tale From The Sehnsucht Series Part Two - The Manderian Directorate
Word Count: Information not available
Summary: A young woman in 1884 doesn't have many options … But Susannah did not expect to be tutoring an alien snail child while aboard a ship sailing in space … Who will get the real education? Orphaned and penniless in Hong Kong in 1884 — what's a young gentlewoman to do? Impulsive, adventurous, and self-confident, Susannah accepts an offer to become the governess to a young foreigner on a ship. She does not expect the ship to be in space, or the foreign child to be an alien who looks like a giant snail. Nevertheless, she throws herself into the job of bringing Victorian decorum to the natives. But when she is accused of spying and put on trial in an alien court, Susannah has to challenge the law of the aliens to save herself — and her young and slimy student.
Snail's Pace
Word Count:

72,000
Summary: Cybercommand has a field agent newly licensed to kill. And his name is Yuwono. Eric Yuwono. Eric travels to the remote paradise of Hosh, where someone is peddling stolen resurrection technology not ready for general use. Posing as a smuggler and with the aid of a sexy AI named Effie, he'll penetrate the organization and discover a connection back to Juno, the shadowy operation undermining the Compact. To bring them down, he'll need the help of the Children of Amargosa and their mentor, Suicide. But if he's not careful, his newfound amortality might be cut short.
Another Way to Die
Word Count:

84000
Summary: Stationmaster and exiled aristocrat Albert St. John Rembrandt—Bertie to his friends—is in love with a Tolari ruler he believes he can't have. When he nearly dies finding out the hard way that some Tolari are as poisonous as their planet, it's only the beginning of his troubles. A ship has gone missing. His station is in crisis. Bertie must somehow recover his health and manage the disaster while trying to decide whether to accept genetic modification in order to be with the man he loves. And no Rembrandt has ever taken a gen mod.
Rembrandt's Station
Word Count:

87000
Summary: In the interstellar kingdom of Valoris, the balance of power has changed. Dressa Rhialden has all she ever wanted—except she only wanted Lesander, gorgeous prince of an enemy high house, not the kingdom meant for her sister. Unfortunately, her betrothal came with both, and now she has a lot of catching up to do. But she's falling hard for Lesander in the meantime, and with her kingdom on the line and Lesander maybe her enemy, is falling in love really a good idea? When alien attacks that shouldn't be possible plague her kingdom's distant worlds, Dressa's new position is put to the test. Why are the pacifist Kidaa attacking now, and were the attacks made by the Kidaa at all? There's more going on than an internal power shift, and she has far more secrets to uncover to keep her kingdom safe. Ari Rhialden had her whole life planned out: excel at being the Truthspoken Heir, controlling her kingdom with her shapeshifting powers, and then one day excel at ruling the kingdom. But when she contracts an incurable illness and loses her ability to shapeshift, those plans are derailed. Ari's sent undercover to a resort world for treatment, but all is not right in paradise. A young gardener with a mysterious past is taking too much interest in Ari's new persona, and a possessive duke is bent on capturing her attention for himself. Are these just the ordinary machinations of noble guests or something far more sinister? In a kingdom where subterfuge is the norm, coincidence is never just that, and now events are rapidly spinning out of control. Can Dressa and Ari find their way to truth before the kingdom comes crumbling down around them? The Shadow Rule is the second season of The Stars and Green Magics, an epic space fantasy serial set in a diverse, queernorm universe with shapeshifting royals, plotting nobles, and space magic! The Shadow Rule collects episodes 37-93, the complete second season. This book has main characters who are queer, nonbinary, trans, agender, genderfluid, ace and/or aro, lesbian, fat, POC, disabled, ND, and generally awesome. (Not all rep is stated, some is implied.) Barring the occasional burst of strong language, this book is PG-13.
The Shadow Rule
Word Count:

3,000
Summary: Lem and her dog, Spock, have a late-night encounter with a stowaway. 'Twas the night before Christmas, when all through the Teapot… Not a creature was stirring, not even a lonely robot; The stockings were hung in the mess hall with care In hopes that St. Nicholas soon would be there.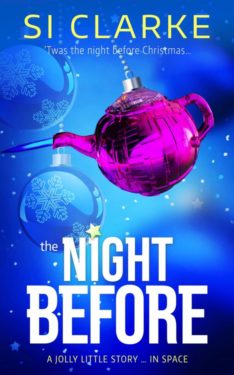 The Night Before
Word Count:

52,000
Summary: A secret unicorn, a desperate family, and a cop dead set on hunting them down. Lem and the rag-tag gang of galactic adventurers on the starship Teapot are set to become roadies for the galaxy's hottest band – but an urgent call from Bexley's family means the rock stars will have to wait. Bexley's soon-to-be-born sibling has a big secret: wings. On planet Hwin, skeledivergence is outlawed, so the Teapot crew swoop in to help the family escape. But their planet won't let them go that easily. Hunted across the galaxy by a fanatical and eerily familiar cop, the Teapotters must find a way to outwit their pursuer and secure a future for skeledivergent people everywhere. Dive into the next adventure in this satirical space opera series. Artfully intertwining deep themes with tongue-in-cheek humour and intergalactic ridiculousness, Consider Pegasus is a must-read for fans of Ryka Aoki's Light from Uncommon Stars or TJ Berry's Space Unicorn Blues.  Scroll up and grab your copy now!
Consider Pegasus
Word Count:

27500
Summary: War, deceit, and love intertwine in the first six Tales From The Sehnsucht Series. Within this anthology, you'll find six tales of love and hate, loyalty and treason, failure and triumph from alien soldiers, desperate teachers, strange bedfellows, and more. And in the background a war of all against all. Who will survive? Open this collection and take your first steps into the history of the Manderian people. Meet Ameela's improbable lover. Escape from tyranny with Rotima. Find the man who tampered with Ryma's DNA.
Tales From The Sehnsucht Series Part One - The Manderian Halden
Word Count:

150000
Summary: Can a retired assassin be the savior his people need? How does a former assassin save his fellow humans from extinction? By allying them with mrrogs of course! But that's easier said than done as humans are understandably distrustful and suspicious of sescurei, the official species of the InterGalactic community. Leopold must convince them that Mastrodai's offer of alliance isn't a trick, which means diplomacy, patience, and tenacity. Times like this make him grateful that he has two strong mates to lean on. And when it comes to understanding his own people, he'd be wise to follow Alex's lead. Alex has been too long away from her family and is thrilled to see them again. But with reunions come old pressures, old doubts, and old wounds. She must negotiate who she was with who she is, while helping her mates and her colony come together with the shared goal of freedom. Mastrodai, meanwhile, finds himself in the minority for the first time in his life, and the constant hostility has him doubting the wisdom of their choices. But he's devoted to his human mates and determined to see things through no matter the discomfort… or danger. Not everyone wants what Leopold and his mates have to give, and he needs to break through the resistance humans have built up after generations of degradation, humiliation, and fear. He must win his people's trust, solve the riddle of his parents' rings, and navigate the new complexities of his love life. Being an assassin was so much easier. Reader Discretion advised: PTSD, abusive family, a cult, MMF romance, dystopian.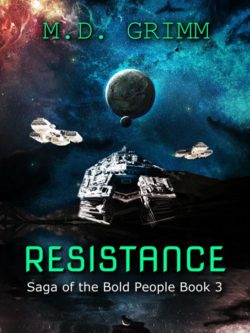 Resistance
Word Count:

284
Summary: Dalí Tamareia has the terrorist Skadi in their sights – but bringing her in may cost them everything. Dalí's role as an undercover operative is compromised, putting a target on their back and threatening the close-knit team aboard Thunder Child. A new lead on Miriam Skadi's activities forces them back to Luna, where they must confront everything they tried to run from…including their changed relationship with Rion Sumner, who insists on backing up Dalí for this investigation. But Dalí is not the only one searching for Skadi. An alien presence hunts the terrorist as well, taking over Sumner's body to ensure Dalí's cooperation. With their team on the other side of the solar system Dalí must depend on this questionable ally to complete the mission, which takes a deadly turn when an old nemesis resurfaces. If there is any chance for a future with Sumner and their chosen family, Dalí must exorcise the demons haunting them, or they will burn in the heart of a star.
Third Front
Word Count:

74000
Summary: Space: Where discovery and danger are two sides of the same coin. Meet Albert 'Buzz' Buchanan, a retired space marine now freelancing as a gun for hire, who finds himself accepting a deal too good to turn down, even if it's too good to be true. Meet Thomas Cutter, a star-ship engineer who's a lot more than what he first seems. He seeks knowledge and adventure, and the offer to team-up with the sexy space marine is just what Cutter's been waiting for. As our two heroes set out, they encounter more than they bargained for: a discovery of a lifetime, but only if they can escape with their lives. Will the galaxy reward them for their bravery, or will they fall victim to the great unknown? Join Buzz and Cutter in their very first episode as they journey across the galaxy, finding high adventure and untold dangers in the darkness of space ... along with discovering a friendship that promises so much more.
Sparks in the Dark
Word Count:

100,000
Summary: Lida was their last chance for an uncolonized planet. But a world-spanning fungus had colonized it first. Agetha and her husband have spent their whole lives in the fleet's zero-G. Now all is turmoil as the fleet lands, discovering they are surrounded by a single fungal biomass spanning the entire planet. To build a new home, the fleet must confront a dangerous organism, and Agetha must decide if she can raise a family in this inhospitable landscape. Jane Brighton holds tenuous command over the colony and its administrators. She and the other gene-modded leaders emerged from their four-hundred-year suspended animation to find a crew much different from the one that departed Old Earth. Jane must direct the colony's fragile growth and defend it against being overrun by the fast-growing biomass. But there is something none of the colonists know. The massive organism that spans the planet is not simply a fungal mass, nor even a chimerical combination of species that once roamed the planet. The biomass has desires and goals, and one is to know these strange beings carving out a home in its midst. Download today to read of the colony's fate in Of Mycelium and Men! Genres: Space Opera / Science Fiction / Colonization / Alien Contact / LGBT / Non Binary / Trans Market: Adult
Of Mycelium and Men
Word Count: Information not available
Summary: "Pain is pain. It all hurts the same." Inflicted with dark desire, one man chooses between idyllic pretense and disturbing reality. Haunted by the silence of deep space, an engineer chases an eerie melody. Torn between penance and pride, a dishonored prince challenges the course of history. Suffering cracks our hearts and splinters our minds. It scars and alters us in irreversible ways. Yet while pain breaks us apart, it also binds us together. Our broken pieces can never rejoin as they once were, but they fit together to create new and distinctive wholes. Like the Japanese art of kintsugi, we can fill the velvety darkness of our scars with gold. Inflicted with life, an intelligent machine questions the illogic of family. Tempted by the desire to die, a shop clerk confronts the promise of his life. Offered the chance to transform his disfigurement, a ruined being looks to the smallest of lives for acceptance. An amalgamation of science fiction and fantasy subgenres, Inflicted invites you to peer into your own pain, examine your scars, and remember you are not alone. Pain binds us all, and how we face our brokenness redefines us. Immerse yourself in the brokenness of others and come away with a new understanding of self.
Inflicted
Word Count:

5200
Summary: There's something in the dark … but is Lem's imagination worse than reality? Out in the vast emptiness of the galaxy, anything can happen. It's a fact that Lem and her trusty companion Spock know all too well. Sometimes, the things lurking in the darkness are all in your head. Then again, maybe there really is something out there. With her talking dog and an infuriatingly literal AI by her side, Lem must rely on nothing but her strength and wits to help her.  As a humorous homage to Arthur C Clarke's classic A Walk in the Dark, this short adventure is a not-actually-scary sci-fi horror story that's perfect for fans of Martha Wells and John Scalzi. 
Jurassic Dark
Word Count:

95000
Summary: Feared by her own kind. Hunted by extraterrestrial forces. Can one super soldier find her place among the stars? Lieutenant Tabitha Chiu is plagued by doubt and conflict. Still heartbroken over the loss of her AI companion and marooned on a faraway moon, the space marine and her ragtag team of super-powered civilians stand as the last line of defense against alien hunters. But when her powers pick up whispered threats of approaching invaders, she's horrified to discover her own people have betrayed her squad. Barely escaping assassination, Tabitha and her fellow psionics flee the hateful moon to the sanctuary of a single surviving combat ship where she hopes to reunite with her AI friend. But when her newly resurrected acquaintance hijacks the craft, the nonbinary fighter is torn between protecting those she loves best and saving humanity from annihilation. Can this conflicted officer and her misfit allies defeat a formidable enemy intent on driving them to extinction? Amp Squad is the electrifying second book in the Ship Whisperer military science fiction series. If you like strong LGBTQ+ characters, unusual weaponry, and fearsome space battles, then you'll love this pulse-pounding story. Buy Amp Squad to launch into a gut-wrenching thrill ride today!
Amp Squad
Word Count:

126,000
Summary: A little blue world, the third planet from the sun. It's home to 7 billion people with all manner of faiths, beliefs and customs, divided by bigotry and misunderstanding, who have been told they are not alone in the universe. Anyone watching from the outside would pass by this fractured and tumultuous world, unless they had no other choice. It's been a little over a year since Todd Landon's life changed with the arrival of the Nentraee. Continuing his duties as Special Envoy for Terran Affairs, Todd finally feels at home with the aliens; gaining more responsibility and influence with both races. Plans are underway for two Interplanetary spaceports and additional solar exploration. It's an exciting time for both the humans and the Nentraee. Not everything is as perfect as some hope. Speaker General Mirtoff and Vice-Speaker Mi'ko of the Nentraee are worried that the Liberi Dei plot additional terrorist attacks and may have inside help. Threats are clear, but who can they trust? Could Todd be helping them unknowingly or worse covertly? Will these new space endeavors continue to bring the human and the Nentraee together or will a conspiracy hiding in the shadows fracture an already shaky alliance?
Conspiracy
Word Count:

82000
Summary: Royal Orders is Book 3 of the Suicide Arc. This time, it's Mitsuko Yamato-Windsor's turn in the spotlight. Since leaving the Navy, Mitsuko has become chief of King Edward's personal security, not to mention resuming her engagement. When a would-be assassin nearly kills Edward, she goes on the warpath, following a trail leading to a cult known as the Cubists. Except the founder and leader of the Cubists is no angry cleric running a jihad from the shadows. Master Ansel is, in fact, an affable space engineer who found an interesting philosophy. Someone else has coopted his legacy for violence. To find that person, he suggests she travel to sultry, war-torn Aphrodite with his most brilliant follower: Suicide. Their journey will bring them face-to-face with Gerard Kurz, a man who isn't the fanatic he seems to be. He's worse. And he plans to unleash an ancient technology. He will kidnap Suicide to bend Mitsuko to his will. Only that summons the other Children of Amargosa and the full might of the Navy. It all comes to an explosive head on the peak of Aphrodite's most sacred mountain.
Royal Orders
Word Count:

130000
Summary: Life after the Crash. Over a century after the end of the Earth, life goes on in Redemption, the sole remaining Lunar colony, and possibly the last outpost of humankind in the Solar System. But with an existential threat burrowing its way into the Moon's core, humanity must recolonize the homeworld. Twenty brave dropnauts set off on a mission to explore the empty planet. Four of them—Rai, Hera, Ghost and Tien—have trained for two-and-a-half years for the Return. They're bound for Martinez Base, just outside the Old Earth city of San Francisco. But what awaits them there will turn their assumptions upside down—and in the process, either save or destroy what's left of humanity.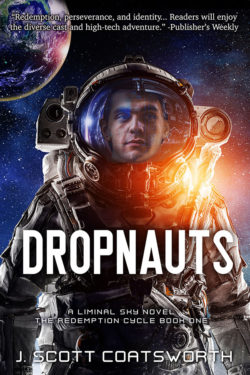 Dropnauts
Word Count:

67000
Summary: In the interstellar kingdom of Valoris, everyone knows the royal family is watching. They can be anyone and anywhere with their shapeshifting abilities—they are Truthspoken and to be feared. Of course, that doesn't stop the high houses from trying to take them down by any means they can. Arianna is the perfect Truthspoken Heir: beautiful, intelligent, and a master of her shapeshifting craft, determined to one day rule with the same control as her father. Her dreams come crashing down, though, when she's attacked by a rogue Green Magicker at her betrothal to a rival high house prince, when it's known that magickers can't do violence. Was it treachery, was it personal, or was it something else? Arianna has been slowly getting ill for weeks, and Truthspoken don't get sick. Dressa is the second Truthspoken heir and would like to stay that way, thank you very much. She's the glittering socialite of her father's court, more loved than feared. But when her older sister falls ill and is secretly sent away from court, there's still the matter of a much needed marriage alliance with a rival high house—and an absolutely gorgeous prince, who her sister wasn't keen on marrying anyway. When her father orders her to take her sister's place until she returns—her name, her appearance, everything—can Dressa carry on the act without falling for her sister's intended bride? Paranoia around Green Magickers is growing, noble plots are closing in, and in deep space, the only aliens humans have met are showing signs of not being pacifists after all. Can the Truthspoken hold their kingdom against the coming storm when it's already crumbling from within? The Truthspoken Heir collects the first season of The Stars and Green Magics, an epic space fantasy serial set in a diverse, queernorm universe with shapeshifting royals, glittering court intrigue, and space magic! This book has main characters who are queer, nonbinary, trans, agender, genderfluid, ace and/or aro, lesbian, fat, POC, disabled, ND, and generally awesome. (Not all rep is stated, some is implied.) Barring the occasional burst of strong language, this book is PG-13.
The Truthspoken Heir
Word Count:

78,500
Summary: In the 23rd century, spaceships just don't go missing. FBI agent Ray Volk is assigned to a task force to investigate a tragic accident: the disappearance of interplanetary passenger liner ValuTrip Cardinal, carrying 500 souls between Mars and Earth on a routine run. What looks like a cut-and-dried case of pressure loss is complicated by the arrival of a Martian Captain. A very cute Martian Captain who keeps sticking his nose in Ray's investigation. Martian exchange student Kelly Rack knows the disappearance is no accident. She survived the ships' hijacking, but learns the former cruise entertainer leading the pirates has plans for the passengers, and they don't include sightseeing. Kelly has avoided the murderous pirates, except now an off-duty Earth Commander insists on organizing resistance for the passengers. She forces Kelly to climb through service tunnels on sabotage runs, risking capture and death. Can Ray shake down the right accomplices to capture the good ship ValuTrip Cardinal before its new captain spaces everyone on board? Will Kelly discover the pirates' hidden plans for their prisoners? The race is on, because One of Our Spaceships is Missing! Genres: Space Opera / Military Sci-Fi / Science Fiction / LGBT and Non Binary Market: Adult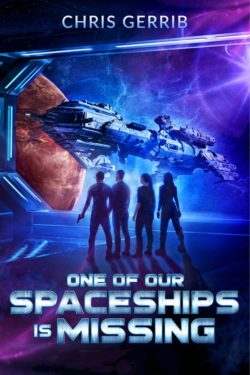 One of Our Spaceships is Missing