Epic sci fi takes that take place across an empire of stars – think Star Wars or Star Trek. Return to general Sci Fi
Note: these books are currently sorted by release date, with newest first.
Word Count: Information not available
Summary: These interconnected sci-fi dystopian stories will transport you to a world teetering on the precipice of collapse. Join heroes who dare to challenge the shackles of oppression, embarking on dangerous journeys to seek freedom. As the shadow of destruction looms, some choose to fight, while others opt for escape. Yet, in the depths of tormented souls, hope emerges as a fragile yet resilient guiding light. Amidst the tapestry of deceit and cunning, clandestine agendas unfurl, weaving intricate webs of intrigue. The galaxy is engulfed in a war that threatens the fabric of existence. However, amidst the chaos, unexpected friendships and relationships are forged, transcending boundaries and divisions. Will righteousness prevail in the face of adversity? Can the seeds of change take root in the soil of uncertainty? Be enthralled by this omnibus edition, a gateway to the captivating Sehnsucht Series by Keyla Damaer.
Tales from the Sehnsucht Series Omnibus Edition
Word Count:

32000
Summary: After a job gone wrong, Special Agent Olgo is trapped within the bowels of Mars with no means of escape. The device that imprisons the trauma within them is about to fail, and the past terrors kept hidden by it must be contained for Olgo's sanity and everyone's safety. From the darkness comes a tiny voice, and a tinier hope: "Hello?" *** The first book in the 'Cold Rush' Verse follows Agent Olgo as their corporate masters give them what could be their big break: a mission to Mars. But trying to change the working conditions in the planet's underground cities proves more challenging than the agent could have imagined. When a wearable device Olgo uses to block emotions begins to fail, an unlikely friendship changes everything as Olgo struggles to prevent spilling more blood on the Red Planet.
Cold Rising
Word Count:

55000
Summary: A damaged ship, a dying shipmate–can she save both? Under attack! The flight back to Hyvilma should have been the easy part for the crew of the Majera–until a deadly ambush by pirates sends them reeling through hyperspace. Now getting to the planet in time is the only way Captain Kitra Yilmaz can save her dying friend. But landing at Hyvilma may be impossible: war has broken out on the Frontier. With illustrations by Hugo Finalist Lorelei Esther.
Hyvilma
Word Count:

110000
Summary: Darynn, Fyra, and Kaylaa have solved the mysteries of the gods. But how can they unveil the secrets to save the starving Olan-Har without unleashing chaos upon Vastire? Even if they knew what to do, war with long-time adversary Erodia forces them to wait. Unfortunately, the Erodians are winning: they've taken Vastire's capital and bombard the west coast nightly. With few options left, Commander Aseus turns to Darynn to attempt a daring mission to infiltrate Erodia, just like his grandfather did 80 years ago. With Fyra, Kaylaa, and a small team at his side, Darynn agrees to the treacherous mission across the dangerous, wild continent filled with powerful enemies. But he's conflicted. Not only does magical power rampage within, but he starts to wonder who he's fighting for: royalty and the clergy, or the people? That question will drive him to make impossible choices. If he chooses correctly, he can end the war and save the Olan-Har, but at a great cost. If he doesn't, the Erodians will rule Vastire and the secrets of the gods will be lost.
Betrayal of Hope
Word Count:

89000
Summary: THE POWER TO DESTROY A KINGDOM. THE POWER TO HEAL A HEART. Ari's new powers have awakened, threatening to tear apart a kingdom already on the edge. Sent back to Valon to face her father's—and the people's—judgement, Ari must decide how far she'll go to reclaim her former life, if that's even possible anymore. In the heart of the turmoil, Iata, the reigning ruler, is losing control of his increasingly unstable magics. As his secrets threaten to spill out, his brother's wife, Haneri, draws ever closer—and he's not sure he wants her to stop. At the border to Kidaa Space, Rhys grapples with the ominous and impossible patterns in the Kidaa attacks, and comes face to face with the Kidaa themselves in a harrowing meeting that could change the future of the kingdom. And Dressa, who secretly married an enemy prince, must now face the consequences of that marriage. Because Lesander was activated by her family. And Lesander has a choice: obey her family, or betray her wife. With enemies without and enemies within, can the Truthspoken save their kingdom, or is this kingdom doomed to fall? Court of Magickers collects episodes 94-150 of The Stars and Green Magics, previously published in serial form. Note: This book has main characters who use gender-neutral pronouns (they/them/their, fae/faer/faerself).
Court of Magickers
Word Count: Information not available
Summary: Forty years after landing on Lida, the colony still isn't finished. Agetha has survived many more battles than she anticipated when she first landed on her new home planet. She's older and wiser, has gained family and lost loved ones. And yet her reward for four decades of service is to be pushed to the colony's outer edges with the other aging Generationals. But that was only the beginning of her adventure. The biomass has spent years studying the intruders who landed on its surface, carving a new home from its very essence. Never satisfied in its attempt to communicate with this new and invasive species, finally it has found a way to express its intentions. The colonists may never be the same. Discover the fate of the colony in the second book of The Biomass Conflux trilogy!
To a Fungus Unknown
Word Count:

137000
Summary: Have you ever made a ship's AI proud? Really, truly proud? Captain Alastri has. She's a child of Doro, a frontier world governed by a temperamental AI that represents the thoughts and feelings of all its citizens. Never heard of it? Well, it did get destroyed, which is where her ship's AI steps in, to regale us with how Alastri's past led directly to this catastrophe. When Alastri was 17, she witnessed a failed mediation between the ever-wronged citizen Ceres and Doro's governing AI. That day didn't just reveal a range of competing philosophies. It also led to treason, the loss of her ship, and the destruction of her home 25 years on. Connecting the dots from that day is the only way Alastri can hope to prevent further disaster for her system. And yes, this she does, most splendidly—at least, if you can believe a ship's ridiculously proud AI. Inspired by The Brothers Karamazov, a.k.a. "Dostoevsky in Space"!
Children of Doro
Word Count: Information not available
Summary: Before Ardulum, there was the Mercy's Pledge. One year after saving the Neek homeworld and redefining the people's religion, the crew of the Scarlet Lucidity returns to the Charted Systems for a much-needed break. For Nicholas and Yorden, the Systems will always be home, but for Emn and Atalant, too many memories compound with Emn's strange new illness to provide much relaxation. Tales from Ardulum continues the journey of Atalant, Emn, Yorden, Nicholas, and Salice as they try to define their place in a galaxy that no longer needs them while battling the artifacts of Ardulan colonization. Other stories include Yorden's acquisition of the Mercy's Pledge (and his grudge against the galaxy), Atalant's exile from her homeworld, Ekimet and Savath's romance, and many others.
Tales From Ardulum
Word Count: Information not available
Summary: There's a kettle of rotten fish on the fire … and the stink's about to get worse. – Jeskan proverb Once in a generation, the matriarchs of Jeska choose a new king to manage the government and command the Guard — protecting Jeskans from crime, invaders, and insurgency. Corren's been training for that job since he was six, but this is an unsettled time: rumors of strange incursions, grumbling discontent, and increasing brigandry. Corren's own problems are multiplying. His father, a skeptical shaman, has gone missing, His polyamorous foster-brother keeps interfering with his personal and professional business. And the king needs him to track down the conspirators behind a simmering insurrection. When a strange woman turns up wearing a shaman's cape, speaking a weird language, and hiding knowledge that doesn't belong in this world, all his plans will have to change.
Shadows of Insurrection
Word Count:

35000
Summary: Will the Manderians choose security over freedom? Keyla Damaer presents the second collection of short stories featuring characters from the Sehnsucht Series. The Manderian Directorate is born from the ashes of a past dripping blood. Existential dilemmas, double agents undercover, epic battles, old and new enemies promise a thrilling read. Thrust into it now!
Tale From The Sehnsucht Series Part Two - The Manderian Directorate
Word Count: Information not available
Summary: The planet wakes. Atalant is torn between two worlds. In uncharted space—head of a sentient planet—the new Eld of Ardulum now leads the religion she once rejected. Emn is by her side but the Mmnnuggl war brewing in the Charted Systems—threatening her homeworld of Neek—cannot be ignored. Atalant must return to the planet that exiled her in order to lead the resistance. She must return home a god, a hypocrite, a liar in gold robes, and decide whether to thrust her unwilling people into the truth of Ardulum, or play the role she has been handed and never see her family, or her world, again.
Ardulum: Third Don
Word Count: Information not available
Summary: A young woman in 1884 doesn't have many options … But Susannah did not expect to be tutoring an alien snail child while aboard a ship sailing in space … Who will get the real education? Orphaned and penniless in Hong Kong in 1884 — what's a young gentlewoman to do? Impulsive, adventurous, and self-confident, Susannah accepts an offer to become the governess to a young foreigner on a ship. She does not expect the ship to be in space, or the foreign child to be an alien who looks like a giant snail. Nevertheless, she throws herself into the job of bringing Victorian decorum to the natives. But when she is accused of spying and put on trial in an alien court, Susannah has to challenge the law of the aliens to save herself — and her young and slimy student.
Snail's Pace
Word Count: Information not available
Summary: Ardulum. The planet of myth. The planet of unwanted destiny. The Charted Systems are in pieces. Mercy's Pledge is destroyed, and her captain dead. With no homes to return to, the remaining crew sets off on a journey to find the mythical planet of Ardulum—a planet where Emn might find her people, and Neek the answers she's long sought. Finding the planet, however, brings a host of uncomfortable truths about Ardulum's vision for the galaxy and Neek's role in a religion that refuses to release her. Neek must balance her planet's past and the unchecked power of the Ardulans with a budding relationship and a surprising revelation about her own genealogy. Ardulum: Second Don blends space opera elements and hard science into a story about two women persistently bound to their past and a sentient planet determined to shape their future.
Ardulum: Second Don
Word Count:

170000
Summary: In the not so distant future…  Kiah Hasan, a young, talented computer scientist haunted by her war-torn past, is reaching for something just past the edge of theoretical possibility. Her best friend, physicist Nigel Evans, is obsessed with pushing the boundaries of space travel. And Captain Josh Walker? He's just out here for the adventure – and Kiah. Together with the crew of Trinity Station, they head toward the Kuiper Belt and disappear just as simmering political tension on Earth erupts into outright war. A hundred years later… Admiral Darren Winters leads a mission to the Kuiper Belt to find out what happened to Trinity Station. To his, and Earth's, surprise, not only have the Trinity Station scientists survived, but have reached levels of advanced technology due to the success of Dr. Hasan's AGI experiments. After shaky negotiations with Earth that ends with the birth of the new nation of Survey, Admiral Winters is offered a new position with the AI ship Musashi. His first mission is to figure out what happened to the youngest AI, Loki, whose first crew was killed in a tragic accident. With psychologist Dr. Alex Campos, they uncover a secret that could endanger the newly formed Survey nation and its AIs. Can Darren and Alex find Loki before it's too late?
Survey
Word Count:

140000
Summary: Jack Kirby just wants peace. Deeply scarred from a failed mission and struggling with the loss of his lover, Jack takes a job  as a Religious Program Specialist on a remote PreCol station. There, he finds what he never expected: a family. Marsha, a complicated woman with a deep connection to the spiritual world. Jenny, a cheerful ensign with a dangerous past. Mark, driven to demolish the atavistic cult he was born into. Can Jack protect them all as they become entangled in an espionage game with galactic stakes?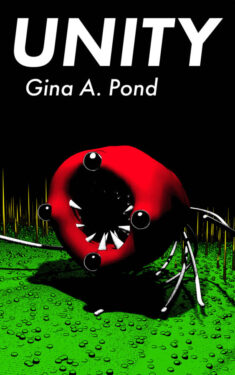 Unity
Word Count:

150000
Summary: Jenny needs time to heal – but she's not going to get it.  After her near destruction on New Harmony, Jenny Fraiser retreats to Musashi. She submerges herself in training and meditation, trying to find her balance again. Once more, she is unexpectedly catapulted to the front lines of a war of hatred – one she is uniquely qualified to win, with some help. As a deep-cover espionage specialist, Lulu uses her sociopathic tendencies for the greater good, but she never expects love, connection – or loss. Jenny, Lulu and the others are just pawns in a galactic game, which twists and changes in response to their every move. They need to track down the seemingly omniscient game master – before its seemingly innocuous task destroys two civilisations.
Colony
Word Count:

150000
Summary: What if first contact happened, and nobody even noticed? Light-years away, years ago, something insignificant happened. Now, the spirits are restless. Loki has returned, seeking help for his people. Entire stations are being consumed, populations lost. No one understands why, and the threat continues to spread. Can Jack, Marsha, and teenager Po carry the weight of saving Loki's civilization? This time, it may break them all.
Consortium
Word Count: Information not available
Summary: Ardulum. The planet that vanishes. The planet that sleeps. Neek makes a living piloting the dilapidated tramp transport, Mercy's Pledge, and smuggling questionable goods across systems blessed with peace and prosperity. She gets by—but only just. In her dreams, she is still haunted by thoughts of Ardulum, the traveling planet that, long ago, visited her homeworld. The Ardulans brought with them agriculture, art, interstellar technology…then disappeared without a trace, leaving Neek's people to worship them as gods. Neek does not believe—and has paid dearly for it with exile from her home for her heretical views. Yet, when the crew stumbles into an armed confrontation between the sheriffs of the Charted Systems and an unknown species, fate deals Neek an unexpected hand in the form of a slave girl—a child whose ability to telepathically manipulate cellulose is reminiscent of that of an Ardulan god. Forced to reconcile her beliefs, Neek chooses to protect her, but is the child the key to her salvation, or will she lead them all to their deaths?
Ardulum: First Don
Word Count:

84000
Summary: Stationmaster and exiled aristocrat Albert St. John Rembrandt—Bertie to his friends—is in love with a Tolari ruler he believes he can't have. When he nearly dies finding out the hard way that some Tolari are as poisonous as their planet, it's only the beginning of his troubles. A ship has gone missing. His station is in crisis. Bertie must somehow recover his health and manage the disaster while trying to decide whether to accept genetic modification in order to be with the man he loves. And no Rembrandt has ever taken a gen mod.
Rembrandt's Station
Word Count:

87000
Summary: In the interstellar kingdom of Valoris, the balance of power has changed. Dressa Rhialden has all she ever wanted—except she only wanted Lesander, gorgeous prince of an enemy high house, not the kingdom meant for her sister. Unfortunately, her betrothal came with both, and now she has a lot of catching up to do. But she's falling hard for Lesander in the meantime, and with her kingdom on the line and Lesander maybe her enemy, is falling in love really a good idea? When alien attacks that shouldn't be possible plague her kingdom's distant worlds, Dressa's new position is put to the test. Why are the pacifist Kidaa attacking now, and were the attacks made by the Kidaa at all? There's more going on than an internal power shift, and she has far more secrets to uncover to keep her kingdom safe. Ari Rhialden had her whole life planned out: excel at being the Truthspoken Heir, controlling her kingdom with her shapeshifting powers, and then one day excel at ruling the kingdom. But when she contracts an incurable illness and loses her ability to shapeshift, those plans are derailed. Ari's sent undercover to a resort world for treatment, but all is not right in paradise. A young gardener with a mysterious past is taking too much interest in Ari's new persona, and a possessive duke is bent on capturing her attention for himself. Are these just the ordinary machinations of noble guests or something far more sinister? In a kingdom where subterfuge is the norm, coincidence is never just that, and now events are rapidly spinning out of control. Can Dressa and Ari find their way to truth before the kingdom comes crumbling down around them? The Shadow Rule is the second season of The Stars and Green Magics, an epic space fantasy serial set in a diverse, queernorm universe with shapeshifting royals, plotting nobles, and space magic! The Shadow Rule collects episodes 37-93, the complete second season. This book has main characters who are queer, nonbinary, trans, agender, genderfluid, ace and/or aro, lesbian, fat, POC, disabled, ND, and generally awesome. (Not all rep is stated, some is implied.) Barring the occasional burst of strong language, this book is PG-13.
The Shadow Rule