Here are the books offered at no cost by some of our LimFic authors. 🙂 Books are listed in order from newest to oldest.
Word Count:

3,000
Summary: Lem and her dog, Spock, have a late-night encounter with a stowaway. 'Twas the night before Christmas, when all through the Teapot… Not a creature was stirring, not even a lonely robot; The stockings were hung in the mess hall with care In hopes that St. Nicholas soon would be there.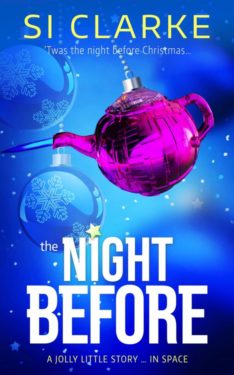 The Night Before
Word Count:

5200
Summary: There's something in the dark … but is Lem's imagination worse than reality? Out in the vast emptiness of the galaxy, anything can happen. It's a fact that Lem and her trusty companion Spock know all too well. Sometimes, the things lurking in the darkness are all in your head. Then again, maybe there really is something out there. With her talking dog and an infuriatingly literal AI by her side, Lem must rely on nothing but her strength and wits to help her.  As a humorous homage to Arthur C Clarke's classic A Walk in the Dark, this short adventure is a not-actually-scary sci-fi horror story that's perfect for fans of Martha Wells and John Scalzi. 
Jurassic Dark
Word Count:

10000
Summary: How far would a werewolf go to help a friend? Werewolves and dogs don't usually get along, but Jordan Abbey has formed a bond with her elderly neighbor's Rottweiler. So when Rex goes missing during a dog-walking mishap, she's determined to return him home. With her abilities, finding him should be easy. Except there is one problem. The vampire lord of the city has declared she's not allowed to shape-shift within the city limits of Rancho Robles. Better to ask forgiveness than permission, or so Jordan thinks. But there is another issue she has to face - Animal Control. Rumors are getting around about wolf-like dogs wandering the city, and they respond quickly to panicky stray dog calls. Jordan knows how to be discreet, or so she believes. Will Jordan be able to find her friend without sacrificing her freedom?
Chaos Unleashed
Word Count:

4576
Summary: Sometimes, we get second chances -- at love, to make things right, to say good-bye the way it should have been said. Darian promised his dying husband Randy he would go through with the plan to teach summer school in Bath, England. Randy insisted; it was always Darian's dream to live in England, go, do it. But once there, in Tintagel, on a street in Coverack, a small Cornish seaside village, Darian sees Randy. Grief can make us see things, right? So Darian tells himself, until the man whom he buried, whose ashes he carried with him to England, sits down beside him on a bench in front of Bath Abbey, with screaming seagulls nearby. It seems the dead can come back. But why and how? Has Randy come to take Darian with him? Or is something else going?
Seagulls
Word Count:

2600
Summary: Jake is a trapper working high in the mountains of Wyoming Territory, usually not seeing another human from one month to the next. Recently, however, he's had an unexpected guest – an Easterner named Edwin, who pitches in to ensure that Jake has enough supplies to survive the coming winter. As the evenings draw in, Jake works on knitting a blanket, adding a bit of love (and maybe even magic) into every stitch, hoping to entice Edwin to join him under its warmth…
Love in Every Stitch
Word Count:

50000
Summary: Asking a necromancer for help is scary; falling for him may be downright terrifying. Darien Green's afraid he's going insane. The voices in his head are getting louder, weirder, and more numerous. But tattoos appearing on his skin say that there might be a magical reason, something other than his own brain going around the bend. He's worked up the nerve to ask the local necromancer for help. Now he just has to survive his encounter with tall, dark, and talks-to-ghosts. Necromancer Silas Thornwood doesn't appreciate being woken out of his bed by a stranger pounding on his door. But when that stranger turns out to be a half-frozen young man with an unexpected appeal, Silas can't turn him away. Even Grim, his cat-familiar, agrees— in a world of death and demons, protecting gorgeous, ghost-ridden Darien is Silas's next difficult job.
Marked by Death
Word Count:

4000
Summary: Isolated on Mars, anyone could start going stir crazy… Katya should be on top of the world. She's overcome a traumatic past and now she's part of the first permanent settlement on Mars. So why do things feel so wrong? The colonists are confined to a small base on the surface of a hostile planet, so perhaps it's only cabin fever. After all, she's got great friends, an exciting career, and an ex-girlfriend who – she's sure – would do anything to have her back… But with cracks appearing in the relationships between the crew and nothing but empty Martian desert beyond the safety of their domes, it's far too easy for the mind to drift. And when it does, it can be difficult to tell what's real, and what's pure imagination… Past Imperfect is a short story set during Livid Skies, SI CLARKE's second novel. It's written for people who enjoy science fiction that challenges their preconceptions. This is a work of neurodiverse, culturally diverse, gender-bendy, socio-politico-economic, drunken-arguments-in-the-pub science fiction – not bang-bang-pew-pew science fiction. 
Past Imperfect
Word Count:

69504
Summary: The Prince of Shadows, the Jack of Shades or just plain Jack is a naughty boy, a good boy really but naughty all the same. There's nothing he likes better than a wrong to right. Hmm . . . let's start again . . . there's nothing he likes better than a willing man or woman for that matter, willing to get down and dirty with Jack. If he can right a wrong and get laid on the side then Jack is a very happy man. I say man but then do we really know who or what Jack is? Never mind he is still one of the good guys. Jack is a man with many shadows, many inhabitants as it were, and not all of them originating from this world. He has a problem. Part of him or is it one of him needs to go home and sort out things. It's going to be dangerous, it could be a one way trip but, what the heck, there could be a chance of getting it on with . . . . well that's to be seen. Available on Smashwords - free
The Jack of Shades
Word Count:

90000
Summary: In 1915, gay men don't get married, they don't take care of children together, and if they do, they don't get caught. Gael and Jack are a lot of firsts to each other. Gael is the first other gay man Jack has ever met, kissed, or wanted. Jack is the first really decent man who only see an Irish gangster and whore  that Gael has ever known. Gael and Jack just work for each other. First love is fabulous, even if it's forbidden. Enduring love is hard, extra hard in the face of WWII, Prohibition, and a world that can't know them as they are.  The story is presented as a serial and is free to read.
The Moon's Permission
Word Count:

4800
Summary: Tahl promised Enfys ice bears for Midwinter, but ey neglected to tell him that ey and eir kin were the ice bears. Written for the Rainbow Advent Calendar 2018
Midwinter Bears
Word Count:

100000
Summary: Dragons don't care what gender you are. A small town may be a refuge, or a trap. Some younger brothers really do save the planet. Three people can be the strongest shape. There's nothing quite like a gorgeous girl on a shape-shifting motorcycle. This second Kira Harp collection brings together LGBTQ teens in 21 stories of adventure, discovery, and romance, in fantasy, paranormal, contemporary, and SciFi settings. Ranging from a few short pages to 12,000 words, each story was inspired by a prompt picture from the YA LGBTQ Books Group on Goodreads. (Content warnings for abduction, bullying, self harm, substance abuse, suicidal ideation.) **This book is free in ebook everywhere except Amazon
Rainbow Briefs volume 2
Word Count:

1100
Summary: A muddy trench in France during the Great War wasn't the most auspicious place for Tom and Michael to reach an understanding of their own natures. A small, individual tragedy unfolds … But then Tom discovers a place beyond, where he and other men like him are blessed with all that life denied them.
An English Heaven
Word Count: Information not available
Summary: With Midwinter just around the corner, Mark's Nanna decides that it is time he learnt more about his family heritage. Learning witchcraft shouldn't be too difficult, right? Balancing school, magic, and the distractions of the gorgeous new guy, should make this a very interesting winter. Free to download from most ebook retailers.
Winter Trials (Northern Witch #1)
Word Count: Information not available
Summary: Olson lives in a city that has been sealed from the outside world. He's an Eleven Year and close to citizenship. His life is upended when one of the few adults who cares about him commits suicide - or so it appears at first. While investigating, Olson meets a girl named Natalie snooping around his school. He soon learns that one of her friends died under similarly mysterious circumstances. Together, they start looking for answers, and end up discovering the city's darkest secrets.
Atmospheric Pressure
Word Count: Information not available
Summary: Thrown into an unwilling partnership by a heist gone bad and a botched assassination, mercenary captain Jennifer Bronwen and changeling intelligence agent Keera Naraymis are on the run from just about everybody. If they can learn to trust one another, maybe they can figure out exactly how their lives got turned upside down. But right now, mired as they are in a game of cat and mouse in the bowels of a criminal's lair, that seems like a big if. On the other side of the galaxy, Admiral Kiith Kohath has an even bigger problem—a corrupted cohort of cyborgs intent on pillaging the Assembly systems. Tracking the enemy to the sites of their atrocities, Kohath and his team must piece together the Reavers' plan and determine their next target, preferably before they have a chance to slaughter yet another defenceless colony. With alliances and agreements fraying at the seams, and new and old trusts being put to the test, the personal and political stakes rise ever higher as Jen, Keera, and Kohath struggle to prevent the galaxy from slipping into all-out war…
Burning Suns: Conflagration (Book Two)
Word Count: Information not available
Summary: Jennifer Bronwen, deep-space freighter skipper, sometime smuggler, and occasional blaster-for-hire is flat broke and in desperate need of a job. With her bills mounting and her ship one unlucky micrometeorite collision away from the scrapheap, when she's offered a lucrative contract for a risky heist, well, it's an opportunity she can't afford to pass up. Keera Naraymis, a secret agent on deep-cover assignment in alien space, has just one more job to finish before her mission is complete. Getting it right means making the galaxy a safer place, and taking a trip to the Terran homeworld should be simple enough. But in the espionage game, your enemies are never quite who they appear. When their lives collide with catastrophic consequences, Jen and Keera form an unlikely alliance to find out why anyone would want to kill either one of them. What they discover runs far deeper than they could ever have anticipated, and throws them into a race against time to stop a conspiracy that threatens to unravel a thousand years of peace in the galaxy of the Burning Suns.
Burning Suns: Conflagration (Book One)
Word Count:

112,000
Summary: Where does magic end and love begin? ​Oliver Evans spent his youth spinning one tall tale after another until it got him over his head in trouble. Now he has returned to his grandmother's cottage in Aberdaron, determined to put his past behind him and settle down. But the misty Llŷn Peninsula hides dangerous secrets and Olly is torn between the Longing, a powerful force driving him away from the only home he has ever known, and the growing conviction that the prince of his childhood make-believe is real and in need of Olly's help. There is more truth in Olly's stories than he realises. If he is to have any chance of righting past wrongs and rescuing his prince, Olly must navigate the truth in his old stories and discover the magic right in front of him. But Olly has a powerful enemy on the ​Llŷn, an ancient king who would like to end Olly's story-telling permanently. Written for the M/M Romance Groups 2015 Don't Read in the Closet event, Deep Magic was produced with the support and effort of members of the M/M Romance Group. You can find out more about the event and discover hundreds of other free stories here. Cover art produced by Bree Archer. Deep Magic does contain adult material.
Deep Magic
Word Count: Information not available
Summary:
The war is over. Resources are scarce. The population is dwindling in the Forkstream Territories.
Pinnacle Officer Wilcox has created FERTS amidst the chaos, a facility designed to protect the female population from raiding hordes.
Beth 259201, a newly-demoted Epsilon Internee, suspects that there is something more that lurks beneath the carefully constructed order of the facility.
She has a gift, one that could brand her a defective. A novice fighter, she must use her intellect to survive. Her own life, and the lives of many more may be at risk. Will she succumb to the plans in store for her or will she conceal her secret long enough to discover her own path?
FERTS
Word Count: Information not available
Summary: Kal has always been considered too "fragile" to participate in the village activities. Her lithe stature links her to her father and distances her from everyone else. He left the village to fight in the Teristaque Wars and never returned. She meets Sarge, a strange star species of the human race who seems to know the secret of the patch from her father's uniform. Kal has always known she is different than her fellow villagers, and finally she may be closer to finding out why.
Kal's Fall
Word Count:

90000
Summary: Biology professor Roman Janz was walking across campus and planning his next plant-collecting trip to Brazil, when something stung him on the neck. And now… now he's wandering in the dark, in the blue, floating, disembodied, and confused. There has to be a good explanation, if he can just find someone, anyone, he can actually talk to about it. Xavier Faulkner is intelligent, creative, and made millions when he sold his tech-security company. But all his wealth and skills couldn't keep his sister Tam from being poisoned by food contamination. She lived, but her health was damaged, and her job as a cop is gone. In the antebellum house he moved them to, Xavier hopes to find both a distraction and maybe a purpose for their lives. But the old house seems to come with strange noises, and odd blue lights, and maybe― if Xavier isn't just going crazy― a naked guy, walking away into the blue… This story was written as a part of the M/M Romance Group's "Love's Landscapes" event. Group members were asked to write a story prompt inspired by a photo of their choice. Authors of the group selected a photo and prompt that spoke to them and wrote a short story. Dear Author, I just moved into this old antebellum home I bought with the intentions of restoring. I often find myself awoken in the night by strange noises I cannot identify or hear during the day. At first, I think it's just a dream… this seemingly phantom always walking away. Who is he and how can I get him to finally turn around and see me? 79,000 words
Laser Visions