Fantasy stories that involve an alternate magical version of history. Return to general Fantasy
Note: these books are currently sorted by release date, with newest first.
Filter by:
Genres
Fantasy
Fantasy - Alternate History
Fantasy - Comedy
Fantasy - Contemporary
Fantasy - Dark Fantasy
Fantasy - Erotica
Fantasy - Faery & Fae
Fantasy - Fairy Tale / Folklore
Fantasy - Fantasy of Manners
Fantasy - Gothpunk
Fantasy - Heroic
Fantasy - High & Other World
Fantasy - Historical
Fantasy - Hopepunk
Fantasy - Knights & Castles
Fantasy - Latinpunk
Fantasy - LGBTQ+
Fantasy - LitRPG
Fantasy - Low Fantasy
Fantasy - Magical Realism
Fantasy - Mythic
Fantasy - Mythpunk
Fantasy - New Adult
Fantasy - Paranormal
Fantasy - People of Color
Fantasy - Piratepunk
Fantasy - Quiet
Fantasy - Romance
Fantasy - RPG
Fantasy - Slipstream
Fantasy - Steampunk
Fantasy - Sword & Sorcery
Fantasy - Urban & Magical Beings
Fantasy - Weird Fantasy
Fantasy - Young Adult
Fantasy – Gods and Heroes
Horror
Horror - Angels & Devils
Horror - Comedy
Horror - Fairy Tale/Folklore
Horror - Ghosts & Haunted Houses
Horror - Gothic
Horror - LGBTQ+
Horror - LitRPG
Horror - Lovecraftian/Cthulhu
Horror - Man-Made Horrors
Horror - Monsters
Horror - Mythic
Horror - New Adult
Horror - Noir
Horror - Occult
Horror - People of Color
Horror - Post-Apocalyptic
Horror - Psychic Talents
Horror - Psychological
Horror - Shifters
Horror - Splatterpunk
Horror - Vampires
Horror - Weird Horror
Horror - Werewolves
Horror - Witches
Horror - Young Adult
Horror - Zombies
Nonfiction
Nonfiction - Writing Guides
Paranormal
Paranormal - Angels & Devils
Paranormal - Comedy
Paranormal - Dark
Paranormal - Ghosts & Haunted Houses
Paranormal - LGBTQ+
Paranormal - LitRPG
Paranormal - Magical Beings
Paranormal - Monsters
Paranormal - New Adult
Paranormal - People of Color
Paranormal - Psychic Talents
Paranormal - Reincarnation
Paranormal - Romance
Paranormal - Shifters
Paranormal - Vampires
Paranormal - Young Adult
Paranormal - Zombies
Poetry
Sci Fi
Sci Fi - Alien Invasion
Sci Fi - Alien Races
Sci Fi - Aliens
Sci Fi - Alternate / Parallel Reality
Sci Fi - Alternative History
Sci Fi - Apocalyptic Fiction
Sci Fi - Artificial Intelligence
Sci Fi - Biopunk
Sci Fi - Christian
Sci Fi - Climate Fiction (Cli-Fi)
Sci Fi - Clockpunk
Sci Fi - Clones
Sci Fi - Colonization
Sci Fi - Comedy
Sci Fi - Cyberpunk
Sci Fi - Cyberspace
Sci Fi - Decopunk
Sci Fi - Detective
Sci Fi - Dieselpunk
Sci Fi - Distant Planet
Sci Fi - Dying Earth
Sci Fi - Dystopian & Post-Apocalyptic
Sci Fi - First Contact
Sci Fi - Frontier
Sci Fi - Furry
Sci Fi - Galactic Empire
Sci Fi - Generation Ship
Sci Fi - Genetic Manipulation
Sci Fi - Gothpunk
Sci Fi - Greenpunk
Sci Fi - Hard Sci Fi
Sci Fi - Hollow Earth
Sci Fi - Hopepunk
Sci Fi - Human Evolution
Sci Fi - Immortality
Sci Fi - LGBTQ+
Sci Fi - LitRPG
Sci Fi - Lost Worlds
Sci Fi - Military
Sci Fi - Mind Uploads
Sci Fi - Multiverse
Sci Fi - Mutants
Sci Fi - Nanopunk
Sci Fi - Near Future
Sci Fi - New Adult
Sci Fi - Nowpunk
Sci Fi - People of Color
Sci Fi - Piratepunk
Sci Fi - Pulp
Sci Fi - Realistic
Sci Fi - Robots/Androids
Sci Fi - Romance
Sci Fi - RPG
Sci Fi - Science Fantasy
Sci Fi - Singularity
Sci Fi - Slipstream
Sci Fi - Social
Sci Fi - Soft
Sci Fi - Solarpunk
Sci Fi - Space Exploration
Sci Fi - Space Opera
Sci Fi - Space Western
Sci Fi - Spacepunk
Sci Fi - SpyFi
Sci Fi - Steampunk
Sci Fi - Superheroes & Villains
Sci Fi - Terraforming
Sci Fi - Teslapunk
Sci Fi - Theological
Sci Fi - Time Travel
Sci Fi - Transhuman
Sci Fi - Uplift
Sci Fi - Utopian
Sci Fi - Virtual Reality
Sci Fi - Weird Sci Fi
Sci Fi - Young Adult
Tropes
Abandoned Place
AI Uprising
Alien Artifacts
Alien Eggs
Alien Invasion
Alien Ruins
Aliens Among Us
Aliens as God
Aliens in History
Ancient Astronauts
Ancient Weapon
Antihero
Arthurian Legends
Asteroid Miner
Astral Projection
Bad Robot
Band of Brothers/Sisters
Band of Misfits
Bar Tales
Becoming a Monster
Benevolent Aliens
Beyond the Grave Communication
Big Sword
Black and White Morality
Body Modifications
Bodysnatchers
Book of Spells
Born Hero
Burial Ground/Cemetary
Changing Painting
Chosen One
Clones
Conspiracy
Crazy Clairvoyants
Cross-Species Friendships
Cryosleep
Dark Enemy
Dark Lord
Death by Sex
Demonic Possession
Dragonriders
Dying World
Dystopian Governments
Enemy to Ally
Evil Megacorporation
Evolving Powers
Fallen Hero
Farmer to Hero
Farmer to Royalty
Fated Mates
Fellowship
Fetus of Doom
First Contact
Fish Out of Water
Found Family
FTL
Galactic Civilization
Generation Ships
Good Robots
Haunted House
Here Comes the Cavalry
Humanity is Dangerous
Humanity is Good
Humans Evolved From Aliens
Hunted
I Am Your Father
I See Dead People
Immortality
Inaccessible Magic
Interspecies Adoption
Interspecies Romance
Interstellar Travel
Killer Aliens
Library of Secrets
Lost Civilization
Lucky Novice
Mad Scientist
Magic Furniture
Magic Talisman
Magical Disaster
Marooned
Mirror Shows True Self
Modern Human in Fantasy World
Museum/Store of the Unusual
No Cell Coverage
Old Person in the Woods
Oxygen Leak
Parallel Worlds
Past People/Future Tech
Person in Distress
Portals
Possession
Post-Apocalyptic
Powerful Artifact
Prophesy
Pseudo European Society
Psionic Powers
Quest
Redemption Arc
Reluctant Hero
Reluctant Vampires
Robin Hood Legends
Roguish Thief
Secret Heir
Secret Royalty
Secret Society
Sentient AI
Sentient Spaceships
Sex Magic
Singularity
Space Battles
Space Dentistry
Space Detectives
Space is Empty
Space is Full
Space Medicine
Space Pilot
Space Pirates
Space Psychology
Space Smugglers
Superpowers
Sword of Destiny
Time Loop
Time Travel
Training
Ultimate Evil
Undiscovered Planet
Uploaded Consciousness
Vengeful Spirit
Villain to Hero
Waiting/Sleeping Evil
Wise Mentor
Tags
author - american
author - arabian
author - australian
author - belgian
author - british
author - canadian
author - dutch
author - european
author - french
author - italian
author - new zealander
author - saudi arabian
format - anthology
format - audiobook
format - book
format - box set
format - collection
format - free
format - hardcover
format - illustrated novel
format - kindle
format - kindle unlimited
format - large print
format - netgalley
format - novel
format - novel >100K
format - novel <100K
format - novel 40-100K
format - novella 15k-40K
format - novellette <15k
format - omnibus edition
format - paperback
format - payhip
format - planner
format - prequel
format - self published
format - sequel
format - series
format - shared universe
format - short stories
format - short story <15K
identity - aromantic
identity - asexual
identity - bisexual
identity - demisexual
identity - gay
identity - gender fluid
identity - intersex
identity - lesbian
identity - non-binary
identity - pansexual
identity - polyamorous
identity - transgender
potential trigger
potential trigger - abduction-captivity
potential trigger - addiction
potential trigger - avalanche
potential trigger - blood
potential trigger - death
potential trigger - gore
potential trigger - graphic torture
potential trigger - murder
potential trigger - rape
potential trigger - sexual abuse
potential trigger - stalking
potential trigger - suicidal ideation
potential trigger - suicide
potential trigger - torture
potential trigger - traumatic past
potential trigger - violence
what - concept - amnesia
what - concept - curse
what - condition - blindness
what - condition - disability
what - condition - mental illness
what - condition - ptsd
what - element - ferocious poodle
what - holiday - general
what - topic - cartel
what - topic - chinese medicine
what - topic - chinese mythology
what - topic - climate change
what - topic - compassion
what - topic - crime
what - topic - desert survival
what - topic - disaster
what - topic - flying
what - topic - genetic engineering
what - topic - harem
what - topic - haunting
what - topic - japanese mythology
what - topic - learning disabilities
what - topic - legend
what - topic - magic
what - topic - multicultural
what - topic - music
what - topic - natural disaster
what - topic - non-violence
what - topic - politics
what - topic - ransom
what - topic - reincarnation
what - topic - religion
what - topic - revenge
what - topic - science experiment
what - topic - secret
what - topic - secret organization
what - topic - superstition
what - topic - taboo
what - topic - technology
what - topic - terrorism
when - period - 16th century
when - period - 17th century
when - period - 18th century
when - period - 1920s
when - period - 1930s
when - period - 1950s
when - period - 1960s
when - period - 1970s
when - period - 1980s
when - period - 1990s
when - period - 19th century
when - period - 20th century
when - period - ancient greece
when - period - ancient rome
when - period - edwardian
when - period - georgian
when - period - great war
when - period - middle ages
when - period - near future
when - period - prehistoric
when - period - prohibition
when - period - victorian
where - fictional - moon colony
where - general - alternate universe
where - general - carnival
where - general - castle
where - general - cave
where - general - cruise ship
where - general - forest
where - general - military
where - general - mountains
where - general - private school
where - general - rural
where - general - small town
where - general - swamp
where - general - uncharted island
where - general - underground
where - general - underwater
where - Mars
where - non-Earth planet
where - space - international space station
where - space - space station
where - space station
where - spaceship
who - description - alpha male
who - description - alphas and omegas
who - description - tattoos
who - magical humans
who - occupation - apothecary
who - occupation - archaeologist
who - occupation - artist
who - occupation - assassin
who - occupation - astronaut
who - occupation - astronomer
who - occupation - author
who - occupation - baker
who - occupation - barista
who - occupation - bodyguard
who - occupation - botanist
who - occupation - bounty hunter
who - occupation - castle laird
who - occupation - computer programmer
who - occupation - contractor
who - occupation - coroner
who - occupation - cowboys
who - occupation - detective
who - occupation - doctor
who - occupation - engineer
who - occupation - ex-convict
who - occupation - federal agent
who - occupation - guard
who - occupation - hacker
who - occupation - healer
who - occupation - herbalist
who - occupation - historian
who - occupation - horsemaster
who - occupation - innkeeper
who - occupation - inventor
who - occupation - journalist
who - occupation - king
who - occupation - knight
who - occupation - law enforcement
who - occupation - librarian
who - occupation - lord
who - occupation - mage
who - occupation - marine
who - occupation - mechanic
who - occupation - medical
who - occupation - mercenary
who - occupation - military
who - occupation - missionary
who - occupation - motorcycle rider
who - occupation - musician
who - occupation - nurse
who - occupation - pilot
who - occupation - pirate
who - occupation - police
who - occupation - politician
who - occupation - priest
who - occupation - prince
who - occupation - prisoner
who - occupation - professor
who - occupation - psychic
who - occupation - royalty
who - occupation - sailor
who - occupation - scientist
who - occupation - security
who - occupation - serial killer
who - occupation - servant
who - occupation - sex worker
who - occupation - sheriff
who - occupation - soldier
who - occupation - space marines
who - occupation - spaceship captain
who - occupation - spy
who - occupation - starship captain
who - occupation - student
who - occupation - superhero
who - occupation - tattoo artist
who - occupation - teacher
who - occupation - thief
who - occupation - tracker
who - occupation - undercover agent
who - occupation - warrior
who - occupation - writer
who - religion - catholic
who - religion - jewish
who - religion - muslim / islamic
who - religion - pagan
who - religion - shinto
who - sea dragon shifter
who - shifter
who - type - alien
who - type - altered human
who - type - angels
who - type - badass heroine
who - type - bear shifters
who - type - bigfoot
who - type - centaur
who - type - cyborg
who - type - demons
who - type - dragon shifters
who - type - dragons
who - type - elves
who - type - fae
who - type - fox
who - type - gator shifter
who - type - ghosts
who - type - god
who - type - griffins
who - type - incubus
who - type - kitsune
who - type - merman
who - type - nekomata
who - type - nephilim
who - type - panther shifters
who - type - reindeer shifters
who - type - robot / cyborg
who - type - sea god
who - type - selkie
who - type - spiders
who - type - spirit
who - type - succubus
who - type - unicorns
who - type - vampires
who - type - vegan
who - type - werecats
who - type - werewolves
who - type - witch
who - type - wizard
who - type - wolf
who - type - yokai
who - type - zombies
who - world defender
Word Count:
99000
Summary: Gavin Booker, a school librarian at Cooper Road Elementary, Raleigh, Northern Carolina, leads an orderly, normal life. Work, jogging, friends from work, his son every other weekend. Gavin is also a secret. He is a hybrid, or part-fairy, and in the Columbian Empire, hybrids are under an automatic death sentence. Magic is illegal. So is loving another man, another capital crime. Fairies are locked away in ghettoes, magical beasts, such as gryphons, unicorns, and pegasi are kept in zoos. The others, the tree and water spirits, the talking beasts, fauns, and the rest, are in hiding. This is the world in which Gavin grew up. He survived, thanks to his mother. He can never forget he is different: ministers preach against people like him constantly; hating the other is a part of every school's curriculum. But now, things are changing fast, and apparently, for the worst. Earthquakes, volcanoes, killer storms are all frequent occurrences. The medicine Gavin takes to suppress his body's glowing, isn't working. The spells cast by his doctor, a witch, are losing their power. If anyone finds out what Gavin is, he is dead. Under threat, the Empire always goes after its marginalized people. Can Gavin survive the coming catastrophe? Will he ever recover from losing the boys he loved? Can he find the fairy man who has haunted his dreams all his life before it is too late? Can his scarred heart ever heal?
In Light's Shadow
September 3, 2022
Word Count:
74000
Summary: Sometimes you have to fight fire with fire. Darien's ready for a quiet life— back to studying, sleeping with his ridiculously appealing necromancer, playing magical Fetch with his dog-familar. But breaking the demon portals was only a temporary solution, when there are sorcerers out there rebuilding them. Much as he'd like to shove the rest of the job on someone else, Darien's not willing to see his world burn. Silas is ready to turn the whole hunting-dark-sorcerers mess over to the Guild. Except he doesn't trust his council members as far as he can throw them, the sorcerer Chicago has sent sets his teeth on edge, and if they get it wrong, Darien's life is at risk. So with Grim at his side, and Pip encouraging Darien, they, Jasper, and Magda will take on one more hunt to find and stop the portal-builders.
Consumed by Fire
August 20, 2022
Word Count:
120000
Summary: A woman with the strength to rebel. A shapeshifter who wears the souls of the dead. Together, they face a lethal enemy. Em helped create it. Now she must craft its defeat. In a city owned by industrialists, Em sells her magic to make ends meet. The extraction procedure is brutal and potentially deadly. Desperate for change, she joins an underground resistance movement to weaponize her magic and stop the abuse of workers. Meanwhile, a mysterious voice wakes Ruk from a decades long slumber and compels him to become human. He wants to break free but is torn between his shapeshifter instincts and the needs of the soul that sustains him. On streets haunted by outcasts and predatory automatons, a new danger emerges – an ever-growing corruption of magic and science. Em and Ruk must put aside their differences and pursue it – each for their own reasons. What they discover will forever change their lives… Or end them. The Eternal Machine is set in a 19th Century alternative reality Australian city, where magic and science are equally valid disciplines.
The Eternal Machine
February 14, 2022
Word Count:
70000
Summary: Do you know what your problem is? Celestine, the fifth of seven sisters, is tired of hearing about hers. Father thinks she's frivolous because she likes pretty clothes and caters to the crowds in the taverns who adore her music. Mother thinks that because she's the most social daughter in the family, she can't keep quiet about anything. They're both wrong. Celestine hides a secret she has kept for most of her life. As the family beauty and a talented musician with a lyrical voice, she has the best prospects for marriage to a prince. When such a liaison never happens, people assume Celestine is too choosy. But even in somewhat tolerant Ilari, a daughter hates to disappoint her family. How can she tell them she's in love with a princess instead? Lucky for Celestine, all her sisters are obsessed with an invading army headed to their realm. Celestine would rather ignore the threat and enjoy the freedom their lack of attention gives her. But, her voice can unlock a power that may help save Ilari. And the woman she loves is determined to fight these invaders. And her family, for all their talents, seems clueless about how to motivate the masses. Celestine knows she can inspire the citizens of Ilari to do what needs to be done. Is it time to put her inhibitions aside and use her voice to save those she cares about?
She's the One Who Can't Keep Quiet
January 14, 2022
Word Count:
92460
Summary: Conundrum is a guilty pleasure, M/M fantasy novel that asks what you would sacrifice to save your family and closest friends. That's the question Takoda Freeman, a young Native American witch, faces. Takoda puts his complete trust in Russell Sands, a werewolf, who says he can help save his loved ones, ignoring that fact that Russell was his father's nemesis. Takoda risks it all to save his friend and mentor, Jared Mason, from two vengeful Puritans from the past. The ordeal left Jared with the singular longing to change his past. Jared vowed to make it so that he and his father never went to the 17th century when he was a teenager. If Jared successfully changed that event, a new reality would emerge, and Takoda would cease to exist. That sends Takoda on a frightening philosophical journey where he must ultimately decide whether saving his own life is greater than the lives of his friends and family.
The Hallowed Bloodline: Conundrum
September 14, 2021
Word Count:
50000
Summary: Werewolves, vampires, and King Arthur converge in the Lavender Valley.  Living safely in a valley set aside for them and protected by magic under a peace negotiated by King Arthur, the blood song and Lunae have left the past behind, seemingly. A prophecy has promised that a girl will be born of a certain family line and that she will give incredible power to her mate. Stella is of the right line, but she carries the blood of both sides, half vampire, half werewolf.  She's half outcast with the wolves that raised her.  She's been told all her life that she can't be the girl of prophecy, that she'll never be good enough to be the luna of the clan. Aurelius is the silver haired alpha. Raised in Camelot, Arthur expects the boy he raised to bring the wolves and the blood song into the civilized world. The only thing Aurelius has from his father is a letter telling him to marry Onyx. Stella and Aurelius have a forbidden love that is about to wreck the civilized world. Only on the NovelStar app, first six chapters free! Come read a world where chivalry meets wild instinct!
The Scent of Lavender
August 17, 2021
Word Count:
70,000
Summary:
Do you know what your problem is? Olivine knows hers. This quiet thirteen century artist has been hiding a secret as she travels to K'ba to meet her friends. Others assume she's fallen in love with another artist, but it's much worse than that. For on the way to K'ba is the dirt poor nichna of Scrud, a place scorned by other Ilarians. And in Scrud is the one man who understands her. However, Bohdan recognizes the dangers posed by an impending Mongol invasion. When he learns of Olivine's unusual visual powers, he convinces her to pick up her bow and start practicing. She does, though she's more concerned with moving to K'ba where she can paint all day and see Bohdan whenever she wants. If only her sister hadn't decided Olivine and her fellow long eyes held one key to defending the realm. Then, as if life wasn't complicated enough, Olivine learns the artist community she yearns to be part of has developed a different take on the invasion. They're certain the only way to survive is to capitulate completely to the Mongols' demands. Artists who feel otherwise are no longer welcome.
Where does her future lie? The invasion is coming soon and Olivine doesn't have much time to decide.
She's the One Who Doesn't Say Much
August 13, 2021
Word Count:
36000
Summary: INK (NOUN) Five definitions to inspire writers around the world and an unlimited number of possible stories to tell: 1) A colored fluid used for writing 2) The action of signing a deal 3) A black liquid ejected by squid 4) Publicity in the written media 5) A slang word for tattoos Ink features 300-word speculative flash fiction stories from across the rainbow spectrum, from the minds of the writers of Queer Sci Fi.
Ink
August 10, 2021
Word Count:
54000
Summary: Silas Thornwood's worst nightmare has come to life. Darien's familiar Pip is gravely injured, and Darien and Jasper have been kidnapped. Someone ruthless and violent is holding the man Silas loves prisoner, for purposes he doesn't want to imagine. Silas needs help from his friends to locate and rescue Darien. And when he does, those responsible― whether sorcerer, human, or demon― are going to be truly, utterly sorry…
Trapped by Greed
July 29, 2021
Word Count: Information not available
Summary: Warrior-mage partners Toria Connor and Kane Nalamas have reached the pinnacle of their mercenary career, known far and wide and offered their pick of jobs. Mixing business with friendship, they accept a long-term contract across the ocean in Londinium, even though it means a six-month separation from their loved ones in Limani. Lady Zhinu Wallace has no actual need for bodyguards, with her ability to change form into a dragon, but she wants the status and support of her long-time friends as she makes her official debut into British noble society. What should be a simple job, escorting the client to teas, business meetings, and galas, grows complicated when Zhinu is accused of murder. Her arrest thrusts Kane and Toria into the mystery of a dead scientist, a pickpocket with intriguing tattoos, and a magically encoded notebook. Toria and Kane split up to untangle all the threads that lead to a lab filled with impossible technology. But to save lives, the partners must work closer together than ever before -- merging not only their magic, but their very souls.
Steel Justice
July 28, 2021
Word Count:
111,000
Summary:
New York: two years after the Third World War. Humanity is rebuilding its cities brick by brick; the damage done to the people, however, is a lot harder to repair.
Dan Hardacre is one of those people. An aspiring stage actor and experienced draft-dodger, Dan struggles to find his place within the Utopic rebuild of New York City. When he's not caught up with the duties of work, Dan lives a quiet life in mourning for his mother, Dyani, who went missing when he was a teenager.
One night, Dan experiences a vivid, terrifying nightmare that puts him right on the front lines of the war for which he dodged the draft; it ends with him facing Death itself in the form of a metallic, faceless humanoid creature that calls itself the Valkyrie. To investigate the reason behind his haunting experience, Dan seeks out a meeting with his estranged father, who reveals the startling truth about Dan's dream: it wasn't a dream.
With this newfound knowledge and the powers it brings, Dan makes it his mission to return to the scene of his nightmare. However, he soon comes to know that confronting the Valkyrie not only endangers him but the war-withstanding world he leaves behind.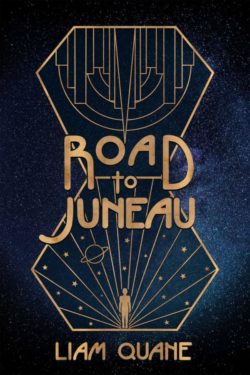 ROAD TO JUNEAU
May 18, 2021
Word Count:
70,000
Summary: Do you know what your problem is? Sulphur knows hers. This 13th-century woman has trained as a fighter all her life in hopes of joining the army. Then, within days, both of her older sisters announce plans and suddenly Sulphur is expected to find a man to marry instead. Is it her good fortune her homeland is gripped by fear of a pending invasion and the army now goes door to door encouraging recruits? Sulphur thinks it is. But once she's forced to kill in a small skirmish, she's ready to rethink her career decision. Too bad it's too late. The invasion is coming, and Ilari needs every good soldier it has. Once Sulphur learns Ilari's army has made the strategic decision to not defend certain parts of the realm, including the one where her family lives, she has to re-evaluate her loyalty. Is it with the military she's always admired? Or is it with her sisters, who are hatching a plan to defend their homeland with magic? The problem with being a woman who fights for what's right is that now, she has to figure out what is.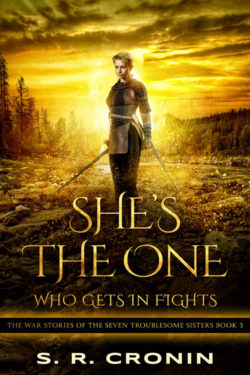 She's the One Who Gets in Fights
May 14, 2021
Word Count:
37000
Summary: "Poetry in prose... I love a story that is huge, but also incredibly intimate, and this novella managed to encompass both of these things." —Miltos Yerolemou (Syrio Forel in Game of Thrones) Minister Shea Ashcroft took pity on innocents. The result was violence and exile. Out on the border, all he's in charge of now is construction of the queen's massive defensive tower, using technology brought by refugees from another world. But one of them warns him that the plan to use her people's devices may draw attention none of them can afford. If Shea backtracks, his future will be destroyed. If he doesn't, they all may be.
Tower of Mud and Straw
February 21, 2021
Word Count:
70,000
Summary: Do you know what your problem is? Coral knows hers. People have been telling this tenderhearted 13th-century woman for years. So when a heroic army officer proposes, she decides she's stronger than people realize and her dreams have come true. Except, the perfect man turns out to be less than ideal. And she's gotten pregnant. And her homeland is gripped with fear of a pending Mongol invasion and she cries about everything now that she's with child. When a friend suggests the ever-caring Coral possesses a power well beyond what anyone imagines, Coral's sister decides this formidable talent is what the realm needs. Can Coral raise a baby, placate an absent military husband who thinks he's stopping the invasion, and help her sister save her homeland? This is just the sort of problem encountered by a woman who cares too much.
She's the One Who Cares Too Much
February 12, 2021
Word Count:
23000
Summary: Christmastime brings out memories, and ghosts. Silas tracks down a poltergeist haunting a local tree farm. Darien hopes to convince Silas that despite experiences with demons and hells, Christmas can still be fun. Pip tries to catch his first rat. And Grim watches from a high vantage point and a position of moral superiority—he has holiday memories of his own, but cats know how to keep a secret. - A 23,000 word holiday novella in the Necromancer series.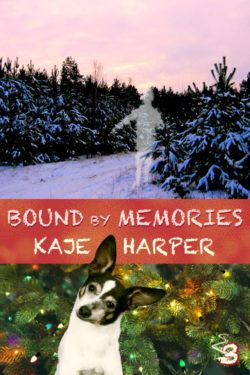 Bound by Memories
December 19, 2020
Word Count:
52000
Summary: An untrained sorcerer and a reclusive necromancer face a ghost-infested town. Darien is free of his dead invaders, and his eyes have opened to a new reality. In a world of sorcerers and necromancers, he's full of power and potential, but completely ignorant. Necromancer Silas, and Silas's cat familiar, Grim, are teaching him basic skills, but danger won't hold off, just because he's not ready. Silas never planned to share his life with anyone, but after a week of shared battles and shared nights, Darien has become a fixture in his home. Silas has never met anyone with more raw magical ability, or less idea what to do with it. When Silas is offered a job hunting ghosts, he's tempted to refill his depleted bank account, but reluctant to bring untrained Darien along. Darien's eager to help, though, and eventually Silas gives in. It's just a few ghosts. Nothing he hasn't handled before. What could go wrong?
Powered by Ghosts
November 26, 2020
Word Count:
70000
Summary: Do you know what your problem is? Ryalgar knows hers. People have been telling this over-educated 13th-century woman for years. So when an equally intellectual prince decides he loves her, it looks like everyone was wrong and her dreams have come true. Except, this prince is obligated to marry another. He is leading the army training to defend their tiny realm against an expected Mongol invasion. And he is considering sacrificing Ryalgar's home nichna by abandoning it's rich farmlands to their foes. If only he wasn't such a nice guy.  Another woman would ….. Actually, Ryalgar has no idea what another would do. All she knows is she has a multitude of university intellectuals and a family of tough farmers behind her, and a newfound connection with the witches in the forest. Why not devise her own strategy to keep the invaders from destroying her home? Then she can figure out what to do about this problem prince. It's just the sort of thing that happens when a woman thinks too much.
She's the One Who Thinks Too Much
November 13, 2020
Word Count:
50000
Summary: Asking a necromancer for help is scary; falling for him may be downright terrifying. Darien Green's afraid he's going insane. The voices in his head are getting louder, weirder, and more numerous. But tattoos appearing on his skin say that there might be a magical reason, something other than his own brain going around the bend. He's worked up the nerve to ask the local necromancer for help. Now he just has to survive his encounter with tall, dark, and talks-to-ghosts. Necromancer Silas Thornwood doesn't appreciate being woken out of his bed by a stranger pounding on his door. But when that stranger turns out to be a half-frozen young man with an unexpected appeal, Silas can't turn him away. Even Grim, his cat-familiar, agrees— in a world of death and demons, protecting gorgeous, ghost-ridden Darien is Silas's next difficult job.
Marked by Death
October 23, 2020
Word Count:
87000
Summary: Summary of Book: Their leap of faith could unleash magic -- or plunge them into darkness. Henry Thorn has worked at Larkin's since graduating high school. He likes it -- especially when he can use his secret skill of hiding inside shadows so his boss can't find them. Without that talent, he would never had survived growing up different. When a hire enters the store, Henry's other latent talent kicks in. He can smell an emotional response even before he lays eyes on the redhead. Jamey Currey came out, and his conservative parents promptly kicked him out. He, too, is different -- he senses Henry's attraction the moment they met. The first time they kiss, torrential rains fall from skies split by lightning. Their kiss also awakens the Watchers, diabolical hunters who will stop at nothing -- even extermination -- to keep magic suppressed. With the help of a friendly coven of friendly witches, the boys embark on a quest to discover an ancient key to restoring magic to the world, and to understand mysteries of their own hearts. The question is, will this quest cost them their lives?
The Werewolf and His Boy
August 26, 2020
Word Count:
109000
Summary: Everyone knows the story of Joan of Arc, a peasant girl who put Charles VII on the throne and spearheaded France's victory over Britain before being burned by the English as a heretic and witch. But things are not always as they appear. Jeanne d'Arc was only five when three angels and saints first came to her. Shrouded by a halo of heavenly light, she believed their claim to be holy. The Archangel Michael and Saint Margaret told her she was the foretold Warrior Maid of Lorraine, fated to free France and put a king upon his throne. Saint Catherine made her promise to obey their commands and embrace her destiny; the three saints would guide her every step. Jeanne bound herself to these creatures without knowing what she'd done. As she got older, Jeanne grew to mistrust and fear the voices, and they didn't hesitate to punish her cruelly for disobedience. She quickly learned that their cherished prophecy was more important than the girl expected to make it come true. Jeanne is only a shepherd's daughter, not the Warrior Maid of the prophecy, but she is stubborn and rebellious, and finds ways to avoid doing - and being - what these creatures want. Resistance has a terrifying price, but Jeanne is determined to fight for the life she wants. But when the cost grows too high, Jeanne will risk everything to save her brother, her one true friend and the man she loves. Not everyone is destined to be a hero. Sometimes you have no choice.
Divine Heretic by Jaime Lee Moyer
August 20, 2020