Fantasy stories that involve an alternate magical version of history. Return to general Fantasy
Note: these books are currently sorted by release date, with newest first.
Word Count:

38000
Summary: RISE (noun / verb) Eight definitions to inspire writers around the world, and an unlimited number of possible stories to tell: 1) An upward slope or movement 2) A beginning or origin 3) An increase in amount or number 4) An angry reaction 5) To take up arms 6) To return from death 7) To become heartened or elated 8) To exert oneself to meet a challenge Rise features 300-word speculative flash fiction stories from across the rainbow spectrum, from the minds of the writers of Queer Sci Fi.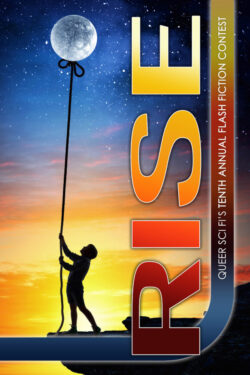 Rise
Word Count:

154000
Summary: "Birth, life and death—we have come full circle once again." An 18th-century family portrait has been in the dining room of the Lewis family manor house for as long as anyone can remember. But who are the people shown in it? The children are known to be the founding members of the Llynhiraeth empire. But who is the woman depicted? Or the two men with her? And why do they look like Stewart Rygby and Michael Dougal? Stewart and Michael search through their memories of past lives to dig up the exciting tale of their scandalous life, love, family, and escape from France in the years and days leading up to the French Revolution. Along the way, many questions are answered about the origins of the prominent families of Llwyncudd and its most famous citizen. Join us where y Ddraig Goch meets his own tail in Green Hills and Prison Cells—the revolutionary final book of the Green Hills Series.
Green Hills and Prison Cells
Word Count:

22700
Summary: When yet another wave of colonizing Felters arrives to strengthen their fortress on the forest's edge, Velu, an indigenous hunter, knows they bring only pain and death. But with them arrives an intriguing older woman who hunts legends. When Velu learns the woman, Lady Greyback, shares his terrifying visions of the ancient scorpion god, Ajakava, she invites him to research what they mean. But the Felters grow hostile, blaming Velu and the other hunters for deaths in a doomed expedition through the forest. Meanwhile, the visions become ever more persistent, hinting the god is awakening. When a second Felter expedition seeks to extend their reach to the capital beyond the forest, only Velu and Lady Greyback know they will walk straight into Ajakava's clutches. While the lady sees new destruction, Velu sees memories of a long-forgotten massacre. What vengeance does the old god have in store, and for whom? Find out what happens in Ajakava by Chaitanya Murali
Ajakava
Word Count:

142000
Summary: "It was certainly hot and dry, but he hadn't expected Hell to be particularly sunny." Ben Davies is no stranger to the strange, but his life just got a whole lot weirder. He's always battled between doing the morally right, sensible thing and impulse—but this time, his good intentions have landed him in hot water. Trapped in the Land of Nod with Alex's Dreamtime alter-ego, Ben needs to find a way to get back to Wales—his Wales. With a psychotic psychopomp as their Virgil to guide them on an RV road trip through hell, Ben and Alex get to see America in all its star-spangled glory. It'll take a transatlantic transdimensional meeting in the middle for these two to keep calm and carry on in their pursuit of happiness. Back in the fairy village, tensions are running at an all-time high. Will y Pentreff Cudd start the new year in an all-out civil war? Or set aside their differences to find peace and goodwill? Join dragons, fairies and transdimensional puppies in Green Hills and Whippoorwills—the thought-provoking sixth book in the Green Hills Series by Celyn Kendrick!
Green Hills and Whippoorwills
Word Count:

26,823
Summary: Tel is an astrophysicist and an unwilling witch. A letter changes all that. Accepting the invitation within leads him into a nightmare existence on an alien world full of paranormal beings. Well it is like something out of a nightmare but the said paranormal beings are far from nightmarish and maybe just the type of people he needs in his life. Tel has to become the person he has been ignoring all his life. As the son of a hedge witch he has healing abilities he must now use. In fact he is potentailly so much more than a healer and that is why he is now where he now is, stuck on a world with little available magic unless you are special. Tel is on a journey to discover who he is and who the man from his past really is and how he could be the man of his future, his partner and lover in more than dreams. Star is the make believe friend of Tel's youth or so Tel thought. Tel discovers Star is real and the one responsible for Tel's current situation, stuck in a world similar to Earth but not Earth and empty of all 'human' life other than the the ones sharing his space. Maybe stuck is not the right word. Just maybe Tel is where he should be.
A Fallen Leaf
Word Count:

135000
Summary: "Aye, well, what is an angel, anyway?" At Samhain, things in Llwyncudd are taking a turn for the strange and bizarre. The red dragon is spotted around town trying to dig its own grave whilst his vessel is happily participating in life elsewhere. Did Stewart's dragon spirit leave him? Michael, can't live with the thought. Meanwhile, Dr Lilibeth Blackthorne, PsyD, has moved to town at her brother Sam's suggestion. Many of its residents are in desperate need of her counselling services and she's uniquely qualified—even if she's never particularly seen multiple personalities quite like this. Fairy-halfling Arthen also joins the town after being raised in the local fairy village on the other side. Despite the odd cultural clashes of living in a society that requires silly things like clothing, he is making many new friends and is more special than his former masters would have him believe. Join our friends as they battle their demons from the darker side of the veil in Green Hills and Battlefields—the thrilling fifth book of the Green Hills Series by Celyn Kendrick!
Green Hills and Battlefields
Word Count:

129000
Summary: "Who but God could have created such a bewitching creature?" In the 6th century, Brother Elis was simply trying his best to serve God during a time of relative political peace and prosperity. But in a world full of rules written by man, how can he be at peace with the life that God has set before him? Now, in the 21st century, for the first lifetime in their ancient dragon memories, Stewart Rygby and Michael Dougal are free to marry one another. Is this finally their time to shine? When a messenger from the other side arrives on their doorstep, he brings more news from the fairy realm than the simple tidings from the Grand High Council of y Pentref Cudd. His presence demonstrates how little everyone truly knows about fairy society. As the mysterious and inexplicable spirit realm is revealed, retired vicar Father Aron is finally getting some very literal answers to his spiritual questions. Will he be able to keep such secrets to himself so that Stewart and Michael can live in anonymity? Join us for a wedding as esoteric mysteries are revealed in Green Hills and Holy Wells—the fourth book in the Green Hills Series by Celyn Kendrick!
Green Hills and Holy Wells
Word Count:

94000
Summary: 1929. 1938. 1947. Three days. Three decades. Three connected lives. In a world where the voices of the dead echo among us, a student, an officer, and a prisoner in the USSR struggle with a discovery that will expand state tyranny. Can any of them overcome their own terror, shame, and misery long enough to free the world?
Then Raise the Dead Man High
Word Count:

140000
Summary: "You probably shouldn't stop to talk to strange men, dragons or fairies…" Stewart Rygby and Michael Dougal are looking forward to a new chapter in a new lifetime together, but the waiting is driving them mad. It also doesn't help that Stewart's mother is prone to random outbursts of poetry punctuated by the pealing of bells in the local fairy village. Whilst visiting Michael in Scotland, Stewart also gets to meet his fiancé's cousin and the future mother of their children—Shannon Anderson. After getting dumped by her girlfriend of ten years by sticky note, she's sick of pretences and vows to live life differently and by her own rules. Meanwhile, back in Llwyncudd, there's a new vicar in town. Father Aron Lewis tries to look at retirement and the odd turn his life has taken as a positive—and one quite possibly fated by God. But God seems to have a twisted sense of humour. Join us for a puppy poppy tea party pealing parade in Green Hills and Fairy Bells—the prophetic third book in the Green Hills Series by Celyn Kendrick!
Green Hills and Fairy Bells
Word Count:

97000
Summary: The seas spell freedom. Pirates and kraken, boats and submarines, deadly sirens, mermaids, and the women who face them all. These are our heroes. High seas adventure, fantasy, and magic weave together in this sapphic anthology focusing on the joy of the unbounded oceans. If you like diverse stories with lesbian and sapphic heroines exploring oceans, battling sea monsters, and seducing pirates, buy Farther Reefs today! With stories by: Sarah Day and Tim Pratt, Kim Pritekel, Kyoko M. Sara Codair, William C. Tracy, N.L. Bates, Robin C.M. Duncan, Vanessa Ricci-Thode, Margaret Adelle, and J.S. Fields Genres: Science Fiction / Fantasy / Adventure / Lesbian / LGBT and Non Binary Market: Adult
Farther Reefs
Word Count:

99000
Summary: Gavin Booker, a school librarian at Cooper Road Elementary, Raleigh, Northern Carolina, leads an orderly, normal life. Work, jogging, friends from work, his son every other weekend. Gavin is also a secret. He is a hybrid, or part-fairy, and in the Columbian Empire, hybrids are under an automatic death sentence. Magic is illegal. So is loving another man, another capital crime. Fairies are locked away in ghettoes, magical beasts, such as gryphons, unicorns, and pegasi are kept in zoos. The others, the tree and water spirits, the talking beasts, fauns, and the rest, are in hiding. This is the world in which Gavin grew up. He survived, thanks to his mother. He can never forget he is different: ministers preach against people like him constantly; hating the other is a part of every school's curriculum. But now, things are changing fast, and apparently, for the worst. Earthquakes, volcanoes, killer storms are all frequent occurrences. The medicine Gavin takes to suppress his body's glowing, isn't working. The spells cast by his doctor, a witch, are losing their power. If anyone finds out what Gavin is, he is dead. Under threat, the Empire always goes after its marginalized people. Can Gavin survive the coming catastrophe? Will he ever recover from losing the boys he loved? Can he find the fairy man who has haunted his dreams all his life before it is too late? Can his scarred heart ever heal?
In Light's Shadow
Word Count:

74000
Summary: Sometimes you have to fight fire with fire. Darien's ready for a quiet life— back to studying, sleeping with his ridiculously appealing necromancer, playing magical Fetch with his dog-familar. But breaking the demon portals was only a temporary solution, when there are sorcerers out there rebuilding them. Much as he'd like to shove the rest of the job on someone else, Darien's not willing to see his world burn. Silas is ready to turn the whole hunting-dark-sorcerers mess over to the Guild. Except he doesn't trust his council members as far as he can throw them, the sorcerer Chicago has sent sets his teeth on edge, and if they get it wrong, Darien's life is at risk. So with Grim at his side, and Pip encouraging Darien, they, Jasper, and Magda will take on one more hunt to find and stop the portal-builders.
Consumed by Fire
Word Count:

120000
Summary: A woman with the strength to rebel. A shapeshifter who wears the souls of the dead. Together, they face a lethal enemy. Em helped create it. Now she must craft its defeat. In a city owned by industrialists, Em sells her magic to make ends meet. The extraction procedure is brutal and potentially deadly. Desperate for change, she joins an underground resistance movement to weaponize her magic and stop the abuse of workers. Meanwhile, a mysterious voice wakes Ruk from a decades long slumber and compels him to become human. He wants to break free but is torn between his shapeshifter instincts and the needs of the soul that sustains him. On streets haunted by outcasts and predatory automatons, a new danger emerges – an ever-growing corruption of magic and science. Em and Ruk must put aside their differences and pursue it – each for their own reasons. What they discover will forever change their lives… Or end them. The Eternal Machine is set in a 19th Century alternative reality Australian city, where magic and science are equally valid disciplines.
The Eternal Machine
Word Count:

70000
Summary: Do you know what your problem is? Celestine, the fifth of seven sisters, is tired of hearing about hers. Father thinks she's frivolous because she likes pretty clothes and caters to the crowds in the taverns who adore her music. Mother thinks that because she's the most social daughter in the family, she can't keep quiet about anything. They're both wrong. Celestine hides a secret she has kept for most of her life. As the family beauty and a talented musician with a lyrical voice, she has the best prospects for marriage to a prince. When such a liaison never happens, people assume Celestine is too choosy. But even in somewhat tolerant Ilari, a daughter hates to disappoint her family. How can she tell them she's in love with a princess instead? Lucky for Celestine, all her sisters are obsessed with an invading army headed to their realm. Celestine would rather ignore the threat and enjoy the freedom their lack of attention gives her. But, her voice can unlock a power that may help save Ilari. And the woman she loves is determined to fight these invaders. And her family, for all their talents, seems clueless about how to motivate the masses. Celestine knows she can inspire the citizens of Ilari to do what needs to be done. Is it time to put her inhibitions aside and use her voice to save those she cares about?
She's the One Who Can't Keep Quiet
Word Count:

92460
Summary: Conundrum is a guilty pleasure, M/M fantasy novel that asks what you would sacrifice to save your family and closest friends. That's the question Takoda Freeman, a young Native American witch, faces. Takoda puts his complete trust in Russell Sands, a werewolf, who says he can help save his loved ones, ignoring that fact that Russell was his father's nemesis. Takoda risks it all to save his friend and mentor, Jared Mason, from two vengeful Puritans from the past. The ordeal left Jared with the singular longing to change his past. Jared vowed to make it so that he and his father never went to the 17th century when he was a teenager. If Jared successfully changed that event, a new reality would emerge, and Takoda would cease to exist. That sends Takoda on a frightening philosophical journey where he must ultimately decide whether saving his own life is greater than the lives of his friends and family.
The Hallowed Bloodline: Conundrum
Word Count:

50000
Summary: Werewolves, vampires, and King Arthur converge in the Lavender Valley.  Living safely in a valley set aside for them and protected by magic under a peace negotiated by King Arthur, the blood song and Lunae have left the past behind, seemingly. A prophecy has promised that a girl will be born of a certain family line and that she will give incredible power to her mate. Stella is of the right line, but she carries the blood of both sides, half vampire, half werewolf.  She's half outcast with the wolves that raised her.  She's been told all her life that she can't be the girl of prophecy, that she'll never be good enough to be the luna of the clan. Aurelius is the silver haired alpha. Raised in Camelot, Arthur expects the boy he raised to bring the wolves and the blood song into the civilized world. The only thing Aurelius has from his father is a letter telling him to marry Onyx. Stella and Aurelius have a forbidden love that is about to wreck the civilized world. Only on the NovelStar app, first six chapters free! Come read a world where chivalry meets wild instinct!
The Scent of Lavender
Word Count:

70,000
Summary:
Do you know what your problem is? Olivine knows hers. This quiet thirteen century artist has been hiding a secret as she travels to K'ba to meet her friends. Others assume she's fallen in love with another artist, but it's much worse than that. For on the way to K'ba is the dirt poor nichna of Scrud, a place scorned by other Ilarians. And in Scrud is the one man who understands her. However, Bohdan recognizes the dangers posed by an impending Mongol invasion. When he learns of Olivine's unusual visual powers, he convinces her to pick up her bow and start practicing. She does, though she's more concerned with moving to K'ba where she can paint all day and see Bohdan whenever she wants. If only her sister hadn't decided Olivine and her fellow long eyes held one key to defending the realm. Then, as if life wasn't complicated enough, Olivine learns the artist community she yearns to be part of has developed a different take on the invasion. They're certain the only way to survive is to capitulate completely to the Mongols' demands. Artists who feel otherwise are no longer welcome.
Where does her future lie? The invasion is coming soon and Olivine doesn't have much time to decide.
She's the One Who Doesn't Say Much
Word Count:

36000
Summary: INK (NOUN) Five definitions to inspire writers around the world and an unlimited number of possible stories to tell: 1) A colored fluid used for writing 2) The action of signing a deal 3) A black liquid ejected by squid 4) Publicity in the written media 5) A slang word for tattoos Ink features 300-word speculative flash fiction stories from across the rainbow spectrum, from the minds of the writers of Queer Sci Fi.
Ink
Word Count:

54000
Summary: Silas Thornwood's worst nightmare has come to life. Darien's familiar Pip is gravely injured, and Darien and Jasper have been kidnapped. Someone ruthless and violent is holding the man Silas loves prisoner, for purposes he doesn't want to imagine. Silas needs help from his friends to locate and rescue Darien. And when he does, those responsible― whether sorcerer, human, or demon― are going to be truly, utterly sorry…
Trapped by Greed
Word Count: Information not available
Summary: Warrior-mage partners Toria Connor and Kane Nalamas have reached the pinnacle of their mercenary career, known far and wide and offered their pick of jobs. Mixing business with friendship, they accept a long-term contract across the ocean in Londinium, even though it means a six-month separation from their loved ones in Limani. Lady Zhinu Wallace has no actual need for bodyguards, with her ability to change form into a dragon, but she wants the status and support of her long-time friends as she makes her official debut into British noble society. What should be a simple job, escorting the client to teas, business meetings, and galas, grows complicated when Zhinu is accused of murder. Her arrest thrusts Kane and Toria into the mystery of a dead scientist, a pickpocket with intriguing tattoos, and a magically encoded notebook. Toria and Kane split up to untangle all the threads that lead to a lab filled with impossible technology. But to save lives, the partners must work closer together than ever before -- merging not only their magic, but their very souls.
Steel Justice