Sci fi stories where the protagonist goes to another time not their own, either future or past. Return to general Sci Fi
Note: these books are currently sorted by release date, with newest first.
Filter by:
Genres
Fantasy
Fantasy - Alternate History
Fantasy - Comedy
Fantasy - Contemporary
Fantasy - Dark Fantasy
Fantasy - Erotica
Fantasy - Faery & Fae
Fantasy - Fairy Tale / Folklore
Fantasy - Fantasy of Manners
Fantasy - Gothpunk
Fantasy - Heroic
Fantasy - High & Other World
Fantasy - Historical
Fantasy - Hopepunk
Fantasy - Knights & Castles
Fantasy - Latinpunk
Fantasy - LGBTQ+
Fantasy - LitRPG
Fantasy - Low Fantasy
Fantasy - Magical Realism
Fantasy - Mythic
Fantasy - Mythpunk
Fantasy - New Adult
Fantasy - Paranormal
Fantasy - People of Color
Fantasy - Piratepunk
Fantasy - Quiet
Fantasy - Romance
Fantasy - RPG
Fantasy - Slipstream
Fantasy - Steampunk
Fantasy - Sword & Sorcery
Fantasy - Urban & Magical Beings
Fantasy - Weird Fantasy
Fantasy - Young Adult
Fantasy – Gods and Heroes
Horror
Horror - Angels & Devils
Horror - Comedy
Horror - Fairy Tale/Folklore
Horror - Ghosts & Haunted Houses
Horror - Gothic
Horror - LGBTQ+
Horror - LitRPG
Horror - Lovecraftian/Cthulhu
Horror - Man-Made Horrors
Horror - Monsters
Horror - Mythic
Horror - New Adult
Horror - Noir
Horror - Occult
Horror - People of Color
Horror - Post-Apocalyptic
Horror - Psychic Talents
Horror - Psychological
Horror - Shifters
Horror - Splatterpunk
Horror - Vampires
Horror - Weird Horror
Horror - Werewolves
Horror - Witches
Horror - Young Adult
Horror - Zombies
Nonfiction
Nonfiction - Writing Guides
Paranormal
Paranormal - Angels & Devils
Paranormal - Comedy
Paranormal - Dark
Paranormal - Ghosts & Haunted Houses
Paranormal - LGBTQ+
Paranormal - LitRPG
Paranormal - Magical Beings
Paranormal - Monsters
Paranormal - New Adult
Paranormal - People of Color
Paranormal - Psychic Talents
Paranormal - Reincarnation
Paranormal - Romance
Paranormal - Shifters
Paranormal - Vampires
Paranormal - Young Adult
Paranormal - Zombies
Poetry
Sci Fi
Sci Fi - Alien Invasion
Sci Fi - Alien Races
Sci Fi - Aliens
Sci Fi - Alternate / Parallel Reality
Sci Fi - Alternative History
Sci Fi - Apocalyptic Fiction
Sci Fi - Artificial Intelligence
Sci Fi - Biopunk
Sci Fi - Christian
Sci Fi - Climate Fiction (Cli-Fi)
Sci Fi - Clockpunk
Sci Fi - Clones
Sci Fi - Colonization
Sci Fi - Comedy
Sci Fi - Cyberpunk
Sci Fi - Cyberspace
Sci Fi - Decopunk
Sci Fi - Detective
Sci Fi - Dieselpunk
Sci Fi - Distant Planet
Sci Fi - Dying Earth
Sci Fi - Dystopian & Post-Apocalyptic
Sci Fi - First Contact
Sci Fi - Frontier
Sci Fi - Furry
Sci Fi - Galactic Empire
Sci Fi - Generation Ship
Sci Fi - Genetic Manipulation
Sci Fi - Gothpunk
Sci Fi - Greenpunk
Sci Fi - Hard Sci Fi
Sci Fi - Hollow Earth
Sci Fi - Hopepunk
Sci Fi - Human Evolution
Sci Fi - Immortality
Sci Fi - LGBTQ+
Sci Fi - LitRPG
Sci Fi - Lost Worlds
Sci Fi - Military
Sci Fi - Mind Uploads
Sci Fi - Multiverse
Sci Fi - Mutants
Sci Fi - Nanopunk
Sci Fi - Near Future
Sci Fi - New Adult
Sci Fi - Nowpunk
Sci Fi - People of Color
Sci Fi - Piratepunk
Sci Fi - Pulp
Sci Fi - Realistic
Sci Fi - Robots/Androids
Sci Fi - Romance
Sci Fi - RPG
Sci Fi - Science Fantasy
Sci Fi - Singularity
Sci Fi - Slipstream
Sci Fi - Social
Sci Fi - Soft
Sci Fi - Solarpunk
Sci Fi - Space Exploration
Sci Fi - Space Opera
Sci Fi - Space Western
Sci Fi - Spacepunk
Sci Fi - SpyFi
Sci Fi - Steampunk
Sci Fi - Superheroes & Villains
Sci Fi - Terraforming
Sci Fi - Teslapunk
Sci Fi - Theological
Sci Fi - Time Travel
Sci Fi - Transhuman
Sci Fi - Uplift
Sci Fi - Utopian
Sci Fi - Virtual Reality
Sci Fi - Weird Sci Fi
Sci Fi - Young Adult
Tropes
Abandoned Place
AI Uprising
Alien Artifacts
Alien Eggs
Alien Invasion
Alien Ruins
Aliens Among Us
Aliens as God
Aliens in History
Ancient Astronauts
Ancient Weapon
Antihero
Arthurian Legends
Asteroid Miner
Astral Projection
Bad Robot
Band of Brothers/Sisters
Band of Misfits
Bar Tales
Becoming a Monster
Benevolent Aliens
Beyond the Grave Communication
Big Sword
Black and White Morality
Body Modifications
Bodysnatchers
Book of Spells
Born Hero
Burial Ground/Cemetary
Changing Painting
Chosen One
Clones
Conspiracy
Crazy Clairvoyants
Cross-Species Friendships
Cryosleep
Dark Enemy
Dark Lord
Death by Sex
Demonic Possession
Dragonriders
Dying World
Dystopian Governments
Enemy to Ally
Evil Megacorporation
Evolving Powers
Fallen Hero
Farmer to Hero
Farmer to Royalty
Fated Mates
Fellowship
Fetus of Doom
First Contact
Fish Out of Water
Found Family
FTL
Galactic Civilization
Generation Ships
Good Robots
Haunted House
Here Comes the Cavalry
Humanity is Dangerous
Humanity is Good
Humans Evolved From Aliens
Hunted
I Am Your Father
I See Dead People
Immortality
Inaccessible Magic
Interspecies Adoption
Interspecies Romance
Interstellar Travel
Killer Aliens
Library of Secrets
Lost Civilization
Lucky Novice
Mad Scientist
Magic Furniture
Magic Talisman
Magical Disaster
Marooned
Mirror Shows True Self
Modern Human in Fantasy World
Museum/Store of the Unusual
No Cell Coverage
Old Person in the Woods
Oxygen Leak
Parallel Worlds
Past People/Future Tech
Person in Distress
Portals
Possession
Post-Apocalyptic
Powerful Artifact
Prophesy
Pseudo European Society
Psionic Powers
Quest
Redemption Arc
Reluctant Hero
Reluctant Vampires
Robin Hood Legends
Roguish Thief
Secret Heir
Secret Royalty
Secret Society
Sentient AI
Sentient Spaceships
Sex Magic
Singularity
Space Battles
Space Dentistry
Space Detectives
Space is Empty
Space is Full
Space Medicine
Space Pilot
Space Pirates
Space Psychology
Space Smugglers
Superpowers
Sword of Destiny
Time Loop
Time Travel
Training
Ultimate Evil
Undiscovered Planet
Uploaded Consciousness
Vengeful Spirit
Villain to Hero
Waiting/Sleeping Evil
Wise Mentor
Tags
author - american
author - arabian
author - australian
author - belgian
author - british
author - canadian
author - dutch
author - european
author - french
author - italian
author - new zealander
author - saudi arabian
format - anthology
format - audiobook
format - book
format - box set
format - collection
format - free
format - hardcover
format - illustrated novel
format - kindle
format - kindle unlimited
format - large print
format - netgalley
format - novel
format - novel >100K
format - novel <100K
format - novel 40-100K
format - novella 15k-40K
format - novellette <15k
format - omnibus edition
format - paperback
format - payhip
format - planner
format - prequel
format - self published
format - sequel
format - series
format - shared universe
format - short stories
format - short story <15K
identity - aromantic
identity - asexual
identity - bisexual
identity - demisexual
identity - gay
identity - gender fluid
identity - intersex
identity - lesbian
identity - non-binary
identity - pansexual
identity - polyamorous
identity - transgender
potential trigger
potential trigger - abduction-captivity
potential trigger - addiction
potential trigger - avalanche
potential trigger - blood
potential trigger - death
potential trigger - gore
potential trigger - graphic torture
potential trigger - murder
potential trigger - rape
potential trigger - sexual abuse
potential trigger - stalking
potential trigger - suicidal ideation
potential trigger - suicide
potential trigger - torture
potential trigger - traumatic past
potential trigger - violence
what - concept - amnesia
what - concept - curse
what - condition - blindness
what - condition - disability
what - condition - mental illness
what - condition - ptsd
what - element - ferocious poodle
what - holiday - general
what - topic - cartel
what - topic - chinese medicine
what - topic - chinese mythology
what - topic - climate change
what - topic - compassion
what - topic - crime
what - topic - desert survival
what - topic - disaster
what - topic - flying
what - topic - genetic engineering
what - topic - harem
what - topic - haunting
what - topic - japanese mythology
what - topic - learning disabilities
what - topic - legend
what - topic - magic
what - topic - multicultural
what - topic - music
what - topic - natural disaster
what - topic - non-violence
what - topic - politics
what - topic - ransom
what - topic - reincarnation
what - topic - religion
what - topic - revenge
what - topic - science experiment
what - topic - secret
what - topic - secret organization
what - topic - superstition
what - topic - taboo
what - topic - technology
what - topic - terrorism
when - period - 16th century
when - period - 17th century
when - period - 18th century
when - period - 1920s
when - period - 1930s
when - period - 1950s
when - period - 1960s
when - period - 1970s
when - period - 1980s
when - period - 1990s
when - period - 19th century
when - period - 20th century
when - period - ancient greece
when - period - ancient rome
when - period - edwardian
when - period - georgian
when - period - great war
when - period - middle ages
when - period - near future
when - period - prehistoric
when - period - prohibition
when - period - victorian
where - fictional - moon colony
where - general - alternate universe
where - general - carnival
where - general - castle
where - general - cave
where - general - cruise ship
where - general - forest
where - general - military
where - general - mountains
where - general - private school
where - general - rural
where - general - small town
where - general - swamp
where - general - uncharted island
where - general - underground
where - general - underwater
where - Mars
where - non-Earth planet
where - space - international space station
where - space - space station
where - space station
where - spaceship
who - description - alpha male
who - description - alphas and omegas
who - description - tattoos
who - magical humans
who - occupation - apothecary
who - occupation - archaeologist
who - occupation - artist
who - occupation - assassin
who - occupation - astronaut
who - occupation - astronomer
who - occupation - author
who - occupation - baker
who - occupation - barista
who - occupation - bodyguard
who - occupation - botanist
who - occupation - bounty hunter
who - occupation - castle laird
who - occupation - computer programmer
who - occupation - contractor
who - occupation - coroner
who - occupation - cowboys
who - occupation - detective
who - occupation - doctor
who - occupation - engineer
who - occupation - ex-convict
who - occupation - federal agent
who - occupation - guard
who - occupation - hacker
who - occupation - healer
who - occupation - herbalist
who - occupation - historian
who - occupation - horsemaster
who - occupation - innkeeper
who - occupation - inventor
who - occupation - journalist
who - occupation - king
who - occupation - knight
who - occupation - law enforcement
who - occupation - librarian
who - occupation - lord
who - occupation - mage
who - occupation - marine
who - occupation - mechanic
who - occupation - medical
who - occupation - mercenary
who - occupation - military
who - occupation - missionary
who - occupation - motorcycle rider
who - occupation - musician
who - occupation - nurse
who - occupation - pilot
who - occupation - pirate
who - occupation - police
who - occupation - politician
who - occupation - priest
who - occupation - prince
who - occupation - prisoner
who - occupation - professor
who - occupation - psychic
who - occupation - royalty
who - occupation - sailor
who - occupation - scientist
who - occupation - security
who - occupation - serial killer
who - occupation - servant
who - occupation - sex worker
who - occupation - sheriff
who - occupation - soldier
who - occupation - space marines
who - occupation - spaceship captain
who - occupation - spy
who - occupation - starship captain
who - occupation - student
who - occupation - superhero
who - occupation - tattoo artist
who - occupation - teacher
who - occupation - thief
who - occupation - tracker
who - occupation - undercover agent
who - occupation - warrior
who - occupation - writer
who - religion - catholic
who - religion - jewish
who - religion - muslim / islamic
who - religion - pagan
who - religion - shinto
who - sea dragon shifter
who - shifter
who - type - alien
who - type - altered human
who - type - angels
who - type - badass heroine
who - type - bear shifters
who - type - bigfoot
who - type - centaur
who - type - cyborg
who - type - demons
who - type - dragon shifters
who - type - dragons
who - type - elves
who - type - fae
who - type - fox
who - type - ghosts
who - type - god
who - type - griffins
who - type - incubus
who - type - kitsune
who - type - merman
who - type - nekomata
who - type - nephilim
who - type - panther shifters
who - type - reindeer shifters
who - type - robot / cyborg
who - type - sea god
who - type - selkie
who - type - spiders
who - type - spirit
who - type - succubus
who - type - unicorns
who - type - vampires
who - type - vegan
who - type - werecats
who - type - werewolves
who - type - witch
who - type - wizard
who - type - wolf
who - type - yokai
who - type - zombies
who - world defender
Word Count:
45000
Summary: Tangents & Tachyons is Scott's second anthology - six sci fi and sci-fantasy shorts that run the gamut from time travel to hopepunk and retro spec fic: Eventide: Tanner Black awakes to find himself in his own study, staring out the window at the end of the Universe. But who brought him there, and why? Chinatown: Deryn lives in an old San Francisco department store with his girlfriend Gracie, and scrapes by with his talent as a dreamcaster for the Chinese overlords. But what if a dream could change the world? Across the Transom: What if someone or something took over your body on an urgent mission to save your world? Pareidolia: Simon's not like other college kids. His mind can rearrange random patterns to reveal the images lurking inside. But where did his strange gift come from? And what if there are others like him out there too? Lamplighter: Fen has a crush on his friend Lewin, who's in a competing guild. But when the world goes dark, only a little illumination can save it. And only Fen, Lewin and their friend Alissa can light the spark. A Liminal Sky short. Prolepsis: Sean is the closeted twenty-five-year-old editor of an 80's sci-fi 'zine called Prolepsis. When an unabashedly queer story arrives from a mysterious writer, it blows open Sean's closet door, and offers him the chance to change the world - and the future. Plus two flash fiction stories – The System and The Frog Prince, never before published. This is the first time all of these stories have all been collected in one place.
Tangents & Tachyons
December 10, 2021
Word Count:
50000
Summary: The first in a series. A story about an engineer who gets accidentally transported to a medieval type world where magic is real. But all is not as it seems!
December 6, 2021
Word Count:
39000
Summary: How many ways could civilisation, mankind or even the whole world come to an end? Is time travel something that can be controlled? But what if time travel controls you? Here are eighteen short stories from the author of Time Portals of Norwich and Splinters that seek to explore both themes, some with humour, others nightmarishly horrifying. Some stories even manage to combine both themes.
Time Enough for the World to End
November 22, 2021
Word Count: Information not available
Summary: Far enough to feel like a vacation, close enough to be home by Monday. Unable to get away for more than a couple of days, Primm is a short forty minute drive from Las Vegas, and the perfect escape for Jesse and Micah. After working countless nights and having endless responsibilities, what could be better than a weekend of drinks, concerts, and fun in the sun by a luxury hotel pool? As the pair gets ready to hit the casino for a little adventure on the slots, their plans are quickly detoured when a crazed woman drenched in blood, singles out Jesse and her Bff, warning them to flee for their lives as security drags her away. A little unusual? Absolutely. But no biggie for Sin City. A few deep breaths later and Operation Weekend Escape resumes as planned. That is, until a mysterious casino worker piques their interest with his over attentiveness to their stay and initiates a journey that changes their lives forever and leaves them fighting not only for their existence, but for the human race.
Room 629
November 21, 2021
Word Count:
92460
Summary: Conundrum is a guilty pleasure, M/M fantasy novel that asks what you would sacrifice to save your family and closest friends. That's the question Takoda Freeman, a young Native American witch, faces. Takoda puts his complete trust in Russell Sands, a werewolf, who says he can help save his loved ones, ignoring that fact that Russell was his father's nemesis. Takoda risks it all to save his friend and mentor, Jared Mason, from two vengeful Puritans from the past. The ordeal left Jared with the singular longing to change his past. Jared vowed to make it so that he and his father never went to the 17th century when he was a teenager. If Jared successfully changed that event, a new reality would emerge, and Takoda would cease to exist. That sends Takoda on a frightening philosophical journey where he must ultimately decide whether saving his own life is greater than the lives of his friends and family.
The Hallowed Bloodline: Conundrum
September 14, 2021
Word Count:
42000
Summary:
What lies hidden inside the Martian Red Weed and what is the secret of the lake on the moon? When the first Martian cylinder crash lands in England, Ogilvy the astronomer barely survives the deadly heat ray from the attack by aliens. He then accidentally stumbles upon the truth about the Red Weed and sends vital evidence to scientists in France on board HMS Thunder Child, but the ship is attacked by a Martian tripod.
Years later in 1919, in the aftermath of World War 1 and Spanish influenza, a sinister plague emerges on Earth from the long forgotten Red Weed, and it threatens all life on our planet with global extinction.
Ogilvy suggests a daring and risky plan to combat the devastating alien menace, involving alternate history timelines. He persuades other original War Of The Worlds characters to participate, but how on earth can they locate the secret weapon hidden by the Martians at the lake on the moon?
Don't miss this compelling continuation of the H.G. Wells Mars novel in the gripping second volume of The Martian Diaries science fiction series. Get this award winning continuation of The War Of The Worlds today! Features a bonus chapter not included in the audiobook version.
Bronze medal winner in the Readers Choice Awards 2020
WHAT PEOPLE HAVE SAID ABOUT THE AUDIO VERSION
"I sat spellbound while listening to this...as I've always been convinced nobody could ever out-rank the original War of the Worlds by H.G. Wells, but he has succeeded in giving us this astonishing follow-up." Breakaway Reviews
"The storyline is mesmerizing, and Mr Wilburson has done a magnificent job of melding his story with the original War of the Worlds." Readers Favorite Reviews
"I am in awe. I finished the audiobook an emotional wreck, especially after the epilogue...and cannot wait for episode three, Gateway to Mars." Goodreads reviewer
"Author Wilburson's trilogy is an enthralling companion to H.G. Wells' War of the Worlds. The Lake On The Moon is an audiobook treat, highly recommended!" Veronica Cline Barton - Mystery & Suspense author
Winner of 5 awards in the 2020 Los Angeles Science Fiction Film Awards, Audio Drama category, together with volume 1 The Day Of The Martians.
The Martian Diaries: Vol. 2 Lake On The Moon
June 9, 2021
Word Count:
111,000
Summary:
New York: two years after the Third World War. Humanity is rebuilding its cities brick by brick; the damage done to the people, however, is a lot harder to repair.
Dan Hardacre is one of those people. An aspiring stage actor and experienced draft-dodger, Dan struggles to find his place within the Utopic rebuild of New York City. When he's not caught up with the duties of work, Dan lives a quiet life in mourning for his mother, Dyani, who went missing when he was a teenager.
One night, Dan experiences a vivid, terrifying nightmare that puts him right on the front lines of the war for which he dodged the draft; it ends with him facing Death itself in the form of a metallic, faceless humanoid creature that calls itself the Valkyrie. To investigate the reason behind his haunting experience, Dan seeks out a meeting with his estranged father, who reveals the startling truth about Dan's dream: it wasn't a dream.
With this newfound knowledge and the powers it brings, Dan makes it his mission to return to the scene of his nightmare. However, he soon comes to know that confronting the Valkyrie not only endangers him but the war-withstanding world he leaves behind.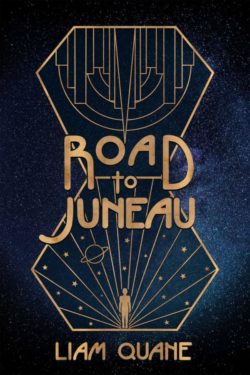 ROAD TO JUNEAU
May 18, 2021
Word Count:
270000
Summary: Oberon is unique among the Common Worlds - a half-world with a strange past and an uncertain future. Jameson Havercamp and Xander Kinnson are thrust into the middle of a world-ending event and have to scramble to save the world - and themselves. Along the way, they peel back the layers of the onion to discover secrets wrapped in secrets that will eventually take them to where it all started - and may provide the key to saving Oberon and everyone on it. SKYTHANE Jameson Havercamp, a psych from a conservative religious colony, has come to Oberon—unique among the Common Worlds—in search of a rare substance called pith. He's guided through the wilds on his quest by Xander Kinnson, a handsome, cocky skythane with a troubled past. Neither knows that Oberon is facing imminent destruction. Even as the world starts to fall apart around them, they have no idea what's coming—or the bond that will develop between them as they race to avert a cataclysm. Together, they will journey to uncover the secrets of this strange and singular world, even as it takes them beyond the bounds of reality itself to discover what truly binds them. LANDER The world needs saving, again. Xander and Jameson thought they'd fulfilled their destiny when they brought the worlds of Oberon and Titania back together, but their short-lived moment of triumph is over. Reunification has thrown the world into chaos. A great storm ravaged Xander's kingdom of Gaelan, leaving the winged skythane people struggling to survive. Their old enemy, Obercorp, is biding its time, waiting to strike. And to the north, a dangerous new adversary gathers strength, while an unexpected ally awaits them. In the midst of it all, Xander's ex Alix returns, and Xander and Jameson discover that their love for each other may have been drug-induced. Are they truly destined for each other, or is what they feel artificial? And can they face an even greater challenge when their world needs them most? ITHANI Time is running out. After saving the world twice, Xander, Jameson and friends plunge headlong into a new crisis. The ithani―the aliens who broke the world―have reawakened from their hundred millennia-long slumber. When Xander and Jameson disappear in a flash, an already fractured world is thrown into chaos. The ithani plans, laid a hundred thousand years before, are finally coming to pass, and they threaten all life on Erro. Venin and Alix go on a desperate search for their missing and find more than they bargained for. And Quince, Robin and Jessa discover a secret as old as the skythane themselves. Will alien technology, unexpected help from the distant past, destiny and some good old-fashioned firepower be enough to defeat an enemy with the ability to split a world? The final battle of the epic science fiction adventure that began in Skythane will decide the fate of lander and skythane alike. And in the north, the ithani rise….
Liminal Fiction: Oberon Cycle Complete Box Set
SALE
March 24, 2021
Word Count:
80,000
Summary: Cherokee attorney Baylie Smith hates pushing paper at the Bureau of Indian Affairs. When Baylie learns time travel exists, she goes to 1787 to guide her people westward to safety before the Trail of Tears. Baylie becomes a warrior woman, where her intelligence, cunning and logic help the tribe win a decisive battle against the Chickamauga Cherokees. She earns ownership of enslaved Kirk O'Malley, who the Cherokees believe is the white devil, Tsul Kalu. Baylie and Shadow Wolf fall in love and are about to marry when O'Malley manages to go forward in time. The village orders her to retrieve O'Malley to his correct time. But Kirk finds love with Mellie Henderson, and refuses to return to the past as Baylie learns she is pregnant with Wolf's 'different-abled' child. Will Baylie be able to rejoin Shadow Wolf, claim her destiny, and fulfill her part of the prophecy?
Path of the Guiding Light
December 23, 2020
Word Count:
92609
Summary: Rose was waiting tables at Ken's All-Nite Diner in Keokuk, Iowa, circa 1959, when something happened that would change her life forever. Two men burst through the front door, fighting for their lives. Though it was morning, she could see stars in the nighttime sky through the doorway as the door closed behind them. The larger of the two men quickly gained the advantage, knocking the smaller man unconscious before running out of the diner. Rose, a student nurse, quickly patched up the injured man, and when an ambulance arrived, insisted on riding with him to the hospital. His name was Henry Martin, according to his driver's license, though both the license and the money in his wallet are dated some 60 years in the future. There's something else, too—a portable telephone that plays music and seems to have a miniature color television inside. Just who is Henry Martin, where did he get these things, and why is someone trying to kill him?
Leap Year
December 1, 2020
Word Count:
150,500
Summary: A guilty pleasure novel that combines a thrilling tale of time travel, magic, erotic M/M fun, and adventure. Follow Ehane Freeman, a native American witch, as he journeys back to 1636, right before the Mystic massacre, the darkest time in Connecticut's history. Ehane is determined to save his ancestor, Sassascus, the sachem of the Pequot tribe, from the massacre. However, his brother, Dohate, is against the idea. He is more concerned with the ramifications of tampering with the timeline. Ehane goes against his brother's counsel and travels back in time and inadvertently destabilizes the natural course of history, leaving Dohate to clean up his mess, yet again. Dohate and his friends have to assimilate into the 17th century to help nudge history back on course. They fight on the side of the Native Americans as their battle with the Puritans grows to a fever pitch.
The Hallowed Bloodline: Us vs. Them
November 5, 2020
Word Count: Information not available
Summary: Rudyard Albert Goldstein, inventor of the Biomic Network Algorithm, made piece with death once in the 22nd century, but an idiot doctor hijacked his mind, placing it in the care of Nessie, an impish AI guardian. Nessie preserved him from a civilization-ending asteroid strike so that he could help his descendants survive contact with an alien species 923,000 years, four months, and three days later. Then, he died again, merged with a worm-a-pede alien male who narrowly survived fulfilling his mating duties. They expired peacefully on a cliff top, pondering the nature of existence—and the promise of abominable liaisons. Two deaths should be quite sufficient for any genius to endure. Somehow, Nessie resurrected him from oblivion. His descendants needed him again. New hostile aliens roamed the Earth—along with an immortal, alien-human hybrid whose agenda was unclear. Was the healthy young body Nessie had prepared for him, along with the prospect of finally discovering "the meaning of it all" enough of a bribe to risk dying a third time? Apparently so. Readers of Raham's A Singular Prophecy (Biostration, 2011), and A Once-Dead Genius in the Kennel of Master Morticue Ambergrand (Penstemon Publications, 2018) will reconnect with old friends (both human and alien). But even those new to the author's quirky sense of humor will enjoy this third and final adventure that spans the breadth of time and space.
A Twice-Dead Genius Comporting With Misunderstood Abominations
September 15, 2020
Word Count:
89000
Summary: Cassie's life has never been simple. Orphaned at nine and raised by her grandfather, the past never left her alone. By the time she is seventeen she sees ghosts, hears disembodied voices, and events from history have a habit of rising up to haunt her. On a visit to the Castle Mall shopping centre in Norwich (UK), the past crashes on top of her. Cassie finds herself transported back to the early 1990s in the company of a woman she's never met. And the woman not only looks familiar but claims she's encountered Cassie many times before.
Time Portals of Norwich
August 22, 2020
Word Count:
36000
Summary: IN-NO-VA-TION (Noun) 1) A new idea, method, or device. 2) The introduction of something new. 3) The application of better solutions to meet unarticulated needs. Three definitions to inspire writers around the world and an unlimited number of possible stories to tell. Here are 120 of our favorites. Innovation features 300-word speculative flash fiction stories from across the rainbow spectrum, from the minds of the writers of Queer Sci Fi.
Innovation
SALE
August 8, 2020
Word Count:
50,139
Summary:
They have to find him…but how?
A former member of an elite military special forces unit, Leo Bailey can handle anything life throws at him. Except maybe approaching a certain gorgeous, purple mohawk-wearing, heavily pierced artist. Not without his three eye-rolling wingmen along to push him in the right direction.
One look at the mouthwateringly muscled, military buzzcut-sporting man with the endearing blush, and Vincent Noland is in love. Or at least in lust. Love comes later. Then marriage…and sweet, adorable Oscar.
Life is perfect—the stuff of fairy tale happily ever afters—except for Arthur Fletcher, whose unsettling reactions to them threaten to upset the happy balance of their lives. But it isn't Arthur who throws their lives into turmoil.
A freak event causes Oscar to go missing and leaves both men frantic to rescue their son. As they piece together the clues, they discover that Oscar isn't somewhere. He's somewhen. And Arthur Fletcher holds the key—or rather the glass beads—to their one chance of finding Oscar.
Will Leo's training, Vinnie's determination, and Arthur's knowledge help them rescue Oscar, or is the little boy doomed to spend the rest of his life at the mercy of a primitive civilization? Could there be a third possibility?
Keywords: time travel, lost child, happy ending, novel, ebook, print, paperback
When Are You?
SALE
March 7, 2020
Word Count:
153,500
Summary: The Guardian is a guilty pleasure, time travel, erotic M/M fantasy novel about twin witches Robbie and Rowan, who take a job at a mineral mining company. They soon discover something is lurking in the darkened mine. Robbie and Rowan are thrown back in time and find themselves stranded in the year 1647 with no foreseeable way back. Robbie is maliciously catapulted forward in time to the year 1918. Separated from Rowan for the first time in his life, Robbie is scared and alone. Robbie finds his young grandfather in post-war Connecticut. He is forced to witness a secret relationship between his grandfather and a man. Robbie learns of the existence of werewolves and knows he will need his brother to help him fight in the battle that has the potential of becoming the next apocalypse.
The Hallowed Bloodline: The Guardian
February 20, 2020
Word Count:
100,000
Summary: When Fancy sent Richard from Barbados, she did not tell him her plans. Richard arrives unexpectedly after she and Kirk go to Ireland. Richard discovers she has adopted Kirk's daughter, and he concludes she will never abandon Kirk. Brokenhearted, Richard returns to the future before Fancy can tell him her marriage to Kirk is void. Richard's departure allows Kirk to woo Fancy again in earnest and they remarry. The couple sail to Bermuda, where Kirk leaves Fancy and the children at Spring Haven to sail to Barbados. A hurricane destroys the Spring Haven house. Fancy takes the children to the mainland and on to the safety of McCarron's Corner. En route, she learns Kirk's ship was destroyed in the hurricane and Kirk is believed to be dead. At McCarron's Corner, Fancy manages to go forward in time, where Richard finds her. She gives Richard another chance. They fall in love again, marry, and she writes a best-selling memoir, which attracts unwanted attention. Will they survive when a stalker's dangerous obsession threatens to destroy their future?
Diary of the Reluctant Duchess
December 20, 2019
Word Count:
19017
Summary: Should he change the past for love? As an agent for the Tempus Institute, Jason Adams' task is to observe the past, not change it. But when he's sent to 21st-century Wellington, New Zealand, during the last week of aspiring songwriter Sean Henderson's life, Jason finds he can't just watch from a distance. He and Sean quickly become friends and then lovers, and when the song that's haunted Jason for years connects them in a way he never anticipated, he'll risk changing history for the chance of sharing a future with Sean. Author's note:  This story was originally published in 2012 by another publisher. This edition has some added content, and uses UK/NZ spelling to reflect its setting.
Slow Dreaming
December 2, 2019
Word Count:
34985
Summary: By the year 2060, mankind is on the verge of bringing Terra to her knees. The population has exploded, and land for cattle and crops has been sacrificed for housing and employment for the more than fifteen billion souls now living on the planet. Synthetic food is created in plants, and the remaining animals are kept in zoos and game preserves of the wealthy. In an effort to insure the survival of mankind, spaceships are sent to explore Terra's nearest neighbors, Mars and Venus, but will it be too little too late? The four men who took the MRM to Mars have high hopes, until on their return home they travel through a magnetic field that crashes them… somewhere. As they explore the unknown world with its dangers, Doc, Nick, Hank, and Ed will struggle to come to terms with their new reality and find their own paths to happiness.
To Love Through Space and Time
August 31, 2019
Word Count:
15,767
Summary: Juniper "June" and Eloise have been together since they were fifteen, and have been married for four years. When they first became friends, June fell in love with Eloise's bubbly personality, but now, she can only see her wife's flaws: recklessness, impulsiveness, and the ability to make any situation more complex than it should be. Fed up, June declares she wants a divorce and leaves. But the universe has other plans for her. When June boards the light rail home one day, she falls asleep and wakes up in a realm comprised of her own memories. Unable to escape, she's guided by a younger version of herself, who she calls "Young June." Although June is certain she wants to end her marriage, her younger self tries to convince her otherwise by showing her major events in her history with Eloise. But as their journey continues, June grows more stubborn and fails to recognize her own mistakes. Will she ever own up to the things she did wrong? Will she want to reconcile with Eloise? Or is it too late?
Stations of Life
August 17, 2019