Sci fi stories that include an alien species as a major part of the story. Return to general Sci Fi
Note: these books are currently sorted by release date, with newest first.
Word Count:

38000
Summary: RISE (noun / verb) Eight definitions to inspire writers around the world, and an unlimited number of possible stories to tell: 1) An upward slope or movement 2) A beginning or origin 3) An increase in amount or number 4) An angry reaction 5) To take up arms 6) To return from death 7) To become heartened or elated 8) To exert oneself to meet a challenge Rise features 300-word speculative flash fiction stories from across the rainbow spectrum, from the minds of the writers of Queer Sci Fi.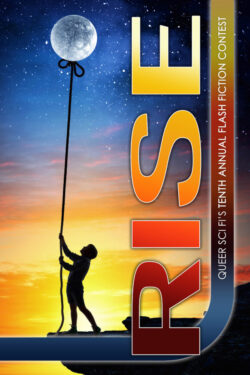 Rise
Word Count: Information not available
Summary: A genre-bending science fiction tale that takes place on several planets and through two lifetimes, rife with psychic magic as well as insights from psychology and physics. Yearning to reunite in the afterlife, a couple's search runs afoul of both the materialistic Technists on Earth and the intransigent laws of Commensuration on their adoptive planet Xarbo, where rewards and retributions fly fast. Their quest for destiny leads to far-flung planets — one occupied by the disembodied brains of human astronauts, another by soulless clones — as the reincarnated pair find themselves on separate planets and following divergent paths. Hints of Star Trek and of Ram Das combine oddly with eroticism and mysticism in this epic tale of personal evolution.
Rebirth on Xarbo
Word Count: Information not available
Summary: These interconnected sci-fi dystopian stories will transport you to a world teetering on the precipice of collapse. Join heroes who dare to challenge the shackles of oppression, embarking on dangerous journeys to seek freedom. As the shadow of destruction looms, some choose to fight, while others opt for escape. Yet, in the depths of tormented souls, hope emerges as a fragile yet resilient guiding light. Amidst the tapestry of deceit and cunning, clandestine agendas unfurl, weaving intricate webs of intrigue. The galaxy is engulfed in a war that threatens the fabric of existence. However, amidst the chaos, unexpected friendships and relationships are forged, transcending boundaries and divisions. Will righteousness prevail in the face of adversity? Can the seeds of change take root in the soil of uncertainty? Be enthralled by this omnibus edition, a gateway to the captivating Sehnsucht Series by Keyla Damaer.
Tales from the Sehnsucht Series Omnibus Edition
Word Count:

96,000
Summary: A guard and a thief. What could go wrong? Aik has fallen hopelessly in love with his best friend. But Raven's a thief, which makes things … complicated. Oh, and Raven has just been kidnapped by a dragon. Now Aik is off on a quest of his own, to hunt down the foul beast and make them give back his … friend? Lover? Soulmate? The whole not-knowing thing just makes everything harder. Meanwhile, the world of Tharassas is falling apart, besieged by earthquakes, floods, and strange creatures no one has ever seen before. Aik's ex, Silya has gone back to Gullton to try to save her people as the Hencha Queen, and Aik's stuck in a caravan with her mother and a damnable magical gauntlet that won't let him be. He has to find Raven, before it's too late. Things were messy before … but now they're much, much worse.
The Gauntlet Runner
Word Count:

52000
Summary: Can Scott learn to use his newly discovered magical ability, while managing his concerns about the family he left behind? Especially now, when Landbelow's extraterrestrial origins are starting to cause problems?
Enimnori:Challenge
Word Count:

55000
Summary: A damaged ship, a dying shipmate–can she save both? Under attack! The flight back to Hyvilma should have been the easy part for the crew of the Majera–until a deadly ambush by pirates sends them reeling through hyperspace. Now getting to the planet in time is the only way Captain Kitra Yilmaz can save her dying friend. But landing at Hyvilma may be impossible: war has broken out on the Frontier. With illustrations by Hugo Finalist Lorelei Esther.
Hyvilma
Word Count:

89000
Summary: THE POWER TO DESTROY A KINGDOM. THE POWER TO HEAL A HEART. Ari's new powers have awakened, threatening to tear apart a kingdom already on the edge. Sent back to Valon to face her father's—and the people's—judgement, Ari must decide how far she'll go to reclaim her former life, if that's even possible anymore. In the heart of the turmoil, Iata, the reigning ruler, is losing control of his increasingly unstable magics. As his secrets threaten to spill out, his brother's wife, Haneri, draws ever closer—and he's not sure he wants her to stop. At the border to Kidaa Space, Rhys grapples with the ominous and impossible patterns in the Kidaa attacks, and comes face to face with the Kidaa themselves in a harrowing meeting that could change the future of the kingdom. And Dressa, who secretly married an enemy prince, must now face the consequences of that marriage. Because Lesander was activated by her family. And Lesander has a choice: obey her family, or betray her wife. With enemies without and enemies within, can the Truthspoken save their kingdom, or is this kingdom doomed to fall? Court of Magickers collects episodes 94-150 of The Stars and Green Magics, previously published in serial form. Note: This book has main characters who use gender-neutral pronouns (they/them/their, fae/faer/faerself).
Court of Magickers
Word Count: Information not available
Summary: Forty years after landing on Lida, the colony still isn't finished. Agetha has survived many more battles than she anticipated when she first landed on her new home planet. She's older and wiser, has gained family and lost loved ones. And yet her reward for four decades of service is to be pushed to the colony's outer edges with the other aging Generationals. But that was only the beginning of her adventure. The biomass has spent years studying the intruders who landed on its surface, carving a new home from its very essence. Never satisfied in its attempt to communicate with this new and invasive species, finally it has found a way to express its intentions. The colonists may never be the same. Discover the fate of the colony in the second book of The Biomass Conflux trilogy!
To a Fungus Unknown
Word Count:

35000
Summary: Will the Manderians choose security over freedom? Keyla Damaer presents the second collection of short stories featuring characters from the Sehnsucht Series. The Manderian Directorate is born from the ashes of a past dripping blood. Existential dilemmas, double agents undercover, epic battles, old and new enemies promise a thrilling read. Thrust into it now!
Tale From The Sehnsucht Series Part Two - The Manderian Directorate
Word Count:

50,000
Summary: J. Manfred Weichsel's versatility, unique style, and refusal to be bound by genre conventions have made him a force to be reckoned with in the world of speculative fiction. Now, Weichsel invites you to strip down and expose yourself to his raw and unfiltered imagination with Warrior Soul & Other Stories. Weichsel's stories peel away the veneer of societal norms and delve deep into the human psyche, exposing the rawest and most vulnerable parts of our existence. Through his boundary-shattering tales of science fiction, adventure, horror, and humor, Weichsel fearlessly explores the fringes of what is possible in fiction, revealing the naked truth of our humanity. From the mind-bending science fiction of "Warrior Soul", to the fantastical realm of "The Rainbow-Colored Rock Hopper", from the light comedy of "Queen of the House", to the darkest depths of horror of "Complicit in Their Bondage", these twelve tales will leave you feeling exposed and vulnerable in the best possible way. The bold and daring themes that run throughout Weichsel's work strip away all pretense and artifice to reveal the unvarnished truth of the human experience. So if you're ready to shed your inhibitions and explore the depths of what's possible in fiction, then get your copy of Warrior Soul & Other Stories now. It's time to embrace your innermost desires and take the plunge into the raw, unbridled world of J. Manfred Weichsel.
Warrior Soul & Other Stories
Word Count: Information not available
Summary: A young woman in 1884 doesn't have many options … But Susannah did not expect to be tutoring an alien snail child while aboard a ship sailing in space … Who will get the real education? Orphaned and penniless in Hong Kong in 1884 — what's a young gentlewoman to do? Impulsive, adventurous, and self-confident, Susannah accepts an offer to become the governess to a young foreigner on a ship. She does not expect the ship to be in space, or the foreign child to be an alien who looks like a giant snail. Nevertheless, she throws herself into the job of bringing Victorian decorum to the natives. But when she is accused of spying and put on trial in an alien court, Susannah has to challenge the law of the aliens to save herself — and her young and slimy student.
Snail's Pace
Word Count:

85000
Summary: Jameson Havercamp, a psych from a conservative religious colony, has come to Oberon—unique among the Common Worlds—in search of a rare substance called pith. He's guided through the wilds on his quest by Xander Kinnison, a handsome, cocky wing man with a troubled past. Neither knows that Oberon is facing imminent destruction. Even as the world starts to fall apart around them, they have no idea what's coming—or the bond that will develop between them as they race to avert a cataclysm. Together, they will journey to uncover the secrets of this strange and singular world, even as it takes them beyond the bounds of reality itself to discover what truly  binds them together.
Skythane
Word Count:

67000
Summary: Androids & Aliens is Scott's third short story collection - eight sci fi and sci-fantasy shorts that run the gamut from cyborgs to (comedic) alien invasions: Rise: The rise in sea levels caused by climate change swallowed Venice beneath the lagoon half a century ago. But what if we could bring it back? Ping: I was a real estate agent by day, and a museum curator in the evening at a sci-fi museum. What I saw one night changed everything. What the Rain Brings: Miriam struggles to make a living in post-climate-change Vancouver. But her friend Catalina has it even worse in the Arizona desert. So Miri hatches a plan. High Seven: Zan dreams of making full reals - immersive live virtual reality skins - but his low score may doom him to a life of cheap coding. Full Real: Dek's given up his life of spying for the city. But one more case awaits him. Will he regret it more if he takes it, or turns it down? Shit City: The Bay Area is being walloped by a hurricane, and seventeen-year-old Jason Vasquez has been relocated to a refugee city in the Nevada Desert. Will it be temporary shelter, or change his life? Firedrake: Kerry has always wondered about his deadly powers. But a mysterious bunch of violet roses starts him on the path to discovery - even if he's not sure he's going to like what he finds. The Last Human Heart: I'm one of the Remainers, the few cyborg humans still living on this busted planet. But if my still-human heart finally gives out, I may not live to find out the truth about who I am. This is the first time all of these stories have all been collected in one place, and the first publication of the Pacific Climate Tryptich - What the Rain Brings, High Seven, and Full Real - in any form.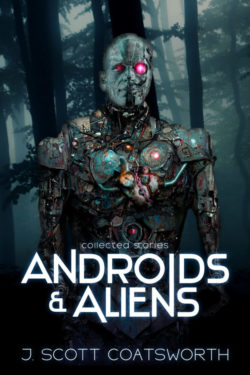 Androids & Aliens
Word Count:

155000
Summary: Eighteen years after the Chromodec Uprising in Children of the Stars, the world is a very different place. Kaelen Ra-Evon lands on Earth, a planet where aliens exist and refugees are fast-tracked to citizenship in many countries. Her tale encompasses the age-old notions of loss, love, and found family. Kaelen tries to navigate her new life on Earth, as well as a romance with genius CEO, Lea Lockheed-Tuck, all while honoring her family's legacy as the last of her house. She's wary of the Chromodec Office of Restraint and Protection, a US agency tasked with policing people of power regardless of their race or planet of origin. In an attempt to protect the woman she loves, Kaelen becomes a vigilante: Scion. She won't let laws or the CORP stop her from doing what's right.
The Last Scion of Ra
Word Count:

109,000
Summary: Time is running out for planet Earth. An insidious Martian plague has been infecting the planet for over twenty years, and has resisted all human efforts to eradicate it. With all life on Earth facing extinction, the only solution left is to directly access a specific piece of Martian technology. But, according to diaries left behind by Ogilvy the astronomer, the Martians have hidden it at the lake on the moon. In 1945, three rockets converted from Martian cylinders take off on the vital lunar mission, and amongst the crew is Ogilvy's nephew, Jack Stent. Will the astronauts locate the Martian shadow-weapon, thought to hold the desperately needed cure for Marseria? Can it really be used to instigate another timeline on Earth so that mankind can survive? The stakes are high and so is the risk of contact and conflict with Martians. Nearly two hundred years later, at a scientific colony on Mars, a shocking discovery is made about Jack Stent, and Ogilvy's Martian diaries are once again pivotal to human survival and the continuation of life on Earth. Gateway To Mars is the third volume of The Martian Diaries series that continues the classic H.G. Wells Mars novel in a compelling, unmissable action adventure. If you're a fan of The War Of The Worlds you won't want to miss this story of survival, despair and hope, that brings the original tale full circle. Get your copy today! What readers have said: "A really well written, excellent continuation of the story and a truly brilliant tribute to HG Wells! I do recommend!" "An excellent third part to this incredible series!" "Boy this was a good book! I love the writing style... it's very true to the original story."
The Martian Diaries: Vol.3 Gateway To Mars
Word Count:

81,000
Summary: Explore the birth of a new world! Journey through time and space to the intricate biosphere of Juno, where three species have been birthed by the gods. First the Kuhifadi, inheritors of sun magic, able to do great deeds with magic stored in their bodies. Second the fearsome Uchafumlaji, technological savants who live in the depths of the ground. Third the weird Ngisikaa, a species uplifted from animals through communal memories. Small decisions and single individuals will affect the tide of history. Learn of the first Ngisikaa to meet death, whether a Kuhifadi will make the sacrifice to become a mage, and if an Uchafumlaji can build a bridge to the past. These stories and more will create The World of Juno! With content by: Nick Bright and Brent Lambert, C.J. Hosack, Nate Battalion, Daniel Eavenson, Malcolm F. Cross, Katie Cordy, William C. Tracy, N.L. Bates, Reese Hogan, Cedan Bourne, Robin C.M. Duncan, and X.M. Moon Genres: Science Fiction / Fantasy / Adventure / LGBT and Non Binary Market: Adult
The World of Juno
Word Count:

27500
Summary: War, deceit, and love intertwine in the first six Tales From The Sehnsucht Series. Within this anthology, you'll find six tales of love and hate, loyalty and treason, failure and triumph from alien soldiers, desperate teachers, strange bedfellows, and more. And in the background a war of all against all. Who will survive? Open this collection and take your first steps into the history of the Manderian people. Meet Ameela's improbable lover. Escape from tyranny with Rotima. Find the man who tampered with Ryma's DNA.
Tales From The Sehnsucht Series Part One - The Manderian Halden
Word Count:

150000
Summary: Can a retired assassin be the savior his people need? How does a former assassin save his fellow humans from extinction? By allying them with mrrogs of course! But that's easier said than done as humans are understandably distrustful and suspicious of sescurei, the official species of the InterGalactic community. Leopold must convince them that Mastrodai's offer of alliance isn't a trick, which means diplomacy, patience, and tenacity. Times like this make him grateful that he has two strong mates to lean on. And when it comes to understanding his own people, he'd be wise to follow Alex's lead. Alex has been too long away from her family and is thrilled to see them again. But with reunions come old pressures, old doubts, and old wounds. She must negotiate who she was with who she is, while helping her mates and her colony come together with the shared goal of freedom. Mastrodai, meanwhile, finds himself in the minority for the first time in his life, and the constant hostility has him doubting the wisdom of their choices. But he's devoted to his human mates and determined to see things through no matter the discomfort… or danger. Not everyone wants what Leopold and his mates have to give, and he needs to break through the resistance humans have built up after generations of degradation, humiliation, and fear. He must win his people's trust, solve the riddle of his parents' rings, and navigate the new complexities of his love life. Being an assassin was so much easier. Reader Discretion advised: PTSD, abusive family, a cult, MMF romance, dystopian.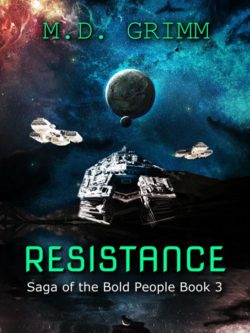 Resistance
Word Count:

97000
Summary: The seas spell freedom. Pirates and kraken, boats and submarines, deadly sirens, mermaids, and the women who face them all. These are our heroes. High seas adventure, fantasy, and magic weave together in this sapphic anthology focusing on the joy of the unbounded oceans. If you like diverse stories with lesbian and sapphic heroines exploring oceans, battling sea monsters, and seducing pirates, buy Farther Reefs today! With stories by: Sarah Day and Tim Pratt, Kim Pritekel, Kyoko M. Sara Codair, William C. Tracy, N.L. Bates, Robin C.M. Duncan, Vanessa Ricci-Thode, Margaret Adelle, and J.S. Fields Genres: Science Fiction / Fantasy / Adventure / Lesbian / LGBT and Non Binary Market: Adult
Farther Reefs
Word Count:

50000
Summary: Can Scott and his new friends survive a trip to the "Dead Zone". Is it REALLY dead? if not who or WHAT lives there?
Enimnori Discovery
SALE