Sci fi stories that include an alien species as a major part of the story. Return to general Sci Fi
Note: these books are currently sorted by release date, with newest first.
Word Count:

67000
Summary: Androids & Aliens is Scott's third short story collection - eight sci fi and sci-fantasy shorts that run the gamut from cyborgs to (comedic) alien invasions: Rise: The rise in sea levels caused by climate change swallowed Venice beneath the lagoon half a century ago. But what if we could bring it back? Ping: I was a real estate agent by day, and a museum curator in the evening at a sci-fi museum. What I saw one night changed everything. What the Rain Brings: Miriam struggles to make a living in post-climate-change Vancouver. But her friend Catalina has it even worse in the Arizona desert. So Miri hatches a plan. High Seven: Zan dreams of making full reals - immersive live virtual reality skins - but his low score may doom him to a life of cheap coding. Full Real: Dek's given up his life of spying for the city. But one more case awaits him. Will he regret it more if he takes it, or turns it down? Shit City: The Bay Area is being walloped by a hurricane, and seventeen-year-old Jason Vasquez has been relocated to a refugee city in the Nevada Desert. Will it be temporary shelter, or change his life? Firedrake: Kerry has always wondered about his deadly powers. But a mysterious bunch of violet roses starts him on the path to discovery - even if he's not sure he's going to like what he finds. The Last Human Heart: I'm one of the Remainers, the few cyborg humans still living on this busted planet. But if my still-human heart finally gives out, I may not live to find out the truth about who I am. This is the first time all of these stories have all been collected in one place, and the first publication of the Pacific Climate Tryptich - What the Rain Brings, High Seven, and Full Real - in any form.
Androids & Aliens
Word Count:

109,000
Summary: Time is running out for planet Earth. An insidious Martian plague has been infecting the planet for over twenty years, and has resisted all human efforts to eradicate it. With global extinction now imminent, the only possible solution left is to directly access Martian technology by a daring space mission–to the moon first and then Mars. But how feasible is the ambitious plan to send astronauts into space in 1945? Will the super-weapon, hidden by the Martians at the lake on the moon, hold the desperately needed cure for mankind's survival? Can it really be used to instigate the future of another timeline on Earth? The stakes are high and so is the risk of contact and conflict with Martians, but one astronaut unknowingly holds the key to the evolution of the Martian race and the reason why the aliens came to Earth in The War Of The Worlds. Gateway To Mars is the third volume of The Martian Diaries series that continues the classic H.G. Wells Mars novel in a compelling, unmissable action adventure. If you're a fan of The War Of The Worlds you won't want to miss this story of survival, despair and hope, so get your copy today! What readers have said: "A really well written, excellent continuation of the story and a truly brilliant tribute to HG Wells! I do recommend!" "An excellent third part to this incredible series!" "Boy this was a good book! I love the writing style... it's very true to the original story."
The Martian Diaries: Vol.3 Gateway To Mars
Word Count:

81,000
Summary: Explore the birth of a new world! Journey through time and space to the intricate biosphere of Juno, where three species have been birthed by the gods. First the Kuhifadi, inheritors of sun magic, able to do great deeds with magic stored in their bodies. Second the fearsome Uchafumlaji, technological savants who live in the depths of the ground. Third the weird Ngisikaa, a species uplifted from animals through communal memories. Small decisions and single individuals will affect the tide of history. Learn of the first Ngisikaa to meet death, whether a Kuhifadi will make the sacrifice to become a mage, and if an Uchafumlaji can build a bridge to the past. These stories and more will create The World of Juno! With content by: Nick Bright and Brent Lambert, C.J. Hosack, Nate Battalion, Daniel Eavenson, Malcolm F. Cross, Katie Cordy, William C. Tracy, N.L. Bates, Reese Hogan, Cedan Bourne, Robin C.M. Duncan, and X.M. Moon Genres: Science Fiction / Fantasy / Adventure / LGBT and Non Binary Market: Adult
The World of Juno
Word Count:

27500
Summary: War, deceit, and love intertwine in the first six Tales From The Sehnsucht Series. Within this anthology, you'll find six tales of love and hate, loyalty and treason, failure and triumph from alien soldiers, desperate teachers, strange bedfellows, and more. And in the background a war of all against all. Who will survive? Open this collection and take your first steps into the history of the Manderian people. Meet Ameela's improbable lover. Escape from tyranny with Rotima. Find the man who tampered with Ryma's DNA.
Tales From The Sehnsucht Series Part One - The Manderian Halden
Word Count:

150000
Summary: Can a retired assassin be the savior his people need? How does a former assassin save his fellow humans from extinction? By allying them with mrrogs of course! But that's easier said than done as humans are understandably distrustful and suspicious of sescurei, the official species of the InterGalactic community. Leopold must convince them that Mastrodai's offer of alliance isn't a trick, which means diplomacy, patience, and tenacity. Times like this make him grateful that he has two strong mates to lean on. And when it comes to understanding his own people, he'd be wise to follow Alex's lead. Alex has been too long away from her family and is thrilled to see them again. But with reunions come old pressures, old doubts, and old wounds. She must negotiate who she was with who she is, while helping her mates and her colony come together with the shared goal of freedom. Mastrodai, meanwhile, finds himself in the minority for the first time in his life, and the constant hostility has him doubting the wisdom of their choices. But he's devoted to his human mates and determined to see things through no matter the discomfort… or danger. Not everyone wants what Leopold and his mates have to give, and he needs to break through the resistance humans have built up after generations of degradation, humiliation, and fear. He must win his people's trust, solve the riddle of his parents' rings, and navigate the new complexities of his love life. Being an assassin was so much easier. Reader Discretion advised: PTSD, abusive family, a cult, MMF romance, dystopian.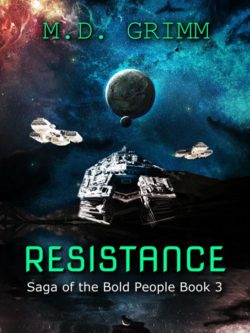 Resistance
Word Count:

97000
Summary: The seas spell freedom. Pirates and kraken, boats and submarines, deadly sirens, mermaids, and the women who face them all. These are our heroes. High seas adventure, fantasy, and magic weave together in this sapphic anthology focusing on the joy of the unbounded oceans. If you like diverse stories with lesbian and sapphic heroines exploring oceans, battling sea monsters, and seducing pirates, buy Farther Reefs today! With stories by: Sarah Day and Tim Pratt, Kim Pritekel, Kyoko M. Sara Codair, William C. Tracy, N.L. Bates, Robin C.M. Duncan, Vanessa Ricci-Thode, Margaret Adelle, and J.S. Fields Genres: Science Fiction / Fantasy / Adventure / Lesbian / LGBT and Non Binary Market: Adult
Farther Reefs
Word Count:

50000
Summary: Can Scott and his new friends survive a trip to the "Dead Zone". Is it REALLY dead? if not who or WHAT lives there?
Enimnori Discovery
Word Count:

100,000
Summary: Lida was their last chance for an uncolonized planet. But a world-spanning fungus had colonized it first. Agetha and her husband have spent their whole lives in the fleet's zero-G. Now all is turmoil as the fleet lands, discovering they are surrounded by a single fungal biomass spanning the entire planet. To build a new home, the fleet must confront a dangerous organism, and Agetha must decide if she can raise a family in this inhospitable landscape. Jane Brighton holds tenuous command over the colony and its administrators. She and the other gene-modded leaders emerged from their four-hundred-year suspended animation to find a crew much different from the one that departed Old Earth. Jane must direct the colony's fragile growth and defend it against being overrun by the fast-growing biomass. But there is something none of the colonists know. The massive organism that spans the planet is not simply a fungal mass, nor even a chimerical combination of species that once roamed the planet. The biomass has desires and goals, and one is to know these strange beings carving out a home in its midst. Download today to read of the colony's fate in Of Mycelium and Men! Genres: Space Opera / Science Fiction / Colonization / Alien Contact / LGBT / Non Binary / Trans Market: Adult
Of Mycelium and Men
Word Count:

5200
Summary: There's something in the dark … but is Lem's imagination worse than reality? Out in the vast emptiness of the galaxy, anything can happen. It's a fact that Lem and her trusty companion Spock know all too well. Sometimes, the things lurking in the darkness are all in your head. Then again, maybe there really is something out there. With her talking dog and an infuriatingly literal AI by her side, Lem must rely on nothing but her strength and wits to help her.  As a humorous homage to Arthur C Clarke's classic A Walk in the Dark, this short adventure is a not-actually-scary sci-fi horror story that's perfect for fans of Martha Wells and John Scalzi. 
Jurassic Dark
Word Count:

110000
Summary: Finding work is easy. Staying alive is a little bit harder. When Russ Wesley finds an unusual artifact in his grandfather's collection of rare antiquities, the last thing he expects is for it to draw the attention of a ferocious alien from a distant planet. Equally surprising is the adventurous team of intergalactic exterminators dispatched to deal with the alien threat. They're a little wild, and a little reckless. Worse yet, they're so impressed with Russ's marksmanship that they insist he join their squad . . . whether he wants to or not. Blurb "This book is so much fun it ought to be illegal in all known galaxies. Ash Bishop has written a wildly imagined, deeply felt, swashbuckling page turner. I loved it." —Jesse Kellerman, New York Times bestselling author of The Burning
Intergalactic Exterminators, Inc.
Word Count:

126,000
Summary: A little blue world, the third planet from the sun. It's home to 7 billion people with all manner of faiths, beliefs and customs, divided by bigotry and misunderstanding, who have been told they are not alone in the universe. Anyone watching from the outside would pass by this fractured and tumultuous world, unless they had no other choice. It's been a little over a year since Todd Landon's life changed with the arrival of the Nentraee. Continuing his duties as Special Envoy for Terran Affairs, Todd finally feels at home with the aliens; gaining more responsibility and influence with both races. Plans are underway for two Interplanetary spaceports and additional solar exploration. It's an exciting time for both the humans and the Nentraee. Not everything is as perfect as some hope. Speaker General Mirtoff and Vice-Speaker Mi'ko of the Nentraee are worried that the Liberi Dei plot additional terrorist attacks and may have inside help. Threats are clear, but who can they trust? Could Todd be helping them unknowingly or worse covertly? Will these new space endeavors continue to bring the human and the Nentraee together or will a conspiracy hiding in the shadows fracture an already shaky alliance?
Conspiracy
Word Count: Information not available
Summary: Attachment is everything. Mother says, "Don't name the merchandise," and "Don't let the humans see you." But Boy can't resist naming the cute, fuzzy ball of feathers and knife-sharp talons they're delivering. And why be afraid of weak, ignorant humans? Plus, this old skinsuit works, but it's getting cramped. Maybe it's time for a change.
The Smugglers
Word Count:

107000
Summary: As the Oort Federation becomes a major force in the Solar System, Braxton Thorpe passes the Federation chairmanship to former US President John Butler. Thorpe's group offers humanity virtual immortality, but Isidor Orlov and his Udachny Enterprises oppose their every move. While terraforming Mars for more living space, the Mars Reds prove formidable as resisters. If the Asterian starship fighter pilots are released, will they align with Phoenix or Udachny, and who will develop the right FTL technology? In this tense space adventure, Thorpe, his team, and Max the tabby cat travel to Proxima Centauri and beyond to the Aster system, 84 lightyears distant. Will Thorpe bring together humans and Asterians in their quest for intergalactic travel? Will long life prove more than mere humans can handle?
The Oort Federation: To the Stars
Word Count:

75400
Summary: JT Austin. Hero of Amargosa's liberation. One of the Children of Amargosa. Now a Navy pilot. Serving with his comrade, Mitsuko Yamato, aboard the Queen Maria Sophia, he is handed what should be a milk run: Retrieve Lt. Cmdr. Edward Windsor from his garrison on a remote – and smelly – planet as he has just become king of Bonaparte, the Compact's only planetwide monarchy. However, an unknown attacker disables the Sophie, boards the ship with killer mechs, and sends JT with the new king and his entourage fleeing their ship. He will have to talk fast to make a deal with the enemy Gelt, summon his mentor Suicide for help, and get the king to safety. He will also discover he has at least one traitor in his midst. He will also discover his surrogate mother has a secret that will shatter his world.
Checkmate
Word Count:

56000
Summary: This time, the universe puts the cat in catastrophe. Plucked from her home on Earth and ending up aboard a strange spaceship in an even stranger universe, Lem and the misfit crew of the Teapot have more than enough trouble on their hands… and then they receive an urgent last-minute call to save a race of cat-people from certain destruction. Stuck with a disaster-platypus of a project manager and an entire race of people seemingly determined to thwart their own rescue, the Teapot's crew face the impossible job of herding cats and helping evacuate the planet before it's blown to smithereens. Can Lem and the gang avert disaster and save this race of infuriating cat-people? Perfect for fans of wacky and imaginative sci-fi stories, this satirical space opera is a ridiculous adventure that will delight readers of John Scalzi's take on Fuzzy Nation or TJ Berry's Space Unicorn Blues.
Judgement Dave
Word Count: Information not available
Summary: It's the find of a lifetime – an ancient alien spaceship hanging in a forgotten corner of space. For Song this could change everything. She's got as many problems with her finances as she does in her marriage, but maybe at last her passion for wreck-diving will pay off. One piece of unknown tech could set her whole crew up for life. The ship conforms to nothing in their records and dwarfs the largest human vessels. Battle-scarred and old before humanity ever reached the stars, it's a mausoleum of an unknown, long-dead species. And it's just winked at her.
Falling Dark
Word Count:

28000
Summary: Derek Herman is living a nightmare. Long before he was born, the planet was taken over by a mind-controlling alien race, and everyone is affected except for him. Derek does his best not to draw attention to himself, but it's not going well. Ocren Starburst is obsessed with his human neighbor. Every time he sees Derek, he wants nothing more than to grab him, hold him, and keep him forever. And four years of chasing him up the stairs in their apartment building has resulted in Derek refusing to even acknowledge his existence. That is, until Derek accuses Ocren of breaking into his apartment. Derek found a button on his living room floor, the same kind of button Ocren wears on his police uniform. And while Ocren hasn't broken in, he knows the button means someone has. Ocren's race has kept their shape-shifting abilities secret for years, but now his other form wants out to slaughter everyone that dares to get too close to Derek. And staying in control proves hard when threats toward Derek increase. Will they be able to keep Derek safe without Ocren losing control of his dragon self?
How to Soothe a Dragon
Word Count:

109000
Summary: It appears out of nowhere—one moment the sky is empty, the next, there's a rent in the fabric of space itself. And nothing in the system will ever be the same.  In the far reaches of the Rim Mountains, itinerant field-scientist Aran Romeu is searching desperately for the cure to an incurable disease—one that's slowly killing his best friend. He's sworn to do whatever it takes to find it. But when the portal opens, and something comes through, he realizes that 'whatever it takes' will involve travelling into the uncharted space beyond the portal. And he's not the only one after the cure, and willing to do whatever it takes to get to it first … In the weighty halls of government, Chief Justice Alba Espina is preparing a political gamble that could change the shape of the system itself. The appearance of the portal shatters her carefully-laid plans and hands her political rival a weapon he could use destroy her—unless she can delay him with the promise of a diplomatic mission through the portal. But the stakes of the mission are higher than just her personal ambition. If her diplomatic mission doesn't succeed, it might just spell the end of humanity itself. In a remote spaceport, Savina Moya, the system's most talented assassin-for-hire, is on the run again after her latest murder. But when a deadly government agent is sent after her, with instructions to bring her back dead or alive, the diplomatic mission heading into the portal may hold the key to Savina's survival—if she's brave enough, or desperate enough, to take it. No one knows what's beyond the portal. And as the three of them are drawn inexorably together in uncharted space, with no idea who is an ally and who is an enemy—it's an open question if any of them will live long enough to find out. 
Redshift
Word Count:

85000
Summary: When Tabitha first whispered to the ship, she never expected it to answer. A pilot yearning for adventure, Tabitha proudly flies missions scavenging supplies for her space-borne city. But when the Navicorp sends her to scavenge a derelict ship, it triggers a psychic link to the ship and the alien enemy that drove her people from their home planet. The unexpected connection puts Tabitha and her people in the crosshairs of the telepathic invaders who are determined to exterminate the human race. Her rapidly evolving ability to communicate with the alien ship unlocks a chain of secrets about her past that shakes her identity. The Captain's eagerness to push her into danger challenges her loyalty. Can she use her new ability to save them? Will they turn on her and leave her at the mercy of the aliens? If you love technopaths, psychics, AI friends, and thrilling heroics, you'll love this military sci-fi adventure. Pick up this page-turner today.
Ship Whisperer
Word Count:

109,500
Summary: Ancient secrets may be the way forward… Tarans have reached a tentative peace with the Erebus. While politicians on Tararia address the political ramifications of the new alliance, Jason and the rest of the TSS refocus their efforts on defense. The Erebus are after something. It's unclear what, but Jason is convinced they can't be trusted. The Aesir's data archive may hold the key to an effective defense, except keeping anything from the Erebus and their seemingly omnipotent abilities will put the fragile Taran Empire in even greater danger. Fearing for the Empire's security, the TSS implements a covert plan to upgrade the fortifications across the Taran worlds using ancient technology that has long been buried. Only, those secrets were locked away for a reason, and reopening the archives will initiate a conflict no one is prepared to fight. Empire Uprising is the second installment of the Taran Empire Saga set in the Cadicle Universe, perfect for fans of epic sci-fi featuring sprawling galactic empires, drama, intrigue, and psionic abilities.
Empire Uprising (Taran Empire Saga Book 2)