Romance stories written about young adults from 18-25 years of age, often featuring sex. Return to general Sci Fi
Note: these books are currently sorted by release date, with newest first.
Word Count:

87000
Summary: In the interstellar kingdom of Valoris, the balance of power has changed. Dressa Rhialden has all she ever wanted—except she only wanted Lesander, gorgeous prince of an enemy high house, not the kingdom meant for her sister. Unfortunately, her betrothal came with both, and now she has a lot of catching up to do. But she's falling hard for Lesander in the meantime, and with her kingdom on the line and Lesander maybe her enemy, is falling in love really a good idea? When alien attacks that shouldn't be possible plague her kingdom's distant worlds, Dressa's new position is put to the test. Why are the pacifist Kidaa attacking now, and were the attacks made by the Kidaa at all? There's more going on than an internal power shift, and she has far more secrets to uncover to keep her kingdom safe. Ari Rhialden had her whole life planned out: excel at being the Truthspoken Heir, controlling her kingdom with her shapeshifting powers, and then one day excel at ruling the kingdom. But when she contracts an incurable illness and loses her ability to shapeshift, those plans are derailed. Ari's sent undercover to a resort world for treatment, but all is not right in paradise. A young gardener with a mysterious past is taking too much interest in Ari's new persona, and a possessive duke is bent on capturing her attention for himself. Are these just the ordinary machinations of noble guests or something far more sinister? In a kingdom where subterfuge is the norm, coincidence is never just that, and now events are rapidly spinning out of control. Can Dressa and Ari find their way to truth before the kingdom comes crumbling down around them? The Shadow Rule is the second season of The Stars and Green Magics, an epic space fantasy serial set in a diverse, queernorm universe with shapeshifting royals, plotting nobles, and space magic! The Shadow Rule collects episodes 37-93, the complete second season. This book has main characters who are queer, nonbinary, trans, agender, genderfluid, ace and/or aro, lesbian, fat, POC, disabled, ND, and generally awesome. (Not all rep is stated, some is implied.) Barring the occasional burst of strong language, this book is PG-13.
The Shadow Rule
Word Count:

91000
Summary: She barely survived the last round. As the Red Dog Gang closes in on her Family, can she survive the next? After the devastating events of our last chapter, all private eye and mafia wife Jacqueline Spadros wants is to get her life back. Then a missing person she thought she'd never track down falls into her lap. Jacqui is thrown into a series of events which not only puts her and everyone around her into danger, but changes her life forever. Warning: on-screen murder, major consent issues, smoking, language, infidelity, betrayal, description of injury, gore, on-screen suicide, child injury This is chapter 9 of a 13-part serial novel. Please read these books in order: * The Jacq of Spades * The Queen of Diamonds * The Ace of Clubs * The King of Hearts * The Ten of Spades * The Five of Diamonds * The Two of Hearts * The Three of Spades * The Knave of Hearts <-- you are here Book 10 coming October 2023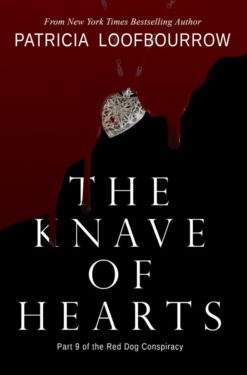 The Knave of Hearts
Word Count:

67000
Summary: In the interstellar kingdom of Valoris, everyone knows the royal family is watching. They can be anyone and anywhere with their shapeshifting abilities—they are Truthspoken and to be feared. Of course, that doesn't stop the high houses from trying to take them down by any means they can. Arianna is the perfect Truthspoken Heir: beautiful, intelligent, and a master of her shapeshifting craft, determined to one day rule with the same control as her father. Her dreams come crashing down, though, when she's attacked by a rogue Green Magicker at her betrothal to a rival high house prince, when it's known that magickers can't do violence. Was it treachery, was it personal, or was it something else? Arianna has been slowly getting ill for weeks, and Truthspoken don't get sick. Dressa is the second Truthspoken heir and would like to stay that way, thank you very much. She's the glittering socialite of her father's court, more loved than feared. But when her older sister falls ill and is secretly sent away from court, there's still the matter of a much needed marriage alliance with a rival high house—and an absolutely gorgeous prince, who her sister wasn't keen on marrying anyway. When her father orders her to take her sister's place until she returns—her name, her appearance, everything—can Dressa carry on the act without falling for her sister's intended bride? Paranoia around Green Magickers is growing, noble plots are closing in, and in deep space, the only aliens humans have met are showing signs of not being pacifists after all. Can the Truthspoken hold their kingdom against the coming storm when it's already crumbling from within? The Truthspoken Heir collects the first season of The Stars and Green Magics, an epic space fantasy serial set in a diverse, queernorm universe with shapeshifting royals, glittering court intrigue, and space magic! This book has main characters who are queer, nonbinary, trans, agender, genderfluid, ace and/or aro, lesbian, fat, POC, disabled, ND, and generally awesome. (Not all rep is stated, some is implied.) Barring the occasional burst of strong language, this book is PG-13.
The Truthspoken Heir
Word Count:

65000
Summary: A young man sold into servitude has his loyalties tested in ways he never imagined. Raised in an orphanage in Dickens, Daniel doesn't know who his parents were, where he comes from, or even his last name. Like all orphans, on his 16th birthday, he's sold to the highest bidder. Not knowing where he's going, who's bought him, or what they even want with him, Daniel embarks on an adventure he never thought he'd take. He finds love, a family, and a secure future - yet in a split second, makes a decision he ends up regretting the rest of his life. Brothers begins fifteen years before the Red Dog Conspiracy series. Warning: Language, smoking, use of alcohol and drugs, attempted suicide by hanging, M/M underage sexuality with consent issues, forced servitude, blood, gun violence, a man being beaten by a horsewhip, murder, discussion of child prostitution, underage M/F sexuality with age gap (female older).
Brothers
Word Count:

81000
Summary: As a private eye closes in on her city's secrets, there are those who will go to any lengths to stop her. After the horrific events of our last chapter, Jacqui's in a medical predicament. If she wants to stay free from the Spadros crime syndicate, she has to find the cure for her condition - and time's running out. But just when Jacqui thinks she's found what she's after, she finds herself instead in a much bigger - and deadlier - situation. She's getting closer to discovering what mechanisms really lie beneath the city. And the Red Dog Gang isn't the only one who wants her stopped. Warning: on-screen death, captivity, child murder, terror, blood, bad language, smoking.
The Three of Spades
Word Count:

115,756
Summary: In a post-apocalyptic world where tyranny and medieval torture reign supreme and witch burnings are an everyday occurrence, a top Witchfinder must confront the very Church he serves when he learns of its dark past and twisted plans for the future. The Church of the Deiparous rules with an iron fist and its rising star, Witchfinder Imperator Malachi Thorne, is committed to leading its cause. Thorne is a man on the fast track to greater things so when a convicted traitor and heretic escapes his grip, he won't tolerate it marring his perfect record. As he pursues his quarry, he must confront demons, sorcery, and a cult of witches out for his blood. But when Thorne comes face to face with the Church's dark past and its twisted present, his faith is tested to its limits. Now Thorne must decide who and what he believes in—and what he will do about it.
The Witchfinder
Word Count:

104000
Summary: "5 Stars - This action-packed adventure will fully immerse the reader... any fan of science fiction or action-adventure would enjoy this book." - Reader's Favorite "...a gifted story that is exceptionally compelling." - D. Donovan, Senior Reviewer, Midwest Book Review "5 Stars - ... something both sci-fi and fantasy fans will enjoy." - Jim's Sci-Fi Blog Even gods have secrets... On planet Vastire, worth is set by the sins of one's ancestors. Good families rise to the elite and the wicked fall into poverty. Unfortunately for sixteen-year-old Darynn Mark, his father incited a revolution. Now, Darynn scrounges his way through life in the slums. When Vastire is surrounded by an embargo, it gets even harder to survive. That all changes when an alien ship slips through the embargo, seeking Darynn with an offer: finish the revolution and the embargo ends. He might have a chance thanks to mysterious magic powers, and his two companions: clairvoyant crush Fyra and soldierly alien Kaylaa. Cutthroat killers, mystical beasts, Vampires, power-hungry priests and lords, and self-serving spies stand in their way. If the three of them can crack his father's secret, maybe they can end the embargo and save the poor. If not, another poor orphan will be added to the growing piles of dead.
Embargo on Hope
Word Count:

60,000
Summary: Queer Handmaid's Tale meets hyper-capitalist dystopia. Nonbinary, queer main character BREEDER is set in a distant but bleakly familiar future, where each person exists to repay Units to the violent Corporation. But girls and women can only be Breeders in this world, and can only repay the Corporation through reproduction. Is the price of survival worth the cost of submission? Will Meadows is a seemingly average fifteen-year-old Westie, who lives and works in Zone F, the run-down outermost ring of the Corporation. In the future state of the Corp, a person's value comes down to productivity: the right actions win units, the wrong ones lose them. If Will is unlucky and goes into unit debt, there's only one place to go: the Rator. But for Zone F Breeders, things are much worse—they're born into debt and can only accrue units through reproduction. Every day in Zone F is a struggle, especially for Will who is fighting against time for access to an illegal medical drug, Crystal 8. Under the cover of night, Will travels to the Gray Zone, where life is less regulated and drugs—and people—are exchanged for gold. There, Will meets Rob, a corrupt member of the Corporation running a Breeder smuggling operation. Will also meets Alex, another teen whom he quickly recognizes as a Breeder in disguise. Suddenly, Will has an illicit job and money, access to Crystal, and a real friend. As the pair grows closer, Alex shares her secret: she is part of the Response, an uprising to overthrow the Corporation. Caught up in the new friendship, Will and Alex become careless as the two covertly travel into Zone B for a day of adventure. Nothing goes as planned and Will's greatest fear is realized. Will his true identity be revealed?
BREEDER
Word Count:

70000
Summary: Jacqui faces her biggest mystery yet - and her greatest fear. A drive-by shooting leaves Jacqueline Spadros with little remaining support for the life she's built apart from her estranged husband Tony. As evidence grows that the Hart Family is behind the attacks, which up to now have been laid on the doorstep of the notorious Red Dog Gang, Tony brings formal charges against the Harts before the Commission. Jacqui wants to stop the Red Dog Gang and learn the truth about Charles Hart's obsession with her. But the truth is stranger than she ever imagined. And what she learns changes everything. This is chapter 7 of a 13-part future steampunk noir series. Please begin with The Jacq of Spades and read the books in order.
The Two of Hearts
Word Count:

111,000
Summary:
New York: two years after the Third World War. Humanity is rebuilding its cities brick by brick; the damage done to the people, however, is a lot harder to repair.
Dan Hardacre is one of those people. An aspiring stage actor and experienced draft-dodger, Dan struggles to find his place within the Utopic rebuild of New York City. When he's not caught up with the duties of work, Dan lives a quiet life in mourning for his mother, Dyani, who went missing when he was a teenager.
One night, Dan experiences a vivid, terrifying nightmare that puts him right on the front lines of the war for which he dodged the draft; it ends with him facing Death itself in the form of a metallic, faceless humanoid creature that calls itself the Valkyrie. To investigate the reason behind his haunting experience, Dan seeks out a meeting with his estranged father, who reveals the startling truth about Dan's dream: it wasn't a dream.
With this newfound knowledge and the powers it brings, Dan makes it his mission to return to the scene of his nightmare. However, he soon comes to know that confronting the Valkyrie not only endangers him but the war-withstanding world he leaves behind.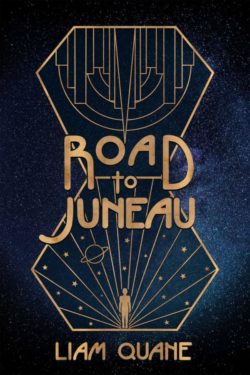 ROAD TO JUNEAU
Word Count:

31857
Summary: How does a nice young woman from a nice American neighborhood become a sensually augmented assassin trapped in an Arabian king's household? Is she a superhero or a monster? A victim or a villain? All will be revealed, and you can decide for yourself, while enjoying a raucous ride with Poison Patty!
Poison Patty
Word Count:

75000
Summary: A storm is coming ... One year has passed since the unpopular second Diamond Purge began. When the trains in Bridges mysteriously stop running, tensions among the populace rise to the point that the other three Families decide something must be done. Private investigator Jacqueline Spadros gets an unusual request: mediate with Cesare Diamond so that Inventors from all Four Families may meet to find a solution to the crisis. But Jacqui has more pressing problems. Her best friend is dying, she has a missing-persons case that she can't seem to solve, and her teenage sister-in-law is out of control. When her lawyer blackmails her for the enormous amount she owes him, Jacqui does something no one would ever have expected.
The Five of Diamonds: Part 6 of the Red Dog Conspiracy
Word Count: Information not available
Summary: The Dissolution is here. It is both an end, and a beginning. "Science fantasy with fantastic queer rep" -J.S. Fields, Author of the Ardulum Series The Dissolution has begun. Sam is finally reunited with Enos and Inas, only to see his new home under siege by beings that dissolve reality at a single touch. Even as they battle their personal demons, the three apprentices must also fight to save their home. Enos lashes out at those she loves, plagued by voices she's consumed, and Inas must risk his sanity to access ancient memories of the Nether. Sam must learn how he uniquely affects the Symphony, but there is little time to master what usually takes a lifetime. The Nether is leaderless and the Assembly is in chaos. The three apprentices must counter an invasion by aliens who rip the Symphony, and the very universe, apart. Ancient antagonists will resurface, a battle must be fought, and the secrets of the Nether and the universe will be laid bare in this final book of the Dissolution Cycle. If you like epic fantasy, space opera and music-based magic, you'll love William C. Tracy's Dissolution Cycle. Download Fall of the Imperium today and discover the diverse cultures, genders, and alien species of an epic science fantasy space opera! The Dissolution Cycle (Epic Space Opera, LGBT): Book 1: The Seeds of Dissolution Book 2: Facets of the Nether Book 3: Fall of the Imperium Book 4: Tales of the Dissolutionverse (Novella collection)
Fall of the Imperium
Word Count: Information not available
Summary: The Dissolution approaches, and all will change. "Science fantasy with fantastic queer rep" -J.S. Fields, Author of the Ardulum Series The Dissolution approaches. Sam has saved the Assembly of Species, but at a terrible cost. Locked in his apartment, his memories gone and his best friend abducted, he is once again crippled with anxiety. Meanwhile, Enos struggles to free her brother from imprisonment, alone for the first time in her life. Her true species has been revealed, and there are hints the deadliest of her kind survived an ancient war. But the Nether contains more secrets. A musical chime disrupts daily life, signaling changes to its very fabric. To solve this mystery, Sam must face his anxiety and confront truths about his memories and unique abilities. Only then can he save his friends from the machinations of the Life Coalition, by understanding the reality behind the Facets of the Nether. If you like epic fantasy, space opera and music-based magic, you'll love William C. Tracy's Dissolution Cycle. Download Facets of the Nether today and discover the diverse cultures, genders, and alien species of an epic science fantasy space opera! The Dissolution Cycle (Epic Space Opera, LGBT): Book 1: The Seeds of Dissolution Book 2: Facets of the Nether Book 3: Fall of the Imperium Book 4: Tales of the Dissolutionverse (Novella collection)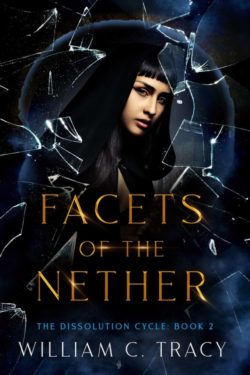 Facets of the Nether
Word Count:

454
Summary: For 60 years, the "Founders" have been secretly infiltrating every aspect of the American government, law enforcement, military and judiciary, influencing government policy and biding their time for the day they can seize power, in the chaos that has followed the Covid Pandemic, the Founders believe that day has come... A titanic power struggle is taking place between the western democracies; China and Russia and a new Cold War with hotspots of proxy-wars, such as the American led Anglo-American-French coalition in Iran, where British SAS Colonel Elizabeth Brooks commands an elite unit of Anglo-American Special Forces. Following a mission behind enemy lines, Elizabeth's brother-in-law, John Crane of "Crane Technologies" shows up in Iran. Crane Tech has developed a cloaking device, but the secret's out, the Founders know about it and they want it desperately and will stop at nothing to get it. Fearing he will be murdered, John needs a contingency plan. Elizabeth and her team are that plan… FBI Special Agent Dexter Quills is in Virginia hunting a vicious serial killer, the "Three-Sixty Strangler" when he receives a call that will change his life forever when he's ordered to the Crane Mansion, where the entire family with the exception of John's youngest son Adam (Elizabeth Brooks's biological son) have been murdered by Founder terrorists who want the "Perseus II" cloaking device in order to detonate a nuclear weapon over Washington DC to wipe out the Government. Fate bring Elizabeth and Dexter together and the fate of millions of Americans and the free world itself is in their hands, in a violent race against time to prevent the greatest tragedy in American history…
Twisted Maze
Word Count:

71,661
Summary: A dead-end job, a slob for a boyfriend, and neglectful friends: this is Kat Wallace's life. Ever since her best friend got married, Kat has been struggling to find happiness. All that changes when she meets Melody Adebayo, a field agent with the mysterious transdimensional company Clockwork & Associates. Melody's job is to send the consciousness of others to a scarier dimension in order to make them kinder and more grateful for their lives, which, in theory, will influence them to do good. But when Kat is sent to B-215, she awakes in a world beyond her wildest dreams. She's wealthy, well-liked, and has a successful career. Kat realizes she doesn't need to find happiness in her own world ... she can just steal it from her other self. Because of a certain (ahem) incident, Melody owes a lot of money to her evil ex-girlfriend, and Kat works out a deal with her in order to keep visiting B-215. With each visit, a sinister plot unfolds. Kat discovers her life is at risk, and she isn't alone in this dimension. To eliminate the threat, she must team up with Melody, but can the two uncover the truth before Kat loses her life? More important, will they be able to move on from the mistakes they made in the past and find love with each other?
Duality
Word Count:

93358
Summary: Morgan Bentley is a bastard. Matthew knows this absolutely—until he doesn't. Matthew and his friend Cory are thrilled to attend one of the most prestigious universities in the UK. On their pre-entry visit, they met Morgan Bentley and his stuck-up friends. Matthew takes an instant dislike to the arrogant, conceited, self-obsessed, beautiful, intelligent, and charismatic boy. Throughout the next year, Matthew harbours his dislike, never missing the opportunity to complain to his best friend, Cory, what a bastard Morgan is. Then, an unexpected turn of events catapults Matthew, Morgan, and Cory into a nightmare, and all the things Cory had said about Matthew's true feelings about Morgan come crashing down on his head, and he realises that what he thought was hatred and anger was, in fact, growing attraction and begrudging admiration. But when the deadly nature of the elusive Project X is revealed, it seems their budding romance is doomed before it begins, as one of them is unlikely to survive.
Project X
Word Count:

75000
Summary: Be careful what you wish for … After eleven years trapped in the Spadros crime syndicate, 23-year-old private eye Jacqueline Spadros is an independent woman, free to run her investigation business. But her problems are only beginning. Deeply in debt, Jacqui is in danger from both the rogue Spadros men calling themselves "The Ten of Spades" and the ruthless Red Dog Gang — who may be one and the same. Jacqui is determined to find Black Maria, the key to the identity of the Red Dog Gang's secretive leader. To survive long enough to do that, Jacqui needs a paying case. The one she's offered may put her in the most danger of all …
The Ten of Spades: Part 5 of the Red Dog Conspiracy
Word Count:

64000
Summary: Hannah has finally adjusted to life on board the Ventas-341, when a series of strangely catastrophic hull breaches and a devastating viral outbreak decimates the crew. Now she finds herself stranded in the shadows of the asteroid belt. Together with the only other surviving crew-members, Colin, and the robotic Brother Anderson, she must somehow overcome their chaotic relationships if they are to have any chance of escaping the doomed ship.
Symphony Of Destruction
Word Count: Information not available
Summary: Discover ten planets, joined through music-based magic and an immense sentient crystal. This anthology contains nine stories from the popular Dissolutionverse universe! Join Origon as he investigates the Pixie homeworld and tries to avert a war! Learn how to change the Symphony with Rilan, as she searches for Origon's lost brother. Travel with merchants in an old war train with some suspicious cargo. Fly with the first majus in space! Discover the food and culture of the ten species. Learn what lurks in the basement of the House of Potential. Music, magic, and murder is afoot with Mandamon, as someone plots to bring down the secret Society of Two Houses! An ancient being confronts other-dimensional entities. And a climbing crew searches for the top of a miles-high wall, riding a giant steampunk beetle! If you like space opera, fast-paced adventure, music-based magic, and complex, diverse characters, then you'll love this collection of stories from William C. Tracy's Dissolutionverse. Pick up Tales of the Dissolutionverse to discover the music today! There's more adventure in The Dissolution Cycle (Epic Space Opera, LGBT): Book 1: The Seeds of Dissolution Book 2: Facets of the Nether Book 3: Fall of the Imperium Book 4: Tales of the Dissolutionverse
Tales of the Dissolutionverse