Fantasy fiction with a dark or macabre edge or tone. Return to general Fantasy
Note: these books are currently sorted by release date, with newest first.
Word Count: Information not available
Summary: Shiver during the long nights with these dark tales Featuring stories by Brett Thomas Abrahamsen, Mike Adamson, Christopher Bond, John M. Campbell, Arasibo Campeche, Brandon Case, Elizabeth Cobbe, Ryan Cole, Sarina Dorie, Monica Joyce Evans, P.G. Galalis, Kara L. Hartz, Brian Hugenbruch, Andrew Rucker Jones, Andrew Kozma, Steven P. Mathes, Jen Mierisch, Iseult Murphy, Ira Nayman, Tarver Nova, Frank J. Oreto, Anthony Regolino, and Lauren Reynolds
Dragon Gems (Fall 2023)
Word Count:

135000
Summary: Demons and sorcerers stalk the streets of Victorian London, searching for a magical treasure lost in the Opium Wars.
Mirror Maze, 2nd edition
Word Count:

40,000
Summary: A century ago, one Priestess left for the surface world. She vanished. This is her story. Irrwaer is an acolyte serving the Priestesses yet lacks the consuming urges which drive their ambitions. She would rather stay small, quiet, and avoid the bottomless appetites of her matriarchy but understands passively hoping leads to a short, miserable life. Or worse: a long one. In the Sanctuary of the Spider Queen, the only way to keep any choice for herself is to gain power over others without becoming addicted to them. As the healer works among meek males, rowdy Red Sisters, and the sinister sons of demons, she asks a troubling question. In a place where power passes through daughters, why are the Priestesses only competing for sons? Even asking this question is dangerous. Sooner or later, everyone disturbs the Queen's web. In "Sons to Keep," Etaski introduces the political sphere of Sivaraus through the eyes of the least ambitious. These events occur one hundred years before the birth of the protagonist Sirana in Sister Seekers #1: No Demons But Us. Their effects still ripple out from the center of a vast, interconnected story.
Sons to Keep: Sister Seekers Prequel
Word Count: Information not available
Summary: Fourth of the Vyrdigaan Prophecies, telling the back-story of Andreas Cesario. As the illegitimate child of a Carpathian Lord and his favourite housemaid, Andreas has to contend with his violent and hateful half-siblings and various power-plays within the household. He is a product of two different worlds — the privileged upbringing of a Carpathian son and the freedom of the streets where his mother was born. As he grows up, he discovers that he is far more important than he ever imagined, being part of a two-stage prophecy which dates back to the origins of the Founding Families of the Inner Circle. Set up for a fall by his scheming half-siblings, he has to rely on his natural intelligence in order to stay ahead in the game. This novel follows the story of his life from birth to his mid thirties.
Chimera Obscura
Word Count:

26,823
Summary: Tel is an astrophysicist and an unwilling witch. A letter changes all that. Accepting the invitation within leads him into a nightmare existence on an alien world full of paranormal beings. Well it is like something out of a nightmare but the said paranormal beings are far from nightmarish and maybe just the type of people he needs in his life. Tel has to become the person he has been ignoring all his life. As the son of a hedge witch he has healing abilities he must now use. In fact he is potentailly so much more than a healer and that is why he is now where he now is, stuck on a world with little available magic unless you are special. Tel is on a journey to discover who he is and who the man from his past really is and how he could be the man of his future, his partner and lover in more than dreams. Star is the make believe friend of Tel's youth or so Tel thought. Tel discovers Star is real and the one responsible for Tel's current situation, stuck in a world similar to Earth but not Earth and empty of all 'human' life other than the the ones sharing his space. Maybe stuck is not the right word. Just maybe Tel is where he should be.
A Fallen Leaf
Word Count:

111,172
Summary: Two sisters born in the Red Desert, young Daughters of an ancient Queen. One seizes the delights of the present. The other sees and despairs for their future. Innathi and Ishuna, the heirs of the Dark Elf Queen of V'Gedra, travel the sand dunes with their entourage. In need of water, the sisters enter the sacred canyons of Koorul, where they interrupt a mystic rite of passage for the Human son of a Sorcerer-King. Negotiations fare well between the two desert peoples until powerful magic blends with the discoveries of youth which get quickly out of control. Incomprehensible joy crashes into a dark dread which cannot be named, and a schism begins between the sisters. Diplomacy is critical to avoid unnecessary conflict, yet the Queen's daughters do not agree on the goal. Each has her version of the events at Koorul, and each is certain of the outcome should Innathi pursue the wild magic of the Zauyrian son. A close alliance with a Sorcerer-King could bring pleasure, prosperity, and new life thriving in the Desert, or it might corrupt a delicate balance to bring down the realms and all they had ever known. This second volume of Tales of Miurag is a standalone novel which can be read on its own. Dramatic events and mature themes weave into broad history and lore headed toward a cataclysm which will change the entire world. The Desert is also Etaski's ultimate villains' origin, featuring several antagonists introduced in the Sister Seekers series. This story takes place approximately 3500 years before No Demons But Us, where hints of these events past echo forward and impact future generations.
The Desert: Tales of Miurag 2
Word Count:

77000
Summary: Let your imagination bloom with these mind-opening tales Featuring stories by Veronica L. Asay, Warren Benedetto, Jason P. Burnham, Michael D. Burnside, Laura J. Campbell, Arasibo Campeche, Jay Caselberg, Philip Brian Hall, Tom Howard, Tim Kane, Benjamin C. Kinney, Stephen McQuiggan, Mike Morgan, Sam Muller, Jason Restrick, and Elyse Russell.
Dragon Gems (Spring 2023)
Word Count:

135500
Summary: The Dragon is awake, and he's ready to rejoin the game. When the Valsharess compelled the novice Sister Sirana to leave for the Surface, she also commanded the Lead Sister Jaunda to leave her beloved city for the dark labyrinth of the underground wilderness. Jaunda seeks the lair of a legendary creature who's been asleep since before she was born. After spans of searching, she approaches her goal at last, only to discover he just woke up ... and he wants to play. Meanwhile, Sirana waits for her bodyguard to rise out of an abrupt and powerful sleep. In the aftermath of the Temple City's fall, surrounded by battle-weary refugees and bustling Dwarves, she uncovers wounds among critical allies within the redoubt. The Red Sister must help them heal before they can continue her Queen's unspoken mission. Sister Seekers is dark epic fantasy for adults with an ever-broadening scope. The saga genre-hops a bit so things never get stale. Found Family is a core theme throughout, and fans of Dungeons & Dragons will find familiar grounds. Perfect for fans of entwined plots, challenging themes, immersive worldbuilding, and elements of erotic horror. Sexuality and inner conflict play into character growth with nuanced intrigue, intense action, and fantastical magic.
Awake in the Dark: Sister Seekers 9
Word Count:

386,840
Summary: When sisterhood by blood is pure misery, can sisterhood by trial be any different? My sister deserved to die, but I didn't kill her. If I take the blame, I'm next on the sacrificial altar. The Red Sisters know this. Now they're watching me. I'm about to find out why. ~~~ In their underground city, only the cunning and the bold thrive. Sirana Thalluensareci refuses to be cowed. Banished from everything she knew after surviving an assassination attempt, the abused dark elf finds delight in the sensual thrills of the court's explicit intimacies. But she's taken off-guard when one of the realm's most powerful organizations steps out of the shadows to abduct her to their lair. Relying on her wits and nerve to thread her way through a controlling sisterhood, Sirana navigates passionate encounters, sharp-edged battles, and a series of initiation rituals where failure means a painful death. Even as the independent warrior-in-training discovers a taste for hidden pleasures, old scars threaten her ability to survive on the danger-strewn path when the Red Sisters' competitors, the Daughters of Braqth, turn their eyes toward her. As everyone around her pushes her to the edge, can she keep her balance and avoid falling into the spider's trap? If you crave found family, nuanced characters, bold and steamy scenes with touches of survival horror, then you'll love A.S. Etaski's Machiavellian matriarchy. Begin the intense first trilogy of the Sister Seekers series today!
Sister Seekers Bundle Vol. 1
Word Count: Information not available
Summary: Tales to warm your imagination during the cold winter months Featuring stories by Christina Ardizzone, Matt Bliss, Gustavo Bondoni, Micah Castle, Nestor Delfino, C. M. Fields, Andrew Giffin, Emma Kathryn, Michelle Ann King, Jason Lairamore, Eve Morton, Lena Ng, S. Park, Arlo Sharp, Mar Vincent, and Richard Zwicker
Dragon Gems (Winter 2023)
Word Count:

80000
Summary: The pandemic came and the world changed. Lives have changed; work has changed. The boundaries between reality and fantasy have become as blurred as those between life and work. Corporate Catharsis: The Work From Home Edition explores the impact of the COVID pandemic on everyone's personal and professional lives through speculative fiction. Featuring stories by Alicia Adams, Antaeus, Pauline Barmby, Steven D. Brewer, Dominick Cancilla, Adrienne Canino, Graham J. Darling, Derek Des Anges, Manny Frishberg, Alex Grehy, Jon Hansen, Alexa Kellow, Jack Nash, Helen Obermeier, Frank Sawielijew, William Shaw, Steve Soult, N.L. Sweeney, Kimberley Wall, and Richard Zaric.
Corporate Catharsis
Word Count:

11500
Summary: A dark fairy tale in a modern Greek setting. Hiding in the mountains, a harpy and her adopted daughter struggle to survive. Iphis has always known that survival comes hand in hand with loneliness, but when she catches feelings for a girl in the nearby town, her heart yearns for a different kind of future. When she's suddenly attacked by a group of enraged harpies, things only become more complicated... and dangerous.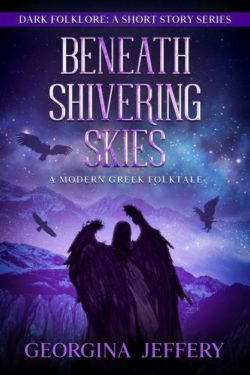 Beneath Shivering Skies
Word Count: Information not available
Summary: "Now is the time to release the burdens you have been carrying." The holiday season is traditionally one of reunions, homecomings, and family gatherings, but for the LGBTQIA+ community, it can be a time of anxiety and dread—a time we must hide our true selves in order to feel welcome. Too often, the holidays bring about loneliness and pain—a longing to be unequivocally accepted, seen, and loved for who we are. This season, we invite you to be Queer for the New Year! Enter nine fantastical worlds and witness rebirth and release as individuals let go of the past and welcome the new year with open arms and fearless hearts. In the final minutes to midnight, journey with us as we discover that acceptance can be found in the most unlikely of places, pain is not forever, and if nothing feels okay, then it is not the end. Move from the heartaches of old, make a fresh start with hope and renewal in your heart, and join us in being— queer for the new year.
Queer for the New Year
Word Count:

370000
Summary: The Small Things trilogy omnibus contains all three books in the Small Things trilogy (Small Things, Threads, A Pattern of Shadows,) a previously-published short story (Smoke), a brand new story (Dowd) and a never-before-published Small Things novella, Sundown Rising. The stories are presented in the order in which they are meant to be read. The Small Things trilogy omnibus totals 1,450 pages/370,000 words and includes all covers, artwork, and a few surprises as well! Small Things: It's a hot June morning in a small Midwestern town when fifteen-year-old Shawn Spencer arrives at the church for his best friend Tanner's funeral. Though his drowning was officially ruled an accident, Tanner's sister Jenny swears she saw something rise up from the Carthage Lake to pull the struggling teenager beneath the surface. Shawn doesn't believe in monsters… but he will…The real threat, however, lies in the man behind the monster, a mysterious old man who has vowed to settle an old grudge and regain something that was stolen from him decades earlier. To survive the dark days and nights ahead, Shawn must not only decipher what the man is after, he must move past his own grief, fears, and insecurities, and learn to trust in Jenny, the disgraced town sheriff, and, most importantly, in himself. A small town horror, fantasy, paranormal, and coming of age romance. The Small Things trilogy spans forty years and three generations in a tale of murder, betrayal, corruption, sacrifice, love, redemption, faith and magic that culminates in a showdown that will pit the very forces of heaven and hell against Shawn and his family in a battle for the future of mankind and the world itself. Sundown Rising: When Shawn and Jenny decide to visit a traveling carnival, will they find more than they bargained for? And why are Mr. Kingfisher and Mr. Quarry in town? Threads: History is changing around nineteen-year-old Ben Spencer, and he's powerless to stop it. His sister has disappeared, his family thinks he's schizophrenic, and, worse yet, the girl he's madly in love with won't give him the time of day. Enter the mysterious Michael, who, years earlier, helped Ben's parents defeat a powerful sorcerer bent on destroying them and reclaiming a relic stolen from him years before. With Michael's help, Ben will travel back in time, to 1977, and attempt to set the past straight. But will he undo himself and the woman he loves in the process? Threads is a coming of age time travel adventure complete with murder and magic, and also a magical realism love story. The Small Things trilogy spans forty years and three generations in a tale of murder, betrayal, corruption, sacrifice, love, redemption, faith and magic that culminates in a showdown that will pit the very forces of heaven and hell against Ben and his family in a battle for the future of mankind and the world itself. Smoke: Can humans and ghosts work together to figure out what's behind deadly and destructive fires…when they can't even communicate? A Pattern of Shadows: Five years ago, the demon Azazel tricked Ben Spencer into giving him possession of his body. After countless frustrating and heartbreaking dead ends, Ben's family and his girlfriend Katy Ruskin have finally located him. Will their daring rescue attempt work, and will they be able to free Ben from the demon? And with Ben free, is everything truly over…or is it only just beginning? A Pattern of Shadows brings the Small Things trilogy to a stunning conclusion that pits Ben and Katy and their families against the very forces of heaven and hell itself in a battle that will decide the fate of humanity. Who will survive? Redemption: Can a former villain truly change his ways?
Small Things trilogy omnibus
Word Count:

443
Summary: Dive into this collected edition of the first three volumes of The Darkly Enchanted Romance series. Sweet and sultry historical romances with just the right amount of spookiness! ~ THE HARVEST MOON In the shadows of late autumn, Malcolm comes across a quaint village tucked away in the forest. It seems the perfect spot for a weary traveller to lay his head, and maybe find a little company. But there is dark magic afoot, and lots of local gossip swirls around the seductive titian-haired weaver, Daniel. All Malcolm sought was a night's pleasure. He never suspected he would have to worry about losing his life. Or his heart. THE GHOST OF HILLCOMB HALL On a stormy night, landscape designer Jonas arrives at the cheerless and fog enswathed Hillcomb Hall. He finds an odd trio of ladies in residence and an eerie portrait of the hauntingly attractive portrait of a stately ancestor, which constantly seems to watch his every move. His nights are filled with weird dreams and otherworldly visitations. Is the manor house truly haunted? Or is it all just a trick of the mind, a sinister game being played by the inhabitants of Hillcomb Hall? MANCHESTER LAKE Monty, along with his best friend Bishop, discovers a mystical selkie in Manchester Lake who transforms into a gorgeous man of his dreams. Together they adventure through a tastefully debauched house party, an Edwardian novelty called a "night club," and a macabre Parisian cabaret. As their journey unfolds, they come face-to-face with ghoulish agents of the occult as well as startling discoveries - including Monty's realization that he is falling for the beautiful creature from the lake. Can he really be in love so soon, or is there a past connection? And what does it all have to do with his past trip to Paris? Before their adventure ends long-hidden secrets will erupt in a storm of magic and passion!
The Darkly Enchanted Omnibus
Word Count:

8000
Summary: Halloween is supposed to be a night for safe scares and harmless tricks, not terror ... or romance. College student Colin agrees to take his little cousin trick-or-treating, anticipating nothing worse than having to shepherd a bunch of sugar-crazed third-graders and a poorly-trained puppy. When the kids run ahead to peek into the local supposedly-haunted house, it seems like a harmless bit of mischief until the puppy crawls through a basement window and is lost. Colin promises to get her back. The place may be dark and creepy, but it can't really be haunted. When the house turns out to be occupied by an attractive man who is willing to let him in, it seems like a lucky break ... at first. Secrets. Sometimes Cat feels like he has nothing but secrets. No family, no freedom, not even a real name. Colin seems nice, but Cat doesn't owe him anything, not when the risk of punishment for helping a stranger is so high. But he's looking for a puppy, and Cat has a soft spot for dogs. And possibly also a soft spot for kind boys with soft lips. But the apparently simple task of finding a missing pet won't be as easy as it sounds, because the house isn't what it seems ... and neither is Cat. Could Colin possibly still want Cat if he learns the truth? They won't find out unless they manage to escape the darkness of the house.
Tricks with Cats and Dogs
Word Count:

78740
Summary: Dare to explore the darkest tales where sunlight never touches. Etaski's dark fantasy epic, Sister Seekers, begins underground with its denizens living and dying in eternal night. A novice Red Sister leads us through much of the series, but her Elven ancestors have their own stories to share. Tales of Miurag: The Deepearth is a same-world anthology exploring critical moments in the history for the Dark Elves of Sivaraus. This collection contains explicit and sometimes grim content, though we are never lacking all hope. Stories included in this collection: House Aurenthin - a novella on the dramatic origins of the lowest-ranking noble house in Sivaraus. Auranka the Keeper - a chilling horror tale on the monstrous Mistress of the Driders. Rohenvi - the tragic romance in the early reign of the Matron of the Twelfth House. Gaelan - a "dark slice of life," how future Red Sisters sometimes make connections long before their trials Sister Seekers is dark epic fantasy for adults with an ever-broadening scope. The saga genre-hops a bit so things never get stale. Found Family is a core theme throughout. Perfect for fans of entwined plots, challenging themes, immersive worldbuilding, and elements of erotic horror. Sexuality and inner conflict play into character growth with nuanced intrigue, intense action, and fantastical magic.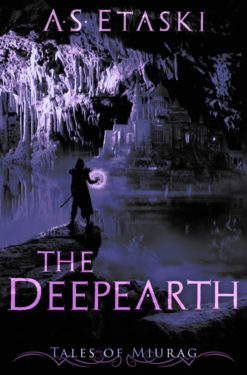 The Deepearth: Tales of Miurag 1
Word Count:

33000
Summary: Clarity (noun) Four definitions to inspire writers around the world and an unlimited number of possible stories to tell: 1) Coherent and intelligible 2) Transparent or pure 3) Attaining certainty about something 4) Easy to see or hear Clarity features 300-word speculative flash fiction stories from across the rainbow spectrum, from the minds of the writers of Queer Sci Fi.
Clarity
Word Count:

45000
Summary: A mordant, smirking collection; rife with life in a grim future Florida, notions of Christianity and its cousin Satanism—spies, mercenaries, magic, asteroid-belt drillers, and above all else, a universe bent forever by the powers of pleasure and pain.
Forsaken, Fantastic!
Word Count:

99000
Summary: Gavin Booker, a school librarian at Cooper Road Elementary, Raleigh, Northern Carolina, leads an orderly, normal life. Work, jogging, friends from work, his son every other weekend. Gavin is also a secret. He is a hybrid, or part-fairy, and in the Columbian Empire, hybrids are under an automatic death sentence. Magic is illegal. So is loving another man, another capital crime. Fairies are locked away in ghettoes, magical beasts, such as gryphons, unicorns, and pegasi are kept in zoos. The others, the tree and water spirits, the talking beasts, fauns, and the rest, are in hiding. This is the world in which Gavin grew up. He survived, thanks to his mother. He can never forget he is different: ministers preach against people like him constantly; hating the other is a part of every school's curriculum. But now, things are changing fast, and apparently, for the worst. Earthquakes, volcanoes, killer storms are all frequent occurrences. The medicine Gavin takes to suppress his body's glowing, isn't working. The spells cast by his doctor, a witch, are losing their power. If anyone finds out what Gavin is, he is dead. Under threat, the Empire always goes after its marginalized people. Can Gavin survive the coming catastrophe? Will he ever recover from losing the boys he loved? Can he find the fairy man who has haunted his dreams all his life before it is too late? Can his scarred heart ever heal?
In Light's Shadow