Horror stories that include our bloodthirsty, long toothed friends. Return to general Horror
Note: these books are currently sorted by release date, with newest first.
Word Count:

62,900
Summary: A werewolf and seven vampires are all that stand between the world and complete annihilation. When Kai Richter and Ori Bier met, sparks flew. Then a train blew up. Tracking an organism deadly to not only humans, but vampires and werewolves alike, brings Kai and Ori into the Vampire Guard. Decades later, they, along with Operative Team Jack Rabbit, come face to face with the horrors that same virus produces. Dead bodies are coming back to life, and rational people are becoming violent and brutal killers. A massacre is taking place nearly a mile under the Atlantic Ocean. Two teams of The Vampire Guard are in the thick of it, fighting to survive.
Endosymbiont
Word Count: Information not available
Summary: In this second instalment of the Damien the Devil series, we see Damien has found a new, more permanent home outside the foster system with Pat, Damien's Renfield and caseworker, and his twin brother Matt. He is also enjoying a budding romantic relationship with Brian, another boy from the foster home. But after the two of them are caught kissing, Damien is kicked out on the streets in the middle of the night-only to find himself in a very dangerous situation with a vampire. Brian, feeling guilty about the whole situation, goes looking for Damien the next evening, only to fall victim to the vampire's trap himself. Damien and Pat save Brian, but he's unable to remember what happened that night-until he starts to be plagued with nightmares. Meanwhile, Damien is too afraid to reveal to Brian that he is a vampeal: a half-vampire and half-human. Will they both be able to handle the truth of what each other is hiding?
Shattered Recollection
Word Count:

36000
Summary: INK (NOUN) Five definitions to inspire writers around the world and an unlimited number of possible stories to tell: 1) A colored fluid used for writing 2) The action of signing a deal 3) A black liquid ejected by squid 4) Publicity in the written media 5) A slang word for tattoos Ink features 300-word speculative flash fiction stories from across the rainbow spectrum, from the minds of the writers of Queer Sci Fi.
Ink
Word Count:

63000
Summary: "You can't keep running from your past, especially when it has four legs and fangs." In the exciting second installment of Tales of a Gay Witch, we return to Jason and his friends six months later as they are coming to terms with the events of last year. Jason thought he could move on with his life after Damien left in search of information about his mother, after finding out she might be alive after all, but is struggling to adjust to life without him. He is persuaded to go out and meet up with his friends at his favorite night club 1470 West, where he meets a handsome young man named Mickey. That same night, Jason is informed by Detective Miller, now a good friend of his, to be on the lookout for Jo's ex-husband Rex, who might be coming their way. There have been a number of sexual assaults and murders targeting young lesbian women up in northern Ohio, and Rex is suspected of being involved. Jo's ex-husband was always a nasty, abusive piece of work, but to make things worse Rex is a werewolf and an alpha to boot. It's up to Jason to rally his friends again, as he is tasked with protecting the people he cares about, before it's too late…
In the light of the moon
SALE
Word Count:

120552
Summary: Like a spout pushing its way through soil extending deep mighty roots as it grows firm and tall, Michael like those around him has become renewed in the sun. The Wheel of Creation continues to turn through tragedy and triumph with secrets and mysteries revealed, truth discarding deceit to rot away into dust. Terror still lurks in shadow, hinting at battles yet to come and while the union of souls may reign down catastrophe upon all involved, there is a newly shared optimism that this town, rebirthed and revived again after decades can meet the oncoming storm together. Bonded in battle, humbled in heart new friendships have replaced old animosities as all the residents are finding their place in creation.Despite the odds, the couple continues their path toward blending, but if the sun sets on their hopes or the union is not supported by the Mother, disaster could befall not just Michael and Kurra but the entire Grove.Book four of The Place Of Things is Blood. The blood spilled and shared through trial and combat, forged in a family or spilled through injury, death, or pain and joy. Will the Great Mother approve of a blending of souls, or will the remains and splatter of not just Michael, but all those he holds dear be splashed in chunks upon the wedding alter.As this story concludes in the middle it continues on like the cycle of the seasons. Never ceasing always evolving. Until next time, Love from the Sacred Grove.
The Place Of Things Book Four: Blood
Word Count:

216321
Summary: Root by Daniel Fisher, the third book in the Place of Things series is the continuing story of Michael and his new, rather unique fiancée. From the Winter's Solstice to the Vernal Equinox we find our lovers and their friends explore new and creative ways to adapt to life-altering events. Having relocated and now a resident in the sanctuary town of Sacred Grove, Michael is finding his place among the mythical, mystical, and mostly immortal residents who've hidden away from the outside world. Not only is he coming out of his own isolation, but they are also finding he is dragging them out of self-imposed exile as well. Sometimes against their instincts. As his and Kurra's love deepens, new mysteries are added to the mysteries and his and their worlds will never be the same.As the union between two souls from two drastically different worlds draws closer, new mysteries, challenges, and threats crop up for Michael, the mortal, and all the immortals that get caught in his wake. Enchantments and wards may not be enough to hold back the onslaught of supernatural forces if the wedding gets bumpy. Many may yet perish if things go awry. May the Goddess help them all.Book four, the conclusion to this tale coming soon.
The Place Of Things Book Three: Root
Word Count:

55000
Summary: In Unsafe Words, the first full-length collection of her edgy, award-winning short stories, Loren Rhoads punctures the boundaries between horror, dark fantasy, and science fiction in a maelstrom of sex, drugs, and rock-n-roll. Ghosts, succubi, naiads, vampires, the Wild Hunt, and the worst predator in the woods stalk these pages, alongside human monsters who follow their cravings past sanity or sense. Featuring an introduction by Lisa Morton and cover art by Lynne Hansen, these never-before-collected stories come from the magazines Cemetery Dance, Space & Time, City Slab, and Instant City, the Wily Writers podcast, and from the books Sins of the Sirens, Demon Lovers, The Haunted Mansion Project: Year Two, Tales for the Camp Fire, and more. One story, "With You By My Side It Should Be Fine," is original to the collection.
Unsafe Words
Word Count:

58161
Summary: So what's a young gay boy living in the eighty's from suburbs of Dayton, Ohio to do, when he comes out to his family, only to finds out his family has been keeping their own secrets. Jason Wynwood just turned 18 finding out he is in a long bloodline of witches. As Jason searches for love, he falls for a mysterious black haired gentleman named Damien. Jason is thrown into a dangerous world of magic with witches, vampires and werewolves, and a glittery nightlife sexual pleasures. He also discovers Young gay men have been turning up dead at rest stops all over surrounding areas. Police suspect that it's the work of a serial killer. But when a friend ends up dead it becomes personal. Can Jason find the killer before anyone else turns up dead?
Skeletons in the Closet
SALE
Word Count:

90000
Summary: A new generation of vampires embarks on a quest to save humanity. Opening a forgotten crypt during a military exercise, Dr. Jane Heckman is made a vampire and begins a journey to unlock the secret origins of her new kindred. Elsewhere, solitary vampire Marcella DuBois emerges from the shadows and uncovers a government plot to create vampire-like super soldiers. Daniel McKee, a vampire working as an astronomer, moves to a new town where he's adopted by a family, only to have government agents strip those he loves away from him. All three vampires discover the government is dabbling in technologies so advanced they'll tap into realms and dimensions they don't understand. To save humans and vampires alike, Jane, Marcella, and Daniel must seek out the legendary master vampire Desmond, Lord Draco and encourage him to resurrect his band of mercenaries, the Scarlet Order.
Vampires of the Scarlet Order
Word Count:

49549
Summary: He is known as "The Living Curse" and the progenitor of the species know as "vampire". He is the Darkness that even the shadows hide from and the plague that no man can cure. He is the prophecy of all that is to come and the sworn enemy of Huntress and angel alike. He is the beginning and has the will power and strength to survive to the very end... His name is Cain.
Cain
Word Count:

93000
Summary: Three vampires. Three lives. Three stories intertwined. Bearing the guilt of destroying the holiest of books after becoming a vampire, the Dragon, Lord Desmond searches the world for lost knowledge, but instead, discovers truth in love. Born a slave in Ancient Greece, Alexandra craves freedom above all else, until a vampire sets her free, and then, she must pay the highest price of all … her human soul. An assassin who lives in the shadows, Roquelaure is cloaked even from himself, until he discovers the power of friendship and loyalty. Three vampires, traveling the world by moonlight—one woman and two men who forge a bond made in love and blood. Together they form a band of mercenaries called the Scarlet Order, and recruit others who are like them. Their mission is to protect kings and emperors against marauders, invaders, and rogue vampires as the world descends into the chaos of the Dark Ages.
Dragon's Fall
Word Count:

17651
Summary: Damien is a 14 year old orphan that has grown up  in foster homes all his life. He finds out that he is a "Vampeal" , a child born from a vampire and human. If that wasn't bad enough Damien is a teenager that is dealing with his feelings for other boys. Damien is put into a home that the foster parents are very religious and he ends up on the street. Patrick is Damien's caseworker and if fresh out of college is assigned to look after him but finds out that Damien is no longer at the foster home. So Patrick sets out to look for him, which turns out to be a very dangerous road for both of them.
Child under the stairs
Word Count:

97000
Summary: Los Angeles is an apocalyptic wasteland. Without orientation, Colton stumbles through the vast, deserted city. He doesn't remember who he is and where he came from. Scavengers save his life from mutants and bring him to the only remaining inhabited area and safe Zone in former Hollywood. There he learns that after a devastating catastrophe called The Glitch, reality shifted, allowing nightmarish creatures from another dimension to enter our world. These co-called Dark Ones feed on suffering and violence, wanting nothing less than the complete annihilation of humanity. Colton discovers that he has extraordinary abilities and joins a league of unusual defenders: ex-cop Eric, female cyborg Bombshell and Vincent, a mighty entity from another world, disguised as a human soldier. But the Dark Ones are evil beyond imagination and with their ice-cold enforcer, the traitor Eurydice, they are a threat nearly impossible to overcome. Cunning and ruthless, Eurydice sets a ploy in action, which leads to the destruction of the Zone's defenses weakening the tiny community from within. It's up to Colton and his friends to take a desperate stand against the superior enemy and save what is left of humanity from extinction. Fast-paced, action-driven, and cinematic – an eternal fight of good vs. evil told in a way as never before.
Shadow City
Word Count: Information not available
Summary:
The action-packed conclusion to the award-winning series!
Withrow, Roderick, the Technopagans, the Book People, and all the rest of Withrow's friends, allies, and accomplices are back again to bring the fight to their enemies – and to finish it once and for all!
The elder vampires have issued their challenge and Withrow has taken them up on it. Now he and the rest of the gang have teamed up to go to where they've always known they shouldn't trespass: the stronghold of the elders, a gated community on the outskirts of Charlotte, North Carolina. Tucked away behind the high walls of their unholy fortress, the elders are ready to spring their villainy on the unsuspecting modern age and only Withrow stands in their way.
Withrow, Roderick, Jennifer, and their friends know they have only one chance to stop these ancient evils from roaring back out of the past – and it will take risking everything and everyone they hold dear if they're to succeed. Join the fight alongside these unlikely heroes as they risk life, limb, souls, and sanity itself in a no-holds-barred free-for-all against the monsters who stand ready to re-enslave the world!
Nobody Gets Out Alive
Word Count: Information not available
Summary: Delve into the darkness with author Max Griffin's collection of nineteen twisted tales of horror. Heavily inspired by the works of Edgar Allan Poe, Griffin's stories will leave you with a sense of foreboding, a glimpse into the mind's of those who have turned the wrong way, and many times, justifiably so. From a review on Amazon: One of the things I like best about short story collections are the diverse characters and settings I find in them. The stories in this collection swept me away to amazing places like snow-covered mountains in "Protected Species," a bombed-out neighborhood in the poignant war story "Savior," and a smelly, litter strewn alleyway in "The Meeting," where a gang of bullies meets fur-covered Karma. I especially like twist endings, and Griffin does a great job with those in such stories as "In Dreams" and "Fred Cleans House." Because one of my greatest pleasures is SF mixed with horror, my favorites of the stories were "Ad Infinitum" and "A Day in the Park," which adds a wee bit of delightful comedy into the mix. I also liked the way Griffin played with different sub-genres of horror. Some stories were more literary than others, some were psychological horror, and some were my personal favorite—flat out gory! Whatever your taste, the 19 stories in Griffin's horror collection have something for everyone. The only constant is the amazing writing, which I enjoyed so much. Highly recommended!
What in Dreams Abides
Word Count:

73000
Summary: "Your bullets can't kill me. I'm already dead. Inside and out." When his fiancée is brutally murdered on Valentine's Day, Ash Corvus is unwittingly plunged into the nightmarish world of the Arpadeem, or as the movies call them… Vampires. What begins as a personal quest for revenge becomes a struggle for the fate of the city itself as Ash's search takes him into Cedar Rapids' secret criminal underworld. Ash must cast off his humanity and become a monster himself if he hopes to bring vengeance upon the monster who murdered his love… the man with the scar. A dark, violent thriller from the author of The Weller and War of the Worlds: Goliath!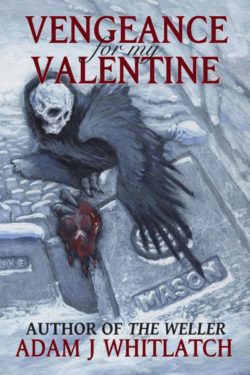 Vengeance for My Valentine
Word Count:

108000
Summary: Being a nobody isn't Duncan Alexander's life goal, but it's worked for him. He has a nondescript job, a few good friends, and overall he's content. That's until one fateful trip to San Jose, California, where he is "Called" to meet the mysterious Juliet de Exter. Juliet is a beautiful, wealthy, powerful Immortal who is undertaking The Calling—a search for a human to join her world of Immortals. Inexplicably, Duncan's calling is more dangerous than any of the Immortals, even Juliet, ever thought it would be. There is more to this nobody, this only child of long-deceased parents, than anyone thought. When Duncan experiences uncontrollable dreams of people he doesn't know and places he hasn't been, Juliet and the other Immortals worry. Soon, his visions point to a coven of long-dead witches. The dreams also lead Duncan to his one true love. How will Duncan navigate a forbidden romance with an outcast Immortal? How will he and the others keep the balance between the Light and Dark, survive vicious attacks, and keep the humans from learning who they truly are? More importantly, who is this implacable foe Duncan keeps seeing in his dreams?
The Calling
Word Count: Information not available
Summary:
Withrow Surrett, the most sarcastic vampire for a country mile, makes an annual Appalachian pilgrimage to keep tabs on nocturnal colleagues and his last living friend from mortal days. What should be a quiet week among familiar faces quickly fills with undead rednecks, folk magic, murder, a rookie detective and Withrow's own psychotic cousin who insists on trying to help. Because even vampires have cousins, and Southern ones especially so.
As Withrow chases the phantoms of conspiracy and paranoia across moonlit forests, abandoned factories, shadowy back roads and seedy bars - all the quiet little places humans fear to tread - Withrow also struggles with who he wants to be. Can a monster find a place among family and friends?
Fans of The Black Knight Chronicles, The Tome of Bill, and Fred, the Vampire Accountant will love this series!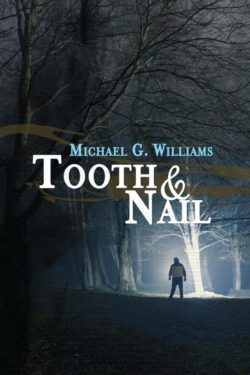 Tooth & Nail
Word Count: Information not available
Summary:
Durham, North Carolina has industry, commerce, fine universities, a world-famous baseball team, technopagans, vampires, and its very first superhero and supervillain.
As Withrow Surrett, self-declared vampire lord of North Carolina, digs in to see what's up in his own back yard, two mortals - The Bull's Eye and El Diablo - make headlines fighting crimes and committing them. With the help of friends old and new, Withrow has to track down both hero and villain before his city decides to go looking for even weirder things that go bump in the night!
The fists fly fast and furious in the third installment of this vampire and urban fantasy series, perfect for fans of Rick Gualtieri, Jeff Strand, or Christopher Moore.
Deal with the Devil
Word Count: Information not available
Summary:
Withrow Surrett, cantankerous vampire lord of North Carolina, is passing the long winter nights of the off-season in the sleepy resort town of Sunset Beach. When the nights are long and humanity slumbers, where else would a vampire go but the beach? This is no mere vacation for Withrow and his cousin Roderick, though. They're hunting down a nest of nasty elder vampires who want to take over the world!
Of course it's not that simple, because for Withrow nothing ever is. Withrow and Roderick - and their team of frienemies, rivals, and allies - soon learn there are stranger things afoot than vampiric machinations among the dunes of Sunset Beach: mysterious mortals, twisted sorceries, and fleeting apparitions. Through sabotage, espionage, and bare-knuckled brutality Withrow must find and stop the elder vampires before they play the ace up their sleeve!
Kick back in the sand with the fourth installment of this vampire and urban fantasy series, perfect for fans of Rick Gualtieri, Jeff Strand, or Christopher Moore.
Attempted Immortality