Fantasy tales that either derive from existing fairy tale stories or folklore, or have a fairy tale quality to them. Return to general Fantasy
Note: these books are currently sorted by release date, with newest first.
Word Count: Information not available
Summary: The world is wide and full of wonders Fleeing her country in order to save it, Princess Jade of Sharren discovers a greater threat. SONG OF JADE: RED WOLF is a standalone DRAGON AGE prequel to the WOODSPELL SERIES and one of the TALES OF ARDONNA. Content Advisory: Contains adult themes and situations and spoilers for River's Roar
Song of Jade: Red Wolf
Word Count:

34000
Summary: Dwyn is a young man in the small, isolated northern town of Manicouga, son of the Minstor, and betrothed to marry the beautiful Kessa in a few weeks. Mael is shepherding the remains of his own people from Land's End, a village farther north, chased out by a terrible storm that destroyed the town. Both are trying to find their way in a post-apocalyptic world. When they meet, their love may change the course of history.
The Great North
SALE
Word Count:

12000
Summary: If The Little Mermaid were set in the twenty-second century... In the aftermath of climate change, humans have abandoned the flooded coasts. Underwater, people of another kind struggle to rehabilitate the polluted seas. After one rescues a human engineer, she realizes he might hold the key. If she can learn how to interact with the world like a human, if she can understand them, if she can become enough like them, maybe they will help. Maybe he will help. But to reach him, she may need to sacrifice who she is...
Voice of the Sea
Word Count: Information not available
Summary: What happens when a Highland witch falls for the Loch Ness Monster? When Cam Walker, the last remaining Witch of the Highlands, heads to Loch Ness to investigate a potentially dangerous monster, the last thing he expects is to wind up working with that monster… let alone be attracted to him. But the friendly, cheerful Lachlan is hard to resist, and turns out to be a powerful ally in the hunt for the real monster behind the killings around Loch Ness… M/M paranormal romance with a sweet relationship and medium spice. This novella is the first in a trilogy following the same characters: it has a HFN conclusion and NO cliff-hanger!
Finding Nessie
Word Count:

11500
Summary: A dark fairy tale in a modern Greek setting. Hiding in the mountains, a harpy and her adopted daughter struggle to survive. Iphis has always known that survival comes hand in hand with loneliness, but when she catches feelings for a girl in the nearby town, her heart yearns for a different kind of future. When she's suddenly attacked by a group of enraged harpies, things only become more complicated... and dangerous.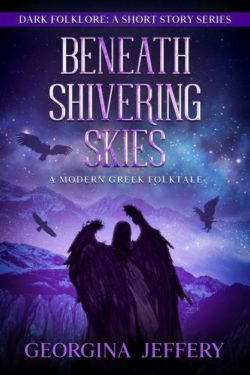 Beneath Shivering Skies
Word Count:

19936
Summary: Wyatt Calder is trapped -- in a rundown neighborhood, in a dead-end job, by the endless string of trouble his brother drags to their door -- and it seems he's destined to slowly fade away within the aging walls of Picket House, longing for his best friend's cousin. That is until his upstairs neighbor Abel Walters dies on the staircase just outside Wyatt's door. Saalik has spent most of his existence asleep and waiting for the next person to discover his bottle and claim their wishes. And the last four years playing prized possession to Abel Walters and spying on the downstairs neighbors. But he has a plan. And, like every plan worth planning, it has taken patience. But if life as a Jinn has taught Saalik nothing else, it's taught him that. When a break-in sends Wyatt out his second-story bedroom window and into his dead upstairs neighbor's apartment, he finds more than a place to hide. He discovers a magical solution to all his troubles. Or does he? Because really, when is life ever that simple?
Smoke
Word Count:

18619
Summary: Varon Cambeul has made it to the top: Royal Magician of the Kingdom of Lothia, at the right hand of the King, who is his lover. He has always kept the promise he made to his mother and his apprenticeship master: he has used his magic for good. This promise is tested when the King asks him to make a curse, a curse that will be cured by the King and so everyone will love him. Helping the King is using his magic for good, right? But, is Varon doing this because he has fallen in love with the King? What about those who will suffer from the curse and slowly transformed into ghosts, people like Theo and Russell in the town where the curse is released? Can Varon undo this great wrong? Can he save Theo and Russell and the others as they turn invisible? How can he love someone who is not doing good?
Susurrus
Word Count:

443
Summary: Dive into this collected edition of the first three volumes of The Darkly Enchanted Romance series. Sweet and sultry historical romances with just the right amount of spookiness! ~ THE HARVEST MOON In the shadows of late autumn, Malcolm comes across a quaint village tucked away in the forest. It seems the perfect spot for a weary traveller to lay his head, and maybe find a little company. But there is dark magic afoot, and lots of local gossip swirls around the seductive titian-haired weaver, Daniel. All Malcolm sought was a night's pleasure. He never suspected he would have to worry about losing his life. Or his heart. THE GHOST OF HILLCOMB HALL On a stormy night, landscape designer Jonas arrives at the cheerless and fog enswathed Hillcomb Hall. He finds an odd trio of ladies in residence and an eerie portrait of the hauntingly attractive portrait of a stately ancestor, which constantly seems to watch his every move. His nights are filled with weird dreams and otherworldly visitations. Is the manor house truly haunted? Or is it all just a trick of the mind, a sinister game being played by the inhabitants of Hillcomb Hall? MANCHESTER LAKE Monty, along with his best friend Bishop, discovers a mystical selkie in Manchester Lake who transforms into a gorgeous man of his dreams. Together they adventure through a tastefully debauched house party, an Edwardian novelty called a "night club," and a macabre Parisian cabaret. As their journey unfolds, they come face-to-face with ghoulish agents of the occult as well as startling discoveries - including Monty's realization that he is falling for the beautiful creature from the lake. Can he really be in love so soon, or is there a past connection? And what does it all have to do with his past trip to Paris? Before their adventure ends long-hidden secrets will erupt in a storm of magic and passion!
The Darkly Enchanted Omnibus
Word Count:

97000
Summary: The seas spell freedom. Pirates and kraken, boats and submarines, deadly sirens, mermaids, and the women who face them all. These are our heroes. High seas adventure, fantasy, and magic weave together in this sapphic anthology focusing on the joy of the unbounded oceans. If you like diverse stories with lesbian and sapphic heroines exploring oceans, battling sea monsters, and seducing pirates, buy Farther Reefs today! With stories by: Sarah Day and Tim Pratt, Kim Pritekel, Kyoko M. Sara Codair, William C. Tracy, N.L. Bates, Robin C.M. Duncan, Vanessa Ricci-Thode, Margaret Adelle, and J.S. Fields Genres: Science Fiction / Fantasy / Adventure / Lesbian / LGBT and Non Binary Market: Adult
Farther Reefs
Word Count:

33000
Summary: Clarity (noun) Four definitions to inspire writers around the world and an unlimited number of possible stories to tell: 1) Coherent and intelligible 2) Transparent or pure 3) Attaining certainty about something 4) Easy to see or hear Clarity features 300-word speculative flash fiction stories from across the rainbow spectrum, from the minds of the writers of Queer Sci Fi.
Clarity
Word Count:

28985
Summary: A collection of the "Brassbright Kids" stories PLUS a brand-new novelette! The Steamkettle Kids Save the Day - Can Paisley Pockets and Christopher Cogan stop a crime in progress? They may be just a couple of kids, but where there's a will and some smarts, there just might be a way. The Legend of The Engineer - In a country called Industralia, children listen to a New Year's story about Frostica, the Engineer, and a magical train. A Life Invented - Gerard Liddle tinkers with his very first inventions - which sometimes work, and sometimes do unexpected things. The Steamkettle Kids and the Lucky Tentacles - After a hurricane shakes up Steamkettle Bay, Paisley Pockets, Christopher Cogan and Jimmy Cupper have an adventure as big as the sea. ~ NEW ~ The Secret of Tarragon Alley - Robin dreams of having a garden filled with flowers, just like Gramma did. When he brings home a little clay pot filled with gnarly, weird plants, he has no idea that it will take him on an amazing adventure.
Full Steam Ahead
Word Count: Information not available
Summary: His love is locked inside an enigma. Can he solve the mystery to make himself a home? A hidden kingdom. The 18th century. Alden grew weary of battle long ago. And now the honorable soldier seeks to put the horrors of war behind him to settle in a land of peace and start a family. And while an attractive shopkeeper catches his eye, he finds himself caught up in the kingdom's greatest riddle: the twelve daughters of the king and queen vanish every night and reappear in the morning with their shoes worn out. Drawn to a shared passion for dancing as he spends more time with the woman of his dreams, Alden can't avoid a growing involvement with the land's enchanted magic. And as he does so, he starts to realize that the alluring woman he's falling for may hold the key to answering the perplexing mystery. Can Alden unravel a magical entanglement and find his way to happily ever after? Twelve is a charming fairy tale retelling. If you like upstanding heroes, picturesque romance, and delightful surprises, then you'll adore Joan Marie Verba's heartwarming story. Read Twelve to expose the realm's enchanting secrets today!
Twelve
Word Count:

11500
Summary: A dark fairy tale in a modern Welsh setting. The lives of a diver and a reclusive mermaid collide. Will one be the death of the other? When Erin comes to the aid of a sea creature caught in fishing nets, she's shocked to discover she's rescued an injured mermaid. Though it quickly disappears, Erin is determined to find the creature again. A twist of circumstance finds her trapped in the mermaid's lair, wrestling with her own conscience and the instinct to survive... This is a standalone novelette of about 11,500 words, and is the third installment in the Dark Folklore series.
Across Screaming Seas
Word Count: Information not available
Summary: There are creatures lurking in our world. Obscure creatures long relegated to myth and legend. They have been sighted by a lucky-or unlucky-few, some have even been photographed, but their existence remains unproven and unrecognized by the scientific community. These creatures, long thought gone, have somehow survived; creatures from our nightmares haunting the dark places. They swim in our lakes and bays, they soar the night skies, they hunt in the woods. Some are from our past, and some from other worlds, and others that have always been with us-watching us, fearing us, hunting us. These are the cryptids, and Systema Paradoxa tells their tales. *** Life and Death and Family Secrets... Sheridan Cascaden faces more than memories when she receives a call in the darkest hours summoning her home. Sent away five years prior to safeguard her from the evil that claimed her mother, Sheridan hasn't been back since. She returns to find her home in a disturbing state and her father straddling the Veil, with no explanation of what happened. Not only must she deal with her own demons, but she will have to delve into his if she is to unlock the mystery and save Papa's life. But where lies the line between truth and madness among the shifting shadows? And can Sheridan navigate it before it's too late... for both of them?
The Play of Light
Word Count:

8700
Summary: A dark fairy tale in a modern Norwegian setting. Ida, a young girl grieving the loss of her mother, is wandering in the snowy wilderness when she meets the mysterious Maja - a huldra from myth and legend. Taking comfort in Maja's kind arms, Ida makes a desperate wish for her family to be whole again... and gets far more than she bargained for. With her own home turned against her, Ida must race across the wild valley to save her Pappa and confront the huldra before time runs out.
Beyond Thundering Waters
Word Count: Information not available
Summary: When Joan's husband dies, she is forced to move with her young son, Joey, from home to home. But at each home, an evil follows, forcing Joan and Joey to move again and again, hunted. They never know why they're being hunted. All they can do is run away from the constant threat until, hopefully, it gives up the chase … or they find a savior who can either end it, or help them to fight it forever.
Widow
Word Count:

93765
Summary: Home, a place where we belong and are safe and loved. Home, the house in which we grew up, a neighborhood, a culture, even a country. Home is a state of mind, it is a place of the heart, and in the heart. Finding home, coming home, and bringing home the one we love is a journey, a journey that can be a dangerous adventure. For the lovers in these stories, adventures can include quests and fighting dragons and demons, past and present, physical as well as mental and emotional. Rocket launchers need to be dodged, the Wild Hunt needs to be outrun. For some of the lovers here, home has been lost, or they have been forced to leave, as is too common for LGBT+ youth. In this collection queer positive speculative fiction stories, explore the idea of what and where home is in the lives of these lovers. Will they survive their quests, defeat their monsters? Will they find a place to call home?  
To Bring Him Home and Other Tales
Word Count:

36000
Summary: INK (NOUN) Five definitions to inspire writers around the world and an unlimited number of possible stories to tell: 1) A colored fluid used for writing 2) The action of signing a deal 3) A black liquid ejected by squid 4) Publicity in the written media 5) A slang word for tattoos Ink features 300-word speculative flash fiction stories from across the rainbow spectrum, from the minds of the writers of Queer Sci Fi.
Ink
Word Count:

132,000
Summary: Rules were made to be broken. From terraformed outposts to magical realms, journey to worlds where deadly plants, rampant biodiversity, or failed colonies have created irresistible opportunities for those brave enough to seize them. New worlds, found family, mystical secrets, and deadly science weave together in this lesbian-centric anthology focusing on a very different kind of first time—a first encounter with a world, or being, entirely unlike our own. If you like diverse stories with lesbian heroines practicing science, magic, and seduction, buy Distant Gardens today!
Distant Gardens
N.L. Bates , Sara Codair , Robin C.M. Duncan , Wil...
Word Count:

88,500
Summary: When secrets and lies threaten the throne, can a fierce champion tame her passion in time to stop a cruel enemy's ruthless march? Viking Warrior Princess Lena craves revenge. Hunting a killer after her husband is brutally slain, she discovers a shadowy traitor is at play behind the scenes, working to disrupt the balance of power. Placing her need for vengeance on hold when the king falls gravely ill, Lena leads an expedition to locate a fabled healer across a treacherous sea. Caitlin had been snatched from her home in Eire and sold into slavery. She prayed for a means of escape, and in storms Lena to her rescue. She is grateful, but realizes her feelings for Lena run far deeper. Mighty warrior Gunnar is loyal to the core. But when his lord orders him to sabotage the princess's royal mission, he's plagued by doubt, uncertain he's fighting for the right side. Beset by a plethora of dangers and delays, Lena battles foes on every front, even within her own heart as her love for Caitlin grows. Gunnar must choose between honor and fealty, but in the end, will a traitor's blade end all their lives? Viking Quest is a breathtaking historical fantasy novel. If you like principled characters, battles of conscience, and tender F/F romance, then you'll love Edale Lane's action-packed epic. Buy Viking Quest to destroy a fearsome foe today!
Viking Quest