Sci fi stories that adhere closely to science and logic. Return to general Sci Fi
Note: these books are currently sorted by release date, with newest first.
Word Count:

93000
Summary: To resuscitate his fading celebrity, tech CEO Stephen Lucas would sell his soul for one more hit. When the subspace network for his holographic gaming empire crashes, his hardware guru makes a discovery proving that Einstein was right once again—information can be sent into the past. They accidently created a simple time machine. In a culture built on instant gratification, Lucas is sure he's stumbled upon the next big thing,  the game-changer that will make Wall Street give him the accolades he craves—a device that makes instant delivery possible. Want a pizza now? Send your order back in time 30 minutes. Forgot to make reservations at that chichi french restaurant two weeks ago? No worries now you can make purchases of anything in the past and have it appear when you want it—now. So, buy last weeks PowerBall ticket. Invest in that stock you wish you bought last year. Share a FaceTime call with a loved one that passed away last month. Finally time really is on your side. A time machine for the rest of us. But when he rushes into beta testing, he learns that the stuff dreams are made of can quickly become the stuff of nightmares. It turns out Move Fast and Break Things is terrible policy when developing a time machine.
The Dent in the Universe
Word Count:

125000
Summary: Is Leif really lucky?  Stranded in orbit, viewing a destroyed civilization on Earth through the screens of a starship almost out of fuel and food, he doesn't feel that way. It wasn't supposed to be like that. As the starship Dauntless returns from a successful mission to the planet called Heaven, Earth holds no attractions for Exoplanetary Scout Leif Grettison.  He wants only to complete the mission and leave for another star, along with ace pilot Yang Yong.  In fact, he would be happy spending the rest of his life flying the starways with her. But they and the rest of the ship's skeleton crew awaken from hibernation to find Earth's solar system dark and silent—no signals, no responses to their transmissions. When they make orbit, the magnitude of the disaster becomes clear: An apocalyptic war has killed billions and destroyed every last source of power and tech that 22nd-Century humans relied on to survive. Getting down to Earth is only the beginning of Leif's problems.  Those few who survived the apocalypse are still divided, fighting over what's left. The disastrous re-entry to Earth leaves him with no resources or allies. He lands in the middle of a makeshift family that needs him more than he's comfortable with and hears stories—even nursery rhymes—that speak of a lucky starman.  For once, he's the only person with tech—but if he's caught using it, they might kill him. Can a man back from the stars end the warfare on Earth, or will he make it worse?  Can he save a family that might become his?  Is he everyone's lucky starman?
The Lucky Starman
Word Count:

109,000
Summary: Time is running out for planet Earth. An insidious Martian plague has been infecting the planet for over twenty years, and has resisted all human efforts to eradicate it. With all life on Earth facing extinction, the only solution left is to directly access a specific piece of Martian technology. But, according to diaries left behind by Ogilvy the astronomer, the Martians have hidden it at the lake on the moon. In 1945, three rockets converted from Martian cylinders take off on the vital lunar mission, and amongst the crew is Ogilvy's nephew, Jack Stent. Will the astronauts locate the Martian shadow-weapon, thought to hold the desperately needed cure for Marseria? Can it really be used to instigate another timeline on Earth so that mankind can survive? The stakes are high and so is the risk of contact and conflict with Martians. Nearly two hundred years later, at a scientific colony on Mars, a shocking discovery is made about Jack Stent, and Ogilvy's Martian diaries are once again pivotal to human survival and the continuation of life on Earth. Gateway To Mars is the third volume of The Martian Diaries series that continues the classic H.G. Wells Mars novel in a compelling, unmissable action adventure. If you're a fan of The War Of The Worlds you won't want to miss this story of survival, despair and hope, that brings the original tale full circle. Get your copy today! What readers have said: "A really well written, excellent continuation of the story and a truly brilliant tribute to HG Wells! I do recommend!" "An excellent third part to this incredible series!" "Boy this was a good book! I love the writing style... it's very true to the original story."
The Martian Diaries: Vol.3 Gateway To Mars
Word Count:

33000
Summary: Clarity (noun) Four definitions to inspire writers around the world and an unlimited number of possible stories to tell: 1) Coherent and intelligible 2) Transparent or pure 3) Attaining certainty about something 4) Easy to see or hear Clarity features 300-word speculative flash fiction stories from across the rainbow spectrum, from the minds of the writers of Queer Sci Fi.
Clarity
Word Count:

100,000
Summary: Lida was their last chance for an uncolonized planet. But a world-spanning fungus had colonized it first. Agetha and her husband have spent their whole lives in the fleet's zero-G. Now all is turmoil as the fleet lands, discovering they are surrounded by a single fungal biomass spanning the entire planet. To build a new home, the fleet must confront a dangerous organism, and Agetha must decide if she can raise a family in this inhospitable landscape. Jane Brighton holds tenuous command over the colony and its administrators. She and the other gene-modded leaders emerged from their four-hundred-year suspended animation to find a crew much different from the one that departed Old Earth. Jane must direct the colony's fragile growth and defend it against being overrun by the fast-growing biomass. But there is something none of the colonists know. The massive organism that spans the planet is not simply a fungal mass, nor even a chimerical combination of species that once roamed the planet. The biomass has desires and goals, and one is to know these strange beings carving out a home in its midst. Download today to read of the colony's fate in Of Mycelium and Men! Genres: Space Opera / Science Fiction / Colonization / Alien Contact / LGBT / Non Binary / Trans Market: Adult
Of Mycelium and Men
Word Count:

95000
Summary: Feared by her own kind. Hunted by extraterrestrial forces. Can one super soldier find her place among the stars? Lieutenant Tabitha Chiu is plagued by doubt and conflict. Still heartbroken over the loss of her AI companion and marooned on a faraway moon, the space marine and her ragtag team of super-powered civilians stand as the last line of defense against alien hunters. But when her powers pick up whispered threats of approaching invaders, she's horrified to discover her own people have betrayed her squad. Barely escaping assassination, Tabitha and her fellow psionics flee the hateful moon to the sanctuary of a single surviving combat ship where she hopes to reunite with her AI friend. But when her newly resurrected acquaintance hijacks the craft, the nonbinary fighter is torn between protecting those she loves best and saving humanity from annihilation. Can this conflicted officer and her misfit allies defeat a formidable enemy intent on driving them to extinction? Amp Squad is the electrifying second book in the Ship Whisperer military science fiction series. If you like strong LGBTQ+ characters, unusual weaponry, and fearsome space battles, then you'll love this pulse-pounding story. Buy Amp Squad to launch into a gut-wrenching thrill ride today!
Amp Squad
Word Count:

110725
Summary: 133 years. Time is up. Lead Engineer Tara and her partner Sasha face the coming end of the facility generator. For generations It has served thousands of people who have been hiding underground from the ravages of the war, and the lingering Enemy above. Up and down the Grand Elevator, though the entire facility, every resident's life will be shaken when the generator sparks its last amp. The Great Actual, the anarchistic Citizens, and all of the regressed sub-societies in between will have to face the unknowns of the surface. Old fears will pale against new circumstances beyond their imagination, and new attention brings judgment upon all.
Rubberman's Exodus
Word Count:

100000
Summary: They say, "Never work with androids or children." Quirk had one job to do, deliver papers to a Milan mafia boss, before leaving Earth for his home in the asteroids. But that was before being tailed, poisoned—oh, yes—and hijacked into raising foulmouthed fourteen-year-old convent girl Angelika Moratti, aka Moth, who'd rather see him asphyxiate in space. Fleeing assassins, Quirk, Moth and her syRen® android S-0778 ride the space elevator to the Moon, where Quirk hires on to hunt an ex-terra-former who somehow used an android to murder his doctor. But which android of the two hundred under Lunaville's dome? The trail of bodies grows, time is running out; the only way they can save the dome and the two thousand souls beneath it is to solve The Mandroid Murders. Genres: Science Fiction / Thriller / Mystery / Adventure / LGBT and Non Binary Market: Adult
The Mandroid Murders
Word Count: Information not available
Summary: Nothing is new under another sun. Not even murder. This mission should be simple. Exoplanetary scout Leif Grettison and ace pilot Yang Yong are off to deliver a load of supplies and reinforcing settlers to a recently colonized planet. It's as routine as a starflight can be. Famous last words. Something is wrong with the colonists. They are astonishingly ill-suited for the task of settling a new world. The planet, too, is a poor place to plant a town for humans. Even if everything goes right, the colony might not survive. Then one of the colonists is found dead. Murder is a possibility. Not long after, another one dies—and this time, it's definitely murder. In a world with only two hundred people, there's at least one killer. Meanwhile, the colony's new leader has a plan—but Leif has doubts. Will this man save the settlement, or use his power to become a dictator? Leif and Yong's mission is clear: they must leave the colony in shape to survive. Leif is a retired soldier, not a detective, and when it comes to investigating a crime, he doesn't have a clue. Literally. Still, it falls to him to follow the evidence and find the killer. He also needs to deal with the leader and the leader's plan. If Leif fails, the only mystery may be how long it will take for everyone to die.
Murder Under Another Sun
Word Count:

130000
Summary: Life after the Crash. Over a century after the end of the Earth, life goes on in Redemption, the sole remaining Lunar colony, and possibly the last outpost of humankind in the Solar System. But with an existential threat burrowing its way into the Moon's core, humanity must recolonize the homeworld. Twenty brave dropnauts set off on a mission to explore the empty planet. Four of them—Rai, Hera, Ghost and Tien—have trained for two-and-a-half years for the Return. They're bound for Martinez Base, just outside the Old Earth city of San Francisco. But what awaits them there will turn their assumptions upside down—and in the process, either save or destroy what's left of humanity.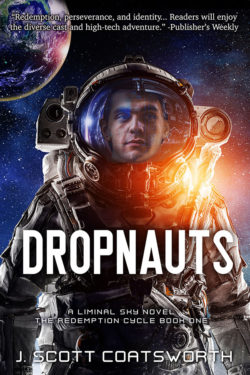 Dropnauts
Word Count:

78,500
Summary: In the 23rd century, spaceships just don't go missing. FBI agent Ray Volk is assigned to a task force to investigate a tragic accident: the disappearance of interplanetary passenger liner ValuTrip Cardinal, carrying 500 souls between Mars and Earth on a routine run. What looks like a cut-and-dried case of pressure loss is complicated by the arrival of a Martian Captain. A very cute Martian Captain who keeps sticking his nose in Ray's investigation. Martian exchange student Kelly Rack knows the disappearance is no accident. She survived the ships' hijacking, but learns the former cruise entertainer leading the pirates has plans for the passengers, and they don't include sightseeing. Kelly has avoided the murderous pirates, except now an off-duty Earth Commander insists on organizing resistance for the passengers. She forces Kelly to climb through service tunnels on sabotage runs, risking capture and death. Can Ray shake down the right accomplices to capture the good ship ValuTrip Cardinal before its new captain spaces everyone on board? Will Kelly discover the pirates' hidden plans for their prisoners? The race is on, because One of Our Spaceships is Missing! Genres: Space Opera / Military Sci-Fi / Science Fiction / LGBT and Non Binary Market: Adult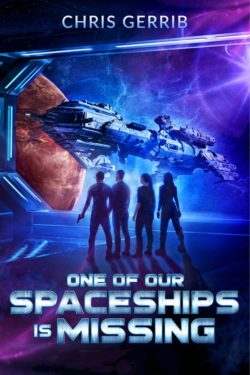 One of Our Spaceships is Missing
Word Count: Information not available
Summary: Hawk's people need the truth to survive. The Protected only care about saving themselves. Having traveled the world to find a cure for a city-wide malady, Hawk is anxious about his return home. Although facing a death sentence, he believes the medicine he's brought can save his city from extinction. But when he and the captain start behaving oddly, the crew suspects a hybrid is pulling the strings in Rocan, altering people's perceptions, and even occluding the cause of the malady itself. Hawk's resistance to the altered reality raises red flags among the Protected, a group of humans living in a neighboring realm that relies on Rocan to exist. The Protected also want the cure, and they plan to steal it. Exposing the Protected could collapse the walls of the city, killing everyone in Rocan. Can Hawk fight the control of the Protected to save himself, his family, and his city? Occlusion is the final installment of the New Dawn space opera series. If you enjoy found family stories, psychic powers blended with technology, you'll love this riveting, multi-realm space opera.
Occlusion
Word Count: Information not available
Summary: Seasoned, strange, and dangerously clever Some invitations are impossible to refuse. When Ajay and Kylie are invited to a dinner party hosted by one of the wealthiest women around, Ajay sees it as an opportunity to dig into her past. He needs to find what shady business she's been up to and how dangerous she really is. Never mind that she's Kylie's grandmother. What starts out as a dinner party turns quickly to trouble when a guest is murdered. Was the killer the billionaire socialite, the odd chef, or one of the other guests? Ajay needs to cut through the complex connections between the reluctant guests, because one of them is a killer–but they aren't the only one. Too old to learn decent manners? Maybe. Too old to solve a murder? Not this grandfather.
Grandfather-Guardian
Word Count:

107000
Summary: As the Oort Federation becomes a major force in the Solar System, Braxton Thorpe passes the Federation chairmanship to former US President John Butler. Thorpe's group offers humanity virtual immortality, but Isidor Orlov and his Udachny Enterprises oppose their every move. While terraforming Mars for more living space, the Mars Reds prove formidable as resisters. If the Asterian starship fighter pilots are released, will they align with Phoenix or Udachny, and who will develop the right FTL technology? In this tense space adventure, Thorpe, his team, and Max the tabby cat travel to Proxima Centauri and beyond to the Aster system, 84 lightyears distant. Will Thorpe bring together humans and Asterians in their quest for intergalactic travel? Will long life prove more than mere humans can handle?
The Oort Federation: To the Stars
Word Count:

50000
Summary: Fourteen-year-old Samantha spends her days exploring the shallow reef behind her island home. With her world locked in a battle against rising seas, scientists deploy genetically modified corals to rebuild reefs and protect the coastline. No one expects the reefs to be a hotbed of evolution, but they are. When an octopus flows off a rock in her lagoon, Samantha is startled. When he purposefully arranges pieces of coral on the sand, trying to communicate, she is shocked. How she responds may determine the fate of life on Earth. The year is 2045, and fourteen-year-old Samantha lives in a world where ocean levels are rising, destroying coastal cities and swallowing islands. Millions of displaced people are homeless. The planet is in a climate tailspin that threatens civilization. Researchers deployed genetically modified corals that can grow in warmer waters. They aimed to sequester carbon dioxide and stabilize the climate. The successful project produced an extensive barrier reef system along the coasts of Georgia and Florida. Samantha lives on a research island off the coast of Georgia with her scientist parents. She becomes obsessed with the ocean, spending all her time exploring the reef. One day, she encounters an octopus attempting to communicate with her. The story dives deep into an exploration of species' intelligence and the quest to save the planet.
Charlie's Story
Word Count: Information not available
Summary: Retired, reclusive, and too smart to die. Hacker Ajay Andersen knows his retirement isn't always going to be sunshine and roses. He's committed to protecting those he loves, and sometimes that's not going to be easy. But things get complicated fast when he finds Silas Cardoso's body in his living room. An environmentalist entrepreneur threatens the very wilderness he once protected. Mercenaries hold information that could endanger Ajay's granddaughter Kylie. If he's going to make things right, Ajay will need to venture somewhere he never wants to go during the harsh Minnesota winter: Outside. Too old to race a snowmobile through a dense forest? Maybe. Too old to be a pain in the butt? Not this Grandfather.
Grandfather Ghost
Word Count: Information not available
Summary: Our visions of the future - whether dark or hopeful, thrilling or mundane - have always challenged us to examine our world. How can we improve? What challenges will we face? Are we even ready? Top Science Fiction authors, collectively holding 25 Hugo, Nebula, Locus, and Sturgeon awards (a few for Vital stories!), employ the power of engaging fiction to explore these questions and today's most critical issues in medicine. But Vital doesn't stop at speculation. Proceeds will be donated to the COVID-19 Solidarity Response Fund for the World Health Organization, the global guardian of public health, coordinating the worldwide pandemic response. Read on to build a better future of Healthcare! Featuring stories by Paolo Bacigalupi, David Brin, Tananarive Due, Sally Wiener Grotta, Congyun ("Mu Ming") Gu, James Patrick Kelly, Justin C. Key, Seanan McGuire, Annalee Newitz, Julie Nováková, Lola Robles, Eric Schwitzgebel, Alex Shvartsman, Caroline M. Yoachim Edited by RM Ambrose
Vital: The Future of Healthcare
RM Ambrose , Paolo Bacigalupi , David Brin , Tanan...
Word Count:

45000
Summary: Tangents & Tachyons is Scott's second anthology - six sci fi and sci-fantasy shorts that run the gamut from time travel to hopepunk and retro spec fic: Eventide: Tanner Black awakes to find himself in his own study, staring out the window at the end of the Universe. But who brought him there, and why? Chinatown: Deryn lives in an old San Francisco department store with his girlfriend Gracie, and scrapes by with his talent as a dreamcaster for the Chinese overlords. But what if a dream could change the world? Across the Transom: What if someone or something took over your body on an urgent mission to save your world? Pareidolia: Simon's not like other college kids. His mind can rearrange random patterns to reveal the images lurking inside. But where did his strange gift come from? And what if there are others like him out there too? Lamplighter: Fen has a crush on his friend Lewin, who's in a competing guild. But when the world goes dark, only a little illumination can save it. And only Fen, Lewin and their friend Alissa can light the spark. A Liminal Sky short. Prolepsis: Sean is the closeted twenty-five-year-old editor of an 80's sci-fi 'zine called Prolepsis. When an unabashedly queer story arrives from a mysterious writer, it blows open Sean's closet door, and offers him the chance to change the world - and the future. Plus two flash fiction stories – The System and The Frog Prince, never before published. This is the first time all of these stories have all been collected in one place.
Tangents & Tachyons
Word Count: Information not available
Summary: Their connection was immediate. Was it destined or pre-programmed? Kenner Ford is trying not to panic. After his beautiful girlfriend suddenly disappeared from Beijing, he hops on a ballistic rocket to New York to begin a global search. And after a whirlwind romance filled with passionate sex and unsurpassed creativity, he's distraught to think she's gone forever. When warnings about Chinese intrusions get a cyberwarfare guru killed, Kenner and his missing lover become embroiled in a worldwide conflict. And after he learns they've both been surveilled for years by ambitious AIs, the troubled man flees from a deadly assassin while terrified for his woman's life… Can he reunite with his dream girl before they're permanently deleted? Control Theory is a thrilling science fiction romance. If you like compelling visions of the future, the evolution of advanced technology, and a sexy love story, then you'll adore Timothy Bult's futuristic roller coaster.
Control Theory
Word Count:

85000
Summary: When Tabitha first whispered to the ship, she never expected it to answer. A pilot yearning for adventure, Tabitha proudly flies missions scavenging supplies for her space-borne city. But when the Navicorp sends her to scavenge a derelict ship, it triggers a psychic link to the ship and the alien enemy that drove her people from their home planet. The unexpected connection puts Tabitha and her people in the crosshairs of the telepathic invaders who are determined to exterminate the human race. Her rapidly evolving ability to communicate with the alien ship unlocks a chain of secrets about her past that shakes her identity. The Captain's eagerness to push her into danger challenges her loyalty. Can she use her new ability to save them? Will they turn on her and leave her at the mercy of the aliens? If you love technopaths, psychics, AI friends, and thrilling heroics, you'll love this military sci-fi adventure. Pick up this page-turner today.
Ship Whisperer