Fantasy stories that involve a bit of romance. Return to general Fantasy
Note: these books are currently sorted by release date, with newest first.
Word Count:

18619
Summary: Varon Cambeul has made it to the top: Royal Magician of the Kingdom of Lothia, at the right hand of the King, who is his lover. He has always kept the promise he made to his mother and his apprenticeship master: he has used his magic for good. This promise is tested when the King asks him to make a curse, a curse that will be cured by the King and so everyone will love him. Helping the King is using his magic for good, right? But, is Varon doing this because he has fallen in love with the King? What about those who will suffer from the curse and slowly transformed into ghosts, people like Theo and Russell in the town where the curse is released? Can Varon undo this great wrong? Can he save Theo and Russell and the others as they turn invisible? How can he love someone who is not doing good?
Susurrus
Word Count:

370000
Summary: The Small Things trilogy omnibus contains all three books in the Small Things trilogy (Small Things, Threads, A Pattern of Shadows,) a previously-published short story (Smoke), a brand new story (Dowd) and a never-before-published Small Things novella, Sundown Rising. The stories are presented in the order in which they are meant to be read. The Small Things trilogy omnibus totals 1,450 pages/370,000 words and includes all covers, artwork, and a few surprises as well! Small Things: It's a hot June morning in a small Midwestern town when fifteen-year-old Shawn Spencer arrives at the church for his best friend Tanner's funeral. Though his drowning was officially ruled an accident, Tanner's sister Jenny swears she saw something rise up from the Carthage Lake to pull the struggling teenager beneath the surface. Shawn doesn't believe in monsters… but he will…The real threat, however, lies in the man behind the monster, a mysterious old man who has vowed to settle an old grudge and regain something that was stolen from him decades earlier. To survive the dark days and nights ahead, Shawn must not only decipher what the man is after, he must move past his own grief, fears, and insecurities, and learn to trust in Jenny, the disgraced town sheriff, and, most importantly, in himself. A small town horror, fantasy, paranormal, and coming of age romance. The Small Things trilogy spans forty years and three generations in a tale of murder, betrayal, corruption, sacrifice, love, redemption, faith and magic that culminates in a showdown that will pit the very forces of heaven and hell against Shawn and his family in a battle for the future of mankind and the world itself. Sundown Rising: When Shawn and Jenny decide to visit a traveling carnival, will they find more than they bargained for? And why are Mr. Kingfisher and Mr. Quarry in town? Threads: History is changing around nineteen-year-old Ben Spencer, and he's powerless to stop it. His sister has disappeared, his family thinks he's schizophrenic, and, worse yet, the girl he's madly in love with won't give him the time of day. Enter the mysterious Michael, who, years earlier, helped Ben's parents defeat a powerful sorcerer bent on destroying them and reclaiming a relic stolen from him years before. With Michael's help, Ben will travel back in time, to 1977, and attempt to set the past straight. But will he undo himself and the woman he loves in the process? Threads is a coming of age time travel adventure complete with murder and magic, and also a magical realism love story. The Small Things trilogy spans forty years and three generations in a tale of murder, betrayal, corruption, sacrifice, love, redemption, faith and magic that culminates in a showdown that will pit the very forces of heaven and hell against Ben and his family in a battle for the future of mankind and the world itself. Smoke: Can humans and ghosts work together to figure out what's behind deadly and destructive fires…when they can't even communicate? A Pattern of Shadows: Five years ago, the demon Azazel tricked Ben Spencer into giving him possession of his body. After countless frustrating and heartbreaking dead ends, Ben's family and his girlfriend Katy Ruskin have finally located him. Will their daring rescue attempt work, and will they be able to free Ben from the demon? And with Ben free, is everything truly over…or is it only just beginning? A Pattern of Shadows brings the Small Things trilogy to a stunning conclusion that pits Ben and Katy and their families against the very forces of heaven and hell itself in a battle that will decide the fate of humanity. Who will survive? Redemption: Can a former villain truly change his ways?
Small Things trilogy omnibus
Word Count:

97000
Summary: The seas spell freedom. Pirates and kraken, boats and submarines, deadly sirens, mermaids, and the women who face them all. These are our heroes. High seas adventure, fantasy, and magic weave together in this sapphic anthology focusing on the joy of the unbounded oceans. If you like diverse stories with lesbian and sapphic heroines exploring oceans, battling sea monsters, and seducing pirates, buy Farther Reefs today! With stories by: Sarah Day and Tim Pratt, Kim Pritekel, Kyoko M. Sara Codair, William C. Tracy, N.L. Bates, Robin C.M. Duncan, Vanessa Ricci-Thode, Margaret Adelle, and J.S. Fields Genres: Science Fiction / Fantasy / Adventure / Lesbian / LGBT and Non Binary Market: Adult
Farther Reefs
Word Count:

33000
Summary: Clarity (noun) Four definitions to inspire writers around the world and an unlimited number of possible stories to tell: 1) Coherent and intelligible 2) Transparent or pure 3) Attaining certainty about something 4) Easy to see or hear Clarity features 300-word speculative flash fiction stories from across the rainbow spectrum, from the minds of the writers of Queer Sci Fi.
Clarity
Word Count:

101,085
Summary: Attracted by passion, repelled by war. Can two shieldmaidens navigate battlegrounds of the sword and the heart? Sigrid the Valiant is legendary throughout the kingdoms of Norvegr for her heroic deeds, but her love has yet to find a home. Now, racing on the heels of her father's murder, a neighboring kingdom's raids signal an all-out conflict. Elyn is a young shieldmaiden with a score to settle, fighting her own insecurities along with enemies who threaten her homeland. However, she suspects a more menacing danger lurks in the shadows. When the two clash on opposite sides of their shield walls, sparks fly from both their swords and passions. But when they talk, the fierce women discover an antagonist's plot has pitted their kingdoms against each other. Can Sigrid and Elyn move past their suspicions and differences to forge a binding love and foil the villain's scheme, or will the enemy's assassins end their search for the truth? Action, adventure, and intrigue ride together with romance in this enemies-to-lovers saga from the pre-Viking land of Norvegr. Award-winning, best-selling author Edale Lane brings history to life in this fast-paced sapphic novel. Grab your ax and rönd and join the quest!
Sigrid and Elyn
Word Count:

99000
Summary: Gavin Booker, a school librarian at Cooper Road Elementary, Raleigh, Northern Carolina, leads an orderly, normal life. Work, jogging, friends from work, his son every other weekend. Gavin is also a secret. He is a hybrid, or part-fairy, and in the Columbian Empire, hybrids are under an automatic death sentence. Magic is illegal. So is loving another man, another capital crime. Fairies are locked away in ghettoes, magical beasts, such as gryphons, unicorns, and pegasi are kept in zoos. The others, the tree and water spirits, the talking beasts, fauns, and the rest, are in hiding. This is the world in which Gavin grew up. He survived, thanks to his mother. He can never forget he is different: ministers preach against people like him constantly; hating the other is a part of every school's curriculum. But now, things are changing fast, and apparently, for the worst. Earthquakes, volcanoes, killer storms are all frequent occurrences. The medicine Gavin takes to suppress his body's glowing, isn't working. The spells cast by his doctor, a witch, are losing their power. If anyone finds out what Gavin is, he is dead. Under threat, the Empire always goes after its marginalized people. Can Gavin survive the coming catastrophe? Will he ever recover from losing the boys he loved? Can he find the fairy man who has haunted his dreams all his life before it is too late? Can his scarred heart ever heal?
In Light's Shadow
Word Count:

74000
Summary: Sometimes you have to fight fire with fire. Darien's ready for a quiet life— back to studying, sleeping with his ridiculously appealing necromancer, playing magical Fetch with his dog-familar. But breaking the demon portals was only a temporary solution, when there are sorcerers out there rebuilding them. Much as he'd like to shove the rest of the job on someone else, Darien's not willing to see his world burn. Silas is ready to turn the whole hunting-dark-sorcerers mess over to the Guild. Except he doesn't trust his council members as far as he can throw them, the sorcerer Chicago has sent sets his teeth on edge, and if they get it wrong, Darien's life is at risk. So with Grim at his side, and Pip encouraging Darien, they, Jasper, and Magda will take on one more hunt to find and stop the portal-builders.
Consumed by Fire
Word Count:

195000
Summary: Belonging can sometimes be Hell Jin is 17, pansexual, blue-haired, half-Korean and a lifelong outsider. His modus operandi, after years of neglect and chaos, is never belong, never attach, because both just bring pain. What he doesn't know, and mustn't, is if he does ever belong, his lust demon father will take him to Hell forever the day he turns 18. But when he moves to the remote Scottish town of Hammer Falls, where he shouldn't fit in at all, he finds being supernatural and queer aren't quite the barriers to belonging he'd hoped. As his lust demon blood begins to show and he grows ever closer to gorgeous part-angel demonstalker Nate, how long can Jin continue to convince himself he doesn't belong and isn't getting attached? Lust & Other Demons is the first in a trilogy containing a snarky, prickly half lust demon, hot demon hunters, werebears, angst, messy love and explicit MM sex. Books 2 & 3 also contain steamy MMM+ polyamory scenes as part of a key relationship. NOTE - These books are NOT suitable for younger readers or people likely to be offended by speculative views about religion.
Lust & Other Demons
Word Count:

110000
Summary: Mistakes were made. The future is uncertain. And Time doesn't care. As the story ends, we'll finally learn how it started. The world is breaking apart. Only the combined willpower of Hades and Hel can save it. But Love has other plans. Meanwhile, the gods need to deal with the outcomes of their choices; everyone else needs to survive them. And Psyche must finally face her greatest foe. Can free will cheat fate, or is fate the consequence of free will?
Anamnesis
Word Count:

73000
Summary: Vampires and werewolves live long lives. The Sleepless City saga might have ended but the story continues… Someone is hunting supernaturals.  Vampire Simon Hawthorne and his human partner Ben Leyton's plans for a peaceful holiday with family are hijacked by the New Zealand Supernatural Council. Tensions are on the rise in Wellington. Supernatural councillors are disappearing. Werewolves are suspicious of anyone human or vampire. If they don't work together, their enemy has already won. And no one with a connection to the supernatural world is safe.
Double Exposure
Word Count:

21,400
Summary: When do dreams become reality? Orin sells dandelion latex at a no-name market, barely scraping by. Mette is a princess. Maybe. What Orin does know is that for thirty seconds every night, Mette visits Orin in xir dreams. Orin has long since written the fancy ghost woman off as a recurring nightmare, but when Mette insists upon meeting in real life, Orin's inner world turns out to be more substantive than imaginary. Along with best friend Blathnaid, Orin embarks on a journey to discover the truth behind xir otherworldly connection--determined to free xir mind and finally get a good night's sleep. But it's an ancient, planetary magic that binds Orin to Mette, and Orin's dandelions may be their only chance to survive the separation. If you want a fun, queer romp through a sci-fi planet with magic and dragons (of a sort), download Awry with Dandelions today! Note: this book uses xie/xir pronouns for Orin. Genres: Space Opera / Science Fiction / Romance / LGBT Lesbian Non Binary Market: Adult and New Adult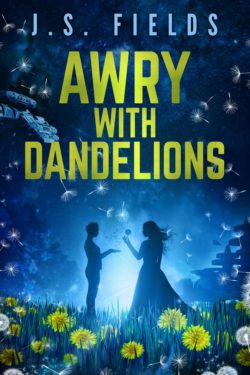 Awry With Dandelions
Word Count: Information not available
Summary: Welcome to the Fillery Hotel, home to the Bells and Balls Convention, and last stop for a runaway fairy prince and the grumpy demon hunter who loves him. Dick Slumber is a growly demon hunter with a three-legged cat he doesn't want and a secret he must keep at all costs. But Dick has a problem—he's not who he says he is, and he's running out of ways to hide it. Gin Lark is a feisty fairy prince whose job is to help his sister keep demons out of the human realm. But Gin has a problem—he doesn't possess an ounce of magic, and somebody wants him dead. When Gin goes into hiding as a hotel housekeeper, and Dick is hired to find him, they discover themselves in the center of a cursed hotel, a resurrected pinball convention with its own secrets, and a tear in the sky called the rift, which is about to let loose a horde of demons. Falling in love should be the last thing on Dick and Gin's to-do list—unless love is the only thing that can save them. Sorcery's Kiss is book one of an exciting new MM paranormal fantasy series called Demon Tales and Fairy Games, where demons, fairies, and trolls live with unsuspecting humans. Sometimes light, sometimes dark, always sweet, magical, and romantic. Happily ever after guaranteed. Each book is linked but tells a complete story. No cheating, no unkindness.
Sorcery's Kiss
Word Count:

64,390
Summary: The time has come. The Dark Mage, Lord Morgorth, and Aishe of the Ravena Tribe, are to become bondmates. Morgorth is equal parts nervous and excited. He wants to unite with Aishe in the sacred dialen ceremony, to proclaim their devotion to the world, to show everyone that Aishe is his equal and deserving of respect. After all they've survived together, why shouldn't they make the cosmic promise before friends and family? But duty must often come before pleasure. When Morgorth's estranged mentor, Master Ulezander, comes to him with a time-sensitive mission involving a major stone of power, Morgorth has little choice but to acquiesce. Aishe knows his mate struggles with the revelation of his true destiny, after a lifetime of defining himself as the future Destroyer of Karishian. All he can do is reassure Morgorth that being the Savior is a far better fate for both of them. But as Morgorth and Aishe leap through worlds and dimensions in pursuit of a stone of power, more pieces to the puzzle of Morgorth's destiny are revealed. And they form an image of sacrifice and tragedy. The dark cloud of an ancient enemy looms ever closer, and the path to becoming the Savior might prove more monstrous than that of the Destroyer.
Sapphire: Home and Abroad
Word Count:

165000
Summary: British superheroes, melodramatic Mages, snarky secret agents, one hell of a found family, and a whole load of weird people. Also, there's a duck. This is the painfully bizarre origin story of Rexley Nova. When Rex was four years old, he became one of the world's first superhumans. When Rex turns twenty, he feels the drive to use his scientifically given abilities to protect the world. He leaves home to become a member of the Secret Superhero Security team, alongside three of his friends and Danger City's own superhero, Polaris. Rex fights murderous Mages, evil organisations, criminal mafias, his agency appointed psychiatrist, his own anxious brain, and the most frightening of all, his attraction to a certain blue-eyed superhero.
Novas Got Nerve
Word Count: Information not available
Summary: Bo is a carefree demon with an unwanted fate looming on the horizon. No more parties, no more drinking, no more fun and games. Forever. So, when an opportunity to slip through the veil between the human and demon realms appears, he jumps, even though it means leaving his grumpy lover in the lurch—a lover he can't live without. Promising Gus he'll love him forever is easy. But Bo has a secret he can't share. Not yet. And another promise that brings him face to face with a rogue fairy and a contest with an ultimate win or lose. If he isn't careful, Bo is going to learn just how long the fall into forever really is. Sorcery's Fall is the prequel to an exciting new MM paranormal fantasy series called Demon Tales and Fairy Games, where demons, fairies, and trolls live with unsuspecting humans. Sometimes light, sometimes dark, always magical, and romantic. Happily ever after guaranteed. NOTE: Bo and Gus's story does not conclude in Sorcery's Fall but is woven throughout the series. They will get their happy ever after in their own book though, I promise!
Sorcery's Fall
Word Count:

64,178
Summary: It is said that long ago Herne, the god of the Hunt, could use his Horn to make wolves obey his commands. A legend that Amy Oakley, Alpha of the Howlers pack, learned as a child and stopped believing in long before her first change beneath the full moon. After spending three years fighting for her lovers and packmates' right to live among the werewolves of Londinium, all she wants is a chance to breathe, go back to running her pub, and never see the manipulative Marcel Charron again. As an ancient prophecy begins to unfold, can Amy and the Howlers find the Horn of Herne and keep it out of Marcel's hands, or will his web of schemes and plots spell doom for their pack and the rest of London's werewolves?
Herald's Call
Word Count:

73440
Summary: Once upon a time, two handsome young princes fell in love, faced down adversity, and lived happily-ever-after…until one romantic evening, they unwittingly ate a confection laced with a mind-wiping toxin. In this light fantasy world, four realms have settled into an uneasy peace. A surprise twist to a prearranged marriage agreement spawns this story of unexpected love, newfound courage, and heroic adventure. Join Princes Efren and Marcelo on their heart-warming journey as they sort through misleading twists and turns to defeat devious foes. Twice! Contains the stories: The Contingency Plan: An untimely death throws a marriage arrangement, the final phase of a treaty, into disarray. Now the Crown Prince of Zioneven can make his own choice from among the princess's younger siblings. As a royal son in the matriarchal sovereignty of Sheburat, Prince Marcelo grew up knowing Royal sons never married. Never. Period. Except Prince Efren isn't from Sheburat, and he has other plans. The Best-Laid Plans: A death that wasn't what it seemed … A kidnapping that isn't what it seems … Time is running out. Enmeshed in political intrigue, death, and a kidnapping, will Prince Efren untangle the web of clues in time to save his naïve young husband, or will Prince Marcelo dig deep to discover a previously untapped inner strength and determination to facilitate his own survival? Change of Plans: Once upon a time, two handsome young princes fell in love, faced down adversity, and lived happily-ever-after… until one romantic evening, they unwittingly ate a confection laced with a mind-wiping toxin. Are their chances at rekindling their love doomed? Or will their ignominious new beginning propel them toward a more teasingly fun rapport? Also contains three bonus scenes not included with the individual stories.
The Plans Trilogy Box Set
Word Count:

48821
Summary: More than fifty years before Leah Corbyn became a werewolf, Amélie Orne was cast out of werewolf society, manipulated into taking the blame for crimes she did not commit. After living for so long on the run as a Feral wolf, she found unexpected comfort and companionship from Leah and her lover Amy Oakley. As they grow closer, can she dare to hope for a real future together with them after a lifetime of betrayal and misery? Amélie has allies to stand with her now, but it will mean uncovering secrets long buried, and reopening dangerous old wounds...
Outcast's Song
Word Count:

148000
Summary: I've confronted the half-blood mercenary who has what I need to find Jael, wherever she may be. Neither of us will leave until we reach a bargain which yields what we most desire. The Dragonchild has brought me into a city he knows to its foundations, where I am at a disadvantage. My devout Deathwalker may be content to wait for the coming war between Manalar and the Ma'ab, secure in his value to a newly revealed influence in the conflict, but my position seems neither secure nor desirable to anyone but me. I must dig deeper into the motives of all involved, including my own, to convince the Guild's leaders to lend me their vast knowledge and far reach within strangely familiar plots. I have to succeed for Jael's sake, for she is my only sister left. In The Guild's Design, outcasts from the Deepearth dare to reveal resolute hopes waiting within quiet hearts. This time and opportunity must not pass them by, lest the promise of war rend their chances for a future beyond the next conflict.
The Guild's Design: Sister Seekers 7
Word Count:

74127
Summary: AURA's offices have been quiet since the mage tower incident—as quiet as they can be for an agency dedicated to policing holes in reality—and the department heads have been free to turn their attention back to mundane matters. The return to quiet bureaucracy gives AURA's Director of Research, Kai Hiltas, the time to turn his energy to a new issue—a young drow with unusual and dangerous powers named Ryld. Though his shadows always lurk at the edges of his vision, Ryld does his best to live peacefully and not let them hurt anyone. He has his work, his apartment and a succession of minders assigned by AURA who are, ostensibly, there to keep him safe in his new world and to prevent him from causing any scenes with his shadows. Most of the time, the arrangement works. But one disastrous incident causes Ryld's minder to leave him unattended and lost—the precise thing he was hired to prevent. To replace the faithless minder, Kai suggests Hank, a half-goblin accountant recently in the middle of a string of terrible luck, while Kai works out how best to get Ryld the magical training he so desperately needs. For his part, Hank truly likes Ryld and insists he would be happier working as Ryld's companion rather than as a controlling minder. As Hank and Ryld slowly come to terms with sharing space—and eventually more—Kai's search for a teacher for Ryld takes them out west on the invitation of the Elvenhome's aelfe queen and right into the lap of inter-elven feuds, ancient prejudice, conspiracies and trafficking rings. What should have been a pleasant visit soon turns into more than even forever-scheming Kai can handle.
Ryld's Shadows