Fantasy stories that involve pirates. Return to general Fantasy
Note: these books are currently sorted by release date, with newest first.
Word Count:

38000
Summary: RISE (noun / verb) Eight definitions to inspire writers around the world, and an unlimited number of possible stories to tell: 1) An upward slope or movement 2) A beginning or origin 3) An increase in amount or number 4) An angry reaction 5) To take up arms 6) To return from death 7) To become heartened or elated 8) To exert oneself to meet a challenge Rise features 300-word speculative flash fiction stories from across the rainbow spectrum, from the minds of the writers of Queer Sci Fi.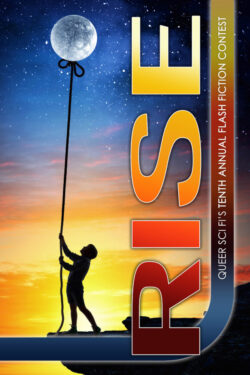 Rise
Word Count:

99000
Summary: Look to the skies! Brave adventurers face new relationships and adversity in all sizes, from steampunk dirigibles to harpies, giant bees to garden gnomes, and winged dinosaurs to sky pirates. Isolated mountain peaks, clifftop cities, and battles in the sky abound in this sapphic anthology focused on overcoming challenges awaiting in the clouds. If you like diverse stories with lesbian and sapphic-centric heroines enjoying the thrill of adventure high in the air, buy Lofty Mountains today! With stories by: Seanan McGuire, Rosiee Thor, Rebecca Kim Wells, Maya Gittelman, Carmen Loup, Sara Codair, William C. Tracy, N.L. Bates, L.R. Gould, Robin C.M. Duncan, and J.S. Fields
Lofty Mountains
Word Count:

93700
Summary: Raven's a thief who just swallowed a dragon. A small one, sure, but now his arms are growing scales, the local wildlife is acting up, and his snarky AI familiar is no help whatsoever. Raven's best friend Aik is a guardsman carrying a torch for the thief. A pickpocket and a guard? Never going to happen. And Aik's ex-fiancé Silya, an initiate priestess in a magical crisis, hates Raven with the heat of a thousand suns. This unlikely team must work together to face strange beasts, alien artifacts, and a world-altering threat. If they don't figure out what to do soon, it might just be the end of everything. Things are about to get messy.
The Dragon Eater
Word Count:

117,600
Summary: The Action Packed Conclusion to the Peridot Shift Trilogy Peridot is on the edge of annihilation. Once life-giving, the world's Trade Winds are transforming people into soulless monsters. The surviving Alchemist gods neglect their followers or take advantage of them. Even worse, a delicate peace has been wasted, and everything and everyone is at stake, especially Meran, the mistreated embodiment of the planet. Captain Talis and the crew of Fortune's Storm must try to do some good with what's left of Peridot in the hope that, together, they'll reclaim the hidden pieces of Meran's soul before the chaos seals her disastrous fate.
Cast Off
Word Count:

97000
Summary: The seas spell freedom. Pirates and kraken, boats and submarines, deadly sirens, mermaids, and the women who face them all. These are our heroes. High seas adventure, fantasy, and magic weave together in this sapphic anthology focusing on the joy of the unbounded oceans. If you like diverse stories with lesbian and sapphic heroines exploring oceans, battling sea monsters, and seducing pirates, buy Farther Reefs today! With stories by: Sarah Day and Tim Pratt, Kim Pritekel, Kyoko M. Sara Codair, William C. Tracy, N.L. Bates, Robin C.M. Duncan, Vanessa Ricci-Thode, Margaret Adelle, and J.S. Fields Genres: Science Fiction / Fantasy / Adventure / Lesbian / LGBT and Non Binary Market: Adult
Farther Reefs
Word Count: Information not available
Summary: Revin and the Professor must go undercover to investigate a mysterious device that has the power to generate storms and may threaten their very existence. But securing the information and getting out alive may be trickier than they bargained for.
Crossing the Streams
Word Count:

149,000
Summary: Peridot is headed for its second cataclysm. War has broken ancient alliances, sealed borders, and locked down the skies. The Five, Peridot's alchemist gods, have seen one of their number die and another fall in their efforts to protect their world from invaders beyond the stars. Defeated and diminished, they have ceased to answer the prayers of their people and have left the rapidly unraveling world to fend for itself. Talis and the orphaned crew of the lost airship Wind Sabre have a plan to set things to rights, but they're stranded on a rock far from the heart of the conflict. When an old enemy comes and offers them a ship and a path forward, it comes with strings that will pull them further from the home they are so desperate to save. Can Talis and her crew chart a course through hostile skies, shifting allegiances, and subverted governments before the true enemies of Peridot claim a power that can destroy the world once and for all?
Salvage
Word Count: Information not available
Summary: Kestrel, the King's Privateer, is preparing to wait out the annual storm season when she receives an unexpected royal order to capture and deliver a rare creature for the king's menagerie. Before she can weigh anchor, news reaches Kestrel of a long-ago friend in desperate need of help—in the opposite direction of her assigned voyage. In addition, her ship may be haunted by something big, loud, and terrifying. Before Kestrel can plot a course, she crosses paths with an enigmatic dancer who offers an enticing bargain: sail her home to the Continent, an ocean away, and she'll reveal the mysteries of magic Kestrel has longed all her life to know. The temptation of answers endangers her crew and might ruin her privateer status. Worse, taking on this passenger could thrust her into the clutches of the ever-watchful Danisoban mages who lie in wait for her to make the perfect mistake. Every decision is fraught with danger. Each wrong turn may mean her death or the death of her crew. And Captain Kestrel can walk away from none of them.
Kestrel's Dance
Word Count: Information not available
Summary: After the Queen of Belleriand encounters an etheric anomaly that threatens the airship, Revin is abducted. But by whom? And why? Revin must use all of his newly-acquired skills as a pirate — and more — in order to s
Storm Clouds Gather
Word Count:

120600
Summary: Captain Talis just wants to keep her airship crew from starving, and maybe scrape up enough cash for some badly needed repairs. When an anonymous client offers a small fortune to root through a pile of atmospheric wreckage, it seems like an easy payday. The job yields an ancient ring, a forbidden secret, and a host of deadly enemies. Now on the run from cultists with powerful allies, Talis needs to unload the ring as quickly as possible. Her desperate search for a buyer and the fallout from her discovery leads to a planetary battle between a secret society, alien forces, and even the gods themselves. Talis and her crew have just one desperate chance to make things right before their potential big score destroys them all.
Flotsam
Word Count: Information not available
Summary: In a world where infants with magical powers are torn from their parents to be raised exclusively by the mysterious and powerful Danisoba, Kestrel has managed to keep her abilities concealed--and herself free. She hid when they killed her parents, lived as a street urchin in back alleys, and then served as a young tavern maid before escaping to sea, where magic is canceled by water. Now an adult and quartermaster of a pirate ship, Kestrel loves the freedom of living on the seas. But her way of life could end if anyone on board learns her closely guarded secret--that she has magical control over the wind. One day a black ship appears, and her life changes. Its captain is a handsome rogue of whom Kestrel is strangely, constantly aware. When Kestrel's captain is led into a trap and is arrested, Kestrel gathers her crew and sets sail in relentless pursuit.
Mad Kestrel