Horror stories that include wolf shifters. Return to general Horror
Note: these books are currently sorted by release date, with newest first.
Word Count:

38000
Summary: RISE (noun / verb) Eight definitions to inspire writers around the world, and an unlimited number of possible stories to tell: 1) An upward slope or movement 2) A beginning or origin 3) An increase in amount or number 4) An angry reaction 5) To take up arms 6) To return from death 7) To become heartened or elated 8) To exert oneself to meet a challenge Rise features 300-word speculative flash fiction stories from across the rainbow spectrum, from the minds of the writers of Queer Sci Fi.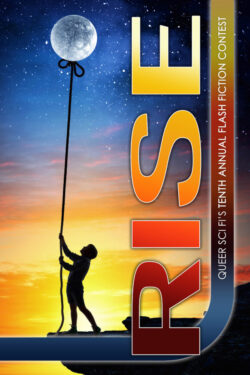 Rise
Word Count:

69,153
Summary: Krish Butala believed himself to be the typical college student until his latent werewolf abilities unexpectedly manifested. This came as a big surprise since he was bitten by Josef Cartwright nearly two years ago, and nothing has happened to him in all that time. Krish has to learn how to navigate through his new life without a pack. After accidentally killing a fellow college student, Krish has to figure out how to cover up the murder. He is grateful for all the help Tyler Turner, his roommate has given him, but he isn't entirely sure he can trust Tyler, seeing that he is a witch. Tyler's brother Derek and the rest of the witch community don't trust Krish, and they're keeping a close eye on him, which makes being a nascent werewolf that much harder. Krish is plagued with haunting, vividly sexual dreams of Josef, his progenitor, which leaves him questioning his decision to leave him. Krish is surprised to find help in the most unlikely of places. An elder werewolf named Luther from another pack. Luther helps Krish and promises to protect him. But at what cost? Krish has to figure out who he can trust and find his path on his own. The Omega is an exciting M/M erotic thriller about werewolves, witches, and other supes.
The Hallowed Bloodline: The Omega
Word Count:

99000
Summary: Gavin Booker, a school librarian at Cooper Road Elementary, Raleigh, Northern Carolina, leads an orderly, normal life. Work, jogging, friends from work, his son every other weekend. Gavin is also a secret. He is a hybrid, or part-fairy, and in the Columbian Empire, hybrids are under an automatic death sentence. Magic is illegal. So is loving another man, another capital crime. Fairies are locked away in ghettoes, magical beasts, such as gryphons, unicorns, and pegasi are kept in zoos. The others, the tree and water spirits, the talking beasts, fauns, and the rest, are in hiding. This is the world in which Gavin grew up. He survived, thanks to his mother. He can never forget he is different: ministers preach against people like him constantly; hating the other is a part of every school's curriculum. But now, things are changing fast, and apparently, for the worst. Earthquakes, volcanoes, killer storms are all frequent occurrences. The medicine Gavin takes to suppress his body's glowing, isn't working. The spells cast by his doctor, a witch, are losing their power. If anyone finds out what Gavin is, he is dead. Under threat, the Empire always goes after its marginalized people. Can Gavin survive the coming catastrophe? Will he ever recover from losing the boys he loved? Can he find the fairy man who has haunted his dreams all his life before it is too late? Can his scarred heart ever heal?
In Light's Shadow
Word Count:

64,178
Summary: It is said that long ago Herne, the god of the Hunt, could use his Horn to make wolves obey his commands. A legend that Amy Oakley, Alpha of the Howlers pack, learned as a child and stopped believing in long before her first change beneath the full moon. After spending three years fighting for her lovers and packmates' right to live among the werewolves of Londinium, all she wants is a chance to breathe, go back to running her pub, and never see the manipulative Marcel Charron again. As an ancient prophecy begins to unfold, can Amy and the Howlers find the Horn of Herne and keep it out of Marcel's hands, or will his web of schemes and plots spell doom for their pack and the rest of London's werewolves?
Herald's Call
Word Count:

62,900
Summary: A werewolf and seven vampires are all that stand between the world and complete annihilation. When Kai Richter and Ori Bier met, sparks flew. Then a train blew up. Tracking an organism deadly to not only humans, but vampires and werewolves alike, brings Kai and Ori into the Vampire Guard. Decades later, they, along with Operative Team Jack Rabbit, come face to face with the horrors that same virus produces. Dead bodies are coming back to life, and rational people are becoming violent and brutal killers. A massacre is taking place nearly a mile under the Atlantic Ocean. Two teams of The Vampire Guard are in the thick of it, fighting to survive.
Endosymbiont
Word Count:

48821
Summary: More than fifty years before Leah Corbyn became a werewolf, Amélie Orne was cast out of werewolf society, manipulated into taking the blame for crimes she did not commit. After living for so long on the run as a Feral wolf, she found unexpected comfort and companionship from Leah and her lover Amy Oakley. As they grow closer, can she dare to hope for a real future together with them after a lifetime of betrayal and misery? Amélie has allies to stand with her now, but it will mean uncovering secrets long buried, and reopening dangerous old wounds...
Outcast's Song
Word Count:

94560
Summary: Leah Corybn was a regular mail carrier who thought she had been bitten by a dog, until the next full moon revealed that she had become a werewolf. After months of hiding her secret in the city of London, she is about to learn she is not alone. As she attempts to navigate a world she never knew existed, can she find her place among the wolves of Londinium, or will she fail to prove herself in time?
Orphan's Cry
Word Count:

36000
Summary: INK (NOUN) Five definitions to inspire writers around the world and an unlimited number of possible stories to tell: 1) A colored fluid used for writing 2) The action of signing a deal 3) A black liquid ejected by squid 4) Publicity in the written media 5) A slang word for tattoos Ink features 300-word speculative flash fiction stories from across the rainbow spectrum, from the minds of the writers of Queer Sci Fi.
Ink
Word Count:

63000
Summary: "You can't keep running from your past, especially when it has four legs and fangs." In the exciting second installment of Tales of a Gay Witch, we return to Jason and his friends six months later as they are coming to terms with the events of last year. Jason thought he could move on with his life after Damien left in search of information about his mother, after finding out she might be alive after all, but is struggling to adjust to life without him. He is persuaded to go out and meet up with his friends at his favorite night club 1470 West, where he meets a handsome young man named Mickey. That same night, Jason is informed by Detective Miller, now a good friend of his, to be on the lookout for Jo's ex-husband Rex, who might be coming their way. There have been a number of sexual assaults and murders targeting young lesbian women up in northern Ohio, and Rex is suspected of being involved. Jo's ex-husband was always a nasty, abusive piece of work, but to make things worse Rex is a werewolf and an alpha to boot. It's up to Jason to rally his friends again, as he is tasked with protecting the people he cares about, before it's too late…
In the light of the moon
Word Count:

100000
Summary: Short Synopsis Agata Rosso, a once-mighty yet now prematurely aged European witch, believes that the special gifts in a young girl named Lía Munro can restore youth and vitality both to herself and her bedridden husband. She sets a deadly plan in motion to capture and use Lía—but will the girl have enough power to protect herself, plus the father she loves so much? Outline 1940 in a small farming region, and children have disappeared from the land. Local families—old-time Australians and newer European arrivals—know what to do about packs of wild, scavenging dogs in the forests, but they seem to have no way of finding children whose very bones have vanished from the earth. They also don't know how to deal with the strange couple Mr and Mrs Rosso, who might just hold the key to everything—including the miraculous breaking of a ten-year drought. Now it's 1977 and the wider city is growing, encroaching into these outlying communities and turning pristine farmlands into new housing estates. Paul Munro and his daughter, Lía, have arrived to inspect an available property; it's the secluded hillside old home of the Rossos. Paul and his wife—who has recently died—grew up around the area. Paul wants to show Lía the countryside of his early years, but when Lía experiences Rosso House for the first time its undeniable spell and the spirits it hides makes her understand that this is the place she really wants to be. Just turning sixteen, grieving the loss of her mother, experiencing a spiritual awakening she doesn't understand, Lía loves the quiet isolation and rural beauty that Rosso House and its land has to offer. At first her new life with her father seems idyllic, yet she's soon drawn into committing a terrible act of mercy. At the same time Paul meets the beautiful and enigmatic Candela, only to become ensnared in the evils that hold her and her baby captive. The connection between Lía's suffering and Candela's troubles might just be the wizened old witch, Agata Rosso. Constantly searching for a way to restore her youth and her husband's powers, Agata soon discovers just how useful Lía could be. She sends the most ruthless of men to capture her; in parallel, the terrifying man-wolf-father of Candela's baby will do anything to get his son back. Lía desperately needs her father's help; Candela is trying to escape a world of violence; both women are soon confronted by the very definition of evil. Will they find help from others, or is there some deeper answer within themselves? The shadow-worlds of ancient evil and modern corruption collide in this supernatural thriller, blending past and present, history and fiction, into a mesmerising adventure.
The Crying Forest
Word Count:

87000
Summary: Summary of Book: Their leap of faith could unleash magic -- or plunge them into darkness. Henry Thorn has worked at Larkin's since graduating high school. He likes it -- especially when he can use his secret skill of hiding inside shadows so his boss can't find them. Without that talent, he would never had survived growing up different. When a hire enters the store, Henry's other latent talent kicks in. He can smell an emotional response even before he lays eyes on the redhead. Jamey Currey came out, and his conservative parents promptly kicked him out. He, too, is different -- he senses Henry's attraction the moment they met. The first time they kiss, torrential rains fall from skies split by lightning. Their kiss also awakens the Watchers, diabolical hunters who will stop at nothing -- even extermination -- to keep magic suppressed. With the help of a friendly coven of friendly witches, the boys embark on a quest to discover an ancient key to restoring magic to the world, and to understand mysteries of their own hearts. The question is, will this quest cost them their lives?
The Werewolf and His Boy
Word Count:

58161
Summary: So what's a young gay boy living in the eighty's from suburbs of Dayton, Ohio to do, when he comes out to his family, only to finds out his family has been keeping their own secrets. Jason Wynwood just turned 18 finding out he is in a long bloodline of witches. As Jason searches for love, he falls for a mysterious black haired gentleman named Damien. Jason is thrown into a dangerous world of magic with witches, vampires and werewolves, and a glittery nightlife sexual pleasures. He also discovers Young gay men have been turning up dead at rest stops all over surrounding areas. Police suspect that it's the work of a serial killer. But when a friend ends up dead it becomes personal. Can Jason find the killer before anyone else turns up dead?
Skeletons in the Closet
Word Count:

17651
Summary: Damien is a 14 year old orphan that has grown up  in foster homes all his life. He finds out that he is a "Vampeal" , a child born from a vampire and human. If that wasn't bad enough Damien is a teenager that is dealing with his feelings for other boys. Damien is put into a home that the foster parents are very religious and he ends up on the street. Patrick is Damien's caseworker and if fresh out of college is assigned to look after him but finds out that Damien is no longer at the foster home. So Patrick sets out to look for him, which turns out to be a very dangerous road for both of them.
Child under the stairs
Word Count: Information not available
Summary:
The action-packed conclusion to the award-winning series!
Withrow, Roderick, the Technopagans, the Book People, and all the rest of Withrow's friends, allies, and accomplices are back again to bring the fight to their enemies – and to finish it once and for all!
The elder vampires have issued their challenge and Withrow has taken them up on it. Now he and the rest of the gang have teamed up to go to where they've always known they shouldn't trespass: the stronghold of the elders, a gated community on the outskirts of Charlotte, North Carolina. Tucked away behind the high walls of their unholy fortress, the elders are ready to spring their villainy on the unsuspecting modern age and only Withrow stands in their way.
Withrow, Roderick, Jennifer, and their friends know they have only one chance to stop these ancient evils from roaring back out of the past – and it will take risking everything and everyone they hold dear if they're to succeed. Join the fight alongside these unlikely heroes as they risk life, limb, souls, and sanity itself in a no-holds-barred free-for-all against the monsters who stand ready to re-enslave the world!
Nobody Gets Out Alive
Word Count:

98000
Summary: Zack thought he had a strange job before---Marine medic in a secret government base was odd, but personal assistant to a sidhe prince is downright bizarre and damn dangerous. Zack thought he had a strange job before. Working as a Marine medic in a secret government installation was odd, but working as a human liaison to the /fae/ and as the personal assistant to a sidhe prince is downright bizarre. Throw in the fact that he's pretty damn sure he's fallen in love with his boss, and things are close to unmanageable. Of course, around the fae, one never says 'things can't possibly get any worse.' Unexplained events plague the human world. Strange sightings, spontaneous magical explosions, and odd bends in reality crop up. When Finn falls ill and a monstrous creature attacks Zack, things quickly slide into disaster. Lycanthropy, loose-cannon mages, and Lugh conspire to make a hellish mess of things---but the real peril begins when Diego loses an important piece of his mind.
Semper Fae
Word Count:

80,350
Summary: The sun and moon have been devoured by the cosmic wolves Skoll and Hati. Fimbulwinter has enveloped the world in the cold and darkness. Men prey on each other in order to survive. Amid the chaos, in the struggle for the throne, comes a war between brothers. Hakon, the illegitimate heir to the throne of Norveig, has obtained a horn that can summon a terror from the depths of the ocean. This monstrosity has been sinking the vessels of his half-brother, Jarl Erik Bloodaxe. Erik sends a company of untried heroes to infiltrate Hakon's stronghold and steal the horn. As with all things political, there are other agendas. Fjorn, the leader of the team, is Erik's half-brother who could challenge Erik for the throne. Erik's wife Gunnhild is a powerful sorceress with her own ambitions- could her goals derail the heroes? In life, sometimes a Jarl wins, and other times a Jarl wins.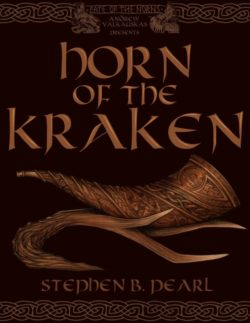 Horn of the Kraken
Word Count:

81000
Summary: BORN OF SUPERNATURAL MONSTERS. HUNTED BY HER ENEMIES. READY TO KICK ASS. Secrets are hard to keep in a town like High Moon, especially the one hanging over Tamara Bentley's head like the sword of Damocles. Her mother's a witch and her father's a werewolf. The blood of two ancient races flows through her veins. Pity that they hate each other's guts. When the leader of the wolf pack finds out what she is, he decides she's an abomination that needs to die – even if it means slaughtering everyone who gets in his way. Too bad for him she's not willing to go down without a fight. His army of werewolves is terrifying enough, but now they're about to become even more powerful thanks to a rare lunar event. Tamara will need to call upon every last ounce of her strength if she wants to survive the night, protect her home, and stop the rampage before it carves a bloody path through everything she's ever cared about.
Get Bent!