Sci fi stories mix spec fic with elements of horror, fantasy, and magical realism. See also Lovecraftian. Return to general Sci Fi
Note: these books are currently sorted by release date, with newest first.
Word Count:

93000
Summary: To resuscitate his fading celebrity, tech CEO Stephen Lucas would sell his soul for one more hit. When the subspace network for his holographic gaming empire crashes, his hardware guru makes a discovery proving that Einstein was right once again—information can be sent into the past. They accidently created a simple time machine. In a culture built on instant gratification, Lucas is sure he's stumbled upon the next big thing,  the game-changer that will make Wall Street give him the accolades he craves—a device that makes instant delivery possible. Want a pizza now? Send your order back in time 30 minutes. Forgot to make reservations at that chichi french restaurant two weeks ago? No worries now you can make purchases of anything in the past and have it appear when you want it—now. So, buy last weeks PowerBall ticket. Invest in that stock you wish you bought last year. Share a FaceTime call with a loved one that passed away last month. Finally time really is on your side. A time machine for the rest of us. But when he rushes into beta testing, he learns that the stuff dreams are made of can quickly become the stuff of nightmares. It turns out Move Fast and Break Things is terrible policy when developing a time machine.
The Dent in the Universe
Word Count:

50,000
Summary: J. Manfred Weichsel's versatility, unique style, and refusal to be bound by genre conventions have made him a force to be reckoned with in the world of speculative fiction. Now, Weichsel invites you to strip down and expose yourself to his raw and unfiltered imagination with Warrior Soul & Other Stories. Weichsel's stories peel away the veneer of societal norms and delve deep into the human psyche, exposing the rawest and most vulnerable parts of our existence. Through his boundary-shattering tales of science fiction, adventure, horror, and humor, Weichsel fearlessly explores the fringes of what is possible in fiction, revealing the naked truth of our humanity. From the mind-bending science fiction of "Warrior Soul", to the fantastical realm of "The Rainbow-Colored Rock Hopper", from the light comedy of "Queen of the House", to the darkest depths of horror of "Complicit in Their Bondage", these twelve tales will leave you feeling exposed and vulnerable in the best possible way. The bold and daring themes that run throughout Weichsel's work strip away all pretense and artifice to reveal the unvarnished truth of the human experience. So if you're ready to shed your inhibitions and explore the depths of what's possible in fiction, then get your copy of Warrior Soul & Other Stories now. It's time to embrace your innermost desires and take the plunge into the raw, unbridled world of J. Manfred Weichsel.
Warrior Soul & Other Stories
Word Count:

81,000
Summary: Explore the birth of a new world! Journey through time and space to the intricate biosphere of Juno, where three species have been birthed by the gods. First the Kuhifadi, inheritors of sun magic, able to do great deeds with magic stored in their bodies. Second the fearsome Uchafumlaji, technological savants who live in the depths of the ground. Third the weird Ngisikaa, a species uplifted from animals through communal memories. Small decisions and single individuals will affect the tide of history. Learn of the first Ngisikaa to meet death, whether a Kuhifadi will make the sacrifice to become a mage, and if an Uchafumlaji can build a bridge to the past. These stories and more will create The World of Juno! With content by: Nick Bright and Brent Lambert, C.J. Hosack, Nate Battalion, Daniel Eavenson, Malcolm F. Cross, Katie Cordy, William C. Tracy, N.L. Bates, Reese Hogan, Cedan Bourne, Robin C.M. Duncan, and X.M. Moon Genres: Science Fiction / Fantasy / Adventure / LGBT and Non Binary Market: Adult
The World of Juno
Word Count:

97000
Summary: The seas spell freedom. Pirates and kraken, boats and submarines, deadly sirens, mermaids, and the women who face them all. These are our heroes. High seas adventure, fantasy, and magic weave together in this sapphic anthology focusing on the joy of the unbounded oceans. If you like diverse stories with lesbian and sapphic heroines exploring oceans, battling sea monsters, and seducing pirates, buy Farther Reefs today! With stories by: Sarah Day and Tim Pratt, Kim Pritekel, Kyoko M. Sara Codair, William C. Tracy, N.L. Bates, Robin C.M. Duncan, Vanessa Ricci-Thode, Margaret Adelle, and J.S. Fields Genres: Science Fiction / Fantasy / Adventure / Lesbian / LGBT and Non Binary Market: Adult
Farther Reefs
Word Count:

13,800
Summary: He didn't want a job, but he fell into a portal, and now he's going to learn that there's no escape from beneath an office planet! Planet of the Wage Slaves is a 13,800 word sci fi satire.
Planet of the Wage Slaves
Word Count:

45000
Summary: A mordant, smirking collection; rife with life in a grim future Florida, notions of Christianity and its cousin Satanism—spies, mercenaries, magic, asteroid-belt drillers, and above all else, a universe bent forever by the powers of pleasure and pain.
Forsaken, Fantastic!
Word Count:

110000
Summary: Finding work is easy. Staying alive is a little bit harder. When Russ Wesley finds an unusual artifact in his grandfather's collection of rare antiquities, the last thing he expects is for it to draw the attention of a ferocious alien from a distant planet. Equally surprising is the adventurous team of intergalactic exterminators dispatched to deal with the alien threat. They're a little wild, and a little reckless. Worse yet, they're so impressed with Russ's marksmanship that they insist he join their squad . . . whether he wants to or not. Blurb "This book is so much fun it ought to be illegal in all known galaxies. Ash Bishop has written a wildly imagined, deeply felt, swashbuckling page turner. I loved it." —Jesse Kellerman, New York Times bestselling author of The Burning
Intergalactic Exterminators, Inc.
Word Count:

100000
Summary: They say, "Never work with androids or children." Quirk had one job to do, deliver papers to a Milan mafia boss, before leaving Earth for his home in the asteroids. But that was before being tailed, poisoned—oh, yes—and hijacked into raising foulmouthed fourteen-year-old convent girl Angelika Moratti, aka Moth, who'd rather see him asphyxiate in space. Fleeing assassins, Quirk, Moth and her syRen® android S-0778 ride the space elevator to the Moon, where Quirk hires on to hunt an ex-terra-former who somehow used an android to murder his doctor. But which android of the two hundred under Lunaville's dome? The trail of bodies grows, time is running out; the only way they can save the dome and the two thousand souls beneath it is to solve The Mandroid Murders. Genres: Science Fiction / Thriller / Mystery / Adventure / LGBT and Non Binary Market: Adult
The Mandroid Murders
Word Count:

110000
Summary: Mistakes were made. The future is uncertain. And Time doesn't care. As the story ends, we'll finally learn how it started. The world is breaking apart. Only the combined willpower of Hades and Hel can save it. But Love has other plans. Meanwhile, the gods need to deal with the outcomes of their choices; everyone else needs to survive them. And Psyche must finally face her greatest foe. Can free will cheat fate, or is fate the consequence of free will?
Anamnesis
Word Count:

21,400
Summary: When do dreams become reality? Orin sells dandelion latex at a no-name market, barely scraping by. Mette is a princess. Maybe. What Orin does know is that for thirty seconds every night, Mette visits Orin in xir dreams. Orin has long since written the fancy ghost woman off as a recurring nightmare, but when Mette insists upon meeting in real life, Orin's inner world turns out to be more substantive than imaginary. Along with best friend Blathnaid, Orin embarks on a journey to discover the truth behind xir otherworldly connection--determined to free xir mind and finally get a good night's sleep. But it's an ancient, planetary magic that binds Orin to Mette, and Orin's dandelions may be their only chance to survive the separation. If you want a fun, queer romp through a sci-fi planet with magic and dragons (of a sort), download Awry with Dandelions today! Note: this book uses xie/xir pronouns for Orin. Genres: Space Opera / Science Fiction / Romance / LGBT Lesbian Non Binary Market: Adult and New Adult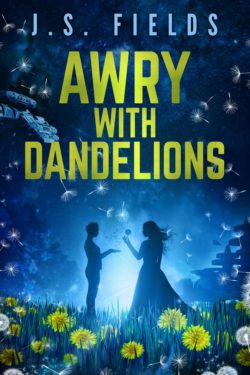 Awry With Dandelions
Word Count:

165000
Summary: British superheroes, melodramatic Mages, snarky secret agents, one hell of a found family, and a whole load of weird people. Also, there's a duck. This is the painfully bizarre origin story of Rexley Nova. When Rex was four years old, he became one of the world's first superhumans. When Rex turns twenty, he feels the drive to use his scientifically given abilities to protect the world. He leaves home to become a member of the Secret Superhero Security team, alongside three of his friends and Danger City's own superhero, Polaris. Rex fights murderous Mages, evil organisations, criminal mafias, his agency appointed psychiatrist, his own anxious brain, and the most frightening of all, his attraction to a certain blue-eyed superhero.
Novas Got Nerve
Word Count:

132,220
Summary: Bobby Gene is a man who stands out even among his people. Guided by the knowledge of his heritage as a backwoods shaman and more perceptive than many, he's grown to be a valuable asset to those he knows. While he isn't surprised to be the first to know when the woods around him begin to show clues that something isn't right, he doesn't expect just how much these omens and signs will prove to foretell something far more sinister to come. Soon strange dreams and inexplicable encounters have him questioning everything he knows- and then the people who live in his woodland Appalachian community begin to disappear. It's his job to protect and guide the others, what will he do when he's the only thing between them and the end of life as they know it?
Night is Falling
Word Count:

132,000
Summary: Rules were made to be broken. From terraformed outposts to magical realms, journey to worlds where deadly plants, rampant biodiversity, or failed colonies have created irresistible opportunities for those brave enough to seize them. New worlds, found family, mystical secrets, and deadly science weave together in this lesbian-centric anthology focusing on a very different kind of first time—a first encounter with a world, or being, entirely unlike our own. If you like diverse stories with lesbian heroines practicing science, magic, and seduction, buy Distant Gardens today!
Distant Gardens
N.L. Bates , Sara Codair , Robin C.M. Duncan , J.S...
Word Count:

41000
Summary: The dream of a mad scientist has evolved into a nightmare! Jennifer will do anything to be famous. She thinks she's gotten her big break after a night at the club lands her in bed with a producer, and the next morning he offers her a jungle adventure show. But instead, she and her two friends are unwittingly trafficked to the Congo for a sinister purpose. A cult lives in the jungle that worships the dark legacy of Ilya Ivanovich Ivanov as they work to accomplish his insane life's goal. Will Jennifer escape the jungle compound, or will she fulfill their twisted vision of humanity's future and become a broodmare to make an inhuman monster?
Jungle Jitters
Word Count:

40000
Summary: Manifesto The Great rules Planet Hy Man, a Planet where meat is as toxic as nuclear waste. Faced with an uprising, Manifesto The Great turns to the only person he can trust----his mother; but she has days to live. With an army of malfunctioning Mae West robots and a committee as innovative as a sock puppet, Manifesto The Great loses control. And as his city falls under the hands of Fanny and her rebels, the grieving leader retreats to his cocktail bar. High on a cocktail of hormonal meat and hemp cocktails, Manifesto The Great returns to his committee for advice. But they have other plans, mainly to bat with the winning team, and from the looks of Manifesto The Great, he ain't one of 'em. Will he rise to command again or has he buried his balls along with his mother in a sea of cocktails and mad ramblings?
The Downfall Of Manifesto The Great
Word Count:

100000
Summary: The Nephilim loom over Niflheim. Gods, Dharkan and mortals fight amongst themselves in their shadow. And Time is on no one's side. The gods are outmatched, their talents useless against the Nephilim's technology. Desperate, they turn on each other. New alliances form and fall apart, for there can be no peace when survival is at stake. Psyche, torn between a goddess's duty and a mortal's hate, sets off on her own to learn the truth behind her fate, unaware of the danger following her. Meanwhile, Chronos' own agenda involves a power so dangerous and unpredictable it's been long forsaken by both the gods and the Nephilim. Will it be worth the risk?
Nephilim's Hex
Word Count:

111,000
Summary:
New York: two years after the Third World War. Humanity is rebuilding its cities brick by brick; the damage done to the people, however, is a lot harder to repair.
Dan Hardacre is one of those people. An aspiring stage actor and experienced draft-dodger, Dan struggles to find his place within the Utopic rebuild of New York City. When he's not caught up with the duties of work, Dan lives a quiet life in mourning for his mother, Dyani, who went missing when he was a teenager.
One night, Dan experiences a vivid, terrifying nightmare that puts him right on the front lines of the war for which he dodged the draft; it ends with him facing Death itself in the form of a metallic, faceless humanoid creature that calls itself the Valkyrie. To investigate the reason behind his haunting experience, Dan seeks out a meeting with his estranged father, who reveals the startling truth about Dan's dream: it wasn't a dream.
With this newfound knowledge and the powers it brings, Dan makes it his mission to return to the scene of his nightmare. However, he soon comes to know that confronting the Valkyrie not only endangers him but the war-withstanding world he leaves behind.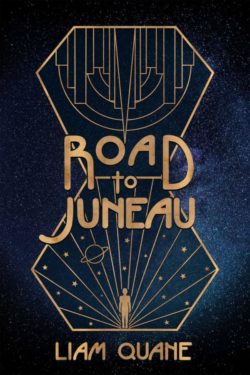 ROAD TO JUNEAU
Word Count:

45000
Summary: Manifesto the Great comes from a dynasty of leaders who treat women like breeding machines. When his father dies, he must take over as leader, but will he be able to keep control of the women? Planet Hy Man is a planet as pure as a baby's belly button until a spaceship arrives; a spaceship full of men and women who have spent a lifetime of celibacy. Sex, like roast chicken and football being off the menu until a planet was found.  They hurl themselves into a frenzy of real meat, real air, and sex until a leader emerges to create order, civilization and a sewage system. Manifesto the Great watches as his forefathers pollute the planet, treat women as walking wombs, and make dodgie robots until it is his turn.  Will he rise over the tidal wave of discontented women, or will he drown under a sea of underwire and oestrogen? The Rise Of Manifesto The Great is the first of three prequels to the Planet Hy Man science-fiction comedy series. If you like high-mileage heroines, fast-paced satire, and meticulously crafted universes, then you'll love Kerrie Noor's otherworldly farce. 
The Rise Of Manifesto The Great
Word Count:

54545
Summary: Poor Poison Patty, the super sensually bio-augmented assassin, is in a powerfully pernicious predicament. Perhaps you read about it in Poison Patty, her first tragic tale? Patty used to be a gloriously gracious good girl, but that was before an awful arrogant acrimonious amoral aberrant Arabian king kidnapped her. Now she's got a bite! Even so, Patty's predicament has gotten worse. Not only is she sought after by two terribly tenacious powers, she's under the thumb of a third. Patty's also struggling with an essential existential enigma. Is she a superhero or a monster? A victim or a villain? Take a raucous run right through this second installment of Poison Patty's troublous tale and decide for yourself.
Poison Patty's Predicament
Word Count:

31857
Summary: How does a nice young woman from a nice American neighborhood become a sensually augmented assassin trapped in an Arabian king's household? Is she a superhero or a monster? A victim or a villain? All will be revealed, and you can decide for yourself, while enjoying a raucous ride with Poison Patty!
Poison Patty