Paranormal tales that include a monster or monsters, from the black lagoon, scientists's lab, or any other patch of darkness. Return to general Paranormal
Note: these books are currently sorted by release date, with newest first.
Word Count: Information not available
Summary: What happens when a Highland witch falls for the Loch Ness Monster? When Cam Walker, the last remaining Witch of the Highlands, heads to Loch Ness to investigate a potentially dangerous monster, the last thing he expects is to wind up working with that monster… let alone be attracted to him. But the friendly, cheerful Lachlan is hard to resist, and turns out to be a powerful ally in the hunt for the real monster behind the killings around Loch Ness… M/M paranormal romance with a sweet relationship and medium spice. This novella is the first in a trilogy following the same characters: it has a HFN conclusion and NO cliff-hanger!
Finding Nessie
Word Count:

33000
Summary: Clarity (noun) Four definitions to inspire writers around the world and an unlimited number of possible stories to tell: 1) Coherent and intelligible 2) Transparent or pure 3) Attaining certainty about something 4) Easy to see or hear Clarity features 300-word speculative flash fiction stories from across the rainbow spectrum, from the minds of the writers of Queer Sci Fi.
Clarity
Word Count:

105000
Summary: A girl detective. A boy genius. A warrior princess. A young magician. Four young people with extraordinary gifts. For years, they solved mysteries, caught crooks, and slayed monsters. They were secret heroes, keeping an idyllic small town in the middle of America safe from the things that lurked in the dark. Then, the year of their high school graduation, the darkness came for them. During what the media called "New Year's Evil," a demonic force rose to turn their hometown into a literal Hell on Earth. They gathered to stop it. They fought. And they won. The rest of the world never discovered the truth behind the disaster. For 20 years, the four tried living like normal people. Now their past is coming back to haunt them. The darkness is gathering once more. They're summoned back to their hometown to face it, along with everything else they left behind. Last time, they saved the world. This time, they'll have to do something much harder. They'll have to save each other. For fans of Stephen King, Neil Gaiman, and Victoria Schwab, REUNION is the story of what happens when the good guys grow up.
Reunion
Word Count:

20000
Summary: Living in a quiet house on the outskirts of town, Ginger isn't like the other girls. When she wakes up and discovers the unthinkable about her adoptive parents, she runs away and goes on a rampage straight to the only friend she has. Can she control what they both become? With a violent, growing hunger and more questions than answers, Ginger has nowhere to turn.
As Fast as She Can
Word Count: Information not available
Summary: In this second instalment of the Damien the Devil series, we see Damien has found a new, more permanent home outside the foster system with Pat, Damien's Renfield and caseworker, and his twin brother Matt. He is also enjoying a budding romantic relationship with Brian, another boy from the foster home. But after the two of them are caught kissing, Damien is kicked out on the streets in the middle of the night-only to find himself in a very dangerous situation with a vampire. Brian, feeling guilty about the whole situation, goes looking for Damien the next evening, only to fall victim to the vampire's trap himself. Damien and Pat save Brian, but he's unable to remember what happened that night-until he starts to be plagued with nightmares. Meanwhile, Damien is too afraid to reveal to Brian that he is a vampeal: a half-vampire and half-human. Will they both be able to handle the truth of what each other is hiding?
Shattered Recollection
Word Count:

65000
Summary: Witches, ghouls, and mind readers—oh my! Murder and mystery abound in this supernatural novel. Vega Bloodmire has no problem with the label "villainous witch," though she draws the line at being called a self-centered hag. Life isn't easy being twenty-two, drop-dead gorgeous, and the most fashionable witch in all the land—especially while working as an intern teacher at a magical boarding school. Just when Vega thinks she has student teaching figured out, she is framed for murder. Worse yet, she fears she might have revealed her darkest secret—one so awful she will be shunned by Witchkin society even if she can prove her innocence. Vega needs to find the true culprit behind this crime in order to save her reputation—and her life. Enjoy this spin-off series from the world of Womby's School for Wayward Witches. This book starts with Vega Bloodmire's life before working at Womby's when she was a new and inexperienced teacher at Encantado Charter Academy. It is the first book in the series of stand-alone novels. These mysteries are meant to be read in any order. Clean, cozy, no sex or swearing, PG 13—perfectly fine for teens or grandmas who like paranormal mysteries at magical boarding academies.
Too Ghoul for School
Word Count:

36000
Summary: INK (NOUN) Five definitions to inspire writers around the world and an unlimited number of possible stories to tell: 1) A colored fluid used for writing 2) The action of signing a deal 3) A black liquid ejected by squid 4) Publicity in the written media 5) A slang word for tattoos Ink features 300-word speculative flash fiction stories from across the rainbow spectrum, from the minds of the writers of Queer Sci Fi.
Ink
Word Count:

132,000
Summary: Rules were made to be broken. From terraformed outposts to magical realms, journey to worlds where deadly plants, rampant biodiversity, or failed colonies have created irresistible opportunities for those brave enough to seize them. New worlds, found family, mystical secrets, and deadly science weave together in this lesbian-centric anthology focusing on a very different kind of first time—a first encounter with a world, or being, entirely unlike our own. If you like diverse stories with lesbian heroines practicing science, magic, and seduction, buy Distant Gardens today!
Distant Gardens
N.L. Bates , Sara Codair , Robin C.M. Duncan , Wil...
Word Count:

120552
Summary: Like a spout pushing its way through soil extending deep mighty roots as it grows firm and tall, Michael like those around him has become renewed in the sun. The Wheel of Creation continues to turn through tragedy and triumph with secrets and mysteries revealed, truth discarding deceit to rot away into dust. Terror still lurks in shadow, hinting at battles yet to come and while the union of souls may reign down catastrophe upon all involved, there is a newly shared optimism that this town, rebirthed and revived again after decades can meet the oncoming storm together. Bonded in battle, humbled in heart new friendships have replaced old animosities as all the residents are finding their place in creation.Despite the odds, the couple continues their path toward blending, but if the sun sets on their hopes or the union is not supported by the Mother, disaster could befall not just Michael and Kurra but the entire Grove.Book four of The Place Of Things is Blood. The blood spilled and shared through trial and combat, forged in a family or spilled through injury, death, or pain and joy. Will the Great Mother approve of a blending of souls, or will the remains and splatter of not just Michael, but all those he holds dear be splashed in chunks upon the wedding alter.As this story concludes in the middle it continues on like the cycle of the seasons. Never ceasing always evolving. Until next time, Love from the Sacred Grove.
The Place Of Things Book Four: Blood
Word Count:

71840
Summary: Is it better to risk it all… or never know what could have been? After surviving an abusive childhood, Vulcan remade himself upon arriving in Los Angeles, California. He became a blacksmith for the paranormal community and strives to earn the respect of the vampire covens and werewolf packs that call LA home. He also prevents the pain of loss by keeping everyone at arm's length. But he never planned on meeting a former Roman soldier by the name of Marcus Cassius Vespillo. Something sparks between them and turns into a friendship he never considered possible. He can't deny his intense attraction to the intelligent, courteous, ancient vampire. And it scares him. Though Vulcan is wary of seeking more with Cassius, an attack leaves him at death's door and forces him to reexamine his priorities. But Cassius has his own secret, one that promises tragedy and loss. And if that wasn't enough, a slayer arrives in the States, one with a bloody connection to Cassius... and Vulcan himself. Note to Readers: Second edition with revised and updated text.
Eye of the Beholder
Word Count:

216321
Summary: Root by Daniel Fisher, the third book in the Place of Things series is the continuing story of Michael and his new, rather unique fiancée. From the Winter's Solstice to the Vernal Equinox we find our lovers and their friends explore new and creative ways to adapt to life-altering events. Having relocated and now a resident in the sanctuary town of Sacred Grove, Michael is finding his place among the mythical, mystical, and mostly immortal residents who've hidden away from the outside world. Not only is he coming out of his own isolation, but they are also finding he is dragging them out of self-imposed exile as well. Sometimes against their instincts. As his and Kurra's love deepens, new mysteries are added to the mysteries and his and their worlds will never be the same.As the union between two souls from two drastically different worlds draws closer, new mysteries, challenges, and threats crop up for Michael, the mortal, and all the immortals that get caught in his wake. Enchantments and wards may not be enough to hold back the onslaught of supernatural forces if the wedding gets bumpy. Many may yet perish if things go awry. May the Goddess help them all.Book four, the conclusion to this tale coming soon.
The Place Of Things Book Three: Root
Word Count:

72000
Summary: Vampires and werewolves live long lives. The Sleepless City saga might have ended but the story continues… Welcome to the Vampire Guard, where legend and myth meet science and technology.   Vampires make the best spies. Throw a smart-mouthed werewolf in with three vampires, mix well, and The Vampire Guard's newest team is bound to become one of their greatest assets. Super spies with a full range of skills. Warrior, hacker, thief, and scientist.  They get in, do the job and get out before the bad guys ever know what hit them. Forge, Blair, Declan, and Lucas are thrust into the world of high-tech spies and top-secret espionage conspiracies. Recruited into the world's most elite and secret organization with one singular mission. Protect those who can't defend themselves from ruin. Life becomes complicated when an impending Presidential visit to their town, Boggslake, throws them headlong into the world of the vampires and werewolves of the Vampire Guard. Very quickly they uncover and confront a werewolf terrorist organization known as the Qiguan. Together they must thwart an assassination attempt on the open waters of Lake Superior while tracking a previously unknown biological weapon controlled by the Qiguan—a weapon which may very well mean death for one of them.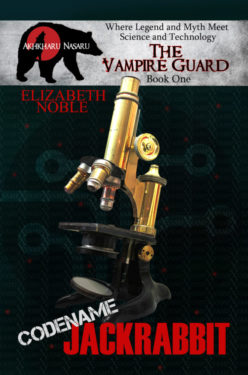 Code Name Jack Rabbit
Word Count:

2600
Summary: Jake is a trapper working high in the mountains of Wyoming Territory, usually not seeing another human from one month to the next. Recently, however, he's had an unexpected guest – an Easterner named Edwin, who pitches in to ensure that Jake has enough supplies to survive the coming winter. As the evenings draw in, Jake works on knitting a blanket, adding a bit of love (and maybe even magic) into every stitch, hoping to entice Edwin to join him under its warmth…
Love in Every Stitch
Word Count:

107884
Summary: Julian Gypsun used to be a young man on his way to becoming a contractor. Everything changed when he died and was resurrected as a wizard's familiar. He was immortal and far better off physically than he had been as a human. Still, he was trapped with his life chained to a giant of a wizard who had no problem abusing him in every way imaginable. Julian was powerless to stop it without ending his own existence. That is until he was yanked bodily through his own portal, transported to Draoithe, and assigned to babysit the visiting dignitary, Amazon Warrior Princess Zephyra, and try to convince her that her people should ally themselves with Luke and Draoithe. That sounded easy, but it wasn't. He liked her. He had no clue how to act on that. Best to avoid that altogether. Keeping her safe just might equal his death. (Please see her warrior princess title.) She was old and so far out of his league. Worse, she liked him and was determined to have him. He can't even consider that. She has no idea how broken he really is.
Draoithe: Midnight Magic
Word Count:

90000
Summary: Jack Hansard is the man who can sell you anything. Luck in a bottle, fame in a box, dreams on a leash... anything is possible when you're a trader on the occult Black Market. Jack is used to a life of handling dangerous goods, dodging disgruntled customers, and sometimes running away very fast. But when Ang (a two-and-a-half-foot tall coblyn right out of Welsh folklore) buys his help to find her missing kin, Jack suddenly finds the goods are riskier, the customers more treacherous, and escape is anything but guaranteed. The Jack Hansard Series is an episodic urban fantasy with a wide streak of humour and a lot of British folklore. Season One contains the first fifteen episodes in the series.
The Jack Hansard Series: Season One
Word Count:

58161
Summary: So what's a young gay boy living in the eighty's from suburbs of Dayton, Ohio to do, when he comes out to his family, only to finds out his family has been keeping their own secrets. Jason Wynwood just turned 18 finding out he is in a long bloodline of witches. As Jason searches for love, he falls for a mysterious black haired gentleman named Damien. Jason is thrown into a dangerous world of magic with witches, vampires and werewolves, and a glittery nightlife sexual pleasures. He also discovers Young gay men have been turning up dead at rest stops all over surrounding areas. Police suspect that it's the work of a serial killer. But when a friend ends up dead it becomes personal. Can Jason find the killer before anyone else turns up dead?
Skeletons in the Closet
SALE
Word Count:

79000
Summary: Two years ago on a stormy night, in the dead of winter, Mike Teter experienced something that would change his life forever. Mike was a telescope operator at the world renowned Carson Peak Observatory in New Mexico. We won't tell you what he saw that night on the mountain nor what happened afterward on a dark stretch of highway, because it would haunt you just as it has haunted Mike. But what we will tell you is that Mike is back at Carson Peak. And what he witnessed that night two years ago is about to become a reality…
The Astronomer's Crypt
Word Count:

135408
Summary: Alexio Asmodai is the demon king of Eaglafonn, a small outpost kingdom in the Netherworld overruled by the Demon Lord Asmodeus. It is Alexio's responsibility to protect and police the frontier borders against any threats. He is an accomplished knight, so that part came easy. Eaglafonn is a cold and isolated kingdom. Alexio needed to stay and build his castle atop the hot springs to beat an addiction to seduction sickness. After over seven centuries, he thinks his loneliness has finally come to an end when he opens a crate to find a woman sent by Asmodeus for him to keep safe. He falls for her instantly. She is a human woman, fragile, timid, and irresistible. He must follow his liege's directive, convince her to become his queen, and see that she is cared for properly in a place that is inhospitable to her existence. This leads to a realization that his castle lacks a lot to be a first-class home for a lady. Can a tainted demon prince rise to the challenge to become a true king and win the woman who stole his heart? Dread Allies 7-14 The Shadow king of Eaglafonn has chosen his queen, but his castle lacks the feminine element. To make her more comfortable, he orders the demon princes to seek out and claim their own mates. That is easier said than done. Eaglafonn is a cold dark isolated kingdom in the Netherworld. It might be easier to claim mates from the Domhain, but not everyone could survive on the brutal dangerous frontier. The other options afforded from the Netherworld come with their own dangers. The magic is unbalanced and balancing comes with a price. Claiming their mates lead the demon princes on epic mini journeys and reveals the need for Eaglafonn to take a greater role in helping Luke aid the dream. Dread Allies is a miniseries set in the Netherworld in the dream. It is an ancillary group of stories to the Draoithe saga. While it is set in that world, it is not in the direct series lineup. The dream just got darker and colder. Welcome to Eaglafonn.
Dread Allies: Shadow King
Word Count:

7300
Summary: Two brothers find misery in California's Gold Rush until a Chinese doctor promises them riches. They should have asked, at what price? Set in the Trinity Mountains, this is the first book - a single story - in a series of short reads in science fiction and fantasy.
Dragon Bones - A Fantastic Tale
Word Count: Information not available
Summary:
Bad "Things" lurk in dark, abandoned spaces...
Love, Death, & The After: Abandoned Spaces picks up the story where Rainey and her Team, along with Kendale's survivors, left off in Darkness.
Escaping a late-night Nagual attack, and with her lover held together by "shoelaces and bailing wire," Rainey encounters the secret behind the Nagual hidden within a black site lab--a secret from The Before with a treacherous purpose in The After.
Stopping the Nagual plan is hard enough, but her team has betrayed the trust of the town's survivors, while an attack by the Nagual's "Maker" and his militant allies looms. When someone compromises Preston's life, Rainey might be out of time and luck altogether.
The black site's lead scientist puts his agenda on hold until he and his militia support team can eliminate Rainey and her team. Tesla has a golden opportunity to test his Nagual creations against an old nemesis and the geopolitical forces standing in the way of his greater destiny.
Meanwhile, the emergent Nagual, Adam and Cain, have plans of their own.
Book 2 of 3 in this four part series, "Love, Death, & The After: Abandoned Spaces" brings a science-fiction take on cutting edge bioengineering that pits the limits of romance, loyalty, and community against a violent world hell-bent on devouring it all.
Book 1: Love, Death, & The After: Darkness
Book 2: Love, Death, & The After: Abandoned Spaces
Book 3: Love, Death, & The After: Never Again
Love, Death, & The After: Abandoned Spaces