Not everybody has the same skin color. Return to general Fantasy
Note: these books are currently sorted by release date, with newest first.
Word Count:

76, 000
Summary: She tried to steal treasure from the dragons' hoard… and stole their hearts instead. To save her sister from a lascivious lord, Venya must steal a piece of treasure from a legendary dragon's hoard. Dragons haven't been seen in several generations, so imagine her surprise when she wakes not one, but two dragons from their hibernation. While the battle-honed Onyx is intent on having her for lunch, the graceful Gold appears more curious than angered by the theft.Abyss and Ray have very different ideas about what to do with the thief when they catch her. Abyss wants to punish her while Ray is intrigued by her audacity. After Ray turns his mate's anger to desire, the dragons set out on a rescue mission, intent on capturing the brazen thief and learning more about her. And to see if her Song matches theirs.Neglected and discarded by her parents, Venya has never bonded with anyone except her sister. Now she has two mighty dragons wanting to woo her and take her as their mate. While she finds delight in their company, she must reassess her own self-worth before she can trust them enough to love them.But the dragons have exposed themselves to the outside world, and many covet not only their hoard but Ray's golden scales. And when Venya's closely held secret is revealed, she becomes a prize worth killing for.
Song of Flames
Word Count:

89000
Summary: THE POWER TO DESTROY A KINGDOM. THE POWER TO HEAL A HEART. Ari's new powers have awakened, threatening to tear apart a kingdom already on the edge. Sent back to Valon to face her father's—and the people's—judgement, Ari must decide how far she'll go to reclaim her former life, if that's even possible anymore. In the heart of the turmoil, Iata, the reigning ruler, is losing control of his increasingly unstable magics. As his secrets threaten to spill out, his brother's wife, Haneri, draws ever closer—and he's not sure he wants her to stop. At the border to Kidaa Space, Rhys grapples with the ominous and impossible patterns in the Kidaa attacks, and comes face to face with the Kidaa themselves in a harrowing meeting that could change the future of the kingdom. And Dressa, who secretly married an enemy prince, must now face the consequences of that marriage. Because Lesander was activated by her family. And Lesander has a choice: obey her family, or betray her wife. With enemies without and enemies within, can the Truthspoken save their kingdom, or is this kingdom doomed to fall? Court of Magickers collects episodes 94-150 of The Stars and Green Magics, previously published in serial form. Note: This book has main characters who use gender-neutral pronouns (they/them/their, fae/faer/faerself).
Court of Magickers
Word Count:

45000
Summary: IMAGINE BEING the only un-magical kid at Hogwarts. That's how sixteen-year-old orphan Jaden Raines feels as he enters Azunya High. He struggles to fit in, but he's really a fish out of water. The magical isle of Azunya, where paranormal policing agency B.O.O. is headquartered, is shocking to Jaden after having lived his entire life in the American Midwest. Back there, his classmates were freaks, geeks and gangstas. Here, his classmates are genies, witches, healers… A whole pantheon of beings and monsters. And worse yet, he'll have to read The Old Man and the Sea. Again. Jaden might be the new kid in town, but he's still a teen. It's love at first sight with handsome skater-boy Stiltz. They have three things in common: neither is able to use magic, they're both petrified of water, and, lucky for Jaden, they're both gay. They should bond, but their relationship's stormy from the start. To try to fit in, Jaden hides his powerless state, accidentally creating the myth that he's the most powerful being of them all. But when the entire school demands a demonstration, what's Jaden to do? New lies and cruel deceptions leave Jaden and Stiltz stranded at sea in the middle of a deadly tropical storm. In order to survive, the boys must spill their secrets. It's sink or swim for our heroes. Only the truth can set them free. And keep them alive.
Mysterical (Tales of B.O.O. Book 3)
Word Count:

80000
Summary: Trapped outside the world, unlikely hero Thaddeus Wright must partner with sexy Secret Agent Peter Pan to save a new generation of Lost Boys. THADDEUS WRIGHT would love to forget his childhood. A bi-racial bastard orphaned at four, he was the very definition of sin, according to the strict and disapproving grandparents who raised him. Twenty years later, Thad works with at-risk youth as both coach and counselor. Even after his grandparent's spare-the-rod, spoil-the-child parenting, Thad just wants to help people. But when three young boys he coaches go missing, he's the prime suspect. Especially when he goes missing himself! That's when paranormal policing agency Borderless Observers Org. (B.O.O.) sends in recent recruit Peter Batique on his first solo mission. Peter had another name once, but he's all grown up now and looking to prove himself an adult and a capable agent. However, after a hundred years as an unruly boy in Neverland, growing up holds some pretty unique challenges for Peter. Despite their differences, Thad and Peter must learn to work together to rescue a whole new generation of Lost Boys and take down the black market shadow dealer responsible. Can Thad learn he's worthy of love? Can Peter finally grow up? Can the Lost Boys be found?
Lost Boys 2.0 (BOO #2)
Word Count:

97000
Summary: The seas spell freedom. Pirates and kraken, boats and submarines, deadly sirens, mermaids, and the women who face them all. These are our heroes. High seas adventure, fantasy, and magic weave together in this sapphic anthology focusing on the joy of the unbounded oceans. If you like diverse stories with lesbian and sapphic heroines exploring oceans, battling sea monsters, and seducing pirates, buy Farther Reefs today! With stories by: Sarah Day and Tim Pratt, Kim Pritekel, Kyoko M. Sara Codair, William C. Tracy, N.L. Bates, Robin C.M. Duncan, Vanessa Ricci-Thode, Margaret Adelle, and J.S. Fields Genres: Science Fiction / Fantasy / Adventure / Lesbian / LGBT and Non Binary Market: Adult
Farther Reefs
Word Count:

33000
Summary: Clarity (noun) Four definitions to inspire writers around the world and an unlimited number of possible stories to tell: 1) Coherent and intelligible 2) Transparent or pure 3) Attaining certainty about something 4) Easy to see or hear Clarity features 300-word speculative flash fiction stories from across the rainbow spectrum, from the minds of the writers of Queer Sci Fi.
Clarity
Word Count:

80000
Summary: If the Gods were real, could you believe? Hitra, high priestess of Revestre, already has enough on her hands: political upheaval, a distractingly attractive male servant, and an upcoming harvest festival. But when a column of flame from the heavens sends a city into tumult, it upends more than just her schedule. Now, Hitra must deal with a religious schism, ethnic strife…and a God growing out of control.
The Gods Awoke
Word Count:

195000
Summary: Belonging can sometimes be Hell Jin is 17, pansexual, blue-haired, half-Korean and a lifelong outsider. His modus operandi, after years of neglect and chaos, is never belong, never attach, because both just bring pain. What he doesn't know, and mustn't, is if he does ever belong, his lust demon father will take him to Hell forever the day he turns 18. But when he moves to the remote Scottish town of Hammer Falls, where he shouldn't fit in at all, he finds being supernatural and queer aren't quite the barriers to belonging he'd hoped. As his lust demon blood begins to show and he grows ever closer to gorgeous part-angel demonstalker Nate, how long can Jin continue to convince himself he doesn't belong and isn't getting attached? Lust & Other Demons is the first in a trilogy containing a snarky, prickly half lust demon, hot demon hunters, werebears, angst, messy love and explicit MM sex. Books 2 & 3 also contain steamy MMM+ polyamory scenes as part of a key relationship. NOTE - These books are NOT suitable for younger readers or people likely to be offended by speculative views about religion.
Lust & Other Demons
Word Count:

128000
Summary: In the wake of a worsening climate crisis, magic runs rampant and demons roam across the Canadian prairies. A long-dead god stirs in the Pacific Ocean, while the wilderness is choked by invasive, screaming grass. The Cascade has shattered political stability, leaving a scandal-plagued government clinging to power in Ottawa. As catastrophe looms ahead, a precognitive rainman, Ian Mallory, stands between run-of-the-mill corruption and a nightmarish, dystopian future. It is up to a diverse and unlikely band of activists, scientists, journalists, and one underpaid, emoji-spell wielding intern to save their beleaguered country from its own worst impulses
Cascade
Word Count:

125,000
Summary: Bound by love, separated by a tragic mistake; can two Indigenous women realize their happy ending? Long ago, in an age of mysticism, Walks with Spirits, a two-spirit woman, perceives voices whispering on the wind and they empower her with the gift of calling animals. But who she truly wishes to call to her side is her childhood friend, Laughing Brook. Daughter of a shaman and an herbalist-midwife, Laughing Brook holds a prominent place in her society and bears the responsibilities it entails. She is training to be a healer like her mother, but her most compelling desire is to spend her life with Walks with Spirits. When a misunderstanding crushes their dreams of happiness, both women must learn to face the trials that await them in a land where danger lurks behind every tree and honor means more than life. Will the spirits intervene on their behalf, or are they fated never to manifest their visions of love? Walks with Spirits is a historical fantasy set in an ancient time. Packed with Native American themes, heart-touching imagery, and an epic love story, Walks with Spirits will immerse you in an inspiring view of life.
Walks with Spirits
Word Count:

35000
Summary: THE TIME TO STAND UP FOR YOURSELF IS NOW – AND ALWAYS! Past and present shatter like glass as Iria and Madge, lovers and witches in modern-day San Francisco, send their friend and ally Emperor Norton back in time to snatch a key to the city's soul from one of its most turbulent events: the Compton's Cafeteria riots! As the abused and exploited LGBTQIA+ people of the Tenderloin neighborhood rise up against their violent oppressors, our heroes find their plans foiled by Mammon, their demonic foe, when he sends his lieutenant Etta Place to ambush them in the present while he attacks them in the past. As Norton and Place dance a deadly duel in the shadow of one of the city's greatest monuments, Iria and Madge must use their most powerful arts and quickest wits to wage a battle of wills and weapons across multiple moments in time. Betrayals abound and secrets are revealed as everyone involved—good and evil, wicked and wise—joins the battle for their own soul, the soul of the city, and their place in its future! Servant/Sovereign is the time-bending urban fantasy series from award-winning author Michael G. Williams, set in the Shadow Council World of Quincy Harker.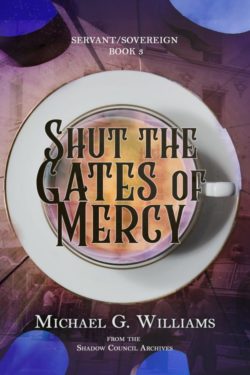 Shut the Gates of Mercy
Word Count: Information not available
Summary: The Fantastical Romances You've Been Craving Hugo Finalist Janice L. Newman presents a touching trio of romances in a speculative vein. From the edge of space, to the shadows of the paranormal, to the marvels of the mystic: At First Contact: A germaphobe and an android are assigned a mission to survey a planet together. Will they discover new life or a new love? Ghosted: Leo is searching for the soul that used to haunt his grandmother's house. Did Will ghost him? A Touch of Magic: What if love could alter the fabric of existence? A fraught romance between two teachers just might be helped along by a touch of magic.
At First Contact
Word Count:

222000
Summary: Two people find themselves in a quandary: Aderri, a powerful dragon shifter with some light defensive magic, and Ellys, a half-elven swordswoman for hire, one of the best across the six nations. When Aderri gets news that she must come home for the naming ceremony of a new hatchling, she's forced to hire Ellys and her telepathic steed, Roccotári, to see her safely there. Of course, things are never as simple as they seem. Not only do they have to traverse the land between two kingdoms on the brink of war, but Aderri's Clan expects her to return with a romantic interest. So, for the added promise of triple Ellys's normal fee, the half-elf agrees to pretend to be Aderri's suitor. Ellys and Aderri have to convince a Clan full of magical mixed-shifters for a week that creatures of differing elements can burn with the flames of love, without actually lying. A situation made even more difficult by a matchmaking mare, steamy baths, and an innkeeper with mischief on the mind. Caught between the weight of the past and expectations of the future, they must find their true destiny within the heat of fire.
Elemental Attraction
Word Count:

36000
Summary: INK (NOUN) Five definitions to inspire writers around the world and an unlimited number of possible stories to tell: 1) A colored fluid used for writing 2) The action of signing a deal 3) A black liquid ejected by squid 4) Publicity in the written media 5) A slang word for tattoos Ink features 300-word speculative flash fiction stories from across the rainbow spectrum, from the minds of the writers of Queer Sci Fi.
Ink
Word Count:

48338
Summary: Every story has a beginning…. Dragons. Angels fear them and demons follow them. Formidable beasts of incredible power, they fight each other to the death for dominance. But dwindling dragon numbers cause alarm among the angelic ranks. Surely when the dragons have finished killing each other, the victors will search elsewhere for conquest… maybe even the Upper Realm. Roland, an angelic artist of significant talent, doesn't know what to believe. Part of him longs to see a dragon in person, and his peaceful life of contentment is wearing thin. He wants passion, desire, adventure, and love. He gets more than he bargained for when he and his sister are ambushed and captured by demons, and they bring him to a creature who surpasses Roland's wildest imaginings. But the mighty dragon Asagoroth is not all that he seems. Something sparks between him and Roland. Something neither anticipated. Something that will shake the cosmos to its core. Note to readers: this is the second edition, fully revised and updated.
On Wings of Passion
Word Count:

50963
Summary: Trystan is an unchosen angel—shunned by society, bullied, and without a future. In a hidden well, Trystan discovers a carving of a dragon, who were once the commanders of demons and now believed extinct. But Trystan learns the carving doesn't depict an ordinary dragon. Stories tell that millennia ago, the great dragon Asagoroth and his demon army nearly conquered the three realms but was killed by the five elders. The powerful angels combined their life forces to cast a spell, sacrificing their lives. But history is full of falsehoods. The five elders only managed to imprison the dragon, and Asagoroth had cast his own spell—one of releasement. It only needs the blood of a certain angel to liberate him from his cage…. Asagoroth, enemy of angels, conqueror of realms, is free. But even as the angels prepare for war, the great dragon surprises them with an ultimatum: hand over the angel who awakened him or face annihilation. Note to readers: this is the second edition, fully revised and updated. The current audiobook is based on the first edition.
On Wings of Thunder
Word Count:

80,000
Summary: Cherokee attorney Baylie Smith hates pushing paper at the Bureau of Indian Affairs. When Baylie learns time travel exists, she goes to 1787 to guide her people westward to safety before the Trail of Tears. Baylie becomes a warrior woman, where her intelligence, cunning and logic help the tribe win a decisive battle against the Chickamauga Cherokees. She earns ownership of enslaved Kirk O'Malley, who the Cherokees believe is the white devil, Tsul Kalu. Baylie and Shadow Wolf fall in love and are about to marry when O'Malley manages to go forward in time. The village orders her to retrieve O'Malley to his correct time. But Kirk finds love with Mellie Henderson, and refuses to return to the past as Baylie learns she is pregnant with Wolf's 'different-abled' child. Will Baylie be able to rejoin Shadow Wolf, claim her destiny, and fulfill her part of the prophecy?
Path of the Guiding Light
Word Count:

103061
Summary: SISTER. ASSASSIN. VESSEL. Echo Rodrigal isn't just a survivor; she's a success. But in a land where the law is there are no laws, the terms of success rest on a knife's edge, and Echo's luck is about to change. The Vindicata are one of the top vengeance crews in the Ten Realms of Interra. Their oaths to only commit crimes of justice have earned them the respect of their peers. But the Vindicata are more than a crew, they're a family. And ever since they adopted Echo, she's cared about one thing: making her family proud. For years, that's meant becoming the continent's most feared assassin. But each kill wreaks havoc on her soul, no matter how justified. Echo's unraveling fast, complicated by the mysterious rift growing between her and her beloved sister. Miyala's keeping dangerous secrets, and Echo cannot find the key to unlock her sister's trust. When the Warlord orders the Vindicata to transport foreign dissidents to a new prison, they must put their personal issues aside to face an impossible choice: die for defying orders, or die for breaking their oaths to uphold justice. Between meddling gods returning to the continent, mercenaries around every corner, and an ancient prophecy that foretells the end of all worlds, the pressure on Echo is mounting fast. Can she make enough right moves to save her family? The fate of many worlds rests in Echo's next choice.
Vessel of Starfire
Word Count:

81000
Summary: A baby's laughter. A mind uncaged. Lance is known as Scourge, the warrior in the black armor, the dog of the warlord Ulfr Blackwolf. He was just a boy when Ulfr found him and molded him into the perfect weapon. He slaughters and pillages on command, merciless and numb, devoid of emotions. Then a baby girl laughs at him during a raid. And everything changes. When Gust, a talented healer, is out deer hunting and stumbles across a magnificent horse bearing a mortally wounded rider, he has no idea that his life is about to change forever. Gust applies all his skills to his patient, determined to save the rider's life, and is rewarded when the man opens his eyes. As friendship, and more, bloom between warrior and healer, so does the danger over the horizon. Ulfr has not forgotten, and Lance must take his first steps on the long road to redemption.
Healing Lance
Word Count: Information not available
Summary: The sequel to The Seer. Finally liberated from her captor, Amarta—The Seer of Arunkel—travels south to Perripur, her former hunter—and lover—at her side. She needs all the help she can get, because more hunters are tracking her, close behind. As Amarta's fame spreads across two countries, so does her need to understand herself, and to find others who can also see into the future. Back in Arunkel, the man who once held Amarta's freedom—the queen's Lord Commander and Royal Consort—plays a deadly game with the aristocratic Houses. He must win if his queen and his child are to survive. He has not forgotten the Seer whom he once hunted, and held captive. Amarta has not forgotten him, either. Unmoored—the first book of The Stranger Trilogy—begins new adventures for Amarta, The Seer. Come explore this rich world, follow the court intrigue, and learn the truth about power. Be sure to pick up the other books in the trilogy: Maelstrom and Landfall.
Unmoored