Sci fi stories that involve the transformation of humans using technology, into something greater than or different from the norm.. Return to general Sci Fi
Note: these books are currently sorted by release date, with newest first.
Word Count:

38000
Summary: RISE (noun / verb) Eight definitions to inspire writers around the world, and an unlimited number of possible stories to tell: 1) An upward slope or movement 2) A beginning or origin 3) An increase in amount or number 4) An angry reaction 5) To take up arms 6) To return from death 7) To become heartened or elated 8) To exert oneself to meet a challenge Rise features 300-word speculative flash fiction stories from across the rainbow spectrum, from the minds of the writers of Queer Sci Fi.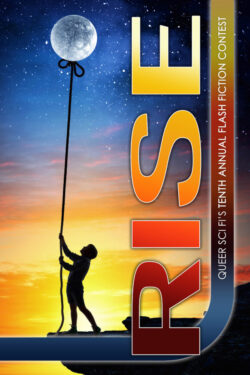 Rise
Word Count:

29600
Summary: When Peace-in-the-Sky awakens as a captive with a young girl by her side, she only understands one thing: she must escape the tribe who captured her. A brutal head injury makes the past a swirling fog, so she is reliant on the girl—her precocious daughter Anissa—to guide them. She must return Anissa to the Tribes-under-the-Dome to keep her safe from warring and vicious tribes inhabiting the wasted landscape. Every group they shelter with along the way sees something different when they look at Peace-in-the-Sky—a god, a savior, a valuable commodity, a volatile danger. She doesn't know herself, but soon realizes she can protect Anissa with the scorching power of the pillars-of-flame. Only her tender love for Anissa and her mission to return the girl home to the Tribes-under-the-Dome matter. As her body grows weaker, not even the inexorable unraveling mystery of who, or what, Peace-in-the-Sky really is can deflect her from the task. Find out what happens in Peace In The Sky by Caye Marsh!
Peace in the Sky
Word Count:

119000
Summary: A single father fights to retain control as he shares his body and mind with an evolving AI. It's been nine years since the government banned all technology. So, when Joel Lodowick, a young transgender father struggling to support his five-year-old daughter, has an old bionic upload itself into his head, he is faced with a decision: Go to the cops and risk prosecution? Or use the robot's skills to turn his life around? Scared of losing his daughter, Joel chooses the latter. Heightened intelligence and physical enhancements quickly land him a better job and a brighter future. But things take a sinister turn when Joel realizes his uninvited companion has an agenda of its own, which may or may not include leaving him in control. Unable to approach the government who covered up the truth about AI sentience, Joel finds himself on the run. With his daughter's life on the line and his own body turning against him, he must find a way to convince the bionic in his head to value his human life before he loses the chance forever. Find out what happens in My Heart is Human by Reese Hogan!
My Heart Is Human
Word Count:

117000
Summary: You can choose your friends, but you can't choose your family… Quirk and Moth have avoided killing each other long enough to solve another case. They decide on a local job next, and take up the search for a missing scientist. How could Quirk know this new mystery put them on a headlong collision course with his troubled past, a plethora of personal issues, and a hoard of genetic hybrid creatures with an appetite for anything that moves? When their client dies in mysterious circumstances, law enforcement pursues the dysfunctional duo all the way to a research lab in frozen Yellowknife. Can Quirk and Moth find the scientist before they are banged up for murder, or has she already been eaten? Is it coincidence Quirk's father-in-law bought the company? Can they expose the shadow from Quirk's past and clear their names? Quirk and Moth need time, but it's fast running out, and the bodies are piling up. Find out what happens in The Carborundum Conundrum!
The Carborundum Conundrum
Word Count:

299
Summary: This action filled, edge of your seat dystopian adventure is set in the near future, when a space probe is returning to Earth from the Cares 1 Asteroid with geological and biological samples frozen in ice for billions of years. It's big news, the discovery of ancient organisms from an extra-terrestrial body. After the samples arrive at Interplan Astro-Research facility in the quiet city of Worcester Massachusetts, with the world's media gathered, eager to hear official announcement that the samples are indeed biological, thus discovering evidence of complex life beyond our planet. Not everyone's excited or happy about having alien lifeforms coming to Earth, and one group of terrorists have planted a thermobaric bomb in an elevator shaft of the facility. The bomb detonates and the facility explodes, killing hundreds of people, workers, protestors, scientists and TV crews, but far from destroying the samples, the explosion has released them from their level one quarantine and unleashes a deadly parasite that quickly infects the citizens of Worcester with infestations of strand red worms that infest the living. Despite efforts to contain the "Cares Pestis" AKA the "MR. Ripple" it spreads fast and becomes through the USA and beyond, causing a complete breakdown of society. But then comes something else, something far more menacing that threatens the very existence of human life on earth, and for Colonel Troy Glass and his fiancé Yvette, a deadly struggle for survival begins as they head west, to a secret government facility known as Haven. On their way, they pick up an eclectic group of fellow survivors, who together, battle against all the odds, both human and alien…
Mr. Ripple
Word Count:

100000
Summary: They say, "Never work with androids or children." Quirk had one job to do, deliver papers to a Milan mafia boss, before leaving Earth for his home in the asteroids. But that was before being tailed, poisoned—oh, yes—and hijacked into raising foulmouthed fourteen-year-old convent girl Angelika Moratti, aka Moth, who'd rather see him asphyxiate in space. Fleeing assassins, Quirk, Moth and her syRen® android S-0778 ride the space elevator to the Moon, where Quirk hires on to hunt an ex-terra-former who somehow used an android to murder his doctor. But which android of the two hundred under Lunaville's dome? The trail of bodies grows, time is running out; the only way they can save the dome and the two thousand souls beneath it is to solve The Mandroid Murders. Genres: Science Fiction / Thriller / Mystery / Adventure / LGBT and Non Binary Market: Adult
The Mandroid Murders
Word Count:

105000
Summary: RETURN TO THE MEAN STREETS OF AUTUMN Valerius Bakhoum is dead and buried. Too bad he's still flat broke and behind on the rent. Unsure what to do with himself—and of who he is—Valerius resumes his career as a detective by taking up the oldest case in his files: where do the children go? Throughout his own youth on the streets of Autumn, last of the Great Flying Cities, Valerius knew his fellow runaways disappeared from back alleys and other hiding places more than anyone realized. Street kids even had a myth to explain it: the Gotchas, who steal urchins away in the night. With nothing but time on his hands, Valerius dives in head-first to settle the question once and for all and runs smack into a more pressing mystery: who killed one of Valerius' former lovers? And do they know Valerius is still alive? Stalk the shadows of Autumn's hidden places by Valerius Bakhoum's side as he shines a light on secrets both sacred and profane, ones with shockingly personal connections to who he was—and who he might become. New Life in Autumn is the sequel to the Manly Wade Wellman Award-winning A Fall in Autumn.
New Life in Autumn
Word Count: Information not available
Summary: Retired, reclusive, and too smart to die. Hacker Ajay Andersen knows his retirement isn't always going to be sunshine and roses. He's committed to protecting those he loves, and sometimes that's not going to be easy. But things get complicated fast when he finds Silas Cardoso's body in his living room. An environmentalist entrepreneur threatens the very wilderness he once protected. Mercenaries hold information that could endanger Ajay's granddaughter Kylie. If he's going to make things right, Ajay will need to venture somewhere he never wants to go during the harsh Minnesota winter: Outside. Too old to race a snowmobile through a dense forest? Maybe. Too old to be a pain in the butt? Not this Grandfather.
Grandfather Ghost
Word Count: Information not available
Summary: Elderly, unarmed, and extremely dangerous. Ajay Andersen was the best hacker the NSA had ever hired. He sank corporations, toppled governments, and broke cryptography. All of it. Retirement hasn't slowed him down one bit, thank you very much. When his estranged daughter shows up on his doorstep with his two granddaughters, Ajay will do anything to keep them safe. He'll hack biotech corporations and criminal enterprises alike. He'll brave the woods of Minnesota. Nobody after his girls will be safe, but the more he digs, the more he dredges up the shadows of his own dangerous past. He only needs to know one thing: What makes his granddaughters so darn dangerous?
Grandfather Anonymous
Word Count:

111,000
Summary:
New York: two years after the Third World War. Humanity is rebuilding its cities brick by brick; the damage done to the people, however, is a lot harder to repair.
Dan Hardacre is one of those people. An aspiring stage actor and experienced draft-dodger, Dan struggles to find his place within the Utopic rebuild of New York City. When he's not caught up with the duties of work, Dan lives a quiet life in mourning for his mother, Dyani, who went missing when he was a teenager.
One night, Dan experiences a vivid, terrifying nightmare that puts him right on the front lines of the war for which he dodged the draft; it ends with him facing Death itself in the form of a metallic, faceless humanoid creature that calls itself the Valkyrie. To investigate the reason behind his haunting experience, Dan seeks out a meeting with his estranged father, who reveals the startling truth about Dan's dream: it wasn't a dream.
With this newfound knowledge and the powers it brings, Dan makes it his mission to return to the scene of his nightmare. However, he soon comes to know that confronting the Valkyrie not only endangers him but the war-withstanding world he leaves behind.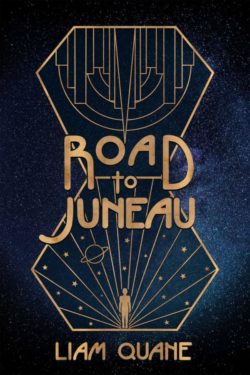 ROAD TO JUNEAU
Word Count:

100212
Summary: The America of our near-future is divided across socio-economic and technological-philosophical lines. The Traditionalists eschew any and all post-human technologies in favor of tangible materials. They uphold strict hierarchical structures based on religion, family, and leadership. They long for the return of the global markets wiped out by a world-shaking disaster called The Great Tide. The Interconnected stand in stark opposition to their ways, living without property, family, or religion, and modifying their bodies with the help of new and invasive technologies. They speak to each other wordlessly, employing a technological telepathy they call 'thexting' to communicate mind to mind, and embrace the gifting economy of Merit to maintain their post-scarcity lifestyles. Marto, the traveling Interconnected historian, has exiled himself to protect the ones he loves from his dark secret. In his absence, Helen, a runaway Traditionalist aristocrat, struggles to find her place among the Interconnected, unwilling to return to her cruel family. Reyleena, the former head of security in the Interconnected town of Reverside, has returned to a life of quiet solitude, broken occasionally by the impositions of The Other, an omnipresent AI, who will not leave her alone. Meanwhile, Barnabas, the Traditionalist leader of New Atlantic, fights to return to his township in the wake of an attack. Nora, his sister, remains in Reverside and must come to terms with her new life in captivity.
The Wakeful Wanderer's Guide
Word Count:

79000
Summary: The Angel's sinister plan for humanity nears completion! Concealed in its lair, aided by the self-absorbed corporate heiress Michaela Cross, the Angel readies for ultimate victory. But that victory is not yet assured. The mysterious Djinn and her far-flung network of agents prepare to make their final, desperate stand against the alien invader. Katia Miranova has returned to Vesta. Her world is under armed occupation, but she has unlikely new allies: a hacker sent by the Djinn who just might be able to override the Angel's mind-control; and the leader of the Earth forces who helped the alien conquer Vesta in the first place! Ex-reporter Francis Drake knows he's the key to the Djinn's plans. He just doesn't know how or why. Rocketing towards Earth and a final showdown, guarded over by the irascible android Summer, Drake struggles with his conscience and fear. Five years ago, he ran from this battle. Now, he must return to save the woman he once loved ... and Humanity itself!
The Angel and the Djinn
Word Count: Information not available
Summary: "It is so packed with action that there was no place where I could say, 'Ok time for bed now. I'll finish it tomorrow.' A must read." ~Amazon Reviewer Fale doesn't know why she has visions of the queen's past life. All she knows is that her magic becomes dangerously faulty every time she sees into the past. Through the visions, the mystery of Effailya's banishment and life of slavery is solved; the reasons of her heated parting with Gryndoll are revealed, as well as who was the queen's secret lover. And how that could possibly relate the Source Wizard to the Queen of Mages, herself. The Source Wizard Gasten sends out his best efforts, but the new queen stays one step ahead of him. He may have found a way to send his spell to her. And if not, he's found the old wizard's journals, which are sure to give her weaknesses. The Final Rescue is a face-paced adventure as the wizards and mages race toward their mutual destruction. A strong female lead not only survives her dystopian society… she solves the mystery of a hidden war, only to cause a new one, then battles both sides to rule it herself. It's a conclusion for fans who fell in love with The Hunger Games, Divergent, and The Reader series. If you're hooked on genre-blending, suspenseful, fantasy romance novels, with adventure, you'll love The Final Rescue!
The Final Rescue
Word Count:

144000
Summary: Risa Black will decide the fate of an entire planet. After all, an angel told her so. Orphaned young, she grows up among the resistance, fighting to give the people of Mars command of their own destiny. Two governments from Earth vie for control of the Red Planet. She wants them gone, regardless of how many explosives it takes. To the outside world, she's an emotionless, broken marionette. Inside, her father's fiery end haunts her every waking moment. She never cared for destiny or politics, until the angel Raziel focused her anger. Both friend and foe alike believe her grip on sanity tenuous, but she knows he is real, and pities those who will never feel his divine presence. Whenever her adrenaline wears off, guilt at what her bombs did cuts deep, as does the apathy of the citizens she fights to liberate. The pain worsens after unexpected love cracks open her armored heart, causing her to question the role she plays in the bloody conflict. Torn between duty and desire, she learns change never comes without loss. Even to the Hand of Raziel.
The Hand of Raziel
Word Count:

90696
Summary: Marto Boxter is an optimistic journalist with a head full of implants. When we meet him, he is planning a ride into the interconnected tribes of the Northeast from his town of Reverside-on-Hudson. He plans to document his ride by posting his thoughts in real-time to his post-human followers. Before he can leave on his tour however, a runaway named Helen arrives with secret information that throws Marto's placid world into turmoil. Meanwhile, Barnabas Yoniver IV, the leader of a Luddite town to the south launches a plot to disrupt the life of all upgraded humans and bring them back to the traditional economy of markets and governments. Aware of Yoniver's plans, rival Luddite families scheme to prevent Barnabas from grabbing too much power for himself.
The Wakeful Wanderer's Guide
Word Count:

71000
Summary: The thrilling Voidstrider Saga continues... Shan Taishan dedicated his life to protecting Mars as an Officer of the Fleet. But now an enemy no one can see has come to the Red Planet, and it's up to Shan to save his sister and his homeworld - or see Mars fall forever! Prominent Martians have gone missing - only to turn up again days later, seemingly changed. Government leaders forward policies they'd never have supported before, and the Fleet itself seems riddled with traitors. There's a conspiracy at work, one which threatens to turn Mars into a brutal dictatorship. With his friends gone off to Eros - glittering asteroid city of sin - in search of the enigmatic Djinn, it's up to Shan alone to unravel the mystery and save his world. And when he learns the truth at last, Shan Taishan will be forced to make a terrible sacrifice -- or see his world lost forever!
An Officer of the Fleet
Word Count:

66000
Summary: Introducing a thrilling new space opera adventure! When a Martian politician is kidnapped en route to a summit of leaders from the Asteroid Belt, events are set in motion which will change the face of the Solar System... Katia Miranova believes in a free Belt. She's lived her entire life on Vesta, and she'll be damned if she lets a bunch of Earthers tell her how to run her station. But when Earth makes its move, Katia begins to suspect there's something more sinister at work behind the scenes... On the distant edge of the system, Francis Drake is a washed-up hack drowning in a bottle. He's seen the face of the enemy and he ran from it. But Drake is about to be dragged kicking and screaming back into the middle of a war for the very future of humankind!
Revolt on Vesta
Word Count:

101000
Summary:
When the cure for a deadly disease is stolen, two misfits are all that stands between greed and intergalactic tragedy.
Luka Foxe can't let anyone know about his secret mental abilities. Debilitated by their influence when faced with violence, the brilliant forensic investigator now only takes assignments involving theft. But when he has to hunt down a hijacked vaccine for a galaxy-wide pandemic, the tragic first clue is his best friend's brutal murder.
Nightshift guard Mairwen Morganthur knows she must keep a low profile. The product of illegal genetic alteration, she's a lethal weapon with no social graces. But when she's tasked to protect a detective with frightening intuition, she finds herself falling for him even though he could expose her.
Racing to recover the cure for a galaxy-wide pandemic, Luka is surprised by his developing feelings for the capable-but-mysterious guard. And Mairwen may have to risk everything by revealing her identity, with deadly mercenaries hot on their tail.
Can the unlikely pair survive an interplanetary conspiracy long enough to save lives and find love?
Overload Flux is the first novel in the sweeping Central Galactic Concordance space opera series. If you like haunted characters, compelling mysteries, and interstellar romance, then you'll enjoy Carol Van Natta's epic tale.
Overload Flux
Word Count: Information not available
Summary: Eclectic, imaginative, and unexpected, Community of Magic Pens features forty genre-spanning flash and short stories--including fantasy, humor, science fiction, romance, historical fiction, satire, and mystery--bringing together a rich group of diverse voices from a wide range of backgrounds and intersections. Fountain pens, markers and ink, charcoals, spy pens, a braille writer, a printing press, virtual reality, and a supernatural pizza: whether revealing unspoken truths, fighting injustice, or finding friendship and love, our pens have power. Join us as a recent graduate of superhero school struggles to understand her gift, a disabled android interviews for a job, a queen's conscripted artist must pull reality from illustrations on parchment, and a grandmother's secret room is…better kept a secret. Tales of struggle and triumph, compassion and hope: Community of Magic Pens is a celebration of our shared story.
Community of Magic Pens