Fantasy stories that include queer characters and/or a queer storyline. Return to general Fantasy
Note: these books are currently sorted by release date, with newest first.
Word Count:

50000
Summary: Just because you're alone, doesn't mean someone doesn't know your business… Lucas, the closeted son of a preacher who just graduated from Florida Atlantic University, returns home and is forced to make a life-changing decision––can he live a lie and marry his lifelong BFF, who his overbearing parents have been plotting to matchmake him with for years? Or, will he stay in Florida and start a new, more open life that he knows they will never approve of? Tyler, a talented artist on the edge of eighteen, is about to finish high school, and is looking forward to becoming a proper adult and fully exploring his sexuality. However, he soon discovers there's a kink in his plans––his father has decided to rent out the studio apartment he's been living in, putting an end to the independence he's enjoyed until now. Lucas answers an advertisement for the apartment, and sparks fly from the very first moment the boys meet––though both are reluctant to explore things further, since it wasn't what either of them had planned for their futures. But sometimes life isn't that simple, and doesn't always go exactly as planned…
Curious Thing About The Apartment Vent
Word Count:

93700
Summary: Raven's a thief who just swallowed a dragon. A small one, sure, but now his arms are growing scales, the local wildlife is acting up, and his snarky AI familiar is no help whatsoever. Raven's best friend Aik is a guardsman carrying a torch for the thief. A pickpocket and a guard? Never going to happen. And Aik's ex-fiancé Silya, an initiate priestess in a magical crisis, hates Raven with the heat of a thousand suns. This unlikely team must work together to face strange beasts, alien artifacts, and a world-altering threat. If they don't figure out what to do soon, it might just be the end of everything. Things are about to get messy.
The Dragon Eater
Word Count:

80000
Summary: Trapped outside the world, unlikely hero Thaddeus Wright must partner with sexy Secret Agent Peter Pan to save a new generation of Lost Boys. THADDEUS WRIGHT would love to forget his childhood. A bi-racial bastard orphaned at four, he was the very definition of sin, according to the strict and disapproving grandparents who raised him. Twenty years later, Thad works with at-risk youth as both coach and counselor. Even after his grandparent's spare-the-rod, spoil-the-child parenting, Thad just wants to help people. But when three young boys he coaches go missing, he's the prime suspect. Especially when he goes missing himself! That's when paranormal policing agency Borderless Observers Org. (B.O.O.) sends in recent recruit Peter Batique on his first solo mission. Peter had another name once, but he's all grown up now and looking to prove himself an adult and a capable agent. However, after a hundred years as an unruly boy in Neverland, growing up holds some pretty unique challenges for Peter. Despite their differences, Thad and Peter must learn to work together to rescue a whole new generation of Lost Boys and take down the black market shadow dealer responsible. Can Thad learn he's worthy of love? Can Peter finally grow up? Can the Lost Boys be found?
Lost Boys 2.0 (BOO #2)
Word Count:

45000
Summary: IMAGINE BEING the only un-magical kid at Hogwarts. That's how sixteen-year-old orphan Jaden Raines feels as he enters Azunya High. He struggles to fit in, but he's really a fish out of water. The magical isle of Azunya, where paranormal policing agency B.O.O. is headquartered, is shocking to Jaden after having lived his entire life in the American Midwest. Back there, his classmates were freaks, geeks and gangstas. Here, his classmates are genies, witches, healers… A whole pantheon of beings and monsters. And worse yet, he'll have to read The Old Man and the Sea. Again. Jaden might be the new kid in town, but he's still a teen. It's love at first sight with handsome skater-boy Stiltz. They have three things in common: neither is able to use magic, they're both petrified of water, and, lucky for Jaden, they're both gay. They should bond, but their relationship's stormy from the start. To try to fit in, Jaden hides his powerless state, accidentally creating the myth that he's the most powerful being of them all. But when the entire school demands a demonstration, what's Jaden to do? New lies and cruel deceptions leave Jaden and Stiltz stranded at sea in the middle of a deadly tropical storm. In order to survive, the boys must spill their secrets. It's sink or swim for our heroes. Only the truth can set them free. And keep them alive.
Mysterical (Tales of B.O.O. Book 3)
Word Count: Information not available
Summary: What happens when a Highland witch falls for the Loch Ness Monster? When Cam Walker, the last remaining Witch of the Highlands, heads to Loch Ness to investigate a potentially dangerous monster, the last thing he expects is to wind up working with that monster… let alone be attracted to him. But the friendly, cheerful Lachlan is hard to resist, and turns out to be a powerful ally in the hunt for the real monster behind the killings around Loch Ness… M/M paranormal romance with a sweet relationship and medium spice. This novella is the first in a trilogy following the same characters: it has a HFN conclusion and NO cliff-hanger!
Finding Nessie
Word Count:

135500
Summary: The Dragon is awake, and he's ready to rejoin the game. When the Valsharess compelled the novice Sister Sirana to leave for the Surface, she also commanded the Lead Sister Jaunda to leave her beloved city for the dark labyrinth of the underground wilderness. Jaunda seeks the lair of a legendary creature who's been asleep since before she was born. After spans of searching, she approaches her goal at last, only to discover he just woke up ... and he wants to play. Meanwhile, Sirana waits for her bodyguard to rise out of an abrupt and powerful sleep. In the aftermath of the Temple City's fall, surrounded by battle-weary refugees and bustling Dwarves, she and others around her discover the wounds which must be healed before fighting continues. Sister Seekers is dark epic fantasy for adults with an ever-broadening scope. The saga genre-hops a bit so things never get stale. Found Family is a core theme throughout. Perfect for fans of entwined plots, challenging themes, immersive worldbuilding, and elements of erotic horror. Sexuality and inner conflict play into character growth with nuanced intrigue, intense action, and fantastical magic.
Awake in the Dark: Sister Seekers 9
Word Count:

386,840
Summary: When sisterhood by blood is pure misery, can sisterhood by trial be any different? My sister deserved to die, but I didn't kill her. If I take the blame, I'm next on the sacrificial altar. The Red Sisters know this. Now they're watching me. I'm about to find out why. ~~~ In their underground city, only the cunning and the bold thrive. Sirana Thalluensareci refuses to be cowed. Banished from everything she knew after surviving an assassination attempt, the abused dark elf finds delight in the sensual thrills of the court's explicit intimacies. But she's taken off-guard when one of the realm's most powerful organizations steps out of the shadows to abduct her to their lair. Relying on her wits and nerve to thread her way through a controlling sisterhood, Sirana navigates passionate encounters, sharp-edged battles, and a series of initiation rituals where failure means a painful death. Even as the independent warrior-in-training discovers a taste for hidden pleasures, old scars threaten her ability to survive on the danger-strewn path when the Red Sisters' competitors, the Daughters of Braqth, turn their eyes toward her. As everyone around her pushes her to the edge, can she keep her balance and avoid falling into the spider's trap? If you crave found family, nuanced characters, bold and steamy scenes with touches of survival horror, then you'll love A.S. Etaski's Machiavellian matriarchy. Begin the intense first trilogy of the Sister Seekers series today!
Sister Seekers Bundle Vol. 1
Word Count:

114000
Summary: A Slow Burn Meet Cute! Baker. Wizard. God of Space and Time. Cupcake enthusiast. How long will it take to fan the flames and enrage this gentle phoenix? Start counting. What's a wounded and lonely little cinnamon roll to do? Stripped of his psychic powers, Calico Winghorse flees his homeworld and travels to 19th century Earth via his inter-dimensional portal. As a mixed-blood phoenix trapped in human form, he opens a bakery in the San Francisco Bay Area and quietly nurses his wounds. But the unique method of his arrival draws the unwanted attention of Infinity Corporation. Representing this angelic-run company is Agustin Chavez de la Cruz, the Demon Lord of California. Even though Agustin is IC's heir, he finds himself demoted from his duties to concentrate on his new assignment: take absolute control of Calico's portal. But Calico refuses to sell at any price. He is also very busy ensuring that the good people of the city are getting their fill of baked goods. Before Agustin can formulate a more gracious avenue of acquiring the gateway, the demanding head of IC interferes, further complicating matters. So as negotiations stumble along, Calico and Agustin come to realize they both want more than a stuffy business arrangement. However, due to Calico's injuries, the portal remains vulnerable to the darker forces that want it at any cost. Agustin will have to push both his angelic heritage, as well as his own psychic powers to the very limits to heal this sweet baker, who is also the portal world's God of Space and Time. The Demon Lord of California is the first book of an LGBTQ+ paranormal-fantasy series. You won't want to miss a first love found, hidden worlds, and a recovering workaholic grasping at his second chance. All centered around the control of an otherworldly portal. So curl up with your favorite beverage, and hang out with Cal and Gus for a while. You'll be happy you did!
The Demon Lord of California
Word Count: Information not available
Summary: It's not easy being the child of legends When her brother goes missing, the first hint of a larger plot against her famous family, Beau must find her inner hero--if she & her friends can avoid getting killed first. CHASING SUNSET is a stand-alone sequel to the WOODSPELL SERIES and one of the TALES OF ARDONNA.
Chasing Sunset
Word Count:

87000
Summary: In the interstellar kingdom of Valoris, the balance of power has changed. Dressa Rhialden has all she ever wanted—except she only wanted Lesander, gorgeous prince of an enemy high house, not the kingdom meant for her sister. Unfortunately, her betrothal came with both, and now she has a lot of catching up to do. But she's falling hard for Lesander in the meantime, and with her kingdom on the line and Lesander maybe her enemy, is falling in love really a good idea? When alien attacks that shouldn't be possible plague her kingdom's distant worlds, Dressa's new position is put to the test. Why are the pacifist Kidaa attacking now, and were the attacks made by the Kidaa at all? There's more going on than an internal power shift, and she has far more secrets to uncover to keep her kingdom safe. Ari Rhialden had her whole life planned out: excel at being the Truthspoken Heir, controlling her kingdom with her shapeshifting powers, and then one day excel at ruling the kingdom. But when she contracts an incurable illness and loses her ability to shapeshift, those plans are derailed. Ari's sent undercover to a resort world for treatment, but all is not right in paradise. A young gardener with a mysterious past is taking too much interest in Ari's new persona, and a possessive duke is bent on capturing her attention for himself. Are these just the ordinary machinations of noble guests or something far more sinister? In a kingdom where subterfuge is the norm, coincidence is never just that, and now events are rapidly spinning out of control. Can Dressa and Ari find their way to truth before the kingdom comes crumbling down around them? The Shadow Rule is the second season of The Stars and Green Magics, an epic space fantasy serial set in a diverse, queernorm universe with shapeshifting royals, plotting nobles, and space magic! The Shadow Rule collects episodes 37-93, the complete second season. This book has main characters who are queer, nonbinary, trans, agender, genderfluid, ace and/or aro, lesbian, fat, POC, disabled, ND, and generally awesome. (Not all rep is stated, some is implied.) Barring the occasional burst of strong language, this book is PG-13.
The Shadow Rule
Word Count:

11500
Summary: A dark fairy tale in a modern Greek setting. Hiding in the mountains, a harpy and her adopted daughter struggle to survive. Iphis has always known that survival comes hand in hand with loneliness, but when she catches feelings for a girl in the nearby town, her heart yearns for a different kind of future. When she's suddenly attacked by a group of enraged harpies, things only become more complicated... and dangerous.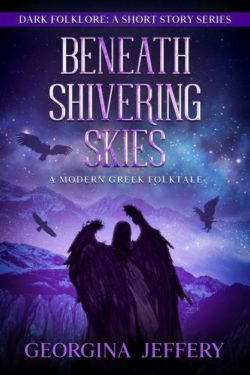 Beneath Shivering Skies
Word Count:

117,600
Summary: The Action Packed Conclusion to the Peridot Shift Trilogy Peridot is on the edge of annihilation. Once life-giving, the world's Trade Winds are transforming people into soulless monsters. The surviving Alchemist gods neglect their followers or take advantage of them. Even worse, a delicate peace has been wasted, and everything and everyone is at stake, especially Meran, the mistreated embodiment of the planet. Captain Talis and the crew of Fortune's Storm must try to do some good with what's left of Peridot in the hope that, together, they'll reclaim the hidden pieces of Meran's soul before the chaos seals her disastrous fate.
Cast Off
Word Count: Information not available
Summary: "Now is the time to release the burdens you have been carrying." The holiday season is traditionally one of reunions, homecomings, and family gatherings, but for the LGBTQIA+ community, it can be a time of anxiety and dread—a time we must hide our true selves in order to feel welcome. Too often, the holidays bring about loneliness and pain—a longing to be unequivocally accepted, seen, and loved for who we are. This season, we invite you to be Queer for the New Year! Enter nine fantastical worlds and witness rebirth and release as individuals let go of the past and welcome the new year with open arms and fearless hearts. In the final minutes to midnight, journey with us as we discover that acceptance can be found in the most unlikely of places, pain is not forever, and if nothing feels okay, then it is not the end. Move from the heartaches of old, make a fresh start with hope and renewal in your heart, and join us in being— queer for the new year.
Queer for the New Year
Word Count:

18619
Summary: Varon Cambeul has made it to the top: Royal Magician of the Kingdom of Lothia, at the right hand of the King, who is his lover. He has always kept the promise he made to his mother and his apprenticeship master: he has used his magic for good. This promise is tested when the King asks him to make a curse, a curse that will be cured by the King and so everyone will love him. Helping the King is using his magic for good, right? But, is Varon doing this because he has fallen in love with the King? What about those who will suffer from the curse and slowly transformed into ghosts, people like Theo and Russell in the town where the curse is released? Can Varon undo this great wrong? Can he save Theo and Russell and the others as they turn invisible? How can he love someone who is not doing good?
Susurrus
Word Count:

81,000
Summary: Explore the birth of a new world! Journey through time and space to the intricate biosphere of Juno, where three species have been birthed by the gods. First the Kuhifadi, inheritors of sun magic, able to do great deeds with magic stored in their bodies. Second the fearsome Uchafumlaji, technological savants who live in the depths of the ground. Third the weird Ngisikaa, a species uplifted from animals through communal memories. Small decisions and single individuals will affect the tide of history. Learn of the first Ngisikaa to meet death, whether a Kuhifadi will make the sacrifice to become a mage, and if an Uchafumlaji can build a bridge to the past. These stories and more will create The World of Juno! With content by: Nick Bright and Brent Lambert, C.J. Hosack, Nate Battalion, Daniel Eavenson, Malcolm F. Cross, Katie Cordy, William C. Tracy, N.L. Bates, Reese Hogan, Cedan Bourne, Robin C.M. Duncan, and X.M. Moon Genres: Science Fiction / Fantasy / Adventure / LGBT and Non Binary Market: Adult
The World of Juno
Word Count:

8000
Summary: Halloween is supposed to be a night for safe scares and harmless tricks, not terror ... or romance. College student Colin agrees to take his little cousin trick-or-treating, anticipating nothing worse than having to shepherd a bunch of sugar-crazed third-graders and a poorly-trained puppy. When the kids run ahead to peek into the local supposedly-haunted house, it seems like a harmless bit of mischief until the puppy crawls through a basement window and is lost. Colin promises to get her back. The place may be dark and creepy, but it can't really be haunted. When the house turns out to be occupied by an attractive man who is willing to let him in, it seems like a lucky break ... at first. Secrets. Sometimes Cat feels like he has nothing but secrets. No family, no freedom, not even a real name. Colin seems nice, but Cat doesn't owe him anything, not when the risk of punishment for helping a stranger is so high. But he's looking for a puppy, and Cat has a soft spot for dogs. And possibly also a soft spot for kind boys with soft lips. But the apparently simple task of finding a missing pet won't be as easy as it sounds, because the house isn't what it seems ... and neither is Cat. Could Colin possibly still want Cat if he learns the truth? They won't find out unless they manage to escape the darkness of the house.
Tricks with Cats and Dogs
Word Count:

97000
Summary: The seas spell freedom. Pirates and kraken, boats and submarines, deadly sirens, mermaids, and the women who face them all. These are our heroes. High seas adventure, fantasy, and magic weave together in this sapphic anthology focusing on the joy of the unbounded oceans. If you like diverse stories with lesbian and sapphic heroines exploring oceans, battling sea monsters, and seducing pirates, buy Farther Reefs today! With stories by: Sarah Day and Tim Pratt, Kim Pritekel, Kyoko M. Sara Codair, William C. Tracy, N.L. Bates, Robin C.M. Duncan, Vanessa Ricci-Thode, Margaret Adelle, and J.S. Fields Genres: Science Fiction / Fantasy / Adventure / Lesbian / LGBT and Non Binary Market: Adult
Farther Reefs
Word Count:

78740
Summary: Dare to explore the darkest tales where sunlight never touches. Etaski's dark fantasy epic, Sister Seekers, begins underground with its denizens living and dying in eternal night. A novice Red Sister leads us through much of the series, but her Elven ancestors have their own stories to share. Tales of Miurag: The Deepearth is a same-world anthology exploring critical moments in the history for the Dark Elves of Sivaraus. This collection contains explicit and sometimes grim content, though we are never lacking all hope. Stories included in this collection: House Aurenthin - a novella on the dramatic origins of the lowest-ranking noble house in Sivaraus. Auranka the Keeper - a chilling horror tale on the monstrous Mistress of the Driders. Rohenvi - the tragic romance in the early reign of the Matron of the Twelfth House. Gaelan - a "dark slice of life," how future Red Sisters sometimes make connections long before their trials Sister Seekers is dark epic fantasy for adults with an ever-broadening scope. The saga genre-hops a bit so things never get stale. Found Family is a core theme throughout. Perfect for fans of entwined plots, challenging themes, immersive worldbuilding, and elements of erotic horror. Sexuality and inner conflict play into character growth with nuanced intrigue, intense action, and fantastical magic.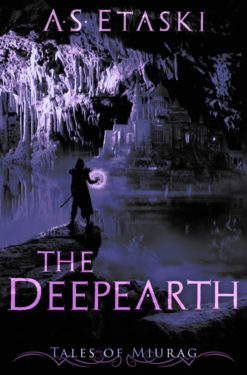 The Deepearth: Tales of Miurag 1
Word Count:

33000
Summary: Clarity (noun) Four definitions to inspire writers around the world and an unlimited number of possible stories to tell: 1) Coherent and intelligible 2) Transparent or pure 3) Attaining certainty about something 4) Easy to see or hear Clarity features 300-word speculative flash fiction stories from across the rainbow spectrum, from the minds of the writers of Queer Sci Fi.
Clarity
Word Count:

101,085
Summary: Attracted by passion, repelled by war. Can two shieldmaidens navigate battlegrounds of the sword and the heart? Sigrid the Valiant is legendary throughout the kingdoms of Norvegr for her heroic deeds, but her love has yet to find a home. Now, racing on the heels of her father's murder, a neighboring kingdom's raids signal an all-out conflict. Elyn is a young shieldmaiden with a score to settle, fighting her own insecurities along with enemies who threaten her homeland. However, she suspects a more menacing danger lurks in the shadows. When the two clash on opposite sides of their shield walls, sparks fly from both their swords and passions. But when they talk, the fierce women discover an antagonist's plot has pitted their kingdoms against each other. Can Sigrid and Elyn move past their suspicions and differences to forge a binding love and foil the villain's scheme, or will the enemy's assassins end their search for the truth? Action, adventure, and intrigue ride together with romance in this enemies-to-lovers saga from the pre-Viking land of Norvegr. Award-winning, best-selling author Edale Lane brings history to life in this fast-paced sapphic novel. Grab your ax and rönd and join the quest!
Sigrid and Elyn