Sci fi stories dealing with the search for other habitable planets and/or alien races, pushing the boundaries of explored space. Return to general Sci Fi
Note: these books are currently sorted by release date, with newest first.
Word Count: Information not available
Summary: Teens and their giant robots search for a new home for mankind, but the planet they discover belongs to the dragons. Two hundred years after the Climate Wars left Earth uninhabitable, Johari and his giant robot companion lead a squad of scouts on a quest for a new Goldilocks planet to settle the remnants of the human race. When one of the scouts and his bot go down in a hostile wilderness, Johari's fight to save them reveals complex behavior in the dragon-like dominant species. The scout team fragments as Johari strives to rescue his friends and discover the truth about the aliens. If he's right, mankind will lose its best hope for a home — or sacrifice its own humanity.
A Wreck of Dragons
Word Count:

109,000
Summary: Time is running out for planet Earth. An insidious Martian plague has been infecting the planet for over twenty years, and has resisted all human efforts to eradicate it. With all life on Earth facing extinction, the only solution left is to directly access a specific piece of Martian technology. But, according to diaries left behind by Ogilvy the astronomer, the Martians have hidden it at the lake on the moon. In 1945, three rockets converted from Martian cylinders take off on the vital lunar mission, and amongst the crew is Ogilvy's nephew, Jack Stent. Will the astronauts locate the Martian shadow-weapon, thought to hold the desperately needed cure for Marseria? Can it really be used to instigate another timeline on Earth so that mankind can survive? The stakes are high and so is the risk of contact and conflict with Martians. Nearly two hundred years later, at a scientific colony on Mars, a shocking discovery is made about Jack Stent, and Ogilvy's Martian diaries are once again pivotal to human survival and the continuation of life on Earth. Gateway To Mars is the third volume of The Martian Diaries series that continues the classic H.G. Wells Mars novel in a compelling, unmissable action adventure. If you're a fan of The War Of The Worlds you won't want to miss this story of survival, despair and hope, that brings the original tale full circle. Get your copy today! What readers have said: "A really well written, excellent continuation of the story and a truly brilliant tribute to HG Wells! I do recommend!" "An excellent third part to this incredible series!" "Boy this was a good book! I love the writing style... it's very true to the original story."
The Martian Diaries: Vol.3 Gateway To Mars
Word Count:

81,000
Summary: Explore the birth of a new world! Journey through time and space to the intricate biosphere of Juno, where three species have been birthed by the gods. First the Kuhifadi, inheritors of sun magic, able to do great deeds with magic stored in their bodies. Second the fearsome Uchafumlaji, technological savants who live in the depths of the ground. Third the weird Ngisikaa, a species uplifted from animals through communal memories. Small decisions and single individuals will affect the tide of history. Learn of the first Ngisikaa to meet death, whether a Kuhifadi will make the sacrifice to become a mage, and if an Uchafumlaji can build a bridge to the past. These stories and more will create The World of Juno! With content by: Nick Bright and Brent Lambert, C.J. Hosack, Nate Battalion, Daniel Eavenson, Malcolm F. Cross, Katie Cordy, William C. Tracy, N.L. Bates, Reese Hogan, Cedan Bourne, Robin C.M. Duncan, and X.M. Moon Genres: Science Fiction / Fantasy / Adventure / LGBT and Non Binary Market: Adult
The World of Juno
Word Count:

33000
Summary: Clarity (noun) Four definitions to inspire writers around the world and an unlimited number of possible stories to tell: 1) Coherent and intelligible 2) Transparent or pure 3) Attaining certainty about something 4) Easy to see or hear Clarity features 300-word speculative flash fiction stories from across the rainbow spectrum, from the minds of the writers of Queer Sci Fi.
Clarity
Word Count:

100,000
Summary: Lida was their last chance for an uncolonized planet. But a world-spanning fungus had colonized it first. Agetha and her husband have spent their whole lives in the fleet's zero-G. Now all is turmoil as the fleet lands, discovering they are surrounded by a single fungal biomass spanning the entire planet. To build a new home, the fleet must confront a dangerous organism, and Agetha must decide if she can raise a family in this inhospitable landscape. Jane Brighton holds tenuous command over the colony and its administrators. She and the other gene-modded leaders emerged from their four-hundred-year suspended animation to find a crew much different from the one that departed Old Earth. Jane must direct the colony's fragile growth and defend it against being overrun by the fast-growing biomass. But there is something none of the colonists know. The massive organism that spans the planet is not simply a fungal mass, nor even a chimerical combination of species that once roamed the planet. The biomass has desires and goals, and one is to know these strange beings carving out a home in its midst. Download today to read of the colony's fate in Of Mycelium and Men! Genres: Space Opera / Science Fiction / Colonization / Alien Contact / LGBT / Non Binary / Trans Market: Adult
Of Mycelium and Men
Word Count:

5200
Summary: There's something in the dark … but is Lem's imagination worse than reality? Out in the vast emptiness of the galaxy, anything can happen. It's a fact that Lem and her trusty companion Spock know all too well. Sometimes, the things lurking in the darkness are all in your head. Then again, maybe there really is something out there. With her talking dog and an infuriatingly literal AI by her side, Lem must rely on nothing but her strength and wits to help her.  As a humorous homage to Arthur C Clarke's classic A Walk in the Dark, this short adventure is a not-actually-scary sci-fi horror story that's perfect for fans of Martha Wells and John Scalzi. 
Jurassic Dark
Word Count:

95000
Summary: Feared by her own kind. Hunted by extraterrestrial forces. Can one super soldier find her place among the stars? Lieutenant Tabitha Chiu is plagued by doubt and conflict. Still heartbroken over the loss of her AI companion and marooned on a faraway moon, the space marine and her ragtag team of super-powered civilians stand as the last line of defense against alien hunters. But when her powers pick up whispered threats of approaching invaders, she's horrified to discover her own people have betrayed her squad. Barely escaping assassination, Tabitha and her fellow psionics flee the hateful moon to the sanctuary of a single surviving combat ship where she hopes to reunite with her AI friend. But when her newly resurrected acquaintance hijacks the craft, the nonbinary fighter is torn between protecting those she loves best and saving humanity from annihilation. Can this conflicted officer and her misfit allies defeat a formidable enemy intent on driving them to extinction? Amp Squad is the electrifying second book in the Ship Whisperer military science fiction series. If you like strong LGBTQ+ characters, unusual weaponry, and fearsome space battles, then you'll love this pulse-pounding story. Buy Amp Squad to launch into a gut-wrenching thrill ride today!
Amp Squad
Word Count:

78,500
Summary: In the 23rd century, spaceships just don't go missing. FBI agent Ray Volk is assigned to a task force to investigate a tragic accident: the disappearance of interplanetary passenger liner ValuTrip Cardinal, carrying 500 souls between Mars and Earth on a routine run. What looks like a cut-and-dried case of pressure loss is complicated by the arrival of a Martian Captain. A very cute Martian Captain who keeps sticking his nose in Ray's investigation. Martian exchange student Kelly Rack knows the disappearance is no accident. She survived the ships' hijacking, but learns the former cruise entertainer leading the pirates has plans for the passengers, and they don't include sightseeing. Kelly has avoided the murderous pirates, except now an off-duty Earth Commander insists on organizing resistance for the passengers. She forces Kelly to climb through service tunnels on sabotage runs, risking capture and death. Can Ray shake down the right accomplices to capture the good ship ValuTrip Cardinal before its new captain spaces everyone on board? Will Kelly discover the pirates' hidden plans for their prisoners? The race is on, because One of Our Spaceships is Missing! Genres: Space Opera / Military Sci-Fi / Science Fiction / LGBT and Non Binary Market: Adult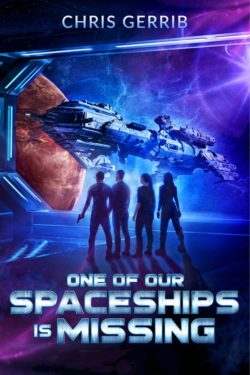 One of Our Spaceships is Missing
Word Count: Information not available
Summary: Give the Enemy Hell! At the ass-end of the galaxy, Allied Forces-including the 142nd Mobile Special Ops Team, better known as Daire's Devils-stand ready to defend the contested colony planet Demeter from military invasion and corporate exploitation. But when the Allied Forces are infiltrated by those determined to secure the top-secret designs of AeroCom's new prototype flagship, the Cromwell, the newest member of the Devils, Corporal Katrion Alexander, finds herself facing off against an unexpected menace, synthetic operatives indistinguishable from living beings. She and the Devils must neutralize this new threat, but how when the enemy wears a trusted face?
Daire's Devils
Word Count: Information not available
Summary: Adventures among the stars need a ship to get you there. Stories Rule Press presents Space Opera Digest 2022: Have Ship, Will Travel Space Opera heroes and heroines explore the stars and discover cool new places in ships which range from beat-up rust-buckets to sleek technologically advanced craft that are the envy of the galaxy. Space ships are quintessential for the adventures and challenges our favourite characters face. Come and explore over 400 pages of worlds of wonder and the ships our heroes fly with Stories Rule Press' 2022 edition of Space Opera Digest. Space Opera Digest 2022: Have Ship, Will Travel is the second volume in a quarterly collection of genre fiction anthologies presented by Stories Rule Press. "Sole Survivor" by Kristine Kathryn Rusch "Captain" by Stephen Sottong "Big Top" by Sonia Orin Lyris "Cycle Three" by Stephanie Mylchreest "Star Cruise" by Ron Collins "Watch of the Starsleepers" by Christopher D. Schmitz "Tome Raiders" by Eric Del Carlo "The Passenger" by Eve Morton "An Ordinary World" by J. L. Royce "Insanity is Infectious" by Cameron Cooper "Achemar" by Jasmine Luck "Moby Dick's Doors" by Michèle Laframboise "Learning Curve" by Neil Williams "Exotic Matters" by Phil Giunta "An icub on Mars" by Barbara G. Tarn "Of Hedgehogs and Humans" by Rob Nisbet "Smugglers Blues" by Blaze Ward "Altered Skin" by Sara C. Walker "An Unexpected Taste of Home" by Terry Mixon "Symphony" by Douglas Smith
Space Opera Digest 2022
Word Count:

56000
Summary: This time, the universe puts the cat in catastrophe. Plucked from her home on Earth and ending up aboard a strange spaceship in an even stranger universe, Lem and the misfit crew of the Teapot have more than enough trouble on their hands… and then they receive an urgent last-minute call to save a race of cat-people from certain destruction. Stuck with a disaster-platypus of a project manager and an entire race of people seemingly determined to thwart their own rescue, the Teapot's crew face the impossible job of herding cats and helping evacuate the planet before it's blown to smithereens. Can Lem and the gang avert disaster and save this race of infuriating cat-people? Perfect for fans of wacky and imaginative sci-fi stories, this satirical space opera is a ridiculous adventure that will delight readers of John Scalzi's take on Fuzzy Nation or TJ Berry's Space Unicorn Blues.
Judgement Dave
Word Count: Information not available
Summary: Our visions of the future - whether dark or hopeful, thrilling or mundane - have always challenged us to examine our world. How can we improve? What challenges will we face? Are we even ready? Top Science Fiction authors, collectively holding 25 Hugo, Nebula, Locus, and Sturgeon awards (a few for Vital stories!), employ the power of engaging fiction to explore these questions and today's most critical issues in medicine. But Vital doesn't stop at speculation. Proceeds will be donated to the COVID-19 Solidarity Response Fund for the World Health Organization, the global guardian of public health, coordinating the worldwide pandemic response. Read on to build a better future of Healthcare! Featuring stories by Paolo Bacigalupi, David Brin, Tananarive Due, Sally Wiener Grotta, Congyun ("Mu Ming") Gu, James Patrick Kelly, Justin C. Key, Seanan McGuire, Annalee Newitz, Julie Nováková, Lola Robles, Eric Schwitzgebel, Alex Shvartsman, Caroline M. Yoachim Edited by RM Ambrose
Vital: The Future of Healthcare
RM Ambrose , Paolo Bacigalupi , David Brin , Tanan...
Word Count: Information not available
Summary: It's the find of a lifetime – an ancient alien spaceship hanging in a forgotten corner of space. For Song this could change everything. She's got as many problems with her finances as she does in her marriage, but maybe at last her passion for wreck-diving will pay off. One piece of unknown tech could set her whole crew up for life. The ship conforms to nothing in their records and dwarfs the largest human vessels. Battle-scarred and old before humanity ever reached the stars, it's a mausoleum of an unknown, long-dead species. And it's just winked at her.
Falling Dark
Word Count:

8000
Summary: **Also Available in "Guardians of a Giant's Treasure" anthology** Tucker has spent his entire life as an interstellar trash man. But ever since his mother died, he's been alone, and certainly lonely. So when he discovers the derelict ship he scooped up has an occupant—a beautiful young man named Ronan—Tucker is thrilled. Ronan is royalty and running from his tyrannical mother, determined to keep a powerful object out of her hands. But when he strikes a deal with the adorable Tucker, he wonders if it's time to stop running.
Trash and Treasures
Word Count:

109000
Summary: It appears out of nowhere—one moment the sky is empty, the next, there's a rent in the fabric of space itself. And nothing in the system will ever be the same.  In the far reaches of the Rim Mountains, itinerant field-scientist Aran Romeu is searching desperately for the cure to an incurable disease—one that's slowly killing his best friend. He's sworn to do whatever it takes to find it. But when the portal opens, and something comes through, he realizes that 'whatever it takes' will involve travelling into the uncharted space beyond the portal. And he's not the only one after the cure, and willing to do whatever it takes to get to it first … In the weighty halls of government, Chief Justice Alba Espina is preparing a political gamble that could change the shape of the system itself. The appearance of the portal shatters her carefully-laid plans and hands her political rival a weapon he could use destroy her—unless she can delay him with the promise of a diplomatic mission through the portal. But the stakes of the mission are higher than just her personal ambition. If her diplomatic mission doesn't succeed, it might just spell the end of humanity itself. In a remote spaceport, Savina Moya, the system's most talented assassin-for-hire, is on the run again after her latest murder. But when a deadly government agent is sent after her, with instructions to bring her back dead or alive, the diplomatic mission heading into the portal may hold the key to Savina's survival—if she's brave enough, or desperate enough, to take it. No one knows what's beyond the portal. And as the three of them are drawn inexorably together in uncharted space, with no idea who is an ally and who is an enemy—it's an open question if any of them will live long enough to find out. 
Redshift
Word Count:

85000
Summary: When Tabitha first whispered to the ship, she never expected it to answer. A pilot yearning for adventure, Tabitha proudly flies missions scavenging supplies for her space-borne city. But when the Navicorp sends her to scavenge a derelict ship, it triggers a psychic link to the ship and the alien enemy that drove her people from their home planet. The unexpected connection puts Tabitha and her people in the crosshairs of the telepathic invaders who are determined to exterminate the human race. Her rapidly evolving ability to communicate with the alien ship unlocks a chain of secrets about her past that shakes her identity. The Captain's eagerness to push her into danger challenges her loyalty. Can she use her new ability to save them? Will they turn on her and leave her at the mercy of the aliens? If you love technopaths, psychics, AI friends, and thrilling heroics, you'll love this military sci-fi adventure. Pick up this page-turner today.
Ship Whisperer
Word Count:

51000
Summary: Escaping intergalactic kidnappers has never been quite so ridiculous. When Lem and her faithful dog, Spock, retreat from the city for a few days of hiking in Algonquin Park, the last thing they expect is to be kidnapped by aliens. No, scratch that. The last thing they expect is to be kidnapped by a bunch of strangely adorable intergalactic bounty hunters aboard a ship called the Teapot. After Lem falls in with an unlikely group of allies – including a talking horse, a sarcastic robot, an overly anxious giant parrot, and a cloud of sentient glitter gas – the gang must devise a cunning plan to escape their captors and make it back home safely. But things won't be as easy as they first seem. Lost in deep space and running out of fuel, this chaotic crew are faced with the daunting task of navigating an alien planet, breaking into a space station, and discovering the real reason they're all there… Packed with preposterous scenarios, quirky characters, and oodles of humour, The Left Hand of Dog tackles complex subjects such as gender, the need to belong, and the importance of honest communication. Perfect for fans of Charlie Jane Anders' Victories Greater than Death – especially ones who enjoy endless references to Red Dwarf, Star Trek, and Doctor Who. This book will show you that the universe is a very strange place indeed. Scroll up and grab your copy now!
The Left Hand of Dog
Word Count:

132,000
Summary: Rules were made to be broken. From terraformed outposts to magical realms, journey to worlds where deadly plants, rampant biodiversity, or failed colonies have created irresistible opportunities for those brave enough to seize them. New worlds, found family, mystical secrets, and deadly science weave together in this lesbian-centric anthology focusing on a very different kind of first time—a first encounter with a world, or being, entirely unlike our own. If you like diverse stories with lesbian heroines practicing science, magic, and seduction, buy Distant Gardens today!
Distant Gardens
N.L. Bates , Sara Codair , Robin C.M. Duncan , J.S...
Word Count:

111,000
Summary:
New York: two years after the Third World War. Humanity is rebuilding its cities brick by brick; the damage done to the people, however, is a lot harder to repair.
Dan Hardacre is one of those people. An aspiring stage actor and experienced draft-dodger, Dan struggles to find his place within the Utopic rebuild of New York City. When he's not caught up with the duties of work, Dan lives a quiet life in mourning for his mother, Dyani, who went missing when he was a teenager.
One night, Dan experiences a vivid, terrifying nightmare that puts him right on the front lines of the war for which he dodged the draft; it ends with him facing Death itself in the form of a metallic, faceless humanoid creature that calls itself the Valkyrie. To investigate the reason behind his haunting experience, Dan seeks out a meeting with his estranged father, who reveals the startling truth about Dan's dream: it wasn't a dream.
With this newfound knowledge and the powers it brings, Dan makes it his mission to return to the scene of his nightmare. However, he soon comes to know that confronting the Valkyrie not only endangers him but the war-withstanding world he leaves behind.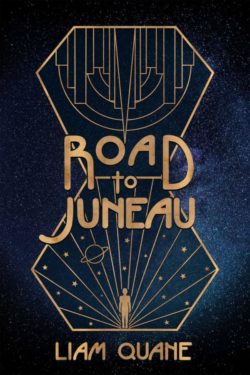 ROAD TO JUNEAU
Word Count:

82500
Summary: A mysterious distress call draws the crew of courier ship Hermes to what appears to be an empty, drifting troop vessel--empty except for the blood and gore spattered corridors and a lone survivor locked in a holding cell. Drawn to the handsome, traumatized man, the crew's comm officer, Isaac Ozawa, makes Turk his personal responsibility, offering him the kindness and warmth he needs after the horror he experienced. Isaac knows firsthand what it's like to be different and an outcast, and this cements their bond. Once a promising pilot, Isaac was left with a damaged body when his brain didn't meld with the high-tech implant needed to fly fighter ships. Turk's brain is no better. The result of a military experiment gone wrong, his natural abilities have been augmented to a dangerous degree. When an amoral, power-hungry admiral kidnaps Isaac and uses him to convince Turk to become the cataclysmic weapon he's hungered for, it will take Turk's strength, the ingenuity of the Hermes crew, the help of the enigmatic Drak'tar, and Isaac's own stubborn will to save them.
Gravitational Attraction