Fantasy stories that involve sword-wielding heroes, often on exciting and violent adventures. Return to general Fantasy
Note: these books are currently sorted by release date, with newest first.
Word Count: Information not available
Summary: Jenna, Storm, Ghortin, and the rest of the people Jenna holds dear in this new world face a war that will shake the pillars of the Universe and beyond. Join in the explosive conclusion of the Books of the Cuari trilogy!
Destruction of Chaos
Word Count: Information not available
Summary: The world is wide and full of wonders Fleeing her country in order to save it, Princess Jade of Sharren discovers a greater threat. SONG OF JADE: RED WOLF is a standalone DRAGON AGE prequel to the WOODSPELL SERIES and one of the TALES OF ARDONNA. Content Advisory: Contains adult themes and situations and spoilers for River's Roar
Song of Jade: Red Wolf
Word Count:

52000
Summary: Can Scott learn to use his newly discovered magical ability, while managing his concerns about the family he left behind? Especially now, when Landbelow's extraterrestrial origins are starting to cause problems?
Enimnori:Challenge
Word Count:

67000
Summary: Morgorth and Aishe must contend with a deadly threat that could spell disaster for their world. Payshthas were the first of the Mother's intelligent children. It is rare for true friendship to form between them and another species—which makes Morgorth's bond with Enfernlo unique. And it is due to their friendship that Morgorth doesn't hesitate to answer Enfernlo's plea for help. A thief has stolen something vital from Enfernlo's colony—a stone of power. Their hunt for the stone leads them to a war torn kingdom, and Aishe can hardly stomach what he sees. The devastation urges him to assist however he can, no matter the risk. Meanwhile, Morgorth is faced with reminders of the monster he used to be, and contemplates how far he's come, and yet how far he still has to go. And when his estranged mentor joins them on their search, Morgorth is forced to confront his resentment and sense of betrayal, and use Master Ulezander as a tool to save the payshthas. Forced into a deadly quest where trust is in short supply, and faced with challengers for the stone, Morgorth must put his faith in those he loves and in himself... and become a champion not just of the Mother but for Karishian itself.
Jade: First and Last
Word Count:

40,000
Summary: A century ago, one Priestess left for the surface world. She vanished. This is her story. Irrwaer is an acolyte serving the Priestesses yet lacks the consuming urges which drive their ambitions. She would rather stay small, quiet, and avoid the bottomless appetites of her matriarchy but understands passively hoping leads to a short, miserable life. Or worse: a long one. In the Sanctuary of the Spider Queen, the only way to keep any choice for herself is to gain power over others without becoming addicted to them. As the healer works among meek males, rowdy Red Sisters, and the sinister sons of demons, she asks a troubling question. In a place where power passes through daughters, why are the Priestesses only competing for sons? Even asking this question is dangerous. Sooner or later, everyone disturbs the Queen's web. In "Sons to Keep," Etaski introduces the political sphere of Sivaraus through the eyes of the least ambitious. These events occur one hundred years before the birth of the protagonist Sirana in Sister Seekers #1: No Demons But Us. Their effects still ripple out from the center of a vast, interconnected story.
Sons to Keep: Sister Seekers Prequel
Word Count:

111,172
Summary: Two sisters born in the Red Desert, young Daughters of an ancient Queen. One seizes the delights of the present. The other sees and despairs for their future. Innathi and Ishuna, the heirs of the Dark Elf Queen of V'Gedra, travel the sand dunes with their entourage. In need of water, the sisters enter the sacred canyons of Koorul, where they interrupt a mystic rite of passage for the Human son of a Sorcerer-King. Negotiations fare well between the two desert peoples until powerful magic blends with the discoveries of youth which get quickly out of control. Incomprehensible joy crashes into a dark dread which cannot be named, and a schism begins between the sisters. Diplomacy is critical to avoid unnecessary conflict, yet the Queen's daughters do not agree on the goal. Each has her version of the events at Koorul, and each is certain of the outcome should Innathi pursue the wild magic of the Zauyrian son. A close alliance with a Sorcerer-King could bring pleasure, prosperity, and new life thriving in the Desert, or it might corrupt a delicate balance to bring down the realms and all they had ever known. This second volume of Tales of Miurag is a standalone novel which can be read on its own. Dramatic events and mature themes weave into broad history and lore headed toward a cataclysm which will change the entire world. The Desert is also Etaski's ultimate villains' origin, featuring several antagonists introduced in the Sister Seekers series. This story takes place approximately 3500 years before No Demons But Us, where hints of these events past echo forward and impact future generations.
The Desert: Tales of Miurag 2
Word Count:

85000
Summary: A charming traditional quest fantasy, full handsome villains, dangerous sorcerers, and a pretty, perky apprentice. Not to mention lots of very cool magic!
Blade Light
Word Count:

124500
Summary: Magic and mayhem continue as Taryn, her drunken faery companions, and the rest of their crew find out that the list of people trying to destroy them just keeps growing. And the worst-case scenarios leave Taryn alive. Taryn has spent her life hunting relics. As of late, she's become the hunted, and going to the south to rescue people she loves only pointed out how bad things were. Saving her friends, exposed a deadly threat to the entire world. The race is on to find allies to fight a massive battle that should have been resolved thousands of years ago. But the list of enemies grows larger, as a unified force breaks apart—sending danger toward Taryn, Alric, and the rest from too many directions. Fighting on many fronts is deadly for a small crew, no matter how fierce they are. And even the faeries find themselves pushed to their limits. Betraying elves, dangerous ghosts, soul-stealing relics, ancient spells, and horrific creatures back from the dead seem to be one step ahead of them. And they know secrets about Taryn's past that even she didn't recall. Come along for more adventures from the Lost Ancients series!
The Hunter's Chalice
Word Count:

135500
Summary: The Dragon is awake, and he's ready to rejoin the game. When the Valsharess compelled the novice Sister Sirana to leave for the Surface, she also commanded the Lead Sister Jaunda to leave her beloved city for the dark labyrinth of the underground wilderness. Jaunda seeks the lair of a legendary creature who's been asleep since before she was born. After spans of searching, she approaches her goal at last, only to discover he just woke up ... and he wants to play. Meanwhile, Sirana waits for her bodyguard to rise out of an abrupt and powerful sleep. In the aftermath of the Temple City's fall, surrounded by battle-weary refugees and bustling Dwarves, she uncovers wounds among critical allies within the redoubt. The Red Sister must help them heal before they can continue her Queen's unspoken mission. Sister Seekers is dark epic fantasy for adults with an ever-broadening scope. The saga genre-hops a bit so things never get stale. Found Family is a core theme throughout, and fans of Dungeons & Dragons will find familiar grounds. Perfect for fans of entwined plots, challenging themes, immersive worldbuilding, and elements of erotic horror. Sexuality and inner conflict play into character growth with nuanced intrigue, intense action, and fantastical magic.
Awake in the Dark: Sister Seekers 9
Word Count:

386,840
Summary: When sisterhood by blood is pure misery, can sisterhood by trial be any different? My sister deserved to die, but I didn't kill her. If I take the blame, I'm next on the sacrificial altar. The Red Sisters know this. Now they're watching me. I'm about to find out why. ~~~ In their underground city, only the cunning and the bold thrive. Sirana Thalluensareci refuses to be cowed. Banished from everything she knew after surviving an assassination attempt, the abused dark elf finds delight in the sensual thrills of the court's explicit intimacies. But she's taken off-guard when one of the realm's most powerful organizations steps out of the shadows to abduct her to their lair. Relying on her wits and nerve to thread her way through a controlling sisterhood, Sirana navigates passionate encounters, sharp-edged battles, and a series of initiation rituals where failure means a painful death. Even as the independent warrior-in-training discovers a taste for hidden pleasures, old scars threaten her ability to survive on the danger-strewn path when the Red Sisters' competitors, the Daughters of Braqth, turn their eyes toward her. As everyone around her pushes her to the edge, can she keep her balance and avoid falling into the spider's trap? If you crave found family, nuanced characters, bold and steamy scenes with touches of survival horror, then you'll love A.S. Etaski's Machiavellian matriarchy. Begin the intense first trilogy of the Sister Seekers series today!
Sister Seekers Bundle Vol. 1
Word Count:

78740
Summary: Dare to explore the darkest tales where sunlight never touches. Etaski's dark fantasy epic, Sister Seekers, begins underground with its denizens living and dying in eternal night. A novice Red Sister leads us through much of the series, but her Elven ancestors have their own stories to share. Tales of Miurag: The Deepearth is a same-world anthology exploring critical moments in the history for the Dark Elves of Sivaraus. This collection contains explicit and sometimes grim content, though we are never lacking all hope. Stories included in this collection: House Aurenthin - a novella on the dramatic origins of the lowest-ranking noble house in Sivaraus. Auranka the Keeper - a chilling horror tale on the monstrous Mistress of the Driders. Rohenvi - the tragic romance in the early reign of the Matron of the Twelfth House. Gaelan - a "dark slice of life," how future Red Sisters sometimes make connections long before their trials Sister Seekers is dark epic fantasy for adults with an ever-broadening scope. The saga genre-hops a bit so things never get stale. Found Family is a core theme throughout. Perfect for fans of entwined plots, challenging themes, immersive worldbuilding, and elements of erotic horror. Sexuality and inner conflict play into character growth with nuanced intrigue, intense action, and fantastical magic.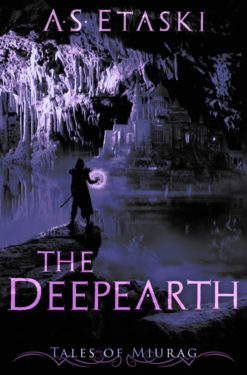 The Deepearth: Tales of Miurag 1
Word Count:

174300
Summary: My sister is in grave danger, captive in the city of Witch Hunters. As Manalar prepares for war, her only chance lies with infiltrators from Augran. I shall join them. The prosperous port of Augran thrives in diverse trade with the Dwarven Clans. The Bishops of Manalar have withdrawn defiantly into the Temple of the Sun, scorning their past allies. The Ma'ab Empire has sent their dark army out of the Far North, seeking not riches but a small, well-protected spring high upon a mountain. The sacred pool of Manalar is said to bless all mages who control it. On the fringe, there's Gavin and me. Each dedicated to our purpose, we garner allies from Augran and the Clans of Taiding willing to see them through. My Dragonblood bodyguard, Mourn, reinforces our strengths as we expect others like us to jump out of hiding and into the fray. I failed one sister. I will not fail another. Sirana's desperate search upon the Surface reaches its culmination in Battle for Manalar, where foes and allies unite and clash in this transformative event driven by opportunity, righteousness, and reprisal. Sister Seekers is dark epic fantasy for adults with an ever-broadening scope. The saga genre-hops a bit so things never get stale. Found Family is a core theme throughout. Perfect for fans of entwined plots, challenging themes, immersive worldbuilding, and elements of erotic horror. Sexuality and inner conflict play into character growth with nuanced intrigue, intense action, and fantastical magic.
Battle for Manalar: Sister Seekers 8
Word Count:

29722
Summary: Adam Drowen… Azreal, the Onyx Knight… His journey has been long and arduous. He gained power in death, lost his mentor, found truth in a dream, got lost in a fantasy, embraced his rage, challenged The Fates, offered compassion, crossed the line, hunted a monster, and realized that Darkness was enveloping his soul. A Warrior's life is not for everyone. Adventure, excitement, glory; these are not what a true Warrior desires. A Knighthood does not grant privilege, offer fame, or promise riches. It can be a hard life, full of painful choices. It is a life of service, not reward. It is a never-ending journey in search of knowledge and beauty. The Way of the Warrior is the perpetual pursuit of perfection that none will ever attain. Why would anyone choose such a life? Not everybody can; but if you wish to learn what drives someone on this ceaseless quest, then pay attention; for I am the One Arm Bandit and I have stories to tell... Now, for the first time, ShyMuse Publishing presents the tales of Azreal, the Onyx Knight; collected in a single anthology. All ten short stories chronicling Azreal's journey from a young Sapphire Knight to a cold-blooded killer and finally to a contemplative, stoic guardian, are now gathered together in one volume. In addition to the Best Selling Way of the Warrior short story series, this book contains never before seen artwork and concept designs. Visit us at www.ShyMusePub.com
Way of the Warrior: The Azreal Chronicles
Word Count:

80000
Summary: Wounded, betrayed and alone, Cal has escaped to Tarquis, losing everything… again. In Sanquous, dark forces are mustering as it edges closer to all out war. Their leader missing, the Ilfannde face the wrath of the Draguul and their tyrannical High Priest. If ever there was a time for a saviour to arise, it's now. The question is, will she?
The Rod of Xerus
Word Count:

64,390
Summary: The time has come. The Dark Mage, Lord Morgorth, and Aishe of the Ravena Tribe, are to become bondmates. Morgorth is equal parts nervous and excited. He wants to unite with Aishe in the sacred dialen ceremony, to proclaim their devotion to the world, to show everyone that Aishe is his equal and deserving of respect. After all they've survived together, why shouldn't they make the cosmic promise before friends and family? But duty must often come before pleasure. When Morgorth's estranged mentor, Master Ulezander, comes to him with a time-sensitive mission involving a major stone of power, Morgorth has little choice but to acquiesce. Aishe knows his mate struggles with the revelation of his true destiny, after a lifetime of defining himself as the future Destroyer of Karishian. All he can do is reassure Morgorth that being the Savior is a far better fate for both of them. But as Morgorth and Aishe leap through worlds and dimensions in pursuit of a stone of power, more pieces to the puzzle of Morgorth's destiny are revealed. And they form an image of sacrifice and tragedy. The dark cloud of an ancient enemy looms ever closer, and the path to becoming the Savior might prove more monstrous than that of the Destroyer.
Sapphire: Home and Abroad
Word Count:

148000
Summary: I've confronted the half-blood mercenary who has what I need to find Jael, wherever she may be. Neither of us will leave until we reach a bargain which yields what we most desire. The Dragonchild has brought me into a city he knows to its foundations, where I am at a disadvantage. My devout Deathwalker may be content to wait for the coming war between Manalar and the Ma'ab, secure in his value to a newly revealed influence in the conflict, but my position seems neither secure nor desirable to anyone but me. I must dig deeper into the motives of all involved, including my own, to convince the Guild's leaders to lend me their vast knowledge and far reach within strangely familiar plots. I have to succeed for Jael's sake, for she is my only sister left. In The Guild's Design, outcasts from the Deepearth dare to reveal resolute hopes waiting within quiet hearts. This time and opportunity must not pass them by, lest the promise of war rend their chances for a future beyond the next conflict. Sister Seekers is dark epic fantasy for adults with an ever-broadening scope. The saga genre-hops a bit so things never get stale. Found Family is a core theme throughout. Perfect for fans of entwined plots, challenging themes, immersive worldbuilding, and elements of erotic horror. Sexuality and inner conflict play into character growth with nuanced intrigue, intense action, and fantastical magic.
The Guild's Design: Sister Seekers 7
Word Count: Information not available
Summary: For three years, Jeth and Kodie and their soldiers have guarded a hostile mountain pass against the invading Dathians in a war that has waged for decades. Jeth has the blood of giants running through his veins, and it has caused bigotry and death to dog his steps his entire life. After a childhood tragedy shatters his world, it takes the courage and loyalty of his best friend, Kodie, to protect him from himself. Jeth knows he's a danger to everyone around him and joins the army to control and focus the black rage inherited from his bestial bloodline. Kodie follows his friend into the army, determined to stay close to the one he loves most. He has never revealed his deeper feelings for Jeth, and is ignorant of Jeth's own feelings. Their bond is too precious for either of them to risk rejection. Yet they might have to take the chance when Kodie's life is threatened, and their enemy forges an alliance with a giant clan. Jeth must call upon his darker heritage to brave the hostile environment to make an alliance of his own—with a giant clan that knows more about him than he does himself. Also available in "Guardians of a Giant's Treasure" anthology
A Giant's Friend
Word Count:

22200
Summary: Jadiera lives a simple life as a courier between the islands of the kingdom she calls home. Hauling small wares isn't exciting--but it keeps a ship under her feet. Until the day she is mistaken for someone so dangerous, people only speak of her in hushed tones. And a bunch of mythological faeries fly into her life. Having a calm and steady life becomes nothing but a wish for Jadiera as she and her new faery companions fight off pirates and evil gnomes. Life will never be the same. This is a standalone novella that ties into The Lost Ancients extended series. It can be read without having read the other The Lost Ancients books.
The Dangerous Lady
Word Count:

126300
Summary: More enemies, more tricks, more explosions! Once again, Taryn has her hands full—but sometimes her hands have talons… Relic hunter Taryn St. Giles spent years with her head down in the dirt, unearthing the secrets of ancient artifacts. Now she is the one being hunted for the secrets of her own past. And if she's not clever, strong, and very, very lucky, she'll be the next relic buried. Monsters, magic, and mayhem have haunted her through secret caverns, forgotten elven cities, and some really mediocre taverns. With her beloved Alric and dear friends kidnapped, she's heading to the southern continent with her remaining stalwart companions where more mayhem awaits—along with stranger monsters and a deadly magic that twists her very flesh and bones. Old mysteries almost destroyed her world once—and Taryn was right there. As long-lost deities and hidden realms return with lethal consequences, she has another chance to discover her destiny and reclaim her power. But if she fails, more than her friends will be lost forever. Join the continuing adventures from the extended Lost Ancients series!
The Finder's Crown
Word Count:

50000
Summary: An act of desperation by young magician Brandon accidentally snatches Scott Hathaway from our world. Struggling to adapt to his new life, Scott becomes ensnared in dark local politics. He realizes he can use the knowledge he brought from his world to save his new friends, but at what cost? The first in a series. A story about an engineer who gets accidentally transported to a medieval type world where magic is real. But all is not as it seems!
Enimnori