Word Count: Information not available
Summary: My kid, Romy, says I'm old and she's worried about me. What's to worry about... aside from Jordan, my ex? Really, she didn't have to come all the way home to check on me. It's all good—especially Nova, the girl at the drive-up coffee shop. I keep to my work and surfing the local breaks to keep her out of my head... But it doesn't work. Her perfect skin and brilliant hair crash through my mind and draw me to her—like a super-moon tide. There's something about her... Bodie Catalan knows second chances don't just happen after a hard life, wracked by mistakes. Every now and again, however, the universe throws down a wildcard. Drive-Up is a fabulist, sentimental, 21st century tale. It rides the beach breaks along the shores of several genres and connects the wildcard thrown to entangled, beach-bound lives and the inexorable tidal change that moves all that cross it. Dive into this tale and see what's been served at the Drive-Up.
Drive-Up
Word Count: Information not available
Summary: Sean has an otherworldly hangover. Either he's taken something stronger than beer, or fairies are real. Or both… When Sean meets Tam, his chosen one at a local bar, he thinks his luck may have taken a turn for the better. But when he accidentally drinks a spiked drink, he comes to a startling realisation. Either he is losing his mind or fairies are real. Enter Evie, who bears a striking resemblance to Tam, but is anything but human. Trapped in Sean's world, she brings her own brand of sparkly chaos which may scare Tam off for good. Can Sean find a way to fix things with his fairy, Tam and himself before the doors close forever?
Open Doors
Word Count:

111,000
Summary:
New York: two years after the Third World War. Humanity is rebuilding its cities brick by brick; the damage done to the people, however, is a lot harder to repair.
Dan Hardacre is one of those people. An aspiring stage actor and experienced draft-dodger, Dan struggles to find his place within the Utopic rebuild of New York City. When he's not caught up with the duties of work, Dan lives a quiet life in mourning for his mother, Dyani, who went missing when he was a teenager.
One night, Dan experiences a vivid, terrifying nightmare that puts him right on the front lines of the war for which he dodged the draft; it ends with him facing Death itself in the form of a metallic, faceless humanoid creature that calls itself the Valkyrie. To investigate the reason behind his haunting experience, Dan seeks out a meeting with his estranged father, who reveals the startling truth about Dan's dream: it wasn't a dream.
With this newfound knowledge and the powers it brings, Dan makes it his mission to return to the scene of his nightmare. However, he soon comes to know that confronting the Valkyrie not only endangers him but the war-withstanding world he leaves behind.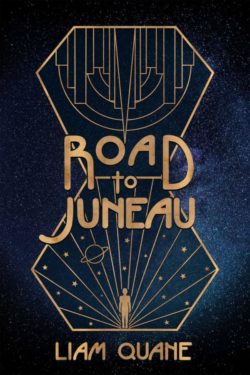 ROAD TO JUNEAU
Word Count:

71513
Summary: To be soulmates they first have to survive. A serial killer stalks the streets of Boggslake, Ohio. The victims are always found in pairs, one human and one vampire. Simon Hawthorne has been a vampire for nearly a hundred years, and he has never seen anything like it. Neither have the other supernaturals he works with to keep the streets safe for both their kind and the humans. One meeting with Simon finds Ben Leyton falling for a man he knows is keeping secrets, but he can't ignore the growing attraction between them. A recent arrival in Boggslake, Ben finds it very different from his native New Zealand, but something about Simon makes Ben feel as though he's found a new home. After a close friend falls victim to the killer, Simon is torn between revealing his true nature to Ben, and walking away to avoid the reaction he fears. But with the body count rising and the murders becoming more frequent, either, or both of them, could be the killer's next target.
Shades of Sepia
Word Count:

73000
Summary: When supernatural secrets collide, it'll take more than coffee to brew the perfect love. When Ky Hernández bonded with his familiar, Zuri, his life changed forever. Their connection turned him into a practicing witch and led him to his calling as a medimagical professional. However, it totally tanked his love life—what guy would settle for eternal second place behind a parrot? So Ky keeps his witchy nature under wraps and sticks to hookups with humans, which can never go anywhere. But the mouthwatering barista at the coffee shop next door makes him thirst for more than a caffeine fix. The charms Ewan Jones uses to appear human are inconvenient, disorienting, and . . . necessary. Ewan and his siblings are achubyddion, metaphysical healers whose powers are coveted by unscrupulous supernatural beings. And let's face it: all supes are unscrupulous, given the right incentive. He's grateful for the protections that hide his little family, and for the barista job that keeps them housed and fed. He's just so lonely. And his regular, Ky, the super-hot, commitment-averse EMT, seems like the perfect candidate for a one-night shot at intimacy. After all, humans are no threat. It takes a clumsy coffee shop intern, a mysterious werewolf epidemic, and one snarky parrot to unravel their pasts—and give them a chance at a future.
Witch Under Wraps