Word Count:

85500
Summary: For the past five years, Jade Darcy has not seen another human being. A computer-augmented mercenary, she lives on the planet Cablans, a stopover point for traders from hundreds of worlds -- and a good place to meet customers who need the services of a skilled warrior. She turns down what she considers a suicide assignment: traveling to an enslaved world to assassinate one of its military leaders. But then she learns there's another human being on Cablans -- a human being with the potential to expose Jade's mysterious past, with possibly fatal results. All of a sudden, a suicide mission looks positively appetizing....
Jade Darcy and the Affair of Honor
Word Count: Information not available
Summary:
The Past doesn't easily Forgive. Or Forget.
Distraught over the loss of his crewmates, Caspian Robeaux no longer believes he can pretend to be part of the crew of the
USCS Tempest
. He has to face the fact he's become an outsider and that's who he'll always be. He has no place on a Coalition starship anymore. But the mission must continue and until it's complete, he's stuck on board. Will he find a way to cope, or will the ghosts of his mistakes drive him mad first? Meanwhile Commander Evelyn Diazal is dealing with her own issues. After a visit with her infirmed father goes horribly wrong, she begins to see and hear things that aren't really there. Afraid her father somehow passed his madness on to her; Evie does everything she can to cover up her problems until it puts another crewmember in mortal danger. Amidst all of this, the
Tempest
has traveled far beyond the borders of Coalition space, searching for the mysterious
Andromeda
threat. However what they find is far more dangerous and destructive than they ever could have imagined. Will Cas and Evie manage to pull the crew together to survive, or will their ailments cripple them before the
Tempest
can escape?
Full of action, humor and characters you can't help but root for, JOURNEY'S EDGE is the rousing fourth chapter in the hugely popular INFINITY'S END saga!
Journey's Edge
Word Count: Information not available
Summary: Kal has always been considered too "fragile" to participate in the village activities. Her lithe stature links her to her father and distances her from everyone else. He left the village to fight in the Teristaque Wars and never returned. She meets Sarge, a strange star species of the human race who seems to know the secret of the patch from her father's uniform. Kal has always known she is different than her fellow villagers, and finally she may be closer to finding out why.
Kal's Fall
Word Count:

45000
Summary: The year is 2005. Blood from the Second Battle of Fallujah still dries on the farmlands of the Zaidon. But for Stygian 2-3, a young team of Recon Marines, the war is anything but over. Plaguing their battlespace is an ancient evil. Those who volunteered to ensure "Iraqi Freedom" must fight not only anti-coalition forces, but powers older than the United States, democracy... the world itself.
Lovecraft's Iraq
Word Count:

94,500
Summary: Returning to duty following his long recovery from the injuries he sustained during the events recounted in Heart Scarab, Shield Captain Bennet accepts a tour of duty in Fleet as flight captain on a dreadnought. The one saving grace is that it isn't his father's ship—bad enough that he can't yet return to the Shield Regiment, at least he doesn't have the added stress of commanding former lover, Fleet Lieutenant Flynn and knowing the fraternisation regulations will keep them apart. Bennet's new mission takes him behind the lines to Makepeace, once a human colony but under Maess control for more than a century. The mission goes belly up, costing Albion one of her precious, irreplaceable dreadnoughts and bringing political upheaval, acrimony and the threat of public unrest in its wake. But for Bennet, the real nightmare is discovering what the Maess have in store for humanity. It's not good. It's not good at all
Makepeace
Word Count: Information not available
Summary: The plan had been to un-man the battlespace, replacing flesh and blood with steel and carbon fiber. Machines, both remote-controlled and autonomous A.I.s, would fight and be destroyed in the name of freedom; sparing the troops at the cost of the nation's treasure. However, as with any arms race, the opposing side's technology eventually catches ups to yours, resulting in the need to put lives back in harm's way on the frontline; to deal with, and adapt to the unknown, as only humans can. With stories by Brenda Cooper, Bud Sparhawk, Jennifer Brozek, Ronald T. Garner, Aaron Rosenberg, James Chambers, Nancy Jane Moore, Patrick Thomas, Jeff Young, Eric V. Hardenbrook, Robert E. Waters, Anton Kukal, and Danielle Ackley-McPhail, and an afterword by the late CJ Henderson.
Man and Machine
Word Count: Information not available
Summary: Death comes for us all. But sometimes it comes early, because it's sent. Everything seems to be going great in Christopher's world. Newly married and promoted, he's even hammered out the dents in his relationship with his brother Marley. Then a death in the family shakes the foundations of his world. When the word comes down that it was murder, then only the best forensic investigator of the Chiron Defense Force will do to assist the Travellers in finding the culprit. And that happens to be Marley. When the investigation begins to lead to one of their own, however, the question changes: was it murder, or treason?
Mercury
Word Count:

103000
Summary: First I was a sorcerer. Then I was a hermit. For so long—for years that seemed to go on forever—I couldn't bear to be touched. I put up not just walls but whole stone bunkers to keep everyone out, emotionally, and physically as well. I was protected from people, from ghosts, from specters real and imagined. Sure, I was alone. But I felt safe. Only, after a while, I wasn't sure any longer whether a totally "safe" empty life was really worth living. Then Tobin came along. Out of the blue, out of my past, with a summons from the king that he wouldn't let me ignore. I tried to cling to my isolation, but he wouldn't give up on me. Tobin never believed in walls. This story was written as a part of the M/M Romance Group's "Love Has No Boundaries" event. Group members were asked to write a story prompt inspired by a photo of their choice. Authors of the group selected a photo and prompt that spoke to them and wrote a short story. 103,000 words
Nor Iron Bars a Cage
Word Count:

102000
Summary: Ancient voices reveal a terrible secret: human scientists created the kresnas, devourers of life and sanity. Not only created, but also used in terrible, torturous experiments, turning them against their creators. Romenel's dilemmas pile up until he's lost in them. How can he destroy all the hordes of kresnas at once and is it morally defensible to do so? What other solution is there if humans are to survive? What should he do about the beautiful warrior, Kyliki, since he has no place in her world and she has none in his? And, hang it all, if he can resolve these things, what in blazes is he going to do about the mess of a succession war raging back home?
Obligations of Blood
Word Count:

100,000
Summary: Lida was their last chance for an uncolonized planet. But a world-spanning fungus had colonized it first. Agetha and her husband have spent their whole lives in the fleet's zero-G. Now all is turmoil as the fleet lands, discovering they are surrounded by a single fungal biomass spanning the entire planet. To build a new home, the fleet must confront a dangerous organism, and Agetha must decide if she can raise a family in this inhospitable landscape. Jane Brighton holds tenuous command over the colony and its administrators. She and the other gene-modded leaders emerged from their four-hundred-year suspended animation to find a crew much different from the one that departed Old Earth. Jane must direct the colony's fragile growth and defend it against being overrun by the fast-growing biomass. But there is something none of the colonists know. The massive organism that spans the planet is not simply a fungal mass, nor even a chimerical combination of species that once roamed the planet. The biomass has desires and goals, and one is to know these strange beings carving out a home in its midst. Download today to read of the colony's fate in Of Mycelium and Men! Genres: Space Opera / Science Fiction / Colonization / Alien Contact / LGBT / Non Binary / Trans Market: Adult
Of Mycelium and Men
Word Count:

78,500
Summary: In the 23rd century, spaceships just don't go missing. FBI agent Ray Volk is assigned to a task force to investigate a tragic accident: the disappearance of interplanetary passenger liner ValuTrip Cardinal, carrying 500 souls between Mars and Earth on a routine run. What looks like a cut-and-dried case of pressure loss is complicated by the arrival of a Martian Captain. A very cute Martian Captain who keeps sticking his nose in Ray's investigation. Martian exchange student Kelly Rack knows the disappearance is no accident. She survived the ships' hijacking, but learns the former cruise entertainer leading the pirates has plans for the passengers, and they don't include sightseeing. Kelly has avoided the murderous pirates, except now an off-duty Earth Commander insists on organizing resistance for the passengers. She forces Kelly to climb through service tunnels on sabotage runs, risking capture and death. Can Ray shake down the right accomplices to capture the good ship ValuTrip Cardinal before its new captain spaces everyone on board? Will Kelly discover the pirates' hidden plans for their prisoners? The race is on, because One of Our Spaceships is Missing! Genres: Space Opera / Military Sci-Fi / Science Fiction / LGBT and Non Binary Market: Adult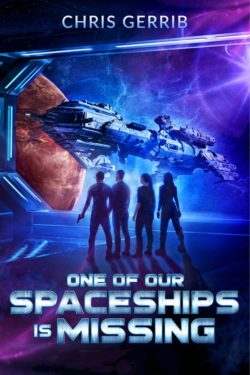 One of Our Spaceships is Missing
Word Count:

120130
Summary: Determined to kill his father for his crimes again humanity, Pelinas resolves to live until the Duke of Korval is dead. Beyond a burning desire for revenge, though, he has no solid plan to accomplish what seems impossible. Duke Per leads a massive army, controls frightening technology, and even commands the dead. But the Duke of Korval has eleven other sons, many carrying their own dark secrets. When Telluris Marat reveals strange and terrible facts about Pelinas's heritage and his birth, new possibilities unfold. He might attain all he desires—but will the cost be too high for him, for his friends, and for the entire continent?
Oracle's Child
Word Count:

54545
Summary: Poor Poison Patty, the super sensually bio-augmented assassin, is in a powerfully pernicious predicament. Perhaps you read about it in Poison Patty, her first tragic tale? Patty used to be a gloriously gracious good girl, but that was before an awful arrogant acrimonious amoral aberrant Arabian king kidnapped her. Now she's got a bite! Even so, Patty's predicament has gotten worse. Not only is she sought after by two terribly tenacious powers, she's under the thumb of a third. Patty's also struggling with an essential existential enigma. Is she a superhero or a monster? A victim or a villain? Take a raucous run right through this second installment of Poison Patty's troublous tale and decide for yourself.
Poison Patty's Predicament
Word Count:

11000
Summary:
A trapped recruit. A genius sorcerer. When war turns the world upside down, will they dare to fight for love?
Ben knew the price for surviving the exalted University of Magic: keep his head down and his mouth shut, no matter what. He never expected to attract the interest of the genius magician Maurice. He certainly never dreamed that Maurice would love him back. Whether experimenting in his laboratory or protesting the current regime, Maurice has never found a problem he can't argue his way out of. That is, until he starts dating his shy fellow classmate, and Ben simply refuses to argue back. When Ben is called up to fight an unjust war, Maurice brews the argument of the century. Anything to keep Ben safe. But when a spell goes wrong, Maurice's life is on the line. Will Ben destroy his remaining hope and dare to speak out?
Buy Requiem Inverted today to find out.
Requiem Inverted
Word Count:

24000
Summary: 1915. Teddy Roosevelt is building an empire. Only Pancho Villa stands in his way. The American Expeditionary Force under the command of General "Black Jack" Pershing has invaded Northern Mexico. Pancho Villa leads his revolutionary army in a desperate raid against the American force only to be outflanked. Just as Pershing's airships prepare to deliver the death blow, Pancho Villa is transported to a parallel Earth where he finds an unexpected ally and the technology that might just turn defeat into victory. Revolution of Air and Rust is a stand-alone novella set in the Empires of Steam and Rust world created by Robert E. Vardeman and Stephen D. Sullivan. A story filled with military action, espionage and gadgetry that's sure to satisfy fans of steampunk and alternate history.
Revolution of Air and Rust
Word Count:

111,000
Summary:
New York: two years after the Third World War. Humanity is rebuilding its cities brick by brick; the damage done to the people, however, is a lot harder to repair.
Dan Hardacre is one of those people. An aspiring stage actor and experienced draft-dodger, Dan struggles to find his place within the Utopic rebuild of New York City. When he's not caught up with the duties of work, Dan lives a quiet life in mourning for his mother, Dyani, who went missing when he was a teenager.
One night, Dan experiences a vivid, terrifying nightmare that puts him right on the front lines of the war for which he dodged the draft; it ends with him facing Death itself in the form of a metallic, faceless humanoid creature that calls itself the Valkyrie. To investigate the reason behind his haunting experience, Dan seeks out a meeting with his estranged father, who reveals the startling truth about Dan's dream: it wasn't a dream.
With this newfound knowledge and the powers it brings, Dan makes it his mission to return to the scene of his nightmare. However, he soon comes to know that confronting the Valkyrie not only endangers him but the war-withstanding world he leaves behind.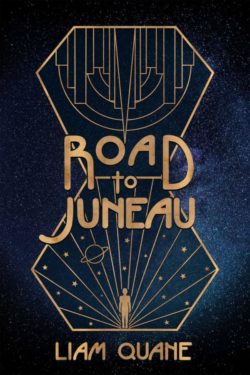 ROAD TO JUNEAU
Word Count:

82000
Summary: Royal Orders is Book 3 of the Suicide Arc. This time, it's Mitsuko Yamato-Windsor's turn in the spotlight. Since leaving the Navy, Mitsuko has become chief of King Edward's personal security, not to mention resuming her engagement. When a would-be assassin nearly kills Edward, she goes on the warpath, following a trail leading to a cult known as the Cubists. Except the founder and leader of the Cubists is no angry cleric running a jihad from the shadows. Master Ansel is, in fact, an affable space engineer who found an interesting philosophy. Someone else has coopted his legacy for violence. To find that person, he suggests she travel to sultry, war-torn Aphrodite with his most brilliant follower: Suicide. Their journey will bring them face-to-face with Gerard Kurz, a man who isn't the fanatic he seems to be. He's worse. And he plans to unleash an ancient technology. He will kidnap Suicide to bend Mitsuko to his will. Only that summons the other Children of Amargosa and the full might of the Navy. It all comes to an explosive head on the peak of Aphrodite's most sacred mountain.
Royal Orders
Word Count:

80,000
Summary: Amargosa is under occupation. But a fallen starship may turn the tide for the resistance. JT Austin, Davra Andraste, and Eric Yuwono disobey orders to reach this ship. Along the way, they discover that not every enemy is Gelt, not every ally is human, and humans and Gelt are not the only intelligences on Amargosa.
Second Wave (The Amargosa Trilogy Book 2)
Word Count: Information not available
Summary:
Beyond the Edge Things get Weird.
Having barely survived their encounter with the mysterious race known only as Andromeda, the crew of the
USCS Tempest
now must find a way to repair the ship if they ever want to get back to the Coalition to warn them of what's coming. Their comms are down, their engines are shot and unless the god Kor himself makes an appearance, they'll have to rely on local help if they want a way out of this mess. But finding friendly species in an uncharted region of space is easier said than done. They've already captured one pirate attempting to take advantage of their ship and have spent the last few weeks fending off even more. If this doesn't let up soon, there won't be anything left of the
Tempest
to save. However, their new prisoner offers a solution. He knows where to find exactly what they need, if they're willing to let him out. If that weren't enough, he knows where they can find out more about Andromeda before returning to the Coalition. The catch is they have to put their trust in a bunch of strangers they know nothing about.
If you love space adventure, robots, aliens and a bevy of characters with more mystery than Pandora, you'll love SECRETS PAST and the INFINITY'S END series!
Secrets Past
Word Count:

139579
Summary: When things begin to go wrong, they have a habit of going spectacularly wrong, Lord Telluris Marat discovers. Robbed of his visions and his ability to prophesy, he still has his will to fight and his ability to command an army. But the enemy he faces now commands weapons that rival his worst nightmares. Emily struggles with her own visions, and finds herself caught between worlds. Jake Montagna, the president of the interplanetary mining company, has gone off the deep end and will stop at nothing to get what he wants. If only they were in broadcast range of the authorities, Emily could do something. But Arhanna is far out of normal shipping lanes. To stop Jake, she'll have to do it herself.
Shadow and Light